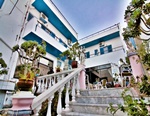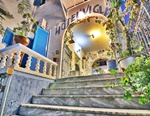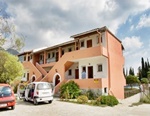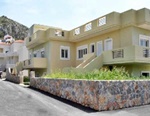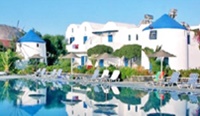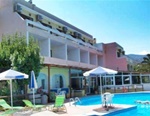 ---
Commercial Land : Hotels : Pensions And Businesses For Sale
Greece : Mainland And Islands : Page 1
For Page 2
Here : For Page 3
Here : For Page 4
Here

Scroll Down To See More Property.

---
Wanted urgently Hotels to let in the first instance : 10 Rooms to 100 rooms : I have customers waiting to lease your hotel for long term let and buy if successful.
For More Details : Let me Know What You Have : E Mail Brian.
E Mail Brian.
---
A Beach Party Club House : Lehonia Kato : Pelion : Greece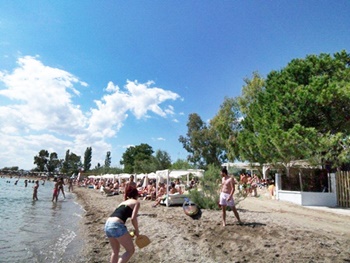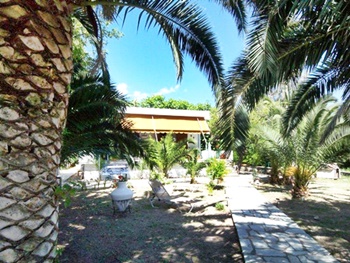 An Ideal beach front, beach garden property for rental accommodation, beach restaurant, cafe, bar or water sports club.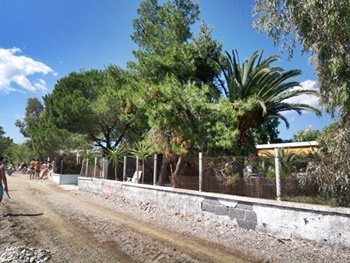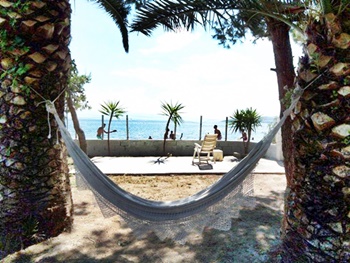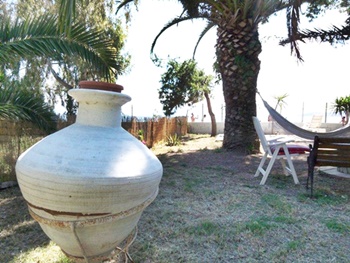 This property has 2 bedrooms, one bath, living, dinning and kitchen, balcony, 500 m2 of palm garden, sea front, beach front, Building 71.5 m2, maybe one of the last beach front villas for sale.
10 meters of sandy beach is all that separates this villa from the sea. This is a very rare opportunity to own perhaps one of the last available beach front properties in Pelion. The villa was built in 1978. It has a beautiful palm and fruit trees garden. It is car accessed and sits right in front of the Pagasitikos Gulf of Pelion.
The garden is magical and the charming old palm trees give you an aristocratic feel. Relaxing in the hammock under your palm trees looking at the sea you will keep checking to see how much rum you have added to your Pinacolada!
Price : 245,000 Euros Code : PILION PP/H2523
---
The Traditional Guest House Of Argalasti : Argalasti : Pelion : Greece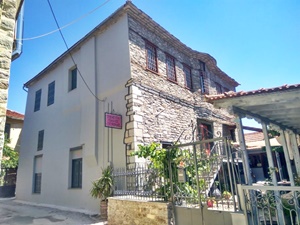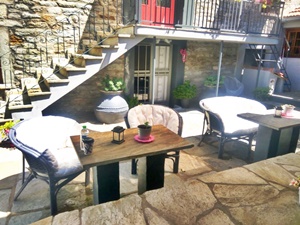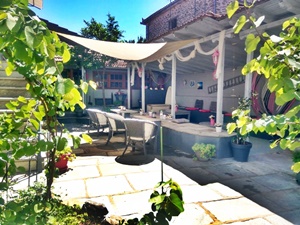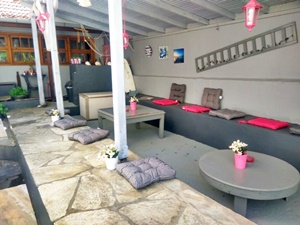 A Traditional stone mansion with ten bedrooms, two wc, two bathrooms, kitchen, living room, dining room, storage, spacious courtyard and central heating.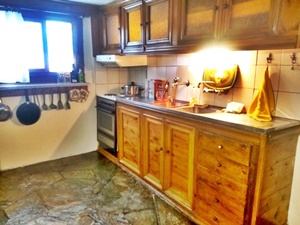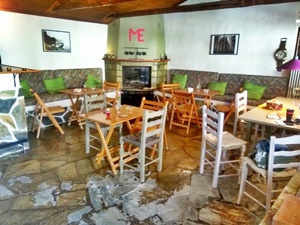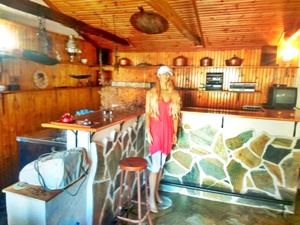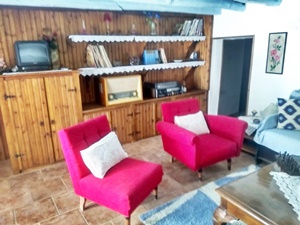 This traditional guest house is located near the square of Argalasti village.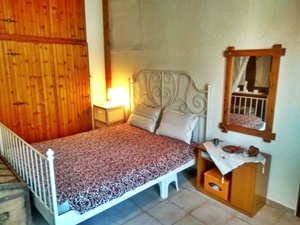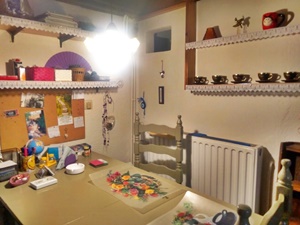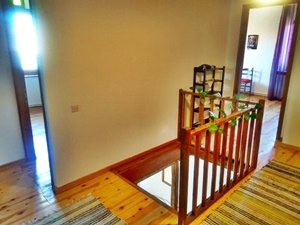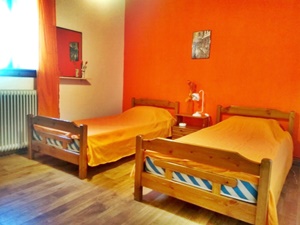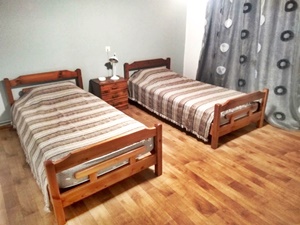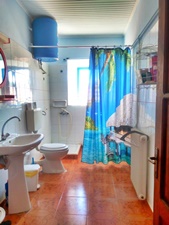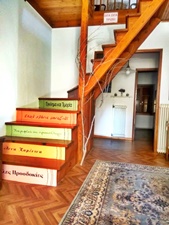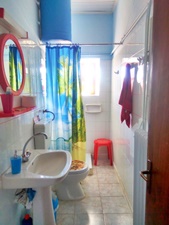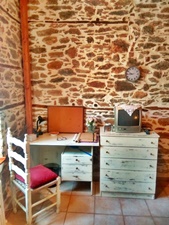 This stone mansion is on three levels with total number of ten bedrooms. The ground floor has one bedroom, one spacious living room, a kitchen/dining area, a bar/café with fireplace, two wc, one large storage room. The middle floor has four double rooms and one bathroom and the top floor has six double rooms and one bathroom. This traditional stone guest house has recently been renovated and is for sale fully furnished. The spacious, stone-built courtyard adds to the charm of this exceptional mansion.
Price : 270,000 Euros Code : PILION PP/H2647
---
A Beach Side Hotel For Sale : Kokkari : Samos
This property having an area of 239 square meters is located on the beach in the picturesque and traditional village of Kokkari. It has a façade of 13,30m on the main road and 12.00 meters facade on the beach.
This is a two floor building with basement is standing on the plot used as rooms to rent. The ground floor having an area of 95.26 square meters features a ground floor shop of 36.50square meters, and is used to rent cars and bikes, there are also and two double rooms with wc having both balcony and sea view.
A marble staircase leads to the upper floor and to the basement. The first floor has an area of 95.26 square meters and features the residence of the owner of 36.50 square meters with two double rooms with wc having both balcony and sea view. The basement is used as a store room. The building is in good condition and it was in use till very recently.
The Property features :- Air conditioning and Solar Panels : It is accessible by car : Has lovely Sea View Balconies : There is Direct Beach Access : It is in an Excellent location with excellent views :
This Property can easily be converted for a private residence
Price : 289,000 Euros Code : SAMOS GMSP/779
---
An All Year Round Operational 10 Room Hotel : Galatas : Opposite To Poros Island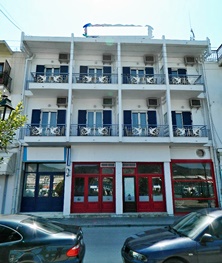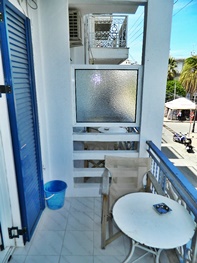 This fully operational hotel is in a really good position directly opposite the Island of Poros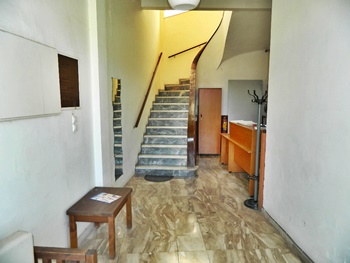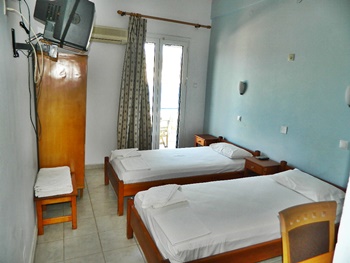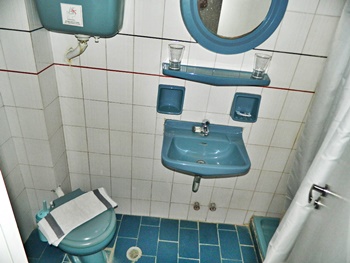 The Hotel is 360 Square metres in area and has ten rooms and operates profitably all year round.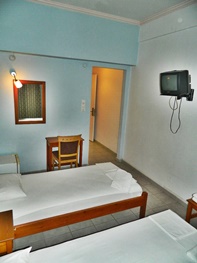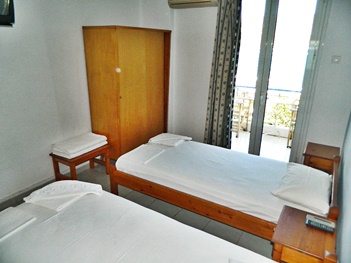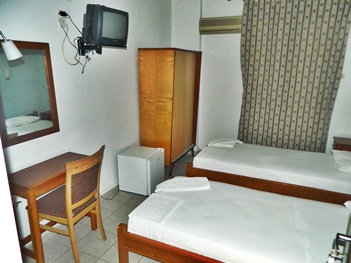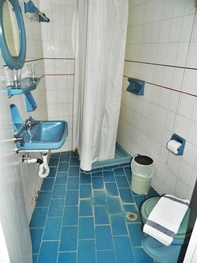 The Hotel license is easily transferable : The annual taxes are about 800 Euros per annum, and the hotel takes enough money to easily clear the expenses.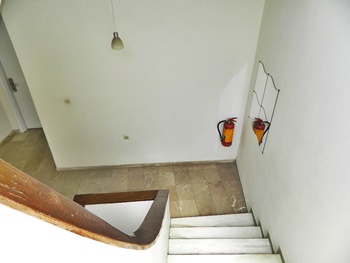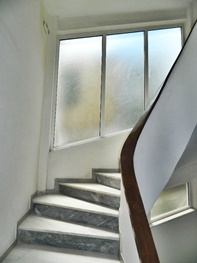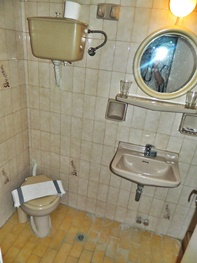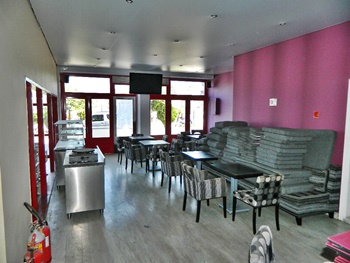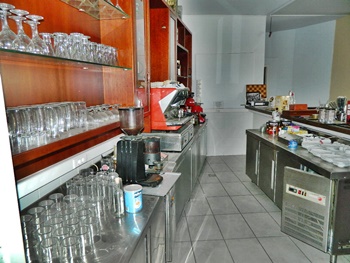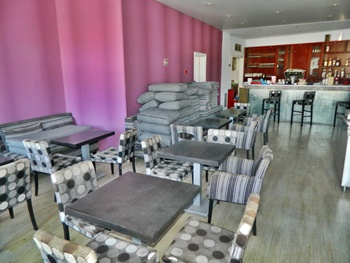 The ground floor has a cafeteria area of 120 square metres
The average capacity filling in summertime / wintertime is 30% full all year round
Price : 340,000 Euros Negotiable Code : POROSHOTKRIS / 500 NEW
---
A Successful Hotel For Sale : Agios Gordios : South Corfu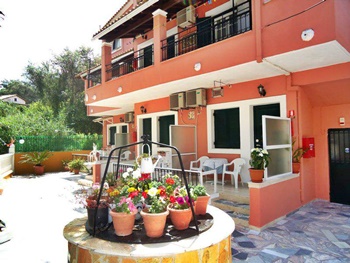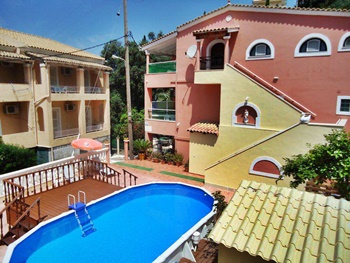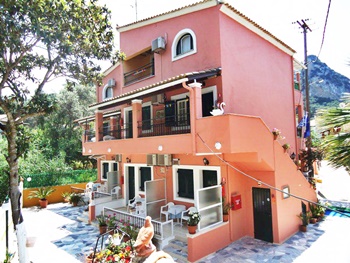 For sale this lucrative business is in Ag Gordios. This is a three-storey building which includes apartments with a total of 14 rooms.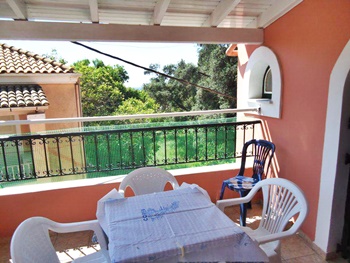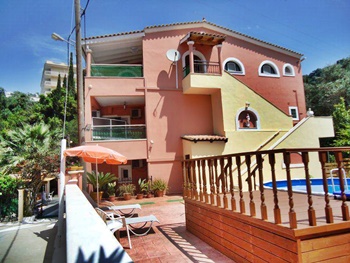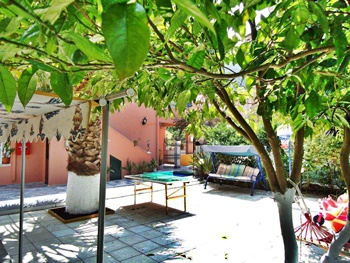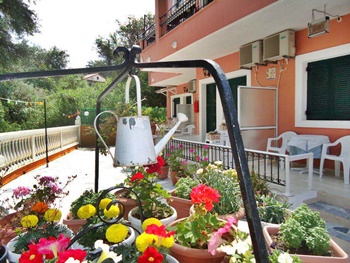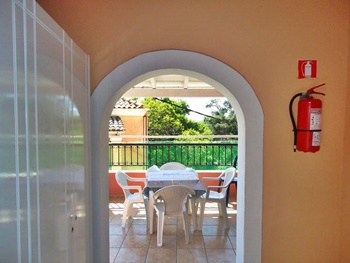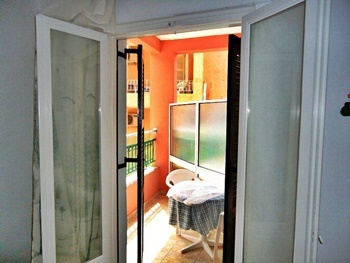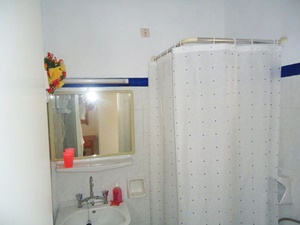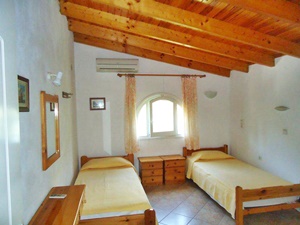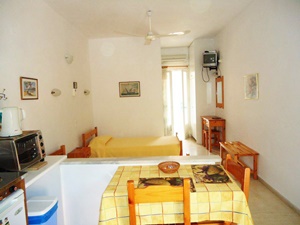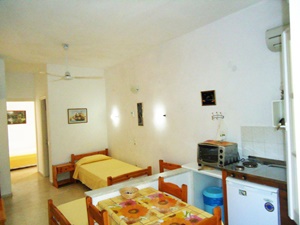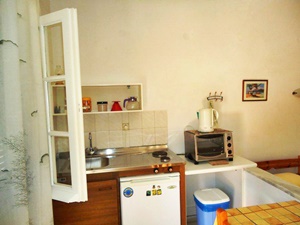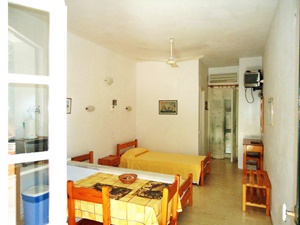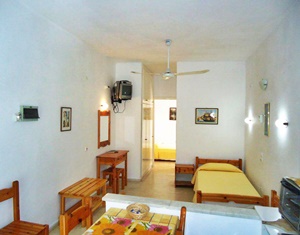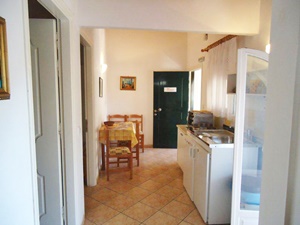 This Hotel is 365 Square metres in area with 14 fully fitted apartments. They are furnished and equipped in excellent condition and have terraces. The reception is in a separate small house as well as a separate laundry room and bathroom. There is very tidy garden and courtyard with marble and pool.
Located only 200m from the beach and 35m from the main road.
Price : 550,000 Euros Code : CORFU ATHOT/11245 NEW
---
A 24 Studio Freehold Land and Property For Sale : Laganas : Zante
24 Studios to let with en - suite showers
This is a going concern owned by the same family for 12 years, for sale due to retirement, However it is the Freehold For Sale not the business,
The business can be run in your own way. Up To You, however advice will be available.
The accommodation consists of 24 studios to sleep 2/3 people, and one apartment used by the owners. All have a fully equipped kitchenette with utensils, cooking facilities, fridge, shower room air conditioning safety deposit box. All rooms have a balcony over looking the swimming pool and mountain views. The studios are spacious and comfortable. Cleaning service 3 days per week includes linen changed twice a week. On the balcony the customers can sit and relax enjoying the beautiful mountain views. Or have a drink at the bar for pre party drinks before an evening at the Lagana strip.
In 2016 at a cost of 50,000 Euros, new shower rooms were put in 18 rooms and replaced all water and waste pipes including new solar panels and water tanks and this year 2017 the swimming pool was renovated and the depth is now 1.6
The Studios, Hotel, Apartments, are comfortably situated just 1500 meters from Lagana beach and 800 meters to the lively clubs, with lots of restaurants and bars on the way.
Buy now to start trading in 2018. To visit and view E Mail Brian.
E Mail Brian.
Price : 400,000 Euros For the Freehold Property. Or Near Offer Code : ZANTE BUS/TDE/010
---
A Successful Hotel Apartment Complex For Sale : Kolios : Skiathos
The Hotel has 16 Apartments and a swimming pool and is located only 400 m from Kolios Beach
The apartments are rented out every summer and all of the necessary E.O.T permits are available.
There are 6 apartments on the ground floor, 5 on the first floor, and another 5 in a new building built in 2005.
All facilities are in peak condition and the apartment complex is currently rented under contract with a reputable tour company for 2 more years.
Price : 750,000 Euros Code : SKIATHOS KZHOT / KOL NEW
---
Own a 2 Floor Guest House : Melemeneika District : Samos Town : Samos
The property is located in Melemeneika district of Samos town, Close to the center and the port.
The built area of the house is 128.93 m² including a two floor of 112.40 m² . The two floor guest house has an area of 41.80 m².
The main house is a typical example of Samian architecture. It is a solid stone built residence fully renovated in 2007.
The 60,20 m² ground floor features a comfortable living room, a separate kitchen, a laundry room and a bathroom. There is a back yard of 42.40 m² paved with flag stones, ideal for relaxation and dining outside.
The original wooden staircase leads to the 52.20 m² first floor, where there are two double bedrooms, both with built in closets and en-suite bathrooms. The area between the two bedrooms is currently a study.
The guest house or annex has its private paved yard of 17.49 m² and a separate entrance. The 20.90 m² ground floor features a living room and a kitchenette. A spiral staircase leads to the first floor where there is one bedroom and a bathroom.
The property is in great condition, ready to receive its new owners. Property Features : Great location in the center of town : It is a traditional stone built two floor house
Price : 180,000 Euros Code : SAMOS GMSP/724
---
An Apartment Building 200 metres From The Beach Front For Sale : Askeli : Poros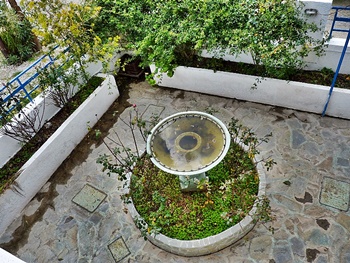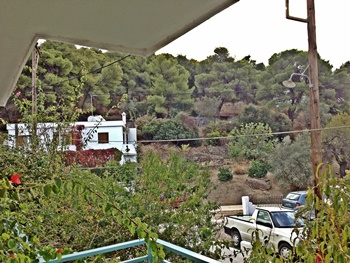 On the ground floor there are 2 triple bedrooms and 6 double bed rooms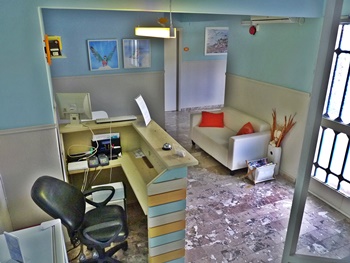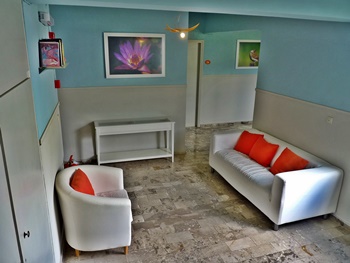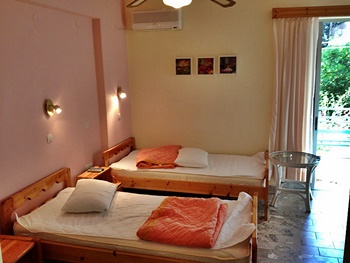 On the first floor there are 2 triple bedrooms and 6 double bedrooms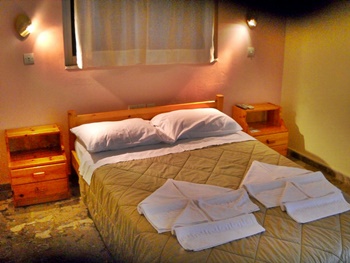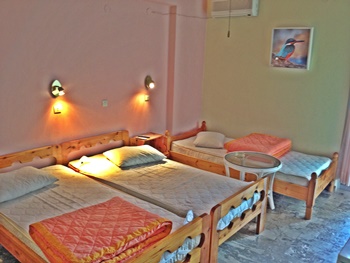 In the semi basement there are 2 rooms with 4 beds each and 2 double bedrooms that can accommodate 3 beds.
There is also a laundry room, oven and small store room. All the rooms have air conditioning, television, refrigerators, kettles for tea, hair dryer, security box, cutlery and plates. All the rooms except the semi basement rooms have balconies with pine tree views. The sea is only 200 metres away.
Price : 420,000 Euros ( Or Near Offer ) Code : POROS KRIS / BUS / 290 BUSINESS PREMISES
---
An Opportunity To Take Over A Well Established Cafe On The Waterfront In Kastellorizo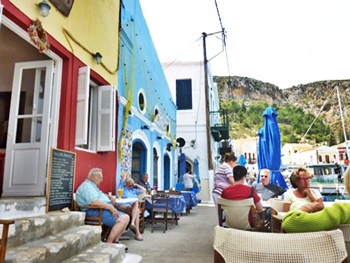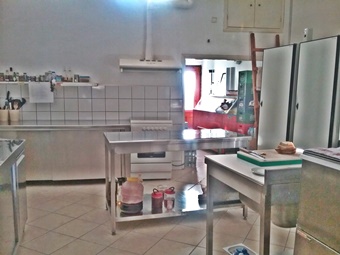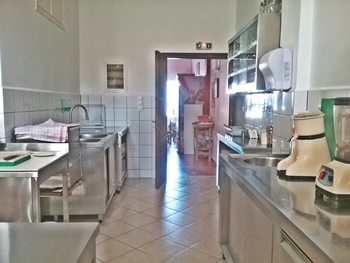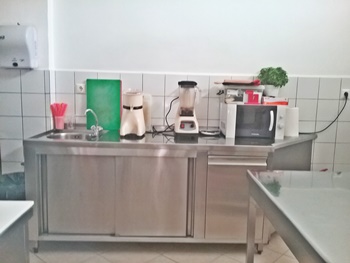 This excellent business has been in the same hands for 12 years...Dutch & Greek owners. They want to retire. A new lease will be granted.
V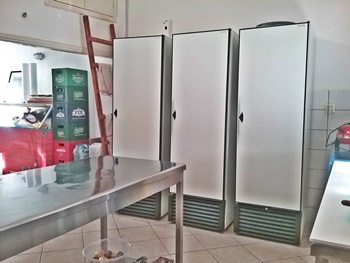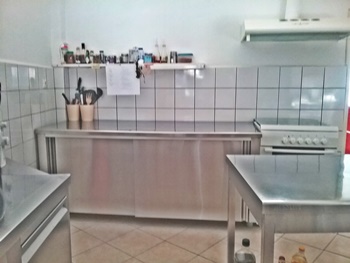 The business is very well equipped with inside area for eating and outside tables and chairs where you can watch the turtles and fishing boats because it is situated on the front only approx 200 yards from the ferry and boat berthing. The cafe is open from April to October and has regular clientele plus all the tourists who visit the island from Turkey and Cyprus ( By Boat ). There is a small airport on the Island and it is a 25 min flight to Rhodes.
Asking price for goodwill fixtures and fittings is 90,000 Euros. Rent is 700 Euros Per Month : Fixtures and Fittings include all kitchen appliances, tables and chairs with stock at valuation.
Price : 90,000 Euros Code : KASTELLORIZO BUS / SH8

---
For Sale A Traditional House : Koskinou : Rhodes
With Established Holiday Rental Business with Home and Away and Airbnb Yeilding £6-7000 per year.
This well renovated old traditional village house with private South facing courtyard is a real find. Located in amongst the Greek old style community lifestyle in the alleys of this charming village, this house has much potential from summer rentals to permanent residence.
The house boasts a handmade fitted kitchen, with a high Italian style original wooden ceiling and direct access out to the courtyard. To one side of the kitchen you find a small double bedroom, with the same high ceiling and 2 windows making it bright airy and cool in the summer. The main sala (living space) is 60 square meters large, with a fabulous stone arch through its middle. This 1 room has, a living room area, a dining room area, study/computer zone, a walk in wardrobe, and 2 bedroom areas on raised platforms to one side of the room which look down onto this exciting space, and wonderful original pebble stone floor, very typical of Rhodes.
Out in the ample sized courtyard there are 2 seating areas amongst pleasant planting to enjoy breakfast, or evening drinks on the warm summer nights. The bathroom separate from the house, has a large walk in wet area, and is fresh and modern.
This House Is Ideal For Renting And Management Services Are Available Or Just Live The Village Life
Price : 150,000 Euros Reduced Code : RHODES CL/DH020
---
A Beautifully Renovated Village House : Malona Village House : Rhodes
With Established Holiday Rental Business with Home and Away and Airbnb Yeilding £6-7000 per year.
This is an 1895 original old village stone house which has been fully rebuilt with traditional and environmentally friendly techniques. A truly fabulous property. Set in a quiet, traditional corner of the village of Malona. Just 5 minutes drive from the beautiful golden beach of Agathi, and the pretty harbour of Haraki, the village of Malona has a lot to offer in both the summer and the winter. As an active traditional agricultural village, it is surrounded by orange, mandarin and olive groves which keep the villagers busy all year around.
The house is a 90 square metre village terrace house, consisting of one large traditional 'Kamara' (Archway) room as you step into the house, 1 large bedrooms upstairs ( Which could be converted to two ), a bathroom on the ground floor, facilities to install an upstairs toilet/sink at a later date, a 30 sq mt balcony / terrace area with views across the village, and a 20 sq mt courtyard or parking area. The walls are a combination of stonework and plaster.
The main 'sala' room downstairs is 60 sq,m and has a good sized kitchen with breakfast bar in one corner and is fully fitted with an oven and ceramic hob, and fridge freezer. A raised traditional 'panga' area opposite can be covered with mattresses for relaxing next to the open fireplace. There is space for a living or dining area in another corner, and the bathroom (including washing machine) opposite this, has an open area on the top for storage. The stairs are in the middle of the room on the back wall and have a storage area under it, and a desk sandwiched between them and the bathroom. The floor in this room is painted smooth cement in red. Upstairs the floor is solid wood stained to a walnut colour. The house has solar heated water, (with electrical back up) and multiple sockets everywhere for TV, telephone and electricity. There can be sleeping facilities for up to 8 people, as the dining/lounge area, and the area next to the fireplace could convert to comfortably sleep extra guests. This house is a perfect retreat from the world for those wishing to be part of Greek village life , and offers all the elements of traditional Greek living, with all modern requirements catered for.
This House Is Ideal For Renting And Management Services Are Available
Price : Only 145,000 Euros Code : RHODES CL/016 REDUCED
---
A Renovated Village House : Malona "Fourno" ( Bakery ) Rhodes
With Established Holiday Rental Business with Home and Away and Airbnb Yeilding £6-7000 per year.
Recently renovated, this 1895 original old village stone house is set in a quiet, traditional corner of the village of Malona. With parking just outside it is just 5 minutes drive from the beautiful golden beach of Agathi, and the pretty harbour of Haraki, the village of Malona has a lot to offer in both the summer and the winter. As an active traditional agricultural village, it is surrounded by orange, mandarin and olive groves which keep the villagers busy all year around.
A 10 minute drive finds you in the beautiful village of Lindos, or in the other direction in the heart of Rhodes 2nd town Archangelos. The house is a 61 square meter semi detached house, consisting of one large traditional 'Camara' (Archway) room and a bathroom. A perfect retreat from the world, the house will offer all the elements of traditional Greek living, but with all modern requirements catered for. There are sleeping facilities for up to 7 people within the one room, (although more comfortably 2-5 people!) with 2 double beds set up on traditional 'Pangas', with a bathroom below one and a large walk in wardrobe/storage area under the other.
The fabulous fireplace in one corner of the house is really the heart of these old houses where the families sat down to relax on large floor cushions, enjoying the drama of the 'Camara' as their view. The house is half plastered and whitewashed, and half natural stone. Outside in traditional village style there is seating and flowers pots to enjoy the company of the neighbours, with a BBQ area in the building at the front of the house. There is also an outside storage area. Access is available to the roof, through a small upstairs hall, where there are views of the surrounding village and countryside. The roof terrace with a wooden railing round it has a sun canopy and seating to enjoy late summer evening drinks. This is a super holiday retreat with excellent further rental opportunities if required.
A Chance To Buy A Superb Rentable Property For Investment Or As A Private Home
This House Is Ideal For Renting And Management Services Are Available With An Established Rental History
Price : 120,000 Euros Code : RHODES CL/10
---
This Is A Three Apartment Property In The Pretty Fishing Village Of Milatos : Milatos : Lassithi : Crete
Excellent Situation For A Business Start Up
This 3-Apartment property is In the pretty fishing village of Milatos Beach on Crete's North-West coast.
It sits in a safe and convenient location just a short stroll from all local amenities such as 'supermarkets', tourist shops, tavernas, seafront and pretty Harbour with its man-made beach.
This versatile property consists of a large 1-2 bedroom Upper Villa on the top floor with two one bedroom apartments on the ground floor.
There is potential to further develop a 'holiday-let' business with owner's accommodation above! EOT Licenses are no longer required



The Upper Villa has recently been fitted with double-glazed windows and patio doors and consists of a living room with A/C (2nd bedroom?), an open-plan dining conservatory/sitting room, a large modern fitted kitchen with access to an arched al-fresco dining area and large wooden balcony with stunning mountain views. There is also a double bedroom with wardrobes and A/C, a large bathroom with bath/shower, WC and washbasin and washing machine, and there is a lovely wrap-around balcony on 3-sides of the property.

The 2-ground floor apartments each consists of: Open plan living/dining/kitchen areas with traditional arch, double bedroom and a wet-room style bathroom with shower, WC and washbasin. There is a storage cupboard/wardrobe in the small passageway adjacent to the kitchen. Both apartments boast hand-made wooden shutters, windows and doors and one has a large covered/tiled terrace while the other overlooks a small garden with traditional wood oven.

The nearest 'supermarket', tourist shop and taverna is a mere 4-minute stroll away. Go East or West at the small Church in the Village Square and you will find around 10 superb and friendly family-run Tavernas overlooking the soothing blue sea! Stroll to the beautiful small harbour with its fishing boats and man-made sandy beach.

Price : Reduced to 160,000 Euros Code : CRETE DML/010
---
A Great Opportunity To Own A Sea Side Hotel Needing Refurbishment : Ermioni : Argolid
At the south side of Ermionida and with a wonderful view of 160 degrees, from Dokos island to Spetses Island, is an old hotel complex with bungalows for sale. This is a serious project with many investments abilities and the ability of creating a marina. With 2 beaches located in a wonderful natural place. The plot has the opportunity for creating a superb holiday complex with very little investment input.
The Capacity is 193 rooms ( with 362 beds) : 43 Bungalows type Α @ 28 sq. meters : 6 Bungalows type Β @ 55 sq. meters
This is the Ermioni Costa Perla Hotel Complex of 75195 sq. m. with a Swimming pool & sport facilities. The plot has the opportunity for creating a superb holiday complex with very little investment,
Price : 22,000,000 Euros Offers Considered Code : ERMIONI KG/001
---
A Successful Business In An Exclusive Sea Front Location : Agia Galini : Crete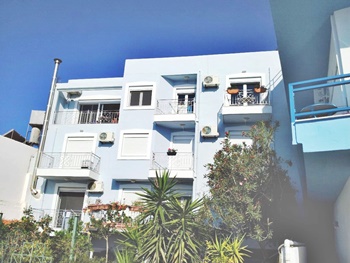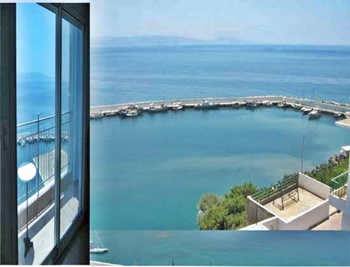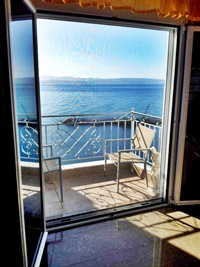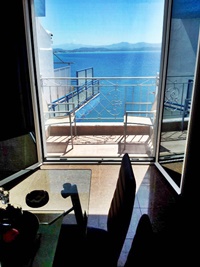 This is an opportunity to purchase a completely renovated four floor apartment block in the popular tourist village of Agia Galini. Located a few minutes walk away from the beach, and enjoying an elevated sea front position, this property is unique in its offering of sea views, accessibility to the beach and village amenities, and could continue to operate either as a business or as individual private homes.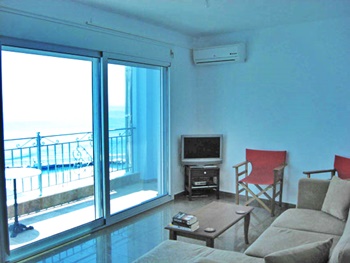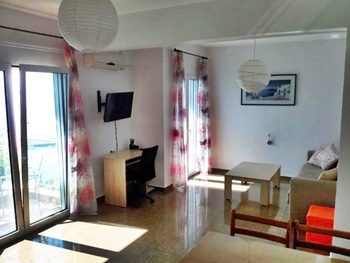 The property currently operates as a very successful business, complete with a full EOT licence for tourism and modern furnished apartments, suitable for short and long term rents, with many returning customers and many bookings taken in advance of the coming season.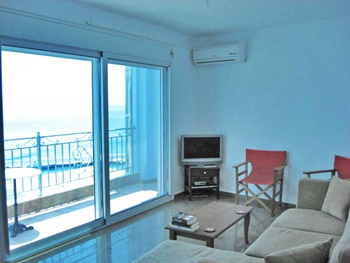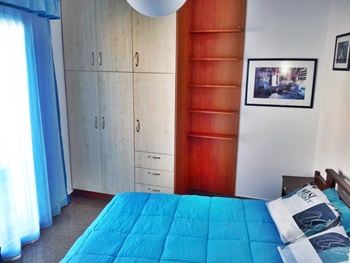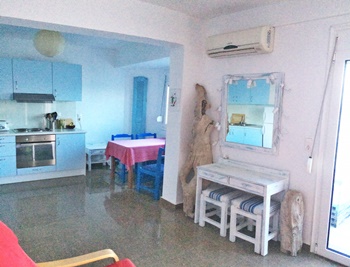 There is potential to combine the top two apartments making an exclusive penthouse apartment, giving up to 100m2 of living space and incredible uninterrupted sea views. The roof could be developed into a garden or outdoor entertainment area.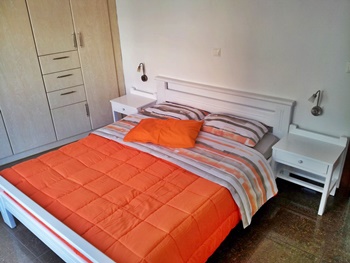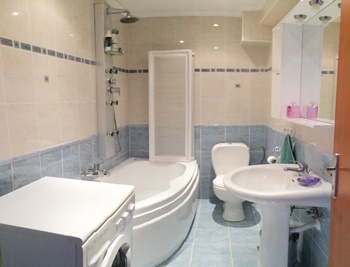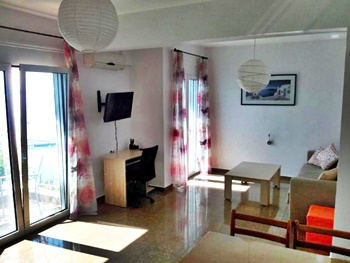 The property has a large private garden, of over 100m2, on street level, and includes a variety of established tropical plants and trees. There is adequate room to add a pool and the garden has a secure gated entrance. To the roadside of the property are four private parking spaces and the sea side has ample parking on a quiet road. It is an easy walk both to the beach and to the village. Each apartment has its own private hot water system of 200 litres, two air conditioners, and comes fully furnished and fitted, with quality products including washing machine, Bosch appliances and dishwashers. There are a total of four individual one bedroom apartments, on the first and second floors, each with its own private balcony to the front and sea facing balcony to the rear.
On the ground level and lower ground levels is a fully renovated large apartment, covering 200m2 over two floors, which is currently used by the owners as a comfortable home, but similarly offers the potential for rental as two separate 100m2 apartments.
Lower ground comprises : Large open plan living area with floor to ceiling shelves and large glass fronted fireplace : Access to the garden from main living area : Large modern fitted kitchen with quality finishes, appliances and fittings : Two large store rooms which could be additional living/bedroom spaces : Internal staircase
Ground floor comprises : Three bedrooms, including two ensuite with private balcony and sea views : Additional bathroom : Large store room which could be another bedroom/living space : Air conditioning units : and the Security entrance. The Local Tavernas and all town facilities including the harbour front and beach are a very easy walking distance
The potential of this property combined with its current success as a business makes this a most attractive offer.
Price : 670,000 Euros Code : CRETE LB / HO21 NEW
---
Perfect Sea Front Villas To Be Completed : 100 metres To The Beach : Artolithia : Prevesa

This is an opportunity to take over this development of two small villas and build to your own ideas.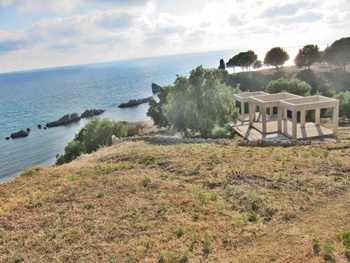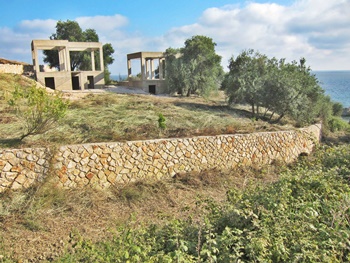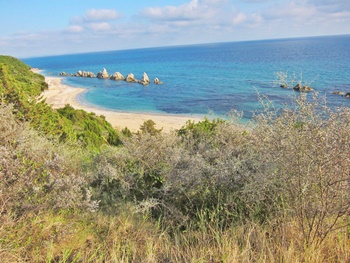 This perfect sea front property is for sale in NW Greece 100 metres from the shoreline with breathtaking views on a beach of white sand.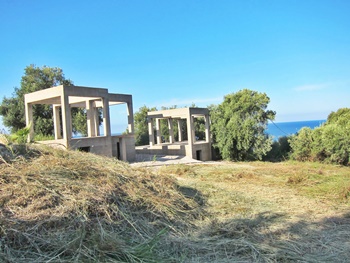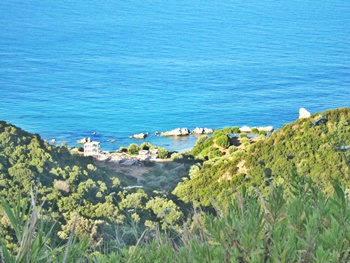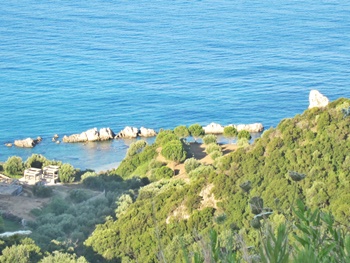 To be sold unfinished with sole cement structures situated at Artolithia between Preveza and Parga with a fantastic marine horizon facing Corfu Paxos Antipaxi and Lefkada islands.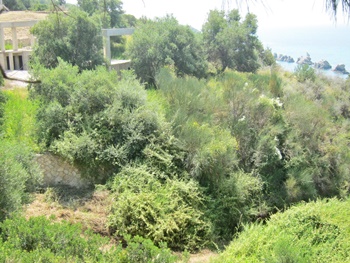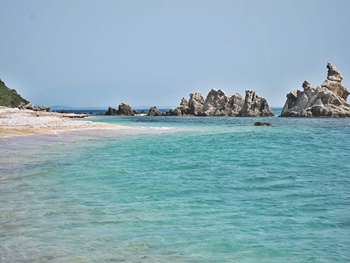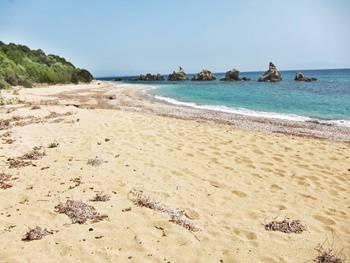 It is probably one of the most beautiful "private" beaches one can imagine, with incredible wilderness all around. Each house is 64 square metres and the total is 128 square metres. Each house has 2 bedrooms, 1 kitchen and 2 bathrooms with 2 toilets. Water is from the municipal supply . The garden is of flat rich soil with ancient olive trees and young orange trees. The property has clear titles and is up to date with the new planning laws. The property is surrounded a many hectares wide protected pine forest with an old monastery and has no other buildings around, except another block of 4 small villas. Access is by an asphalt road, electricity and water are on the property and there is a public antenna mobile phone nearby giving perfect internet and phone signals.
This is a superb investment project for someone either for your own seaside villas or to sell on at a good profit.
Price : 165,000 Euros Code : PREVESA MC/010

---
A Renting Studios Apartments Business For Sale : Volimes : Zakynthos.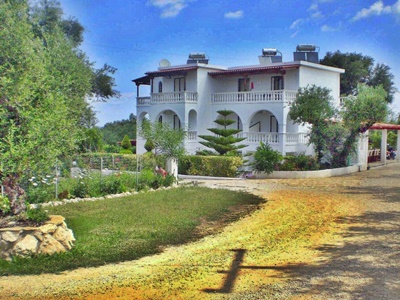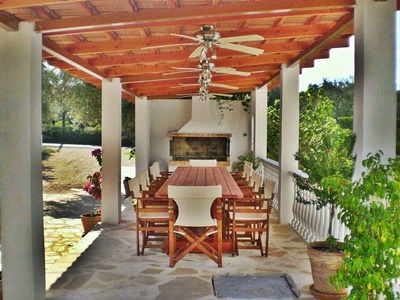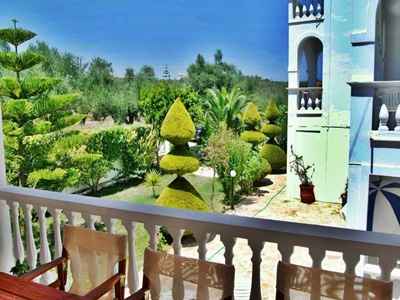 A wonderful investment opportunity with huge potential, combined business & residential property consisting of 8 self-catering studios & 2 large family apartments.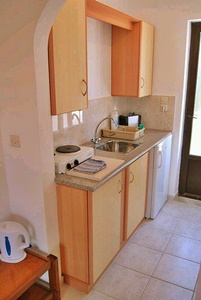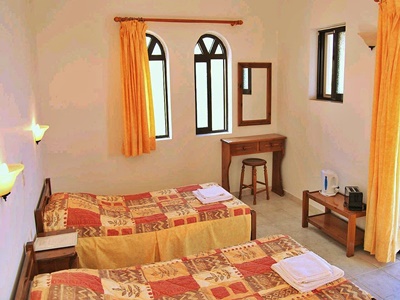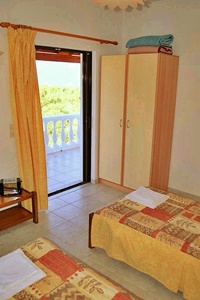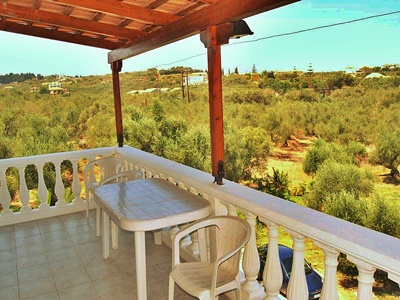 The property is set in a lovely mature garden with a variety of trees & shrubs, amongst the olive groves in a tranquil location. Only 300 metres from the lovely sandy beach & harbour of Bouka & 200 metres to Tavernas & local shops.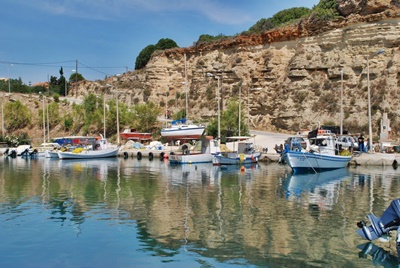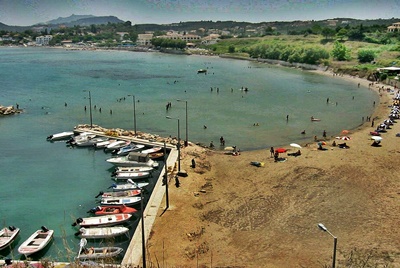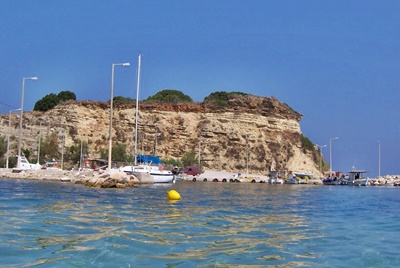 It is possible to build a further 200 sq.metres residential or 400 sq.metres commercial, together if one required also a swimming pool. Each self catering studio consists of twin beds, small kitchenette & bathroom with shower, every room opens on to its own private balcony/veranda area. Several of the studios & larger balcony have panoramic sea views.
The larger 2 bedroom family apartments located on the ground floor have also central heating which make them suitable for all year round living during the colder winter months.
Location : Bouka beach located close to Tsilivi beach and offers a smaller and quieter alternative to anyone staying in Tsilivi as it is secluded. The small clean sandy beach has shallow waters and is ideal for children.
Price : 450,000 Euros Code : ZANTE LG/ZC/BS-16-01
---
A Sea Side Business For Sale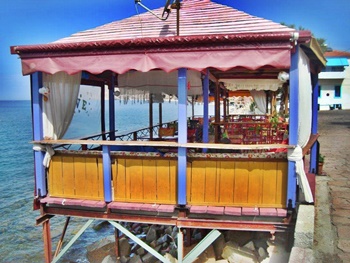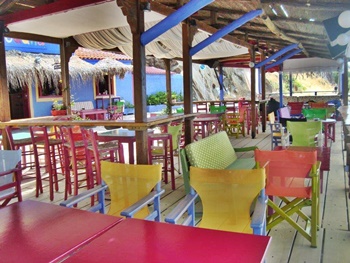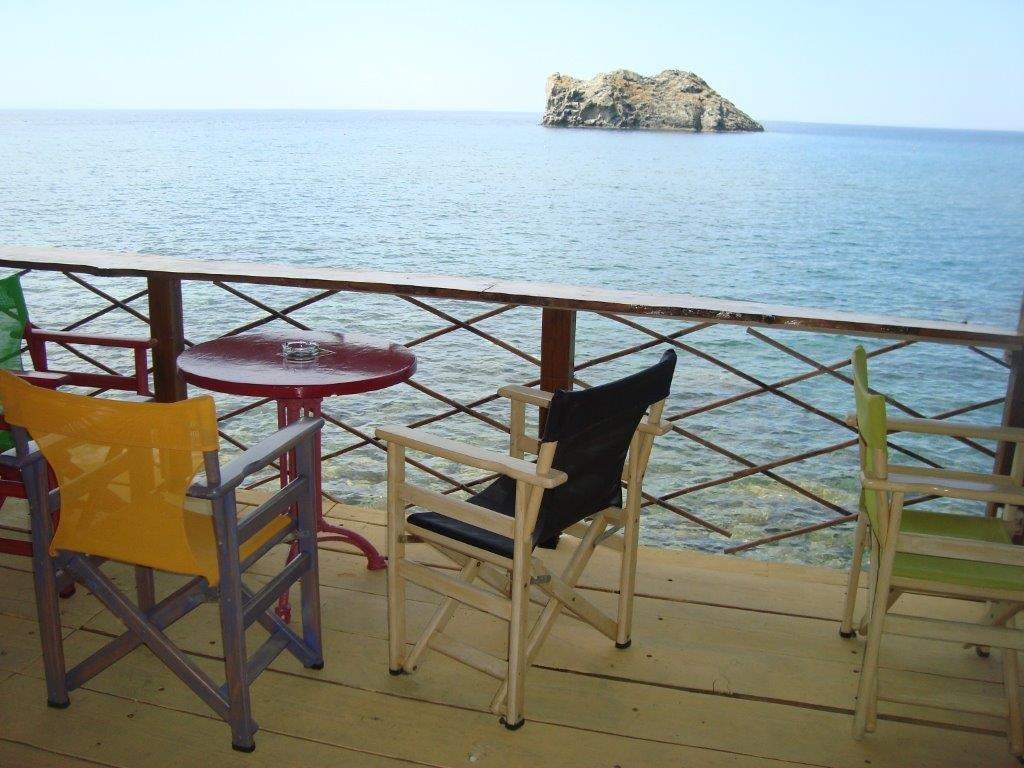 A stylish, colourful alternative business with a fantastic reputation and loyal customer base built up over many years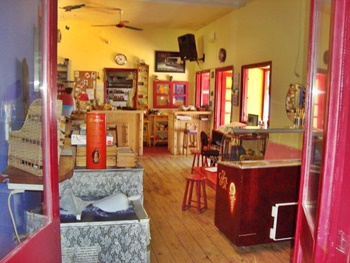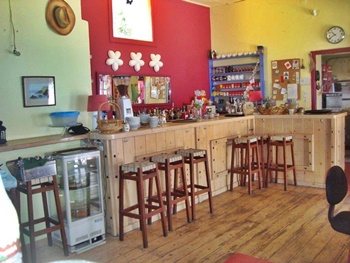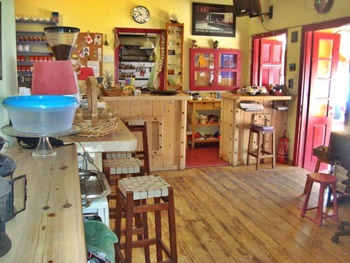 Fully operational and very well equipped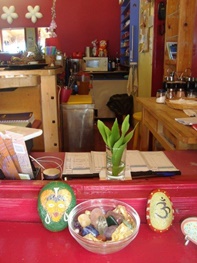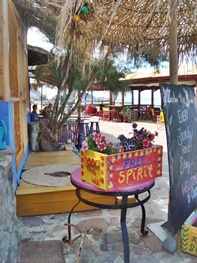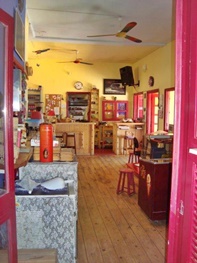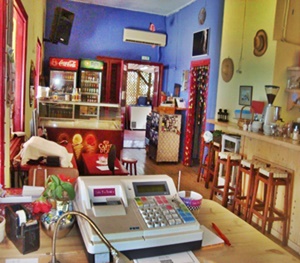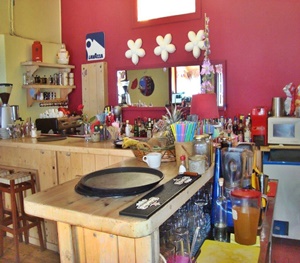 Zorba is a very special bar/cafe in a prime spot. Located at the end of Skala's famous strip this magical, enchanting bar oozes character and style. It sits on top of stilts as the Aegean Sea laps gently below, with a bar across the road.
The customer base is wide and varied reflecting the eclectic/alternative nature of Skala Eressos. The bar has strong links with the nearby Osho Afroz meditation centre. It also hosts a variety of events during the renowned International Eressos Women's Festival fortnight and has a loyal customer base from the significant women's community. Zorba is also a popular spot for Greeks, both tourists and locals alike.
For Full Details Ask Brian For the word document
E MAIL BRIAN
Price : 60,000 Euros This is the price of the business not the building Code LESVOS SH/SKE0055

---
A Beautiful Villa for Sale Overlooking Sea & Mountains : Limini Keriou : Zante
A beautiful contemporary villa with the WOW factor overlooking the sea and mountains in Limini Keriou only five minutes from Keri beach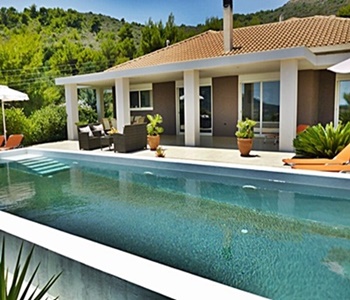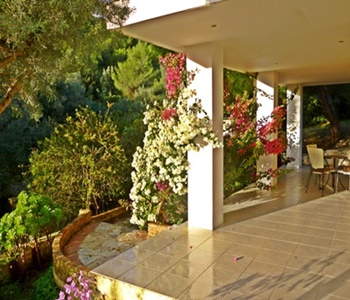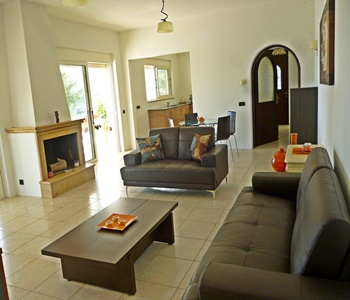 Villa Alourdas was built within 4,500 sq.m of land. Mediterranean palms, oleanders and stone built walls border the long driveway up to the villa. The impressive freshwater infinity pool has views of Keri Lake and "the Turtle Island", and overlooks Keri Beach and Maranthonissi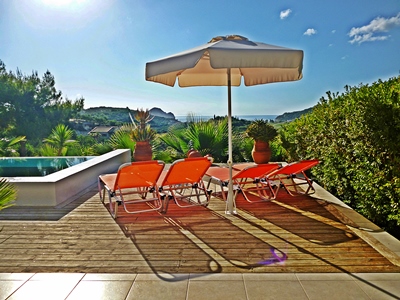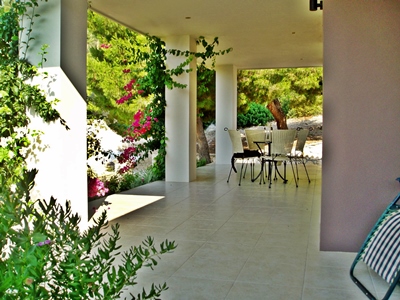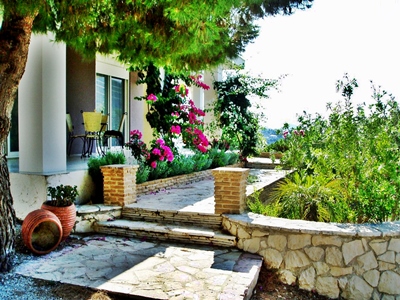 The property comprises of three bedrooms, two bathrooms, cloakroom, open plan lounge, fully fitted kitchen and integral garage. Expansive fully tiled covered verandas leading onto hardwood decking by the pool.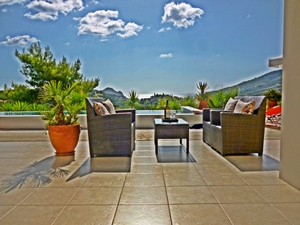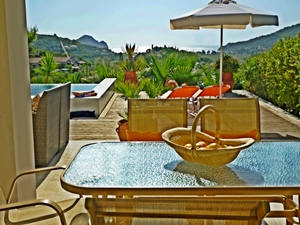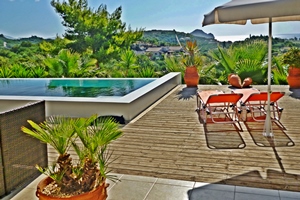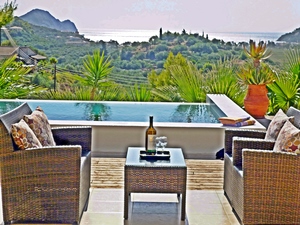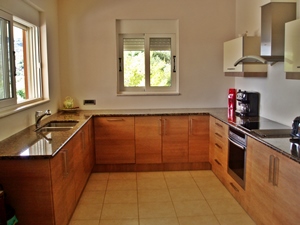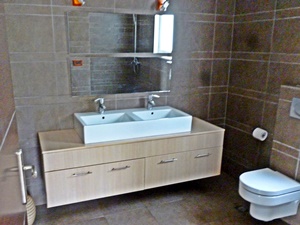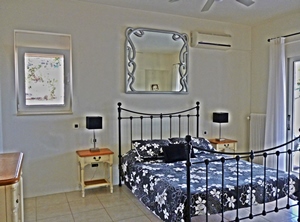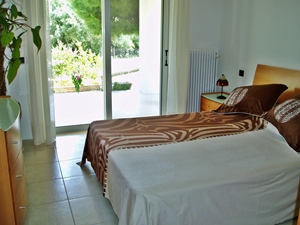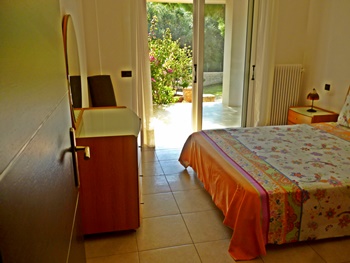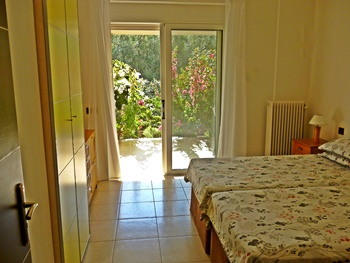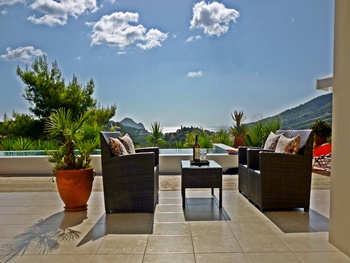 Some of the many features included in this property are : Oil fired central heating with under floor heating in kitchen, lounge and master bathroom. : Electronically controlled windows and doors. All windows and doors have fitted fly screens. : All bathrooms have modern Italian styled fittings. : Spacious integral garage with remote control doors, washing machine and second fridge freezer : Fully fitted kitchen with dishwasher, integral fridge freezer and marble worktops.
This villa can be purchased complete with contents as seen and is ready for immediate occupation. An ideal family home or could provide a lucrative holiday rental income.
Successfully trading as a bed & breakfast business since 2009
Price : 515,000 Euros
Reduced To 490,000 Euros

Code : ZANTE DJ / 010

---
A Hotel In Skiathos Town : 15 Of Everything : Megali Ammos : Skiathos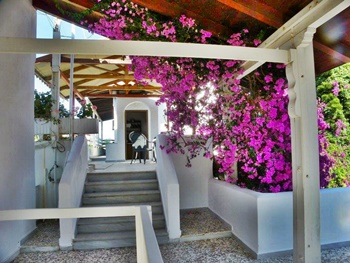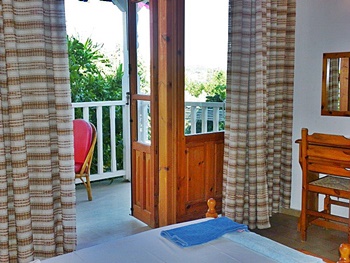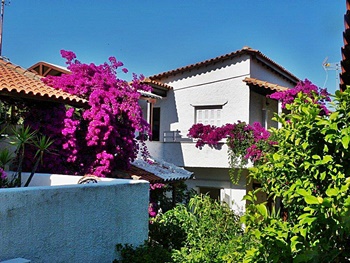 This Hotel has 15 Bedrooms 15 Kitchens 15 Bathrooms 15 Toilets and is built on two floors.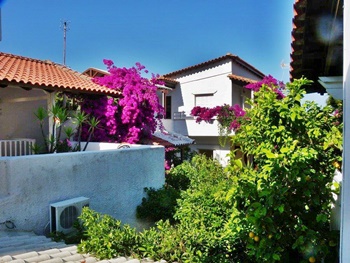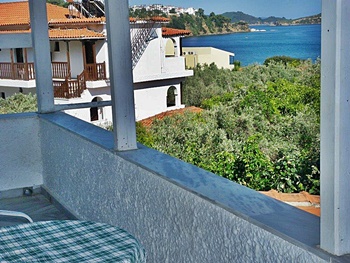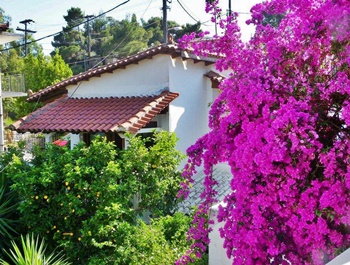 The built area of the house is apprx 600 sq mts on a plot of approx 1,170 sq mts.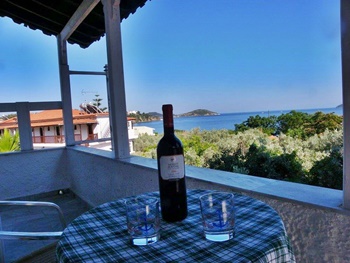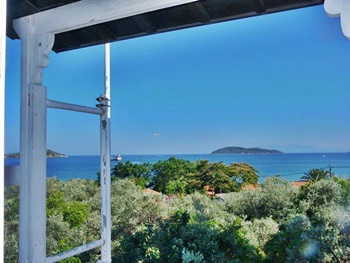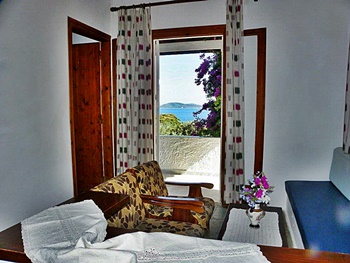 It has been in business operation from 1972 until the present and can accommodate more than 40 guests in full capacity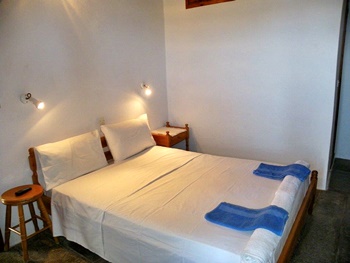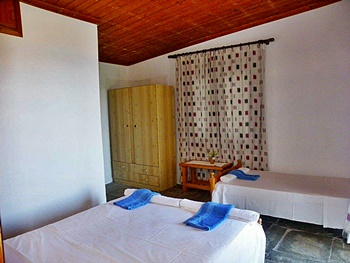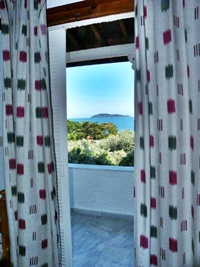 The hotel needs certain restorations in terms of furniture and / or bathrooms and kitchenette amenities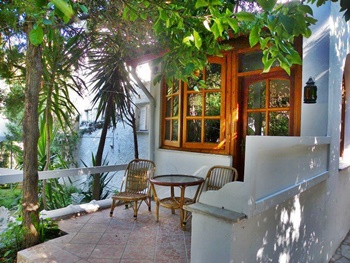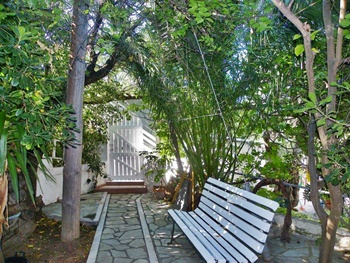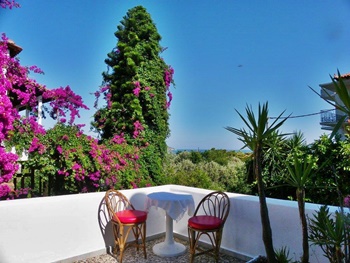 The actual area and location of the business can offer - if refurbished - a great opportunity for transforming it into a 5* hotel business due to town & beach proximity.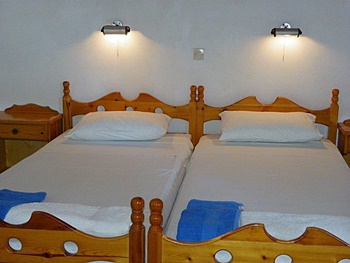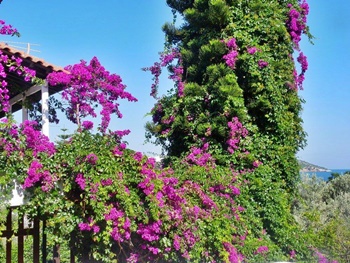 Fantastically located at only 500 metres from the main parking centre of Skiathos Town ( Acropolis area ) - walking distance. Also within walking distance of the main Island beach Megali Ammos. The building as well as the land of the property is fully and legally within the city limits of the main town.
Price : 600,000 Euros Offers Invited Code : SKIATHOS HOT/VD010

---
Going Concern Hotel For Sale

With Potential For Growth : Viglia Beach : Varia : Lesvos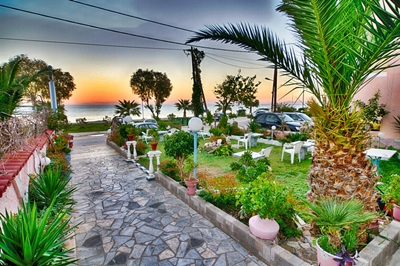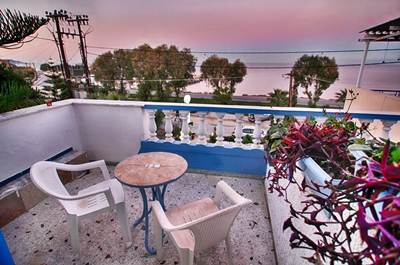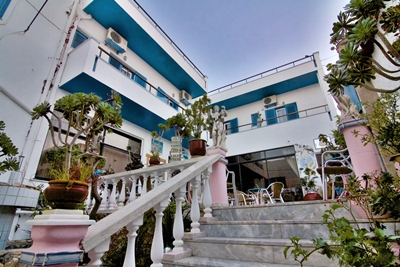 FOR SALE - 100% of both business and building. VIGLA BEACH HOTEL (EPE Company, Limited Liability) located on the beautiful island of Lesvos, Greece. This hotel was first built in 1987 and it has recently been fully renovated. It is situated in Varia, only 2.5 kilometres from the city and historic castle of Mytilini and also within close proximity to the airport. Crystal clear beaches, tavernas and bars are all nearby. It is also within walking distance of the popular Theophilos Museum or 'Teriade' as it is known, as well as the Aegean University main campus.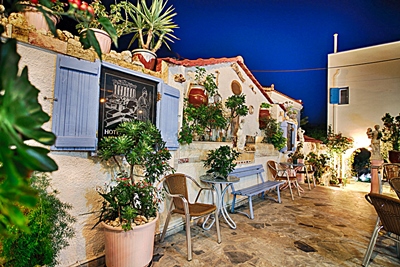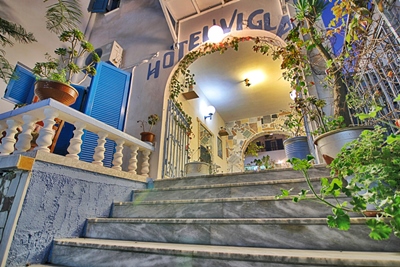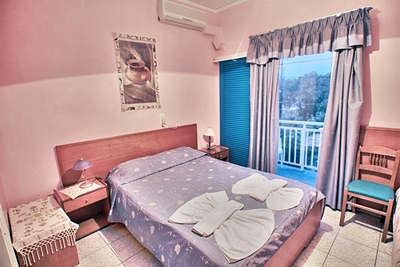 The hotel features 15 fully furnished rooms, a beautiful bar made of expensive oak wood, restaurant, and terrace. The hotel has an official B class status for its bar and restaurant and C class category for its rooms. The quality of its rooms is B + class. Each room has shower, telephone, central heating, toilet and balcony. Built on a seaside property on the main road to the city, port and airport of Mytilini, it has 540 square metres of building with 2 storeys. There is a 160 square metre marble paved outdoor area with garden, where guests can enjoy coffee, whilst admiring the view of the pier and sea. The whole property is a total of 700 square metres. The hotel has a beautiful roof garden, which overlooks the breathtaking stone pier of Vigla Varia.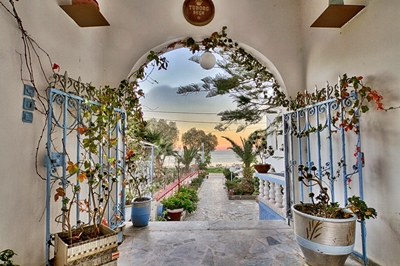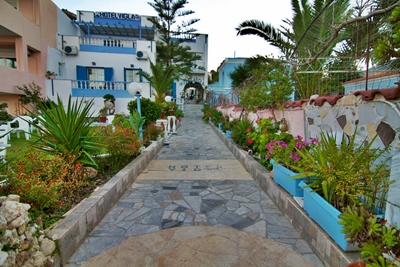 The hotel operates all year round and has an excellent clientele, with the potential of attracting more business in the future. Due to the hotel's proximity to the university, which has approx 3500 students, a lot of the hotel's current clientele are family and friends of students studying at the university. The hotel also has a large Turkish clientele and Mytilini is situated only 9km away from Turkey, with regular ferry connection between Mytilini and Ayvalik.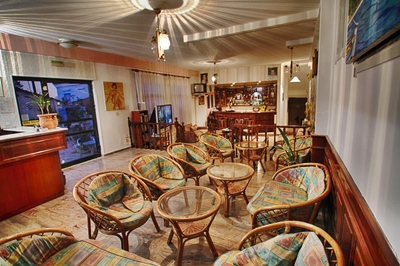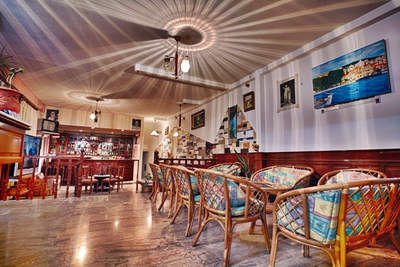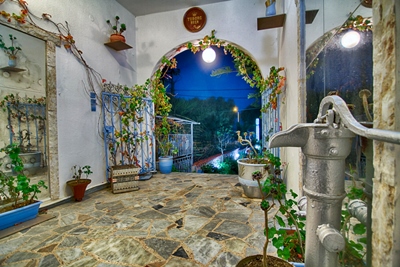 The number of Turkish tourists visiting the Greek islands has increased in the last two years on Kos, Samos, Chios and Lesvos in the Eastern Aegean in record numbers. In particular, the numb Beach Hotel is an ideal spot for Turkish tourists as they have shown a preference for staying in, or close to the city of Mytilini. Lesvos is the third largest Greek island located in the Aegean Sea. There are 40,000 residents in the capital Mytilini and 90,000 inhabitants on the island of Lesvos. Mytilini is a small and manageable city full of great restaurants, cafes, nightlife, museums, charming historical buildings, elegant traditional mansions, Orthodox churches, clean beaches, picturesque scenery, and warm and friendly locals. Full Business information will be made available to serious buyers on request.

This hotel is being sold only due to family reasons. A terrific investment opportunity, with plenty of potential for growth.


Price : 700,000 Euros :

Reduced to 600,000 Euros for a Quick Sale

Code : LESVOS BUS/AM/010

---
A Hotel For Sale In Methoni : Methoni : Peleponese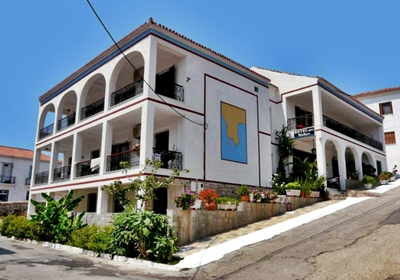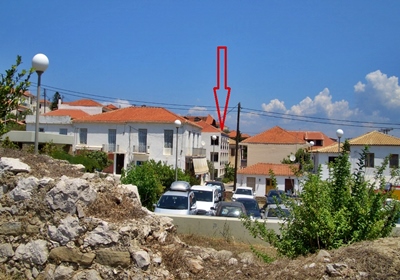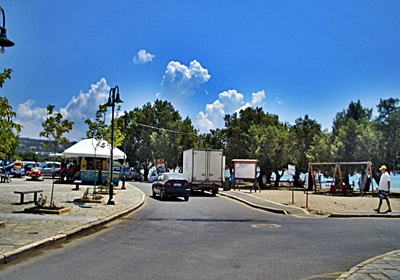 Built in 1992 and kept up to standard this functioning hotel has 8 double rooms each one of 40 square metres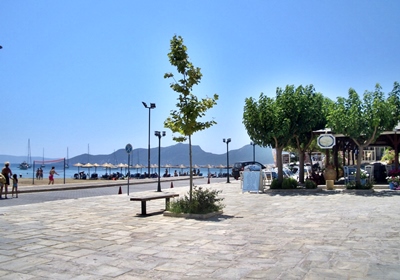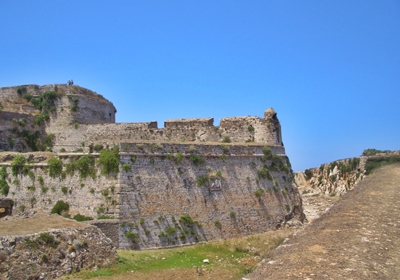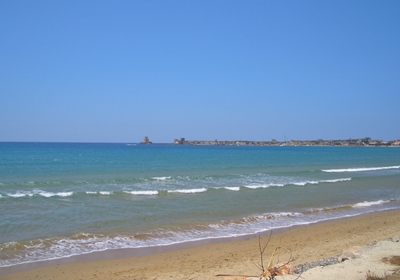 There is the possibility to buy a plot next door to use as parking.
Price : 350,000 Euros Code : METHONI HOT/DG35

---
4 x 1 Bedroom Apartments In Coastal Resort : Stoupa : Mani
These 4 x 1 bed roomed apartment are only a short walk to Pantazi beach and local tavernas .
An ideal business for someone wishing to live in the upper apartment and rent the lower apartments . The property has a nice walled garden and views of the coastline and mountains. The property is in need of some minor repairs and decorating .

4 x 1 Bedroom Apartments : Balconies : Gardens : Kitchen : Verandas : Lounge : Shower Rooms : Coastal Resort : Walking to the Beach
Prices : 206,000 Euros Code : MANI YE/402
---
A Business Venture For Sale With 4 Villas Set Around a Swimming Pool : Stoupa : Mani
This beautiful property could be just what you are looking for, the property consist of a 120 m² house which the present owners reside in and 4 Villa Apartments. The property is located in Stoupa in the southern Peloponnesus which is one of the most stunning areas of Greece in Messinian Mani approximately 40 kilometers from the nearest airport at Kalamata. The area is known for its beaches of golden sands, crystal blue sea and the spectacular backdrop of the Taygetos Mountains it is a popular summer holiday resort, and in the cooler winter months is a great base for walking, cycling and exploring the wider area by car.
These villas are situated in an idyllic location in an elevated position, nestled among olive groves with wonderful sea views, yet are within walking distance of Stoupa village and its two beautiful sandy beaches, Kalogria Beach can be reached within a 10 minute walk, while the main beach area of Stoupa can be reached in a 20 minute. Both beaches have as a good selection of shops, tavernas and bars. There are also two well-stocked supermarkets nearby
The main house is 190 m² which is used as the family home, it consists of a large lounge with a fireplace, fully fitted kitchen, 3 bedrooms and a bathroom. There is a private courtyard with a seating area, lawned garden and access to the swimming pool.
There are 2 x 2 storey 70 m² villas, on the upper level there is a double bedroom, with en-suite shower room; fitted wardrobes French doors that lead out onto a large sun terrace with table, chairs, sun loungers and parasols. From the terrace there are stunning views of the Messinian coastline and the Taygetos Mountains to the rear. Marble Steps take you down to the lower level of the villa where there is a lounge, fully fitted kitchen dining area and toilet, air conditioning and satellite TV. The Villas are surrounded by well-kept gardens; they each have their own private balcony or terrace, with tables and chairs for al fresco dining and sun loungers for relaxation. From the terraces there are stunning views of the Messinian coastline and the Taygetos Mountains to the rear. Stone steps lead down to the swimming pool with sun loungers and umbrellas
The 2 x single storey 30 m² villas consist of a lounge, dining area, kitchen, a double bedroom with fitted wardrobes and a shower room. There is air conditioning and satellite TV. The Villas are surrounded by well-kept gardens; they each have their own private balcony or terrace, with tables and chairs for al fresco dining and sun loungers for relaxation. From the terrace there are stunning views of the Messinian coastline and the Taygetos Mountains to the rear. Stone steps lead down to the swimming pool with sun loungers and umbrellas.
Price : 750,000 Euros Could be a very profitable enterprise Code : MANI YE/677
---
An On Going Rental Business Fully Set Up And Successful For Sale : Old Skala : Kefalonia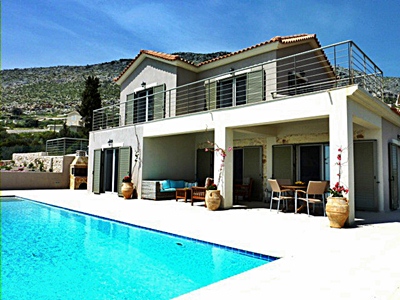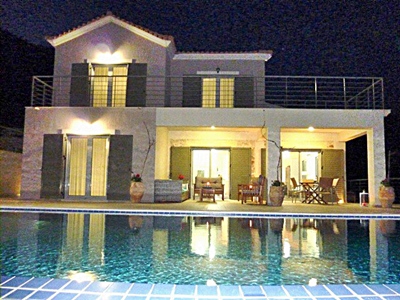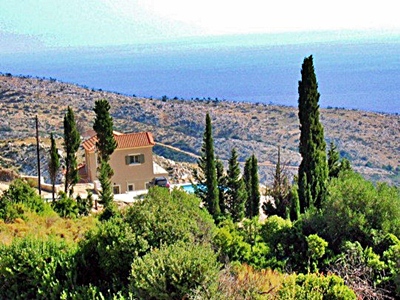 Built high up overlooking Skala and the sea, with fabulous views, it is within walking distance to a taverna, bar and minimart (half a mile) and a free tennis court even closer. Only 2 miles away is the big family friendly resort of Skala with sandy beaches, lots of shops, tavernas, supermarkets, chemists, and doctors, etc.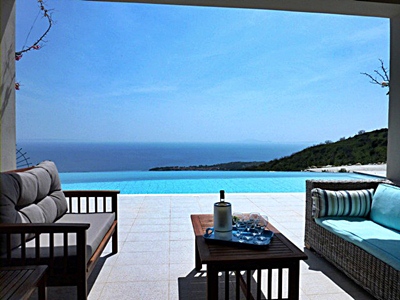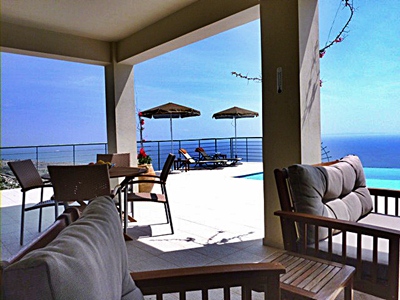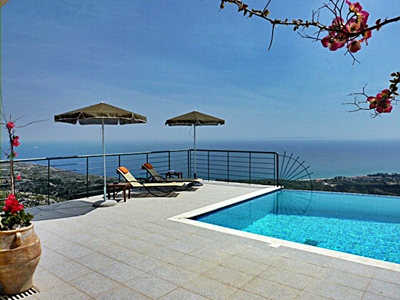 This lovely villa comes with full E.O.T. licenses to sleep up to 8 people and has three en suite bedrooms, four bathrooms, four toilets and a beautifully fitted kitchen, and air conditioning and heating and comes with a large covered terrace with dining and seating area. Every bedroom has a sea view, balcony and terrace.
Excellent holiday accommodation with a four year track record of 100% occupancy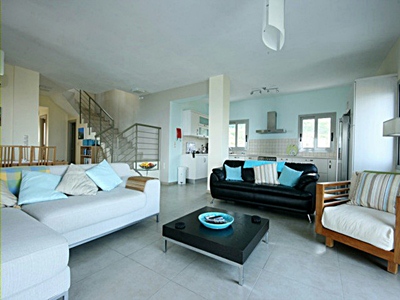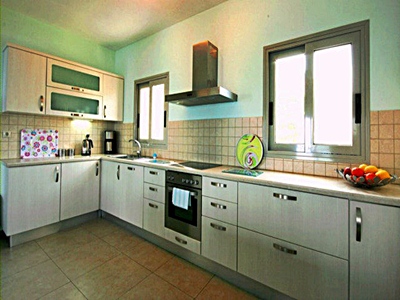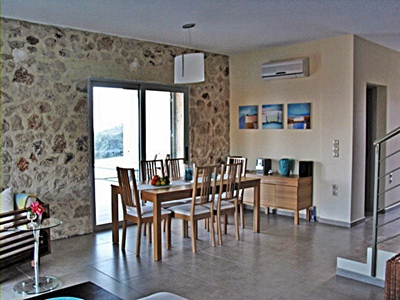 The Villa is set in a 4200 square metre plot and has a gated, fenced and landscaped garden with over 1 acre of land and about 20 olive trees and 20 fruit trees, and there is a large infinity swimming pool 13 X 5 metres with integrated Jacuzzi.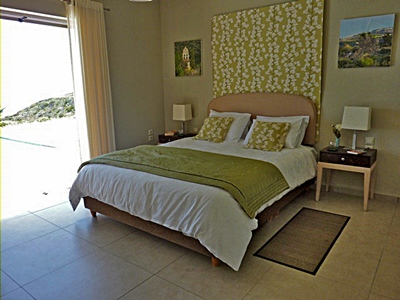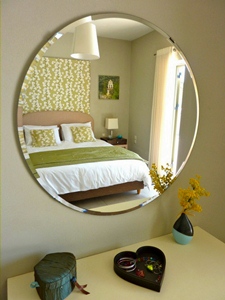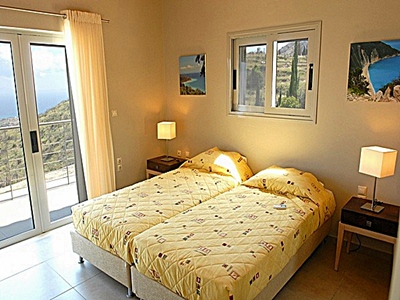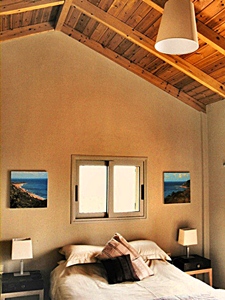 8% Rental returns achievable. The villa is to be sold as you see it above, fully furnished and equipped and now an ongoing business.
For more business figures a Word Document Is Available Please E Mail Brian, for KEFALONIA BUS/RIP/010
E Mail Brian.

Price : 525,000 Euros Or Near Offer. Code : KEFALONIA BUS/RIP/010

---
A Four Apartment Building Providing Income from Letting/Olive Oil/Vinyard : Amoudi : Zakynthos
This unusual property 300 metres in size consists of 4 independent studio apartments with traditional style outhouse areas, sits on a large cultivated piece of land measuring 3,200 sq.metre.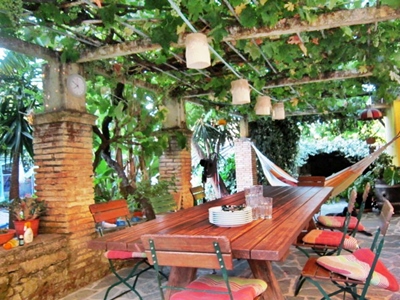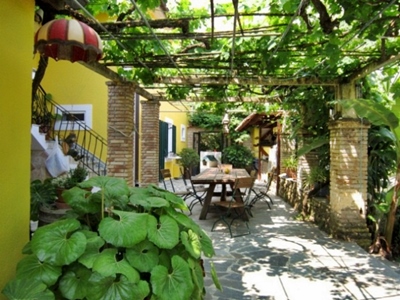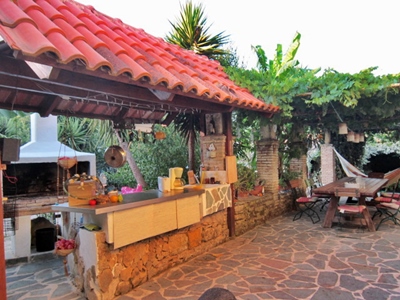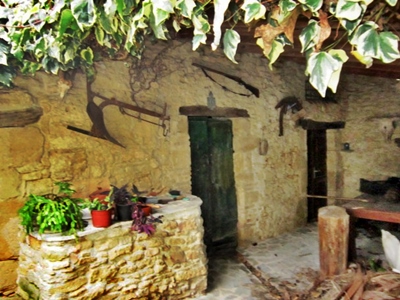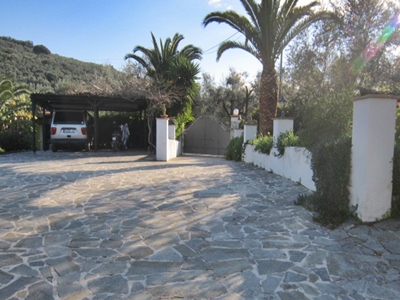 The property due to the design can be rented out during the summer season providing an income of approx, 25,000 Euro together with also the land producing each year from the olive trees, 100 litres of olive oil and 500 litres of wine from the vineyard.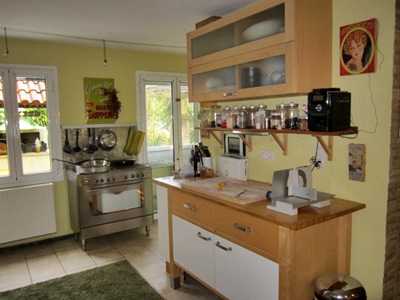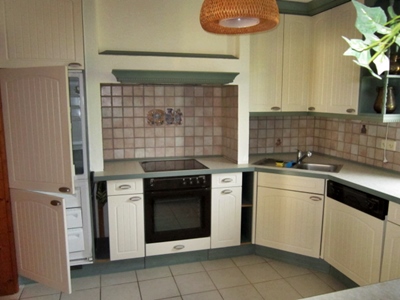 Only 800m from the lovely sandy beach & shores of Amoudi & 3km/4 km from Alykanas & Alykes respectively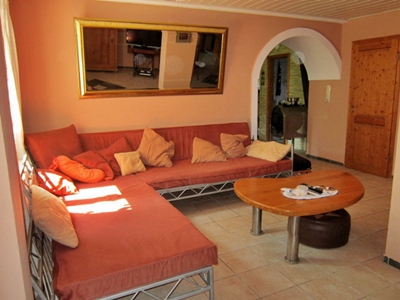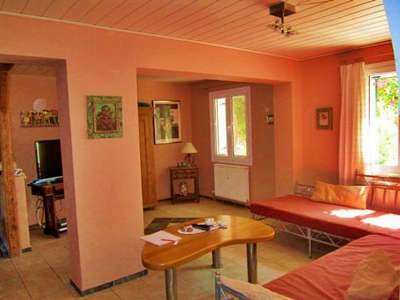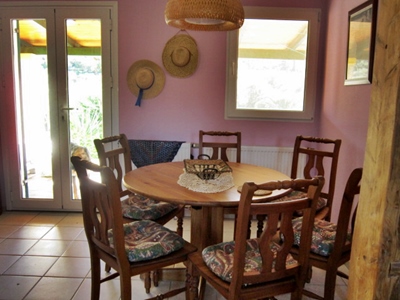 Send For More Details By Word Document Ask For Code : ZANTE LG/ZC/RS1404 : Ready to view now. To visit and view E Mail Brian.
E Mail Brian.
Price 390,000 Euros

Or Offer

Code : ZANTE LG/ZC/RS1404
SOLD
---
A 5 Bedroom Villa With 8 Furnished Studios : Benitses : Corfu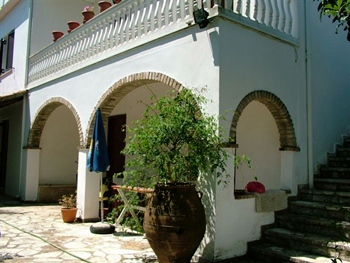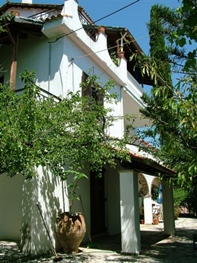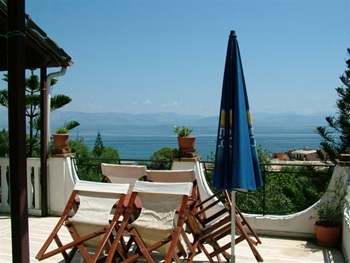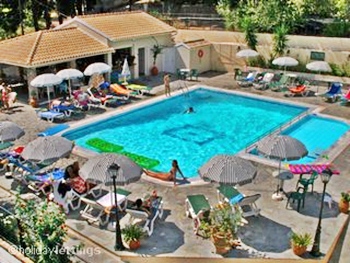 These apartments are superb letting apartments are in Benitses Corfu with a great view of the sea. If you intend to rent the studios (they comprise,16 min , 21 max beds) travel agencies offer contracts at Benitses of 1200 Euro per bed. Others Rent apartments in the area using the net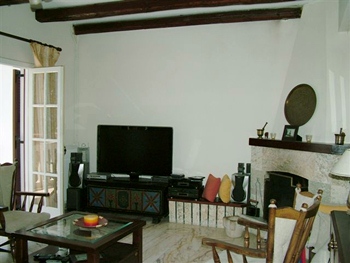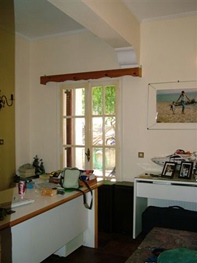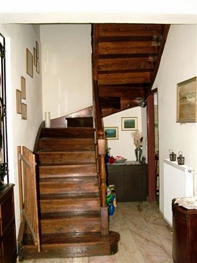 The Villa main apartment has 5 bedrooms, 4 bathrooms, a living room, and an office, with an owners garage.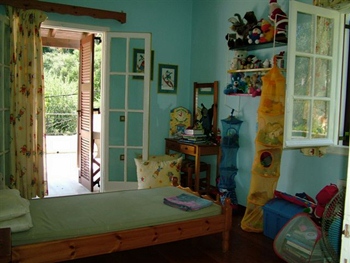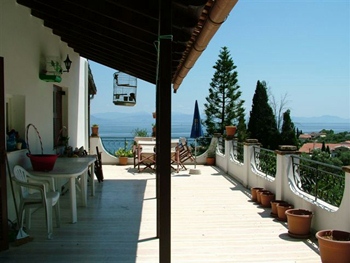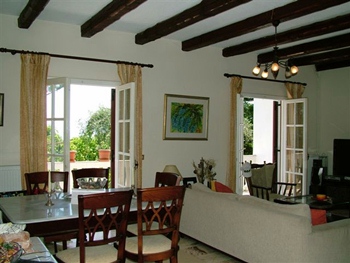 It also has a superb 200 sq metre veranda with 8 furnished studios, in a plot of 2700 sq metres of land with great views of the sea.
This house is in Benitses overlooking the village. It is within 5 minutes walking distance from the centre of the village and the new marina of Benitses. There is parking space for 50 cars, the parking space is so big that it is also used by the next door apartments, and in return the owner gives free access to all the guests to the pool next to the house. There is a licence for the apartments issued by the Greek ministry Of Tourism. It takes about 2 days to turn it to the new owner or a different name.
Price : REDUCED TO 800,000 Euros Code : CORFU AS/010

---
A Panoramic Sport Spa Villa Complex : Alikes : Pelion
With Blue Flag Beach : Vineyard : Fruit Gardens And Horse Ranch.
The Villas Currently Function As a Luxury Holiday Resort.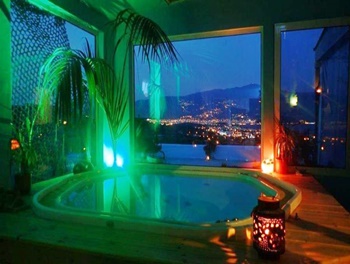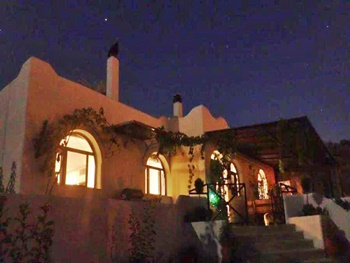 4 independent units in a complex of 2 villas and guest house, total of 10 bedrooms, 7 bathrooms, 3 kitchens, game rooms, libraries, function rooms, cinema, yoga & meditation rooms, full spa with 4 persons Jacuzzi, wet & dry saunas, 1500 m2 of veranda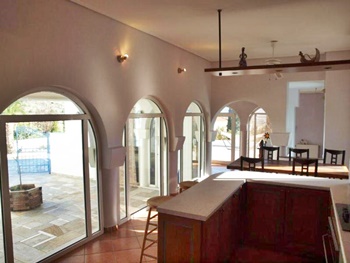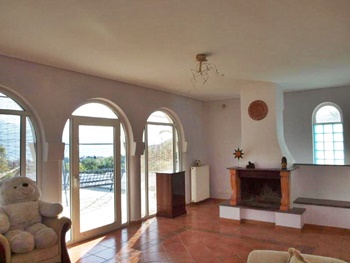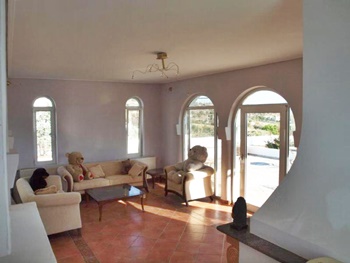 These villas are conveniently located near beaches, Greece's Central International Airport, Pelion winter ski resort, archeological sites, ferry boats to Skiathos and other Sporadic Island and the quaint port city of Volos.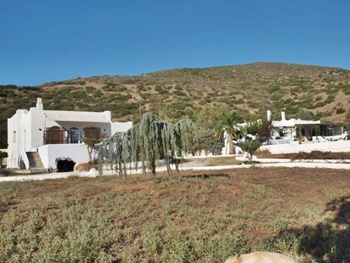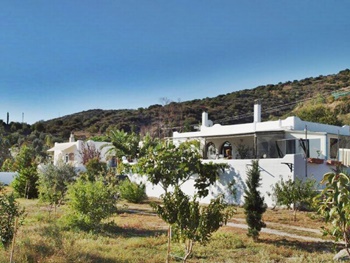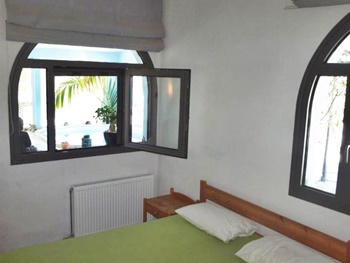 They are fully furnished. Fire places and stoves, oil central heating, stove central heating, full air-conditioning and solar powers and all appliances provide plenty of options for air and atmosphere conditioning.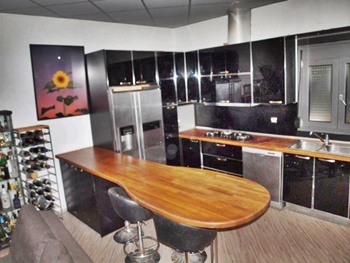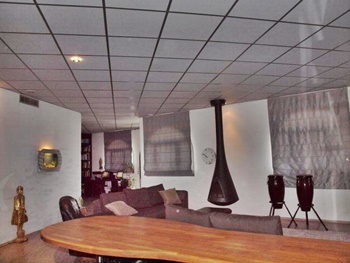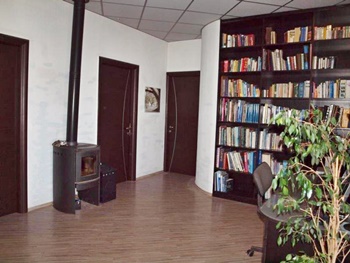 The property is also equipped with horse stables and large round pen sufficient for 4 horses and also immediate access to abundance of nature reserve for hiking, horse riding and other outdoor activities.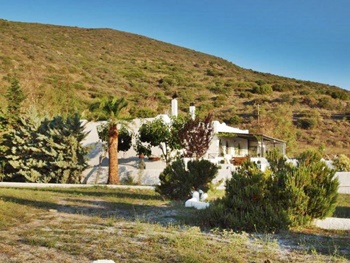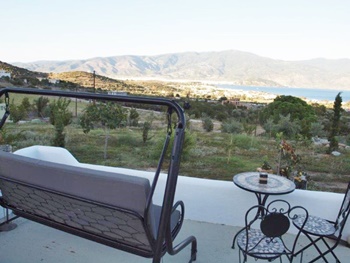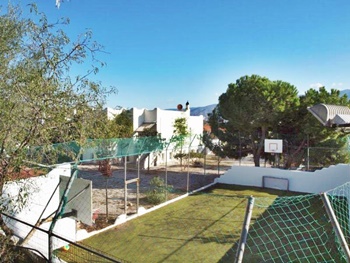 There are also plenty of facilities for small pet and bird keeping. Activities in the immediate surrounding are swimming, boating and water sports and also top class tennis courts and training within walking distance. Entertaining and catering facilities are on the beach side less than 2 kilometres from the villas.
The villas currently function as a luxury holiday resort. The current potential holiday rental value (without the planned swimming pools) is in excess of 50,000 Euros per year for the summer and winter seasons. A great opportunity to but the whole complex.
Price : 1,150,000 Euros Code : PELION PP/H6573 NEW
---
A Three Stone Villa Investment With Views To Vlicho Bay And Nidri : Lefkas
An investment and a tourist rental opportunity it is projected to realize a rental income of between 50,000 and 60,000 Euros per summer based on 2009 prices paid in this area by holiday companies contracting villas for the whole season.
ASPRODAKI VILLAS is an ideal investment opportunity. Consisting of 3 houses situated on over 5,000 square metres of land. The development has many mature olive and fruit trees and is surrounded by undeveloped farm land. The Villas are perfectly situated for holiday letting or long stay living, close enough to the busy bay side village of Nidri where there are numerous Bars, Restaurants and an active nightlife. Within easy reach of beautiful beaches with crystal clear waters. The Villas are situated near to a main bus route ( 200 Metres ) The development provides a peaceful rural setting adjacent to an un-spoilt traditional Greek village
Lefkada Island enjoys the advantage of being connected to mainland Greece by a swing bridge and being only 40 minutes by road to Preveza Airport. Preveza Airport caters for flights from all over Europe in the summer months and internal flights to and from Athens all year round. With good road connections to Athens and Thessaloniki, Lefkada is an ideal holiday destination for both European and of course Greek tourists. The beautiful beaches of Dessimi and Micros Gaillos are just 8mins away by car or bus, as is the centre of Nidri with plentiful shops, restaurants, cafes, tour boats etc. Ferries to other Ionion Islands like Ithaki and Kefalonia leave daily from Nidri.

A Complete Description Word Document Is Available Please E Mail Brian.
E Mail Brian.
Price : Offers Invited in the region of 525,000 Euros Code : LEFKAS CS/010
---
Excellent Home And Income In The Heart Of Skyros Town. : Skyros Chora
The owners' accommodation consists of a 2 double bedroom apartment in Skyrian fashion, with a modern kitchen,
modern bathroom/WC. There is a large lounge/dining room with a traditional fireplace. Television connection, and air conditioning.
The balcony has views to the mountains, the valley, sea and sunset off one of the bedrooms. Both bedrooms have large fitted wardrobes. There is a front sitting out area outside of the main door of the building. There is the possibility to enhance flat roof area to an additional terrace.
At the rear of the property, there is a one bedroom apartment ideal for holiday or permanent letting. The income during the summer months is between 50/60 euros per night, and consists of twin beds, TV, shower room, small lounge/kitchenette with fridge/freezer, hob and sink unit. There is an outside terrace overlooking the valley and mountains.
At the side of the property is a further one bed apartment, currently let at an income of 500 euros a month, but this could be for holiday letting also. It has one bed, lounge, front terrace, kitchenette and shower room. The House is only a 10 mins walk from the main beaches of Molos and Magazia and a few minutes from the centre of the Chora.
Price : 340,000 Euros Negotiable Code : SKYROS SH/52
---
An Apartment Building For Sale With 5 Letable High Class Apartments : Almyrida : Crete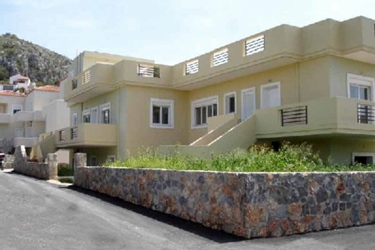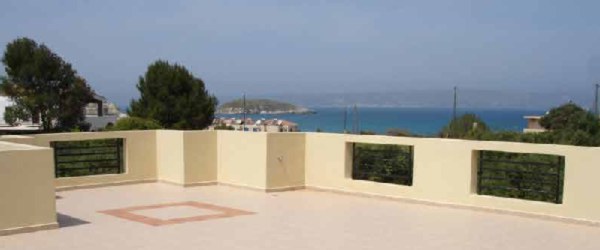 This property is located a short walking distance from the beach of Almyrida and amenities. The property consists of two, two bedroom apartments on the ground floor, three apartments on the semi basement level, and a large tiled roof terrace with views of the beach, the Island of Almyrida, and the mountains.
Ground Floor: 140m2 Apartment A) consists of an open plan kitchen living area, two bedrooms with wardrobes, and a bathroom. Apartment B) consists of an open plan kitchen living area, two bedrooms with wardrobes, a bathroom, and an extra room with a kitchenette and access to the roof terrace.
Semi Basement Level: 140 m2 This level includes three unfinished apartments. Two of the apartments include one bedroom, a bathroom and an open kitchen living area. One of the apartments includes two bedrooms, a bathroom and an open plan kitchen / living area. This level's interior's status is: completed brick laying, first layer of render completed, electric and plumbing installation completed, and the exterior is completed and painted.
Roof Terrace: The roof terrace is approximately 140m2 and has views of the sea and the mountains. Between the property and the sea views there is a plot of land that will be a municipal park according to the urban planning of Almyrida.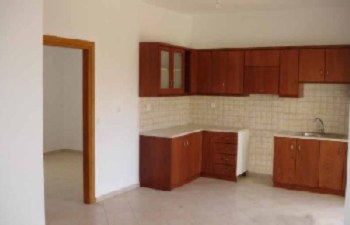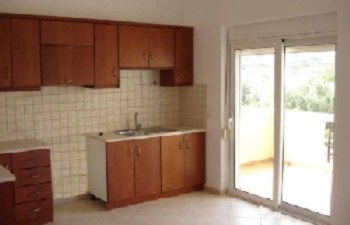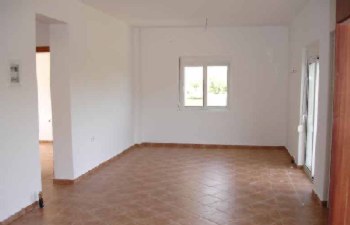 Total Size of Building: 280m2. Plot size: 500m2
This delightful complex is for sale as a commercial proposition. Needs finishing to your taste but this is A Great Opportunity To Live And Work In The Sun.
Price : 310,000 Euros Code : CRETE AL / H40

---
A Two Storey Villa Only Two Minutes Walk To The Beach and Amenities : Kolympari : Crete
With E.O.T Protocol License For Letting
A two storey villa with basement and pool, only a two-minute walk from the beach and amenities. On the ground floor there are two bedrooms and one bathroom. On the first floor there is an open plan kitchen / living area, a guest bathroom and large terraces with views of the sea and the mountains. The sea views are panoramic from Kolympari to the Akrotiri Peninsula. On the basement level there are two more bedrooms with wardrobes, a storage room and a large bathroom. The property is fully insulated, with aluminium framed double glazed windows. The property includes air-conditions and central heating. There is a 30m2 ground level, tiled swimming pool, and tiles have been laid in the areas surrounding the house which makes the exterior of the property easy to maintain.
The property has a protocol number for an E.O.T. license and the owners are letting out at the moment for short term rentals. The property has made Euro 10.000 in 2009 from the bookings of the season. The property is for sale with all the furniture and the electric appliances.

Price : 255,000 Euros Code : CRETE AL / H23
---
Three Beach Resort Hotels : Santorini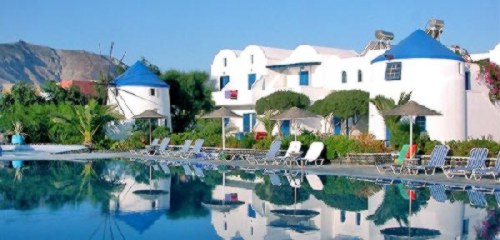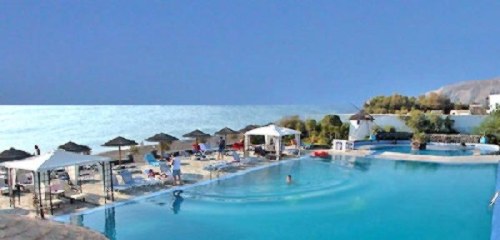 At the southeast part of the island, at a beach resort with an impressive long and inviting black sandy beach, characterized by an enormous rock called Mesa Vouno that rises from the sea, is this Investment opportunity for sale - 2 hotel properties and 2 land properties. The properties for sale are in ownership of an A.E. company (company limited by shares); both of the hotels work from April to October and the reported income is 2.200.000Euros (2007). For 2009 contracts with several European Tour Operators are already in place.


In addition, there are 12.000m² of land available for the construction of a new 5 star hotel, with 55 rooms, which is due for construction start mid of October 2008 (expected completion in 2010). This projected construction will include a laundry building, equipped with the latest technology, and capable to handle the load of all three hotels. The other plot of land is 1.100m² and is currently used for 10 own rental cars.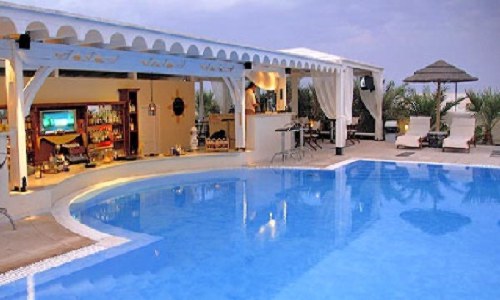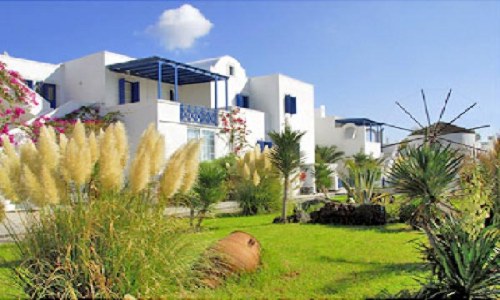 The Beach Hotel is built on 8.500m² at the beachfront and consists of 74 rooms composed on seaside suites, bungalows, and one-two-three-bedrooms rooms 170 beds : 1 single family home for the operator : 8 rooms for staff : A large swimming pool (24 x 12m) : Children's pool : 2 bars (1 central, 1 pool bar) : Restaurant with a capacity of 250 covers : Sauna : Floodlit Tennis Court (hard) : Basketball Court (hard) : Outdoor Playground
The Royal Hotel is built on 6.500m², just 250m from the sea, and consists of 66 rooms : 145 beds : Swimming pool (15x10m) : Children's pool : Pool Snack Bar Restaurant with a capacity of 100 : Sauna : Gymnasium : Floodlit Tennis Court (hard) : Basketball Court (hard) : Outdoor Playground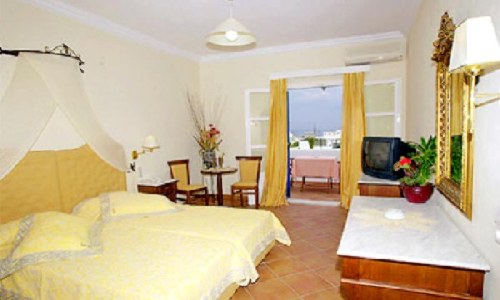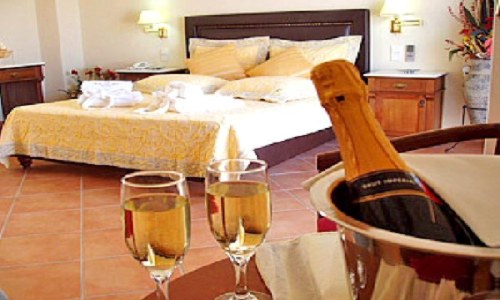 All rooms of both hotels have side sea view or sea view and are fitted with : Balcony or Terrace : Air Conditioning / Heating : Satellite TV : Mini Fridge : Direct Dial Phone : Radio (In TV Set) : Bathroom : Hair Dryer
Price : 20,000,000 Euros Code : HOTEL IK/GRCY2-103
---
An Apartment Complex For Sale Within 200 Metres Of The Sea : Sissi : Crete
A well maintained and well presented purpose built apartment complex situated within a few metres of a pretty local beach.
11 X 3 bed studios : 2 X 4 bed studios : 4 X 3 bed apartments : 8 X 4 bed apartments
The accommodation building is arranged on three levels and all apartments have air conditioning, kitchenettes, shower rooms, radio and telephone facilities and sea or mountain facing balconies. Outside there are attractive landscaped gardens a freshwater pool with underwater lighting, a children's pool and a pool side cafe/snack bar.
Price : 1,500,000 Euros Code : CRETE CR BUS/SB27
---
A Two Star Hotel In A Premier Resort Town : Elounda : Crete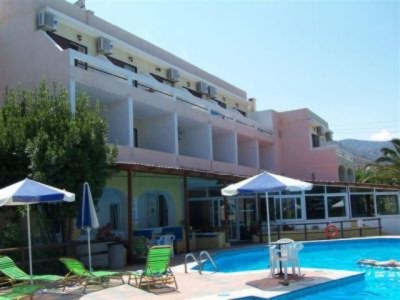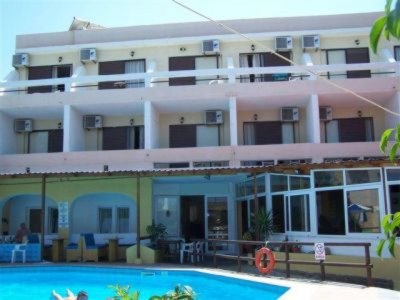 An extremely well located 2 star hotel in the flourishing world renowned luxury resort of Elounda.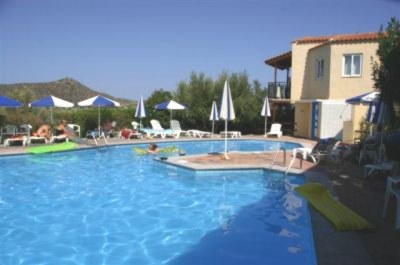 The hotel was built approx 25 years ago, is adjacent to some of the most exclusive hotels in the town and is within a short walk of the beautiful seafront causeway area of Elounda. The main building of the hotel is on 3 levels and accommodates 38 guest rooms. All rooms have private bathrooms, telephone, AC and balconies with either sea or mountain views. In addition there is... Reception area. Bar/snack bar. Restaurant. Swimming pool. Sun bathing terraced area. External seating. Landscaped gardens. Car Parking. The total size of the hotel is 1500m2. The total size of the plot is 3000m2.
Elounda is a large cosmopolitan resort with a great choice of restaurants, tavernas, bars, shops and banks; also some of the best luxury hotels in the world. There is a pretty beach and delightful harbour area. In addition, the former Venetian fortress and leper colony of the island of Spinalonga is close by, most recently written about in the best selling book The Island.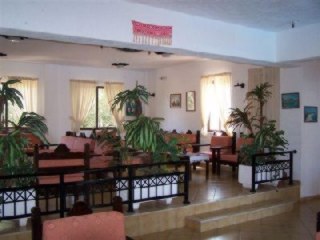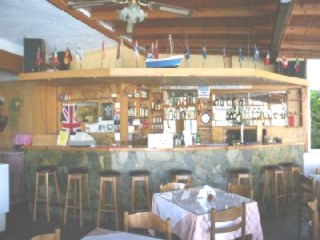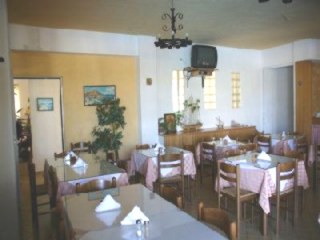 The hotel presently has a contract with both British and Polish holiday tour operators.

Price REDUCED : 1,510,000 Euros Code : HOTEL CRETE CR/EB31

---
A Hotel of 17 Apartments & Studios In A Superb Position : Elounda : Crete

T

his Hotel consists of buildings ranging from 1987 to 1990 and to 2003 in age. Set only 250 metres from the village and the sea it has spectacular views over the Gulf of Mirabello.

It has full Air conditioning in all rooms and a restaurant ( the restaurant area has been newly renovated outside. ) and bar facility, residents lounge, library with seating area, and a fabulous swimming pool, with a new pool bar.

There is also a pista for Boules, sun terrace with umbrellas, extensive gardens with shrubs, olive, lemon & orange trees and statues of Greek gods
All the rooms have balconies or patios. There is a separate upstairs apartment of 3 bedrooms and next door a managers 1 bedroom apartment.

This delightful complex is for sale as the present owners wish to wind down. To be sold with all furnishings, fixtures and fittings. Clients are English and Finnish with contracts for this year with a British tour operator. Next season will be signed up in a few days. There are very high number of repeat guests.
This Working Hotel Is A Profitable And Well Established Business With Contracts In Place For This year.

E Mail Brian for a COMPREHENSIVE WORD DOCUMENT about this property.

Price : 1,800,000 Euros ( Negotiable) Code : HOTEL AA/CRETE
---
A 40 Room Hotel 100 metres From The Local Beach : Agios Nikolaos : Crete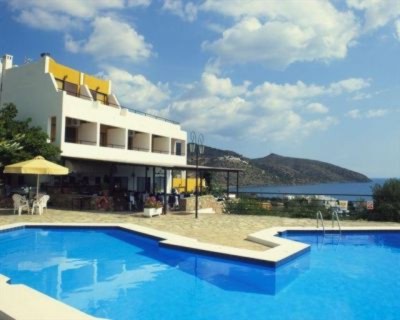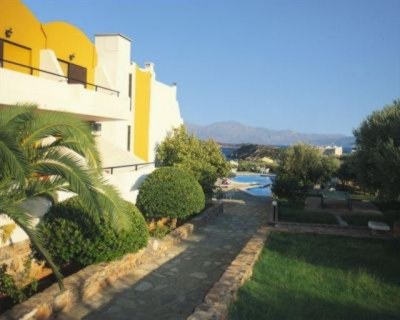 A traditional style hotel situated on the fringes of the resort town of Aghios Nikolaos and enjoying some glorious views down over the Gulf Of Mirabello and across to the Sitia mountains in the distance.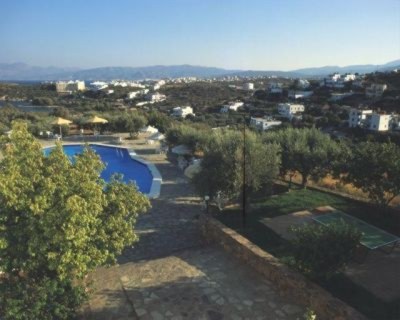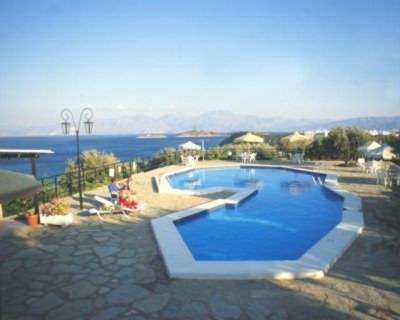 The hotel comprises 40 rooms, 34 of which have direct sea views. Each room has a shower room, AC and heating, balcony or terrace. The facilities of the hotel include... Reception area. Restaurant. Bar. Swimming pool. Pool bar. Sun bathing terraces. Landscaped Gardens. Parking. The hotel is conveniently located within 100m of a local beach. The total size of the property is 1400m2. The total size of the plot is 7500m2.

The beautiful and historic town of Aghios Nikolaos is the capital of the prefecture of Lassithi and is a busy coastal resort which attracts many visitors from around the world. Famous for the spectacular 'bottomless' lake, it has a bustling harbour area, marina, some fantastic local beaches and all the shops and facilities of a major town. The airport at Heraklion is approx 65kms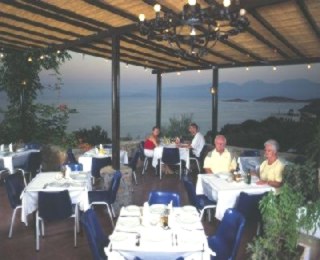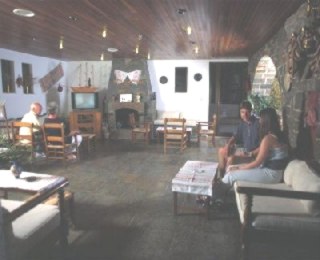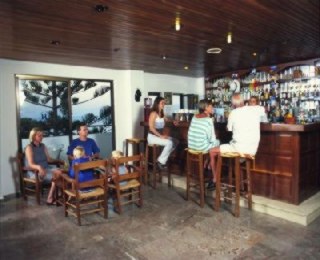 The hotel presently has a contract with both British and Czech holiday tour operators.

Price : 2,990,000 Euro's Code : HOTEL CRETECR/ANB33

---
Hotel For Sale : Rhodes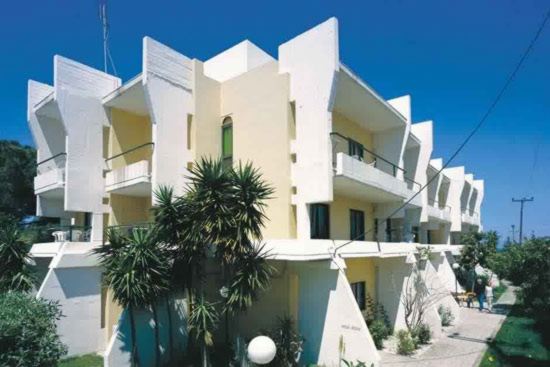 The Hotel is situated in a very privileged position on the Bay of Ixia on the Island of Rhodes only 150 metres from the sea.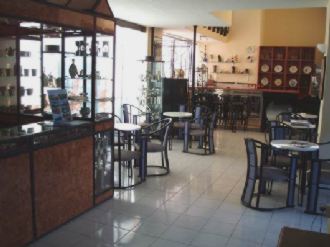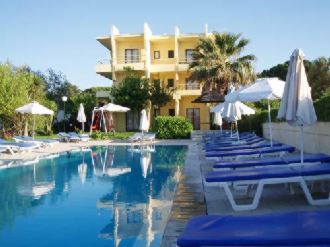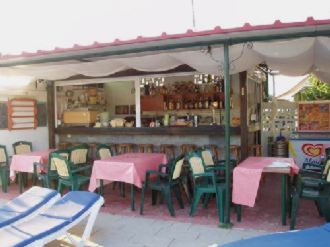 Only 5 klms from the City of Rhodes and 7 kms from the harbour.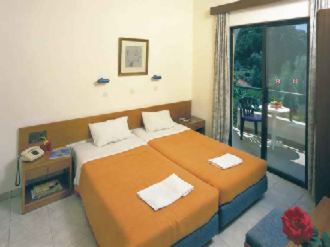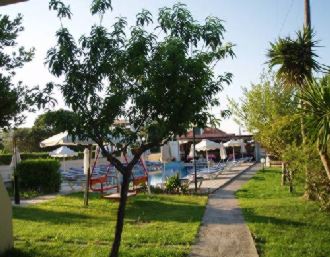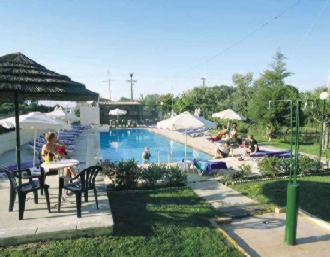 The building consists of 16 two roomed apartments and 4 studios. The apartments have a combined living room / dining room / kitchenette with two extra beds seperate from the 2 bedded room, bathroom with W.C., telephone, TV and balcony.

The studios comprise 2 beds, kitchenette area, bathroom with WC, telephone, TV and balcony.

The upper floors enjoy a sea view and beautiful sunsets. The grounds have well maintained gardens, lawns and a swimming pool.

There is a freshwater swimming pool with sunbathing terrace ( The sun beds are without charge ) and a cocktail Snack - bar beside the swimming pool with weekly Barbeque.

The area has good public transport facilities, the bus stop is 100 metres from the Hotel. Taxis are available day and night. Cars motorbikes and bicycles can be rented at reception, which is manned from 0800 hrs to 22,00 hrs daily, and offers local information and caters for Arrivals & Departures. There is a lounge bar with TV and Internet services.

Code : RHODES MV01
---
A 17 Bedroom Seaside Tourist Hotel For Sale : Vatera ( Agios Focas ) : South Lesvos
Probably The Only Truly Sea Side Property Between Vatera And Agios Focas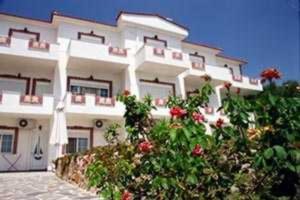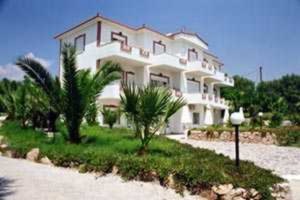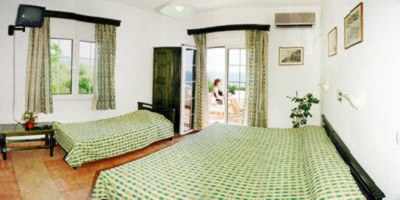 This is an impressive property with panoramic sea views and rich colourful gardens. Simplicity, comfort, good taste and natural beauty blend well together to make an ideal environment for your holidays... Relaxation and inspiration go hand in hand in this small paradise on earth surrounded by the azure colours of the sky and the Aegean Sea.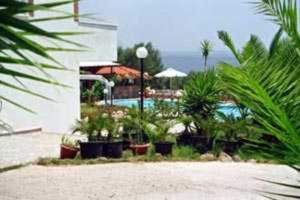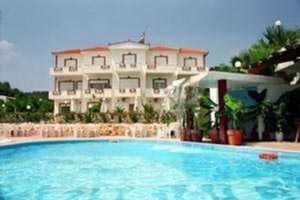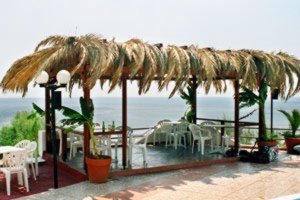 It is a Hotel of the highest quality, built 12 years ago at this coastal location. It is set in 12 stremmata of land with two separate entrances, car park , complete perimeter low wall and security railings, and two perimeter access roads (one for vehicles) to the private jetty and beach.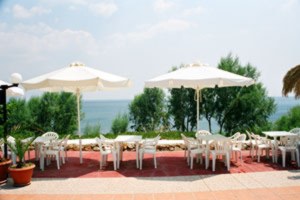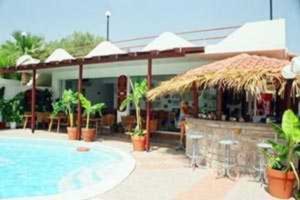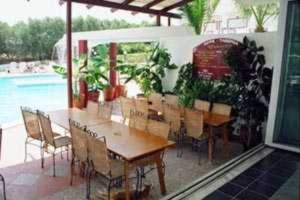 The property is ideally located and is currently used as a tourist hotel. It is equipped with all modern installations and facilities: They have individual bathrooms, telephone, radio, air-condition units, walled electric cookers, refrigerators and balconies full of sunlight. Equally it could be used as a medical or alternative health clinic or a corporate meeting, seminar and hospitality venue.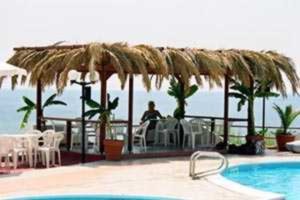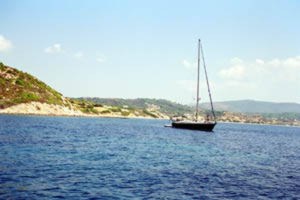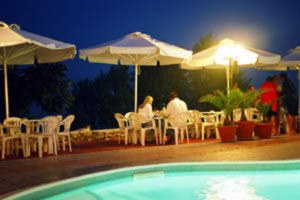 It has a large swimming pool and pool terrace with a fully licensed bar and restaurant facilities and panoramic views over the Aegean Sea... a venue which is suitable for wedding receptions and other celebrations (for up to 350 guests). The buildings are 600 m2 in size and comprised of: 17 Studios of 25 m2 each 1 Apartment of 30 m2 1 Apartment of 40 m2 Reception Restaurant Kitchens Planning permission can be gained for the construction of up to 2500 m2 of buildings for business use (a clinic, shops, guest rooms/studios etc). To be sold fully furnished and complete.
Price : 3.500.000 Euros Code : LESVOS BUS/DBAGF
---