---
Commercial Property : Hotels : Pensions & Businesses For Sale
Greece : Mainland And Islands Page 4
For Page 1
Here : For Page 2
Here : For Page 3
Here

Scroll down to see more property.

---
Partnership Investment Required : Petalidi : Messinia

A 5 Star Traditional hotel is under construction in Chanoi Messinia Greece. 850 mts from the sea side and has been designed to attract high level customers will become hugely competitive to the only other 5 star hotel in the area The Cost Navarino Hotel. For the fans of Golf there are two 18 hole championship courses designed by Bernhard Langer only 30 minutes away from Panorama Chranoi. The main building contains the reception, lounge, restaurant and bar. 5 traditional stone buildings will have 32 rooms in total and two suites, with a capacity of 104 persons. The main restaurant will seat 86 inside + 92 outside there is a 258 sq mt kidney shaped swimming pool, a whirlpool, children's pool, and tennis courts.
Investment is invited to add to the construction project which is 65% complete.
To discuss with the owners please E Mail Brian for the contact details.

E MAIL BRIAN.
Price : 1,600,000 Euros As It Stands ( Please Enquire To invest ) Code: MESSINIA HOT/SP010.
---
Commercial Opportunity To Purchase An Apartment Block : Roda : North Coast Corfu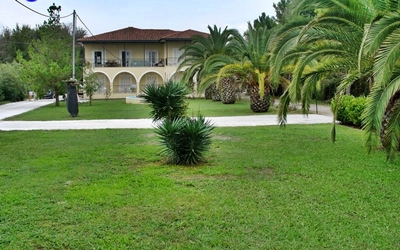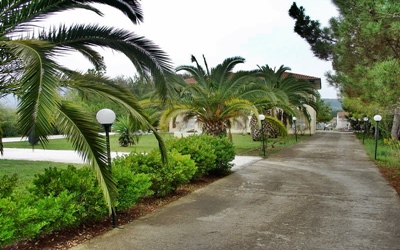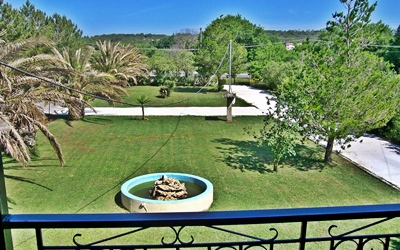 This small family run business is situated on the main road so has excellent access and it's long sweeping driveway and mature gardens ensure that the property is suitably private. Set out as five apartments it has 8 bedrooms, 9 bathrooms in a 200 square metre house in a landscaped plot of 5000 square metres. The current layout of the property is 5 studio apartments on the ground floor. All have a kitchen area at the entrance, leading into a twin bedroom, and a shower room. The upper floor is currently a 1 bed roomed apartment with a fitted kitchen, large sitting room and bedroom . There is also an additional studio on this floor. The land area around the building is all flat and would be perfect for installing a swimming pool and or tennis court.
Price : 320,000 Euros Perhaps An Offer Code : CORFU GDSW/BUS309
---
A Guest House Business With Excellent Potential Only 250 Metres From The Sea : Lithakia : Zante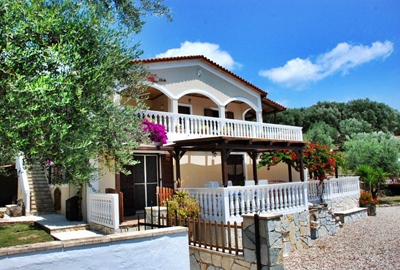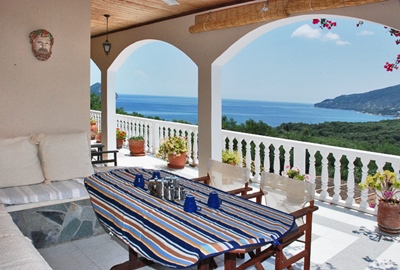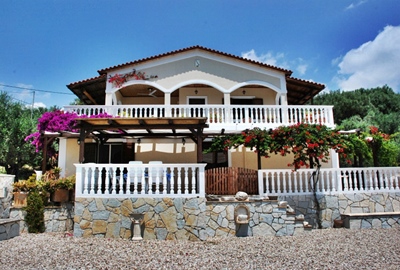 A unique opportunity to purchase a beautiful south facing villa set in a private plot surrounded by olive trees, just 250m from the crystal blue sea in Lithakia. This outstanding property is located in the idyllic and most sought after area of "Kournos", which is within walking distance of the traditional Greek fishing village of Keri..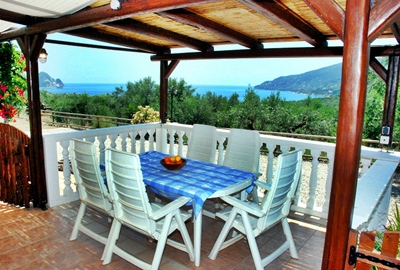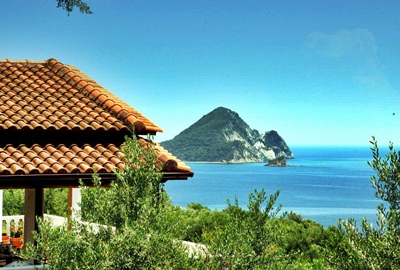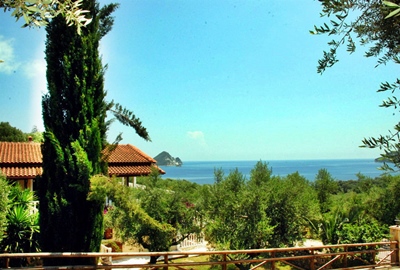 Set in large grounds measuring over 6000 sqm this villa has been built to a high standard and boasts magnificent and outstanding views of the sea, mountains and Marathonisi Island. The grounds have been beautifully landscaped with natural stone walls, established trees/flowers and a splash pool complete with a decked sunbathing area. A great deal of care has been implemented to ensure the grounds and villa are in keeping with their surroundings, whilst enjoying modern luxuries.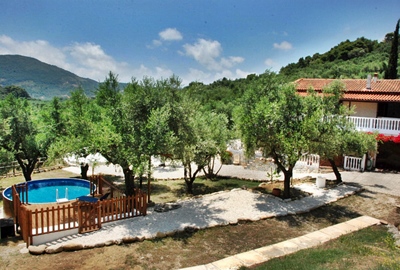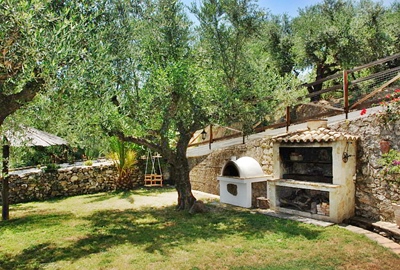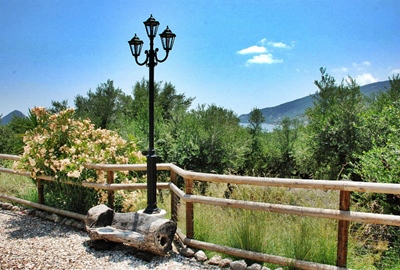 Commanding the most unbelievable position, offering clear views in all directions along this stunning coastline the villa is currently lived in by the owner and his family With the building comprising of a 2 bedroom villa, 2 bedroom apartment, 1 bedroom apartment and 1 bedroom studio, this captivating property could easily be opened/converted to a business offering a large income given it's location and design.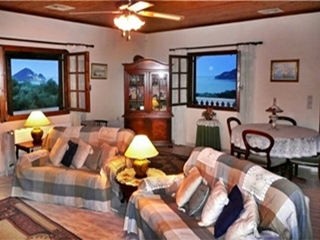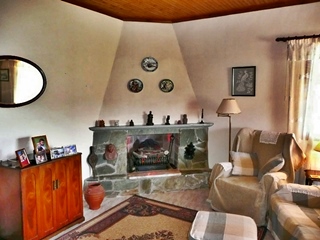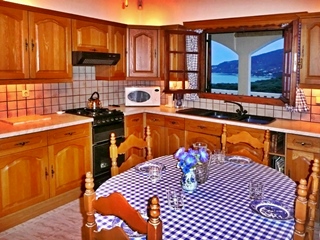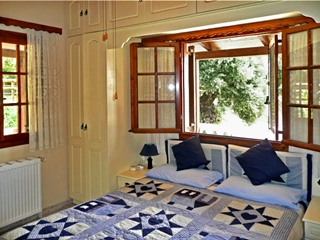 The Main Villa - 1st Floor : 80sqm house with 88sqm veranda (70sqm covered), 2 double bedrooms, 1 large living/dining room with open log fire, kitchen, shower room, all around verandas, central heating and air-conditioning

A 2 Bed Apartment on the Ground Floor : 60sqm apartment with 15sqm covered veranda. 1 double bedroom and 1 single, living/dining room with multi-fuel stove, kitchen, shower room, central heating, air-conditioning and laundry room.

A 1 Bed Apartment on the Ground Floor : 32 sqm apartment with 15sqm covered veranda. 1 double bedroom, living room, kitchen, shower room and air-conditioning

A 1 Bed Studio on the Ground Floor : 16sqm apartment with 10sqm covered veranda. 1 double/twin bedroom, kitchen, shower room and air-conditioning.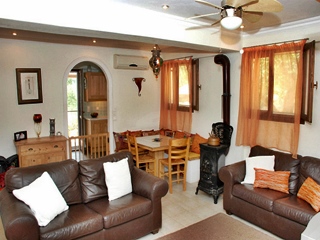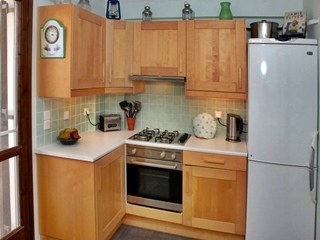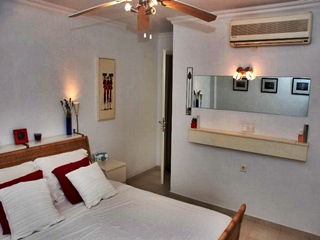 Work Shop / Garage. 30sqm fully equipped workshop.

Store Room / Carport 30 sqm.

Swimming/Splash Pool : 5m circular, with 25sqm sunbathing decking area

Stables and paddock : 25sqm stables with storage outbuilding, fenced paddock comprising of 1500 sqm,

Grounds : 6,000 sqm of terraced land with over 100 mature olive trees yielding over 600lt of olive oil annually. The olive trees are registered for EU subsidy. 25sqm is fenced in with wooden gate to access all areas.
Price : 495,000 Euros Near Offers Invited Code : ZANTE KG/010
---
A Beach Town Hotel For Sale Next To The Marina : Coastal Arcadia : Greece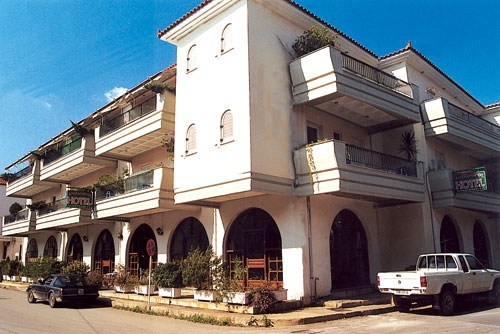 This is a beach town hotel in coastal Arcadia, East Peloponnese. The hotel is located just 50m from the marina, and has 23 room of all sizes, with stores rented at the ground floor, with a total area is 1500sq.m. Centrally heated, and with an elevator the hotel was built in 1995. It is a fully operating and successful hotel and the asking price for business and building together is 2.9 million euro.
The existing marina just 50 metres away is on a program for a large improvement that will take place within the next few years. Athens airport is 1,30-2,00 hours away and Kalamata airport 1,00-1,30 hours away. The cities of Nafplio, Argos and Tripoli are half hour way and there is an unbelievable number of ancient cities and sites within an hour for people to visit, as well as monasteries, natural parks secluded beaches etc.
Price : 2.9 Million Euros Code : LEONIDION GN/HOTEL.
---
A Main House With 4 Separate Studios : Imytheos : Skala Sykamnias : North Lesvos
This traditional Greek Style house is licensed as a restaurant and for studio rental. It lies in serene natural surroundings, and is only a walk to the beach. or a hike up the mountains. It would make a superb base for horse riding holidays, as there is an extra building permit which could be used for making stables.
There is a small pool and a well and medicinal hot springs adjacent to the main house which was built in 1970 and the roof renovated in the 1990s. The studios were built in 1990, and each studio has a private wc and shower. The gardens contain mulberry, peach and pomegranate trees.
The gardens need some updating, landscaping is required with cleaning and stone walls and a patio, and outside BBQ etc, but this is easily done. It is only 7 klms from the fishing village of Skala and 2 kms from the Hot springs of Eftalou.
The property would make a lovely equestrian holiday centre, as the rides all have fabulous views.
Price : 380,000 Euros Code LESVOS SEAB/010
---
An Established 6 Studio Letting Business : Askeli : Poros Island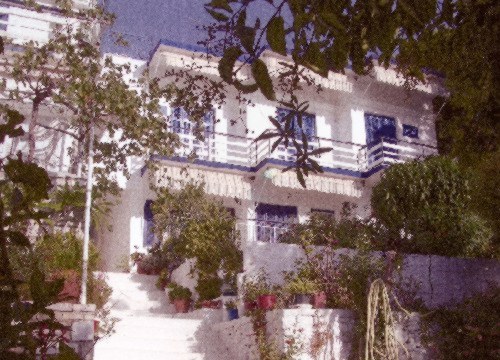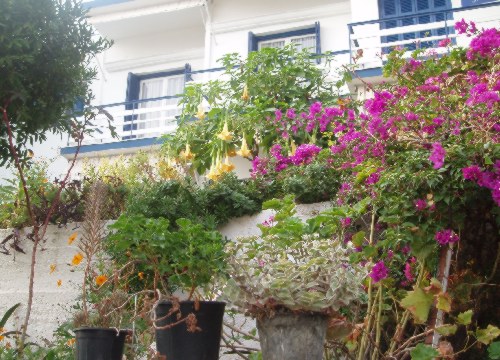 Consisting of 6 sea side studios each with kitchen and bathrooms, the property is to be sold furnished and ready to go.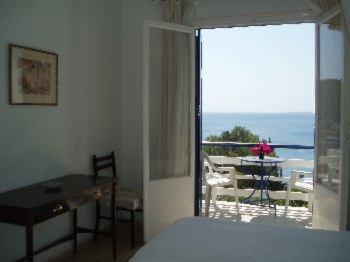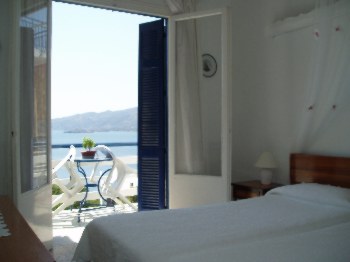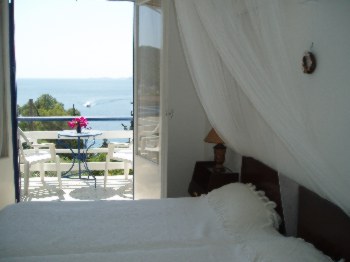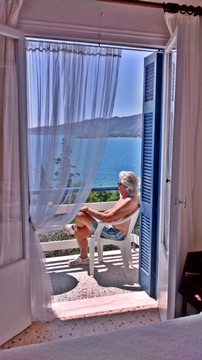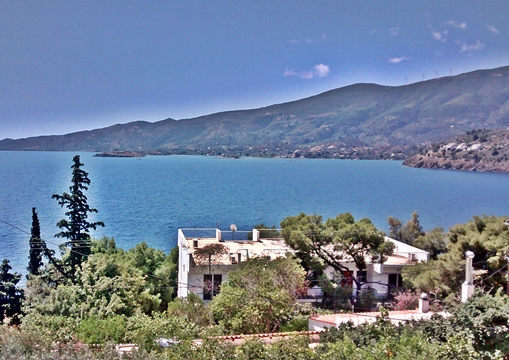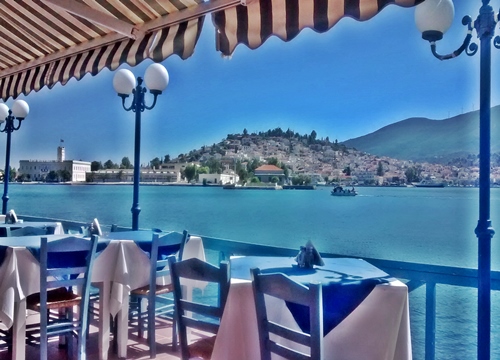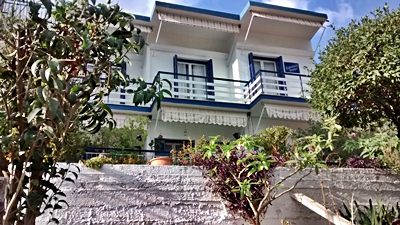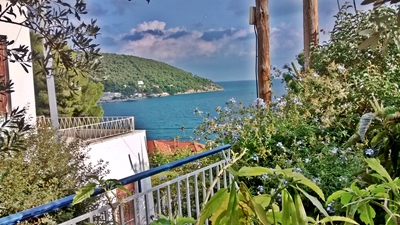 It has been owned by the same family ( English ) for the last 20 years, the owners now wish to retire. They will assist, in training, and all changeover details to any new owners. Repeat bookings annually and passing trade with Americans and Scandinavians particularly. If you buy now at this special price you can start trading in the New Year.
Price Slashed To : 235,000 Euros REDUCED FOR QUICK SALE Code : POROS BUS BT/010 SOLD
---
A Guest House For Sale : Kefalari : Agios Ioannis : Sparta : Laconia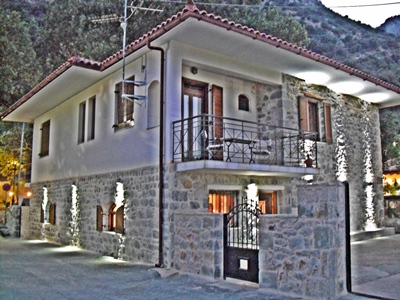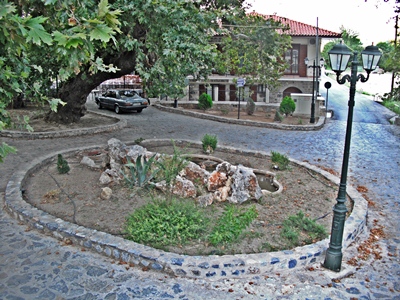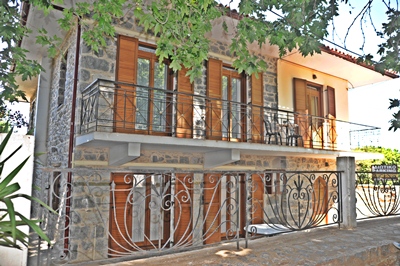 This three bedroom house is situated just 3 klms from the Castle Town of Mystras and 5 Klms from Sparta. It is a two storey stone house with a view to the picturesque square with plane trees, natural springs and tavernas as well as a view of part of Mount Taggetes.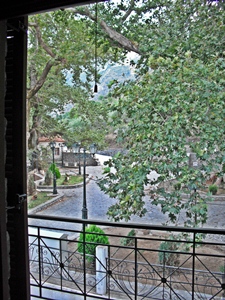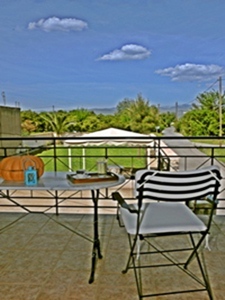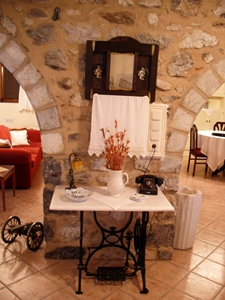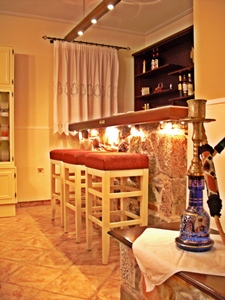 On the ground floor there is a large living room with a fireplace and a fully equipped kitchen, a dining area and a toilet. On the upper floor there are 2 bathrooms and three spacious double rooms with balconies and a nice view.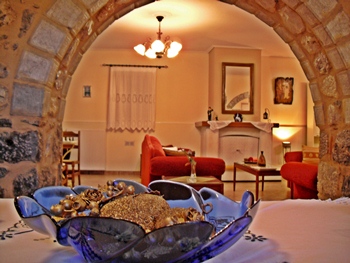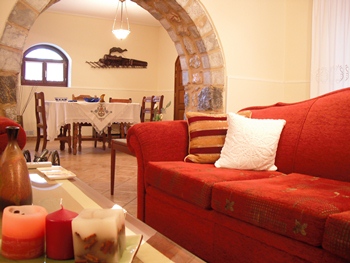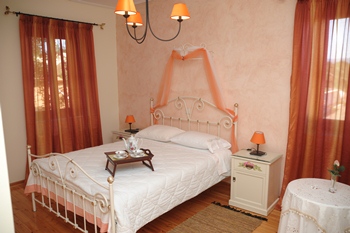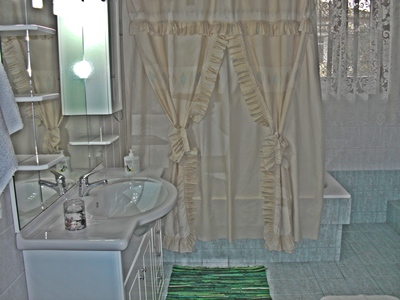 There is a garden with a kiosk, lawns, and trees, pine orange lemon and palm trees as well as open car parking and two storage rooms..
The Villa comes with an E.O.T. license offering accommodation for up to 8 people. The guests are from all over the world as the ruins in Mystras are a unique attraction and this is the only villa in the area..
Price : 490,000 Euros Or Near Offer Code : LACONIA GM/010

---
Commercial Building Premises For Sale : Oreokastro : Thessaloniki : Greece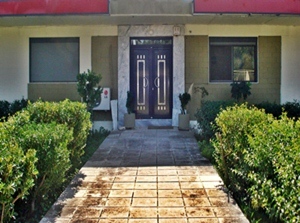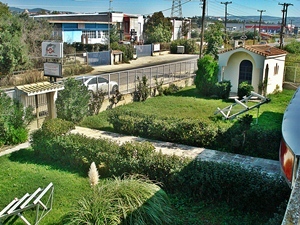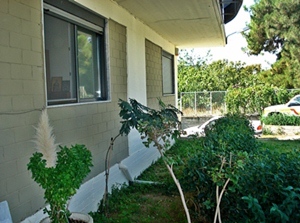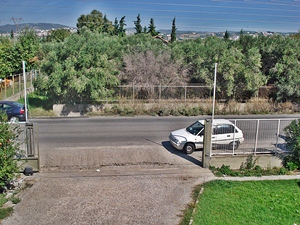 A commercial building of 1450 sq mtrs is for sale in a great location in Thessalonika only 1.5 klms from the highway Egnatia and 500 metres from a small mall.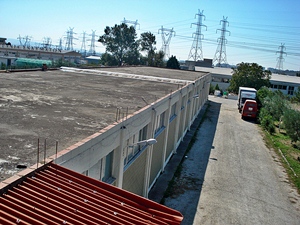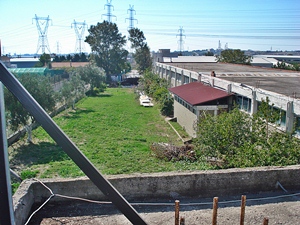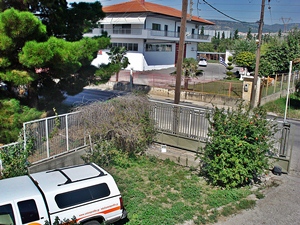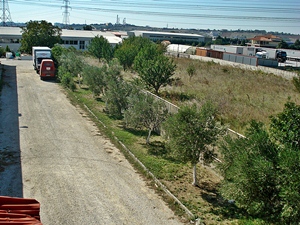 The property has 220 sq mts of offices in the front of the building and 900 sq mts of production area. There is also 220 sq mts of semi basement and 60 sq mts of basement and 50 sq mts of auxiliary space. Built in 1986 it was renovated in 2012. The plot is a corner plot of 4500 sq mts. The building has infrastructure for another two floors. The premises includes one apartment and kitchen and 7 toilets.
Price : 900,000 Euros. Indicative price. Code : THESSALONIKI BUS/KX010
---
Commercial Property For Sale Suitable For Any Business : Proastio : Patras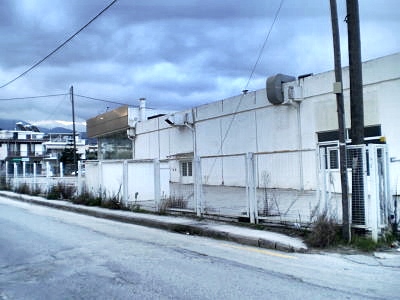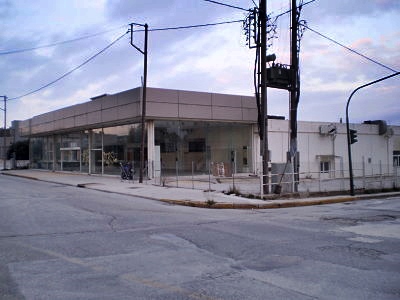 This commercial property is a well reserved 1500 square feet building in a 1750 slot in the central entrance to the town of Patras in Western Greece. It has a big parking, basement, ground floor, and first floor. It is located at the corner of Digeni Akrita street and the New National road Patras - Athens. It is suitable for any business use.

Price : 2,600,000 Euros Code : PATRAS BUS/MK/010

---
Brand New Apartment Block Condominium : Patras : Peleponese : Greece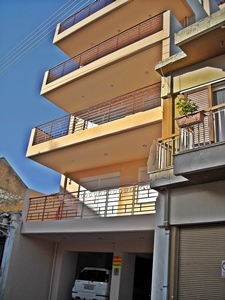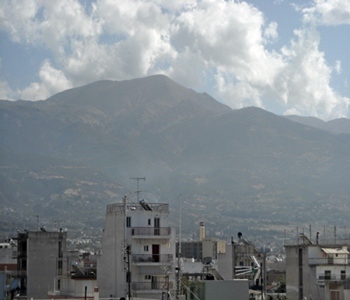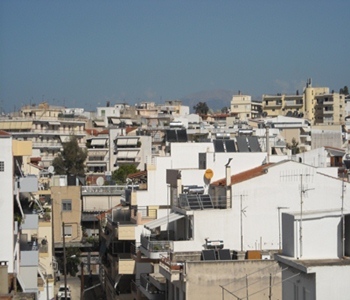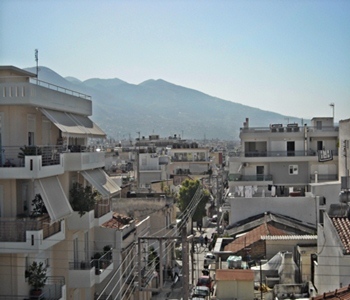 The location is in the central part of Patras, third biggest city in Greece and the port connecting Greece to Italy and Ionian Islands, Corfu, Kefalonia, Zakynthos.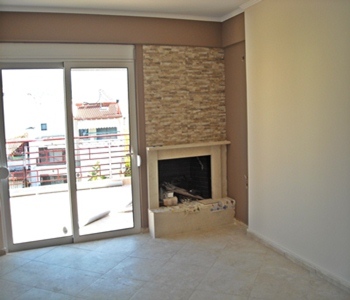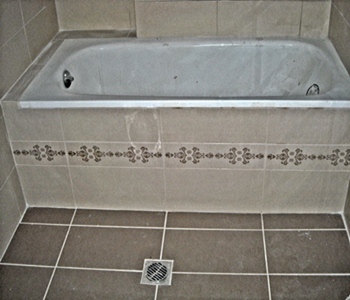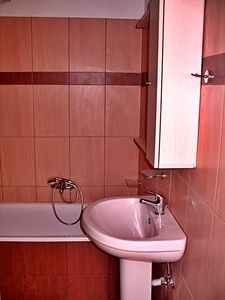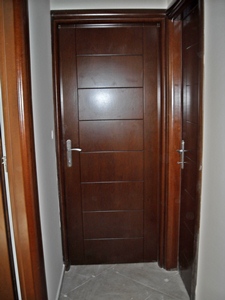 In a unique location it is close to schools, supermarkets, hospitals and banks, and three squares with pizzerias, taverns, bakeries, pharmacies etc.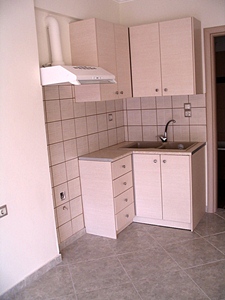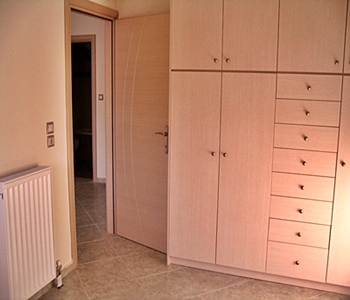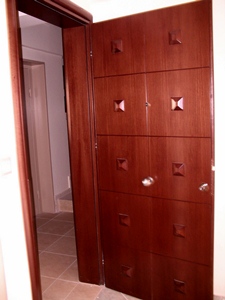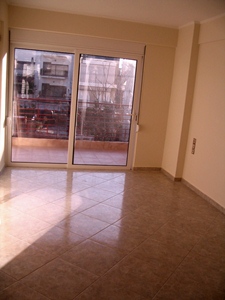 It consists of five same apartments at 1st, 2nd, and 3rd floor ( 2 rooms and a bathroom ) and a big apartment on the 4th floor with with 3 bedrooms, kitchen living room with fireplace, bathroom with Jacuzzi, and very big veranda with great view. There is also a ground floor with parking areas and an underground part.
Low Price Opportunity : 430,000 Euros. Good income generator. Code : PATRAS BUS/DK010
---
A Well Established Restaurant Taverna For Lease : Achladies : Skiathos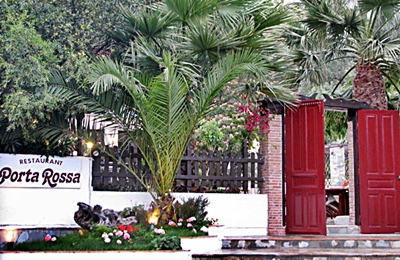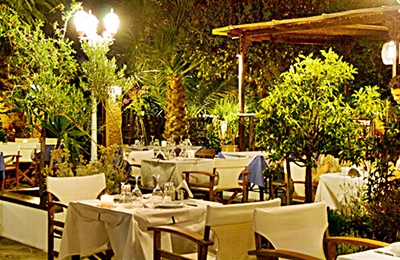 This Taverna is situated in the area "Achladies" ( which means 'Pears' ) approximately 4km from the town of Skiathos, on the main road towards "Koukounaries"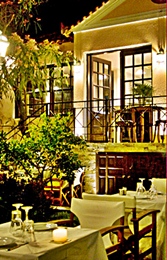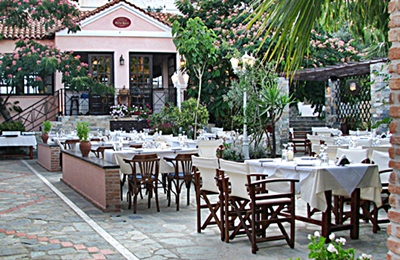 This well established restaurant/taverna, is opposite 'The Esperides Hotel' which is one of the largest on the island, and set amongst other hotels and holiday accommodation, it's position is perfect for local and passing trade. It is also within five minutes walk from the very popular Achladies beach. The design, decor, setting and ambience of this property is perfect for anyone looking for a fruitful investment. Fully functional it requires no additional costs from its new owner. With space for over 100 guests it not only offers fine dining in a comfortable environment but can also provide a service for functions i.e weddings ( which are very popular with tourists here on Skiathos ) The restaurant is popular with foreigners and Greeks alike and has a good reputation and reviews on Trip Advisor. An added bonus to the property is a quaint apartment of approx. 40sqm which may accommodate the owners/staff or visiting friends. The asking price of the business ( to include all fixtures, fittings, equipment, tables, chairs and everything required for a working restaurant ) is 100,000 euros, for the lease ( for a duration requested by the purchaser ) with an additional monthly rent ( to be discussed )
Price : 100,000 Euros for the lease Code : SKIATHOS ZK/804
---
A Commercial Plot For Sale : Kranidi : Argolid
A commercial plot for sale on the main Kranidi to Nafplion road in Argolida and only 3kms from Kranidi.
All services available and able to build 600 sq mts of offices or 1560 sq mts of workshop with 1 permit.
Price : 600,000 Euros Code: KRANIDIBUS DK/83.
---