---
Property For Sale In The Eastern Aegean Island Group
Islands of : Samos : Chios : Lesvos : Ikaria
Samos Page 1 Here
Samos Page 2

Here Chios

Here Lesvos

Here Ikaria

Here

Tui has daily flights From U.K. Airports to Samos
---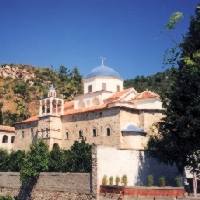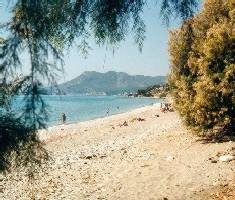 Samos the Island of famous men and exquisite beaches can be reached by air from Athens with three flights a day with Olympic Airways or from one to three ferries a day from Piraeus.
Pythagoras was the most famous from here, but there was also Aristarchos the astronomer, and Roikos & Theodorius the architects of the Temple of Hera. Other Islands in the group include CHIOS : LESVOS & IKARIA
We now have various web partners here to meet you and help you to chose your property with many private sales also. Here are many different types of property to chose from.
---
A 4 Bedroom Stone House Built In 1922 : Koumaradei : Samos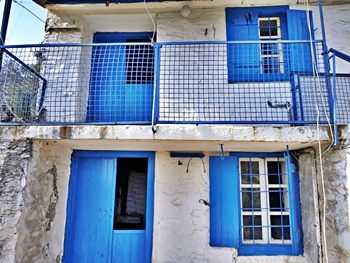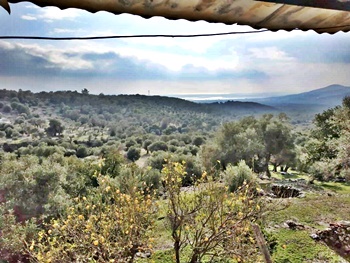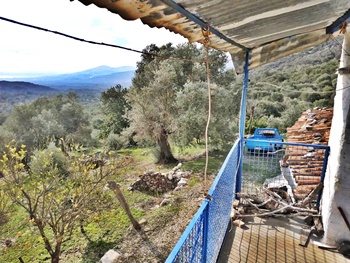 This is a property of 30 stremma ( 30,000 Sq Mts ) with Over 500 mature olive trees with a stunning view to the olive yards, the lower plains around Ireon and the sea. The property dates from 1922 and renovation is required.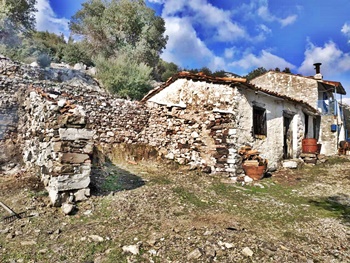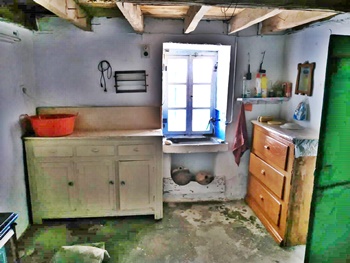 It has several old stone buildings totalling around 90 sq mts and there is a possibility to build at least another 250 sq mts.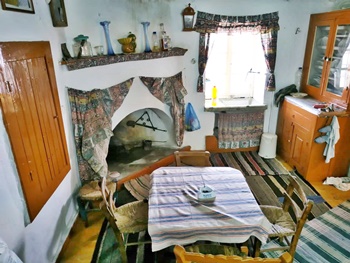 The property is connected to the electricity, water, and telephone lines and is to be sold furnished. It is in a private location 2 kms from Koumaradei where there are several restaurants and a coffee shop available. It is only 5 klms from Chora with the nearest supermarket and the airport and only 8 klms from Pythagoreio.
Price : 150,000 Euros Negotiable Code : SAMOS RDJ/010
---
A Three Level House : Hora : Samos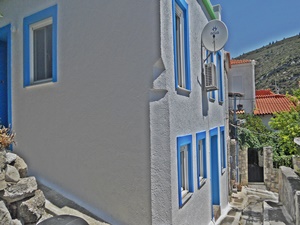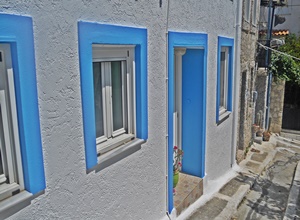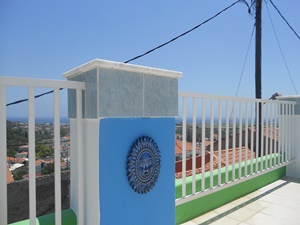 This is the bargain of Samos. A Newly decorated paint job and new fixtures and fittings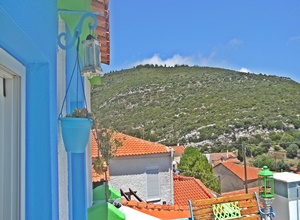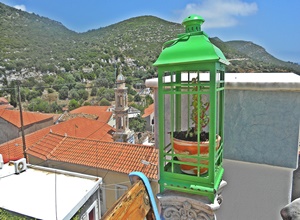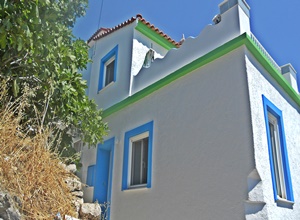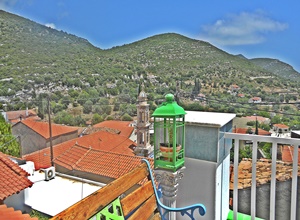 There is the panoramic view of the sea from the terrace of this house in Hora, with new walls and railings plumbed for Jacuzzi or outside shower.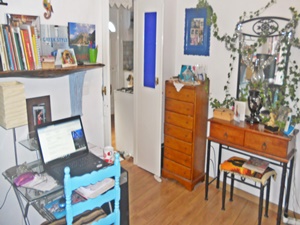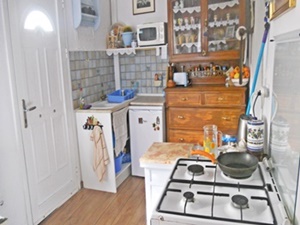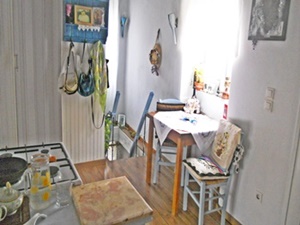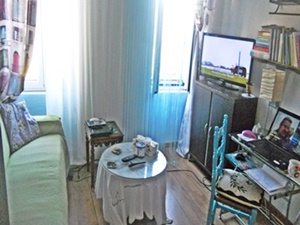 The house has new plumbing, electrical wiring, internet, new satellite dish, air conditioning, new plaster tile and timber floors, double glazed windows and doors.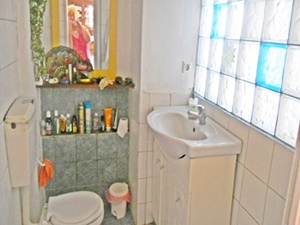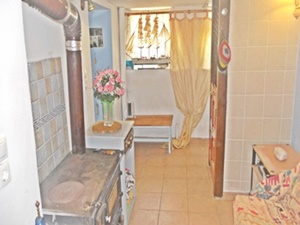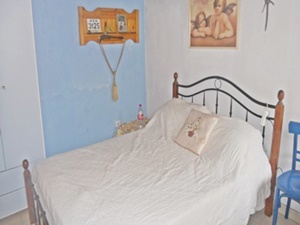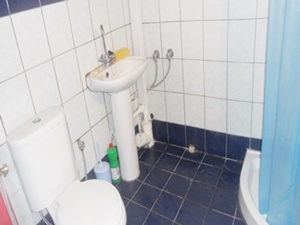 The house has sea, hill and town views and is to be sold fully furnished. The property has clear titles and is up to date with the new planning laws.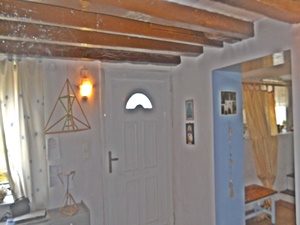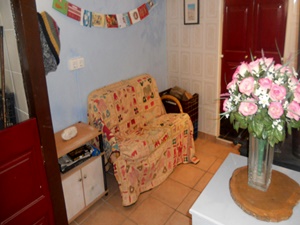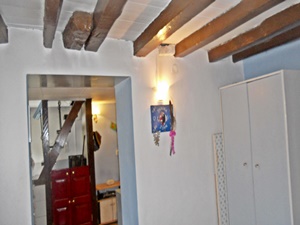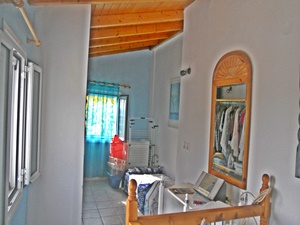 This house is built on 3 levels and could easily be used as 2 separate living areas as they have their own outside doors, the basement has a bedroom, a space for a small kitchen already plumbed and also for a washing machine, and the remainder of the house would have again its own entrance from the outside and containing a bedroom, kitchen, lounge, dining area, large terrace, built in BBQ area, laundry area ( Plumbing existing) a new cooker, using both gas and electric cooking.
Hora on Samos is a typical Greek community, with good restaurants, butcher, supermarkets, chemist, bars all within 10 minutes of the house. Above the house are walks to old churches and gardens full of orange, lemon and pomegranate trees.
Price : 150,000 Euros Code : SAMOS JN/010 NOT AVAILABLE
---
A Manor House With Garden In A Perfect Location In Samos Town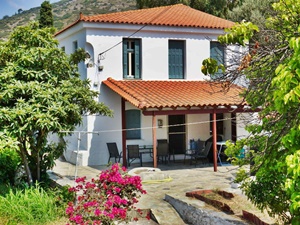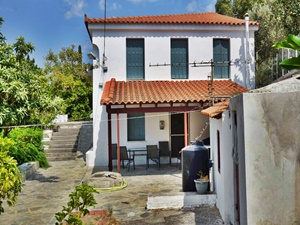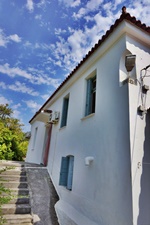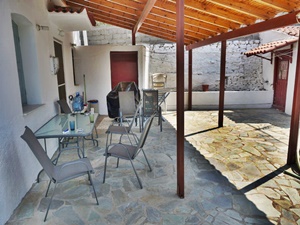 This unique property is perfectly located in a serene neighbourhood of Samos Town, a few minutes walk to the city centre and the port.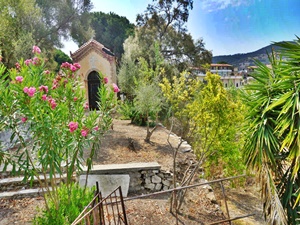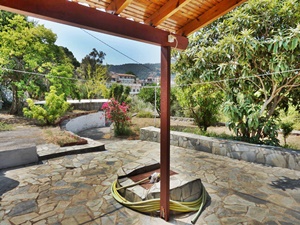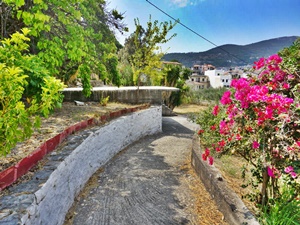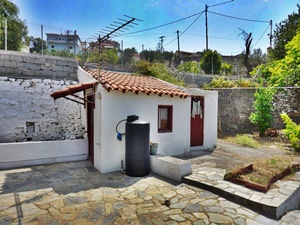 It is a plot on levels, with stone walls surrounding the property, of 3.002,60 square meters. Covered with olive trees and flowers and there is also a beautiful, two floor, stone built residence of 170.02 square meters built on two levels, with Southern orientation, plus 79.30 square meters storage space in the garden area.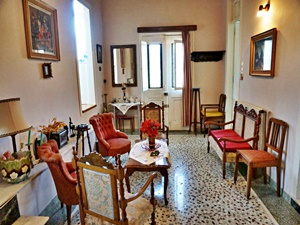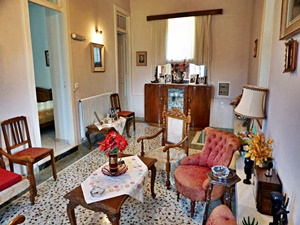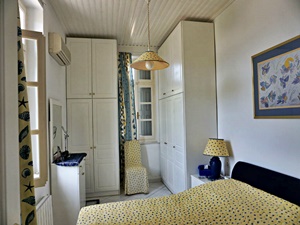 The ground floor of 44 square meters is an open planned area featuring the kitchen, dining and sitting area. There is access to a covered veranda of 25 square meters that serves as the outside sitting dining area offering views of the garden, perfect for outdoor entertaining. An internal staircase leads to the upper floor.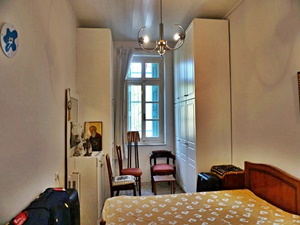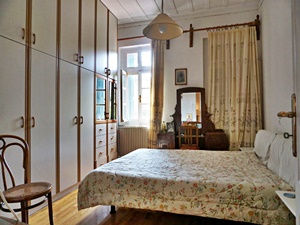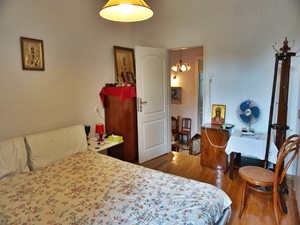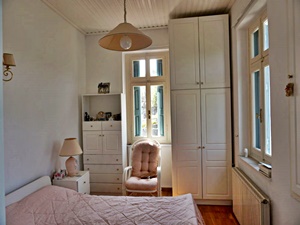 The first floor features 4 large double bedrooms and a large bathroom. There is access to a veranda that offers breathtaking views of the lush mountains, Samos town ,the port and the garden of the premises.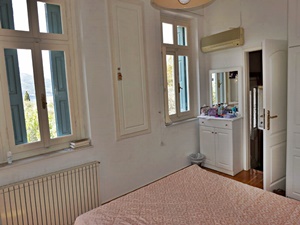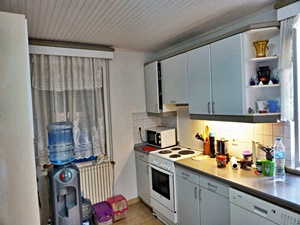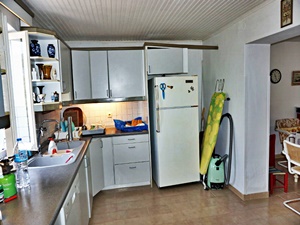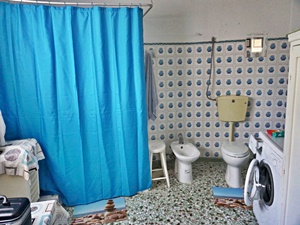 All rooms have large windows allowing plenty of sunlight throughout the year. The residence is in immaculate condition and has been very well kept and looked after. In the garden area, apart from the store rooms – 17.31 square meters – there is also a covered parking area of 62.30 square meters. There is the possibility to build an extra 200 square meters residence and extra basement, balconies and covered verandas. On the plot a swimming pool, barbeque, a tennis court or whatever the new owner wishes, can be built. This is a unique investment opportunity, due to the location and the size of the property.

Property Features : Accessible by car : Balcony : Barbecue Area : Basement : In the Centre of Town : A Covered Veranda : Excellent location : Excellent view : Sea View : Stone built : Storage Area : And with an olive grove

Price : 285,000 Euros A Truly Great Property Code : SAMOS GMSP / 224.
---
A Farm House For Sale : Between Hora & Mytilene : Samos
Situated In 33 Stremma of Land With 300 Olive Trees a Vegetable Garden and Chicken Pens
The house is set in the country side with beautiful views. 5 minutes between the towns of Hora and Mytilene, a very central location for heading to either side of the island.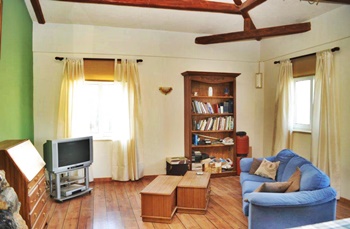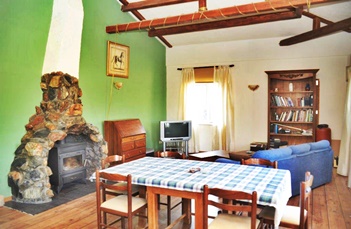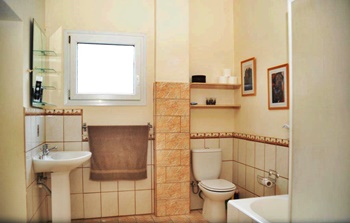 The house has been built by a skilled U.K. tradesman and is 123 square metres, consisting of a large open plan lounge and kitchen. A utility room. 2 large bedrooms. 2 bathrooms( One with bath and shower and one with shower). Fully double glazed UPV sliding white windows, central heating pipes fitted under the floor. Wood stove with connection for solar water heater. There is also roof space storage accessed by a loft ladder.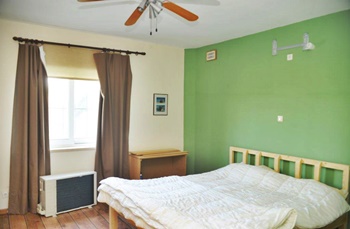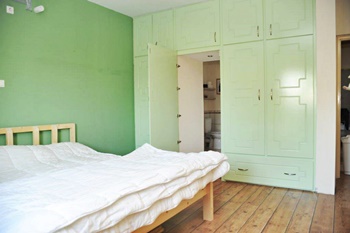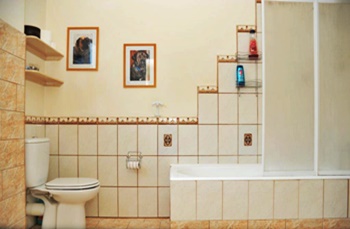 There were plans to have a pool and terrace down the length of the house, but this was never completed.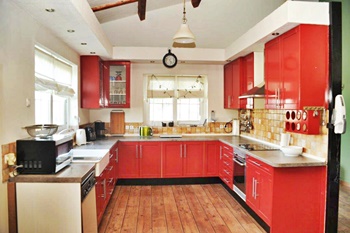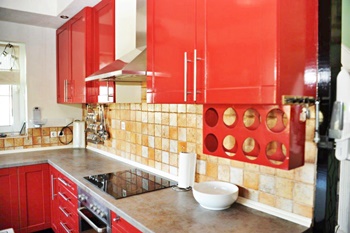 The house and agricultural land are totally fenced in around the 14 stremma. The property covers 33 stremma separated between agricultural and forestry giving scope for another building within the law. The agricultural land is maintained by a more than ample supply of free running water.
The house is being sold well under market value due to reasons of a personal nature.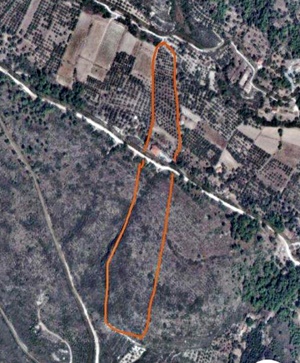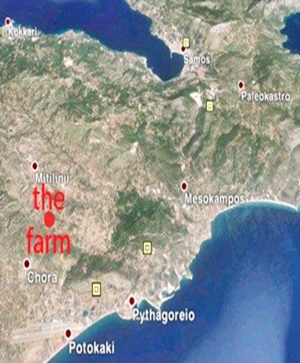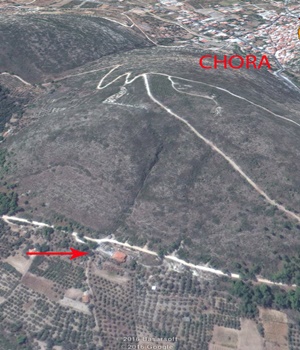 The exact location is 37°42'41.68"N, 26°54'44.86"E and is an excellent bargain at 175,000 Euros.
Behind the house there is a large container for storage, it holds a large collection of tools which will be removed at the time of sale ( Or may be sold to be agreed)
Price : 175,000 Euros Greatly Reduced To 125,000 Euros Code : SAMOS BZ / 010 Bargain Sale For So Much Land & Property.
---
A Fabulous Sea Side Plot For Sale : Glyfos : Kampos : Samos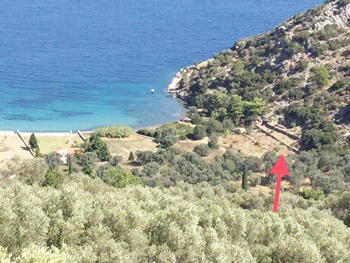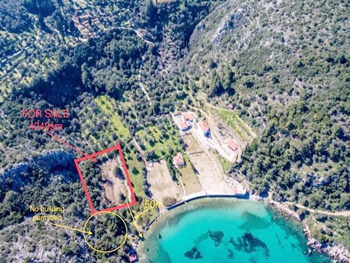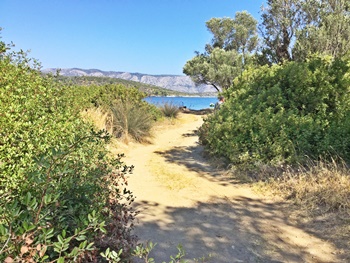 This unique and rare seaside plot is for sale only 50 Metres from the sea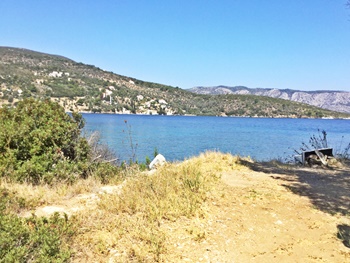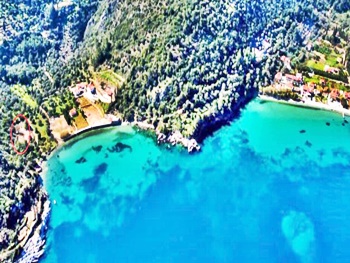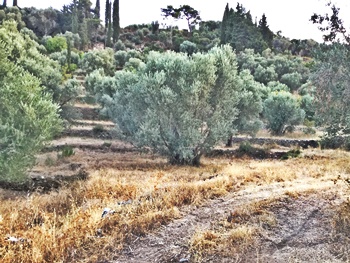 Situated at Glyfos the land has a clear view to the sea. It is fairly level with some terracing building permission is for up to 200 square mts. All facilities for connection are nearby. It is accessible from the main road ( mainly concrete ) on a shared access road.
Price : 150,000 Euros Code : SAMOS KT/010A

50 m to the beach with a clear view of the sea.

---
A Fabulous Plot For Sale : Mytilini : Samos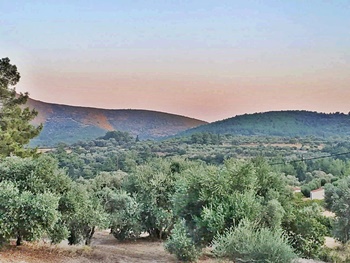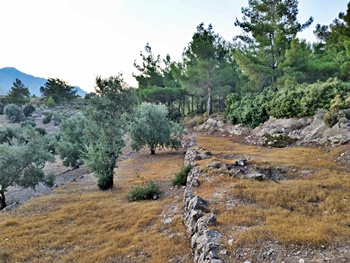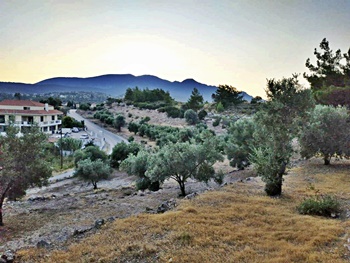 The Property is in a fantastic location only 1.5 kms from Mytilini above the central road.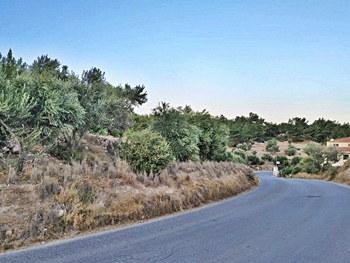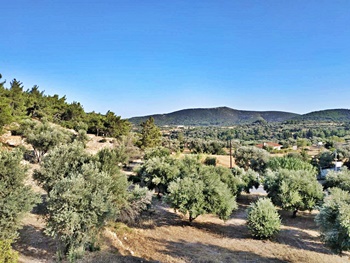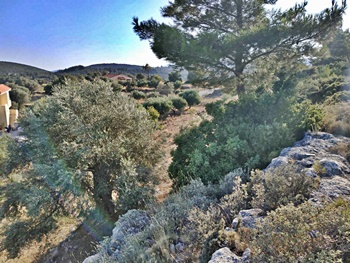 This is a property of 8.5 Stremma ( Around 8,500 sq mts ) with a possibility to build up to 220 sq mts and with easy connections to nearby electricity, water and telephone.
Price : 50,000 Euros Negotiable Code : SAMOS PLOT RDJ / 010
---
A Samos Plot For Sale With Sea View : Kampos : Samos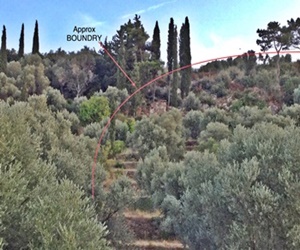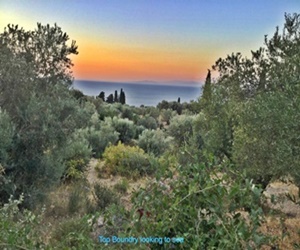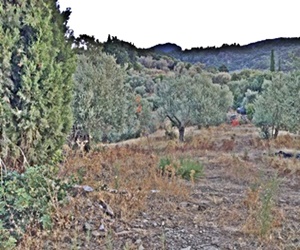 This is a plot for sale with sea and mountain views situated at Kampos on the Island of Samos. It is 7,800 Square Metres in size. It has some nice flat areas and a sprinkling of houses on the way up to it, so electricity water and telephone connection are not a problem. It's not as remote as it seems from the photos and definitely worth a look for anyone wanting land on Samos.
Price : 150,000 Euros Code : SAMOS PLOT KT/010B
---
Buildable Land With Sea View For Sale Only 4 Klms from The Yacht Marina : Samos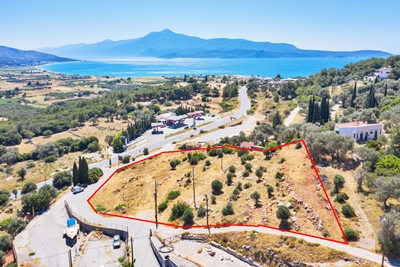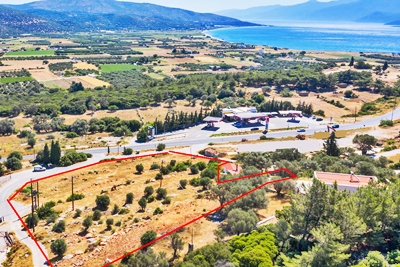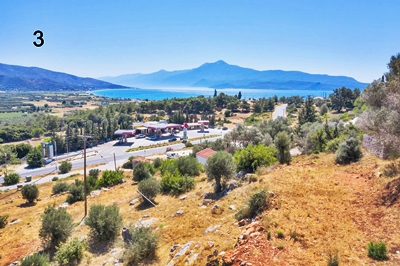 Buildable land with sea view 4km away from yachts marina, Pythagorion village and airport. Water-electricity-telephone lines pass through the land. Owner can build either 250sq/m private house plus surrounding area, or 600sq/m commercial building as hotel e.t.c. Very nice and quiet area at the most popular area of the island with thousand of visitors each year and lots of international flights coming every year from many countries to the island airport. From the Pythagorion harbour also many ferries go each day to Kussadassi / Ephessus in Turkey.
Price : 92,000 Euros Code : SAMOS PLOT GT / 010
---
An Opportunity To Buy A Set Of Apartments Right On The Beach : Kokkari : Samos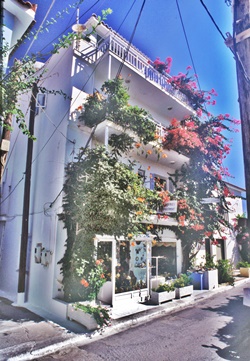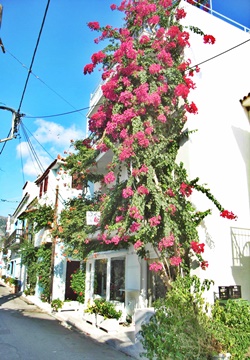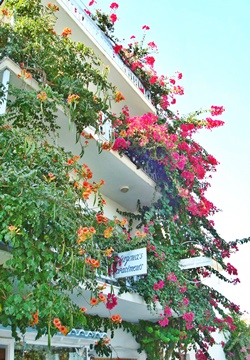 Virginia Apartments are situated right on the beach of Kokkari, Samos with a gorgeous surrounding view of the sea, mountains and village. Its positioning is amongst the most privileged and advantageous in the area.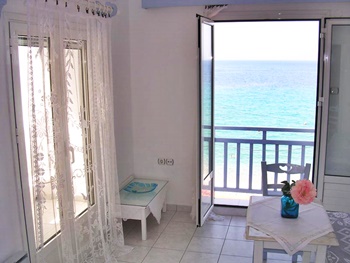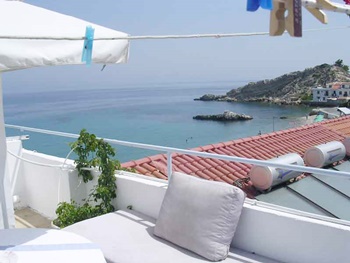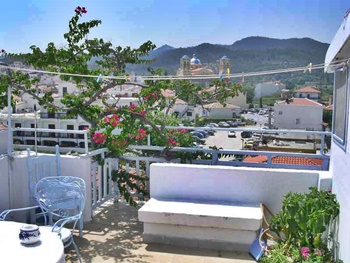 Consisting of a ground floor previously a gift shop that can be rented out again, or used by the new owners, there are three apartments on each of three floors.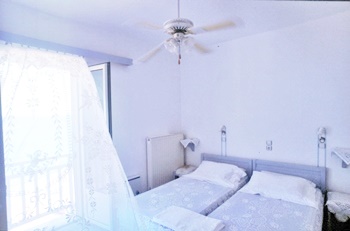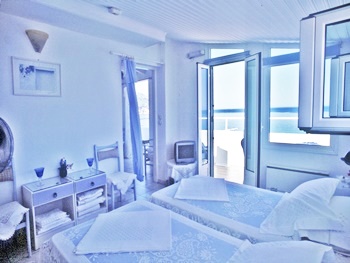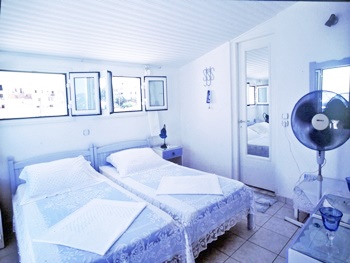 The first floor has one apartment on the seaside ( living room , kitchen, bedroom and 2 bathrooms, and another apartment on the road side ( kitchen, living room and bathroom.) 2nd floor has an identical apartment on the sea side and on the road side there are 2 rooms with a bathroom each. The third floor has an apartment on the sea side ( Living room, kitchen, bedroom and a bathroom )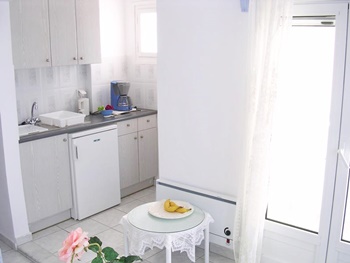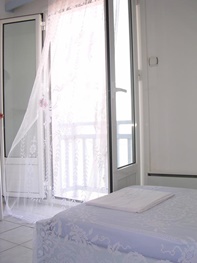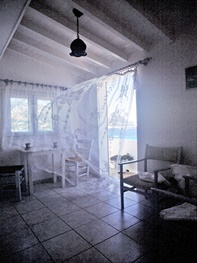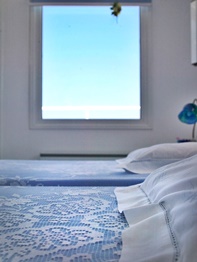 The plot is 120 square metres with the three storey building adding up to 288 square metres of total area. All three apartments have direct sea views with windows and balconies. Everything is well preserved with easy access and only 2 minutes from the centre of the traditional village of Kokkari. It can be purchased as a business or a fantastic private home. To be sold fully furnished.
Once rented to Thompson's Holidays the hotel was completely full all season.
Price : Reduced to 550,000 Euros Or Near Offer Code : SAMOS VK / 010
---
A Luxurious Property With An Amazing View : Poseidonio: Samos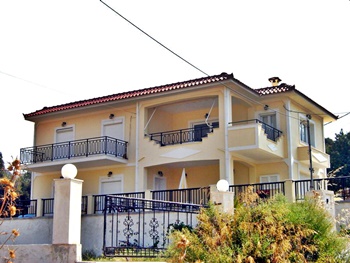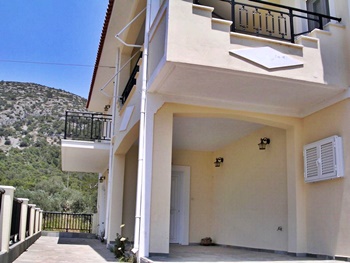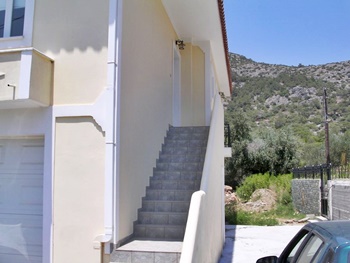 This property offers you a unique opportunity of both family and business investment at special price . The luxurious property is located at idyllic Poseidonio on Samos island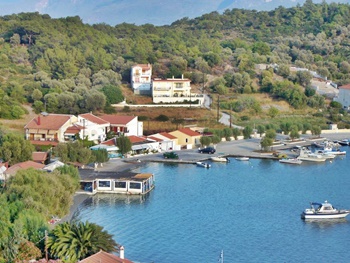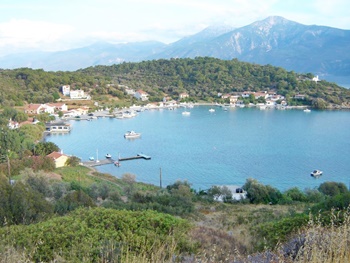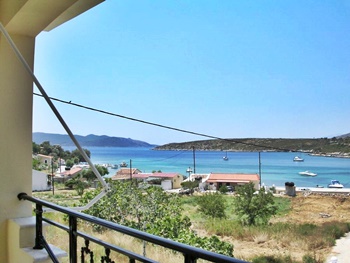 On the ground floor that has an area of 90,00m2 can be found the fully equipped kitchen , a combined dinning and living room , two bedrooms and two bathrooms .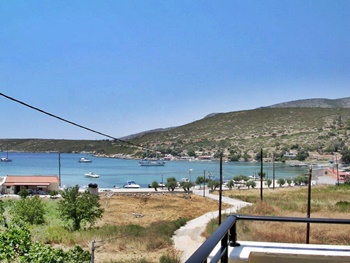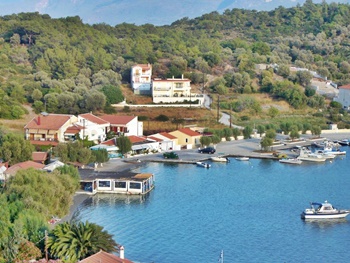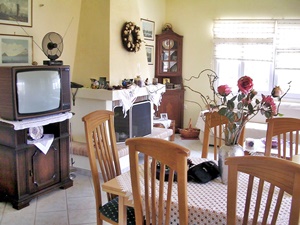 On the ground floor as well there is a 30m2 garage . The spacious balcony and the additional free space of the plot give you the chance of creating a wooden construction – cover for more shade and building an extra room if one wishes.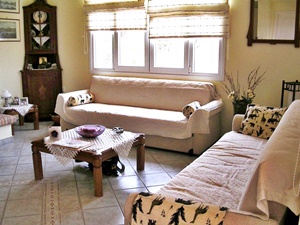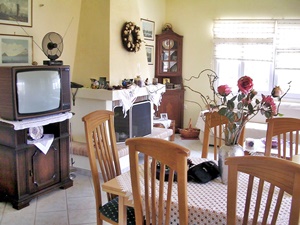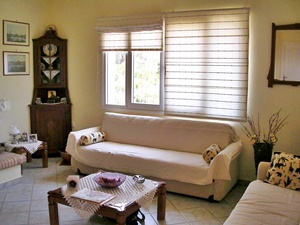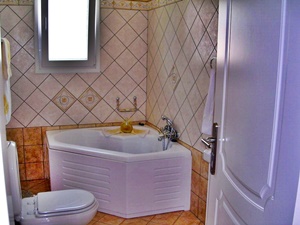 On the top floor that has an area of 120m2 there are 3 comfortable bedrooms , a living room with a fire place , combined room of a fully equipped kitchen and a dining room and two bathrooms . The property is for sale completely furnished and equipped giving the buyer the chance of an immediate settling down .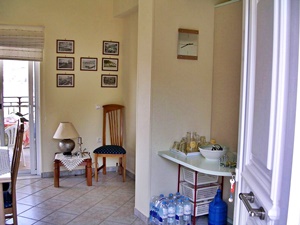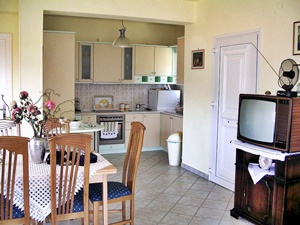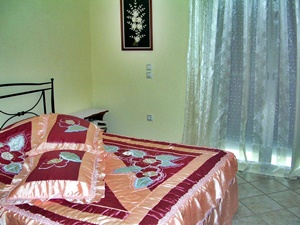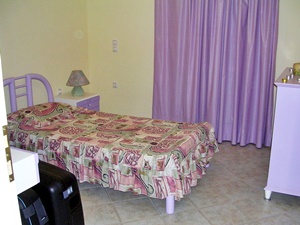 Poseidonio is an area of explicit nature beauty along with the lovely small gulf and a really amazing view all around . The property is 20 minutes drive away from Samos town .
The construction is in perfect condition . The quality of construction , both the internal and external condition of the building and the general look of the property is in highly good shape and condition .
Price : 680,000 Euros Perhaps an offer ! Code : SAMOS DH/A3
---
A Beautifully Renovated Three Storey Town House : Neo Karlovassi : Samos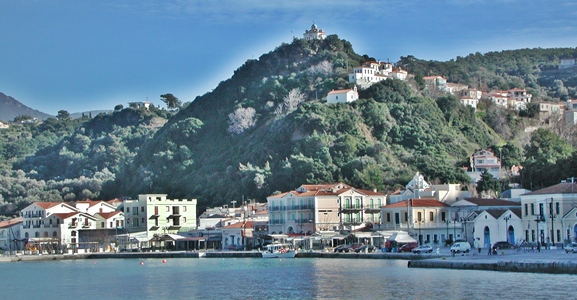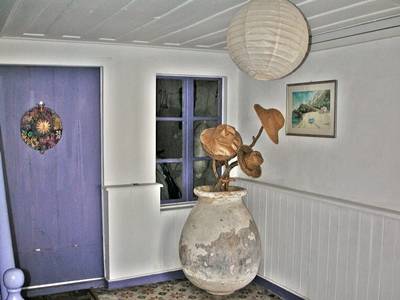 The house with the Green Door is a substantial traditional stone built property dating from the mid 19th century and was substantially rebuilt in 2000, including a new tiled roof, plastering, re-wiring, re-plumbing as well as renewal of flooring and timbers. All original features were retained. It is situated in a prime elevated position above the town hall and the well planned square, the neighbouring traditional villas being the most elegant and sought after in the town. A full range of shops is minutes away on foot.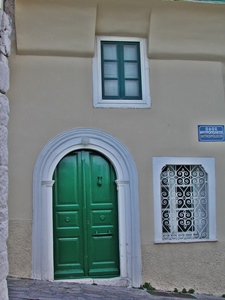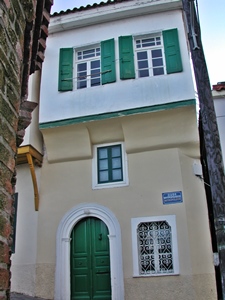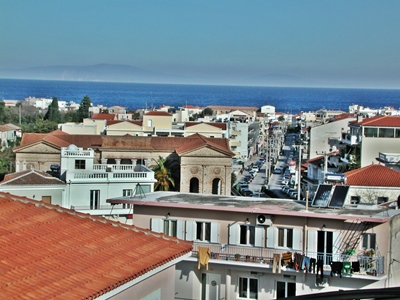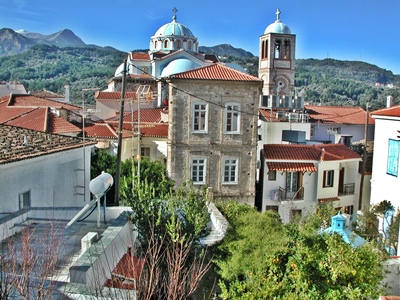 The town of Karlovassi has the advantage of providing one of the sites of the University of the Aegean, and brings a lively atmosphere to the town.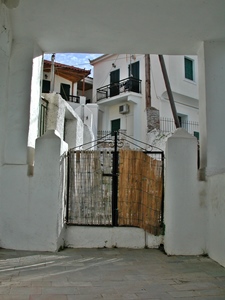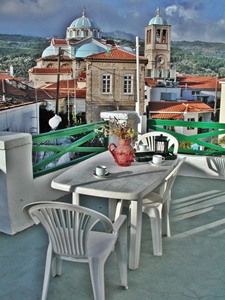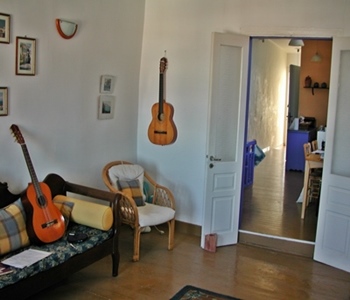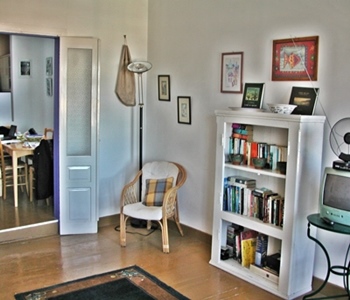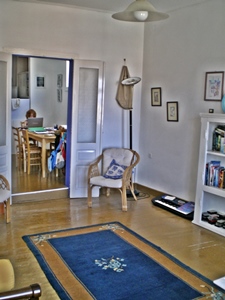 The house is a large 300 square metres in size ( 100 square metres on each floor ) with a ground floor that has a large store room for bikes and beach equipment, with a further large room currently used as a tool store and workshop. The room has potential for conversion to a studio apartment with its own access via the garden. The garden has mature fruit trees, orange, tangerine, lemon, and a grapevine, as well as climbing plants such as bougainvillea and jasmine. The middle floor is a self contained apartment with two double bedrooms, shower & toilet and a large modern kitchen.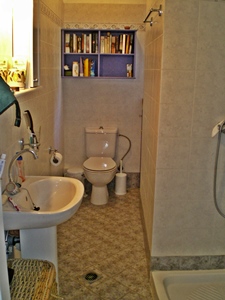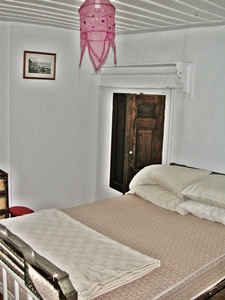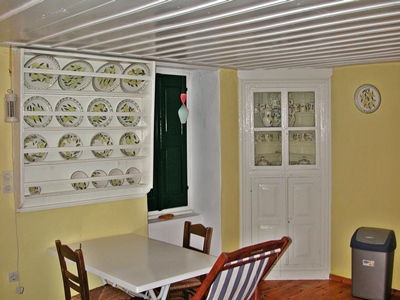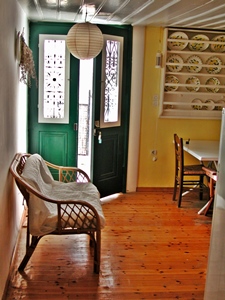 The upper floor is also a self contained apartment. It comprises a large high ceilinged lounge to the front with fine views over the town to the sea and on a clear day to the distant coast of Turkey, some 50 km away.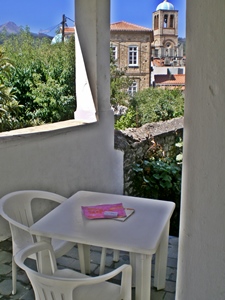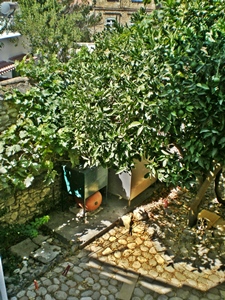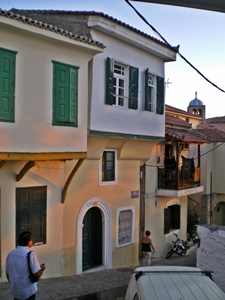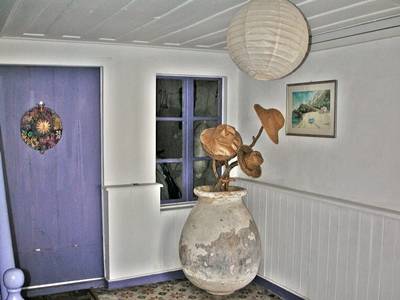 The house has 4 bedrooms, two bathrooms, two toilets, with sea, mountain and town views. All services are on town supply and is to be sold complete and fully furnished.
Good price for so much house Reduced To : 225,000 Euros Code : SAMOS RK/MP/010
---
Two Independent Residences For Sale : Mesokampos : Samos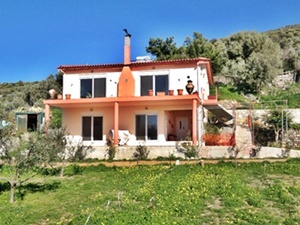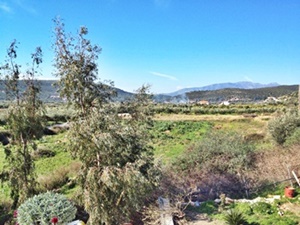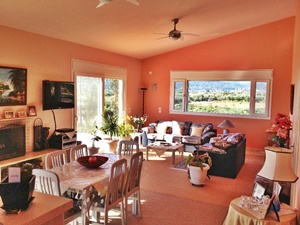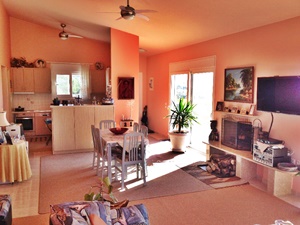 The residence is built on a piece of land that covers an area of 4,139.54m2 at the location of Mesokampos . It is a new construction that was completed in mid 2014 . It consists of two independent residences : -
On the Ground floor the residence is 43.08m2 and on the upper floor the main residence has an area of 105.75m2 The surroundings are nicely formed and the view is lovely .
Price : 85,000 Euros ( Small House ) 210,000 Euros ( Big House ) Can be sold separately or together. Code : SAMOS DH/A11
---
A Renovated Traditional Stone Cottage Only 50 Metres From The Sea : Agios Konstantinos : Samos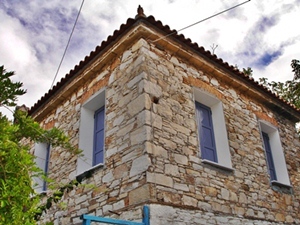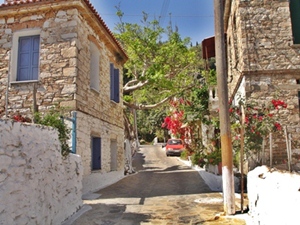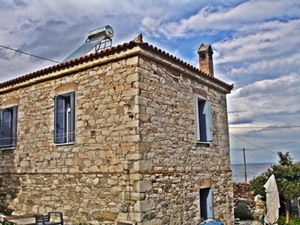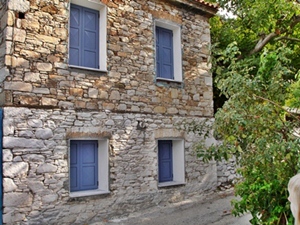 This is a renovated traditional stone Greek seaside house with sea views located 50 metres from the sea in the village of Agios Konstantinos, on the North coast of Samos only 19 klms from the main town of Samos.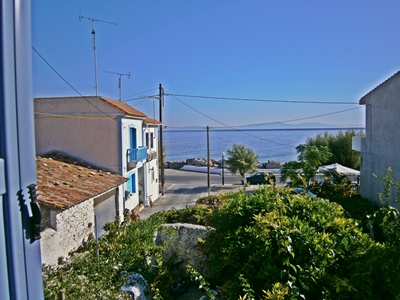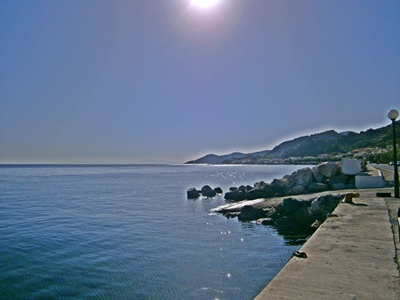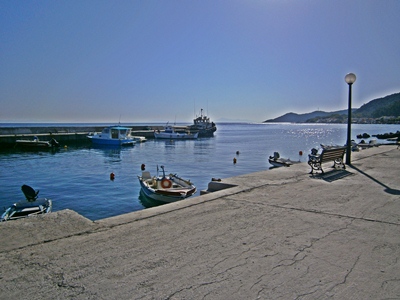 The views from the front windows and garden are of the sea looking towards Turkey which can be clearly seen. The village has a mix of relaxed living and 'promenading' along the sea front where the cafes bars/tavernas and working fishing harbour are located.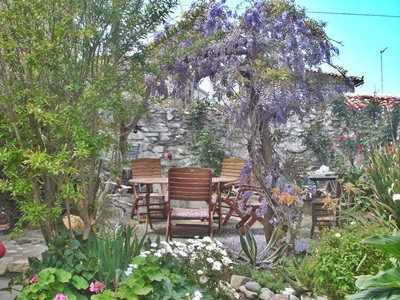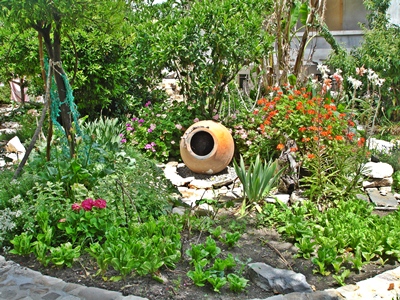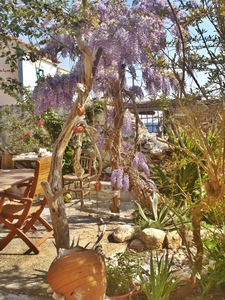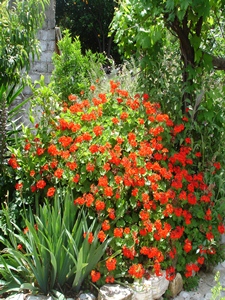 The garden provides patio areas for Alfresco dining and relaxing and entertaining. The garden has Lemon/Mandarin/Satsuma/Orange & Pomegranate trees, with many shrubs including Wisteria, Ponsietta, Viburnam, Camelia, Geraniums, Roses & Lilies. The house is suited to all year living or holidays and there is scope to extend the house should it be desired.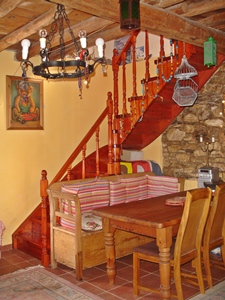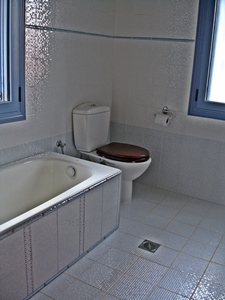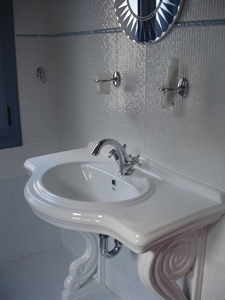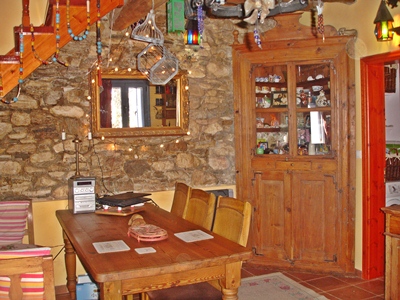 The construction of the house is traditional stone and has been refurbished in the traditional style, including a new roof, electrics, plumbing and tiling, it has double glazed windows and doors with fly screens. There is a new staircase and panelled wood ceilings in the original style . The original wood beams have been retained downstairs. There is also a solar panel on the roof to provide hot water.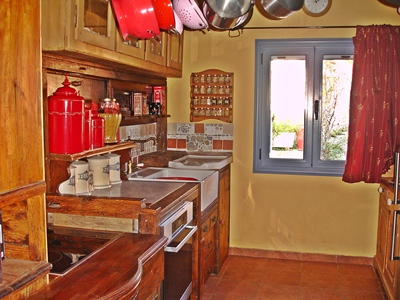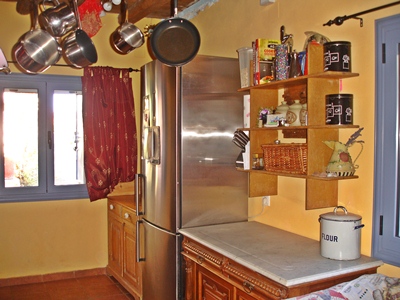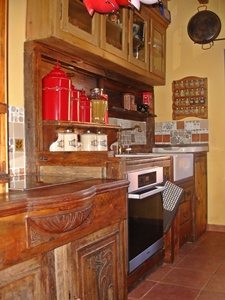 Downstairs is open plan living with a hand built kitchen with modern appliances i.e fridge freezer : Meile oven and hob and Villeroy & Bosch white ceramic sink. There is also a separate ground floor shower/utility room with shower, toilet and wash basin, and a partioned area with washing machine and storage shelving above.
There are two good sized bedrooms ; One with corner fireplace and wood burner stove, and both bedrooms have sea views. There is also a large bathroom with bath, toilet and washbasin.
The village has two small beaches, several small and one large supermarkets, 5 tavernas and several cafe bars, and a cake shop. Taxi rank and local bus stop at the top of the lane. Picturesque Kokkari is only ten minutes away by car and provides excellent beaches and water sports facilities.
Price : 285,000 Euros REDUCED TO 259,000 EUROS Code : SAMOS PVB/010(2)
---
Six New Houses With Nice Views : Poseidonio Bay : Samos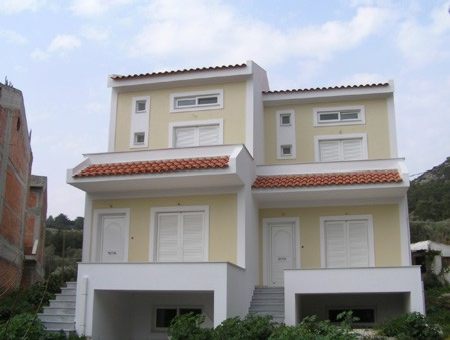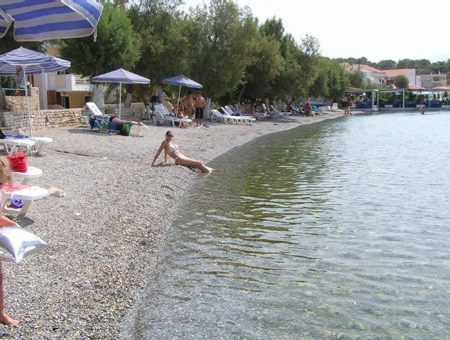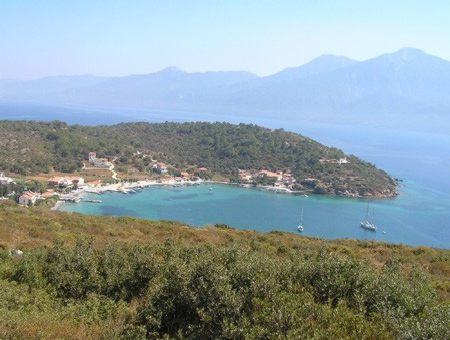 Two of these houses are almost complete and 4 are unfinished but in the brick stage. They have 2 bedrooms on the first floor as well as 2 empty rooms in the semi basement, also 1 empty room in the attic.
On the ground floor is the kitchen. There is one bathroom on the first floor and 3 toilets, one on each floor. Standard fittings include bedroom wardrobes, sideboard and kitchen sink.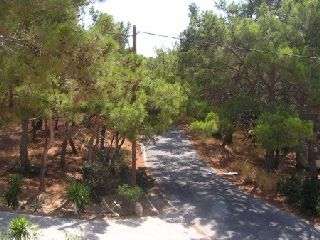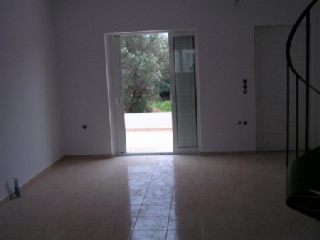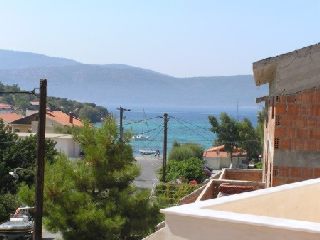 Views Towards Aegean Sea : Views Towards Verdurous Mountain : Seaside & Beach Only 100 mts Away
Price : 220,000 Euros Code : SAMOS KT/011 ALL SOLD
---
Four New Houses With Nice Views : Poseidonio Bay : Samos
One house is sold but three are in brick stage. They have 2 bedrooms on the first floor, and an empty room in the attic. On the first floor is the bathroom with toilet, On the ground floor is the kitchen, and another toilet.
Standard fittings include bedroom wardrobes, sideboard and kitchen sink.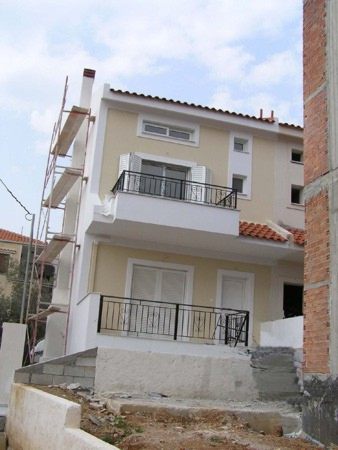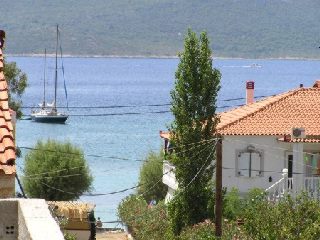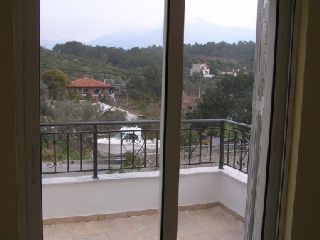 Views Towards Aegean Sea : Views Towards Verdurous Mountain : Seaside & Beach Only 100 mts Away
Price : 170,000 Euros Code : SAMOS KT/012 ALL SOLD
---
A Prime Plot With One Small House : Klima : Samos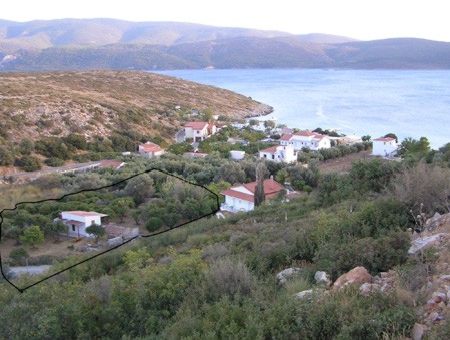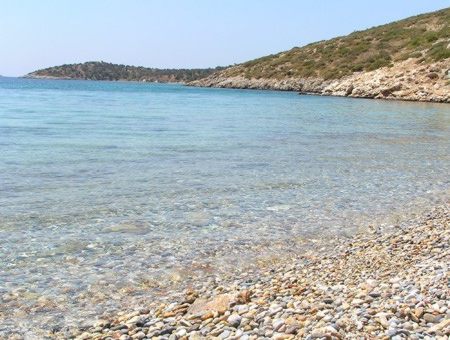 T

his large plot inside the building boundary is 3140 square metres in size, but the house that goes with it is 26 sq mts, giving ample scope to rebuild or expand up to at least 1,000 sq mts more of buildings, as the allowances here are 42%.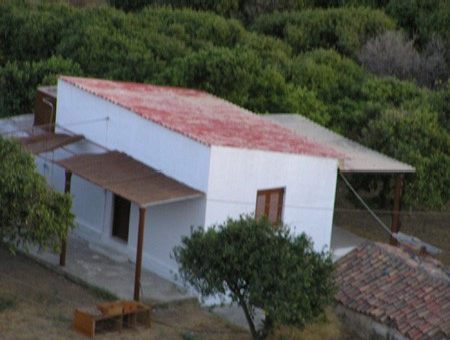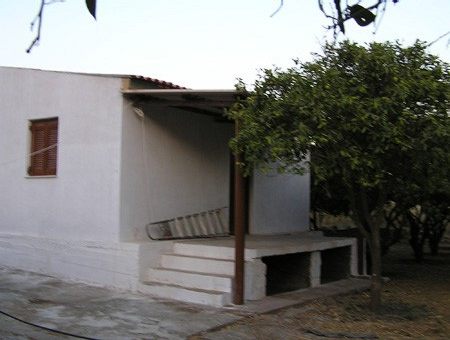 The house has one bedroom, a kitchen, a bathroom with shower, and sits in the plot with 20 lemon and orange trees. There is also a workable well.
Views Towards Aegean Sea : Views Towards Verdurous Mountain : Seaside & Beach Only 100 mts Away
Price : 210,000 Euros Code : SAMOS KT/013
---
BACK TO

HOME PAGE FORWARD TO

SAMOS PAGE 2 FORWARD TO

LESVOS FORWARD TO

CHIOS
E MAIL BRIAN