---
Greece : Mainland Property For Sale
The Pelion Page One : For Page 2
Here

Scroll Down To See More Property.

---
Pelion : Mainland Greece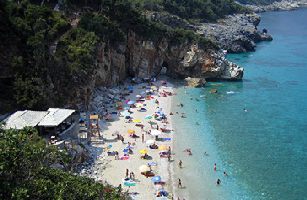 Pelion : You will never say goodbye. The Pelion mountain and peninsula is said to be the most magical part of the Mediterranean.
It is easy to get to from Athens, and the main town of Volos is about 326 klms from Athens and 315 klms from Thessaloniki
We have English speaking Web partners here in the Pelion that can help you in all aspects of property.

---
Beautiful Semi Detached Houses For Sale on an Idylic Island In The Pagasitic Gulf : Island of Trikeri : Pilion

The Island is located inside a large sheltered Gulf which is a haven for many forms of wildlife and is perfect for sailing, fishing and snorkelling.

The Islands village of Agios Ioannis has a couple of tavernas, cafe, bar and a Mini Market with all that you need. It is a rustic and simple village in a pretty place where the locals are incredibly hospitable and welcome newcomers.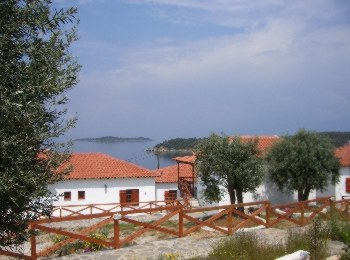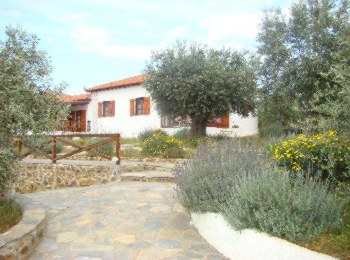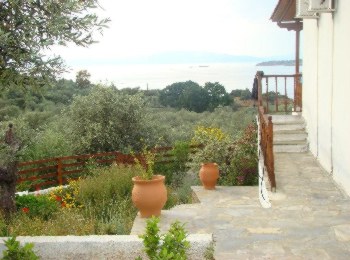 Each Villa has the following : 2 Bedrooms : Fireplace : Fully Fitted Kitchen With Tiled Worktops : Fully Tiled Bathrooms : Terrace With Excellent Sea Views : Storage Areas : Private Landscaped Gardens and access to a communal landscaped garden.
Around the Island are a plethora of sandy bays and coves dotted around the Island that provide good swimming, and all within walking distance.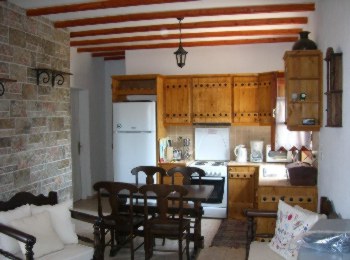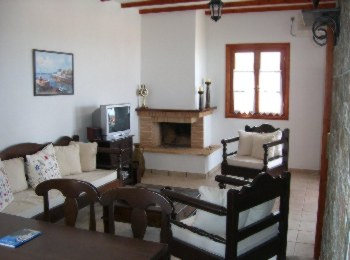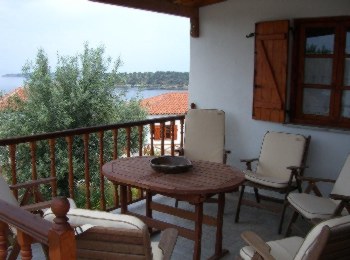 All the Villas are built in a 5200 square metre olive grove, only 100 metres from the beach of Saint Sophia.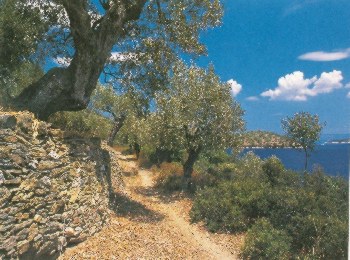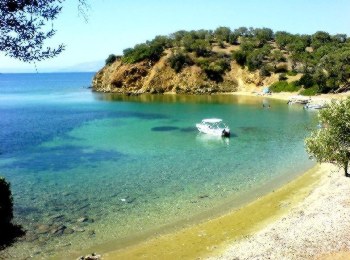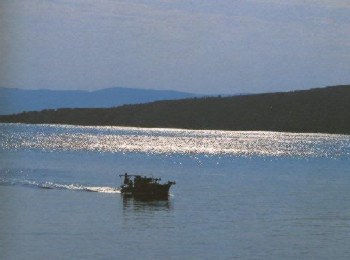 If You Would Like To Visit And View Or For Further Information Please E Mail Brian For PELION DK/TRIKERA

E Mail Brian.
A special offer is available for property "B2" at the price of 83,000 Euros.
Price Range : 83,000 Euros to 120,000 Euros Code : PELION DK/TRIKERA
---
Plot For Sale : Lefokastro : Pelion : Greece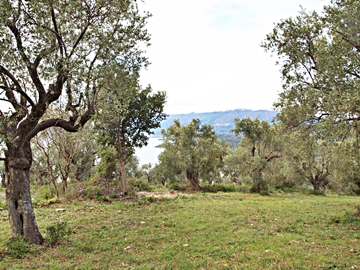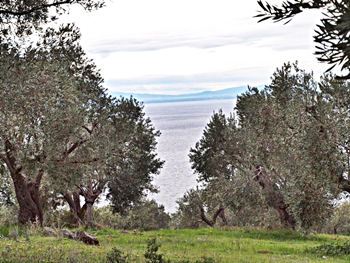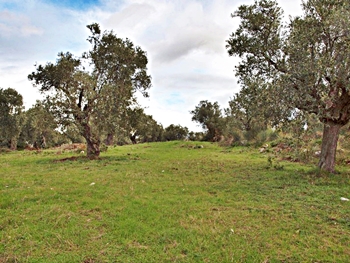 Lefokastro is a beautiful peaceful beach front with 3 fish taverns and bars. The water is calm and very inviting for boating activities and water sports. The land is ideal for building a luxury villa. The sunsets are unforgettable. This olive grove with a gentle slope has panoramic views of Lefokastro beach village and builds up to 400 m2 villa. (200m2 ground floor and 200m2 semi basement) It is on a dirt road and is only about 600 meters to almost exclusive beaches and quaint water fronts.
Price : 90,000 Euros Code : PILION PP / L3011
---
A Stunning Plot Of Land : Pelion : Greece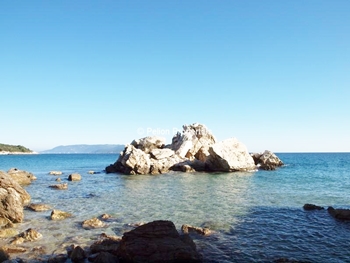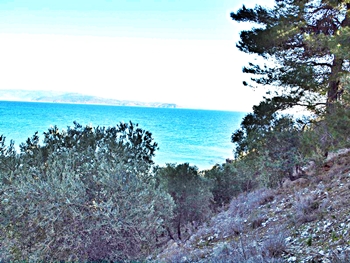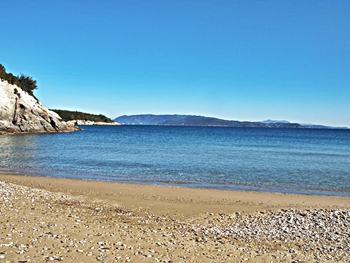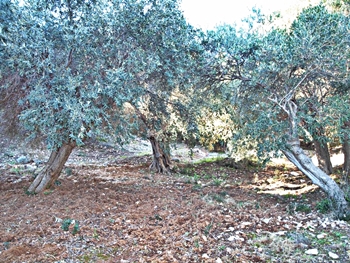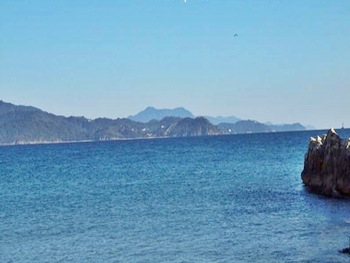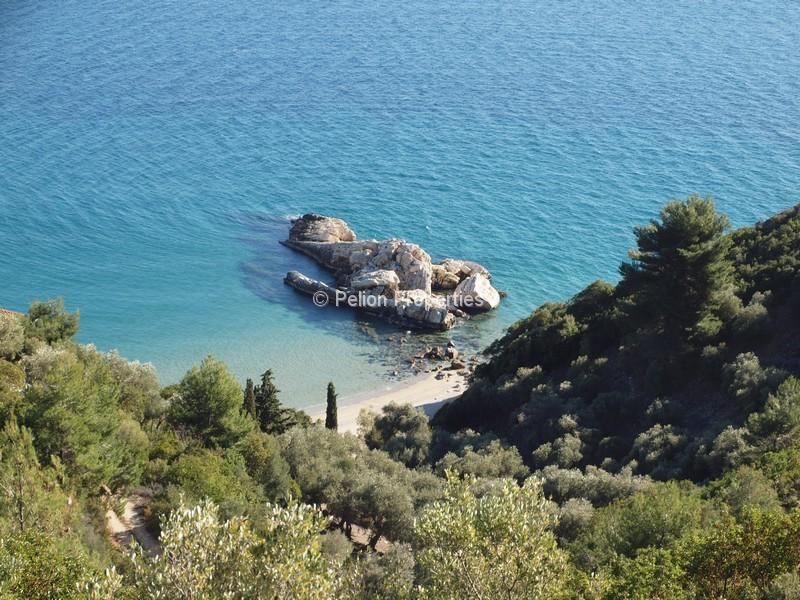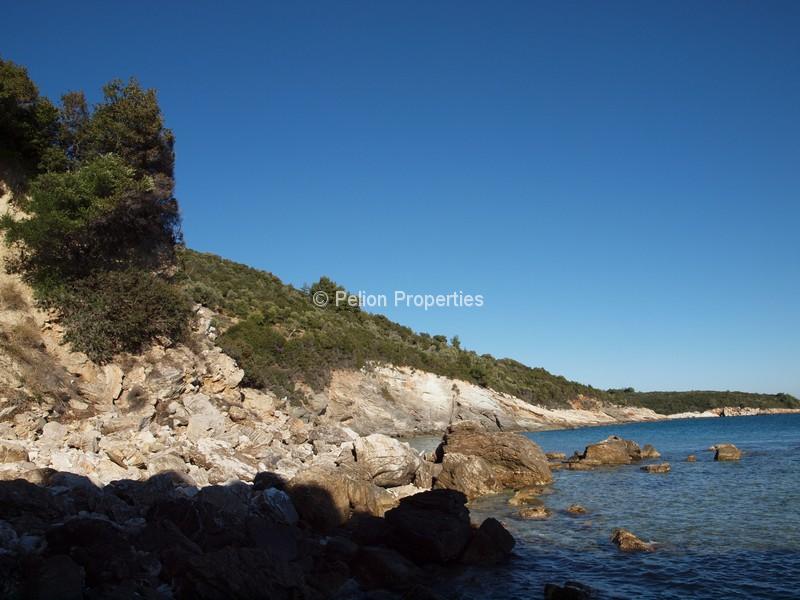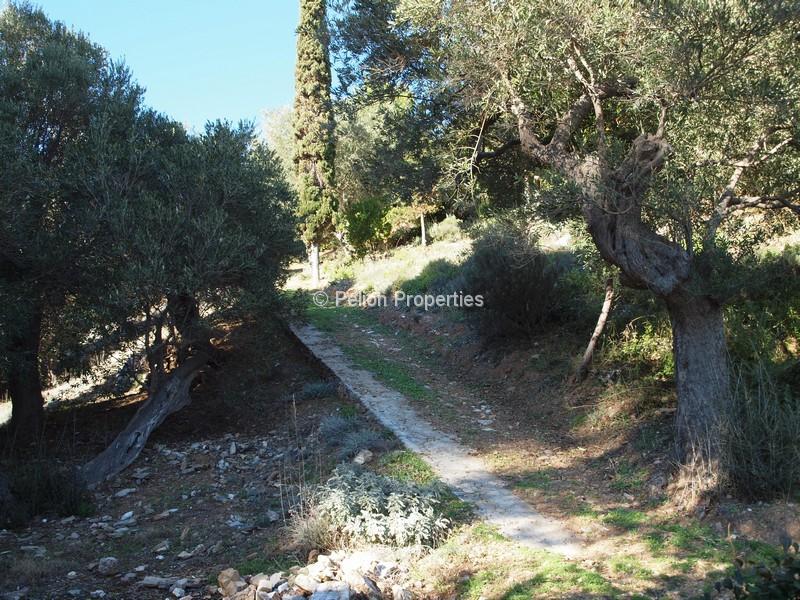 This unique and perhaps one of the last available buildable sandy beach front olive groves is on an secret hidden sandy beach viewing popular Skiathos Island. The olive grove on a slope is surrounded by rocky cliffs and forest. The two kilometer difficult descending dirt road is absolutely worth the amazing surprise at the bottom. This is an absolute heaven for boaters
This stunning plot of land on the Aegean
,
part of the Mediterranean Sea has simply survived the wave of beach front plot hunters from across the world in the last 30 years, simply because the lucky owners were not in the mood to sell. Well they now are. The buildable land has been curved out of its own forest (on papers) for the purpose of building. It builds up to 200m2 plus another 200 m2 semi-basement with full views of the beach, the sea, Skiathos Island, Evia Island and the distant islets and mountains across the sea. 4,300 m2 of olive grove. You will need a 4 by 4 to reach by land. Beautiful ...................
Price : 350,000 Euros Code : PILION PP / L3012
---
A Main House & Guest House In The Village : Kalanera: Milies : Pelion : Greece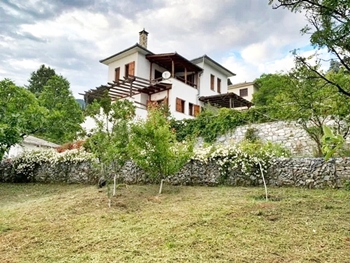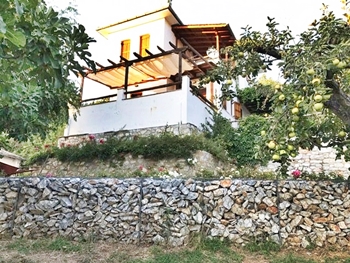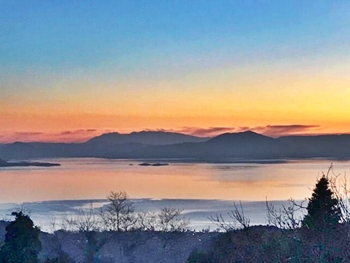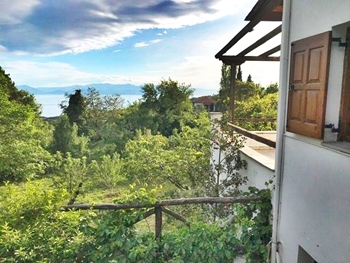 This unique house is located in Milies, a village of Central Pelion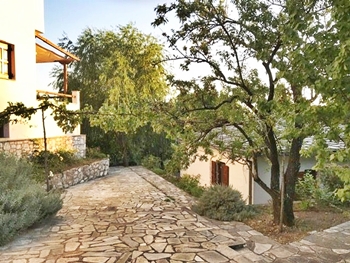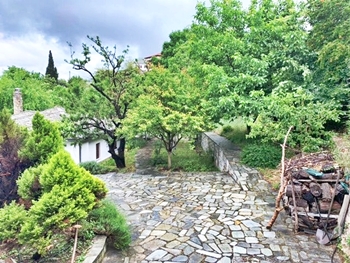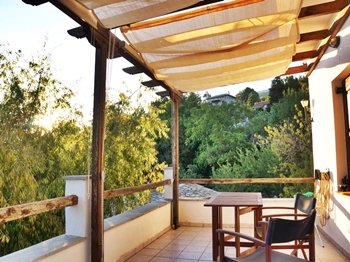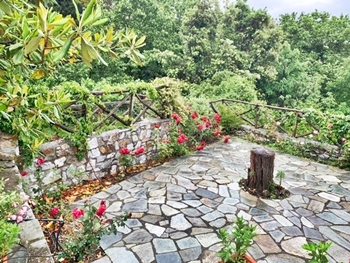 The view from the estate is the Pagasitic gulf and a part of Milies.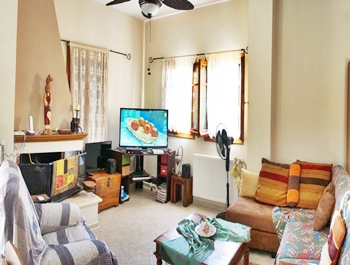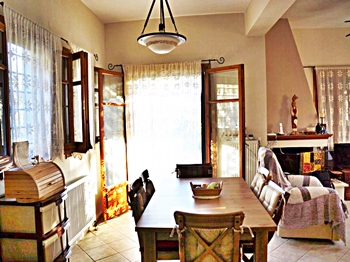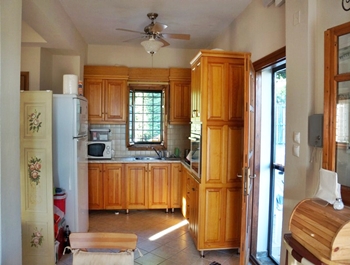 The guesthouse is a single traditional space that has been completely renovated.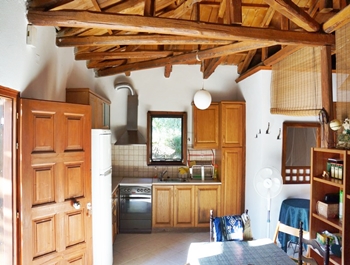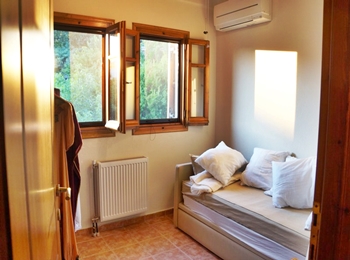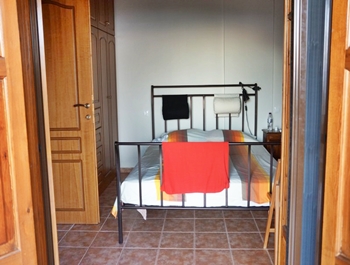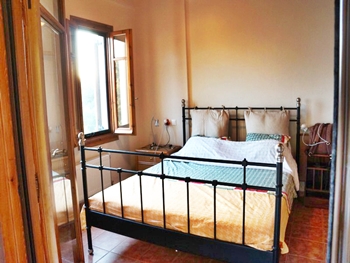 This unique house is located in Milies, a village of Central Pelion. It has a large garden with many flowers (roses, hydrangeas, various aromatic plants, a small vineyard with 11 roots, and small orchards) and many trees (apples, saplings, pears, figs, almonds, walnuts, chestnuts, peaches, plums, apricots, cherries, sour cherries etc...). The view from the estate is the Pagasitic gulf and a part of Milies. The total area of ​​the plot is 2200 square meters. The property has two houses: The main house is 110 square meters on two levels and has an additional 70 square meters basement and has three bedrooms and two bathrooms The main house is a new construction completed in 2006. It has a basement of 70 square meters, ground floor of 56 square meters (living room, kitchen and bathroom) and first floor with another 56 square meters (three bedrooms and bathroom) the house has two terraces, one on the ground floor and the other on the first floor. It has Wi-Fi, satellite installation, TV, central heating, fireplace, air condition in all rooms. Fully equipped kitchen with dishwasher and washing machine. The whole house is fully furnished. The guest house is 56 square meters and has 1 bedroom and 1 bathroom
The guesthouse is a single traditional space that has been completely renovated and is divided into a bathroom, kitchen, living room and bedroom. It is ideal for a family of four with two children. It is fully equipped with Wi-Fi, TV, air condition, fireplace, central heating, washing machine, kitchen fully equipped and the guesthouse is fully furnished. The central heating is integrated for both houses and can operate autonomously and independently. There is a complete automatic watering system with six independent lines for almost the whole estate that is centrally controlled by the main house. This luxury house is located on a plot of 2200 square meters, with many flowers and many trees. It consists of 2 buildings: the main house which is 110 square meters on two levels and has an additional 70 square meters basement and the guest house which is 56 square meters.
Price : 550,000 Euros Code : PILION PP/H5031
---
A Birds Eye Coastal View Stone House : Kalanera: Pinakates : South Pelion : Greece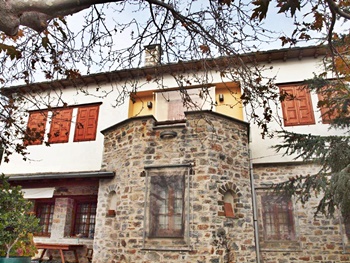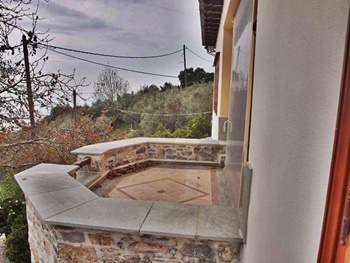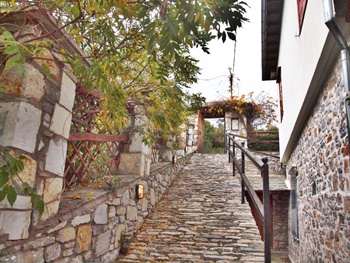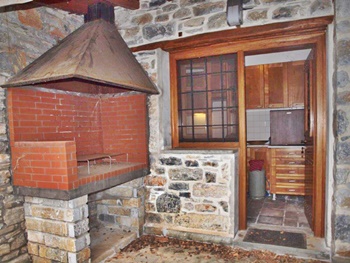 Pelion is about views but this is probably the king of the panoramic views. The property is built in one of the most unique positions with much care and love. It has a grand feel about it. It is so spacy that you can get lost, yet so cosy that every corner feels like your own.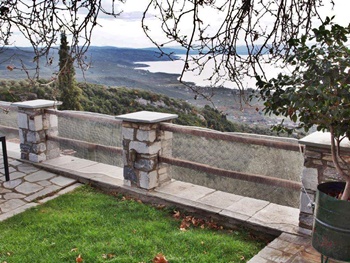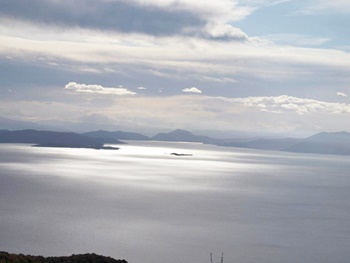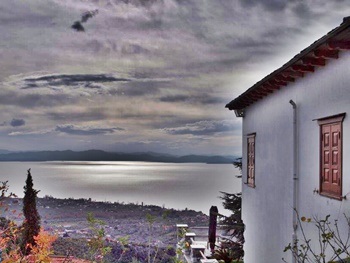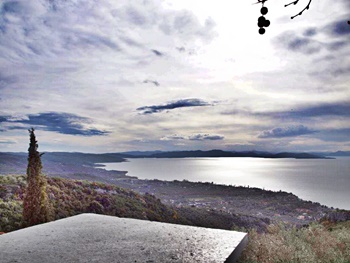 This 4 bedrooms villa is built on two levels. The first level consists of a charming stone round entrance hall, large living and dining rooms with fire place, kitchen and a guest bathroom and the 2nd level has 4 bedrooms with their own grand Living room and a fire place, bathroom and a balcony.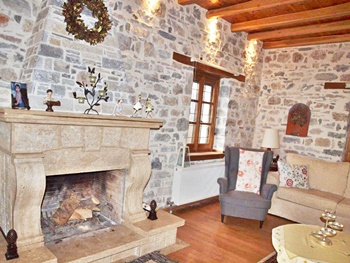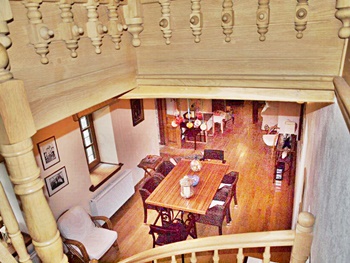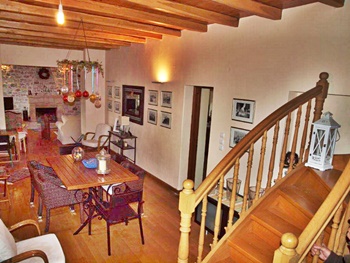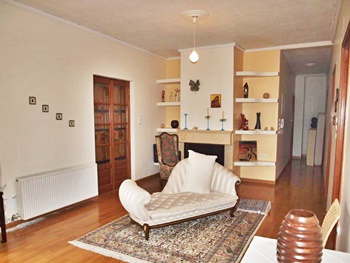 The terraces outside and also almost every room of the house have an open view of the Pagasitikos gulf of Pelion. There is a second equipped kitchen outside plus a BBQ. The house is centrally heated, car accessed with a parking for several cars. THis is a Super panoramic 4 bedroom stone villa with 2 living rooms, 2 kitchens (outside and inside) dining room, 2 bathrooms, 2 fire places, entrance hall and plenty of storage, parking, BBQ on 4,500 m2 of gardens. Sold fully furnished.
Price : 450,000 Euros Code : PILION PP/H2648
---
A Traditional Stone House In Makrinitsa : Makrinitsa : Pelion : Greece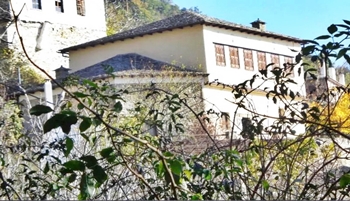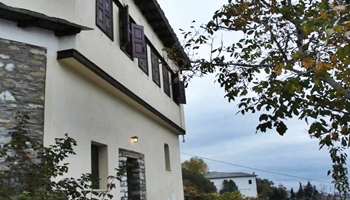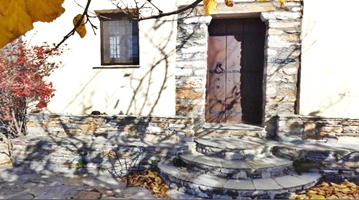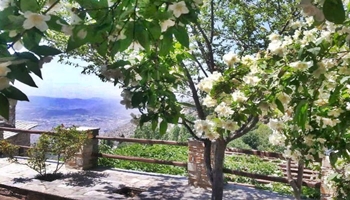 This splendid Vila in Makrinitsa offers great views of Volos and the Pagasitic Gulf.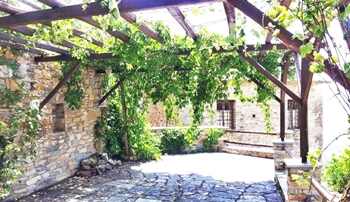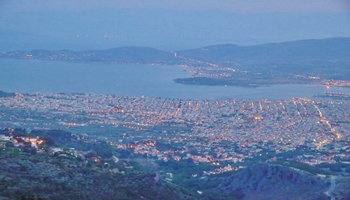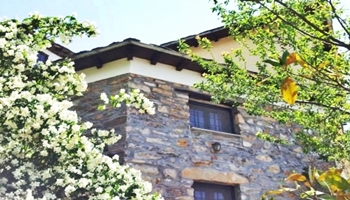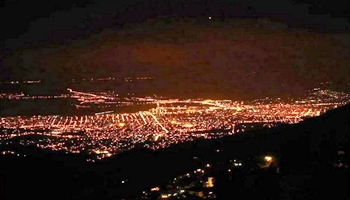 It is a neat house in every detail, completely renovated and maintained in perfect condition.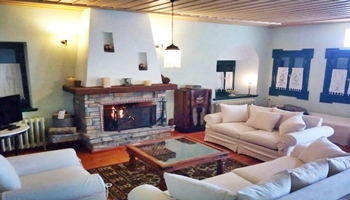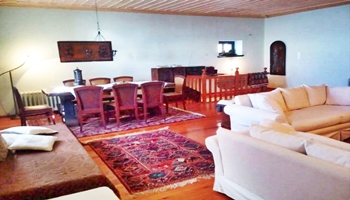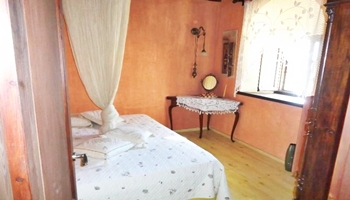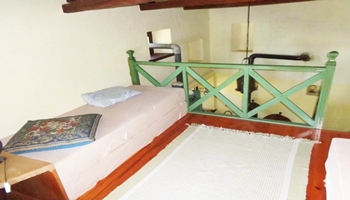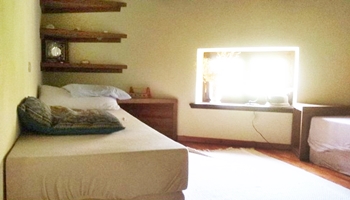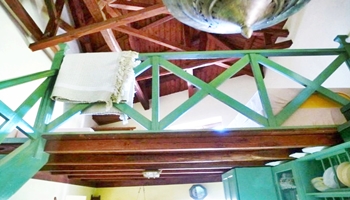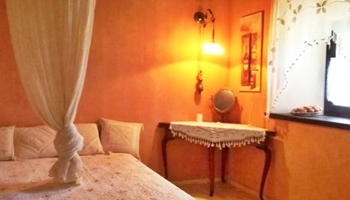 This is a traditional stone house in Makrinitsa, Pelion. Τhe plot is 289 sqm (House + yard - terrace) and the total area of ​​the house is 190 sqm , in a location that provides a unique panoramic view to Volos and the Pagasitikos giving the feeling of an eagle nest, consists of 1 room, 1 loft-room, kitchen, WC, large living room with fireplace and a large terrace with great views (heating of the house is oil where in the yard there is a small stone house where it has the boiler) and is to be sold furnished.
Passing inside the house, we find ourselves in a spacious high-ceilinged reception area with a traditional mosaic floor, on the left there is a passage leading to the kitchen and from there a small wooden staircase leads to the attic that comfortably accommodates two people. To the right of the entrance, going up two stairs, there is the bedroom with a window overlooking Volos. Going after the bedroom, on the right is the bathroom, this is one of the most special parts of the house as the geographical substrate of a rock under the house has been fully utilized, which has emerged with a special technique of fixing and protective coating, incorporating in the shower area, creating a dreamy setting. Also in the bathroom, there is a heavy marble sink and an old mirror. Proceeding from the bathroom there is a small storage room and the wooden staircase that leads to the first floor where there is the impressive open space surrounded by traditional windows that illuminate the space and provide amazing views. It has been almost completely restored (only the stone frame of the house has been kept and everything else was made new) in '95 -'96. The house has oil heating with radiators from wonderful cast iron (which have been purchased from the renovation of the National Bank in Thessaloniki) It is a neat house in every detail, completely renovated and maintained in perfect condition. The 190m2 of living space on 289m2 on 2 levels includes living room, 1 kitchen, 2 bedrooms, 1 bathroom, Great terrace and great views!
Price : 290,000 Euros Code : PILION PP/H5030
---
A Three Bedroom Neoclassical House : Argalasti : Pelion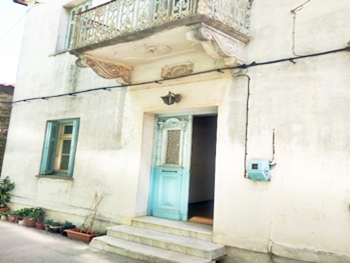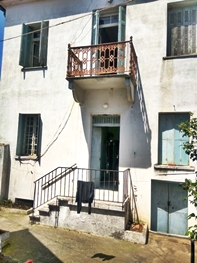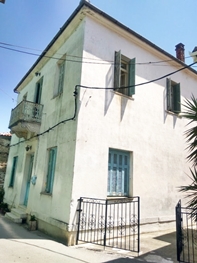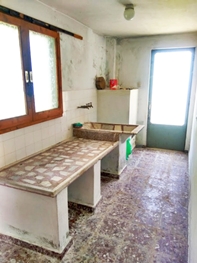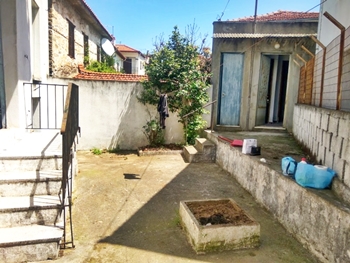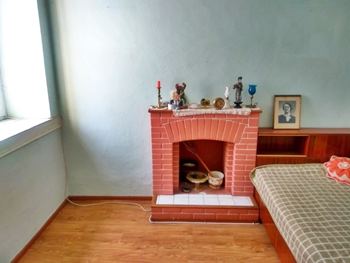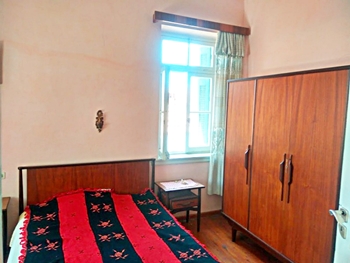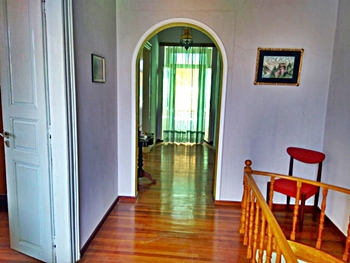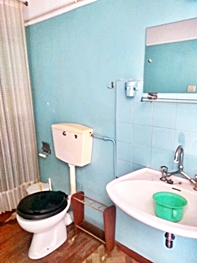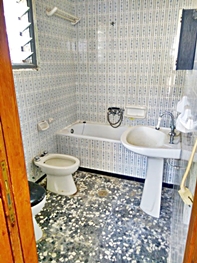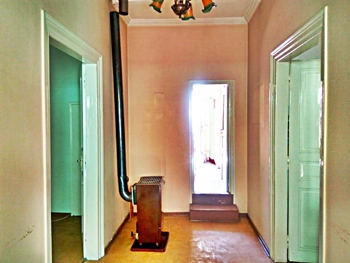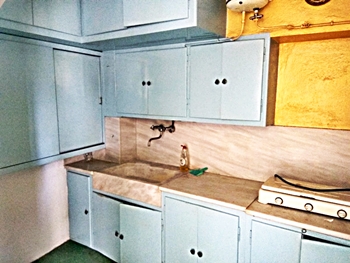 This traditional two storey house is located in Argalasti, South Pelion, Only few minutes from the square. This neoclassic stone house mesures 100sqm plus an independent annex of 25sqm, surrounded by a small courtyard. The house has five rooms (one of them with fireplace), one kitchen, one bathroom and storage. The neoclassical futures are predominant on both balconies, the one on the street front as well as the one of the back side. Great Price For A Townhouse.
Argalasti has beautiful walks you can take along the cobble paths whilst watching the old traditional houses as you pass them. These houses are heavily influenced from the ancient Byzantine years. You will also be amazed with the belfry of the church of Agioi Apostolis, which is very tall (45m) and was made from marble by local workmen in 1914. Enjoy your drink, coffee or food at the paved main square surrounded by plain trees. For alternative activities you can contact Nikos, who has a horse farm, and takes tours with horses to the villages Metohi & Horto through magical and attractive routes.
Price : 120,000 Euros Code : PILION PP / H2651
---
A Four Bedroom House : Vizitsa : Pelion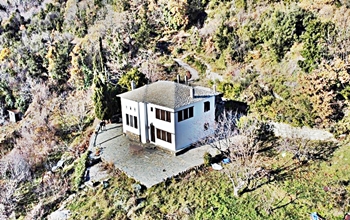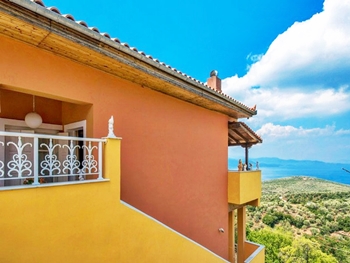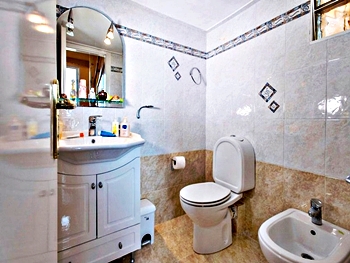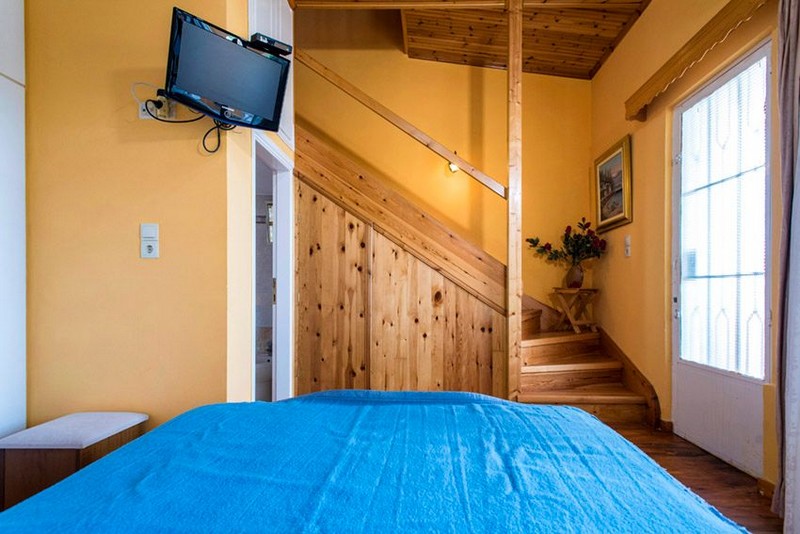 The house has unlimited uninterrupted, stunning views over the village, mountain, Pagasitikos bay and the Aegean Sea.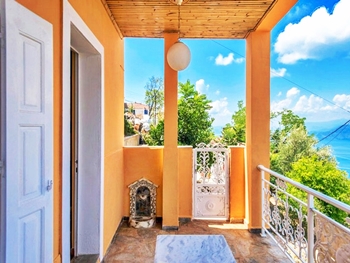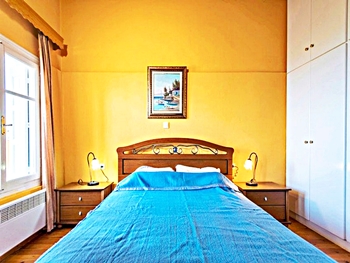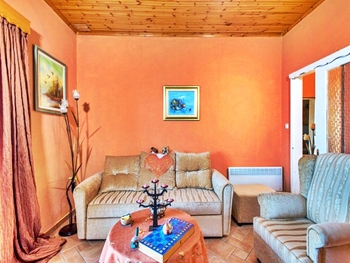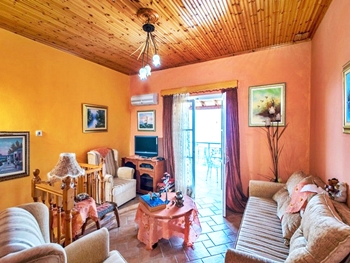 This magnificent home was completed in 1995. The property can be found at the highest point (620 m above sea level) of the settlement of Vizitsa, on the outskirts of this most picturesque village in Mount Pelion.

It is surrounded by 2.183 sqm of land. From these, 160sqm are within the boundaries of Vizitsa and 2.023 sqm are outside the village boundaries.

The house itself covers a total area of 150sqm surrounded by 300sqm stone-paved courtyards with several outside designated sitting areas. It has an open plan dining area, two large living areas, one of these being on the higher elevated level, overlooking the lower lounge, 3 bedrooms (one with its own open fire and one in the distinctive mezzanine area, traditional "hagiati"), 2 bathrooms, 2 fireplaces and a fully fitted kitchen-diner. Oil driven central heating with units in every area. The property also benefits from a separate stone building of 15 sqm completely independent, which houses its own bathroom and cooker, along with the boiler. Car access is via a private road. The property has recently been damp proofed and has been freshly rendered as well as painted, with all windows repaired and stained. The property has 23 windows in total, with 6 of them being small and picturesque with colored leaded glass. The house follows the local traditional architecture with fully stoned roofing.

What makes this property unique from an architectural point of view is that it boasts four levels of living space under the same exposed rafters and beams of the roof. There are fruit trees, chestnut trees and a well-tended magnificent garden containing many mature plants and herbs surround this home.

T

he house has unlimited uninterrupted, stunning views over the village, mountain, Pagasitikos bay and the Aegean Sea. 3 km given distance from the sea level. The area combines both Forest Mountain (skiing) as well as a selection of blue flagged, EU awarded picturesque beaches along the coastline

Price : 450,000 Euros Code : PELION PP / H5054
---
Forward To

Page 2.
E MAIL BRIAN.
BACK TO

HOME PAGE.