A Fabulous Sea Side Plot : A Stunning Parcel of Eight Stremma : Metamorphosis : Vathi : S W Methana

The land has olive trees and runs down straight to the sea where the safe waters are crystal clear. The mountain and sea views are absolutely breathtaking.

The sea in this area is a favourite place for the local fishermen and their catch may be tasted at the local taverns in the fishing village of Vathi

The land is easy to get to from Athens and is in easy access to the peninsular of Methana and the spa town, the town of Galatas and across the narrow straights to the beautiful Island of Poros, Mycenae, Epidauras, Nafplion, Nemea and the wine roads for wine tasting experiences. The parcel is in an area known as "Hidden Greece"

All paperwork is in order from the Forestry Commission and the Aegealos ( Sea Authorities ) : Electricity is only 100 metre's away and water is nearby. Building allowance would need to be advised.

An excellent team of architects/designers/engineers and builders is available to build a villa/house to your specific requests

12 Stremmata of land next to the sea can have two separate entrances one of which can be ten metres from a nearby beach.

Entrance to the plot can be up a quiet side road, the plot is gently sloping form top to bottom and all photographs showing the lovely sea views were taken at ground level, so a house built on this plot would have magnificent views not only from ground floor level but from its first floor terraces

.

A Beautiful Four Bedroom Sea Side Villa For Sale : Aghios Andreas : Malina : Pelion

This is an idyllic seafront villa, 30 meters from the sea, located in the tranquil hamlet of Aghios Andreas, 3km from Milina, in South Pelion.

The 4-bedroom modern villa includes double glazed, solid wood windows, shutters and doors, central heating, wood burning insert fire, ceiling fans, air-conditioning, satellite dish, TV aerial, mature gardens. Additionally there are two basement storage areas, a large wooden shed, a shaded car port, diesel boiler for central heating, electric hot water tank.

The spacious seafront villa includes an open plan living room with fireplace, kitchen and dining areas, four bedrooms, a bathroom, the veranda and terrace. Solid wood vaulted ceiling, tiled floor, marble fireplace with modern, glass front wood burning insert (flush fitted), powerful enough to heat the whole house. central heating radiators.

There is no through traffic and so, ideal for families with children. Boat owners can have their boat anchored in front of the house, in one of the calmest and safest spots of the Pagasitic gulf.

Price : 300,000 Euros Reduced to 230,000 Euros Code : PILION H2542

---
A Luxury Villa With Stunning Sea Views : Agios Nikolaos : Istron : Lasithi : Crete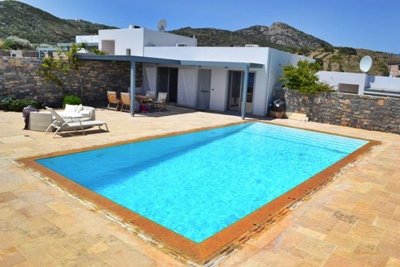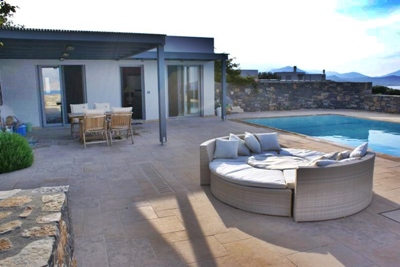 This state of the art 2 bedroom villa is built on a private plot of about 600 sq. meters and is part of a unique villa complex in the area of the popular resort of Istron, located at the coast of the picturesque Mirabello Bay, Crete.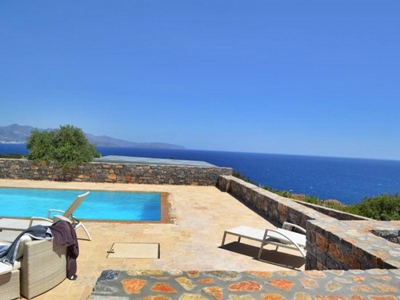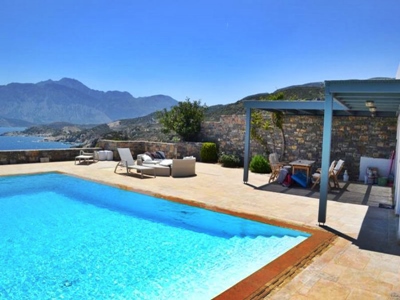 The villa occupies 123sqm of indoor space featuring 2 en-suite double bedrooms on the ground floor and a fully equipped kitchen and a large living room/dining room with fireplace on the first floor.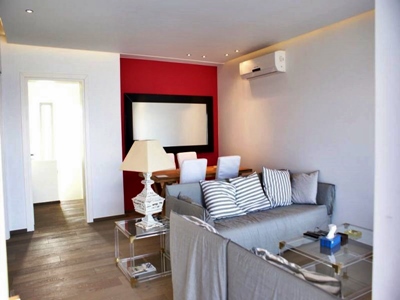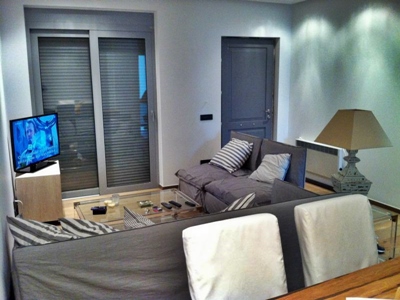 Outside, this villa has a large swimming pool, beautifully designed garden areas, bbq area, outdoor parking, as well as storage spaces. The property enjoys fantastic unhindered sea views.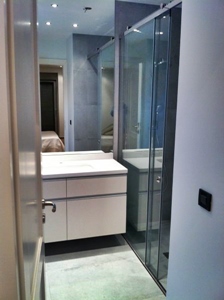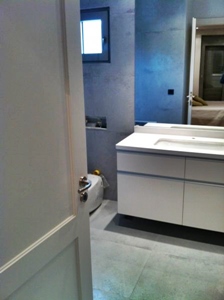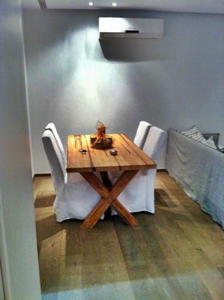 Istron peninsula is a site location that naturally expands into the sea by a narrow strip of land. The peninsula is in the form of an amphitheatre-shaped cove with sheltered beach and spectacular rock cliffs that predominate throughout the site.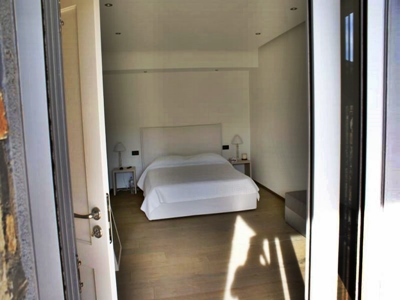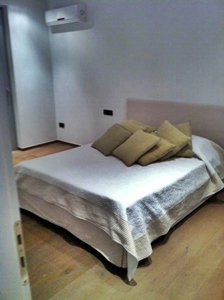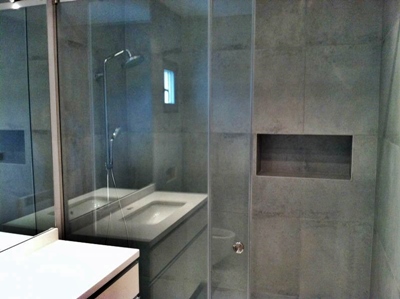 The architectural design aims to respect the areas topography, particularly the peninsulas natural beauty. The site design has been guided by land form and modern Cretan building styles whilst prime quality materials are used throughout.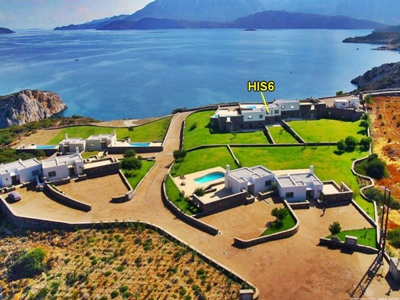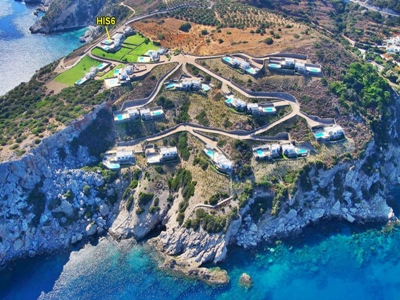 There is strict security measures on the peninsula with patrolling security guards and gate control 24 hours a day. There are several beautiful beaches in the area of Istron / Kalo Chorio and in close proximity to this fine property. Agios Nikolaos, the capital of the prefecture of Lasithi is a 10 minutes drive away. Agios Nikolaos is the capital of the county Lasithi and is located at the Mirabello Bay, north-east Crete, only 45 mins away from the international airport of Heraklion. Geographically the town is well protected from strong winds allowing sea sports and swimming nearly all year round. Although Agios Nikolaos has a population of less than 20,000 it has a several banks, supermarkets, shops of every kind, doctors, a modern hospital of high standard, public swimming pool and tennis courts, yacht marina, harbour, cinema, theatre, gyms, a 9-hole golf course, schools ranging from nurseries to level-6 high school and generally all the amenities you would expect to find in a modern European town. The microclimate is one of the best in Greece and the moderate temperatures rarely exceed 30c in summer or fall below 15c in wintertime. This wonderful dry climate together with the natural beauty of the area has attracted most of the high class hotels of Greece to operate here.
Price : 625,000 Euros Code : CRETE B&S/HIS6

---
A House In Front Of The Beach With Undisturbed Sea Views : Agios Andreas : Astros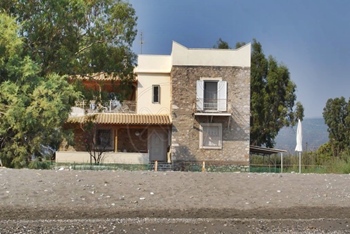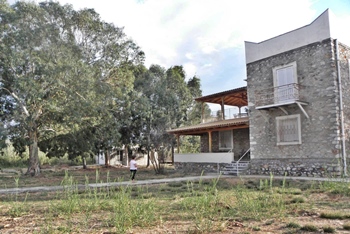 A house with direct beach access, a very unique property on a large plot of 5700 square metres.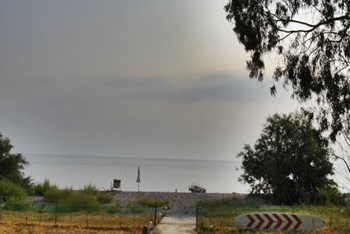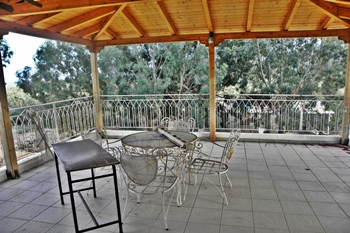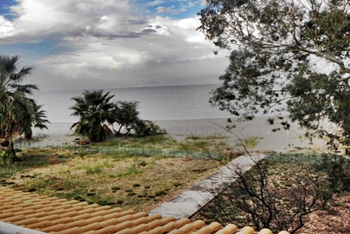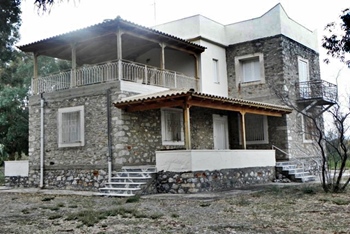 Built in 1968 it has closed parking and is built on two floors. The ground floor is 104 square metres and has 1 bedroom, a living room with fireplace, and the kitchen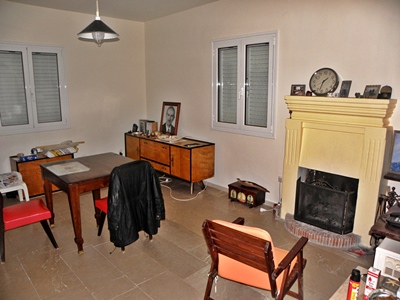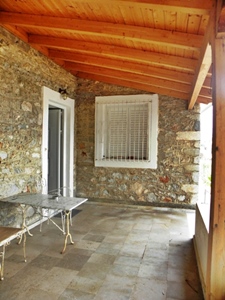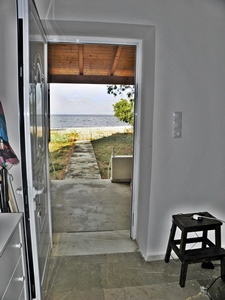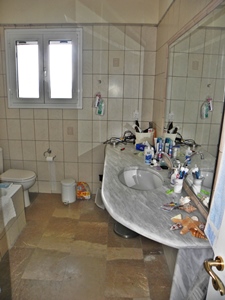 The first floor is 73 square metres with 2 bedrooms and bathroom and a beautiful first floor terrace.
In front of the beach with undisturbed sea views
Price : 400,000 Euros Code : LEONIDION GN/030
---
A Sea Side Apartment : Halkidiki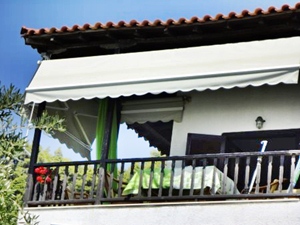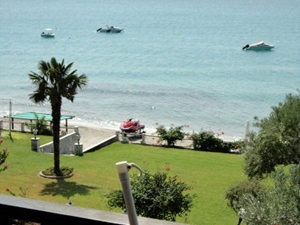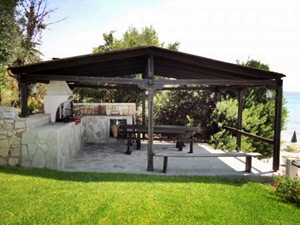 This second floor apartment sits in its own grounds beside the sea, only 10 metres from the sea side.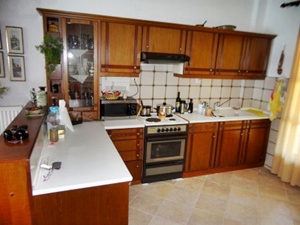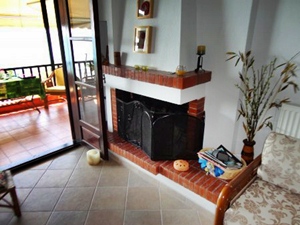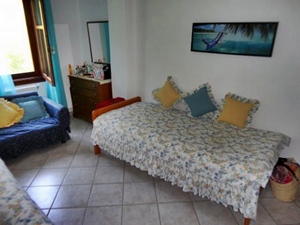 This second floor apartment is in a charming location directly on the sandy beach. It has a large living room-kitchen with fireplace, two spacious bedrooms and bathroom. Located in a complex with large communal garden and parking area. It also has heating, solar and the price includes furniture and electric appliances. The views at the sea and the pine forest are magnificent!
To be sold with all the furniture and electrical appliances, practically key in the door.
Price : 155,000 Euros Code : HALKIDIKI LE/261
---
A Fantastic Seaside Villa With Pool & Private Beach : Felos : Andros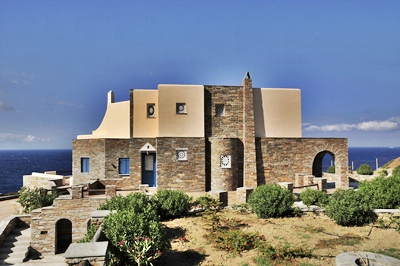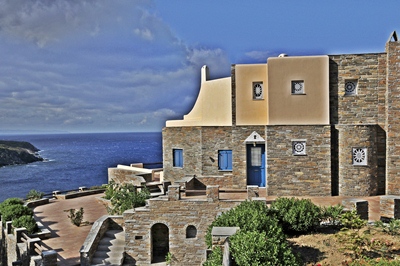 Located at Felos in Andros this house was built in 2005 and is in perfect condition.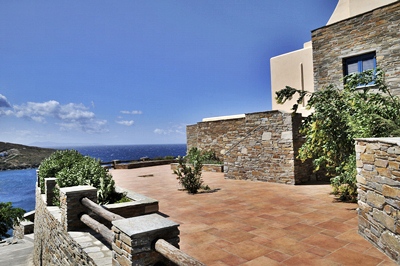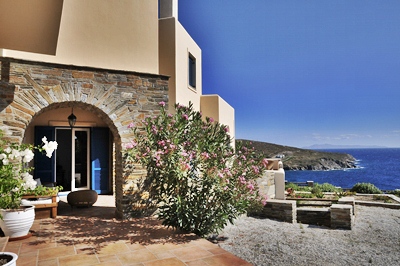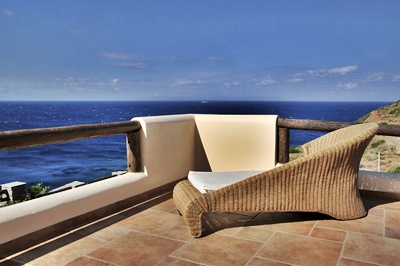 It has uninhibited sea views and is 370 square metres in area with 5 bedrooms, 4 bathrooms a kitchen, and 5 toilets.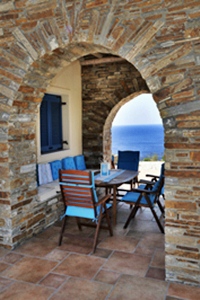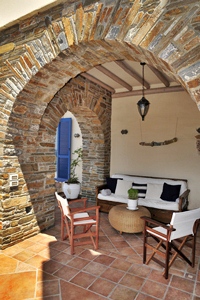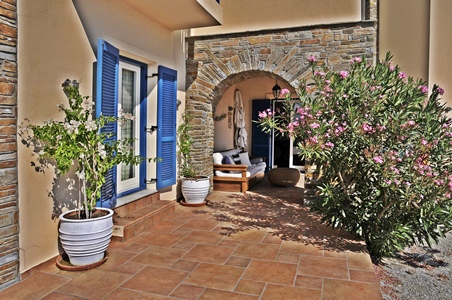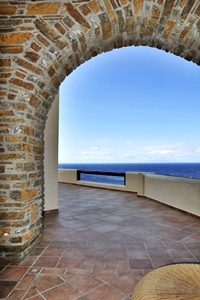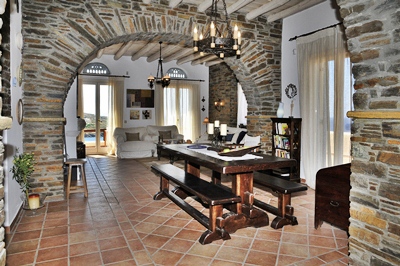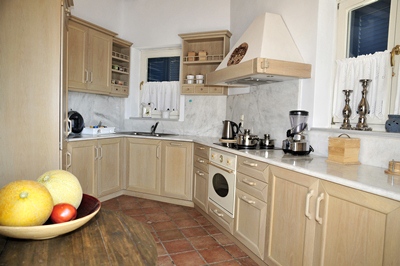 The Villa sleeps 8 people plus 2 in the basement for staff purposes. It has a big lounge, eating area and kitchen on the ground floor. There are two fire places. The ceilings are all covered by painted wood. There is a pool area with sitting, bar and eating facilities underneath a wooden pergola. The Villa is completely furnished and it is equipped with central heating and ceiling fans.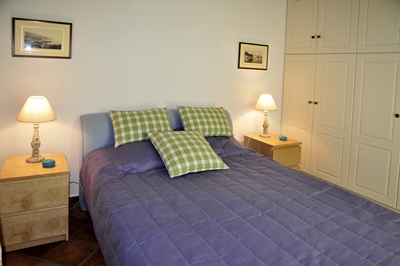 The infinity swimming pool is 12 m x 5.50 m in area and overlooks the sea and is maintained on a regular basis.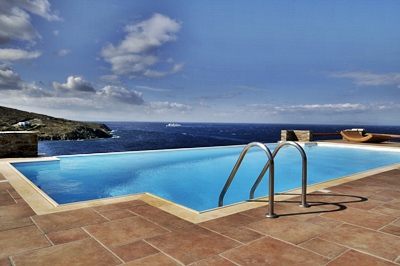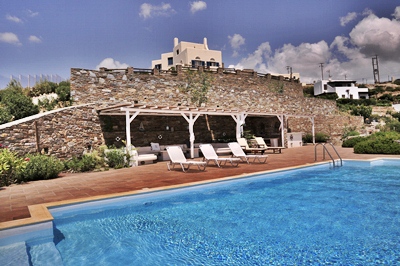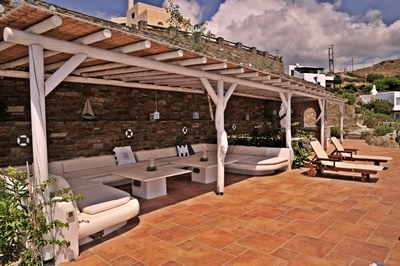 Number of floors : Ground floor, first floor and basement. Three bedrooms and two bathrooms on the first floor. One bedroom and one bathroom on the ground floor. One bedroom in the basement. The villa is to be sold fully furnished.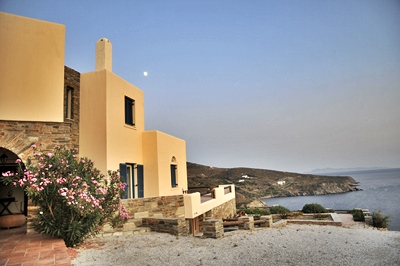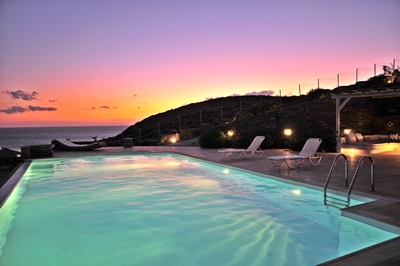 Andros Island belongs to the Cycladic Archipelago and can be reached by boat from Rafina port (40 km from Athens) in 2 hours. The Villa is situated only a 15 minutes drive from the port. Andros has a lot to offer in terms of culture, life, beaches, villages, nature and walking paths.
Price : 1,000,000 Euros Or Near Offer Code : ANDROS JIK/010
---
A Fabulous Waterside Villa : Trikeri : Pelion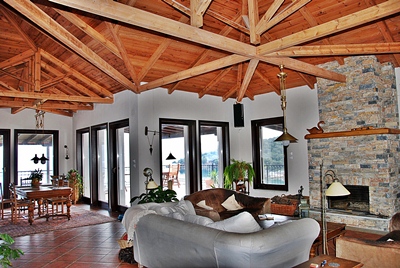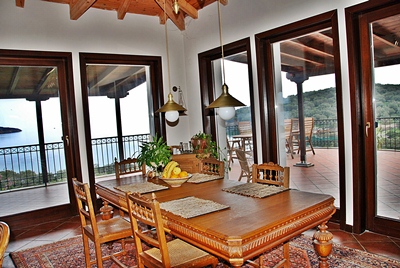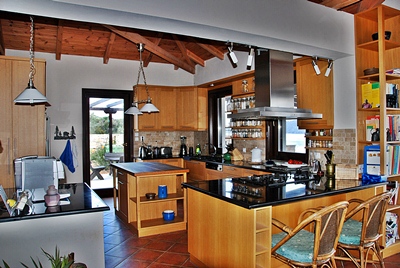 This is the most beautiful villa in the Pelion, situated on a peninsular, 30 metres from the sea on one side and 60 metres from the sea on the other side with a private sand beach.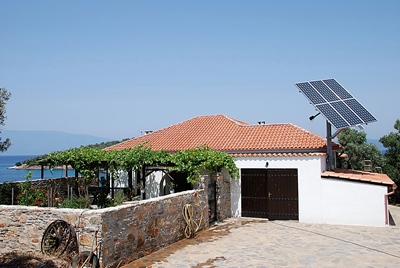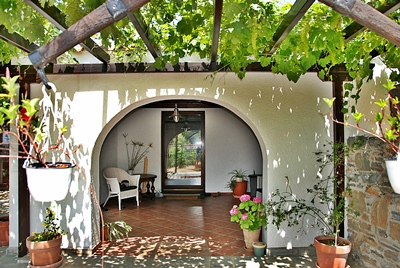 Prospective owners have the possibility to anchor their yacht in front of their home.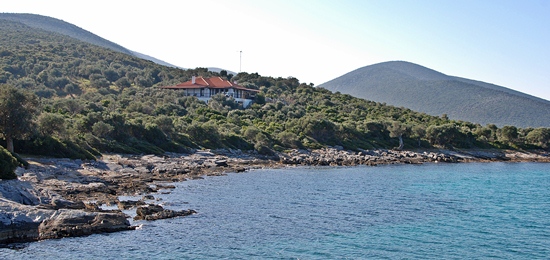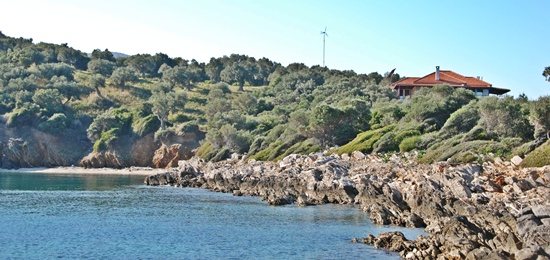 All rooms in the house have a sea view with the exception of one bathroom and the pantry. The entire house has radiant floor heating, triple glazed hardwood windows and doors. There is 10 cm of insulation on the outside of the house and roof, so the house is very warm in winter and cool in summer. The kitchen has granite worktops and top quality appliances including an indoor grill. The master bedroom comes complete with jacuzzi ( sea view) and marble counters.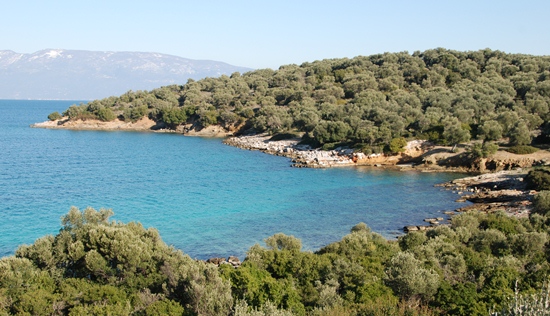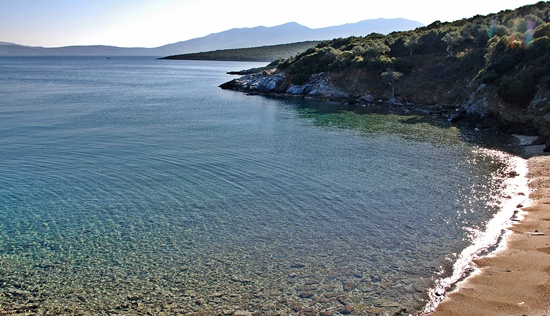 The villa was built in 2007 and has three bedrooms, 2 bathrooms one with Jacuzzi and walk in shower and one with walk in shower. The gardens all have an irrigation system and contain many olive trees ,orange, lemon, grapefruit, peach, lime apricot and nectarine. The plot size is 19,500 square metres of which 7,500 is olive grove.
Price : 980,000 Euros Code : PELION DKBB/010
---
A Beach Side House For Sale : Posseidi : Halkidiki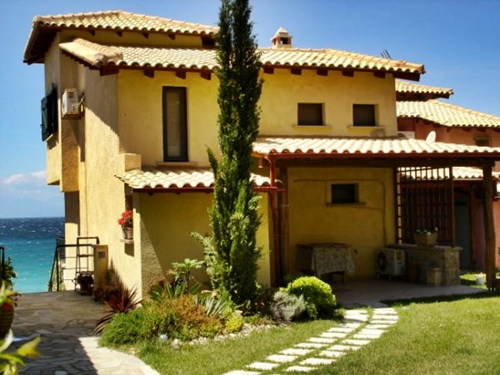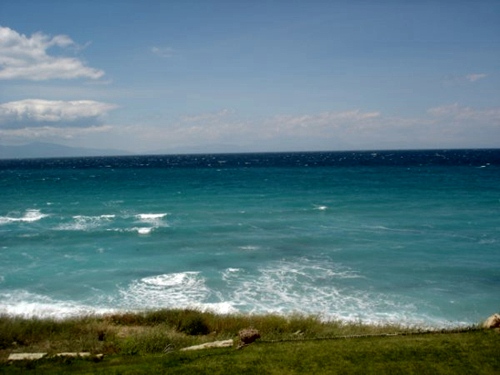 Directly in front of the beach, this three bedroom house has amazing views from all points of the property.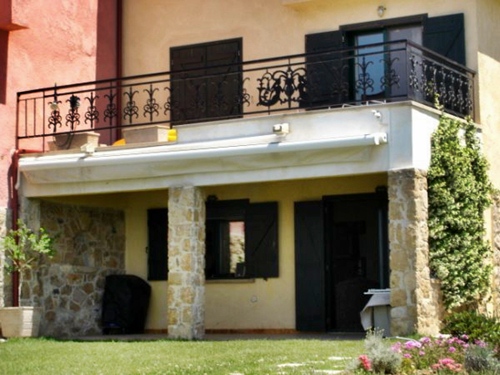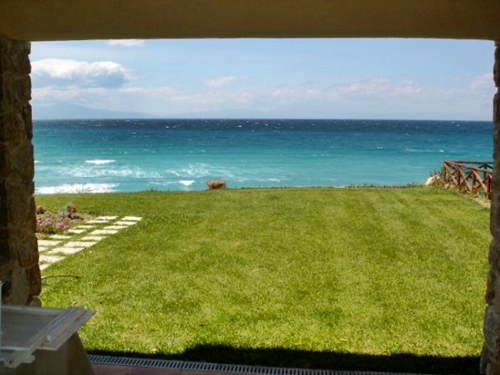 This property is a generous 120 square metres and built on three levels and has three bedrooms, a living room/kitchen a bathroom and two W.C,s. as well as a store room.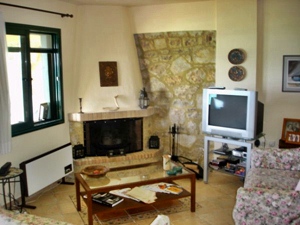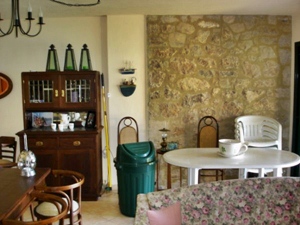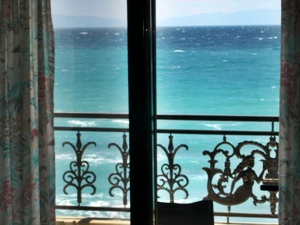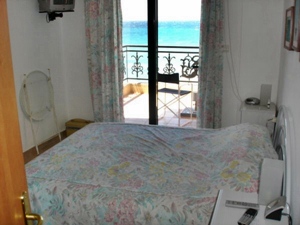 The price includes all the furniture and electrical appliances in perfect condition.
Price : 480,000 Euros Code : HALKIDIKI LE/065
---
A Villa For Sale Located Directly On The Beach : Skioni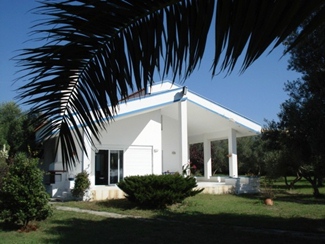 An absolutely wonderful shoreline property, located towards the Western end of the Kassandra peninsula. It is comprised of 3 bedrooms, 2 bathrooms, a living area, and a reading room. This is a real family home right on a beautiful shoreline, with a very large well kept garden, which includes an olive grove and a small Cycladic style church.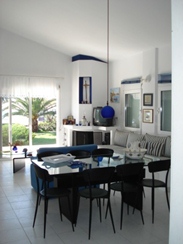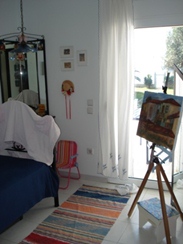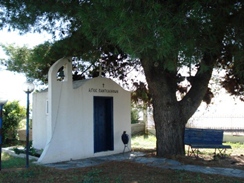 Additionally, an extra 125 sq.m. may be legally constructed within the land plot
Price : 1,600,000 Euros Code : HALKIDIKI CGNP/98
---
A Two Years Old Three Storey Maisonette : Limenas : Thassos
A wonderful maisonette in Limenas which is a 5 minute walk from the new harbor and ten minutes from the center of the town. It is situated in a privileged place 50 meters from the sea and is built behind an archaeological site. It has a fantastic mountain and sea view. The maisonette has three floors and has three bedrooms. It is fully furnished with exceptionally beautiful things as it was made for permanent residence but it is for sale because of a family emergency.
There are two bedrooms on the ground floor with a shower with glass doors and a toilette. There is a kitchen with all that is needed, a dining area and living room, with modern furniture of high quality, fire place and TV set and DVD player. From the living room there is an entrance to the balcony and patio with a built in barbeque. The master bedroom on the second floor (with bath and wardrobes) leads to a balcony with majestic view of the sea, the important ruins of proto Christian Churches (one of a kind) and the town of Limenas.
The whole maisonette is 94 sq. met and is ready to use. : It has oil central heating radiators : On the lower Ground Floor is Bedroom 1 with wardrobes, king size bed which includes bedding and quilt : In Bedroom 2 : bed settee with separate storage room and full bathroom with shower and glass doors : The Entry Level to the Kitchen with clothes washer, fridge, freezer, dining table and chairs : The living room has an open log marble fireplace a Sony flat screen TV, a glass cabinet, 3 solid oak side tables, solid oak cabinet with storage such as DVDs, CDs, and other electronics. There are sliding glass patio doors that lead out to veranda and BBQ area. On the upper Floor bedroom there is a king size bed, fitted solid wood wardrobes, high standard chest of drawers and side cabinet. There is a large balcony overlooking the archaeological site and olive grove, with an amazing sea-view, a full bathroom with shower, the Front balcony of the villa has a mountain view. Items included: balcony furniture, microwave, toaster, kettle pots, pan, and all kitchen utensils. All windows and doors are fitted with fly screens.
The Villa is a short 5 minute walk to the ferries and a 10 minute walk to the centre of Limenas
Houses Like This Do Not Come Up Very Often : A Unique Opportunity To Purchase A Freehold Fully Furnished Property By The Sea At A Very Good Price.