---
Land & Villas For Sale Saronic Gulf : Hydra Island : For Spetses Click

Here

Scroll Down To See More Property.

---
The island of Hydra is truly unique, and is one of the Saronic Islands of Greece, located in the Aegean Sea between the Saronic Gulf and the Argolic Gulf. It is separated from the Peloponnesus by a narrow strip of water. Strict architectural controls and the absence of any kind of motorised transport give the island its unique charm. Prices are not cheap compared to other parts of Greece, but with steady growth and no signs of a slowdown, a home on Hydra is a good investment too!
With no airport you arrive by ferry or Flying Dolphin from Piraeus.
It is a lovely Island and as well as having lovely scenery and good beaches there are many good tavernas. I have a new English Speaking Agent here.
---
A
Panoramic Apartment For Sale
On The Island of Hydra : Hydra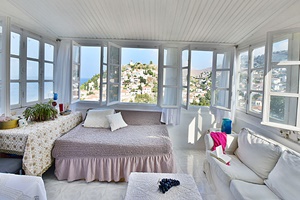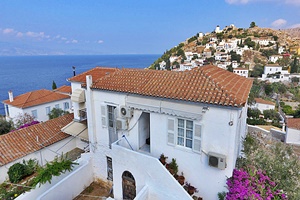 This is a first floor apartment superbly situated on top of the hill and only a short walk from Kamini port with stunning views.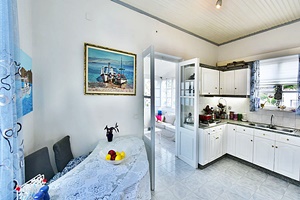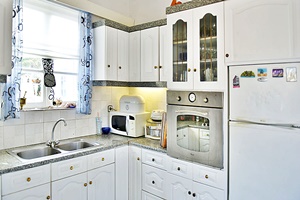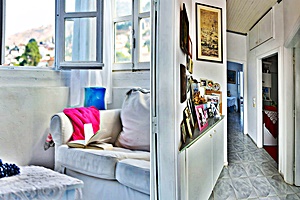 Upon entering from the rear of the building you have one long corridor. Immediately to the left is one bedroom with its own private wooden balcony. To the right is another double bedroom and next to it is the bathroom, all modernly fitted with necessities. Further along is a spacious kitchen/dining area and through another door is a room fitted with glass windows all around giving 180° panoramic views across Kamini, the sea and much further. There is also a small area of approx. 20mē towards the rear of the property on the ground floor, ideal for a garden. The apartment is well lit throughout and ready to move into. A wonderful opportunity as a small holiday home and ideal as a rental property.
PRICE : 290,000 Euros Code : HYDRA RH - 7194 Under Contract.
---
A Newly Built Home Built High Up At Ilio : Hydra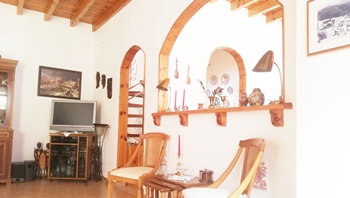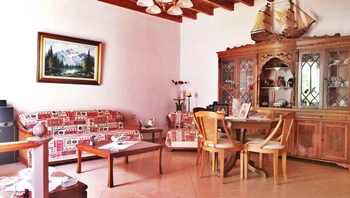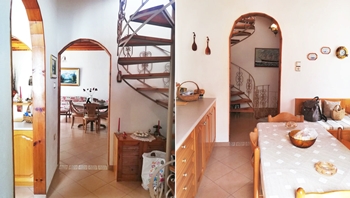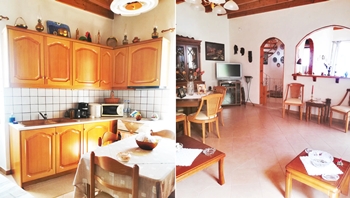 A newly built house high up in Hydra town with spectacular views from the terrace. There are 2 separate entrances, one to the ground floor and one to the first floor. However there are internal stairs as well. The house has been carefully built with good materials and every detail considered throughout. The ground floor consists of 2 bedrooms, one master and the other with two singles. In between is a large bathroom. In the hallway are cupboards cleverly built into the walls giving space for storage. The first floor has an open plan living room and kitchen being separated by an arched wall. From the kitchen in the hall is a spiral staircase that leads up to a roof terrace where 360° views are seen. The perfect place to dine in the evening during the warmer months. The house is ready to move into.
Features :-
Panoramic Views : Sea Views
PRICE : 570,000 Euros Code : HYDRA 7530
---
Traditional Hydriot House In Need Of Renovation Situated In The Quiet Area Of Analipsi.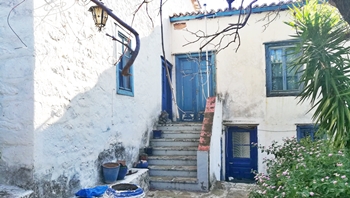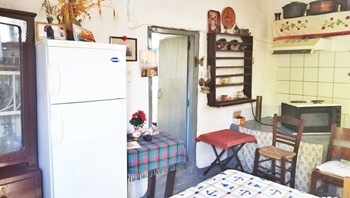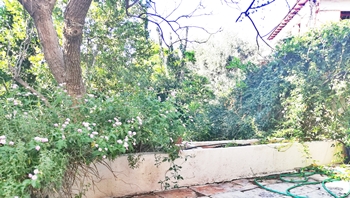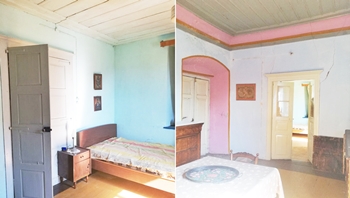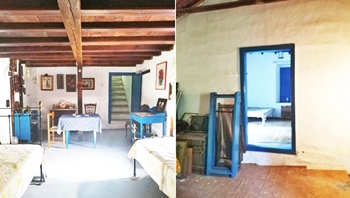 Traditional hydriot House in need of renovation situated in the quiet area of Analipsi. The house is L-shape and on 3 levels. The ground floor has the old style kitchen, stone flooring, spacious and has easy access to the outside courtyard and garden. From this room is another large room used as a bedroom area at present. Outside there is a bathroom and store room. The first floor has 2 entrances, one internally and the other up external steps from the courtyard. A grand room, probably the dining area in past years with thick stone arched windows and typical decor of its era. Adjoining through doors is a smaller room (now another bedroom) and continuing through, a vast spacious room with a good half of the room having a water cistern underneath (shown as risen flooring in the photo). The 2nd floor is of tradition – one very large verani with open wooden ceilings. Over the years, a separation wall has been made in order to make another bedroom. This can easily be taken down to once again reconstruct the verani as a whole room.
Views from this room are spectacular of Kamini and the sea. A charming house in need of renovation in a quiet area of Hydra.
PRICE : 630,000 Euros Code : HYDRA 7508
---
The Oasis : Situated in High Hydra Town : Hydra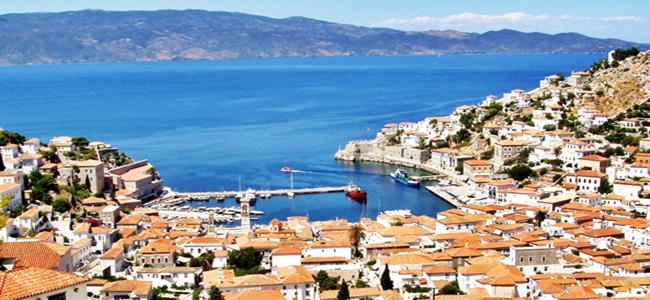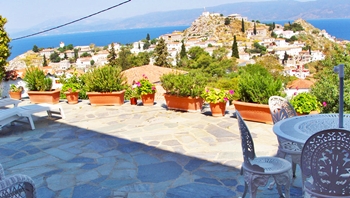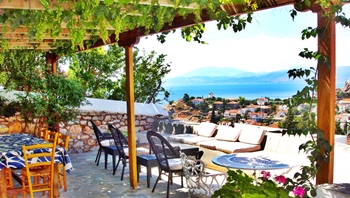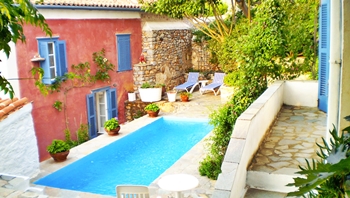 A stunning 4 bed roomed property centrally positioned overlooking Hydra town with spectacular views.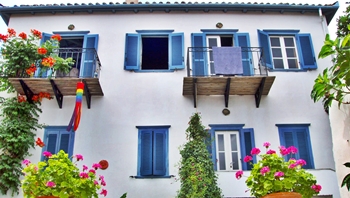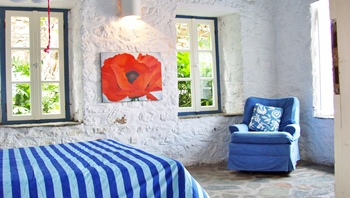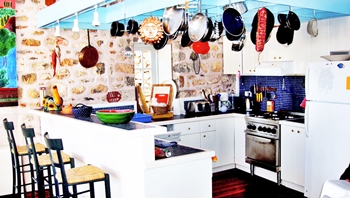 The Oasis has numerous terraced gardens surrounding the property making it a perfect place to relax. The total plot being 620mē.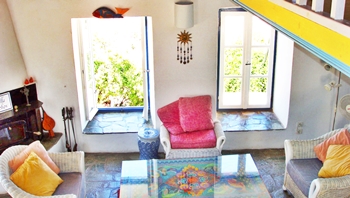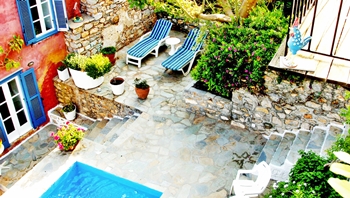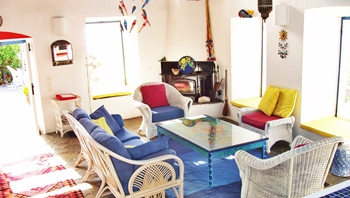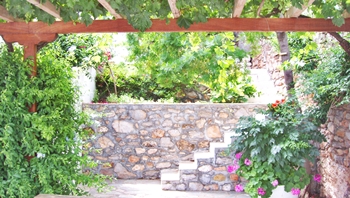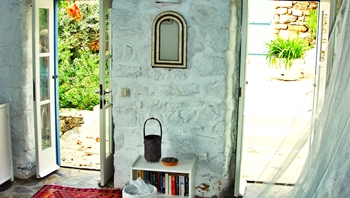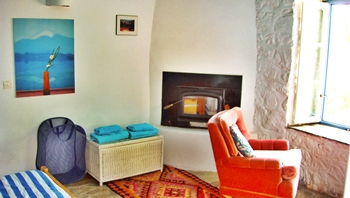 The front building is two properties joined into one. There is a spacious living room with a fireplace in one corner and a mezzanine level. Adjoining this room is a large kitchen and dining room area. The rooms are with high cathedral ceilings giving a feeling of openness and the numerous windows offer wonderful picturesque views and allow plenty of natural light. Off the main living room is the main terrace which is shaded and used as a second dining room during the warmer months of the year. Also on this terrace is a small building housing a washroom and an outdoor shower. Under the dining room are two separate rooms/studio which is at present used as a relaxing area and a storage space.
Behind the front property are further terraces and a swimming pool which is a perfect plus for those hotter days.
The whole property is lavished with various fruit trees, flowers and Mediterranean shrubs. Set towards the rear is another two storey building consisting of four spacious bedrooms and two bathrooms. One bedroom also has its own fireplace. A property ready to move into, making it a perfect holiday home to share with family and friends with plentiful space to be alone or altogether.

PRICE : 960,000 Euros Code : HYDRA 7176 SOLD
---
A Country House For Sale : Hydra Town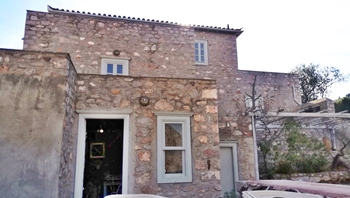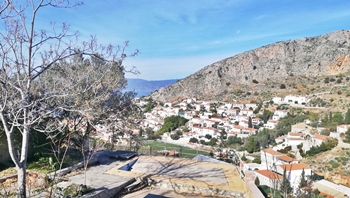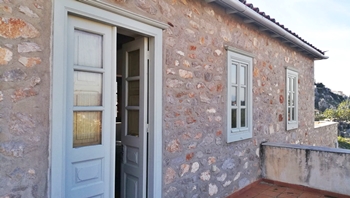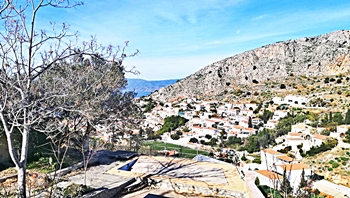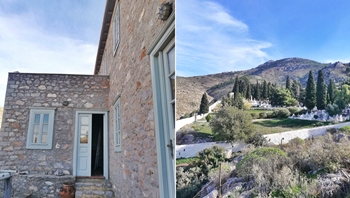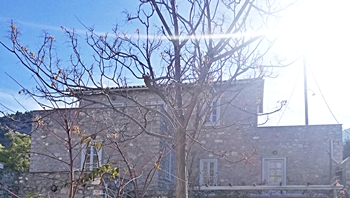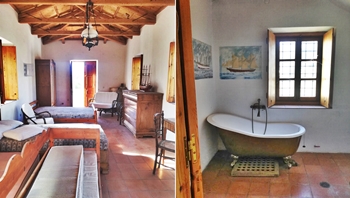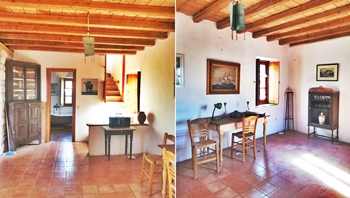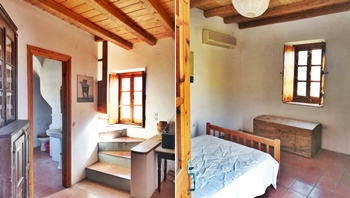 A country house standing prominent overlooking the port with 360° views all around. Built with traditional materials of stone and wood, large verandas on the first floor and a spacious garden area and terraces on the ground floor.The ground floor has a typical country kitchen style with a cistern full of rainwater. Wooden ceilings and man- made cabinets.
From the kitchen is an open living room. There are many windows throughout letting plenty of daylight filter in. To one end of the living room is a bathroom with an exquisite old style bathtub. To the other end is a double bedroom fitted with built in wardrobes. A staircase leads from the living room up to the first floor which is an open virani – one long room with an open wooden ceiling. This room can be used as a second living room space or for sleeping extra persons. There are 2 verandas giving spectacular views of the port and mountain side. There is also a small separate guest apartment which has simple kitchen needs and a bathroom. This however can be made into a little studio having all piping needed already in place.
Surrounding the house is wilderness, land and trees giving the quietness of nature. But within a 15-20 minute walk, you are again in the hustle of Hydra's main town.
PRICE : 550,000 Euros Code : HYDRA 7377
---
Philiandra House : Hydra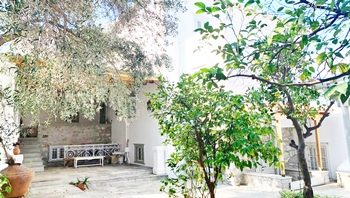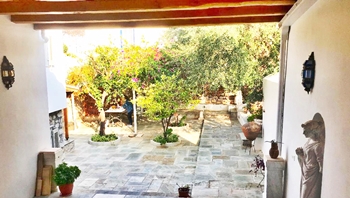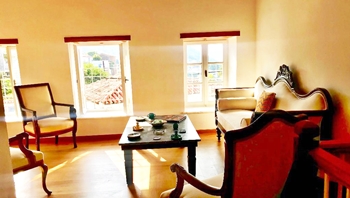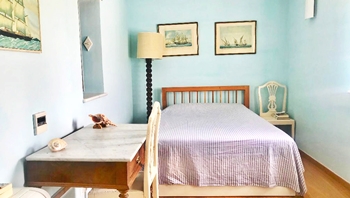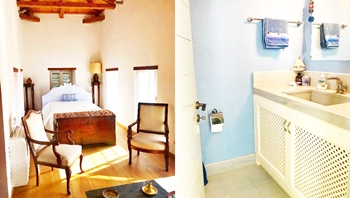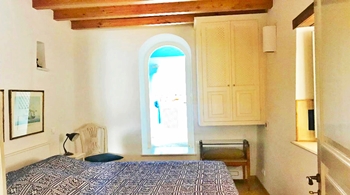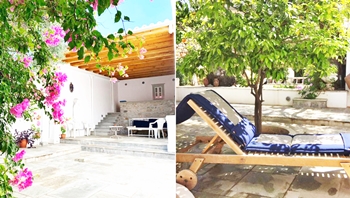 Philiandra house is ideally situated in the heart of the island, between Hydra port and Kamini Harbour. The property stands on a plot of 240mē. Tucked away down a small stoned alleyway, an entrance door opens into the spacious hidden courtyard, strewn with bougainvillea and other mediterranean flowers. The property has been totally refurbished in recent years using top quality materials throughout. The property is on 3 floors. The ground floor consists of a kitchen, (having direct access to the courtyard) dining/living room area and wc. The first floor has 2 spacious bedrooms with en-suite bathrooms. Good quality wooden floors and ceilings. Details throughout are of excellent taste. The second floor has one master bedroom combined with a living area, en-suite bathroom and access to a top terrace which has views over the local village. Sunsets can be seen from the top floor windows. There is a heating and air conditioning system, so it is an ideal property for winter and summer. In a quiet area, superb quality and ready to move into. Being sold fully furnished. Close to a supermarket.
PRICE : 1,150,000 Euros Code : HYDRA 7519
---
A Charming Spitaki In Kamina : Hydra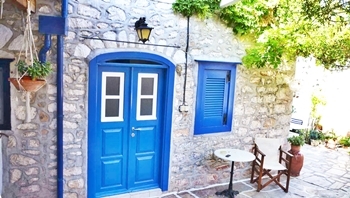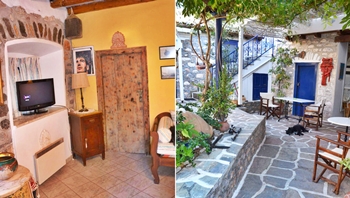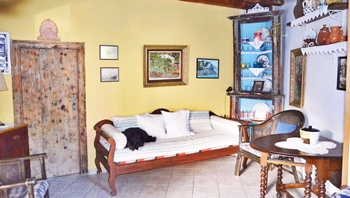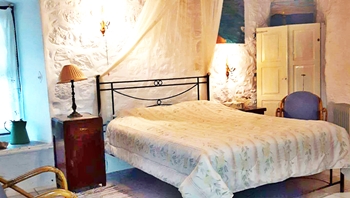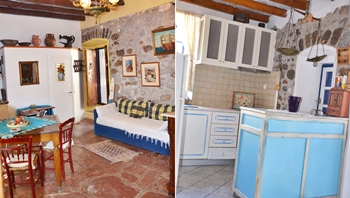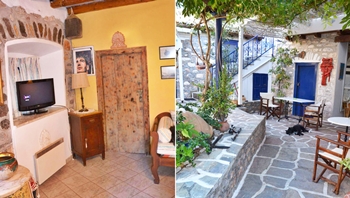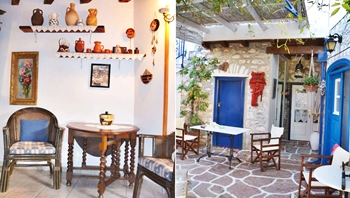 A charming spitaki for sale on Hydra island, situated in the heart of Kamini. No steps to consider along the coast road from Hydra town. It is the ground layer of a two storey house. There are two entrances to the property, one from the main street and the other from a quieter street through a beautiful courtyard of lush greenery and stunning bougainvillea. From the main street the entrance leads directly into the main living room. A large room with typical red stone floors and open wooden beamed ceiling. A small bathroom is in the corner of the room. From here, under an outside archway leads us into the kitchen. Sweet and charming, simply built in units and tasteful furnishings make it feel very Greek. With steps leading down off the kitchen is the master bedroom with en-suite bathroom. Spacious and cool. Outside from the main house is a small independent building which has a second bedroom with mezzanine level. Great for kids or guests. Simply designed with wooden beams and towards the back you can see the original rock in the ground. The courtyard outside is stunning. Blooming bougainvillea and other plants make it almost like a secret garden. Different areas to sit in, either under the pergola in the shade or in the sun. Another wonderful advantage is that it is very quiet and private. A home ready to move into.
PRICE : 480,000 Euros Code : HYDRA 6251 SOLD
---
A Studio Apartment For Sale : Hydra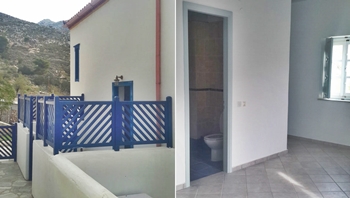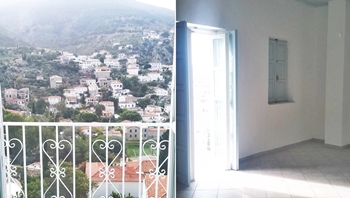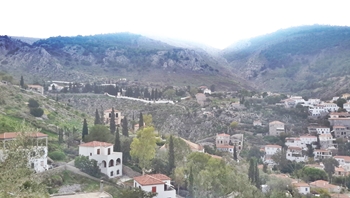 A simple all in one studio apartment ready to move into. Situated to the back eastern part of Hydra town with stunning views across inland Hydra, the Peloponnese and of the sea. It consists of open plan living room/kitchen/bedroom. There is a separate full bathroom and built-in cupboard space. Double doors open onto a small wooden balcony where wonderful views can be seen all around. A superb lock up and go holiday home for a couple who wish to enjoy Hydra throughout the year without any major maintenance. Ready to be furnished with your personal belongings.
PRICE : 190,000 Euros Code : HYDRA 6350
---