---
Arkadia : Page One : Greek Mainland : East Peleponnese : Arkadia Page Two

: Here
Leonidion : Paralio Astros : Tyros : Livadi : Monemvasia : Poulithra

Scroll Down For More Properties

---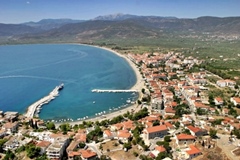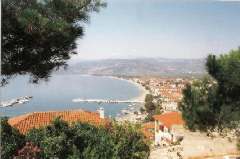 Arkadia
Arkadia is the mainland region to the South West of Naplion. It is on the Western Side of the Argolikos Gulf, opposite to Kilada on the Eastern side. Easy to get to from Athens it takes about two hours from Athens airport by car.
In this region we have apartments and property for sale at Paralio Astros which is a beautiful and picturesque seaside village, all the way down South to Leonidion. Astros is one of the Peloponnese's best seaside resorts, offering a full range of tourist facilities and lovely sandy beaches, while preserving its traditional and relaxing atmosphere. The whole of this coast is very beautiful.
Recently announced by the Greek Ministry of the Environment is a new charter flight airport at Tripoli only one hour away from Leonidion, as well as improvements in the motorway road and rail structures, making this area a secure investment area with good growth potential.
---
A Unique House For Completion For Sale In Leonidio Town : Leonidio : East Peloponnese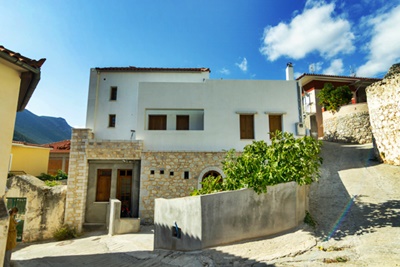 &nbsp'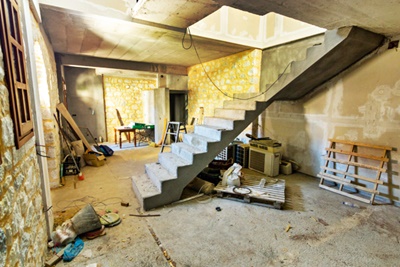 &nbsp'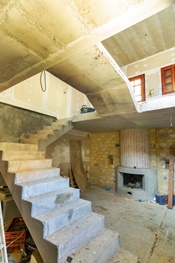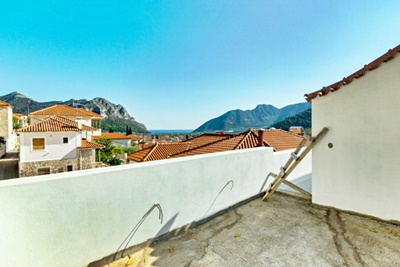 &nbsp'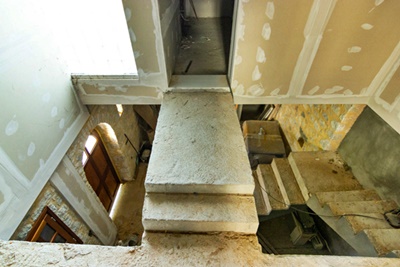 &nbsp'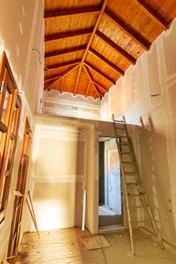 Stone house for sale with a total area of 135 sq.m. in 106 sq.m. plot. The house is divided into two levels, with a year of construction of 2015. This is an unfinished project in the interior of the house with excellent prospects, giving you the flexibility to create the final layout according to your needs. With the current design it consists of two bedrooms - one master, living room with fireplace and open plan for dining and kitchen, one bathroom, one WC, with quality teak wooden doors and windows and double glazing, interior staircase, attic. Bonus is the roof-terrace (26 sq.m.) of the house that offers you a wonderful view of the village of Leonidio as well as the Myrton Sea and having in its back the famous Red Rock of Tsakonia, also suitable to create a cozy open space with BBQ to enjoy the beauties of our area. Our design and construction team can undertake the completion of the house project according to your preferences. Works can start immediately after the purchase of the house.
Within walking distance from the city center and a few minutes by car to the beaches. It has open parking for one car, a small garden, easily connected to the electricity, water, internet and the public sewer at very low costs.
This is a one of a kind opportunity to get a 95% completed stone house, ready to move-in in a very few weeks after purchase, no hassle, all in a bargain final price!
Price 165,000 Euros Code : LEONIDION GN / 147
---
A Renovated Stone House For Sale With Stunning Views : Tyros : East Peloponnesus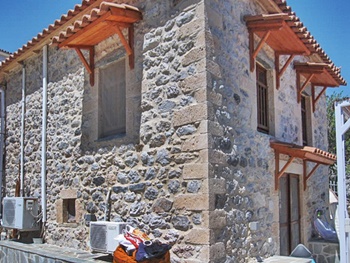 We offer at the hillside villages of Tyros at East Peloponnese, a Renovated Stone House of total area of 125 sq.m. in 494 sq.m. plot.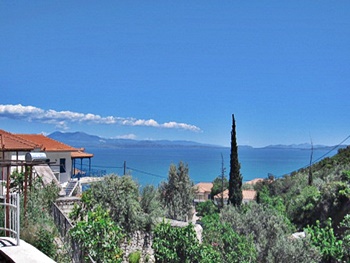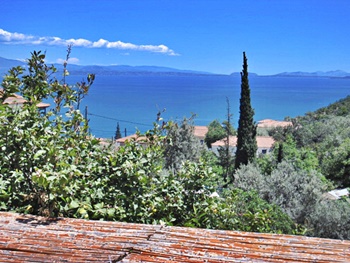 This county house was constructed around 1900-1920, and is sold furnished in perfect condition, with stunning views to the sea,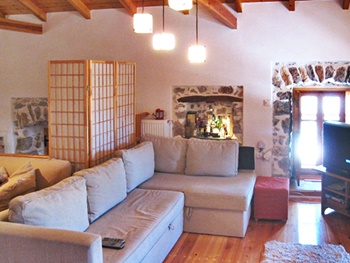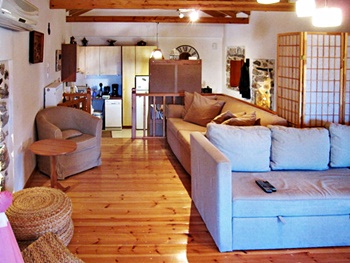 There is an new annex to the house with a separate apartment with bedroom, bathroom and kitchen with autonomous entrance that can be rented separately.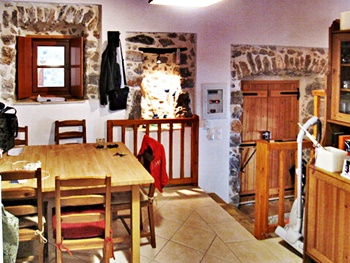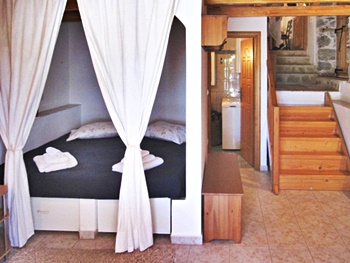 The house has 2 Bedrooms 1 of which is the master bedroom, a living room, fireplace, 2 bathrooms, 2 kitchen areas, heating with autonomous burner, solar panel hot water, boiler, air condition, with floor type of tiles & wood, with wooden window/door joinery, double glazing, pest net, internal staircase, cable TV, BBQ, a storage room, 6 open parking spots. The main house is split in 3 levels. Top level has the living room, middle level the kitchen and dinning area and low level the bedroom and bathroom.
The distance from sea is 1.5 klm., distance from Tyros beach city is 1 klm. distance from Leonidion is 17 klm. The location of the house has good tarmac road access, amphitheatrical inclination and is within the city urban boundaries.
The House is for sale furnished as seen. Ideal for holiday house, Airbnb style rentals and/or Golden Visa investment.
Price : 265,000 Euros Reduced To 220,000 Euros Code : LEONIDION GN/107
---
A Next To The Sea Plot : Pera Melana : Tyros : Leonidion : East Peloponnese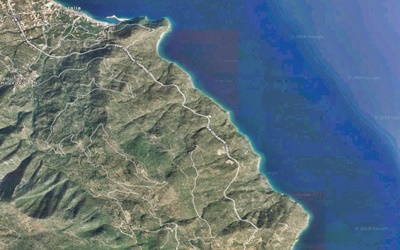 An out Of City Plot of 6798 sq.m. next to the sea, with view to the sea and 0 distance from the coast line. Located at Pera Melana, just South of Tyros at a distance from Leonidion city of 13 klm and from Tyros 4 klm. With dirt road access and level inclination, it can build a residence of 250sq.m. over 2 floors. Cleared from Forestry department and coast distance to be build is certified from the building department, is ready to take it for building permission.
Price : 280,000 Euros Code : LEONIDION PLOT GN/70
---
A Lovely Stone House For Renovation : Tyros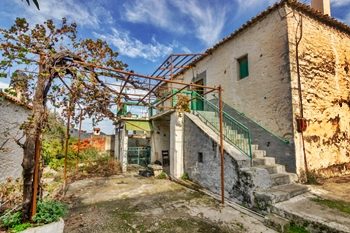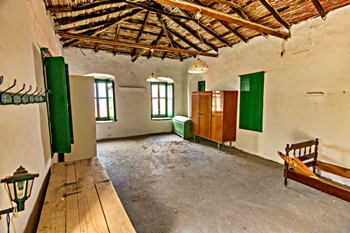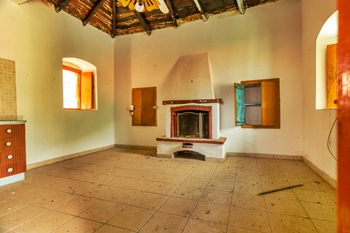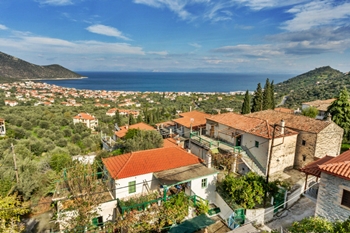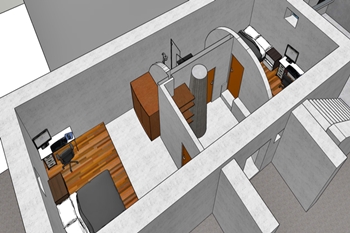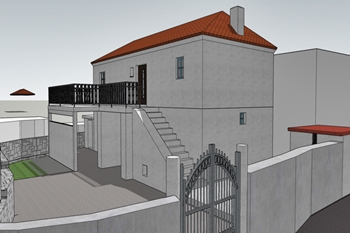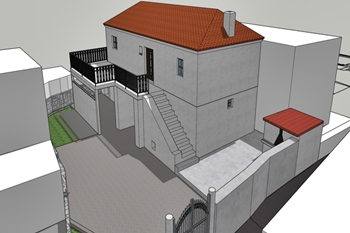 A stone house of 186 sq mts is now for sale on a 261 sq mt plot. The house is divided into two levels, built in the early 20th century. This is a restoration project with great prospects, which gives you the flexibility to restore the upper floor and build the lower floor as you dream! It consists of two large and bright spaces on the first floor, one of which has a fireplace. You can leave it as it is or change the interior completely. The veranda overlooks the settlement of Sapounakeika in Tyros and the Myrton Sea while the tranquility and beauty of the neighborhoods immediately wins over every visitor!! On the ground floor there is the possibility to create another functional area. The house has a small courtyard with a traditional Tsakonian stone oven.
The design and construction team of our company can undertake the restoration of the house according to your preferences. Only a few minutes drive from the beach of Tyros, and very close to all the wonderful beaches of the surrounding areas. It has easy access and is already connected to electricity and water.
Price : 99,000 Euros Code : TYROS GN / 179
---
A Plot Of Land With Sea View : Arkadia : Tyros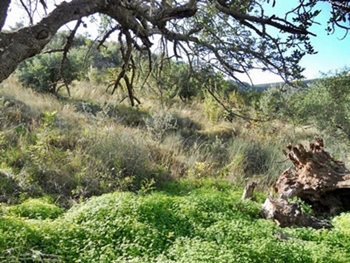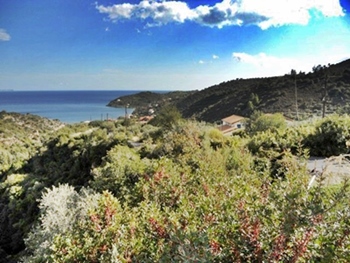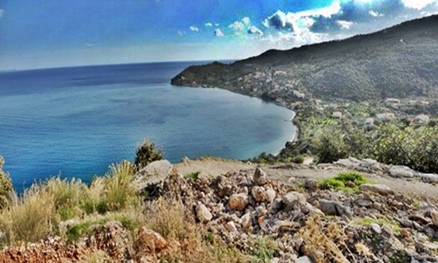 A Plot of land ideally situated along the road to Livadi beach within a short walking distance to the beach. The land can be built on and could provide for 4 or 5 houses. Access by car , close to village and close to the sea. Nearest big village is Tyros about a 5 minute drive, where there are plenty of shops, restaurants, bank , school, Etc.
Price : 200,000 Euros : OR OFFER Code : TYROS DP/010
---
A Large House Close To The Sea ( 50 Metres ) : Paralia Tyrou : Tyros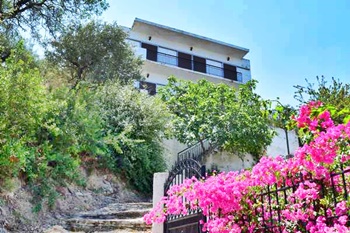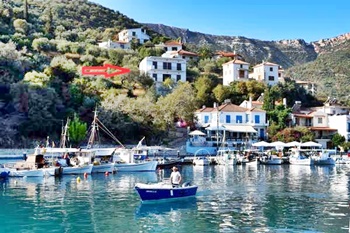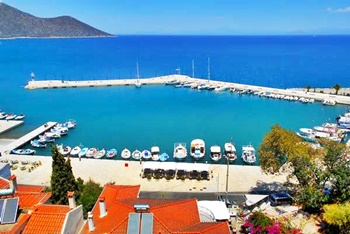 This is a large house with many rooms on 2 levels. It is very close to the sea and overlooks the harbour.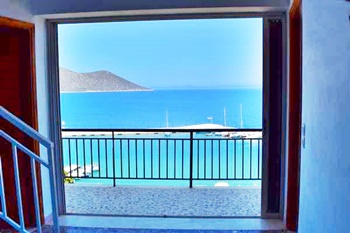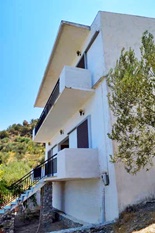 Can be used by an owner for residential purposes but because of its location could be converted into a hotel or rooms for holiday lets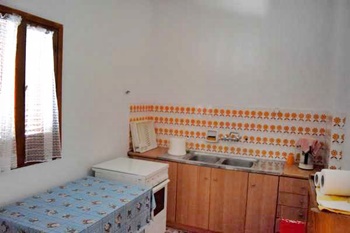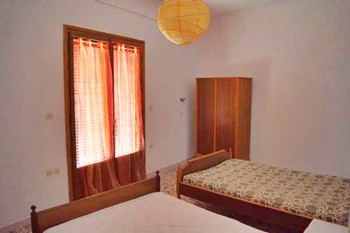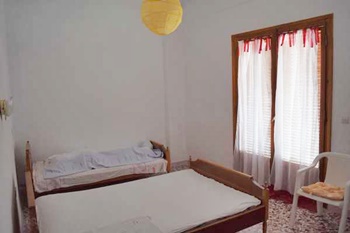 There are 7 bedrooms and 7 bathrooms on 2 floors each room having its own balcony and en - suite bathroom.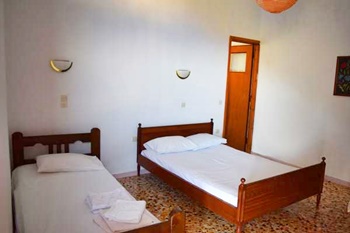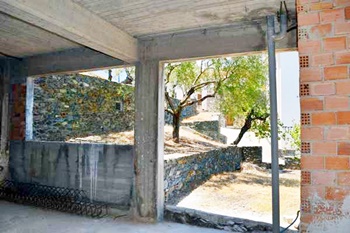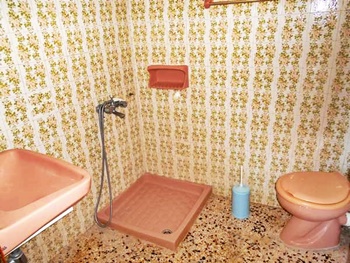 There is garden space at the back and the front.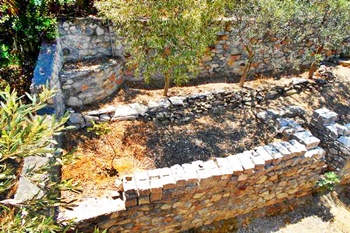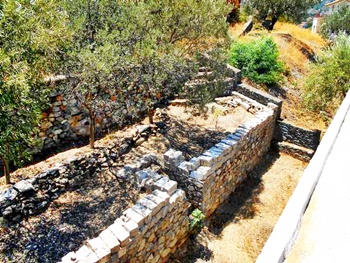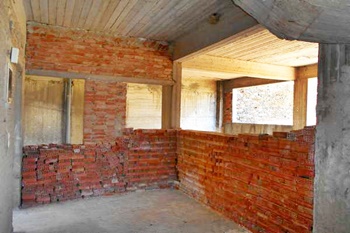 The area of the house is 288 sq mts ( 144sq mts per level ) and is connected to all the services. It is to be sold Furnished.
Price : 250,000 Euros Near Offers Invited Code : TYROS FS/010

---
Luxurious Maisonettes & Apartments For Sale in Leonidion With A Payment Scheme Available : East Peleponnese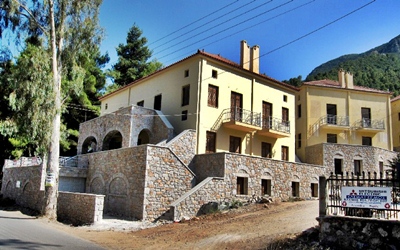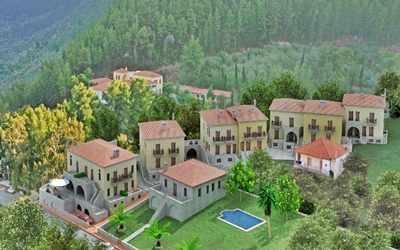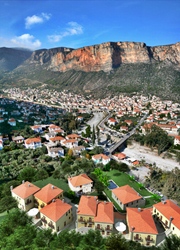 The "KNP Kostakos Mansion" complex consists of the buildings Lydia, Phaedra, Daphne & Elona on a 3600sqm plot that includes a neoclassical mansion at the centre of Leonidio. Situated on the edge of the village and less than 2 miles on flat straight road to the beautiful Plaka beach, Leonidion is paradise for foreigners as well as Greeks love it and it is so convenient for supplies, shopping and nightlife. Very low maintenance fees. Payment scheme available to all buyers, no credit check needed.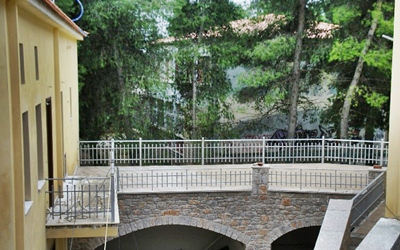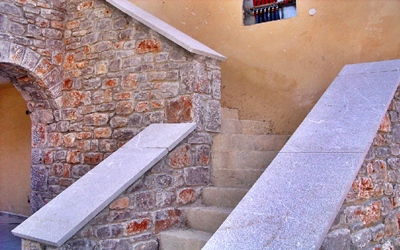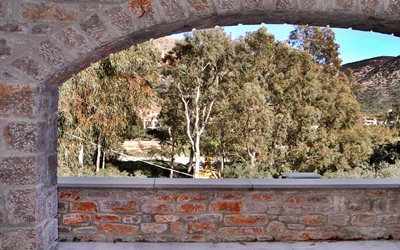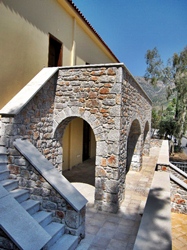 At the exterior all maisonettes have underground remote controlled individual parking and verandas with a view of the whole of Leonidio & the red rock, there are comfortable landscaped gardens with stone walls, olive trees, lighting, paved foot paths & drive ways, within a gated community with a remote controlled gate.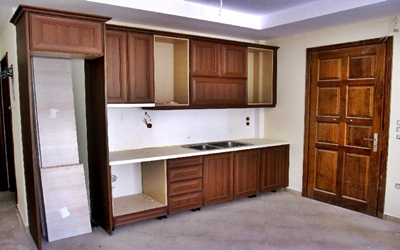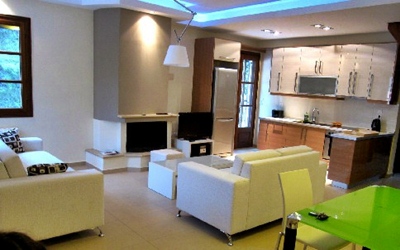 The interior has granite tiles, architectural lighting, architectural heat radiators, cupboards of high quality wood, oak floors for the bedrooms, porcelain toilet & sink, hydro-massage, autonomous programmable central heating controlled remotely by SMS, piping for Air Conditioning, double glazed windows, vitro windows, security door, installed alarm system, safety lights for power cuts, surround speaker system, free wi-fi internet access & wiring for central telecom connections, solar heated hot water, top quality insulation, extra roof insulation.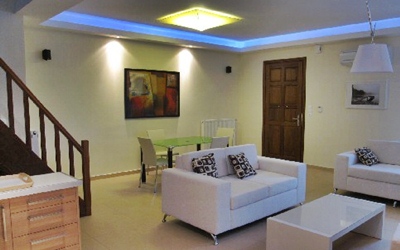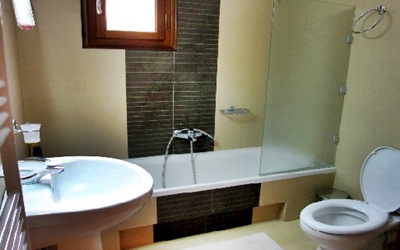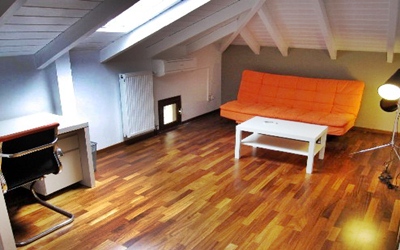 A Great Opportunity To Buy A Secure Maisonette Close To Town & Sea : Viewing Recommended .
Prices : From 145,000 Euros for a 2 bed large Apartment to 245,000 Euros for a 4 bed, 2 bathroom property. Code : LEONIDION GN/21
---
A Stone Cottage For Sale In A Coastal Village Of Leonidion : East Peleponese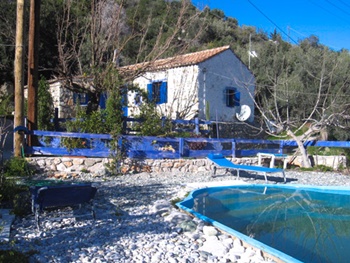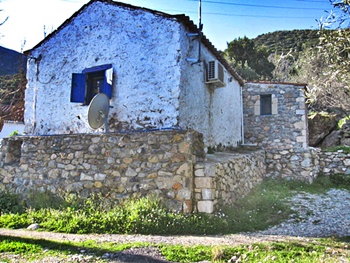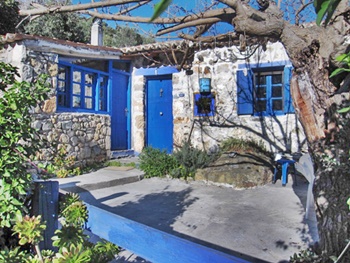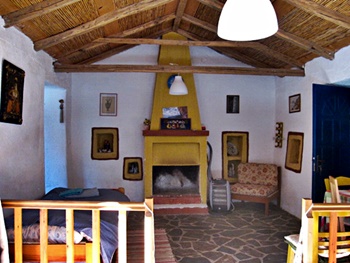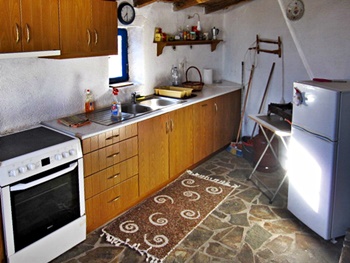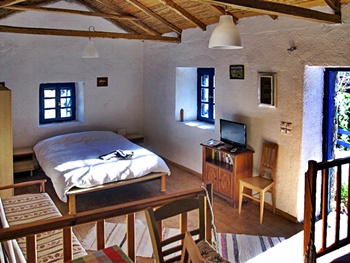 Stone Cottage of total 72 sq.m. in 285 sq.m. over 2 plots, furnished, in 1 level, year of construction circa 1920, it is renovated, with view to open space, 1 b/r, living room, fireplace, bathroom, kitchen, heating with a/c and has also a small swimming pool. The distance from sea 500 m., from village 300 m., from city 4.000 m., from seaport 500 m., from hospital 4.000 m. Access via dirt road, level inclination, within city boundaries, builds residence of 170sq.m.
Ideal for holiday house. Already utilized for Airbnb rentals.
Price : 150,000 Euros Code : LEONIDION GN/105
---
A Ready To Move In Maisonette By The Beach : Tyros : East Peleponese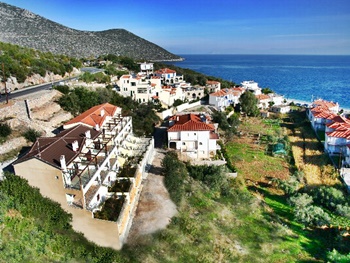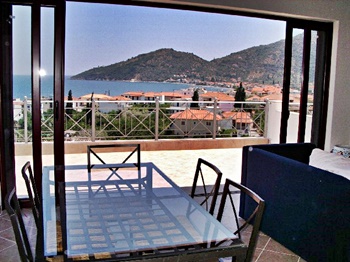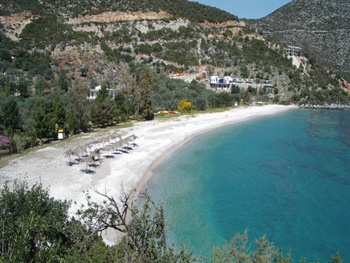 In this small block of maisonettes inside the village of Tyros (by the beach) at a location with panoramic sea view, and just few meters from the beach & few minutes (by foot) from the exotic beach of Tigani, we offer a ready to move in maisonette.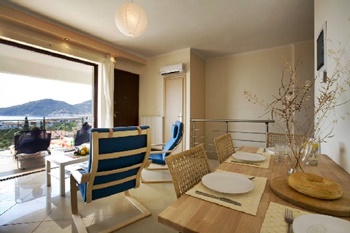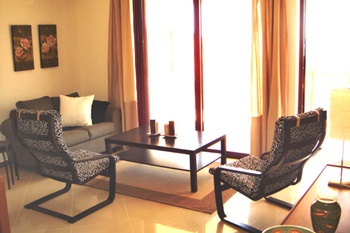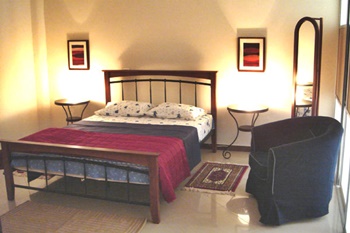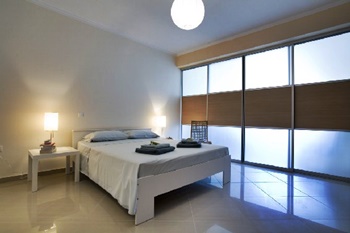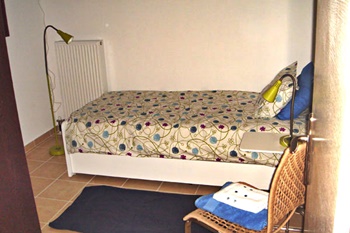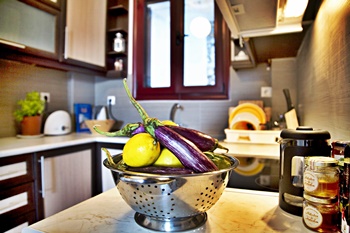 The maisonette is 88 sq mts, split in 2 levels which features private terrace, big veranda with sea view, bathroom, WC, open kitchen & living area, architectural lighting, 3 bedrooms, utility room, central heating, installed A/C, backup light for power failure, double glazed windows, high security door, closed large parking with space for storage/automatic garage door & storage place inside the house. Can be used privately or is an Ideal investment opportunity as a holiday rental. Except for holiday use is deal for short term rentals.
Price : 165,000 Euros Code : LEONIDION GN/38
---