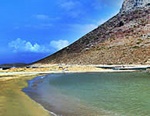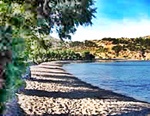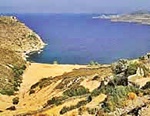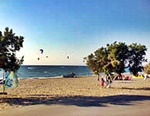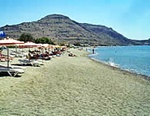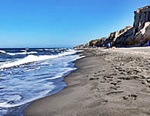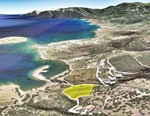 ---
The Property Below Is Devoted To Development Land And Sea Side Building Plots All Over Mainland Greece and Islands
---
Would all companies and private buyers please note that the property offered below should be assessed by a local lawyer as suitable for building or development purposes, or tourist grant aid, before any purchases take place as Brian's Greek Property cannot be held responsible for any mistakes.
If you do not find suitable land here then we will endeavour to find you properties and land for development purposes. I have extensive contacts throughout Greece. Please E - Mail me with your requirements
---
Ripe For Development Sea Side Land North Side Of The Gulf of Corinth : Arachova / Itea / Livadia / Galaxidi.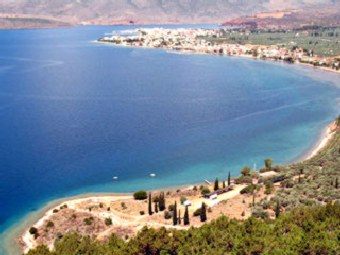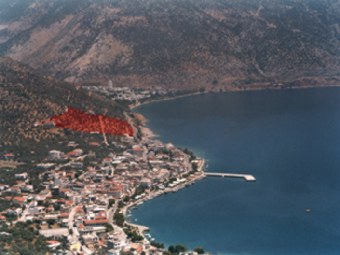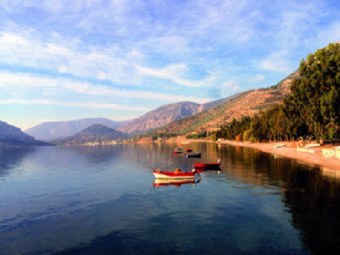 This land is in an excellent location on the North side of the Gulf of Corinth being only 1.5 hours from Athens, 30 minutes from the World Famous ancient monument of Delphi and the best and largest ski resort of Parnassus Mountain. It is surrounded by small traditional villages and towns ( Arachova, Itea, Livadia, Galaxidi, Antikyra, Amfissa etc, ) This magnificent piece of land is ripe for development being right by the sea, with a breathtaking view it combines the crystal clear blue ocean with mountains as a background.
The land size is 24,000 square metres with the possibility of expansion to 42,000 square metres by adding neighbouring land that belongs to the same family. More land alongside can be available.
Price depends on how much of the land you want to buy. Negotiations can take place.
Please contact Brian in the first instance to meet the owner. Code : CORINTH PLOT KK/010
---
A Beautiful Sea Side Plot For Sale : Meganisi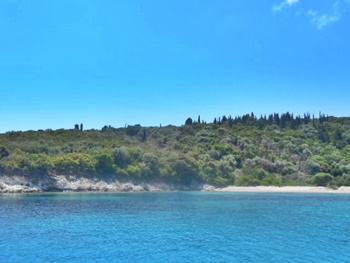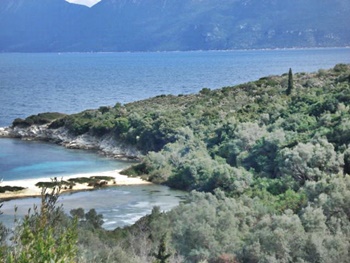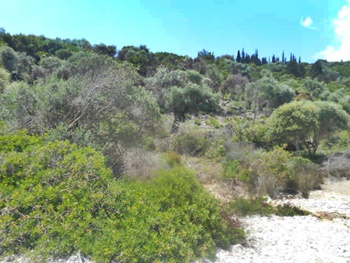 This is a very nice and special beach front plot of land on north east coast of Meganisi with easy access and beautiful sea views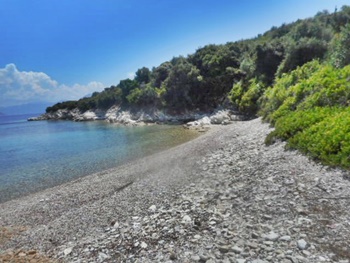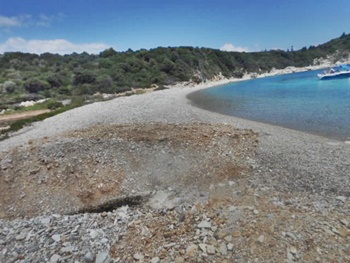 This special plot of land offers privacy, tranquillity, and the location makes it perfect to build your holiday home. It is 4,900 Square Metres in size giving a building allowance of 200 square metres and all utilities are nearby.
The offshore Islet of Megganisi is the largest of the Lefkas satellites and has a population of approx 15,000 in three villages, with good swimming and is served by four boats a day from Nidri.
Price : 195,000 Euros Code : MEGANISIPLOT VP/2650
---
A Unique Beachfront Plot : Livardi : East Peloponnese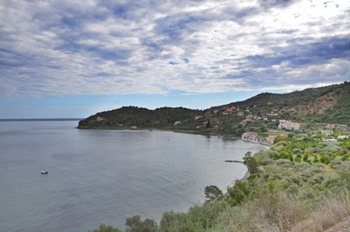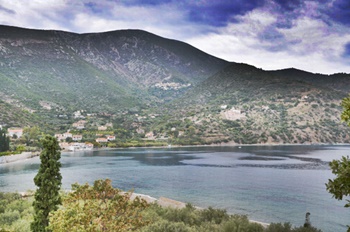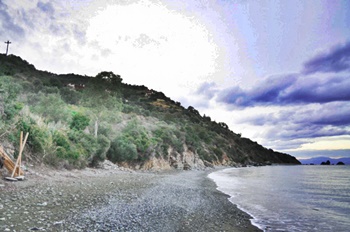 This is a unique beachfront plot of 4,000 square metres distance from the sea 5 metres, it is inside the city plan and only 400 metres from the village. There is a 5 metre road width, tarmac road access and the plot has a tilted inclination and an unobstructed sea view. It can build a residence of up to 400 square metres or a much larger hotel.
Price : 300,000 Euros Code : LEONIDION PLOT GN/64
---
A Fantastic Plot For Sale Only 500 Metres From A Beautiful Cove: Mavrosikia : Samos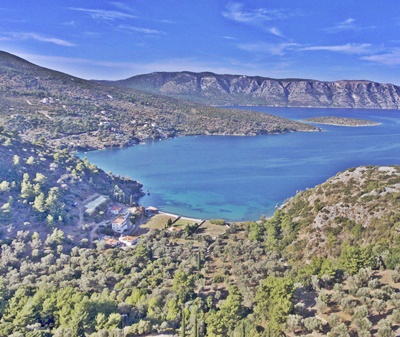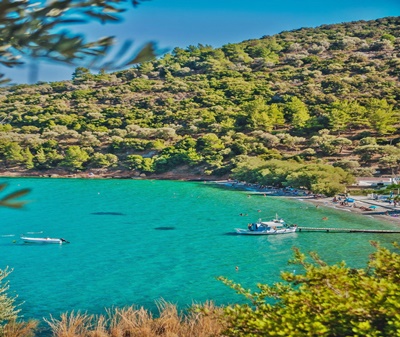 This property is located 420 metres from a beautiful little cove called Glyfo. It is three miles from the fishing village of Posidonion. It is 24,000 square metres in size. It is amphitheatric and one can build over 100 rooms. An added advantage is that plans for bungalows have already been approved by the ministry and building can start within two months. Approval from scratch can take up to 2 years. For developers drawings are available. The property is on a main paved road and is in the area of Mavrosikia, three miles before the fishing village of Posidonion facing Turkey. It has a 1 kilometre frontage and there is easy access to water telephones and electricity. It is only ten minutes from the capital Vathi and has beautiful views over Glyfo Cove.

Price : 900,000 Euros

Offers Invited

Code : SAMOS PLOT MD/010
---
A Beautiful Plot Close To Athens : Thelogos Malesina : Mainland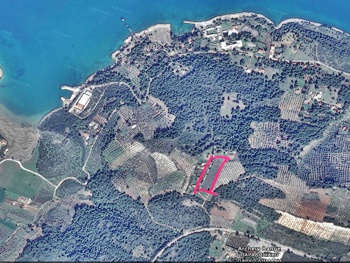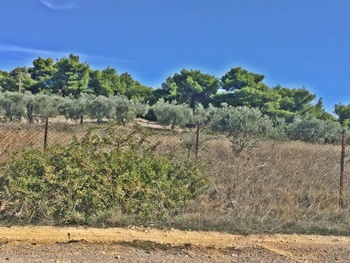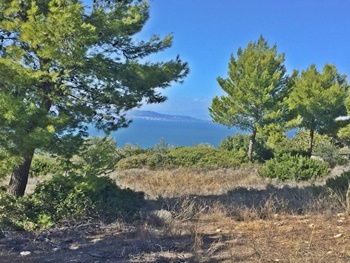 This plot is situated close to Athens, the Airport is only 1 1/4 hours drive and has panoramic views of the sea and distant islands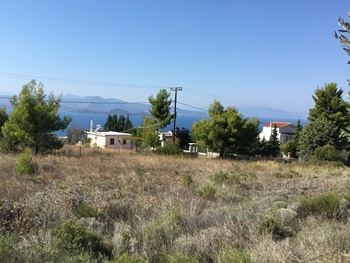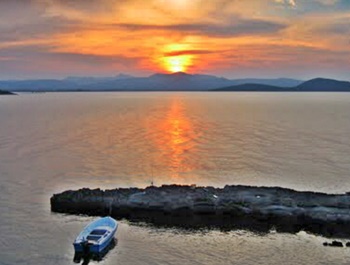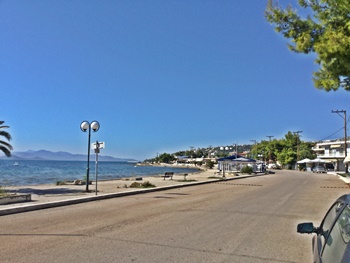 It is a unique building plot of 5,700 square metres, a regular shape on a sloping hill with panoramic views to the sea and distant islands. It offers privacy yet is only minutes from the beautiful harbour of Theologos with shops, tavernas and secluded beaches.
There is planning for a 360 square metre villa or 3 maisonettes, with clear titles and all utilities.
Price : 195,000 Euros Or Near Offer Code Number : ATHENS PLOT / THEO / TCHB NEW
---
A Beautiful Sea Side Building Plot : Milia Bay : Alonisos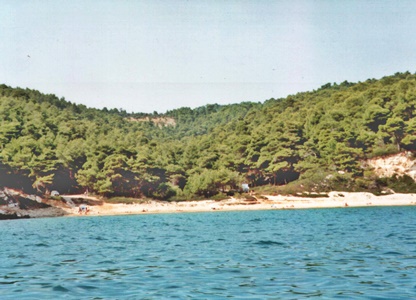 This plot is situated 400 metres from the glorious small bay of Milia with access to the sea and simply breathtaking views.
The property has road frontage on two roads : one municipal and one agricultural ( Hence access to all services, electricity and water supply ). There is an already issued building permit valid until 08//09/2018 with a building allowance of 200 sq mts. Included in the price are the 10,000 Euro cost of building permit and all architectural plans.
PRICE : 50.000 Euros Code ALONISSOS SL/010 SOLD
---
A Beautiful Parcel Of Seaside Land : Area of Taktikoupoli : Mainland Peloponnese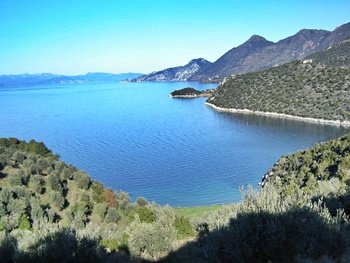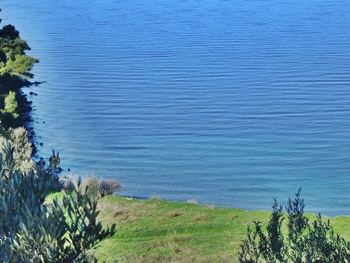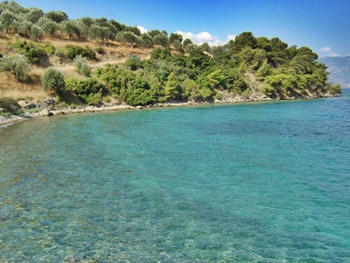 A fantastic beach front parcel of land is for sale on the Peloponnesus mainland, area of Taktikoupoli.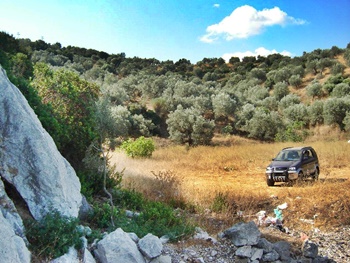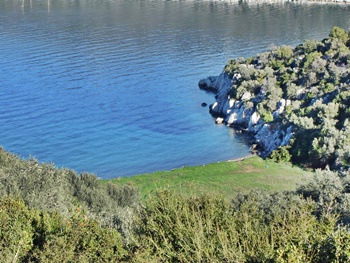 This land is 32.590 square metres and the building allowance can be advised. Architects and builders are available to suggest or carry out your ideas.
Price : 950,000 Euros Code : POROSPLOT /360 NEW
---
Flat Sea Front Land With Private Beach : Lesvos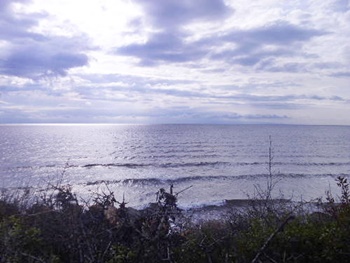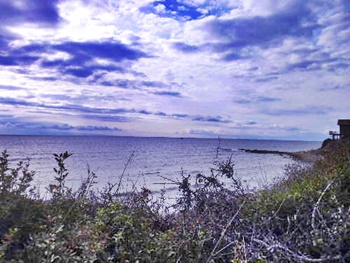 This land is 4,590 sq mts in area and is easy to develop. Suitable for residential development this private location has easy access and comes with a private beach and is close to the resort of Vatera and to mooring facilities at the Agios Focas harbour.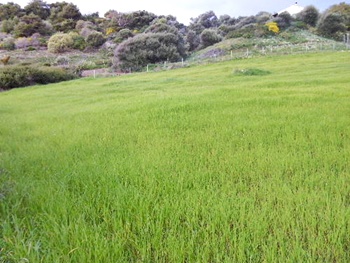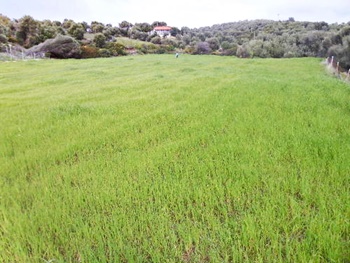 This exceptional parcel of flat land ( app. 4590 m2 ) is located at an open country position, just off the beaten track and the public road that joins Vatera and Agios Fokas. It has the sea front as its front border ( 51.80 m ), therefore the use of the beach fronting the land. It benefits from uninterrupted sea views of the Aegean Sea with views of Vatera in the distance. The plot is located app. 1.2 km from the popular resort of Vatera with the best beach in Lesvos and 800 m away from the harbour of Agios Fokas (where boats can be moored) and where a small pebbly beach is also available. It is a very popular location for private villas of distinction. The plot is eligible for planning permission to build 200 m2 of buildings, making it an ideal plot for a country villa & spacious gardens. Topographical document is available. Electricity & Water Services can be connected on application.
Price : Excellent Value at 110,000 Euros Code : LESVOSDB/HVO8AGFOKGV NEW
---
A Sea Side Plot Of Land For Sale : Magazia : Skyros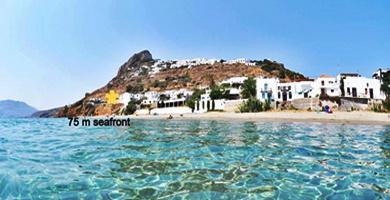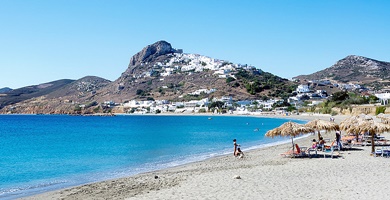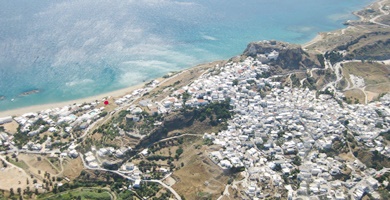 This beautiful elevated seaside plot of land is on the Aegean Island of Skyros and has direct access to the largest sandy beach on the Island with breathtaking panoramic sea views. The access to the beach is 75 metres in length. The plot is 3,500 square metres and the building allowance is 1,750 sq mts. All the civil works are accessible ( Water, Electricity. Telephone.)

Price : Asking Price 480,000 Euros Or Near Offer Code : SKYROS SM/PLOT/010
---
A Mani Plot In The Mountains With Stunning Views : Flomochori : Mani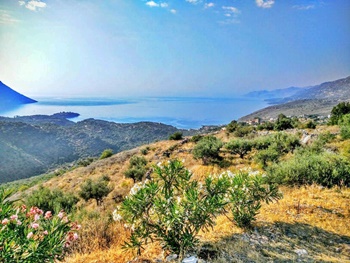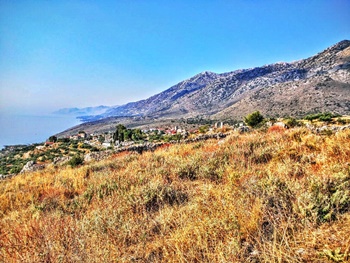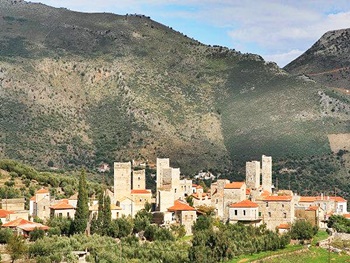 This beautiful plot faces the main road and electricity telephone and water are next door. It is 8.604 Square metres in size.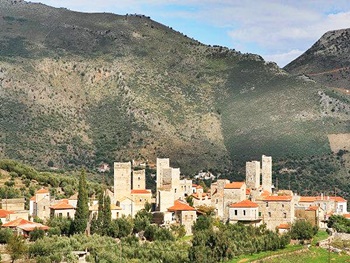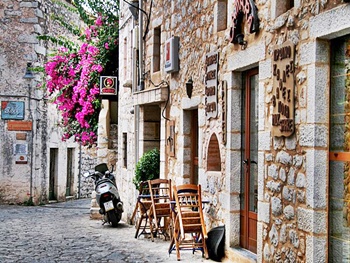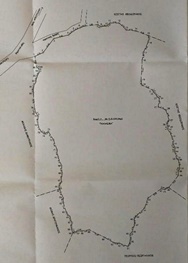 This plot is facing the main road just outside the traditional village of Flomochori and only 5 mins to the village of Kotrona and a 10 minute drive to the beautiful beach of Chalikia and a great base for excursions to the local beaches and traditional / historical villages and fortresses of the Mani as well as the Diros caves Monemvasia castle town and Mistras castle.
Price : 250,000 Euros Offers Invited Code : MANIPLOT / TM010
---
A Fabulous Sea Side Plot For Sale : Koroni : Messinias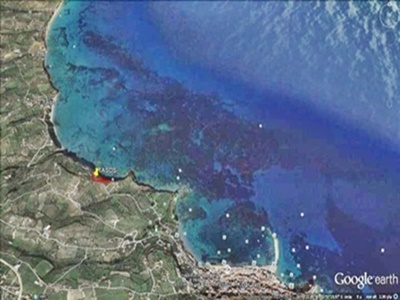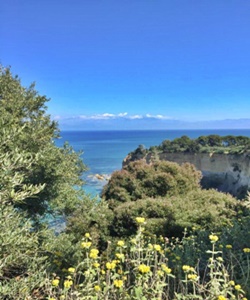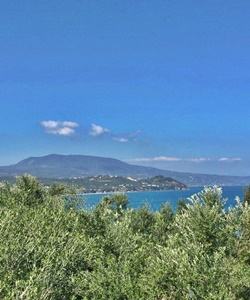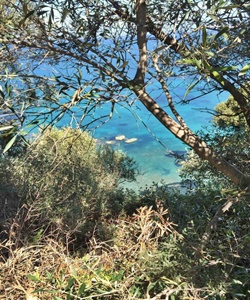 This beautiful plot is 4200 square metres in area with fantastic sea views and a building allowance of 200 square metres.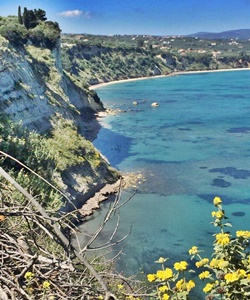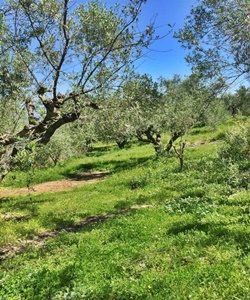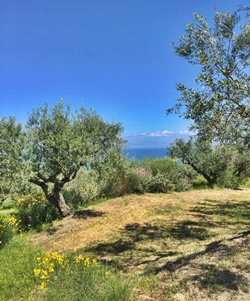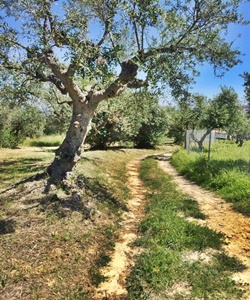 There are 80 olive trees on the plot with water telephone and electricity near the plot. It is only 1.5 klms from Koroni and the beach is 1 klm away.
Price : 110,000 Euros Code : MESSINIA DSMP / 1001- 812
SOLD
---
An Exclusive Seafront Plot With Uninterrupted Views Over The Sea : Agios Pavlos : Southern Crete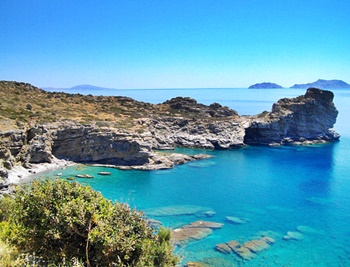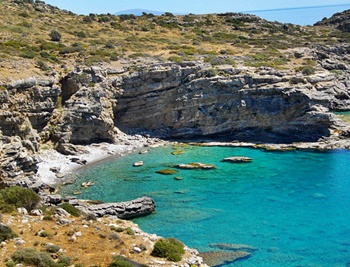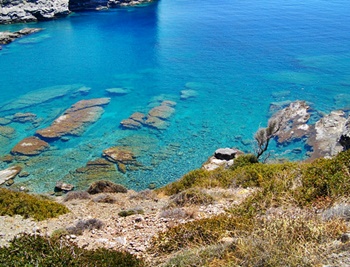 An opportunity to purchase an exclusive plot of land with direct access to the sea, near Agios Pavlos, South Crete. The plot has building rights of up to 280 sqm. The position of this sea front plot guarantees amazing, uninterrupted views across the sea. Included in the price is: the plot of land at 8784sqm, electricity connection, water supply and driveable road. This plot will have it's own private stairway down to a rock shelf, which can be used to access the sea.
Price : 350,000 Euros Code : CRETE LB/PAP265

---
A Private Seafront Plot With Wonderful Views Over The Sea : Agios Pavlos : Southern Crete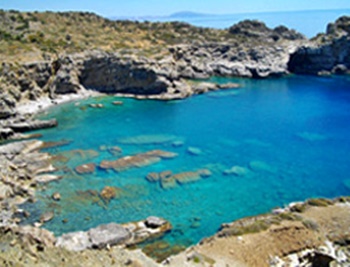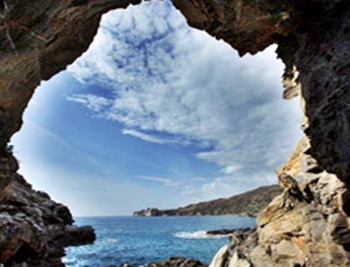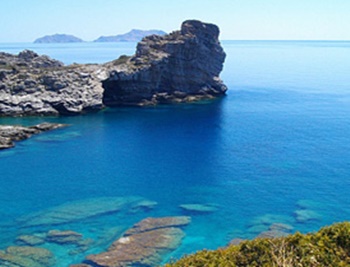 An opportunity to purchase a private plot of land with direct access to the sea, near Agios Pavlos, South Crete. The position of this plot offers uninterrupted views across the sea and has building rights up to 260 sqm.
Included in the price is: the plot of land at 7633sqm, electricity connection, water supply, a driveable road and a staircase down to a private rock shelf, where the sea can be accessed through a cave.
Price : 350,000 Euros Code : CRETE LB/PAP266
---
A Fabulous Sea Side Plot : A Stunning Parcel of Eight Stremma : Metamorphosis : Vathi : S W Methana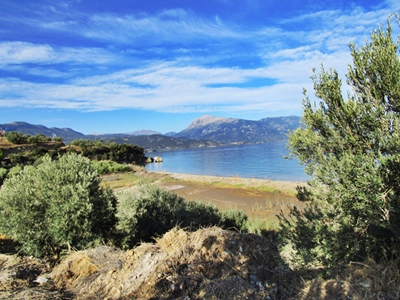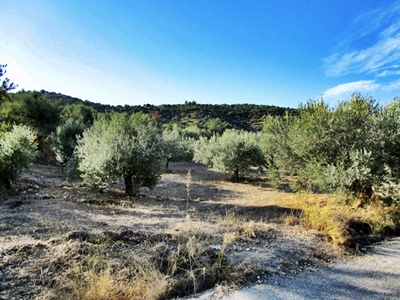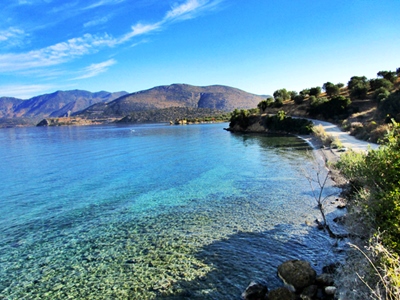 The land has olive trees and runs down straight to the sea where the safe waters are crystal clear. The mountain and sea views are absolutely breathtaking.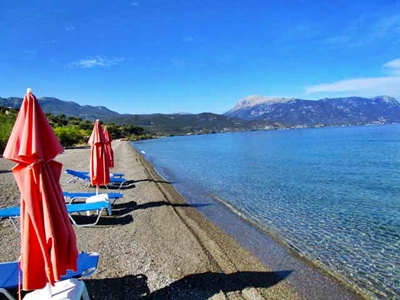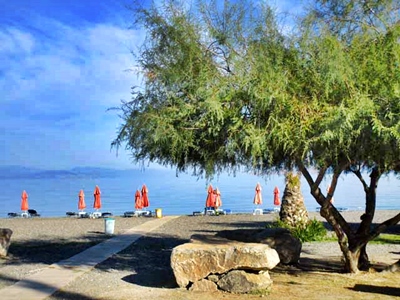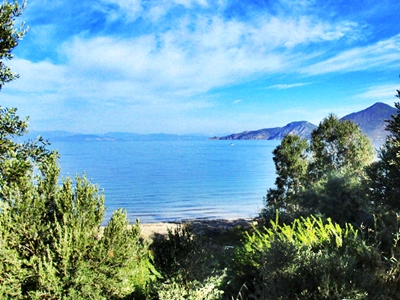 The sea in this area is a favourite place for the local fishermen and their catch may be tasted at the local taverns in the fishing village of Vathi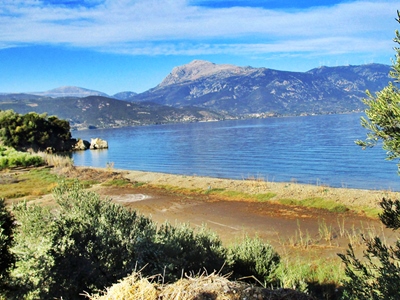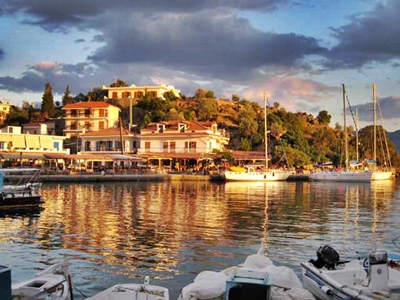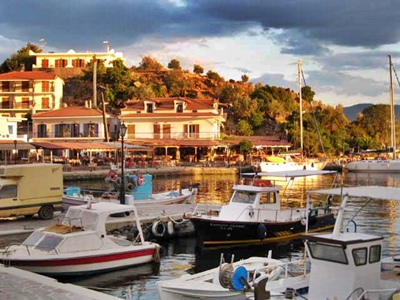 The land is easy to get to from Athens and is in easy access to the peninsular of Methana and the spa town, the town of Galatas and across the narrow straights to the beautiful Island of Poros, Mycenae, Epidauras, Nafplion, Nemea and the wine roads for wine tasting experiences. The parcel is in an area known as "Hidden Greece"
All paperwork is in order from the Forestry Commission and the Aegealos ( Sea Authorities ) : Electricity is only 100 metre's away and water is nearby. Building allowance would need to be advised.
An excellent team of architects/designers/engineers and builders is available to build a villa/house to your specific requests
Price : 420,000 Euros Try An Offer Code : POROS PLOT/KRISMETA
---
A Prestigious Investment Property With A Breathtaking View : Dio Liskaria : Leros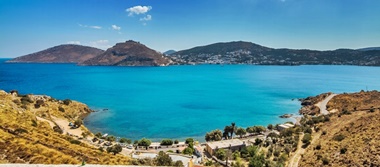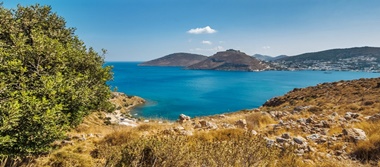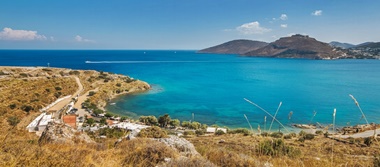 An amphitheatrically positioned plot of land, in the Dio Liskaria bay area, which is located at the end of the Alinda bay. Just 100 meters from one of the most beautiful beaches of Leros, and with a breathtaking view of Agia Marina, the castle of Leros and the Aegean sea. It has a land surface area of 15.760 Sq Mts. This is a unique opportunity for a prestigious investment, or for residential use, if desired. Situated very close to the Alinda area where you can find restaurants, cafes, super market, water sports and all kinds of amenities; but at the same time it is isolated enough to offer much sought-after privacy.
Price : 290,000 Euros Code LEROS LT/HRE/367
---
A Plot Located On The Beach : Gourna : Leros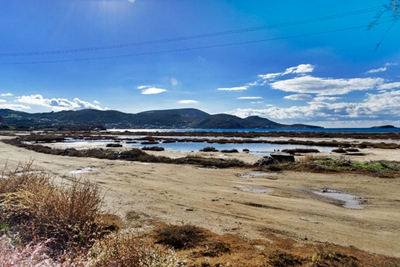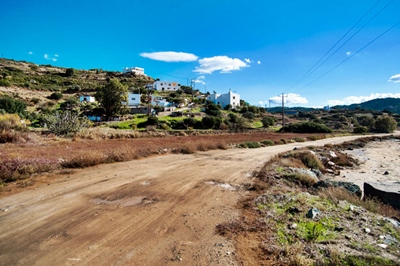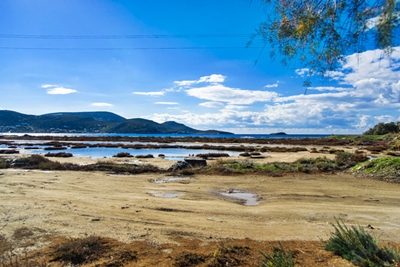 Located on the beach this plot offers an amazing sea view on One of the best locations on the island! Developable plot of land, within urban plan. It covers a surface of 2488 mē and is Next to the sea. Easily accessible through the municipal road in a very quiet and green area.
Price : 60,000 Euros Yes That's Right Only 60,000 Euros Code LEROS PLOT LT/480
---
A Unique Building Plot For Sale : Kerveli : Samos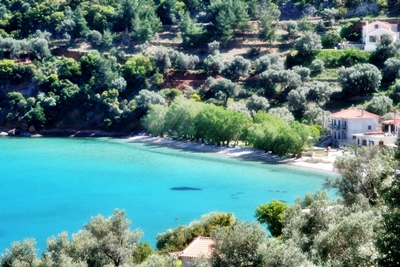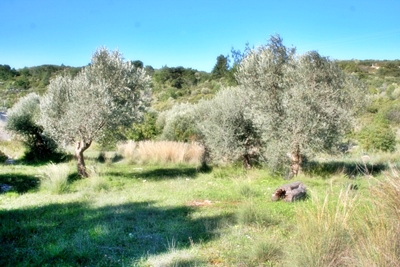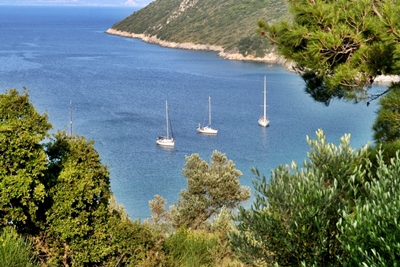 This unique plot of land is located in the highly desirable hamlet of Kerveli, Samos, Greece.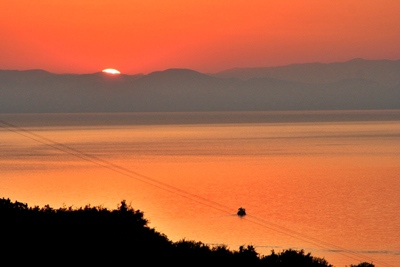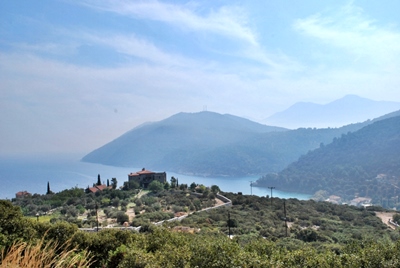 It is a square plot of around 4800m2, has a boundary on a very quiet unmade public road and very close to electricity, water and telephone connections. The land is uncultivated and has around 30 producing Olive trees and wild shrubs and grasses. The seller currently keeps the plot in good condition and maintains the Olive trees which produce the highest quality Olive Oil. The plot is perfect for someone seeking complete peace and quiet and being close to nature. It is cleared by the Forestry Dept for building a house and terraces of up to 200m2. The area faces the Aegean Sea to the East and has dramatic mountain views, the best sunrise and stunning views of the Turkish coastline. The nearby quiet beach area of Kerveli is close by, both by foot and by car, and there are two local tavernas. The nearest supermarkets are 10 mins drive and the main town is 15mins drive. Distance to Samos Airport is around 20km. A local hotel offers many summer facilities including scuba diving, Yoga classes and car hire. Habited neighbouring houses during summer months are owned by both English and Italian retired couples with no children, and are built to a very high standard, in keeping with local designs. Present owners live in adjacent property so viewing is available.
The area is extremely quiet in both summer and winter. A lack of light pollution means stargazing is spectacular on clear nights. There is no pollution, only the sounds from nature, owls, birds etc.
Price : 130,000 Euros Code : SAMOS PLOT / MEKM/010

---
Fabulous Beachfront Development Plot For Sale Close To Elounda : Crete
Everything Going For It ! Reduced For A Quick sale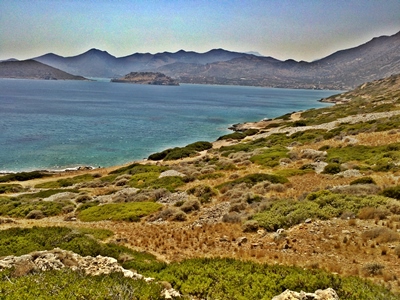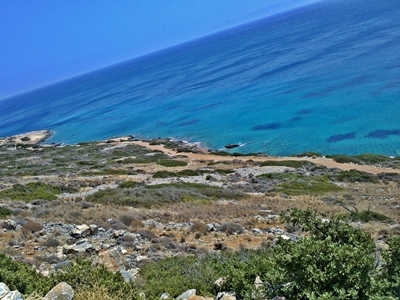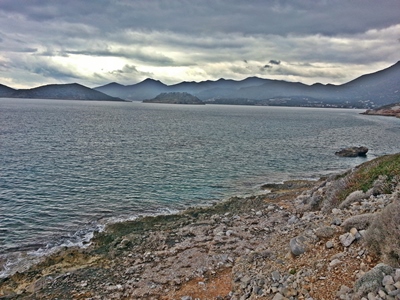 Absolute beachfront with excellent views. 6000 Sq Mts : Forestry clearance : Beach Area specified ( See Photos ) : Face on the sea close to only 40 metres : Plot is attached to the beach with seaside views and the Island of Spinalonga : Entrance from road attached to the plot : Gentle gradual incline land ( Able to build tennis court, swimming pool etc.)
An Unusual opportunity to purchase a waterfront plot for building. Guidance from purchase to completion is available.
Price : 600,000 Euros Reduced To 340,000 Euros Limited time only Code : ELOUNDA PLOT / PT010
---
A 400 Square Metre Plot Close To The Beach : Magazia : Skyros
This 400 square metre plot is close to the beach and has a building allowance of 200 square metres. There would be views of the Aegean and the Chora in the distance. This is a very popular position and a great opportunity in such a good area, with local tavernas, cafes ................much sought after.

Price : Asking Price 40,000 Euros Or Near Offer Code : SKYROS SH/62
---
A Building Plot In Asteri, Evrotas Municipality : Vlahioti : Laconia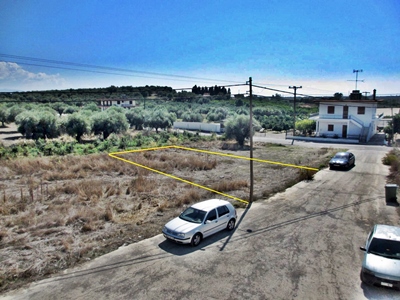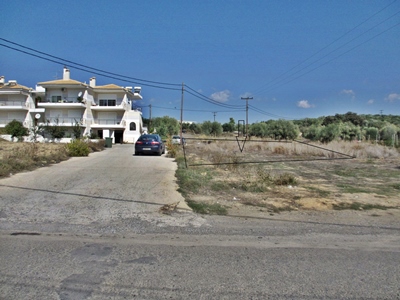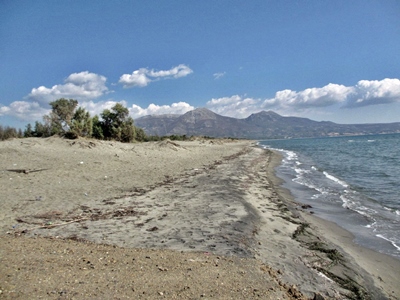 500 Square Metres Within the village building zone with all services nearby. It is 45 klms away from Sparta and 25 kms away from Gythion.
Asteri is a little village of about 300 inhabitants, very close to SKALA and VLAHIOTI towns. Its distance from the sea is less than 2.5 km, where there is a nice sandy beach. In summer there is a beach-bar in operation. The area near the seaside is a protected NATURA area. The plot is almost flat and faces a short public dead end road, perpendicular to the main road connecting Asteri to Glykovrisi village. The total building area that can be erected on the plot is 300 sq mts and it can be extended to one or two levels.
There are not many facilities like shops, restaurants etc. in the village, as its distance from VLAHIOTI is very short (about 3 km) and you can find almost everything there. VLAHIOTI is not a village but a small town with a lot of shops, banks, a health center and even an open theater of 1200 seats!
Price : 35,000 Euros Code : ASTERI PLOT GP/010

Vlahioti Town
---
A 10 Stremma South Facing Plot For Sale Next To The New Aminzoe Hotel : Porto Heli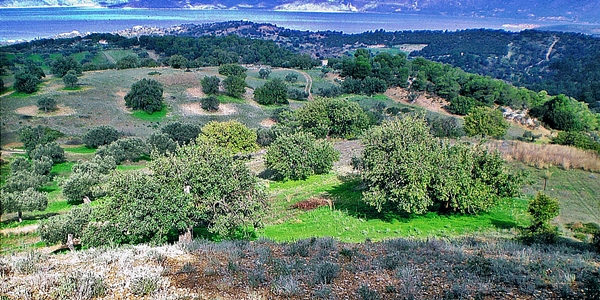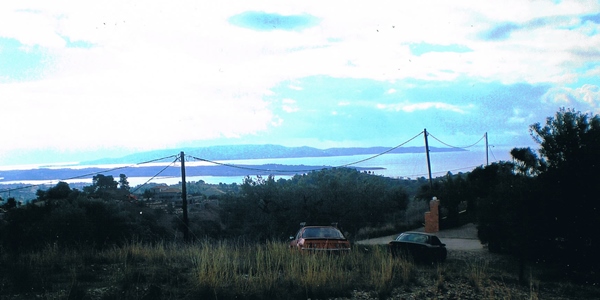 The plot is next to the New Aminzoe Hotel at Porto Heli with lovely South Facing views over Porto Heli, Ververonda and the Island Of Spetses and the sea. All services are close by. The plot contains a number of olive trees.
A Unique Large Building Plot Which Can Be Exploited to Contain A Unique House, or Houses With a Good Building Allowance.
Priced at 400,000 Euros Code : PORTO HELI DK/101
---
A 29 Stremma West Facing Plot For Sale Close To The New Aminzoe Hotel : Porto Heli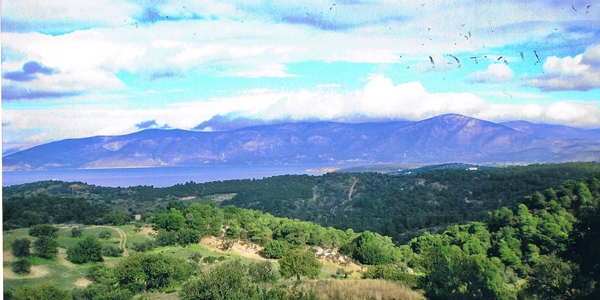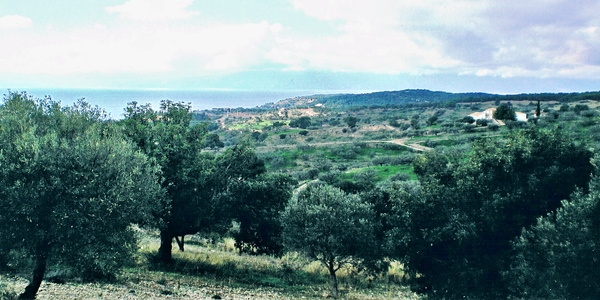 The plot is near to the New Amin Hotel at Porto Heli with lovely West Facing views round from Porto Heli to the start of the Argolidic Gulf and over to Laconia and the sea. All services are close by. The plot contains a number of olive trees.
A Unique Large Building Plot Which Can Be Exploited to Contain A Number of Exclusive Houses.
Priced at 850,000 Euros Code : PORTO HELI DK/102
---
A Village Plot Of Land With Sea Views : Kamilari : Matala : Southern Crete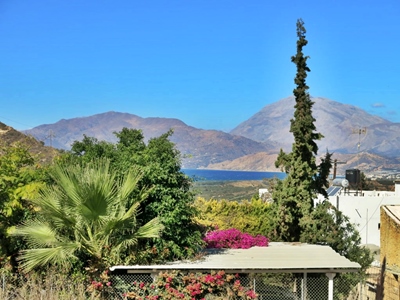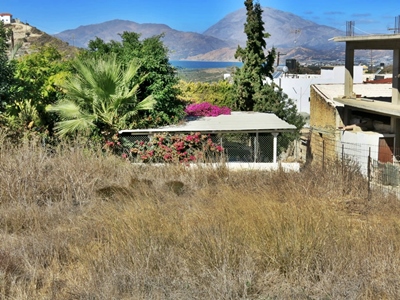 We are pleased to offer this buildable plot in this popular Village of Kamilari with sea views. This plot is situated in the Centre of the Village. It is only 2 minutes by foot to the supermarket and many traditional Tavernas and Kafenions. Plot size 511 square metres with a village building allowance of up to 400 square metres. It is situated only 2 klms from the beach and 9 klms from Matala.
Price : 67,000 Euros Good Price Code : CRETE LB/PKAM 259
---
A Fabulous Sea Front Plot On A Sandy Beach : Location on Application Only : Southern Crete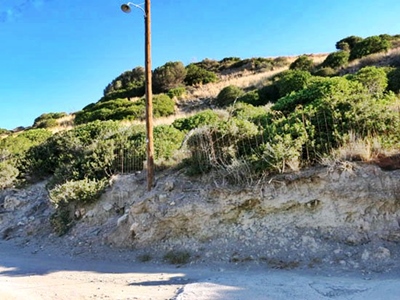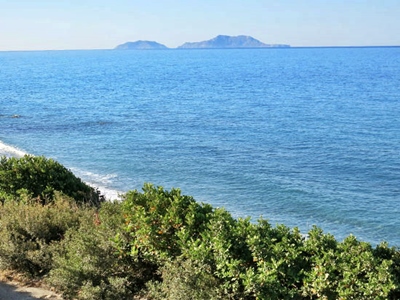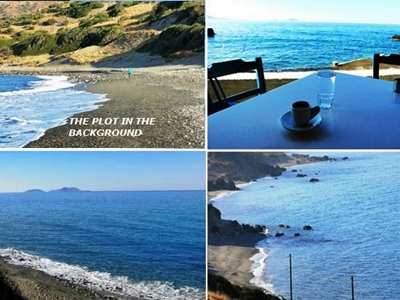 This is a fabulous beach plot where one walks off the land into the sea and where the swimming is absolutely wonderful. The water is crystal clear and the swimming is safe. It is a small cove within a bigger bay. This plot is surrounded by the beauty of the unspoilt countryside of south Crete. Watch the sunsets and the moon rise out of the sea with the Paximathia islands as a backdrop. With very few lights in the area it is a star gazer's wonderland.

There are only 3 plots which are directly alongside the beach in this cove and this is the last one, and has just come onto the market.

To complete this dream position, there is an excellent taverna within easy walking distance, and a Village for basic supplies only 4 klms away

With a total area of 4996 sq metres the plot has building rights of 220 mē for a private villa, with an option to be used as a rental villa . All documentation is in order for immediate sale.

Price : 185,000 Euros Code : CRETE LB/PAF250

SOLD
---
Definitely The Last Sea Side Plot Left Between Cape Thini and Dourufi
12 Stremmata of land next to the sea can have two separate entrances one of which can be ten metres from a nearby beach.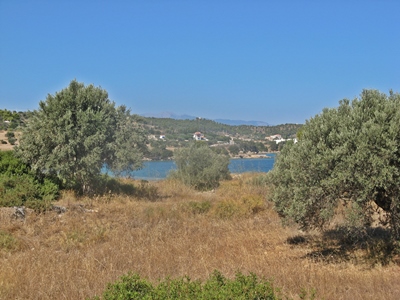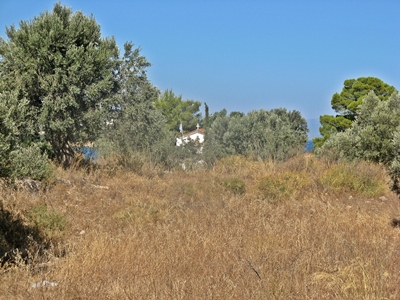 This plot consists of three 4 Stremma plots, making a total of 12 stremma to be sold altogether to make one big plot. Located next to the sea it is the last big plot left between Dourifi and Cape Thini with the sea only a few metres away from the bottom edge of the plot. Across the road is the sea side Church of St Spiridon. The plots contains many Olive trees, and lies alongside LAKKES DK/088 above. It has a buildable allowance of 600 Square metres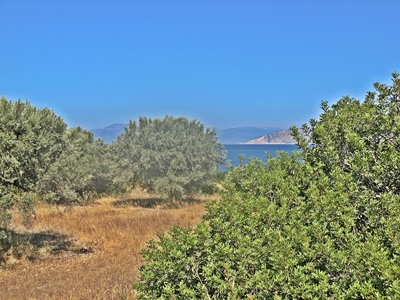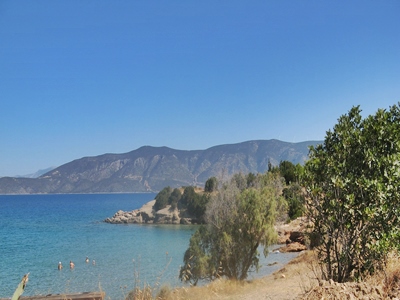 Entrance to the plot can be up a quiet side road, the plot is gently sloping form top to bottom and all photographs showing the lovely sea views were taken at ground level, so a house built on this plot would have magnificent views not only from ground floor level but from its first floor terraces

.

Lakkes is a very desirable area, being populated by many ship owners and oil men.

Price : For the three plots in separate contracts making 12 stremma of land : 550,000 Euros An Unusual Opportunity To Snap Up This Plot Very Cheaply Code : LAKKES DK/92
---
Fabulous Building Plot With Permission For Two Houses : Cape Akritas : N. Messenia : Koroni : Peloponnese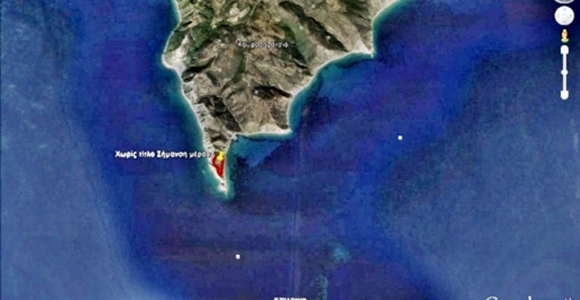 For sale at Cape Akritas, N. Messenia Koroni Vasilitsi : 13 acres with a building permit for two houses, and sea views to die for.

The distance from Koroni is 15km and 65km from Kalamata airport. They are close to a power supply and water

Price : 35,000 Euros Per Acre = 455,000 Euros. Code : KORONI DS / 231001/411
---
A Magnificent Private Plot For Sale : Skopelos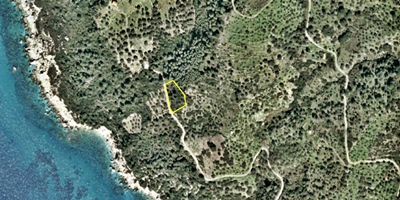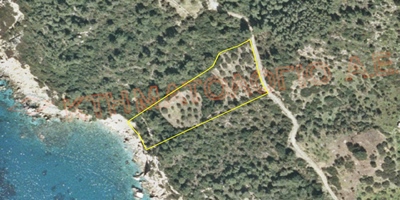 This land is 2 1/2 klms from the port of Loutraki and offers complete privacy for the owner. On the left there is forest and on the right the neighbours land is turning inside so you have complete privacy. There are two pieces , the main part under the road leading to the sea is 4,000 square metres approx, and the piece above the road is one and a half thousand sq mts so you can place your house in the lower piece where the land forms a nice plateau and where you can make steps down to the sea with a magnificent tiny private bay with a small beach.
The sea views from your private house are excellent, showing all the South Coast line of Skopelos, Euvoia Island and Skiathos.
PRICE : 130.000 EUROS Negotiable Code SKOPELOS PLOT/AD/010
---
Parcel Of Land For Sale : Katsarou : Skiathos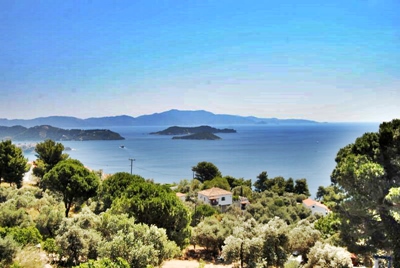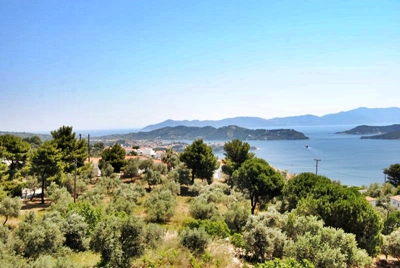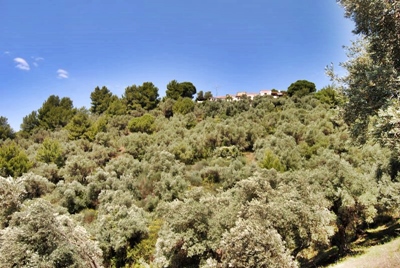 This superb plot is 5.335 square metres in area with fantastic views and idyllic in its setting on a sloping hillside, this old olive grove with 150 olive trees is perfect for building a dream house! Within 65 meters from a paved road, approx. 400m from the 'ring road' Skiathos – Koukounaries, 500m from the sea and 2km from Skiathos town.
Panoramic views of neighbouring islands, Tsougria, Tsougriaki, Skopelos and mainland Evia.
Total Buildable Property 226.5sqm
Price : Good Price At 170,000 Euros Code : SKIATHOS KZ/PLOTKAT For more details please E Mail
E Mail Brian.
---
Building Plot For Sale . Monastiraki : Lasithi : Eastern Crete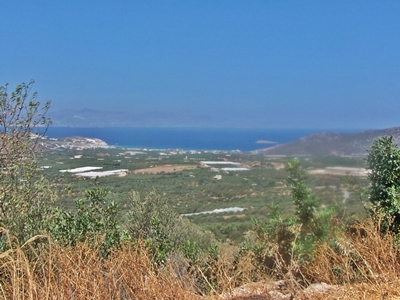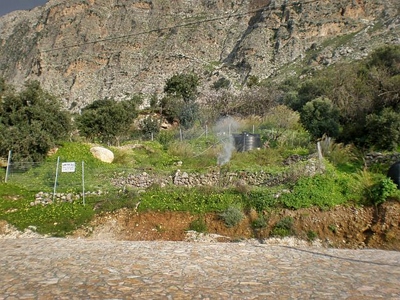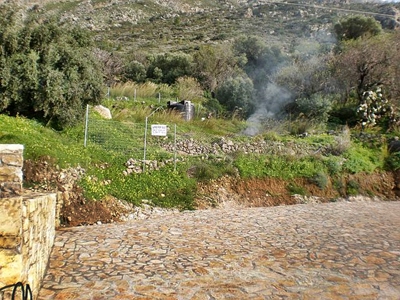 This small building plot is available within the town boundary of the picturesque village of Monastiraki. The plot has stunning views across the bay of Pachia Amos. The plot is uniquely situated with a 12 metre road frontage with direct access to the road, electric and main sewers. The land is a short walk from a local taverna and is within 15 minutes drive of beach, shops, and town centre of Irapetra. The plot size on which a building permit can be applied for is 301.05 square metres. The land is being offered for sale at 60 Euros per square metre.
Price : 18,000 Euros Code : CRETE KA/PLOT/010 An Affordable Investment Plot
---
A Sloping Land Building Plot : Lixouri : Kefalonia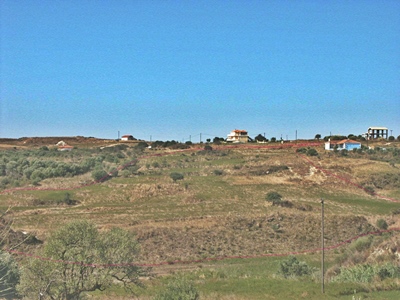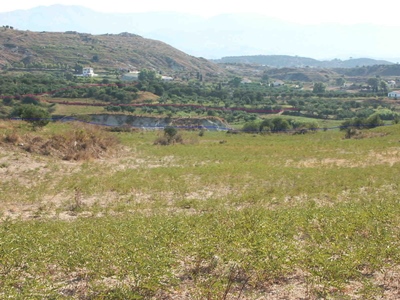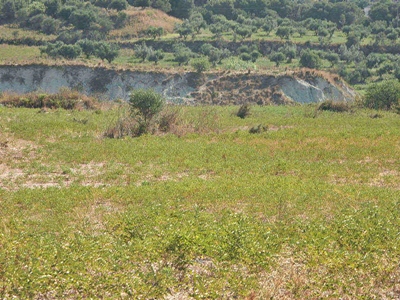 Situated outside Mantzavinata, a small village which is only 1 km away and about 6 km from the town of Lixouri, where there is a wide range of shopping facilities, Banks, Taverns, Supermarkets and a Hospital. : This plot is for sale in a superb position, not far from the sandy beaches of the south-west coast of Kefalonia in a distance of 1 km from Xi beach, inviting you to swim and relax and enjoying panoramic sea views across the Ionian Sea, and the majestic mountains of central Kefalonia : The plot of 32085 sq.m. is sloping land, very slightly in the direction of the coast : Electricity, Telephone line and water supplies are near the main road. : This is an ideal location either for a holiday home or for a permanent residence.
The building allowance differs from each place and the distance from sea, this plot is about 1000 meters from the sea, and therefore differs for house or for Commercial use. For a house the following building allowance, can be used. On 4000 mē you can build a house or apartments to 200 + m2 of living space. Total coverage mē : 300 mē or 3 X 100 mē. On 32085 m2 in addition +180 mē can be built for Commercial use.
PRICE : 290,000 Euros. REDUCED TO 260,000 Euros Code : KEFALONIA PLOT GE/011

---
Land For Sale : Ios ; Cyclades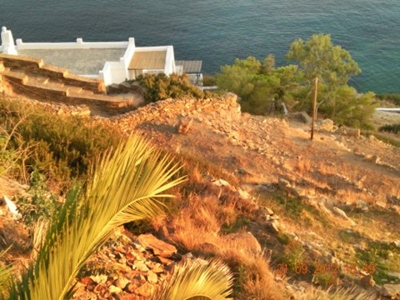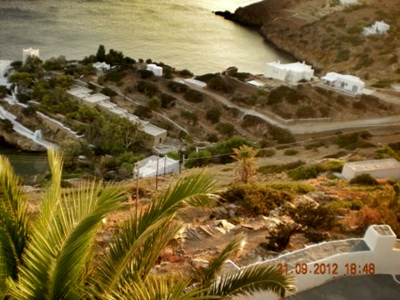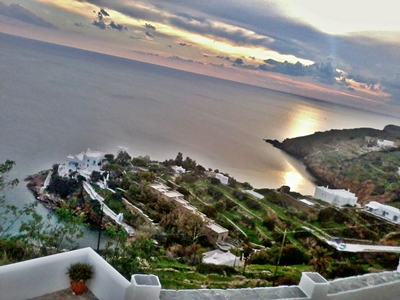 This land is about 5,350 square metres and is a parcel of land with a sea view and view of Mylopotas beach only 50 metres away from the sea.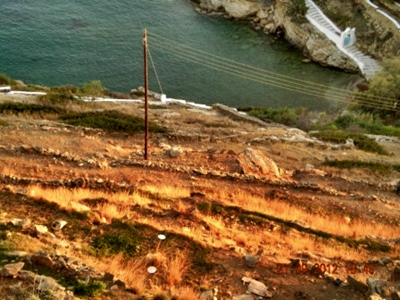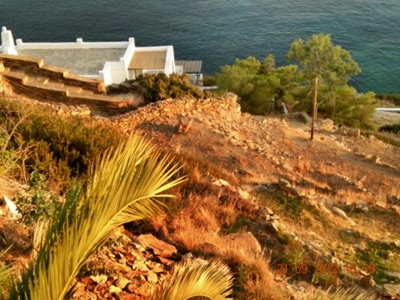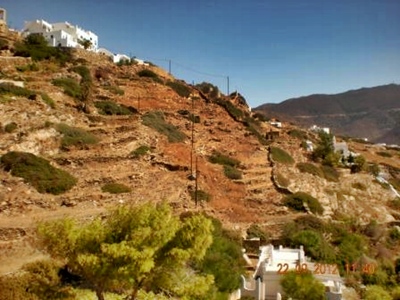 It is located right next to the Greek Painter's studio of Gaitos Museum. Facing a small beach a few metres away.
Price : 280,000 Euros Code : IOS MK/100
---
A Truly Fabulous and Unspoilt Sea Front Property For Development : Tragaki : Zante
A Five star Hotel has been designed for this plot. A leaflet has been prepared for the interest of entities and entrepreneurs for the creation of a Seaside Hotel on this land. The project is the creation of a high quality hospitality unit by a firm of architects who have collaborated on more than 20 hotel resorts including the Hilton Hotel In Athens.
For a full information leaflet with a full detailed description please E Mail Brian
E Mail Brian.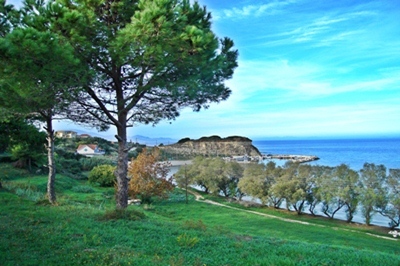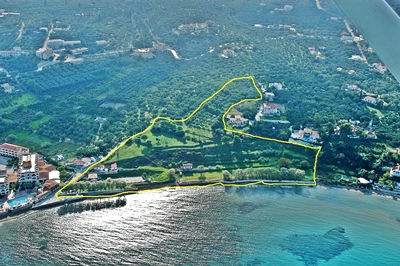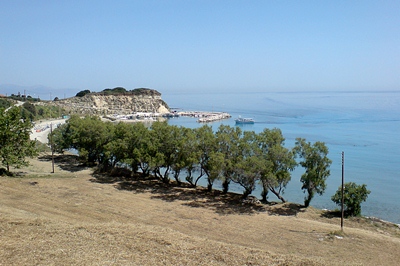 The Location is at Tragaki : East Coast Zante : 6km from Zakynthos Airport and Zakynthos Port and from capital Zakynthos Town : 2km from Tsilivi-Planos villages.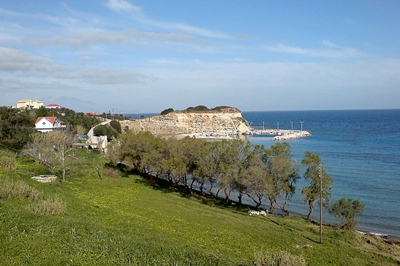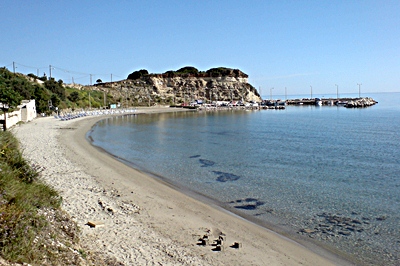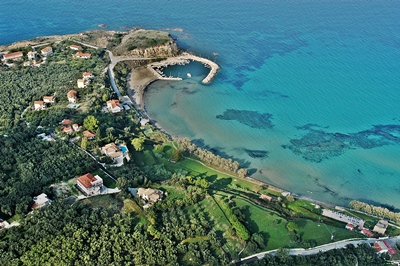 Description, 23,000 square metres of land and a beach frontage of 260m along the sandy beach of Gaidaros, and containing a beach bar : Borders marked with yellow line on bird view. : Public utilities : Electricity, Water supply by landline. Outdoors there is a Lush Mediterranean seafront location with Panoramic views of the sea and mountain. The property has been recently landscaped with outdoor areas of fresh lawn turf, olive and pine trees, and there are 3 water wells on the land.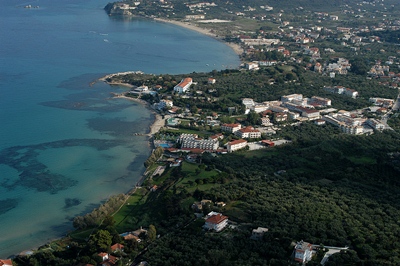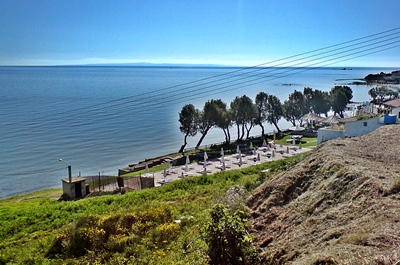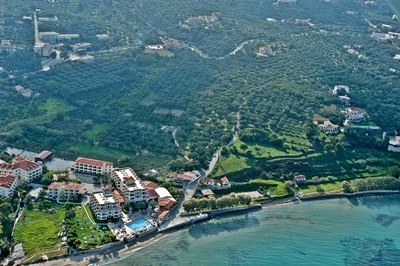 Development : Building allowance is 10,000 square metres, enough for : Commercial property, for example a luxury tourist resort with villas to rent, etc, with swimming pools and gardens, play grounds and sports grounds. Or a 5 star Hotel. Included in the 23 Stremma is an adjacent tourism property which consists of a seafront family business - snack bar 3,000sqm plot of land with 100m along the beach. The borders are marked in yellow line on bird view photo There are recently landscaped outdoor areas and a newly built retaining wall.
The cost of the land only is 7,000,000 Euros.
The Baseline Price For the land and whole project starts at : 15,000,000 Euros : Offers are Invited : Discussions are available. Code ZANTE NE/PT / 010
---
The smaller plot offers your own private beach (rocks), while the larger plot, with access road (sand), is on a large plateau suitable for the construction of a residence, hotel or an apartment complex. Build a staircase to the beach to make it more easily accessible. Utilities to be developed. Electricity nearby; suitable for solar energy. The property belongs to the village of Lepetymnos. The legendary fishing village of Skala Sykamnias, where you could moor your boat in the picturesque harbour, is just a few kilometers away. The hot springs of Eftalou with its individual and shared therapeutic baths, are an easy 20 minute drive.
Price : 150,000 Euros Code LESVOS VV/010

---
North Evian Gulf Plot For Sale : Theologos : Malesina : Fthiotida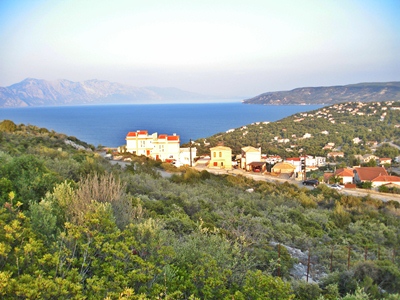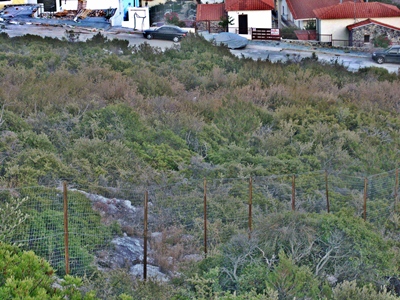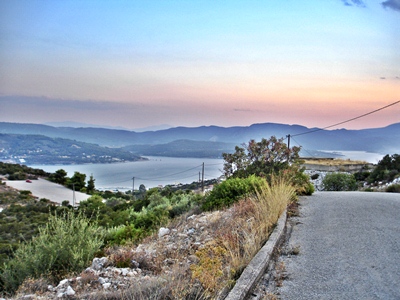 Beautifully situated plot, only one and a half hours from Athens on the National Highway, Athens to Thessaloniki. The region of Malesina is known for its clean beaches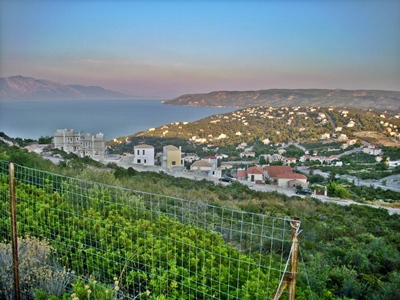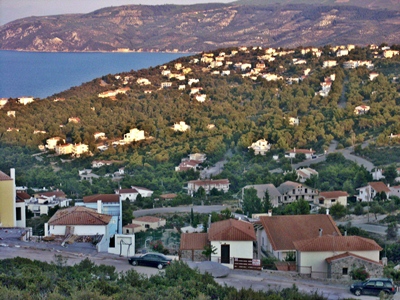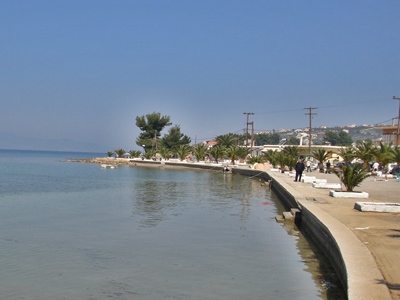 From the property one has idyllic views overlooking the North Evian Sea to the right, the valley of Theologos in front and the bay of Vivos to the left.
For a Word Document with a full detailed description please E Mail Brian
E Mail Brian.

Price : 155,000 Euros, Or By Negotiation. Code : THEOLOGOS PLOT/PPAP/010
---
A Large Sea Side Building Plot With Direct Beach Access : Kolios : Skiathos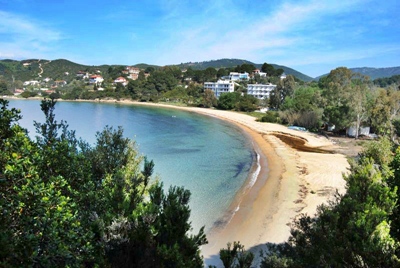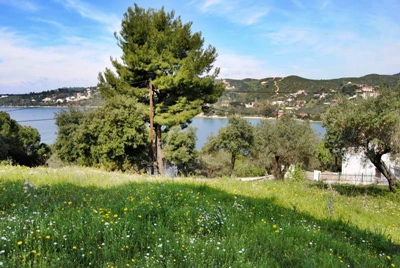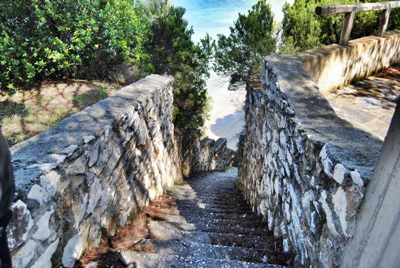 This large seaside plot of land is 17.173 square metres in area in the well sought after area known as 'Kolios' on Skiathos Island.
The plot has direct access to the beach and makes it an exceptional place to build a grand summer villa. Its views are simply amazing and the distance to the beach is only 75 metres.
Offer Price : Reduced to 320,000 Euros Code : SKIATHOS ZK/PLOTKOL SOLD
---
48 Stremma of Development Land : Methoni & Finikounda : Messinia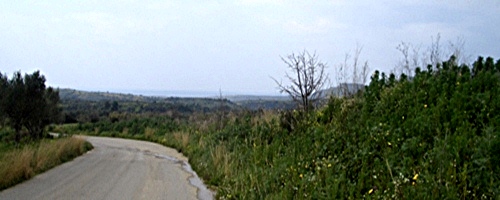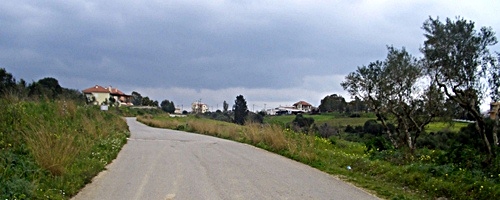 48 Stremma of building land for sale. Can be cut into 9 pieces for development. The land lies in between Methoni and Finikounda and has a nice sea view
Price : 500,000 Euros Code : EVAGELISMOS DG/500
---
10,000 Square Metres Of Building Land With Planning Consent For 4 Villas : Sklithri : Skiathos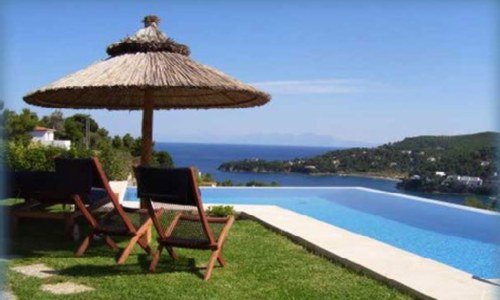 Situated Right at the waterside, these 4 Luxury Villas are sure fire profit winners, being in a very lovely part of South East Skiathos.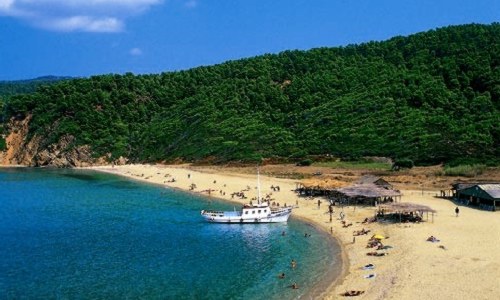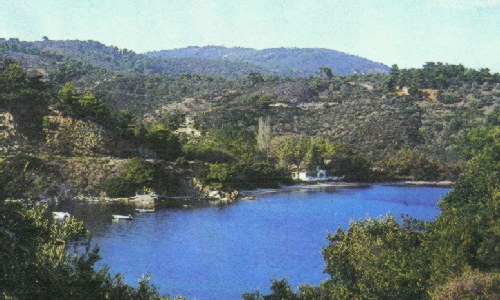 The Four Villas are 133.86 sq mts in size, not including the terraces, and have 3 En Suite Bedrooms, and 3 Toilets with magnificent views over the beach, sea and surrounding mountains from their beautiful built in terraces.
The whole building project is for sale, including the land, architectural drawings and the project complete with Engineer, Project manager, Architect and construction company ready to build.
Price : 550,000 Euros Code : Skiathos BUS RA/010 For take over discussions with the owner please E Mail Me.
E Mail Brian.
---
11,000 Square Metres Of Building Land Within The Village Boundary : Xilokastro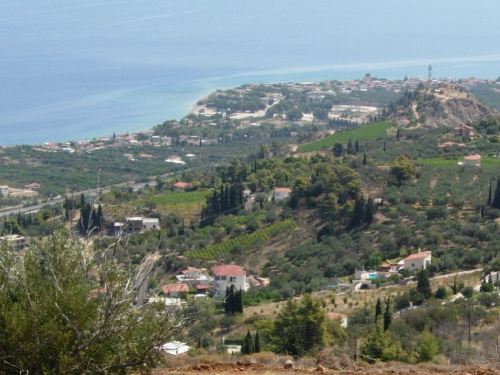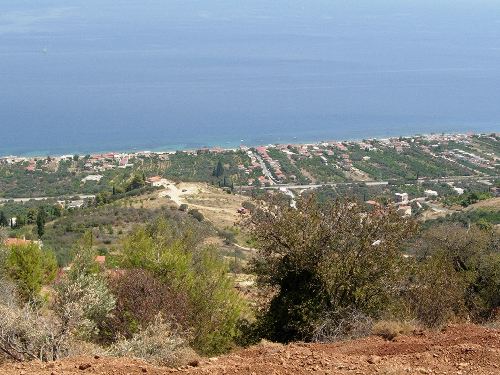 Xilokastro is on the South side of the Gulf of Corinth and only 35 klms from Corinth itself it is 160 klms from Athens Airport on the main highway. The land which has fabulous views along and across the Gulf of Corinth is 7 klms from Xiliokastro which has Banks , Hospital and a Pharmacy.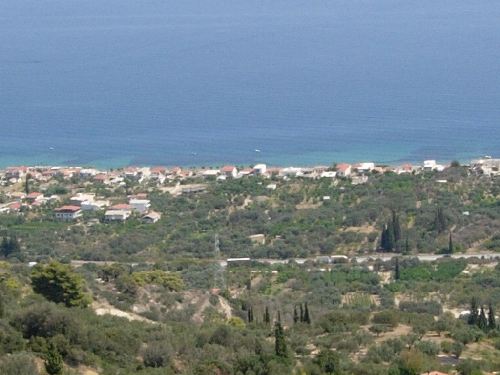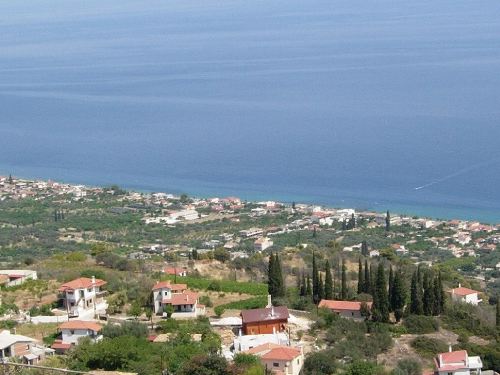 The land can be cut into 1,000 sq mt plots, with a building allowance of 400 sq mts for each plot, if the 1,000 sq mt plots were cut again ( Halved ) they would have a building allowance of 200 sq mts for each 500 sq mt plot. It is possible to build 18 houses or 27 houses if the 1,000 sq mt plots are cut into thirds of 330 sq mts each. The land has all services, electricity and water, and the Vendor has Architects and builders and can build the houses for a developer.
Price : For a 1,000 sq mt plot 110,000 Euros
Price for the whole piece : 900,000 Euros
Code : CORINTH XILO/LEON
---
A Commercial Plot For Sale : Naoussa : Paros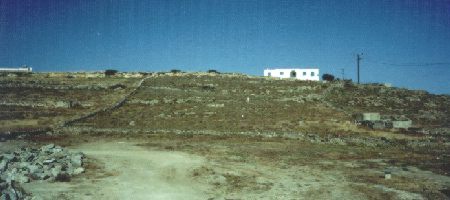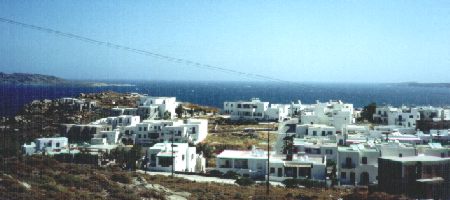 Perfect for Supermarket / Shops / Warehouse / Hotel, etc
This commercial plot can build up to 550 square metres of building allowance. A superb commercial site looking out over Naoussa. Owners are civil engineers and all the paperwork is in order.
Price : 1000,000 Euros Code : PAROS DP/JIM/010
---
Development Land : Potamos Island Of Kythera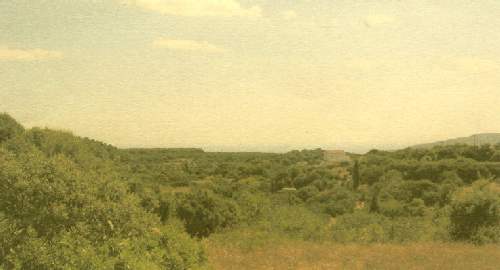 27,300 square metres of development land touching the village of Potamos on the Island of Kythera.

The building allowance is 2,000 square metres, but for tourist complex it is much more. Panoramic view of the countryside and sea view at the entrance. All services are on the land which is 10 minutes from the sea.

Price : 800,000 Euros Code : KYTHERA PLOT EA/010
---
A Fantastic Plot For Sale : Voltos Beach : Parga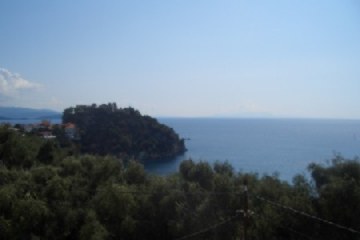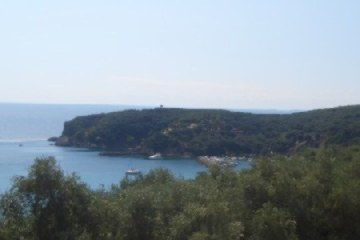 At the most beautiful place of Parga, near Valtos beach there is a piece of land about 4,000 sq.m with a wonderful view to the sea, the castle of Parga, the monastery, and the Islands of Paxos and Antipaxos. This is a unique piece of land, which can be used also for professional use. Easy to be built on, as it is on the road from Parga to Valtos beach.
A Great Opportunity To Purchase a Fantastic & Unique Plot By The Sea.
If you want to visit and view Please
E Mail Brian.
Price : 2,000,000 Euros Code : PARGA EK/014
---
A Large Piece Of Superb Development Land Beside the Sea : Argolida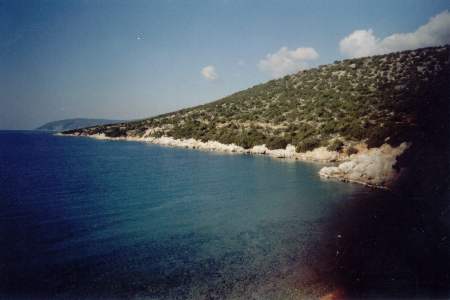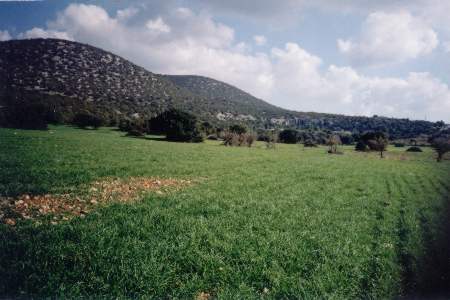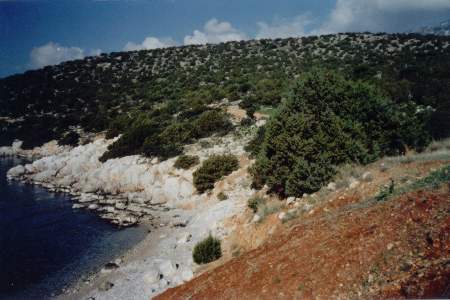 Just South of Salandi Bay. Near To Other High Quality Villas.
In a part of the country favoured by Athenians is this large 76,000 square metre piece of land on which can be built luxury villas with an exceptional outlook to the gulf.
The land is gently sloping land towards the sea side.
This is a beautiful stretch of coastline which contains luxury villas, looking over to the private Koronis Island and Kilada across the bay.
All services are available and it is only a few miles from Kilada & Kranidi
Price : 3,500,000 Euros Code : KILADA 079
---