---
Greek Mainland Properties For Sale
Property Lying North of The Gulf Of Corinth & East & West of Central Athens
Athens : Glyfada : Galaxidi : Antikira : Viotas : Marathon : Voula : Metoxi : Drafi : Rafina : Artemida : Markopoulo : Keratea : Pierias Theologos : Vouliagmeni : Amfissa
Aegean Airlines have 3 daily each way flights From London Heathrow to Athens, and now fly from Manchester.


Easy Jet Fly Gatwick to Athens.

Scroll Down To See The Property.

---
A Luxury 10 Bedroom Villa For Sale : Athens : Penteli : Melissia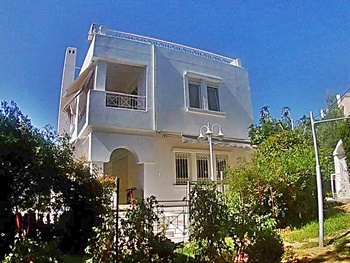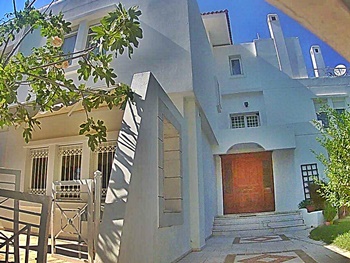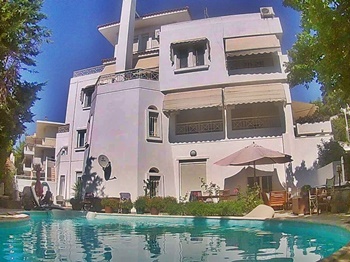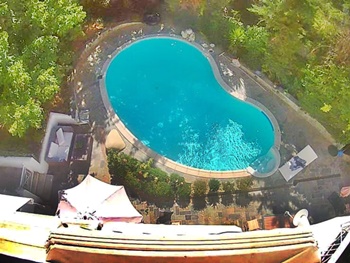 The house consists of four levels. The first ground floor that has direct access to the pool has a total area of 217.07 sqm and consists of an independent apartment of 147 sqm with three bedrooms, 2 bathrooms, 1 kitchen and 1 living room with dining area. It also has three storage rooms and a playroom of 40sqm. The apartment has ceramic tile floors while the playroom has white Penteli marble. One bathroom has a hot spa.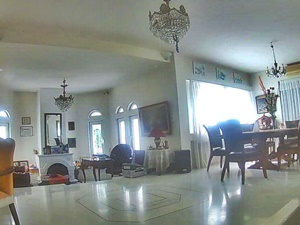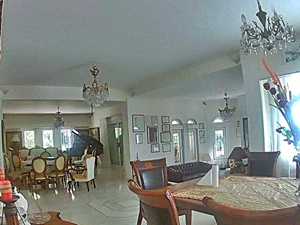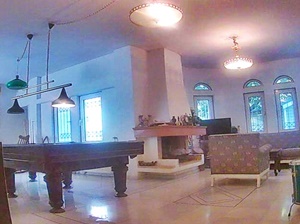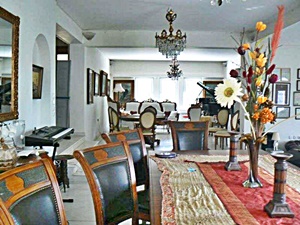 The second ground floor has a total area of 190.29 square meters and consists of 2 living-dining rooms with 2 fireplaces, billiard room, 1 bathroom with spa shower, 2WC, 1 kitchen, 1 bedroom, 1 maid's room. The floor is all white Penteli marble. The apartment has direct access to the first level of the garden and the outdoor hot tub spa. It also has an elevator that leads to the first floor, while a marble staircase leads to the first and second floors. It also has an internal door that leads to the first ground floor.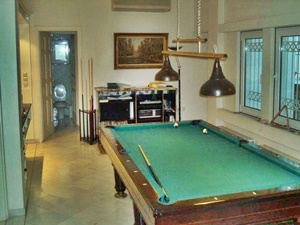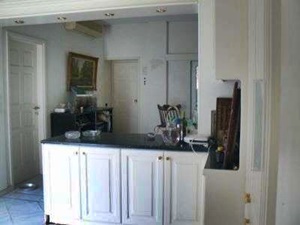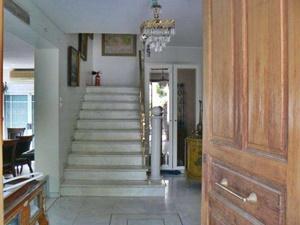 The first floor has a total area of 156.74 sqm and is divided into two wings. In the left wing of 50sqm there is a master bedroom with wooden floor with two terraces (front and a large terrace in the back), 1 bathroom, 1 room with closets and elevator leading to the first ground floor. The right wing includes an independent apartment of 100 sqm
with living room, dining room with marble floor, 3 bedrooms (one master) with wooden floors, 2 bathrooms and 2 terraces overlooking the pool and the garden.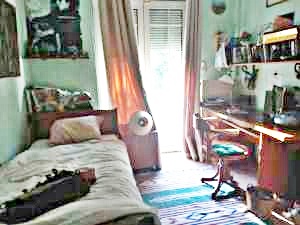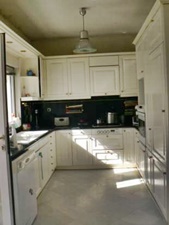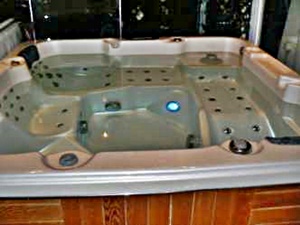 The second floor has a total area of 49.70 and consists of an independent two-room studio with kitchen, bathroom and bedroom 40sqm. All floors are made of Penteli marble. It has three terraces with a total area of 90 sqm. The house has the right to build additional 90 sqm. The whole house has double glazing and aluminum frames. It has two gardens outside. On the first level the garden has trees, shrubs and roses, a wooden storage room and a kiosk with windows in which there is a hot tub spa for 5 people. On the second level there is the swimming pool. There is also an open garage with four parking spaces. To be sold fully furnished as in the photographs.
Price : 2,300,000 Euros Code : ATHENS CK / 010A
---
A 4 Bedroom House Situated At Oropos Port : Skala Oropou : Attica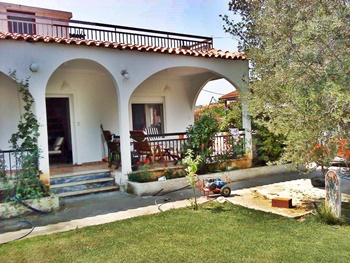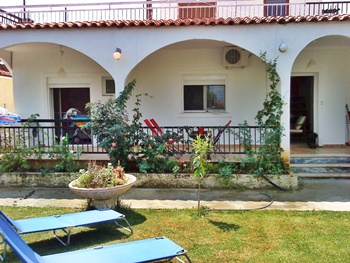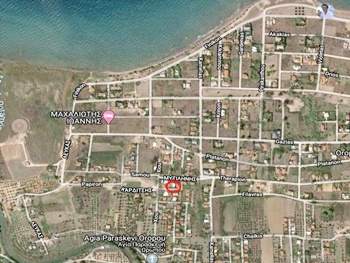 This is a house located 500 meters away from the sea, near 3 supermarkets, and the port of Oropos, the Ancient city of Eretria.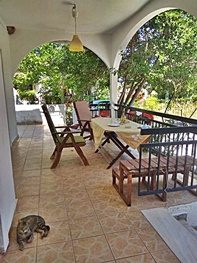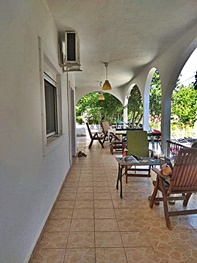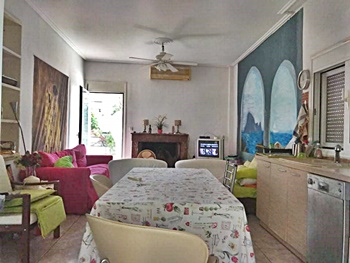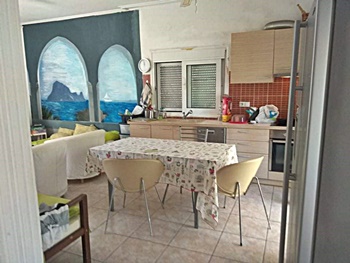 This beautiful 100 square meter house was constructed in 82 and renovated in 2012.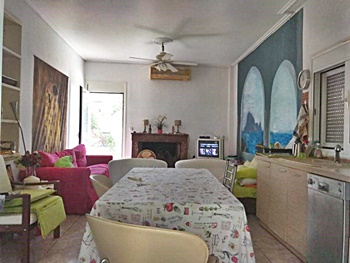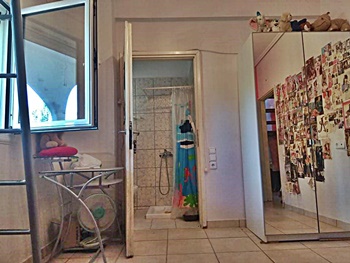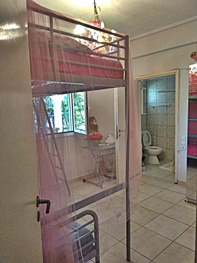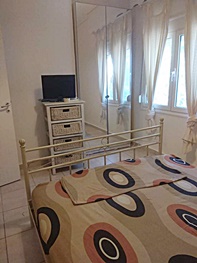 The house has 4 bedrooms ( 2 of them master bedrooms), and 3 bathrooms, a living room - dining room with a fireplace,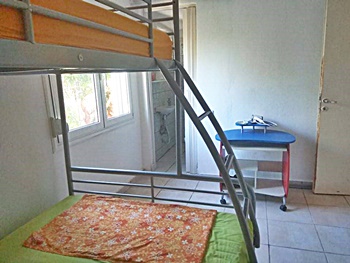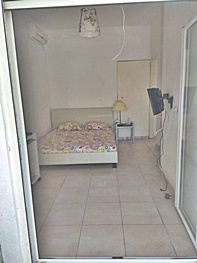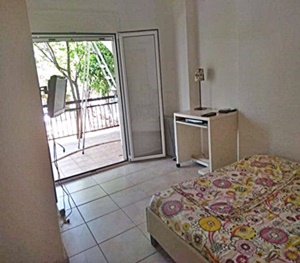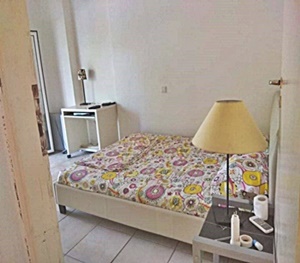 There is air conditioning in all rooms, lovely terraces, an outdoor jacuzzi, and sits on a plot of 500 sq.m. It is in excellent condition, The garden is 380 sq.m., with a swing and 8 trees (walnut, apple, quince, 2 figs, plum, banana, palm) 15 shrubs and roses. There is 1 garage space and 1 storage room 20 sqm outdoor with well. The house Is located only 500 meters away from the sea, near 3 supermarkets, at the port of Oropos, the Ancient city of Eretria. Easy to get to, Scala Oropos lies due North of Athens on the ET75 only 50 miles from Athens. To be sold fully furnished.
Price : 160,000 Euros Code Number : ATHENS CK / 010B SOLD
---
Great Second Floor Apartment Available On Anexartiseas Street in Agia Varavara : Athens.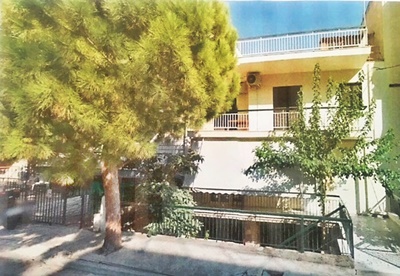 This is a second floor apartment with 115 square meters of living space plus the balconies. It is approximately 10 kilometers from Pireas. The apartment is a total of 115 square meters.

Price : 90,000 Euros Code Number : ATHENS DD / 320 SOLD
---
A Great Apartment For Sale in Kato Patisia, Athens : Within Walking Distance To The Metro Station Agios Eleftherios : Athens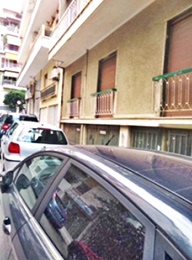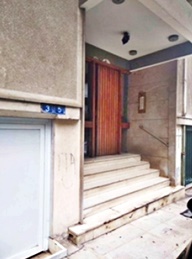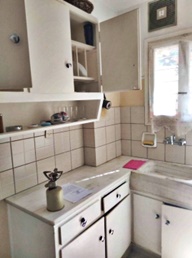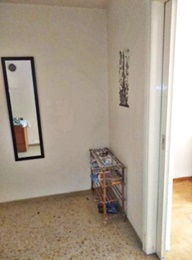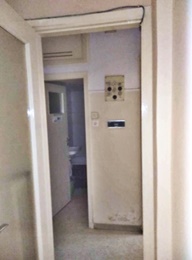 A Great apartment for sale in Kato Patisia, Athens walking distance to the metro station Agios Eleftherios in Athens. The apartment is on the mezzanine floor and consists of one bedroom, a living room, a kitchen and one bathroom. The size of the apartment is approximately 45 square meters.
The location is perfect since it is so close to the Metro station and there are all sorts of shops within walking distance.
Price : 37,000 Euros Code Number : ATHENS DD / 323 SOLD
---
A Beautiful Plot Close To Athens : Thelogos Malesina : Mainland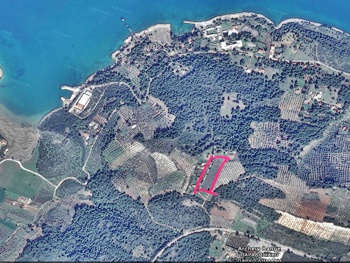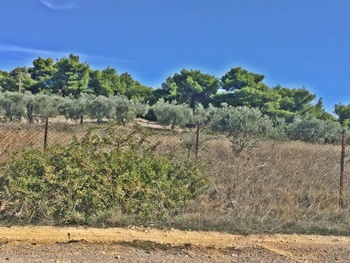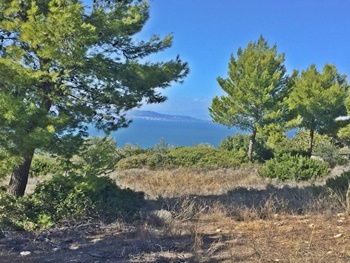 This plot is situated close to Athens, the Airport is only 1 1/4 hours drive and has panoramic views of the sea and distant islands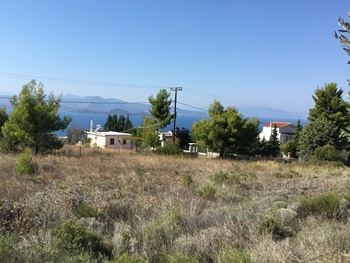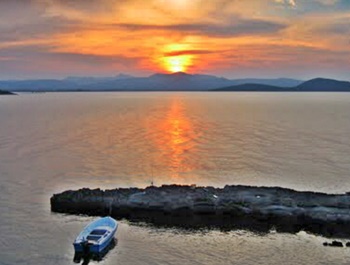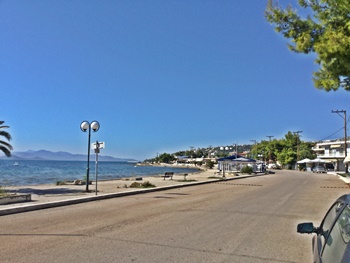 It is a unique building plot of 5,700 square metres, a regular shape on a sloping hill with panoramic views to the sea and distant islands. It offers privacy yet is only minutes from the beautiful harbour of Theologos with shops, tavernas and secluded beaches.
There is planning for a 360 square metre villa or 3 maisonettes, with clear titles and all utilities.
Price : 195,000 Euros Or Near Offer Code Number : ATHENS PLOT / THEO / TCHB
---
A 5th Floor Studio Penthouse Located In Central Athens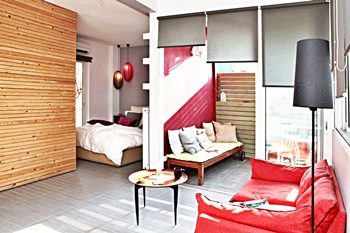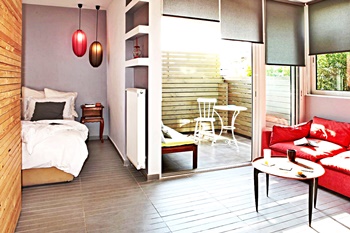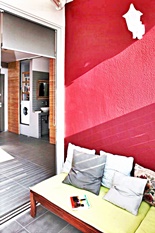 This is an extremely well appointed studio penthouse, in the 5th floor of a brand new renovation, located in central Athens with incredible feeling of light and space.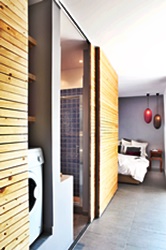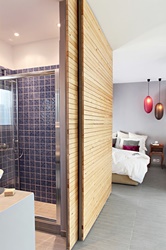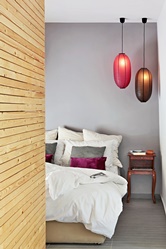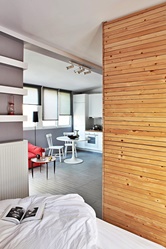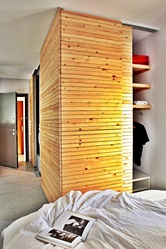 It is conveniently situated in a very quiet small building in Central Athens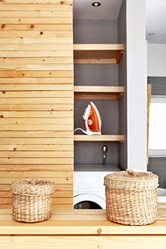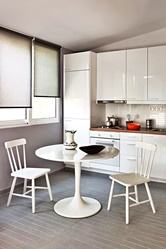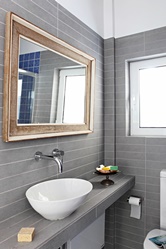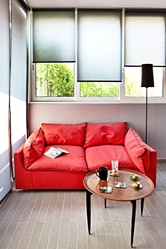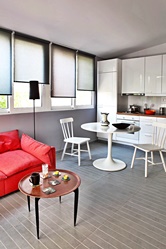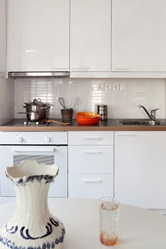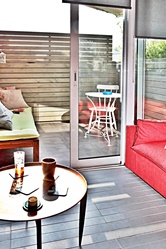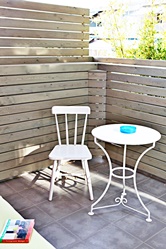 The apartment is fully equipped. with furniture, washing machine, ironing, air conditioning, TV, and has an open plan living room with sofa, occasional seating and access to private small terrace . There is a fully equipped brand new kitchen. Fully tiled, brand new bathroom with shower, toilet and vanity. Night electricity for economy, solar water heating. One large double bed, 100% cotton sheets and quality pillows and mattress. The studio has been photographed for ELLE Deco Magazine as one of the best studios in Athens.
For sale with the whole equipment and furniture as shown in the pictures for 105.000 Euros
Price : 105,000 Euros Code Number : ATHENS YN2/010
---
A Lovely 2 Bedroom Apartment In Athens For Sale : Central Athens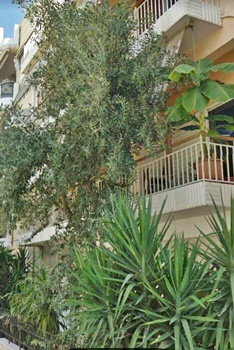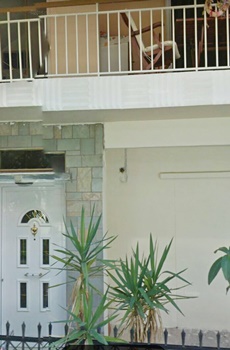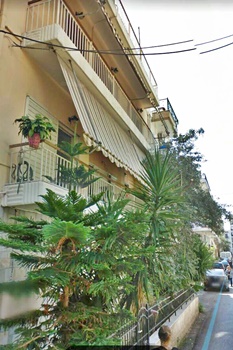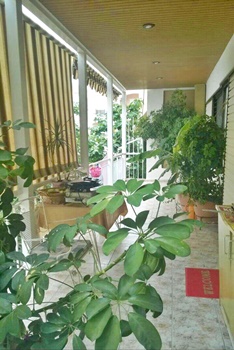 This is a first floor 2 bedroom apartment situated only 4 miles from central Athens 7 miles from the sea and 14 miles from the airport.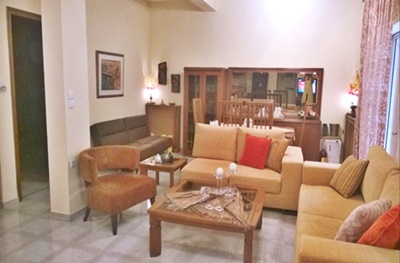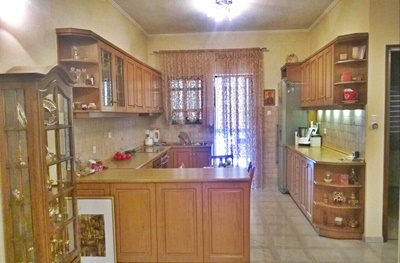 The apartment is 100 square metres and was totally refurbished in 2012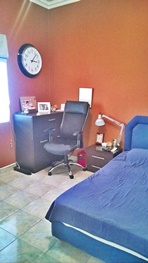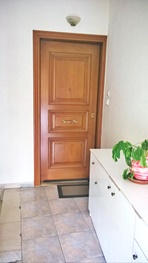 Local transportation is is only 50 metres distance and the local market is 0.8 miles. Spacious bright and modern with two big verandas on both side of the building. There is central heating and it is close to local restaurants and bars but also close to the biggest park in Athens ( Tristi Park ) It is in a quiet neighbourhood in a fantastic location. To be sold fully furnished.
Price : 150,000 Euros Code Number : ATHENS SK/010
---
A Lovely 3 Bedroom Apartment For Sale : Nea Kypseli : Poligono : Athens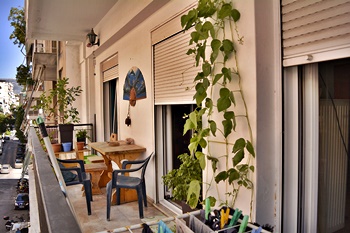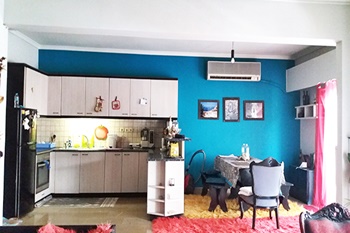 This is a second floor apartment situated near Pedion Areos Park, Turkovounia Hill with amazing view of the whole city of Athens and close to a bus stop and several super markets, cafes, restaurants, 3 different schools and is set in a peaceful and safe area.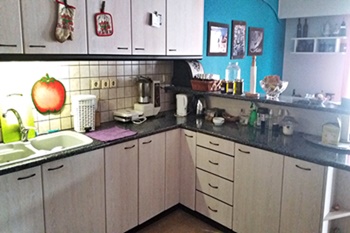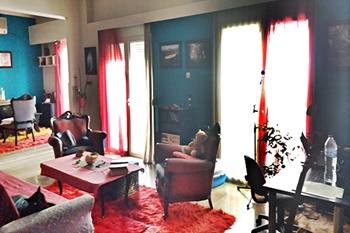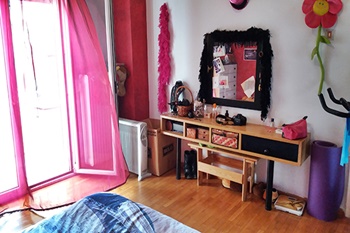 The apartment consists of 3 bedrooms ( Facing a vacant site) 2 bathrooms, 2 hallways, kitchen and dining room ( separated by a servery bench ) a large living room 2 storerooms above the bathrooms, balconies ( on both sides ) recently renovated, aluminium double glazing doors and windows, armoured entry door, marble floors in all rooms and balconies, wooden floor in the bedrooms, new radiators, a central heating system, air conditioning, and an alarm system.
The apartment is sold with a second and third contract with exclusive rights to build further. The apartment is 100% legal and is to be sold semi furnished.
Viewing by appointment through Brian or owner.
Price : 280,000 Euros O.N.O. Code Number : ATHENS TF/010
---
A 6 Year Old : 4 Bedroom House On The Coast : Artemida : Attica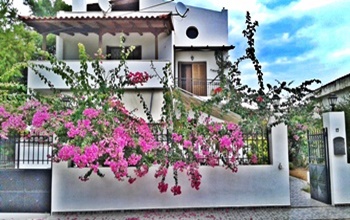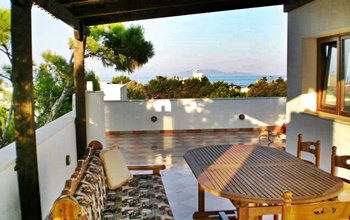 This Villa is located in a quiet area of Artemis (Artemida), close to a sandy beach.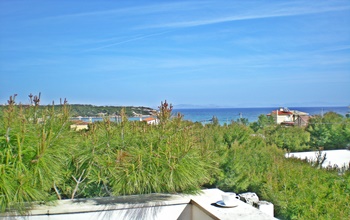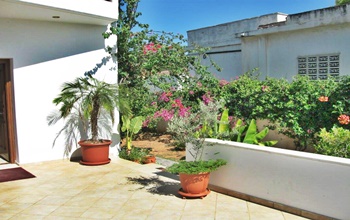 The villa is built on three floors. One underground one floor level, one upper level and an attic.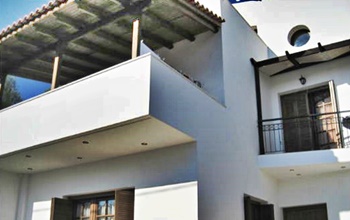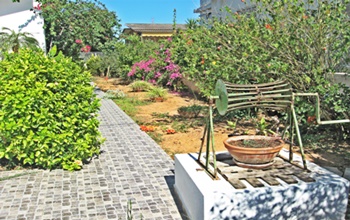 The villa has 3 bedrooms as well as a fourth in an attic room. The built area of the house is 270 square metres.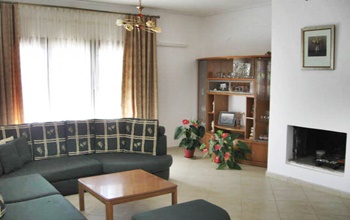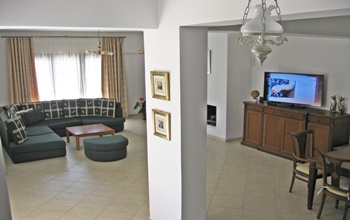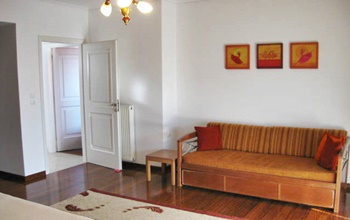 There is a fully fitted kitchen : 2 Toilets and a bathroom. Everything is of high quality.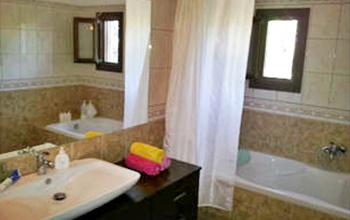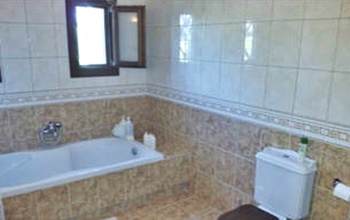 The well laid out garden has Lemon 7 Peach trees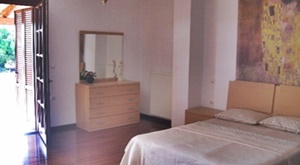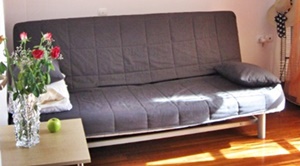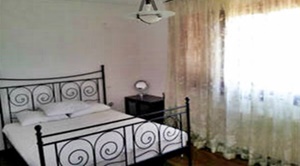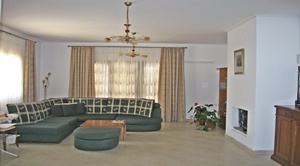 The House is ideally situated between Athens International Airport and Rafina port. A small neighbourhood beach is 2 minutes walking distance.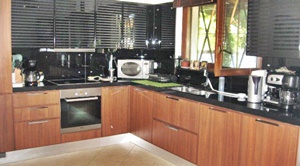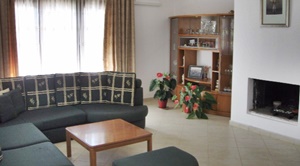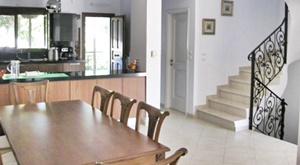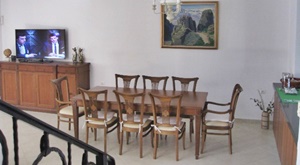 Artemida is located on the Aegean Sea coast, in the eastern part of the Attica peninsula. It lies 5 km south of Rafina, 9 km north of Porto Rafti and

25 km east of Athens city centre

and 20' drive to the Athens International Airport.

Artemida is the closest clean Sea/Beaches to Athens.

It's well known to Athenians. A 95% of visitors at summer time is Greeks and 5% tourists from the rest world. The town is also famous for: Fish Taverns, Grille house's, Café/Bars on the beach and for water sports activities like Windsurfing & Kitesurf. In Ag.Nikolaos area is the best know for water sports worldwide club "Nissakia". Many of famous surfers were tagged at that place. Ag. Nikolaos area is also well know in Attica like a nice neighbourhood, because of expensive land and house's. A former prime minister villa is located at this area. 7km from Artemida centre located the ancient " Temple of Artemis " and the museum which is next to the temple.

Price : 395,000 Euros Code Number : ARTEMIDA DE/010
---
A House For Sale Only 500 Metres From The Sea : Markopoulo : Attika :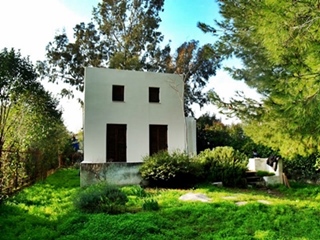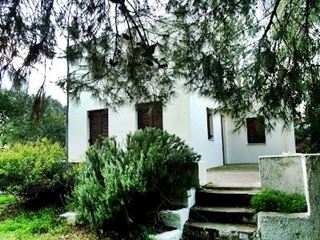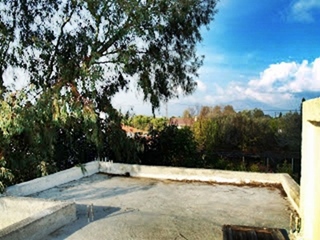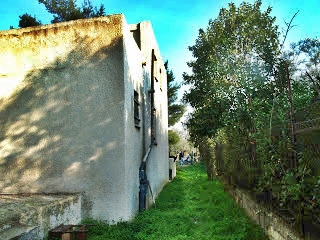 This house for sale is only 45 klms from the centre of Athens and 500 metres from the sea, and is situated at Markopoulo Oropos.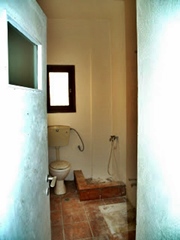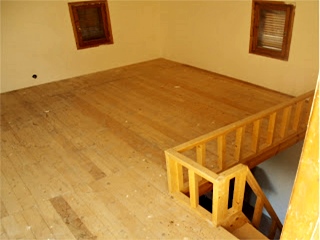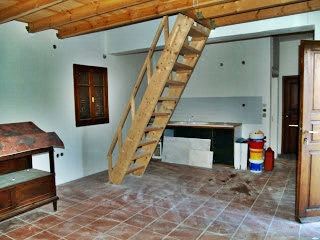 Built in a 418 sq mt plot the house has a total area of 76 sq mts and is based on traditional Cycladic architecture. It has a big garden with 3 large trees and shrubs. It is on 2 levels and with an open plan lounge-kitchen : 1 bedroom with an open space in the loft which can be used as a spare room, a second living room or a master bedroom, with independent access to a 12 sqmt terrace with a sea view.
Price : 135,000 Euros Code Number : ATHENS ASV010/010 SOLD
---
A Detached House In An Olive Grove Only 20 Mins From Athens Airport : Keratea : Attika :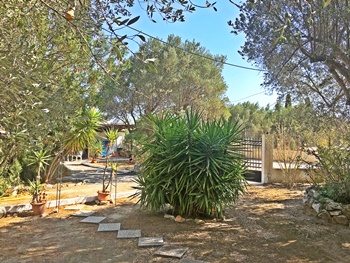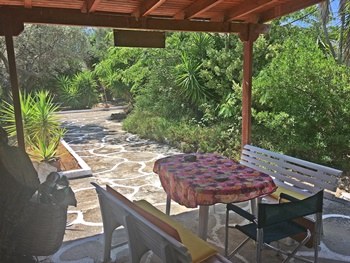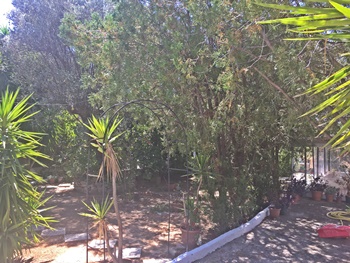 The House is set in the village of Keratea 45 mins from Athens and only 20 mins from Athens Airport and 8 minutes from the nearest beach, There are many interesting towns and villages nearby as well as archaeological sites, harbours and marinas, beaches with water sports and ferries to any of the Greek Islands.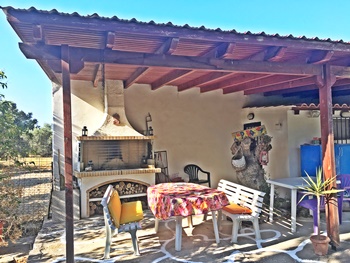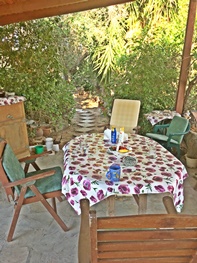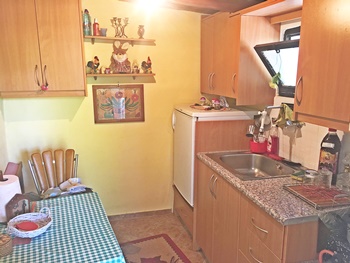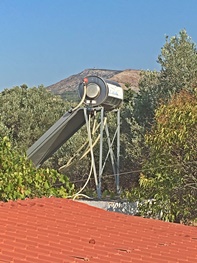 This lovely summer house in the countryside is at St Serafim which is about 45 minutes from the capital city of Athens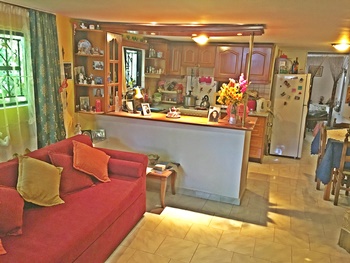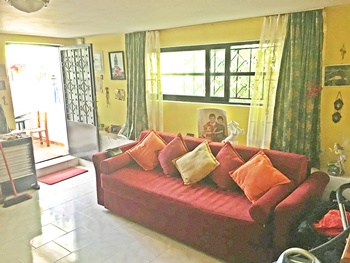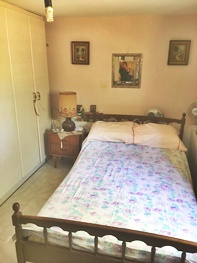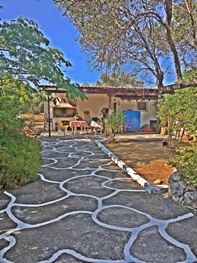 This is a detached house of 60 sq metres in a 700 sq metres plot of land. It is in an Olive Grove near the traditional Greek village of Keratea in Attiki, mainland Greece. As well as the house, there are three more buildings in the garden, which are surrounded by a beautiful 30 year old established garden full of olive trees and palm trees.
The buildings included in this property are:- Main House - with 1 bedroom, open plan lounge with fireplace, open country kitchen/breakfast table and bathroom. Garden Bedroom With En Suite – with built in wardrobes. BBQ area and garden suite - inc spit & fully stocked kitchen and large patio and seating area. Outdoor Dining Area – under shade with pergola and surrounded by trees for more shade. Garden Bathroom utility – with double shower.
The entrance to the property is from a country road in the Olive Grove. This leads up to the front gardens double iron gates and onto the driveway towards the house. There is a courtyard central to the en-suite, garden dining room ; entrance to main house & a terrace with seating area (used in winter).
The beautiful sandy beach is only a short drive away where you will find amenities of :- sun beds, umbrellas, bars, cafeterias, taverna's, outdoor cinema, basket ball court, children's park and a little church at Kaki Thalassa.
The house is only a walk away from the well supplied village with local amenities:- bakeries, shops, supermarkets, tavernas, banks, schools, churches, souvlaki shops, winery, post office, pool bar etc. Keratea is open all year round in both summer and winter.
Price : 150,000 Euros Reduced To 97,000 Euros Code Number : KERATEA SL / 010
---
A New Villa For Sale With Fabulous Sea Views : Vravrona : Athens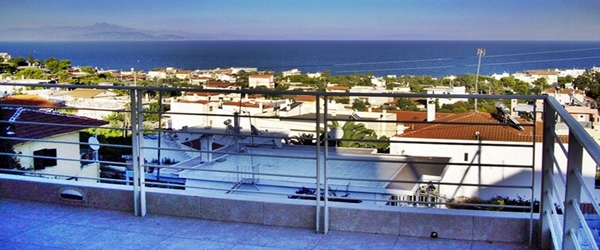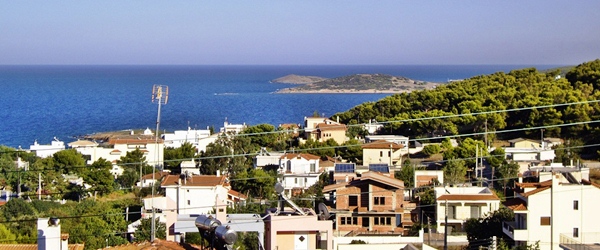 With Beautiful Views Down To The Town Of Vravrona and In A Plot Of 395 Square Metres. 160 Sq metres of Building, Ground Floor 80 sq mts : First Floor 80 sq mts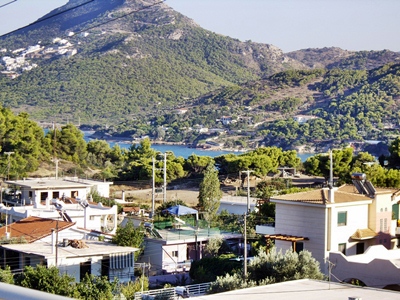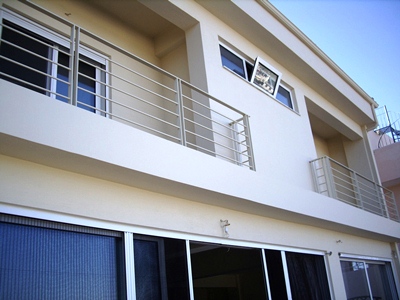 The location is excellent being so close to Athens. The house has a master bedroom en - suite with Jacuzzi and a walk in clothes closet. There are two bedrooms above with fantastic views and a children's bedroom. Everything is of excellent quality and the house is on mains water and electricity and sewage, with a boiler for full central heating, solar energy, and solar power burner. There is room for a garden as the house has a full wall built all round the house.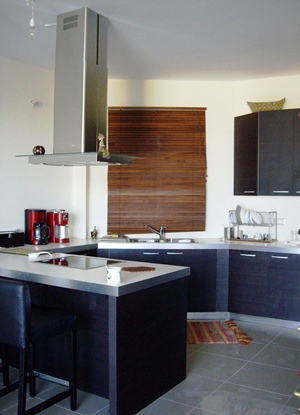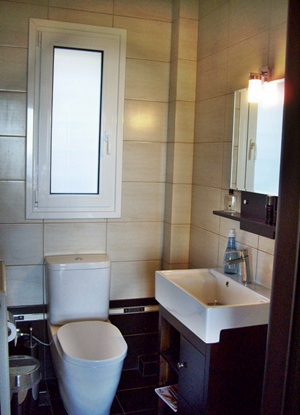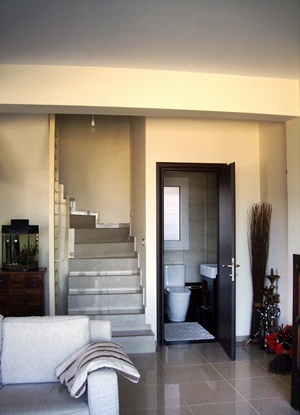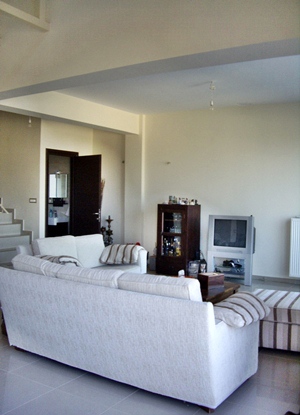 There is an alarm network and security cameras, and satellite installation. It is to be sold with the white goods. There is a basement and two levels of underground playground.
Price : 480,000 Euros Code : ATHENS VRAVRONA NKMK/014
---
Galaxidi : Gulf Of Corinth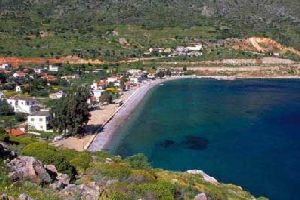 Galaxidi is a village located 200 km West of Athens ( About a two and a half hour drive from Athens Airport ) on the Gulf of Corinth. Although Galaxidi is not a tourist destination, it is still one of the most picturesque / traditional villages in Greece.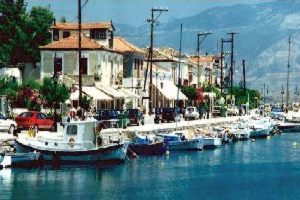 Thanks to its location on the seaside at the foot of Mount Parnassos, it is a great resort place throughout the year, 50 Mins drive from the best skiing area in Greece and 35 mins from the village of Arahova

---
A Parnassus Mansion With 3 Independent Apartments : Parnassus : Central Greece Mainland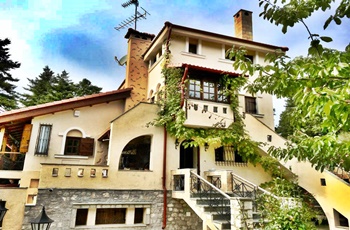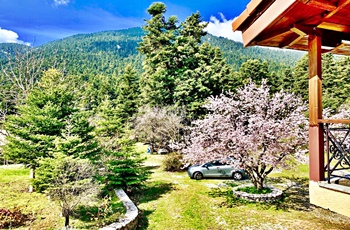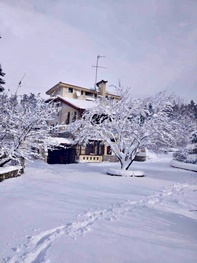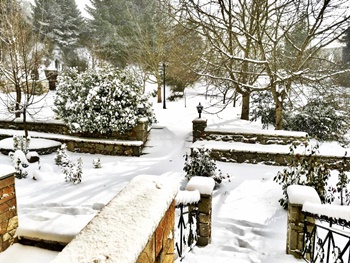 This beautiful property is located in Mount Parnassus 8 kms outside of Arachova on the road to the famous ski resorts with fabulous mountain views.
Mount Parnassus is a mountain of limestone in central Greece that towers above Delphi, north of the Gulf of Corinth, and offers scenic views of the surrounding olive groves and countryside.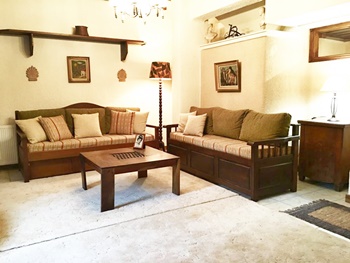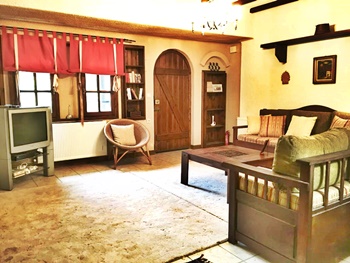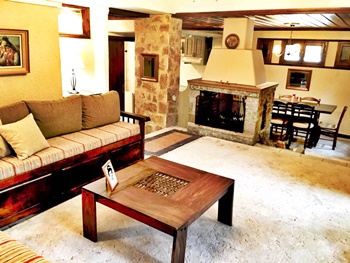 The mansion consists of 3 independent properties. The apartments are all fully equipped and have autonomous heating with LPG, hot water with boiler and fireplace.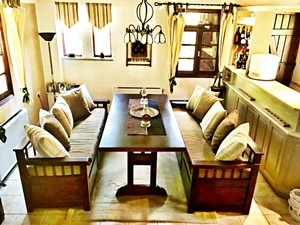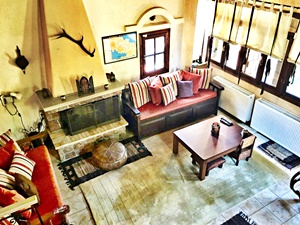 Wooden rustic designs decorate the interiors of the apartments in both ceilings and other places. The external and internal window / door frames are all wood.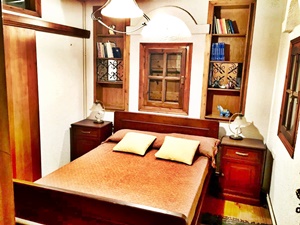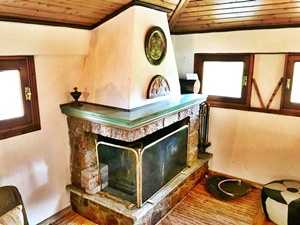 The plot is in an area of 1.23 acres and the house is 235 sq mts. Built in 1984 it is in good condition and regularly maintained . The plot is fenced and the entrance is stone built with double iron gates. Inside and outside of the plot there is rich vegetation with fir trees. The garden has almost 450 trees and plants of unique natural beauty. In the grounds are many charming natural stone built walls and paved terraces in covered areas as well as around the plot. The garden is illuminated and features an automatic watering system.
Price : 765,000 Euros Code Number : PARNASSOS GA/010
---
A Classical Preserved Town House : Amfissa : Central Greece Mainland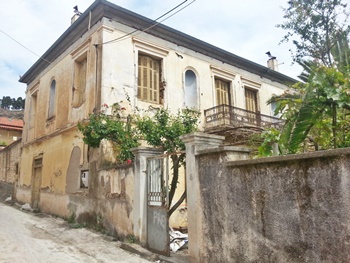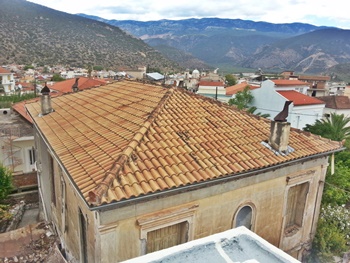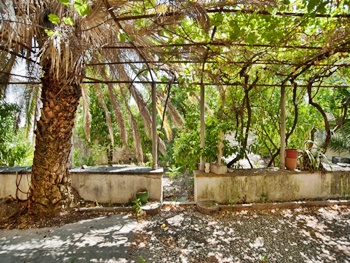 This is a two storey detached house that has been preserved but needs slightly more repairs. The upper floor and roof have been refurbished.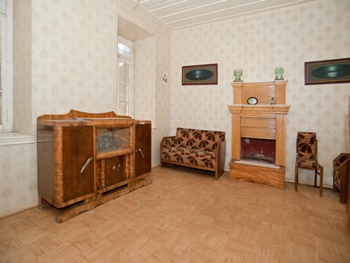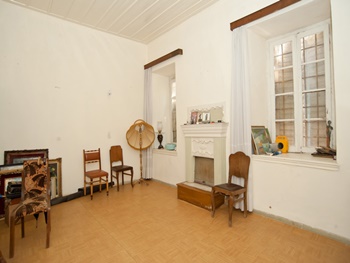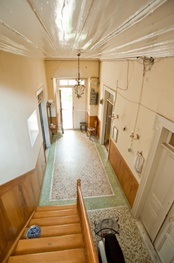 It has a stone paved courtyard and sits in a 400 square metre plot in Amfissia in Central Greece. The sea shore is within 13 klms and it is only 25 km to Delphi.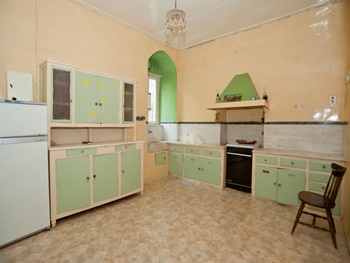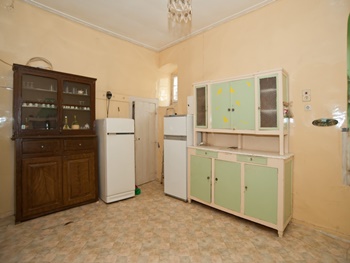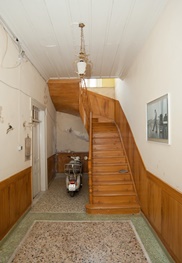 The ground floor has a wide entrance corridor leading to an Internal wooden staircase to the upper floor.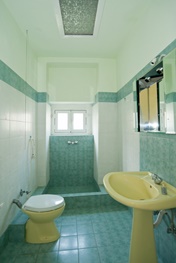 There are 2 big rooms either side ( kitchen and kitchen hall with a fireplace on one side and living room with fireplace and storage room on the other. On the first floor are Four big bedrooms, a small kitchen and a bathroom.
Amfissa is the capital of the Prefecture of Fokida is built in the place of the ancient and well fortified town inhabited by the Esperians or the Ozolian Locrians. It is built at the foothill of Elatos mountain under the historical and legendary great Castle of Salona (Orgia). During the 7th century B.C. Amfissa became a city-state, marked major progress in arts and trade and remained prosperous for at least three centuries.
Price : 220,000 Euros Or Near Offer Code Number : AMFISSA PM / 010
---
4 Finished Houses For Sale Only 150 Metres From The Beach : Galaxidi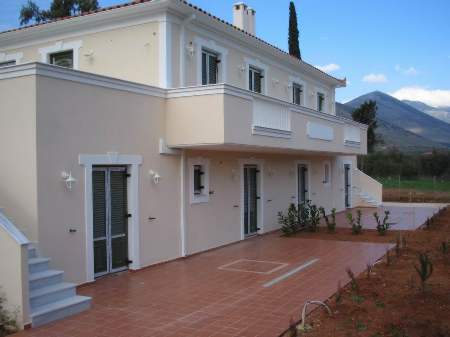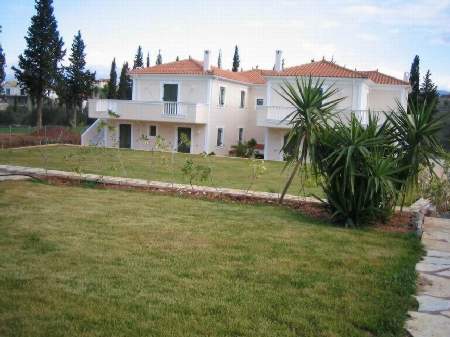 The Houses Are Located Only 400 Metres From The Village Central Square : Bakery : Grocery : Etc.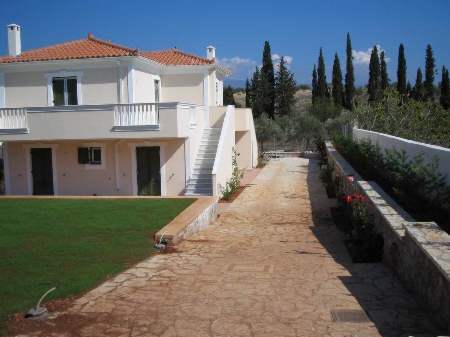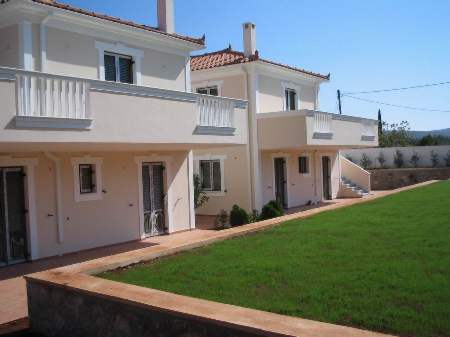 There are four houses offered ( 2 houses of 120 sq metres and 2 houses of 110 square metres ). All houses have a living room, kitchen area, 3 bedrooms and 3 WC's.
Good Quality Houses In A Great Situation At A Very Fair Price.
Price : 110 Square Metre House 205,000 Euros
120 Square Metre House 225,000 Euros Code : GALAXIDI CZ / 011
---
Building Land Of 14,000 Square Metres : Galaxidi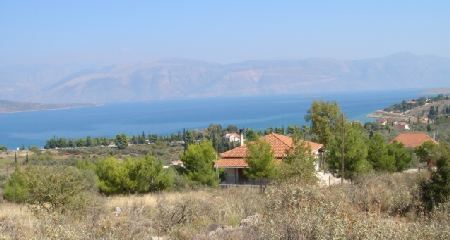 A beautiful piece of building land with great sea views that can be divided into 3 plots.
The plot of land is is 14,000 square metres and has been divided into three plots of 4,000 square metres each, leaving 2,000 square metres for access to each plot.
Location 500 metres from the sea and 1.5kms from the centre of Galaxidi
May be sold as one development plot or as three separate plots.
Price For All 14,000 sq mts : 850,000 Euros
Price For Each Plot : 250,000 Euros Code : GALAXIDI KT / 010
---
A 2 Year Old House For Sale In A Large Plot : Antikira : Viotas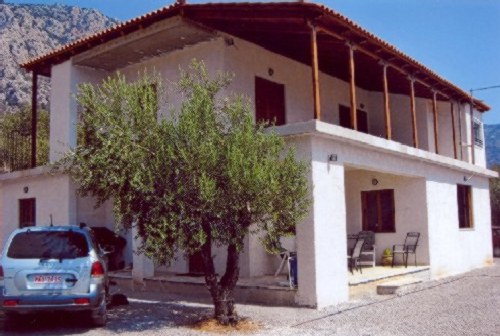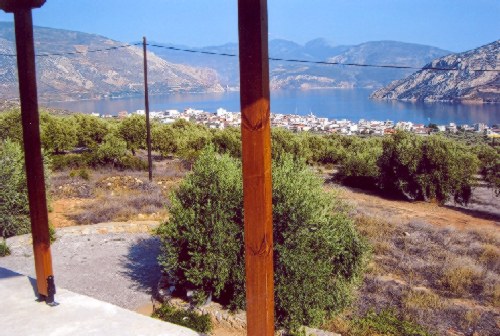 With Beautiful Views Down To The Town Of Antikira And In A Plot Of 7,300 Square Metres.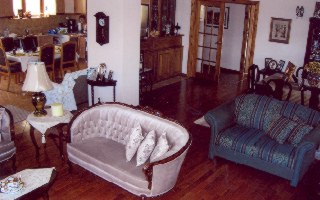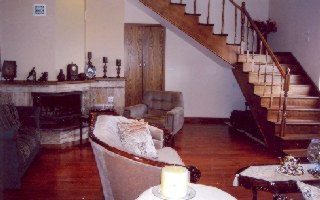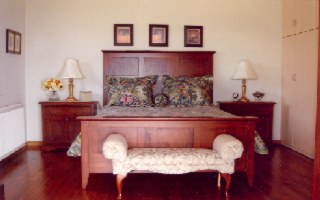 The location is excellent for Mount Parnassos, Delphi and Central Greece and only a couple of hours from Athens or the New Rion bridge. The built area of the house is 185 square metres and the house has four bedrooms and 2 bathrooms. Everything is of excellent quality and the house is on mains water and electricity and sewage, with full central heating. The grounds contain 3 block built storage buildings, also a permanent outside BBQ and oven. The extensive gardens have many trees and shrubs. It is being sold unfurnished.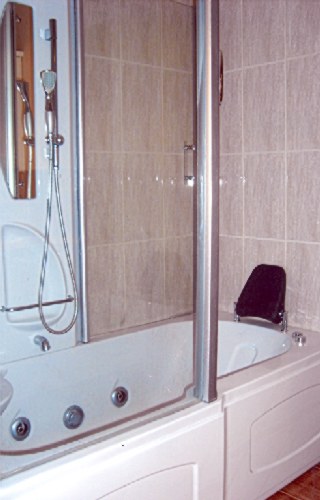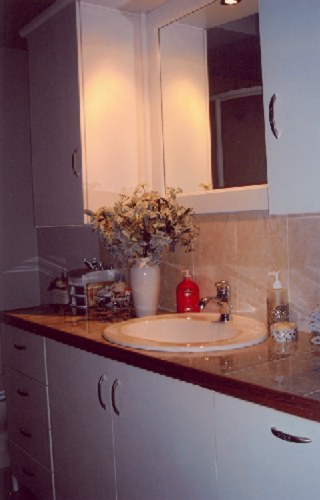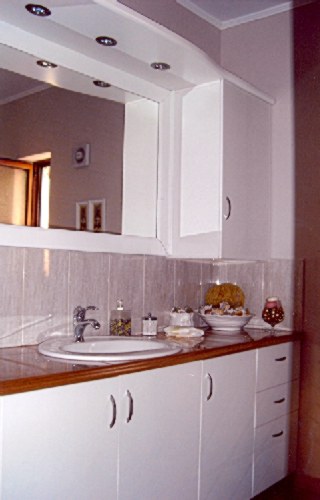 Superb Sea And Mountain Views
Price REDUCED TO : 295,000 Euros Code : ANTIKIRA VIOTAS GK/010
---
A Plot For Sale In Amazing Area : Theologos : Fthiotida Area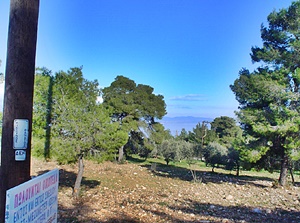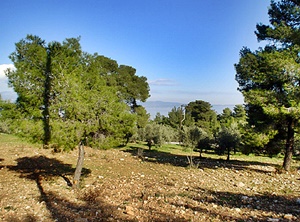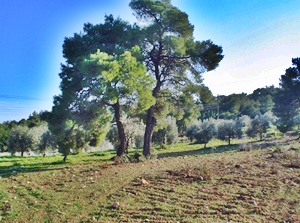 This is an easy build plot as the land is flat and with many trees. It has an allowable building area of 40" with a height to 8 metres.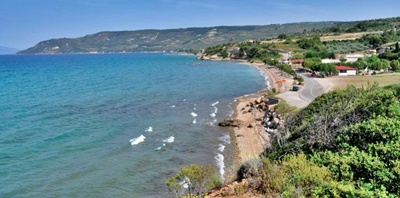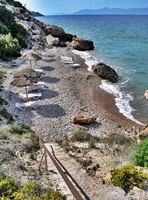 This plot of land is 1041 square metres and lies only ten minutes from Theologos in the area of Fthiotida. It has mountain town and sea views and is only 600 metres to the beach. The whole area is amazing with artists and famous persons living there and it is full of greenery and there is a wonderful beach nearby.
Price : 170,000 Euros Or Offer Code : THEOLOGOS IL / 010
---