---
Island of Symi

For Patmos
Here

To View. Scroll down to the Bottom of each Page.

---
On the Island of Symi you can find excellent value new and old houses.
Symi is an Island with some good sandy beaches and good tavernas and is well worth a visit.
Our agent here will be happy to meet you and show you the property and speaks English as well as Greek.
A ferry runs from Rhodes town every day to Symi.
---
A Symi House With Three Terraces and Sea Views : Symi
This is a beautifully renovated old stone house (1994) with planning permission approved for further development.
The house benefits from a superb location with fabulous mountain, sea and harbour views.
The house has three bedrooms a kitchen, 2 bathrooms with toilets and three terraces at different layers.
There is a garden with three trees and bougainvillea, and services are through the town water supply and electricity company, there is also a septic tank.
The main house has two floors, with a wide kitchen, and one terrace is very wide about 25 square metres and overlooking the sea towards Datcha in Turkey
To be sold with all the furniture, planning permission and drawings for further development, and with one of the best views in Symi.
Price : 280,000 Euros Reduced By 20,000 Euros Down To 260K Code : SYMI BCF/010

---
A Top Apartment On The Side Of Symi Harbour With Excellent Views : Yialos : Symi
A large neo classical house situated in Pitini with spectacular views over the harbour and Yialos.
This house has been recently refurbished and consists of two separate apartments; ideal for those who wish to have somewhere to stay and also make an income from renting out as well. The top apartment consists of two mousandra bedrooms, a large open sitting/dining room, a kitchen, bathroom and spacious yard.
Downstairs consists of 1 bedroom and 1 mousandra bedroom, large sitting/dining room, bathroom, kitchen and a fair size terrace for those all important BBq's. It is accessible from the Gymnasio road or up steps from the harbour.
Price : 450,000 Euros Negotiable Code : SYMI RP/MOUSANDRA
---
A Symi Village House With Excellent Views : Chorio : Symi
This is an excellent holiday home - it is is in a very good position for easy access to everything. It has lovely views of Pedi valley and sleeps 4 people comfortably in 2 double bedrooms, each with their own outdoor sitting area. There is a large lounge/dining room and a kitchen leading on to a courtyard. Don't delay as it a very good price for a house that is ready to move into! It comes with air conditioning, a roof terrace, fitted kitchen and is fully furnished.
Special Features : It has the use of a garden on the side. It is very easy to access and yet is in a quiet area of the village. The supermarket and tavernas are just 5 minutes walk away.
Price : 175,000 Euros Code : SYMI RP/ELPIDAS

---
A Ruin For Rebuilding With Fantastic View Of The Sea : Chorio : Symi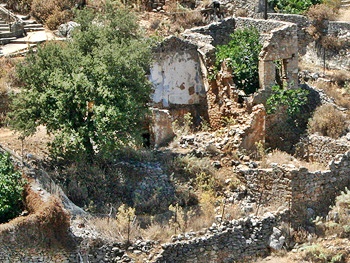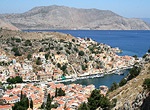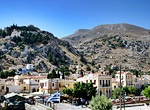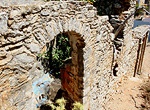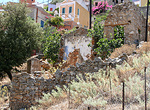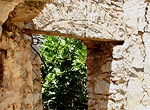 This property has some of the best panoramic views of Symi there is. It is a large ruin encapsulated in a considerable plot of land (554 square metres) and has incredible potential. It is accessible from the Kataraktis and only a 3 minute walk from the Lemonitisa road. One is positioned far enough away from the town to be peaceful but near enough for convenience. There are architectural plans included in the price. Once you have restored the ruin to it's former glory you would have a magnificent Symian property in a beautiful garden with well established trees.
Price : 120,000 Euros Or Offers Code : SYMI CG/RP/010

---
A House With A Morrocan Feel : Chorio : Syllogos : Symi
This ideal holiday home is more cosy than most with a very relaxed almost Moroccan style sitting room with sofa and elegant lighting making it the perfect place to relax.
There is plenty of outdoor space for sitting and dining both in the courtyard and roof terrace, they are accessible from nearly all the rooms.
There are 2 good sized double bedrooms, 2 shower rooms, a convenient kitchen and a separate outdoor laundry/storage room. Another plus is that it is close to all amenities and has road access. A great way to enjoy life on Symi to the full.
There is a lovely roof terrace and a courtyard and the house comes with air conditioning, a fitted kitchen and is fully furnished.
Special Features : Both internal and external access to the roof terrace, built in sofa in the lounge, beautiful lighting, ornate ceilings and lots of storage space.
Price : 295,000 Euros Or Offers In The Region Of Code : SYMI RP/LUDOVIKA

---
A Five Room Town House Overlooking The Harbour : Yialos : Symi
This family home was designed for comfort and has a European style, it is easy and practical to live in.
It has stunning woodwork and all the conveniences one needs in a home, with fitted kitchen etc, and is to be sold fully furnished.
The views of the harbour from the balcony, terrace and garden are second to none and yet one gets the peace and tranquillity that come with being slightly set back and up on the Kali Strata. An ideal holiday home for any family.
Special Features : A beautiful garden below the house ensures your harbour view will never be obstructed. The property also has two bathrooms.
Price : 350,000 Euros Code : SYMI RP/THEODORE
---