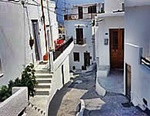 &nbsp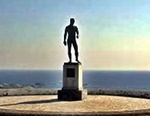 &nbsp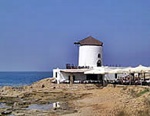 &nbsp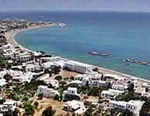 &nbsp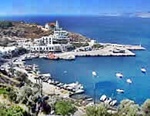 &nbsp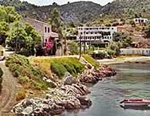 &nbsp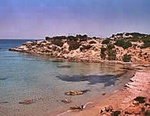 ---
Greek Islands Property For Sale : Northen Sporades
Skyros
For Skiathos
Here

Scroll down to see more property

---
Skyros : Northern Sporades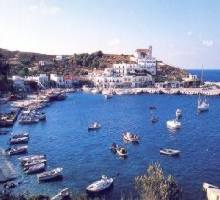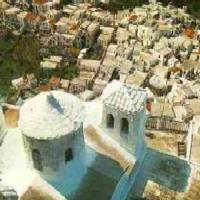 Skyros is the Island of Rupert Brooke and Theseus who slew the Minotaur is said to have been buried on Skyros. I wonder where !
Here we have an English speaking estate agent to show you the properties and see you through the whole buying process.
We have villas and plots for sale for building your dream house, and more re - sale property. If we do not have what you want then please send us your requirements, and we will endeavour to help you. Please ask.

---
A Sea Side Plot Of Land For Sale : Magazia : Skyros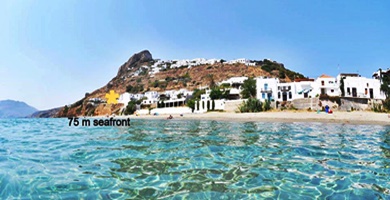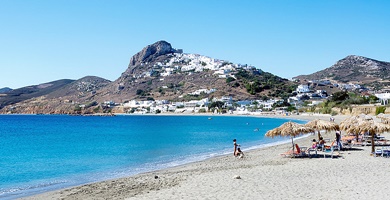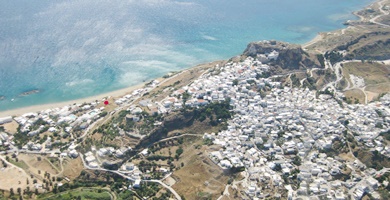 This beautiful elevated seaside plot of land is on the Aegean Island of Skyros and has direct access to the largest sandy beach on the Island with breathtaking panoramic sea views. The access to the beach is 75 metres in length. The plot is 3,500 square metres and the building allowance is 1,750 sq mts. All the civil works are accessible ( Water, Electricity. Telephone.)

Price : Asking Price 480,000 Euros Or Near Offer Code : SKYROS SM/PLOT/010
---
Residential Property For Sale : Skyros.
Typical Skyrian House With Plot : Ideal All Year Round Living Or Holiday Home.
This is a traditional Skyrian House located in a good area in the Chora with magnificent views of the valley, mountains, sea and sunset. Ideal own residence or for holiday letting. The house has 3 terraces. The top one is fully tiled and enclosed by railings, there are views towards the sea. The second one fully tiled is covered in grape vines and ideal for that lazy al fresco meal. The bottom one makes a useful extension to the house as it leads off the main doorway Villa Maria was fully restored 14 years ago and has recently been rewired. Internet connection, satellite TV installed and air conditioning/heating.
There is a good size lounge/dining room with traditional fireplace (usable with chimney ) and high beamed ceiling. A bed sleeping platform (which could sleep 4). Underneath the platform is a separate double bedroom. Kitchen with fridge, dishwasher and cooker.
Shower room with shower, wash hand basin , Bidet and toilet. Traditional wooden flooring in the lounge area and tiled elsewhere. Under the house there is a large basement with separate access, housing washing machine, freezer and tumble dryer. This could be converted to make a self contained studio and already has a traditional fireplace.
The current owner has purchased the plot of land in front of the house (180 sq. metres approx) and this is now an established terraced garden with an abundance
of trees, flowers . vines and shrubs. The garden is a a lovely oasis for relaxation and the views are stunning.
Price : REDUCED TO 90,000 EUROS INC PLOT OF LAND Code : SKYROS : SH/51
---
Excellent Home And Income In The Heart Of Skyros Town. : Skyros Chora
The owners' accommodation consists of a 2 double bedroom apartment in Skyrian fashion, with a modern kitchen,
modern bathroom/WC. There is a large lounge/dining room with a traditional fireplace. Television connection, and air conditioning.
The balcony has views to the mountains, the valley, sea and sunset off one of the bedrooms. Both bedrooms have large fitted wardrobes.
There is a front sitting out area outside of the main door of the building. There is the possibility to enhance flat roof area to an additional terrace.
At the rear of the property, there is a one bedroom apartment ideal for holiday or permanent letting. The income during the summer
months is between 50/60 euros per night, and consists of twin beds, TV, shower room, small lounge/kitchenette with fridge/freezer, hob and sink unit.
There is an outside terrace overlooking the valley and mountains.
At the side of the property is a further one bed apartment, currently let at an income of 500 euros a month, but this could be for holiday letting also.
It has one bed, lounge, front terrace, kitchenette and shower room.

The House is only a 10 mins walk from the main beaches of Molos and Magazia and a few minutes from the centre of the Chora.
The house can be split for sale as follows, the small apartment on its own for 35,000 Euros : The 2 bed Apartment for 50,000 Euros : The Main apartment for 110,000 Euros or 140,000 Euros the lot. A Real bargain for home and income.
Price : 140,000 Euros The Lot Negotiable Code : SKYROS SH/52
---
A Delightful Apartment In The Heart Of The Chora : Mary's House : Skyros
A truly delightful apartment in the heart of the Chora of Skyros...there is nothing to do...just move in! Beamed ceilings, wonderful features, air conditioning,., wall mounted heaters, 2 double bedrooms, lounge, large kitchen, good sized shower room/bathroom, hallway...porch area, and possible access to the roof from the upstairs further sleeping area. This is on the market due to a buyer messing around, so all the searches and paperwork are ready to go....Side and front entrances....small area for drying washing and reading a book at the side of the property.
The apartment is to be sold fully furnished with everything you might need for a home or holiday home...washing machine, cooker, microwave,, fridge freezer, beds, linen, cutlery, saucepans, crockery, dining table, chairs...Wi fi, telephone, T.V. already connected. Excellent opportunity
Price : 105,000 Euros Code : SKYROS SH/58
---
A Small Low Priced Gem In The Heart Of the Chora of Skyros : Skyros
A small gem in the heart of the Chora of Skyros....ideal for holidays or for letting out. It is approximately 35 square metres and is in a quiet area.
There is a door from the street and a further side door, there is a good sized lounge, bedroom, kitchen and shower room. It has Air conditioning. Needs an update on the kitchen and possibly the shower room and some redecorating.
Close to all amenities and a 10 min walk to the beach of Magazia and Molos. Very small space for sitting outside if you like to watch the world go by.
Price : 35,000 Euros NOW 28,000 Euros GIVE AWAY PRICE. MUST BE SOLD Code : SKYROS SH/60

---
A 4 -5 Bedroom House With a Windmill Conversion Annex : Pefkos : Skyros.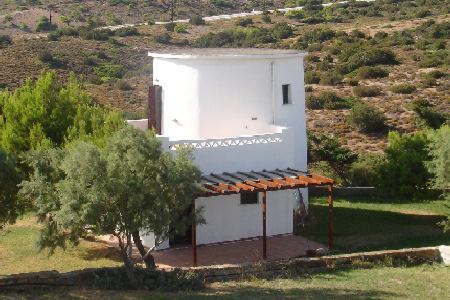 This Delightful Skyros House is For Sale Being in its own large estate of 10,000 square metres of land.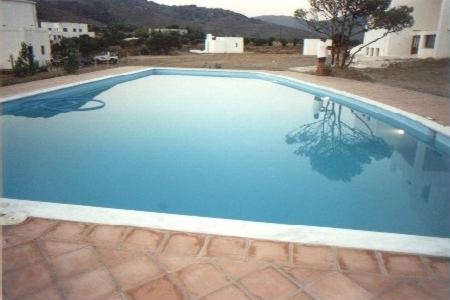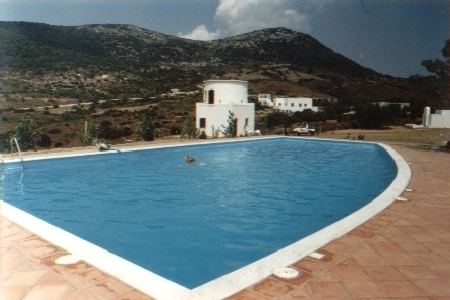 It comes with a renovated windmill of 75 square metres with 2 bedrooms and two bathrooms, all set around a large swimming pool and Barbeque area.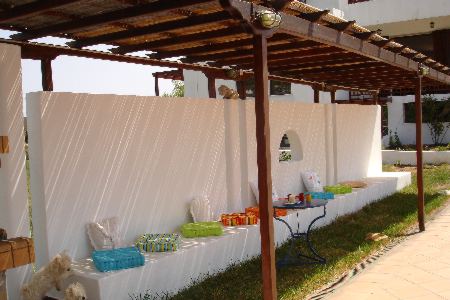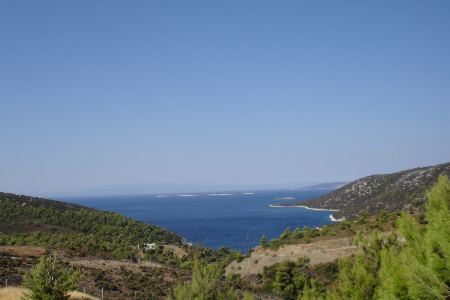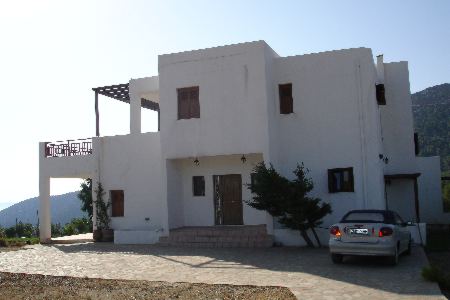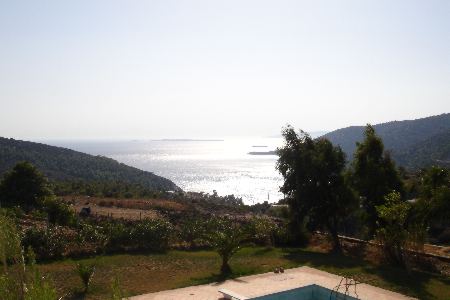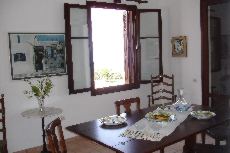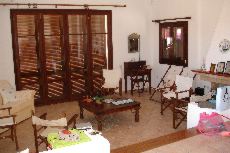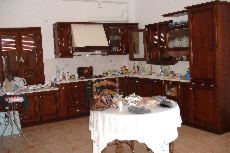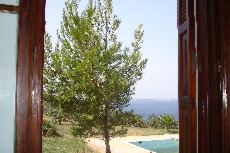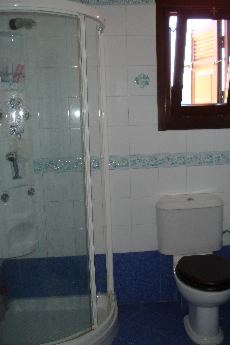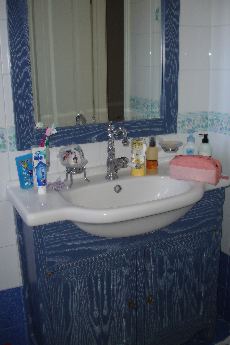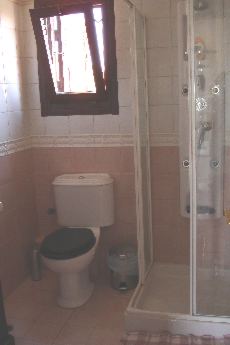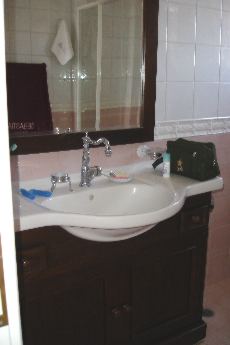 The property is 10 years old and the house has 4 - 5 bedrooms and 2 -3 bathrooms in the main house as well as two bedrooms in the windmill. The gardens have trees and shrubs and look out over a fabulous view of the country side towards the sea. The property is to be sold fully furnished
Price : 800,000 Euros

Code : SKYROS AA/010
---
A Typical Skyrian Traditional Greek House : Chora : Skyros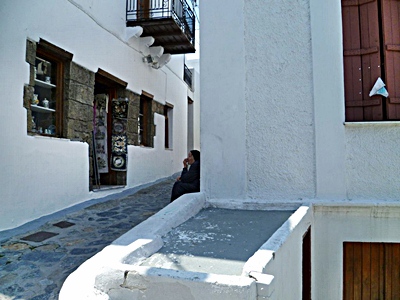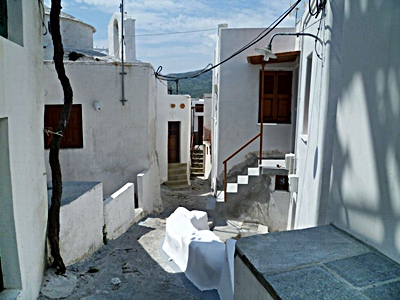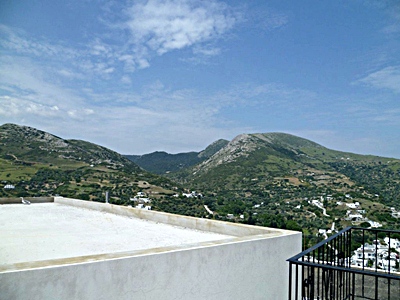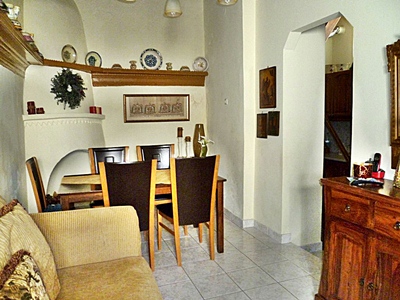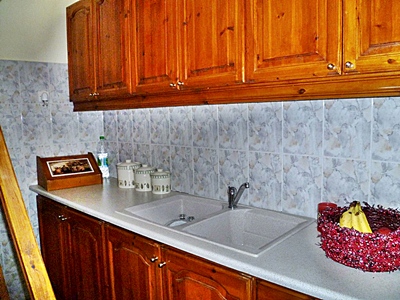 Skyros - in the heart of the Chora - family house - very well presented and versatile accommodation. Quiet area. Good size lounge/diner with steps up to additional sitting area. Typical Skyrian fireplace and ceilings. Neutral decor. Kitchen, recently modernised. Bathroom, recently modernised. Upstairs to 2 good sized double bedrooms, with access to roof space to give an additional bedroom. Hallway leading out to front balcony with views to the mountains, sunset and valley. Wine/wood store underneath the house. Air conditioning/heating throughout. Ideal family or holiday home.

Price : 160,000 Euros REDUCED To 145,000 Euros Code : SKYROS SH/50
---
A Traditional Restoration Property In A Quiet Alley Just Off The Agora : Chora : Skyros
In the heart of Skyros Chora, in a quiet alley just off the Agora, this is a house for restoration. It has original features on two floors with amazing views across the valley mountains and the sunset.
The ground floor has a bedroom, lounge, kitchen and shower room. Steps to the upstairs reach a large lounge area with plenty of light through the windows, and a typical Greek Sfa , all with original fretwork.
There are beamed ceilings, an open fireplace, and an outside front patio area. There is a possibility to create a terrace from the first floor facing the fantastic views with sea in the distance.
There is no doubt this house could be restored to its former glory with the installation of a new kitchen, shower room and outside renovation. It has an enviable position in the Chora, just a few minutes walk from tavernas , shops and the Plateia. A wonderful project for someone !
Price : 65,000 Euros REDUCED To 55,000 Euros Code : SKYROS SH/61
---
A Development Ruin For Sale On The Edge Of Skyros Town. : Skyros
This ruin is for sale for development and has potential as a town house, and could be developed and worked up into a house that would be within walking distance of all amenities. It has a reasonable view over the valley and town.
Price : 20,000 Euros Code : SKYROS SH/012
---
A 400 Square Metre Plot Close To The Beach : Magazia : Skyros
This 400 square metre plot is close to the beach and has a building allowance of 200 square metres. There would be views of the Aegean and the Chora in the distance. This is a very popular position and a great opportunity in such a good area, with local tavernas, cafes ................much sought after.

Price : Asking Price 40,000 Euros Or Near Offer Code : SKYROS SH/62
---
A Building Plot For Sale In Beautiful Molos. : Skyros
Just under one stremma of ideal buildable land is for sale in beautiful Molos on the Island of Skyros. It is situated only 5 minutes away from the sea, with views of the Chora in the distance. Single owner......just under 1,000 square metres............away from the road and surrounded by hills and scenery...............not on top of other properties. Great price for a nice plot.
Price : 45,000 Euros Code : SKYROS PLOT / SH59
---
An Enchanting Small & Bright Ground Floor Apartment : Chora : Skyros
An enchanting small and bright ground floor apartment in Skyros, Recently restored by the current owners.
There is a double bed, open lounge, sitting room, then downstairs to kitchenette and shower area.
The apartment has views over the village to the mountains beyond. There is a small sunny terrace. The property would make an ideal holiday home or may be rented out for 50 Euros a night during the summer months.
Price : 48,000 Euros Code : SKYROS SH/53 SOLD
---
A Good Sized 2 Bedroom Property : Chora : Skyros
Situated in the lower part of the Chora with easy access to the road leading to the beach and local shops.
There are three entrances to the property which is situated on the ground floor including a rear entry to a small terrace and 2 car parking spaces.
The property has a shower room with lobby containing the washing machine, a fully fitted modern kitchen with all appliances. There is an outside front patio area, and air conditioning in the main bedroom. There is an outside area with orange trees, a wooden shed construction and 3 parking spaces ( rare in the Chora) .............Easy access to the property.
Underneath the property there is a small studio apartment which at the moment is let but the tenant is not on any binding contract. The studio is included in the sale price as well as all the furniture and appliances including the fridge/freezer, cooker, microwave, small TV and various all included. The property is an ideal holiday letting property or home and income.
Price : 68,000 Euros REDUCED TO 50,000 Euros and to include the basement studio Code : SKYROS SH/55 SOLD
---
A Typical Skyrian House : Chora : Skyros
Situated on the edge of the village in the road leading down to the beach in an ideal location for a holiday home.
The property can be let out at 65 Euros a night during the summer months. The property has the advantage of an enclosed front patio garden with gate, and a terrace with distant sea views leading off the bedroom. There is a small lounge, kitchenette , shower room, air conditioning, and is presented in good condition. Will sleep 2/3 persons. All contents are included in the sale, so its key in the door and ready to go.
Price : 70,000 Euros REDUCED TO 55,000 Euros Code : SKYROS SH/56
---
The Grape Vine House : Chora : Skyros
This property is situated in the lower part of the village of Chora in a quiet area.
A delightful 2 storey house in the lower part of the village of Chora in a quiet area. The property is split into two, so ideal for a home and letting or a larger family. There is plenty of space for visitors. The name Grape Vine House lends itself to the amazing grape vines growing around the garden area. It is a charming place only 10 minutes walk to the beach and a few minutes from the main part of the village with its array of small shops, eateries and bars.
Price : 135,000 Euros Code : SKYROS SH/63 NEW
---