Tui has daily flights From U.K. Airports to Skiathos

Scroll Down To See More Property.

---
Skiathos : Northern Sporades Island Group.
Brian's Web site has an English speaking partner in Skiathos that can help you find your property.
There is a good selection of property to chose from.
All you need do is let me know that Skiathos is of interest to you and I will put you in touch with the right person to help you. E Mail me and tell me what you are looking for and a budget.

There is a lovely HOLIDAY RENTAL VILLA on Skiathos close to Troulos beach. Please click the Yellow Holiday Rental Button on the front page.
---
A One Bedroom Property : Kotronia : Skiathos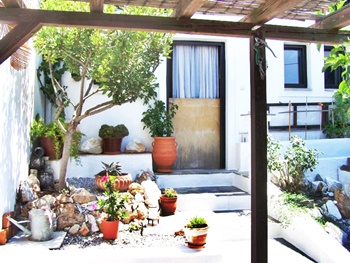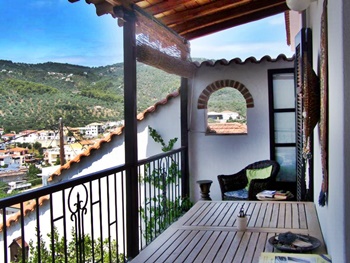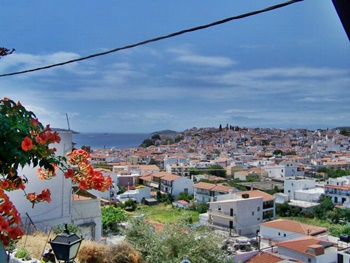 This is a lovely one bedroom property located at Kotronia only 5 minutes walk to Skiathos town.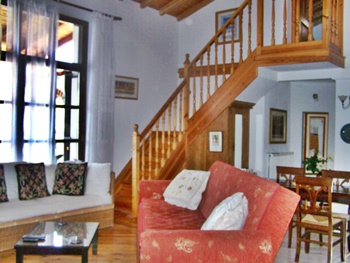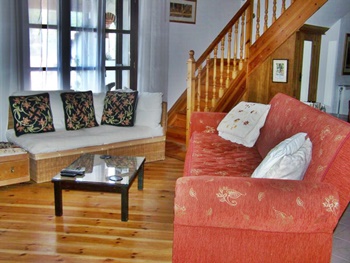 It has a kitchen, storage, living room, bathroom and a garden with a lovely view.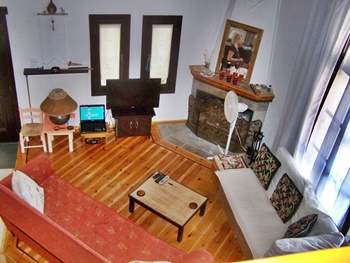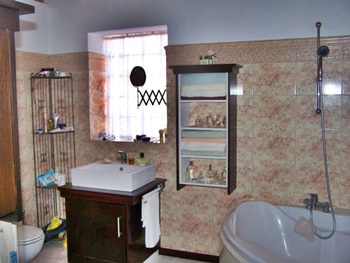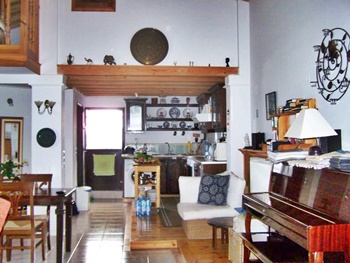 The property is very close to the centre of Skiathos town about a 5 minute walk,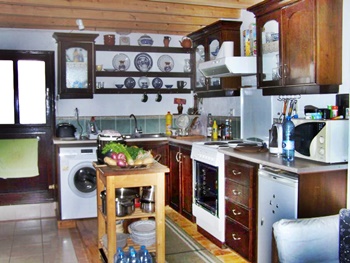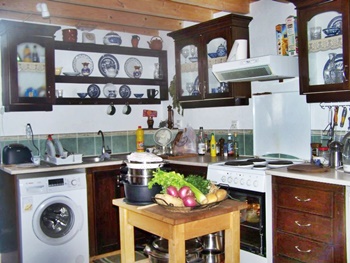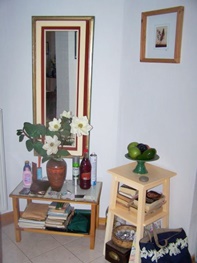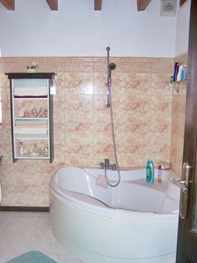 The house is in excellent condition and is to be sold fully furnished
Price : 185,000 Euros : Code : SKIATHOS KZ/741 NEW
---
A Simply Stunning Private Seaside Apartment : Kolios : Skiathos
This is a fabulous 85 square metre seaside apartment on the 3rd floor, right on the beach at Kolios
It is for sale fully furnished and is in great condition.
The apartment consists of two bedrooms : 2 bathrooms a living room. a kitchen, a dining room and large balconies with spectacular views.
The property was recently renovated and looks down over Kolios Beach. The bus stop is right outside the building and there are tavernas and shops very close.
Price : 295,000 Euros Code : SKIATHOS KZ/618 Withdrawn
---
A 75 Sq Mt Apartment For Sale : Agios Nikolaos : Skiathos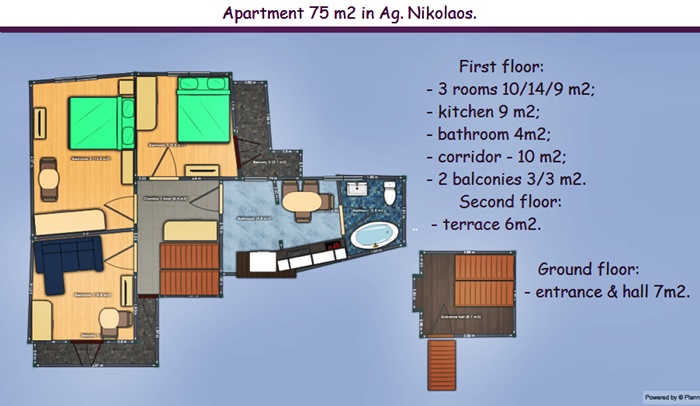 This is an apartment of 75 sq mts in an exclusive location in the quiet and cosy heart of Skiathos Town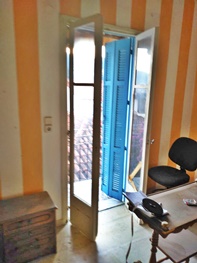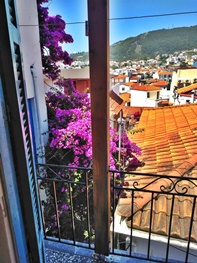 It is only 200 metres to the Port and 100 metres to the centre of Skiathos.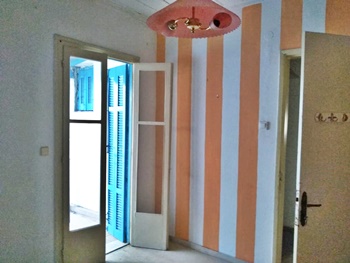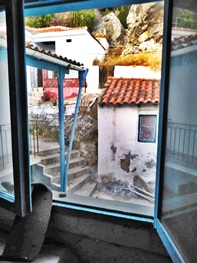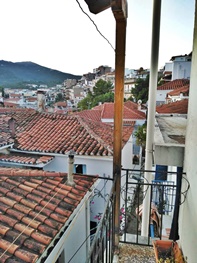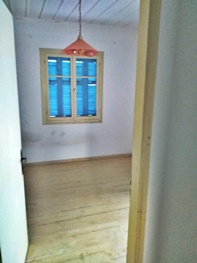 There is a private entrance to the hall with steps to the first floor. There we have 3 rooms with 2 balconies, kitchen, bathroom, corridor and steps to the terrace on the second floor. The property needs some renovation. All documents are ready.
Price : 48,000 Euros Code : SKIATHOS KZ/106 NEW
---
A 50 Sq Mt Apartment For Sale : Agios Nikolaos : Skiathos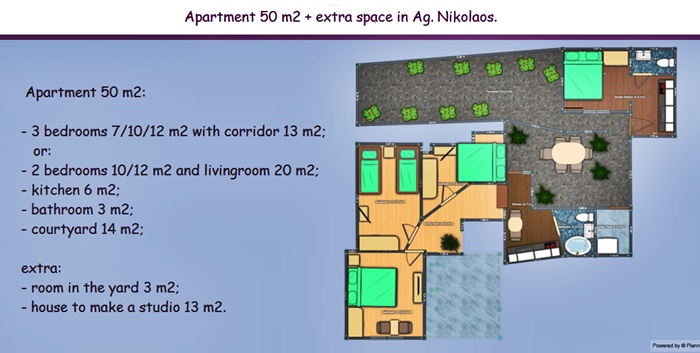 This is an Apartment of 50 square metres plus extra space in the Agios Nikolaos area of Skiathos town. It has a private entrance, a yard and is in a quiet place in the heart of Skiathos. It is only 100 mts to a cafe, market, and center, and only 200 mts to the port and promenade, and 50mts to Ag Nikolaos church with its breathtaking panoramic view.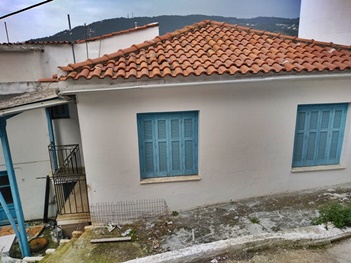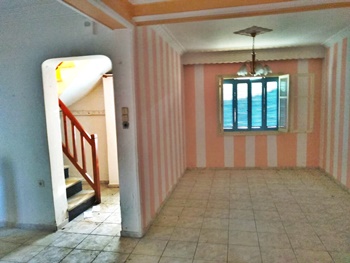 The apartment is on the ground floor with private entrance and has a room of 40 sq mts ( Easy to make 3 bedrooms or living room and 2 bedrooms ) kitchen and bathroom. There is an extra room in the yard and building like a small house. The property needs some renovation. All documents are ready.
Price : 48,000 Euros Code : SKIATHOS KZ/105 NEW
---
A Mansion Style Town House With Panoramic Sea Views On The Harbour : Plakes : Skiathos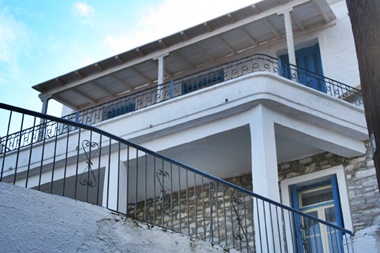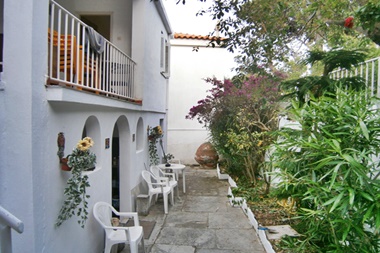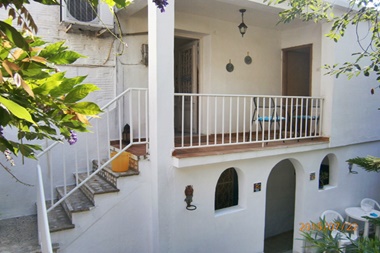 In the area of Plakes this old "Arxontiko" mansion style house is for sale with panoramic sea views and the harbour and close to all amenities.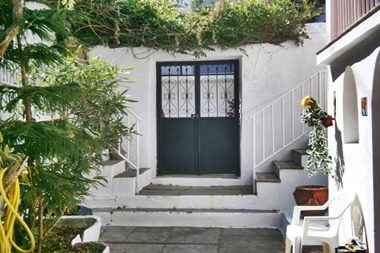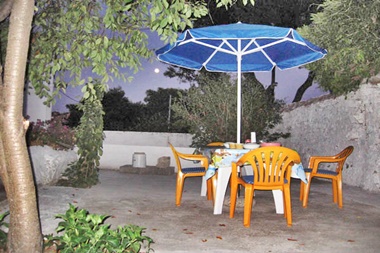 This prestigious building is a two storey detached building recently renovated. It has a spacious courtyard, spacious terrace, and balconies which are exceptional to the Island.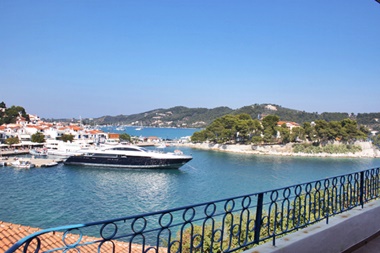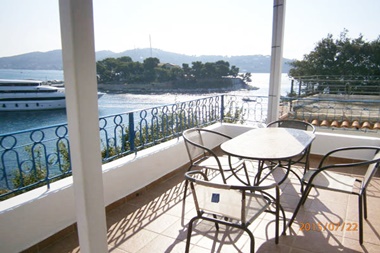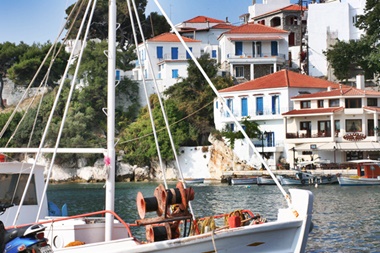 The property comprises an entrance hall, a sitting room, a dining room with a fireplace, a kitchen, three bedrooms and two bathrooms, (one with bath)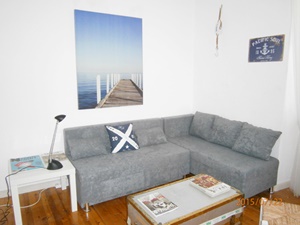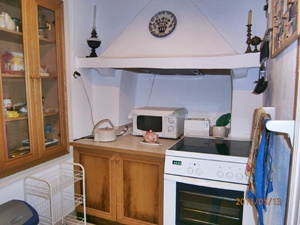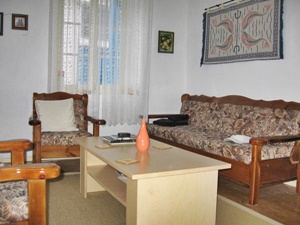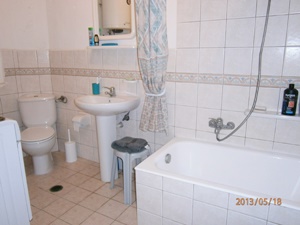 This property is perfect for a family summer house or for an all year round residence. Included in the sale is an adjoining piece of land of 85 sq mts which has its own deeds and permission to build on such as a holiday chalet and has an option to buy at 75,000 Euros.
Price :

Reduced To A Bargain 420,000 Euros

Code : SKIATHOS KZ/708
SOLD
---
A Three / Four Bedroom Villa Overlooking Skiathos Bay : Katsarou : Skiathos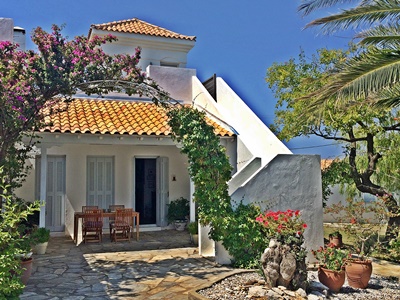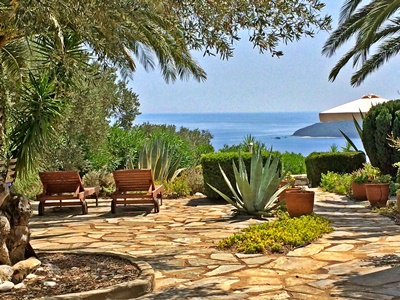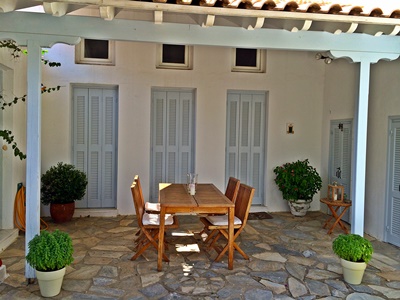 North Orchard Villa is an architect designed villa by Angelos Altsitzoglou and built in 1988 in traditional style with blue wooden shutters, a tiled roof terrace and bedrooms with high exposed wood beamed ceilings. The flooring is of Pelion stone.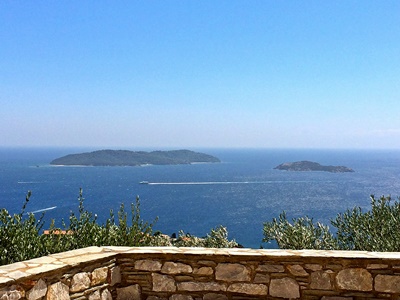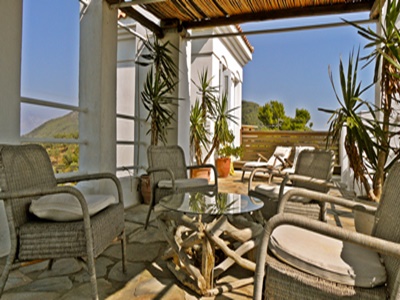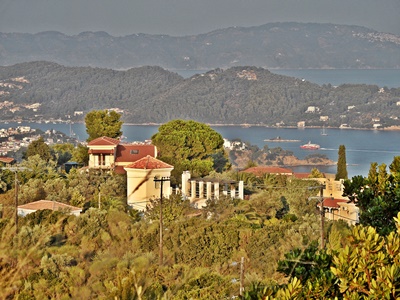 The main house comprises a living / dining room with fireplace, separate kitchen, study and W.C. a master bedroom with en suite bathroom with built in wardrobes, two double bedrooms with built in wardrobes and a guest room with a shower.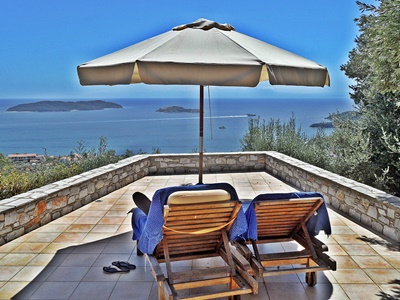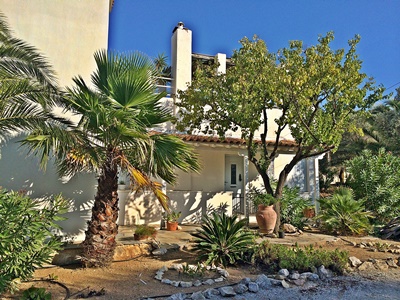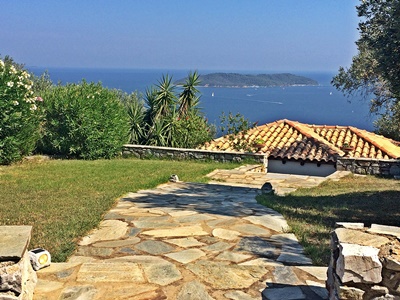 The living room gives on to a large shaded patio With panoramic views to the sea and country side considered to be the best on the Island. From the patio an external staircase leads to a shaded roof terrace and tower room which serves as an additional twin bedroom.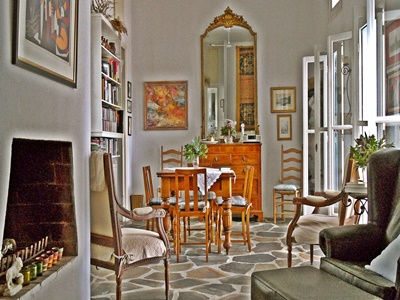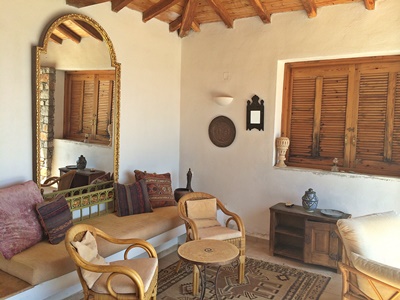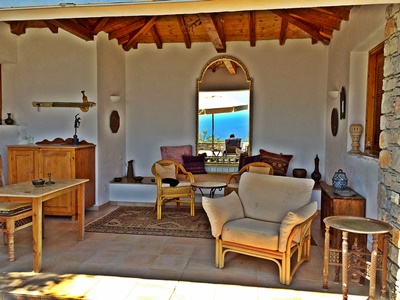 From the patio a path meanders through the manicured gardens to a further flight of steps leading Down to a pavilion offering breathtaking views of the sea over to the mainland and the islands of Skopelos and Tsougria.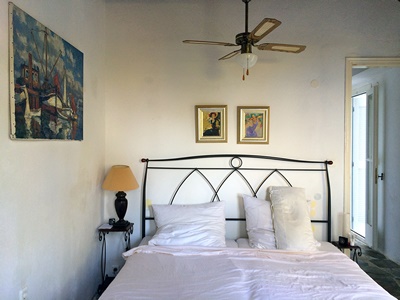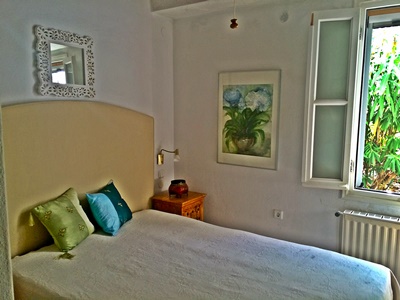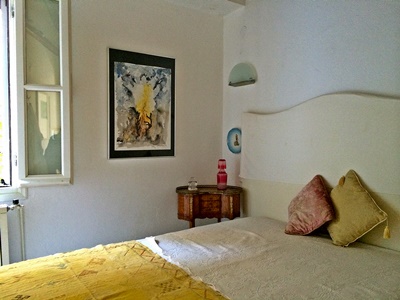 The villa has a cellar containing the oil heating system, electric generator, a washing machine and dryer. There is plenty of storage space and a large garage.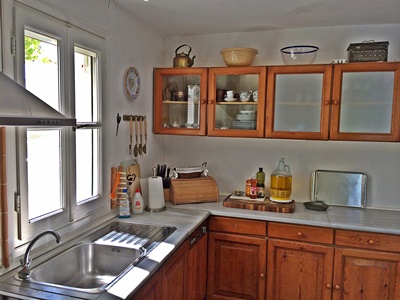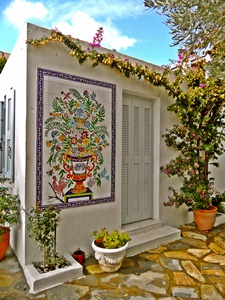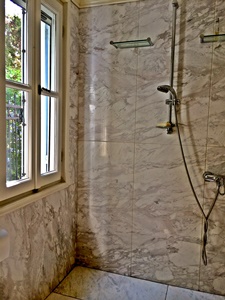 North Orchard Villa is situated in a low part wooded ridge overlooking Skiathos Bay above Achladies / Vassilias beaches ( 15 minutes walk ) with a few scattered villas and a couple of small friendly hotels ( With accessible pools and bars ) nearby. Due to its unique location, the villa has the privacy and quiet of the country yet is only a 5 minute drive from Skiathos town and a 15 minute drive to the airport.
Price : 420,000 Euros Reduced to 375,000 Euros Code : SKIATHOS RH/010
SOLD
---
2 Houses For Sale For Private Home Or For Renting : Xanemos : Skiathos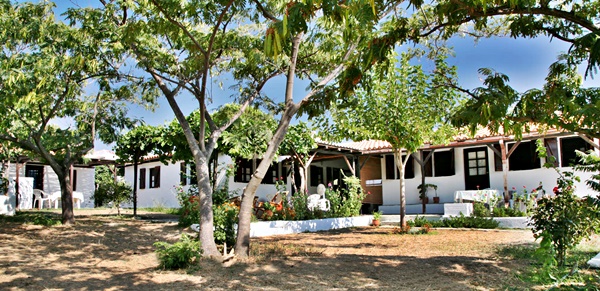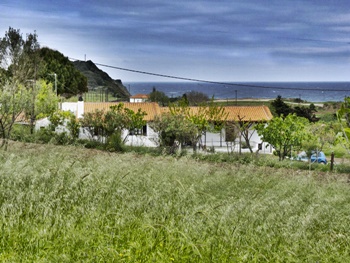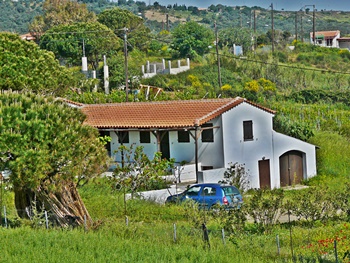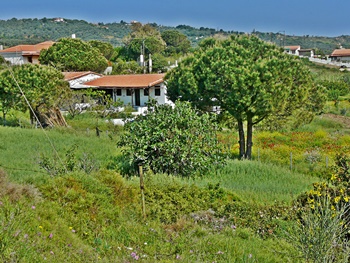 One big house and a maisonette to sold as one with accommodation with 6 bedrooms, 4 bathrooms, kitchens, fireplaces, yard and garden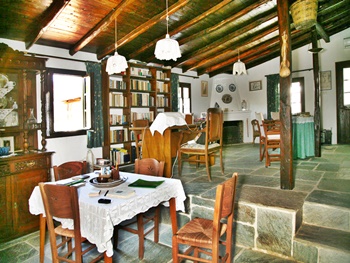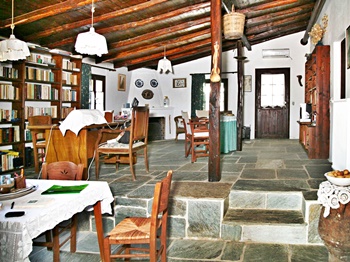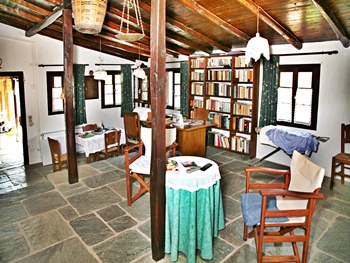 Suitable for a large family home or holiday letting to families.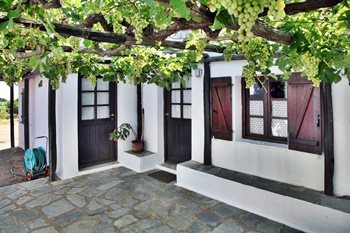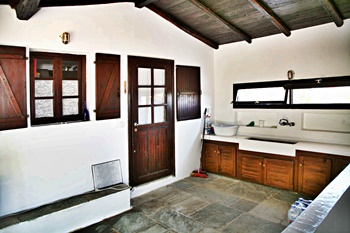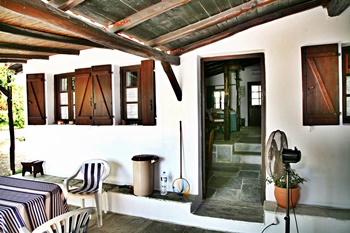 Situated in the Xanemos district of Skiathos the property is of good quality and furnishings.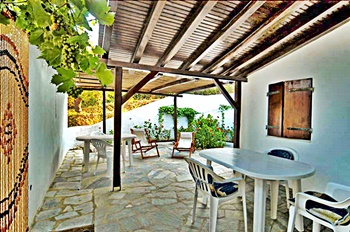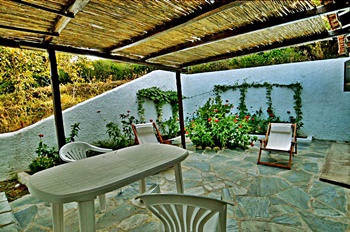 There are lovely sitting out areas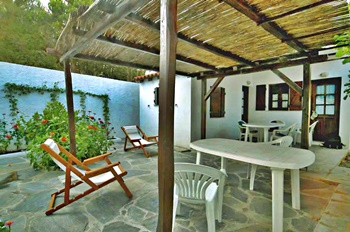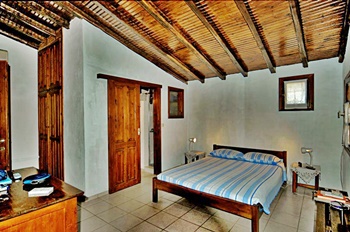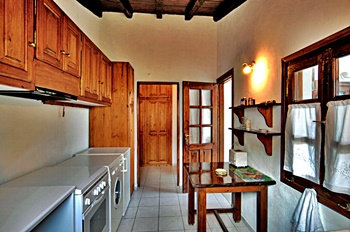 Easily maintained this property would bring in easily 1000 Euros on a weekly hire.
Price : 350,000 Euros Or offer Code : SKIATHOS KZ / 104
NEW
---
A Fabulous Villa For Sale : Katsarou : Skiathos
This fabulous property has wonderful views and is to be sold as you see in the photographs
The villa is 180 square metres in size with three bedrooms all air conditioned on the first floor with balconies and one bathroom
The ground floor has a master bedroom with an en suite bathroom a guest W.C. and a storage room
The villa is to be sold fully furnished as in the photographs and fully equipped.
The villa sits in a large plot of 2 acres and has a well ( For its own water supply ) a garden with automatic sprinkler system. Large terraces, private parking and a water tank for an extra supply of water.
Price : 650,000 Euros Code : SKIATHOS KZ/990

---
Two Houses For Sale In A Complex With Shared Pool : Skiathos
Due to a shared pool and garden. the property is in a complex. There is a big advantage buying property in a complex as when you arrive to a perfectly taken care of environment, when you are not around you can always rent out the property.
The houses have 2 bedrooms , 2 bathrooms and are comfortably furnished and equipped.
The nearest beach is only 700 metres distance and it is only 3 kms to Skiathos port.
Price : 250,000 Euros Code : SKIATHOS KZ / 1100 NEW PROPERTIES
---
A Beautiful Villa With 8 Rentable Units : Troulos Beach : Skiathos
Located very close to the beach at Troulos this villa can easily be transformed for use as a residential property by transforming 2 ( or 4 Units )into one comfortable space to live in and for renting out the other units as a steady income during summer season.
The rooms are fully occupied for the entire summer season each year as the rooms in this property are very comfortable and conveniently located to a restaurant and the property is very close to the beach this property is very close to the beach and on the bus route to Skiathos town and the well known Koukanaries beach
The units are manageable for even one person to run. Each unit is fully furnished with beds , mini fridge, stove, tv, and air conditioning. Each unit has recently been rewired and new plumbing undertaken.
This beautiful neat villa is located very near to the beach ( 3 min walk to Troulos beach ) opposite the Beltsios Hotel and near the Astoria hotel on the main road towards Koukanaries beach. There are lovely views from the top level of the balconies, while other guests also prefer the gardens and larger balconies on the lower level. This charming villa is a good buy for its location and includes all furniture and equipment.
Price : 395,000 Euros NEAR OFFERS INVITED Code : SKIATHOS HK/010 WITHDRAWN
---
A Pension Business In The Main Town : Skiathos Town
A ready business for sale, consisting of a Pension with 11 rooms located in the town centre 300 mts from Megili Amos Beach
This property is close to Papadiamanti street and the port is only 400 metres. The Airport is is only1.8 klms.
All 11 rooms have a bathroom and a balcony with yard or city view, and have air conditioning and a fridge. Annual income, in excess of 50,000 Euros
Price : 230,000 Euros For Pension Business : Code : SKIATHOS KZ/107 NEW
---
A Town House Located In The Main Town : Two Wells : Skiathos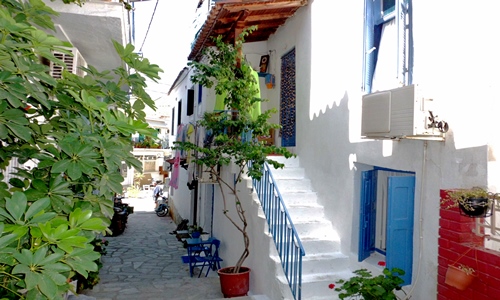 This 78 square metre town house is located in the main town in the area of Two Wells, behind Papadiamantis Street.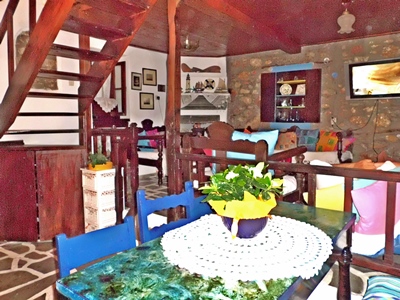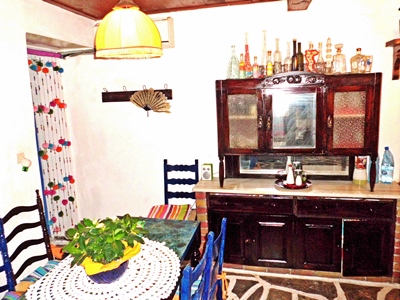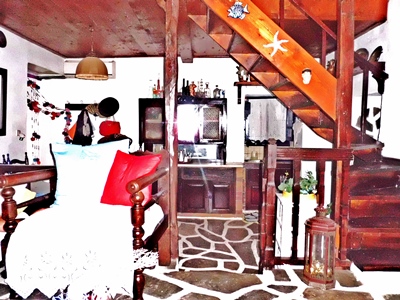 On the ground floor there is a kitchen, a living room, a bathroom, a fireplace, and an extra room with a washing machine.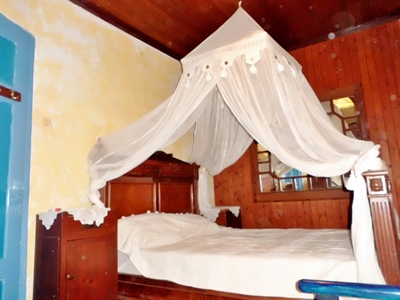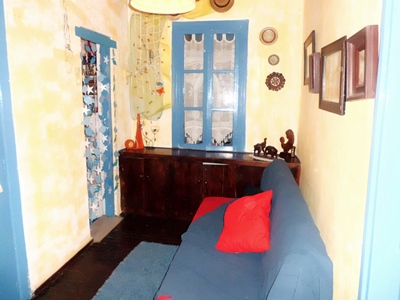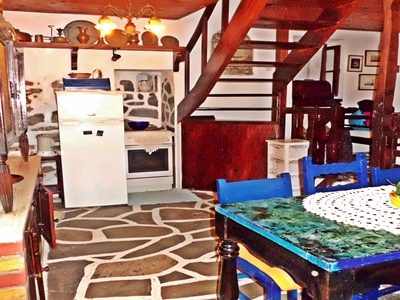 Upstairs there are two bedrooms, a hallway, a bathroom, and a small balcony. All the furniture and the stairs are handmade. There are two entrances, a door on the ground floor and another one on the first floor. The household equipment includes two new Air Conditioning Units, a kitchen and a washing machine, and a refrigerator.
Price : 125,000 Euros : Good Price Code : SKIATHOS GP/010

---
A Fabulous Villa With Pool And Sea Views : Vigles Area : Skiathos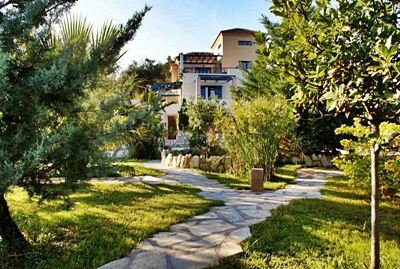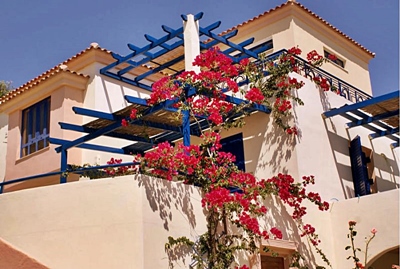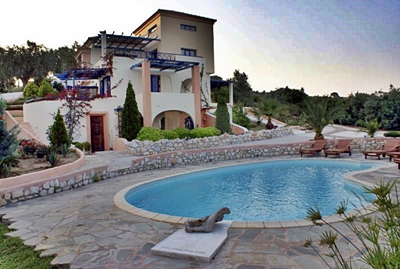 Two two-metre wide doors lead to a big balcony with great view with pergola, outdoor dining table and wooden sun beds. A stair leads to a lower level where the master bedroom is with a big patio door with view over the Bourtzi, as well as a big bathroom with storage room.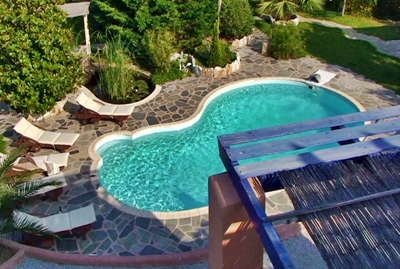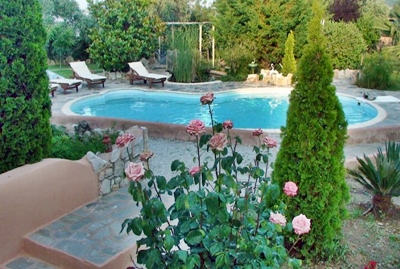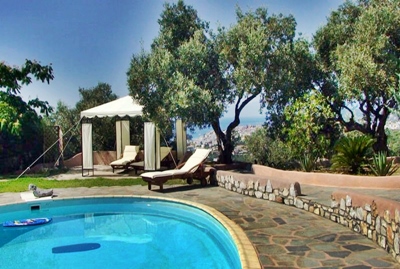 The pool is protected from the prying eyes of neighbours so you can enjoy the magic of the water as much and as you want!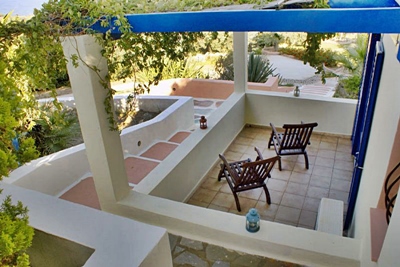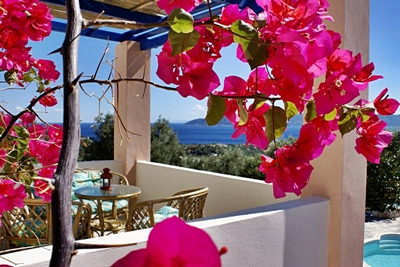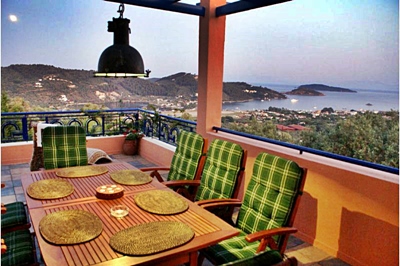 On the same level on the front northeast side, separately With its own separate entrance there is a studio apartment in 20m. with kitchen and bathroom and private balcony overlooking the pool with panoramic views. Also it is very easy if you want to change the layout and add the spaces to the main house.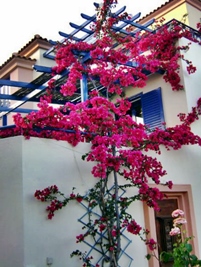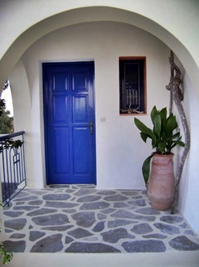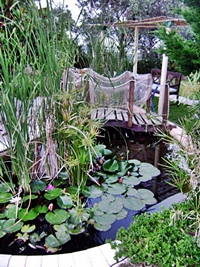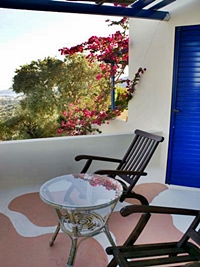 Finally one more level down There are two more studios which are interconnected by a door and can be used either separately or each as two studios, or as A double room apartment. Also here is located a big storage room-workshop fully equipped and the burner space. The storage room is connected with the house and with an internal staircase.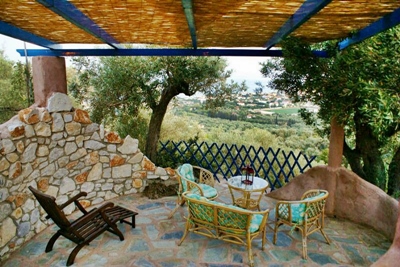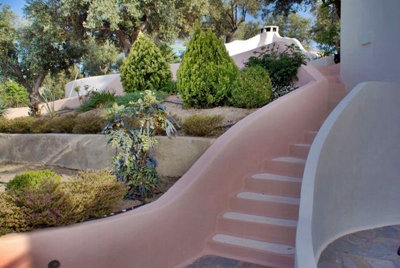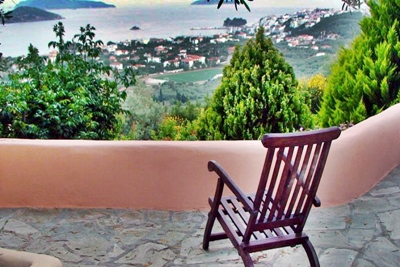 All the floors are on ground level from at least two sides, and there are stairs and flowerbeds.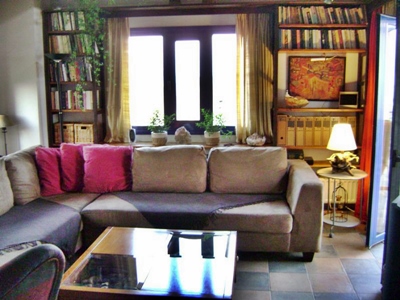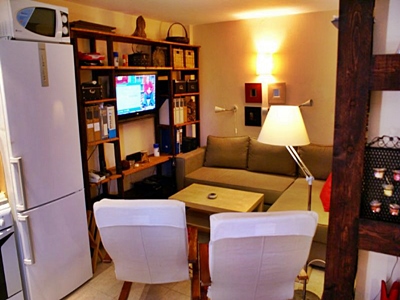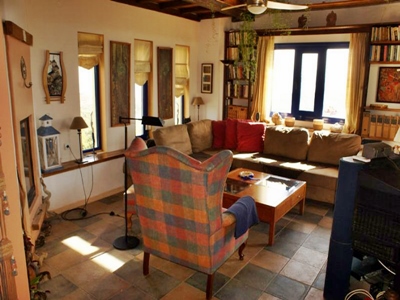 The bedroom has a large oak double bed with drawers at the bottom, rack with TV and shelves and closets all around to fit all the clothes. A small hallway leads to one more room with en suite bathroom and balcony overlooking the northeast and two single beds.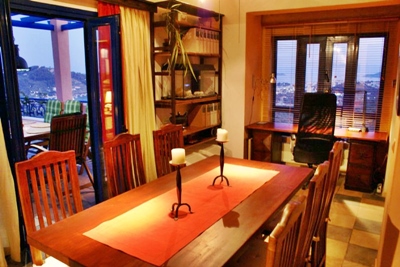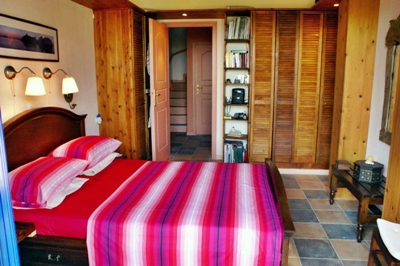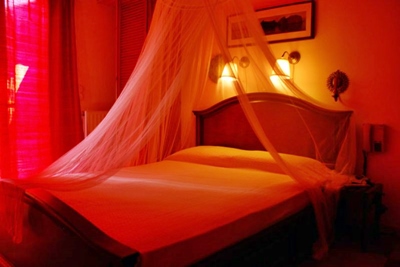 The villa was built in this location with respect for the environment. Taking advantage of the surrounding trees, coming home from the parking space other properties are not visible, until you go down the paved path through the olive trees. There are good sea views through the trees up to the front door. On the right side of the pool a staircase leads to the lower part of the estate and the stream and into the garden.

Other Superb Features Are : The location of the property is very close to Skiathos town and very soon it will be integrated to the city plan : The panoramic and unobstructed views of Skiathos town, the harbour, the airport, the surrounding islands and the Aegean : The privacy of the pool (you can, due to the privacy of the space, enjoy the pool undisturbed from prying eyes), and the climate of the area is very healthy with no humidity and mosquitoes.

Price : 750,000 Euros :

REDUCED TO 600,000 Euros

Code : SKIATHOS ZK/920
BARGAIN PROPERTY
---
A Hotel In Skiathos : Skiathos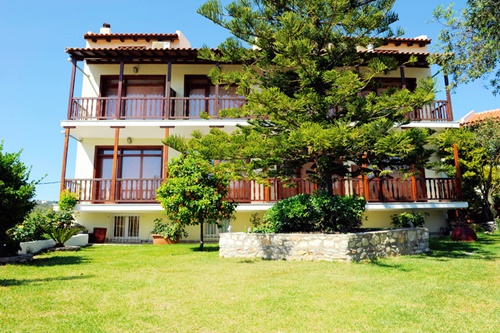 For more information please E Mail
E Mail Brian.

Price : 490,000 Euros Code :SKIATHOS KZ/HOT82

NEW
---
A Hotel In Skiathos Town : 15 Of Everything : Megali Ammos : Skiathos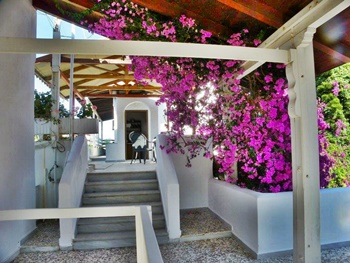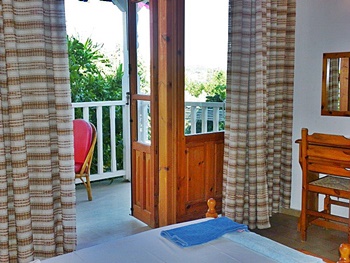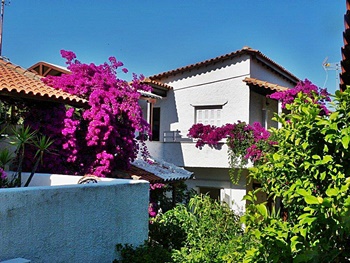 This Hotel has 15 Bedrooms 15 Kitchens 15 Bathrooms 15 Toilets and is built on two floors.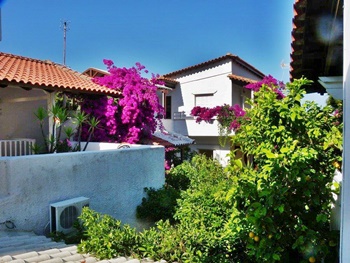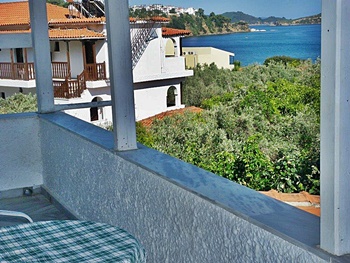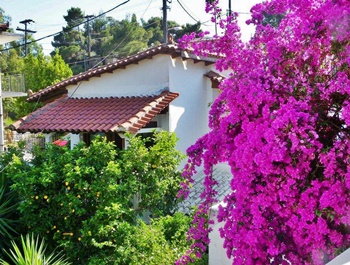 The built area of the house is approx 600 sq mts on a plot of approx 1,170 sq mts.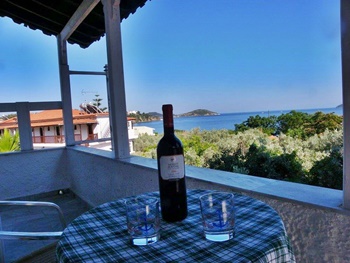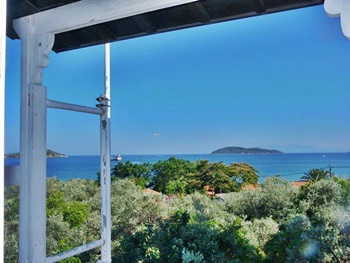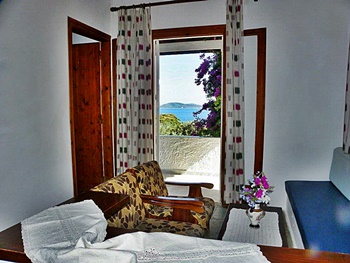 It has been in business operation from 1972 until the present and can accommodate more than 40 guests in full capacit

y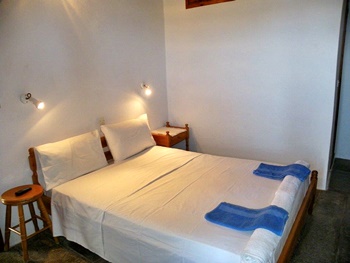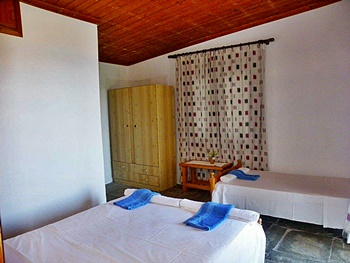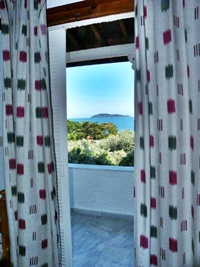 The hotel needs certain restorations in terms of furniture and / or bathrooms and kitchenette amenities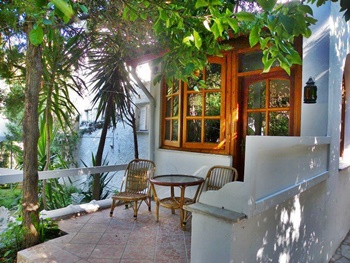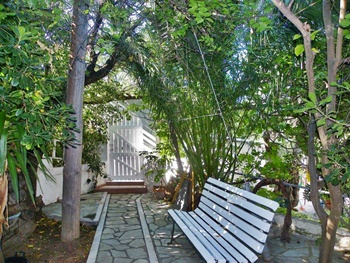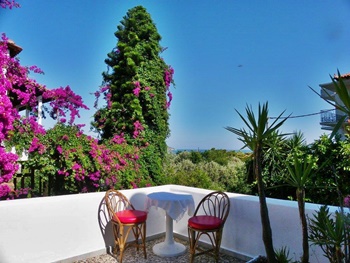 The actual area and location of the business can offer - if refurbished - a great opportunity for transforming it into a 5* hotel business due to town & beach proximity.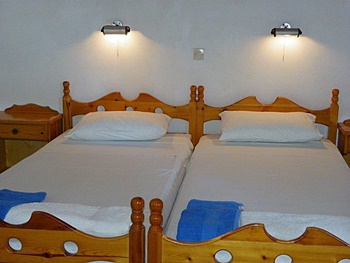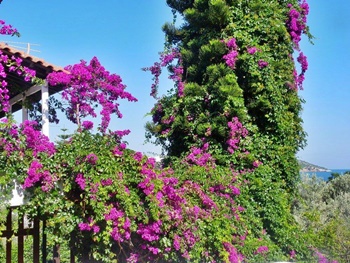 Fantastically located at only 500 metres from the main parking centre of Skiathos Town ( Acropolis area ) - walking distance. Also within walking distance of the main Island beach Megali Ammos. The building as well as the land of the property is fully and legally within the city limits of the main town.
Price : 700,000 Euros Offers Invited Code : SKIATHOS HOT/VD010

---
A Detached Newly Built Modern Villa : Agia Kali : Skiathos
A detached newly built modern villa in the area known as "St Good" in Skiathos with amazing panoramic views of Skiathos and Evia.
Built on a plot of 820 sq metres the villa of 97 sq mts is two storied with internal staircase and comprises : Ground floor, fitted kitchen / dining area, living room with fireplace and W.C.. On the first floor are 2 fitted bedrooms and a bathroom.
Price : 270,000 Euros Code : SKIATHOS KZ/523
---
A Classically Designed Villa For Sale : Platanias : Skiathos

Situated in an olive grove of over 200 trees on over 8400 square meters of land, with a breathtaking uninterrupted southwest view of the Plantanias Valley and beyond the Aegean and, finally, to the island of Euboea with its purple mountains, this classically designed 216 square meter year-round villa with exquisite details has the privacy and quiet of the country yet is only 5 minutes from the village of Skiathos. With plans and permits pending for an 80 square meter guest house, a pool, and a pool house, this unique property is available for 975,000 euros.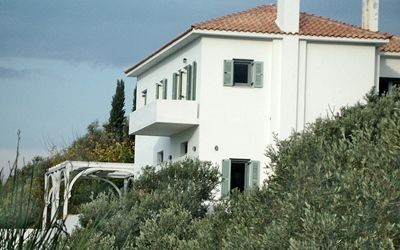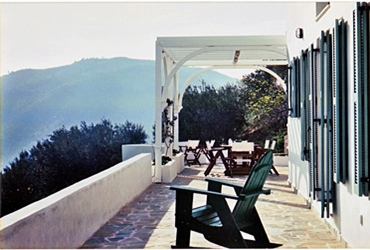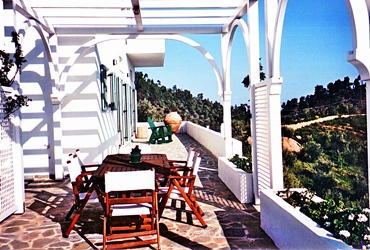 The ground floor has a large entry hall with a Pelion stone floor, a ceiling of Swedish pine, and a powder room with a Pelion stone floor. The entry hall leads to a large living/dining area with a Swedish pine floor and an 11 foot ceiling, a large open fireplace, and 2 sets of French doors which lead to the terrace. Etched glass sliding doors lead to a den/library with built-in black lacquer and Swedish pine bookshelves and bar.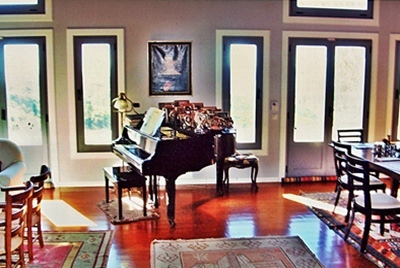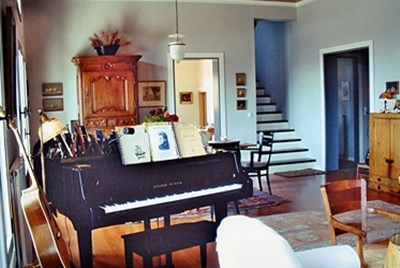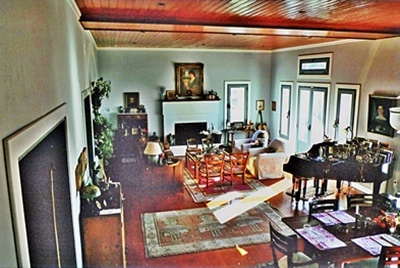 The kitchen has a Pelion stone floor and painted wood ceiling, built-in enamel cabinets and pine counter tops, a built-in dishwater, disposal, and professional range. The first floor has all wood floors and ceilings, and includes a large centre hall with built-in closets and drawers, and a guest bathroom.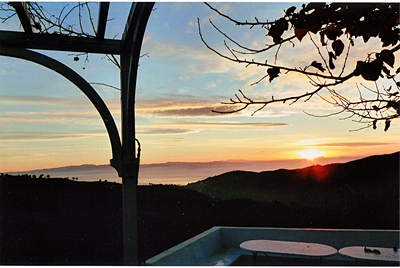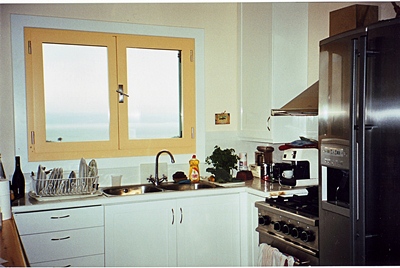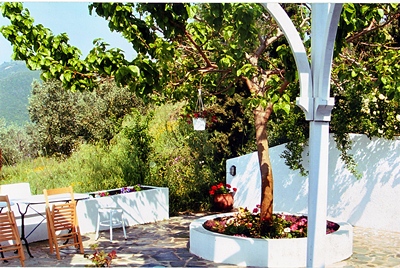 The master bedroom has a fireplace, built-in book shelves, a walk-in closet with built-in drawers, French doors that lead to a terrace, and an en suite bathroom with double sinks and a large double shower. There are two additional bedrooms, one with built-in bookshelves.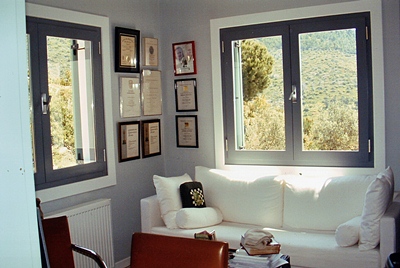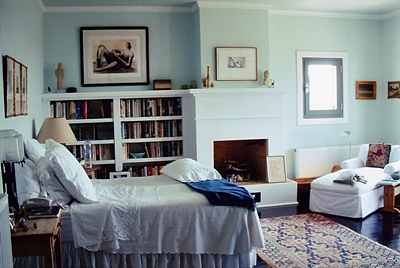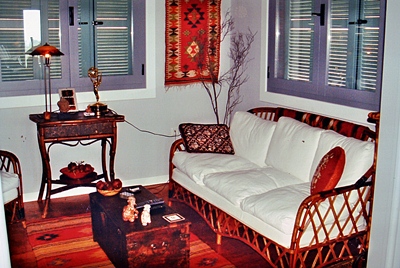 Other amenities include a large barbeque with an electric motor, satellite service for both television and internet, a working well with good potable water, several dozen fruit trees of various ages including lemon, peach, nectarine, three plum, a number of fig, both black and green, pear, pomegranate, cherry, almond, and pine nuts. This area is also one of the few in Skiathos without mosquitoes. Partly Furnished ( Less Antiques ).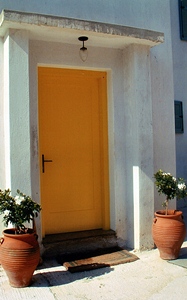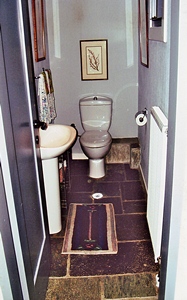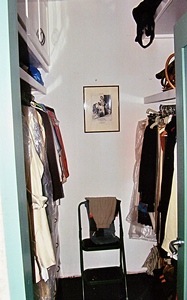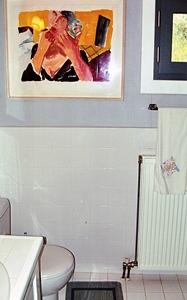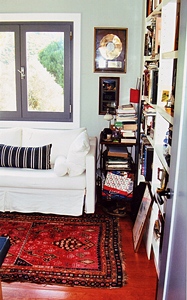 Price : 895,000 Euros

Reduced to 775,000 Euros

Or Near Offer

Code : SKIATHOS RR/010
---
10,000 Square Metres Of Building Land With Planning Consent For 4 Villas : Sklithri : Skiathos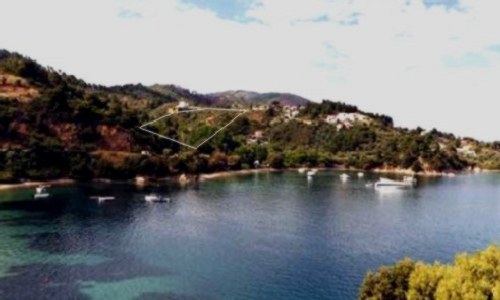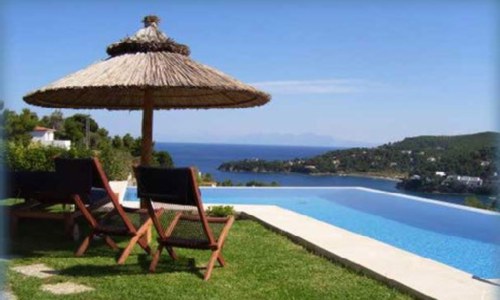 Situated Right at the waterside, these 4 Luxury Villas are sure fire profit winners, being in a very lovely part of South East Skiathos.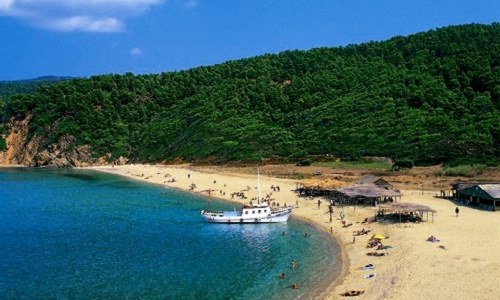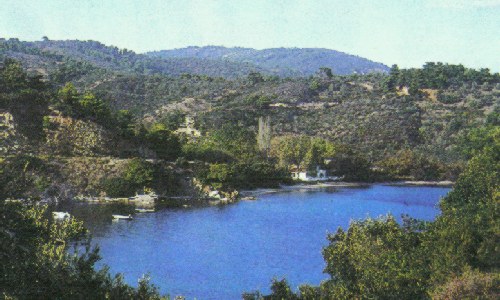 The Four Villas are 133.86 sq mts in size, not including the terraces, and have 3 En Suite Bedrooms, and 3 Toilets with magnificent views over the beach, sea and surrounding mountains from their beautiful built in terraces.
The whole building project is for sale, including the land, architectural drawings and the project complete with Engineer, Project manager, Architect and construction company ready to build.
Price : 550,000 Euros Code : Skiathos BUS RA/010 For take over discussions with the owner please E Mail
E Mail Brian.
---
A Villa With Guest Accommodation Only 4 Minutes From The Beach : Sklithri : Skiathos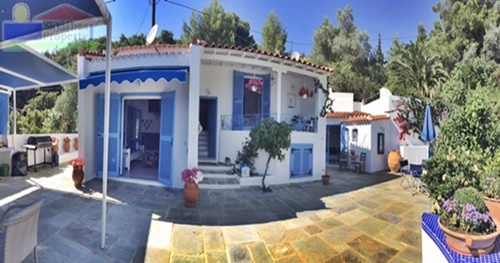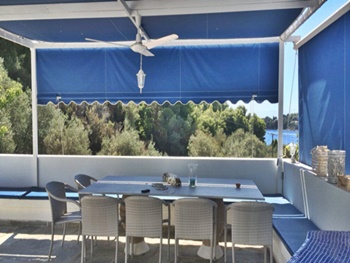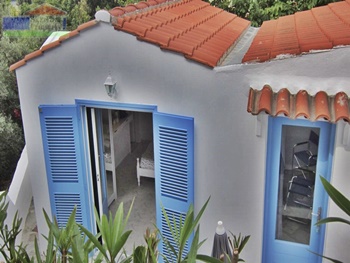 The main house has 2 En -suite double bedrooms, a lounge and fully fitted kitchen with dishwashing machine, washing machine and tumble drier all included.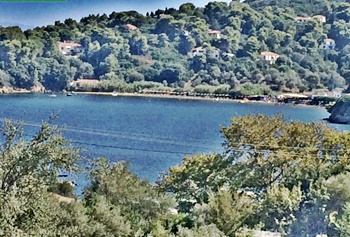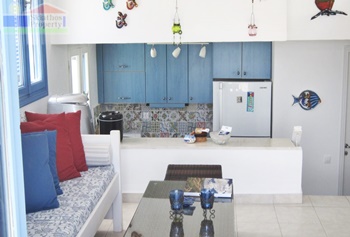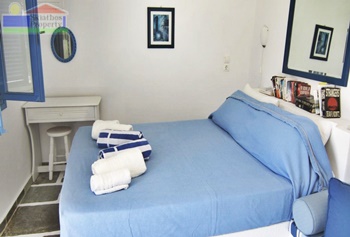 There is a very large patio with BBQ and with shrubbery in pots with The most fabulous view of the ocean and Nostos & Kanapitsa beach.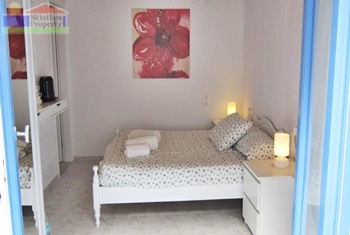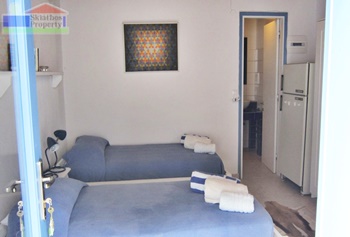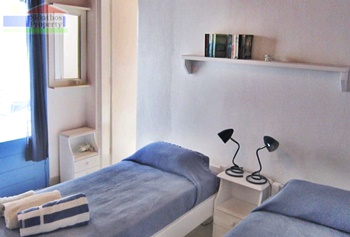 On the property there is an En -suite double studio with fridge, kettle, micro wave oven, a toaster, crockery, cutlery and glassware.
Also on the property there is an en -suite twin studio with an inter leading door to an en-suite twin studio ( 2 single beds ) so these 2 studios are ideal for Mum & Dad and 2 children or even for 2 couples. All rooms as well as the main house are fully air conditioned and the property has its own well with fresh water and 3 phase electricity. All furniture, crockery, cutlery, linen and towels etc are included in the asking price.
The property has BBQ : Built in Wardrobes : Courtyard : Is Fully furnished : Garden Walls : Parking : A Terrace & Tiled Floors. Close to The Famous Fish Taverna at Sklithri
Price : 450,000 Euros Code : SKIATHOS CJF/010 NEW
---
A Successful Hotel Apartment Complex For Sale : Kolios : Skiathos
The Hotel has 16 Apartments and a swimming pool and is located only 400 m from Kolios Beach
The apartments are rented out every summer and all of the necessary E.O.T permits are available.
There are 6 apartments on the ground floor, 5 on the first floor, and another 5 in a new building built in 2005.
All facilities are in peak condition and the apartment complex is currently rented under contract with a reputable tour company for 2 more years.
Price : 750,000 Euros Code : SKIATHOS KZHOT / KOL NEW
---
A Building Plot With Sea View : Skiathos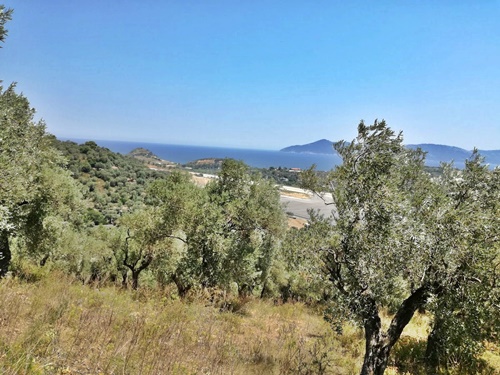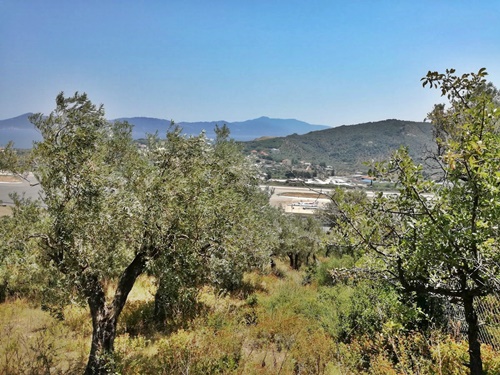 This building plot of land is 4500 square metres in area with a sea view and possible to build up to a 200 square metres villa. It is at a distance of 900 metres from the sea, with a nice sea view.
Price : 150,000 Euros Or Near Offer. Code : SKIATHOS PLOT KZ/378
---
Parcel Of Land For Sale : Katsarou : Skiathos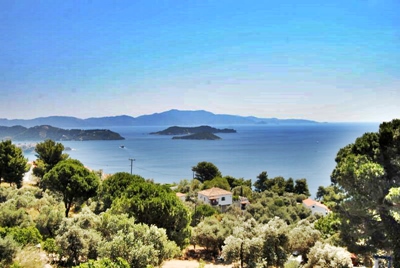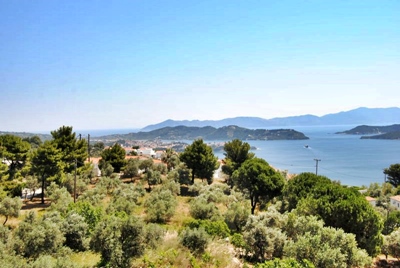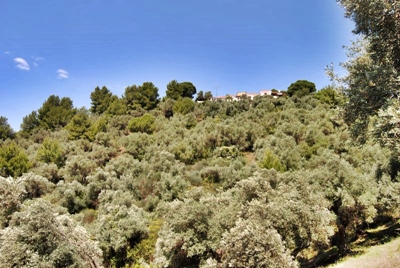 This superb plot is 5.335 square metres in area with fantastic views and idyllic in its setting on a sloping hillside, this old olive grove with 150 olive trees is perfect for building a dream house! Within 65 meters from a paved road, approx. 400m from the 'ring road' Skiathos – Koukounaries, 500m from the sea and 2km from Skiathos town.
Panoramic views of neighbouring islands, Tsougria, Tsougriaki, Skopelos and mainland Evia.
Total Buildable Property 226.5sqm
Price : Good Price At 170,000 Euros Code : SKIATHOS KZ/PLOT366 For more details please E Mail
E Mail Brian.
---
Parcel Of Land For Sale : Skiathos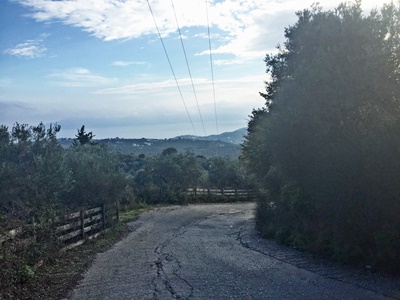 Cheap land , will take a new container house, everything complete for less than 100,000 Euros.
Price : 25,000 Euros Code : SKIATHOS PLOT/KZCONT SOLD Similar Plots available 25,000 & 40,000 Euros
---
Parcel Of Land For Sale : Korakfolia : Skiathos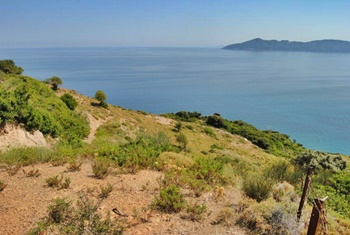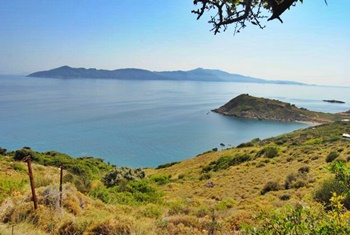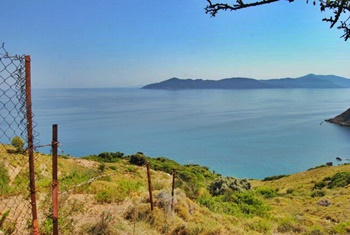 This is a plot of land in the Korakofolia area of Skiathos, close to the sea with fantastic views. It has good access on a rural road. It is only 4 Klms from Skiathos town and harbour.
Price : 250,000 Euros Code : SKIATHOS PLOT KZ/377 For more details please E Mail
E Mail Brian.
---
How To Own A Home On The Island Of Skiathos :
You explain your wishes and desires. We find the land according to your preferences 15,000 - 40,000 Euros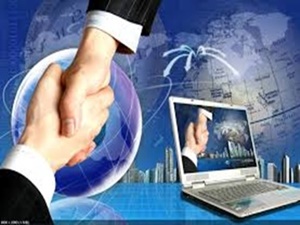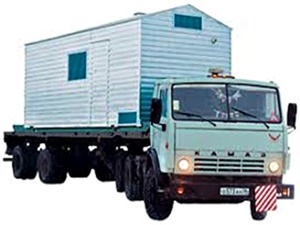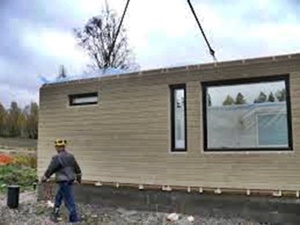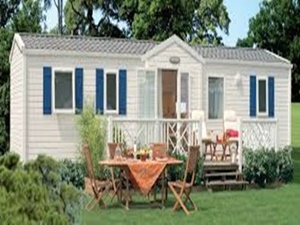 We prepare the plot according to the plan 10,000 - 40,000 Euros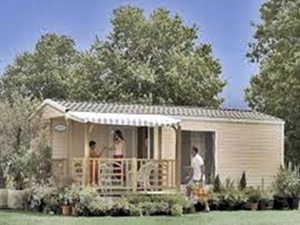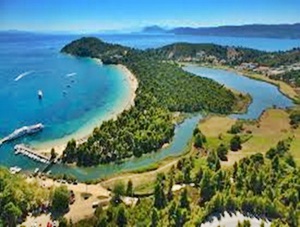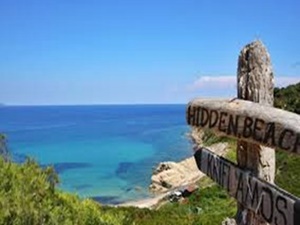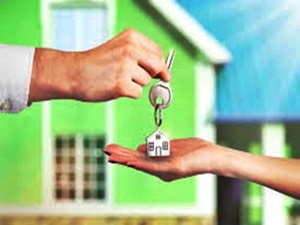 You choose a modular house to your taste 14,000 - 50,000 Euros * Shipping and installation of your house 2,000 - 4,000 Euros
Enjoy your home ******** Price : 41,000 to 134,000 Euros Code : SKIATHOS KZ/103 For more details please E Mail
E Mail Brian
---