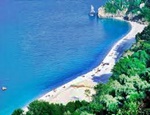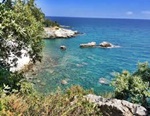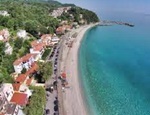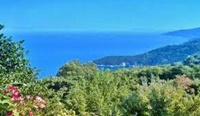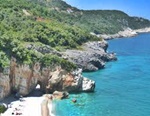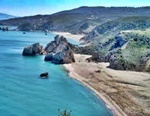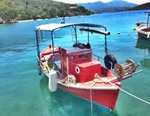 ---
Greece : Mainland Property For Sale
The Pelion

Scroll Down To See More Property.

---
Pelion : Mainland Greece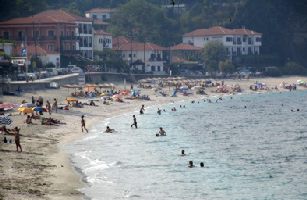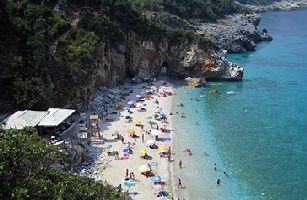 Pelion : You will never say goodbye. The Pelion mountain and peninsula is said to be the most magical part of the Mediterranean.
It is easy to get to from Athens, and the main town of Volos is about 326 klms from Athens and 315 klms from Thessaloniki
We have English speaking Web partners here in the Pelion that can help you in all aspects of property.

---
I have many more Pelion Properties : If you don't find what you want below, please E Mail me with your requirements, tell me your criteria, your budget and location and I will get back to you with some suggestions. Contact

E Mail Brian.
---
A Unique Stone Mansion : Mouresi : Pelion : Greece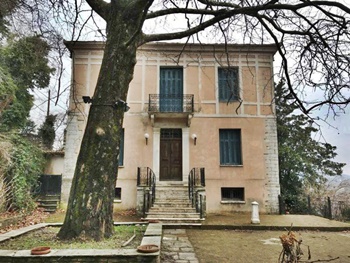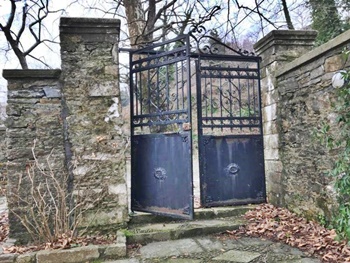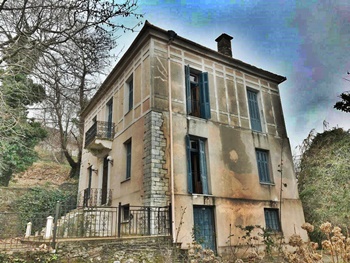 The house is a three level stone nea-classical mansion built by Greek –Egyptian merchants at the end of 1900s and has been beautifully renovated and furnished.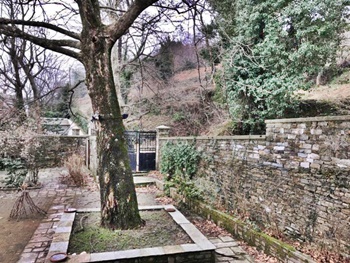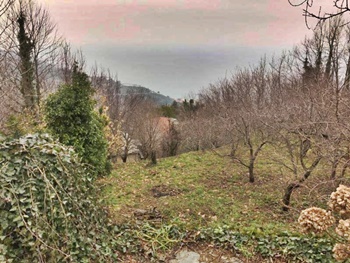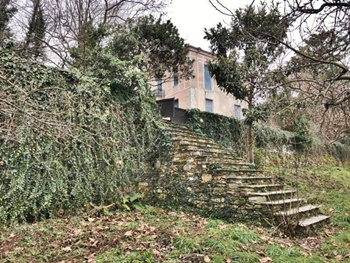 It has 2,500 m2 of fruit gardens and courts with 300 m2 of living space on 3 levels.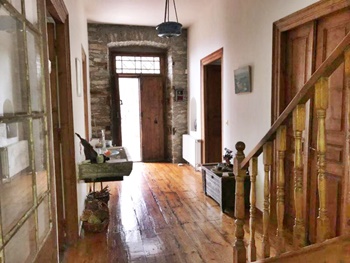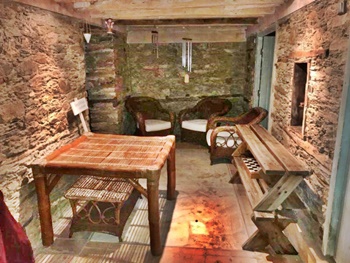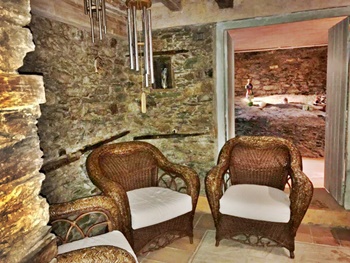 It has 5 bedrooms, living and function rooms ,kitchen, 2 bathrooms, plenty of storage with beautiful sea and Pelion costal view and is only 3 minutes walk to the impressive Mouresi square.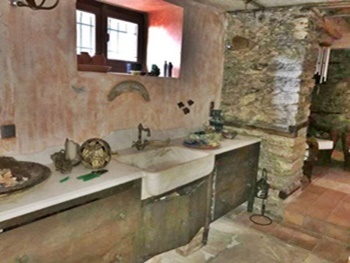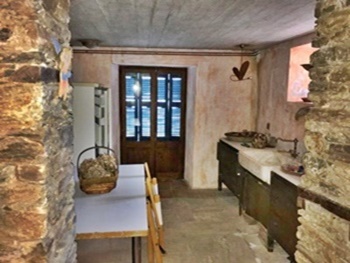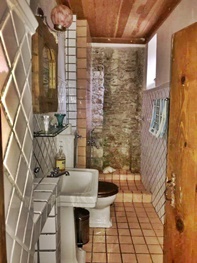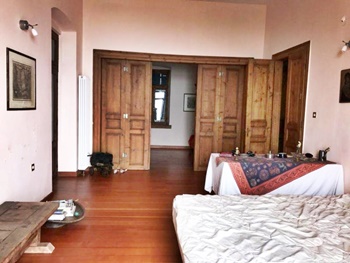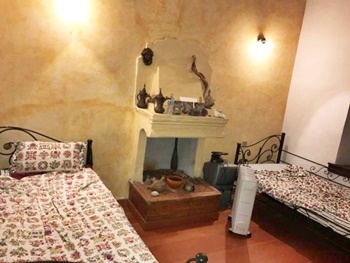 Few of these unique and aristocratic homes remain in Greece today. This is a prestigious mansion estate in one of Pelion's most prestigious villages, this is an impressive stone building in a very quiet area, yet car accessed.
It is on 3 levels with the gardens on a gentle slope in front of the stone house and the court yards around the impressive building and is only a 10 minute drive to the beach
The house is surrounded by trees and nature and is furnished to cater for holiday rental guests. The mansion represents a remarkable marriage of tradition, aristocracy, romance and comfort with an imposing yet private presence.
Price : 483,000 Euros Code : PILION PP/H2634 NEW
---
A Beautiful Villa Overlooking The Pagasitic Gulf : Aghios Athanasios : Pinakates Pilion.
This traditional stone house is located on the Pelion hillside in the hamlet of Agios Athanasios, just below Pinakates.
The house was fully renovated in 2009/10 (to include a new roof, electricity wiring and plumbing) and consists of 111 square meters on two floors with two annexes (bedrooms) at ground level.
It sits on a parcel of land of 838 square meters which includes a stone patio at the front and an Olive grove at the rear with some 20 trees.
The house can comfortably sleep 4 adults and 4 children.
On the top floor there is an open plan kitchen/ dining /living room which opens onto an external veranda/ sitting area. The ground floor has a small hallway, a bathroom and 2 bedrooms currently equipped with bunk beds. The larger room has a large built-in wardrobe. The two annexes to the main house on the ground floor comprise double bedrooms, the larger of which has an ensuite bathroom. There is also an external WC located in the interior of the external steps to the top floor. Included in the sale are the beds, sofas and the kitchen white goods and large appliances. The sale of some furniture will be subject to separate negotiation.
Price : 178,000 Euros Or Near Offer Code : PILION DD/010 NEW
---
An Antique Furnished Aristocratic Home : Milies : Pelion : Greece
This traditional stone house and estate is ideally located at the forest side of Milies Mountain Village.
It is has two floors both with spectacular views of the sea and parts of the forest.
The lower level has large sitting, dinning and function rooms with fire place and open plan kitchen and also a small guest bathroom. The top floor consists of 3 bedrooms and a large bathroom. The stone annex which is attached to the house also enjoys panoramic views and consists of two floors with a bedroom, bathroom and living room. There are several verandas around the garden with traditional stone ovens, BBQ, terraces, flower and fruit gardens, storage spaces and etc. The stone houses were built in the 1950's and have been beautifully renovated in 2003. The total living space of the large house is about 160 m2 and the annex is about 25 m2. The estate does not have car access and is at the end of a cobbled path which is 330 meters from the central square and car park of Milies.
Price : Reduced From 1 Million To 350,000 Euros Code : PILION PP/H2486
---
A Beach Front Farm House On Wonderful Horefto : Pelion : Greece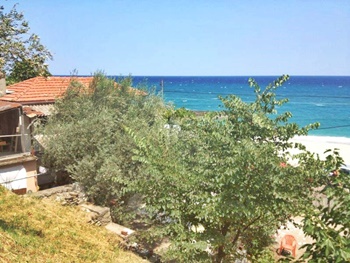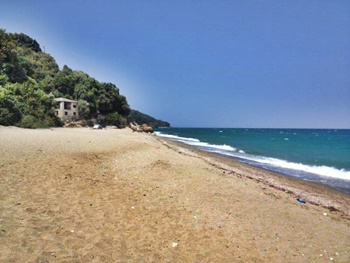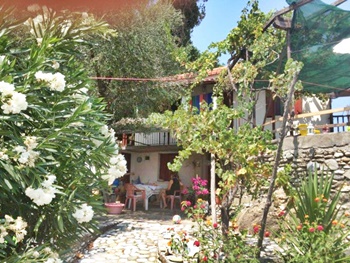 This is a 1930 square metres of olive oil trees with a small two floor house of about 65 m2 on one of Pelion's and perhaps Greece's most beautiful long beaches.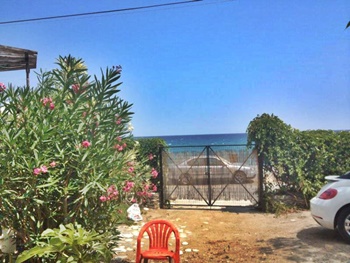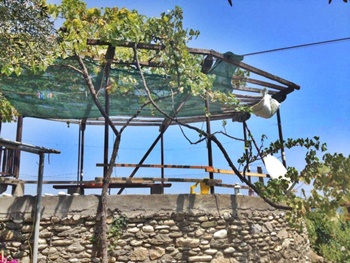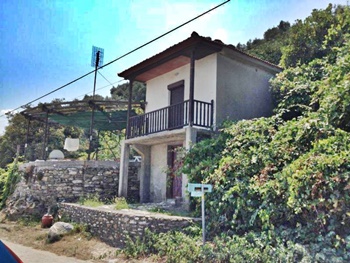 Tucked away in the corner of a long beach is this small house on an olive grove. The spot is ideal, only about 50 meters from a sandy beach.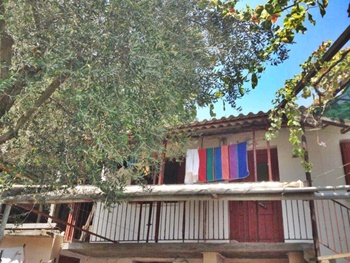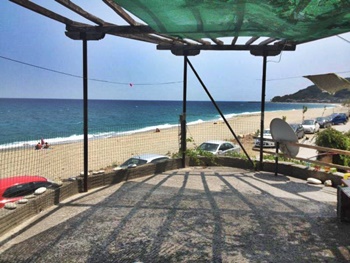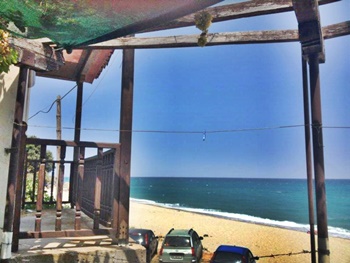 Since the majority of the olive grove is on a slope with wonderful panoramic views it falls within the village border there is a potential to build a large villa or a business establishment on the beach front property.
The house is on two levels. It is a simple, old, farm house. It has two small bedrooms with a corridor, a kitchen extension and bathroom. The ground floor is a large room of 30 m2. The spot deserves a much better looking building and it would not be surprising if the new owners, rather than renovating the old house just builds a new one. Horefto beach is one of Pelion's longest beaches and is situated on the Aegean coast of Pelion below the central village of Zagora.
Price : 350,000 Euros Offers Invited Code : PILION PP/H2621 NEW
---
A Two Storey Holiday Home For Letting Not Far from The Beach : Horto : Pelion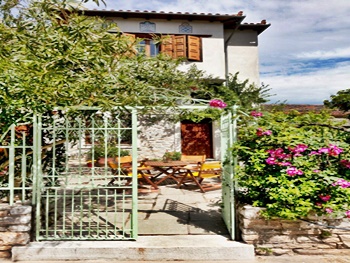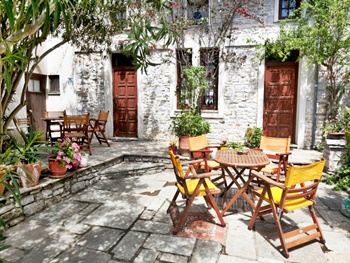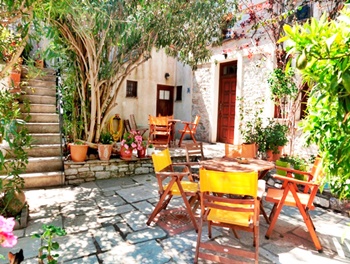 This two storey holiday home, is only 20m from the beach, and is for sale in Horto, South Pelion.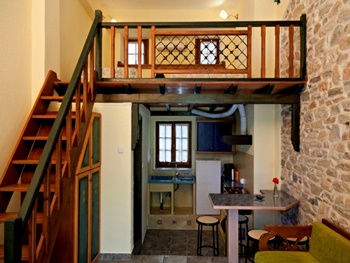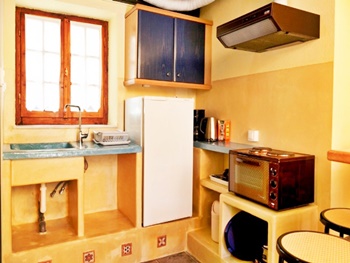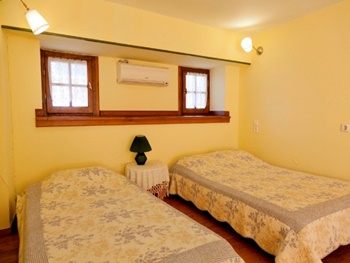 This old stone house has recently been restored and is fully habitable. It consists of three independent and fully furnished studios.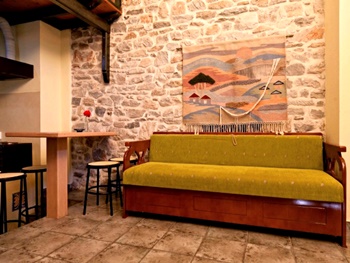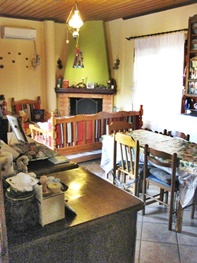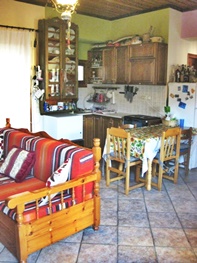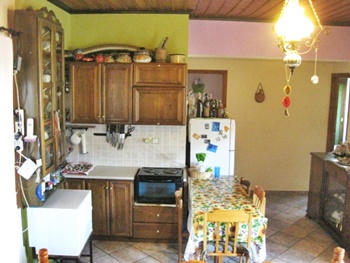 The fully furnished studios are on the ground floor and the first floor, and comprise of a living room with fireplace, an open plan kitchen, two bedrooms and one bathroom each.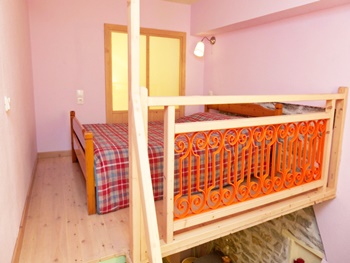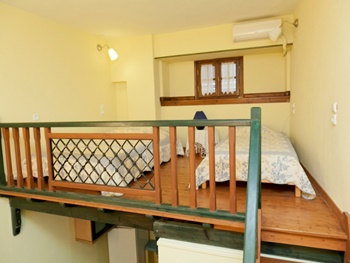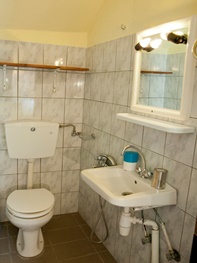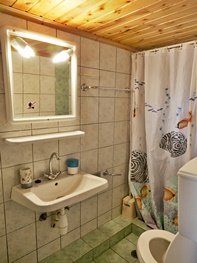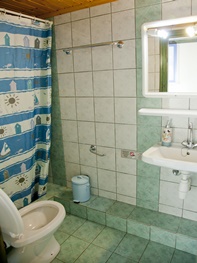 The studios are currently used as rental rooms and have an (EOT licence). The property is located in an advantageous location due to its proximity to the sea, is car accessible and is for sale fully furnished.
Price : 220,000 Euros Code : PILION PPCH/2603 NEW
---
A Recently Re Constructed Stone House : Vizitsa : Mount Pelion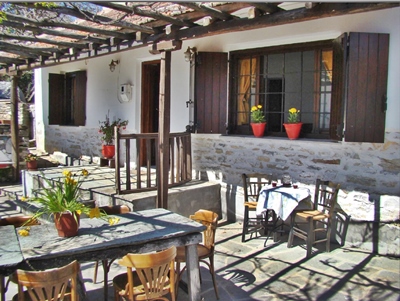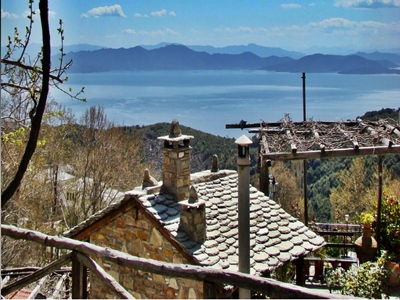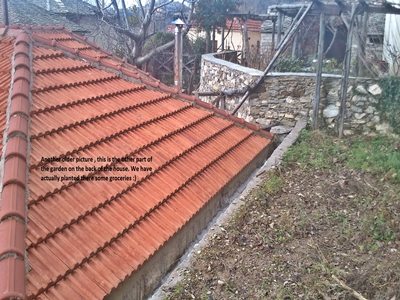 A cosy house for sale, fully furnished and equipped with everything you need, key in the door in the popular mountain village of Vizitsa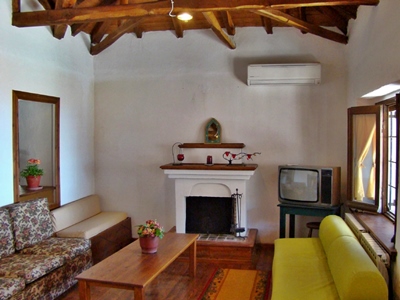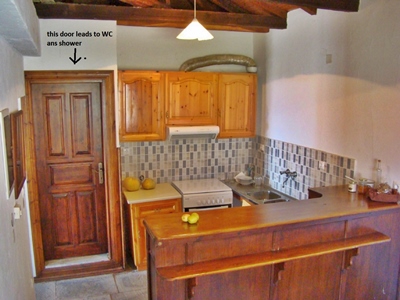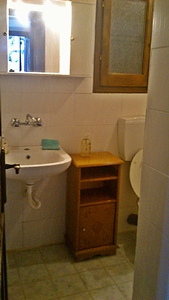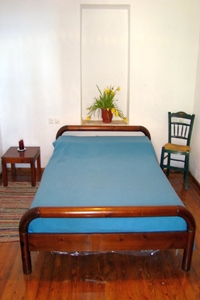 An independent level stone house with one bedroom, and space for extra bed in back room, living room and fireplace, open-plan kitchen, one bathroom, veranda and garden on 300 m2 of land with 75 m2 of living space. Recently reconstructed, the exposed beam roof further expands the feeling of the single story space. The vine-covered courtyard in front of the main entrance offers charming areas for dining outside during the warm summer months. This comfortable home is conveniently situated in a quiet area of the traditional and popular mountain village of Vizitsa, whose picturesque main square and parking lot are only five walking minutes away. The nearest beach on the gulf side is a 10 km drive; the attractive Aegean beaches are just 20 km off. The property enjoys a wonderful view of the sea and surrounding mountains. The cosy villa is for sale fully furnished, equipped with everything needed for immediate move-in, including central heating and A/C.
Asking Price : 135,000 Euros Code : PILION SR/010
---
A Fabulous Waterside Villa : Trikeri : Pelion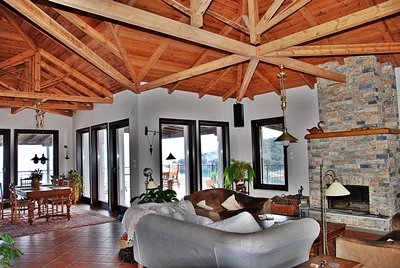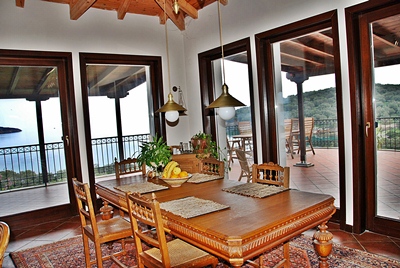 This is the most beautiful villa in the Pelion, situated on a peninsular, 30 metres from the sea on one side and 60 metres from the sea on the other side with a private sand beach.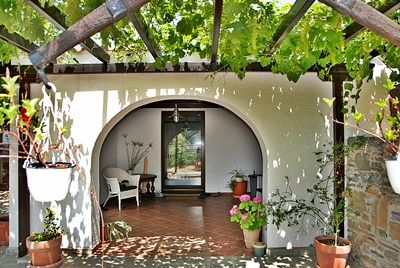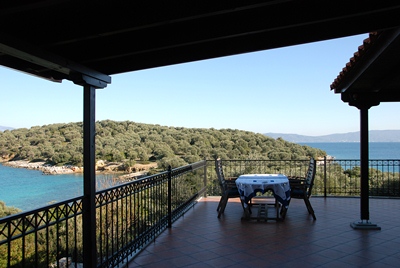 Prospective owners have the possibility to anchor their yacht in front of their home.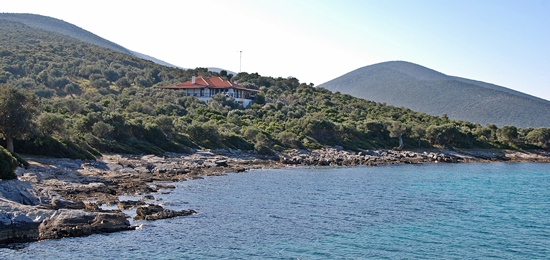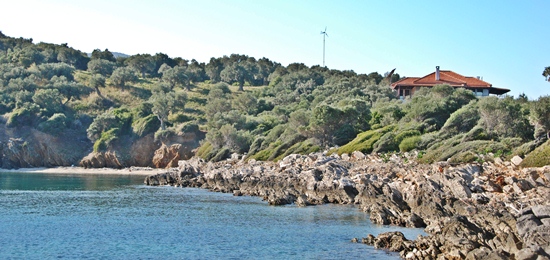 All rooms in the house have a sea view with the exception of one bathroom and the pantry. The entire house has radiant floor heating, triple glazed hardwood windows and doors. There is 10 cm of insulation on the outside of the house and roof, so the house is very warm in winter and cool in summer. The kitchen has granite worktops and top quality appliances including an indoor grill. The master bedroom comes complete with jacuzzi ( sea view) and marble counters.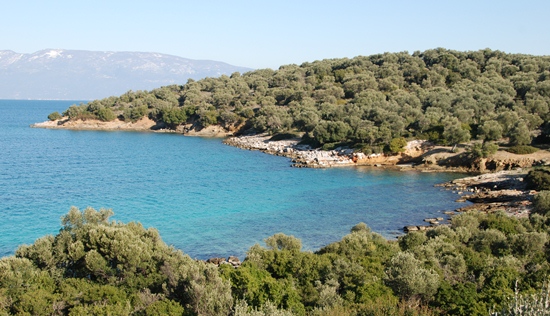 The villa was built in 2007 and has three bedrooms, 2 bathrooms one with Jacuzzi and walk in shower and one with walk in shower. The gardens all have an irrigation system and contain many olive trees ,orange, lemon, grapefruit, peach, lime apricot and nectarine. The plot size is 19,500 square metres of which 7,500 is olive grove.
Price : 980,000 Euros Code : PELION DKBB/010
---
A Plot Beside The Sea : Trikeri : Pelion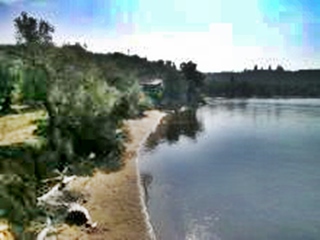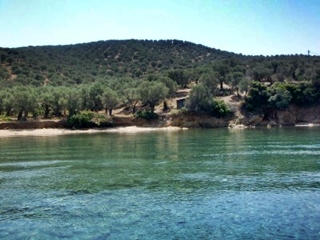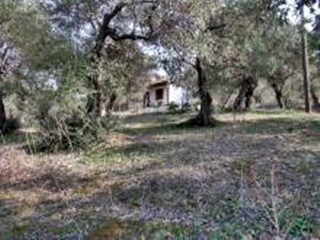 This romantic beach side estate consists of 20,000 m2 of olive grove gently sloping down to the sandy beach.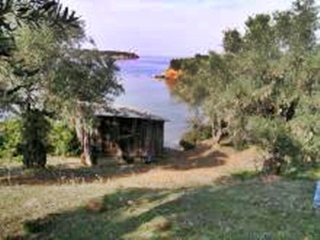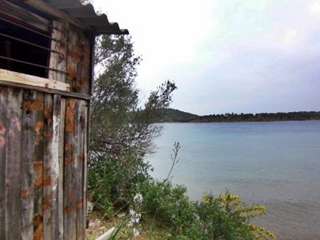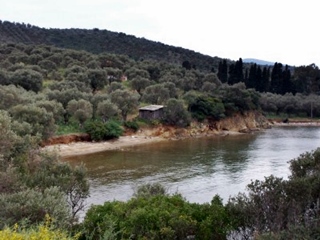 The property is a basic small farm house of 70 m2 with all utilities. The beach is about 25 meters in front of the house. There is also a wooden boat house belonging to the property on the beach. The water front of the estate is 75 meters of sandy beach and rocky islets. The size of the estate is significant because of the potential for extension of the house or additional building.
Price : 320,000 Euros Code : PELION PP/H2299
---
Seafront Buildable Land With Magnificent Sea Views : Trikeri : Pelion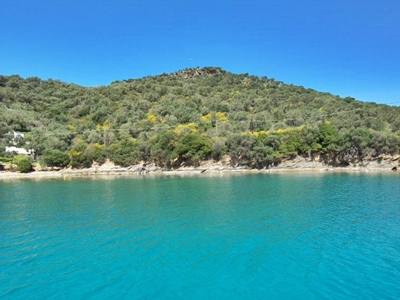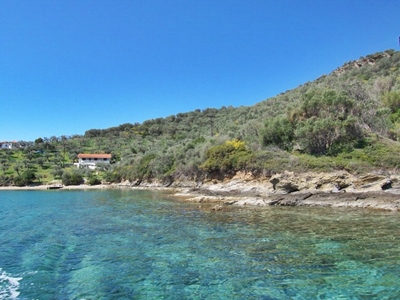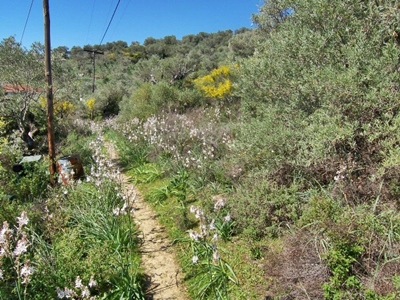 Build a home right next to the sea, next to a small beach. This south-facing, waterfront land is located in an idyllic and quiet setting on Trikeri Island, in South Pelion.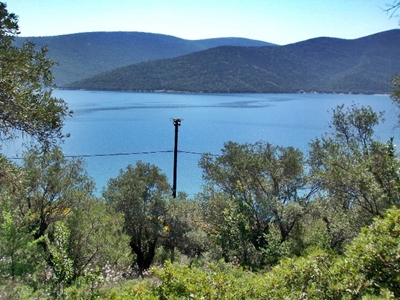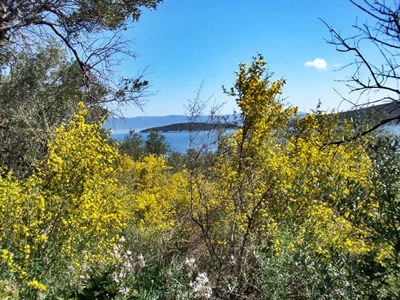 The gently sloped land, a mature olive grove, is some 10 walking minutes from Trikeri harbour and its two tavernas. Electricity and water supply are available next door. It is possible to build a house of up to 200m2 on this land.
Price : 89,000 Euros Code : PELION PP/L1243
---
A Small Villa With Aegean View : Syki : South Pelion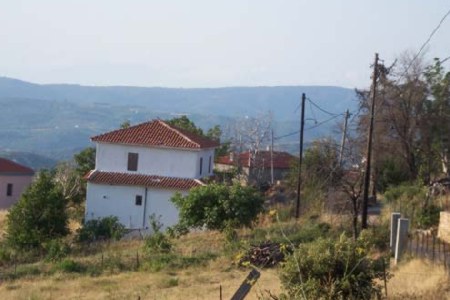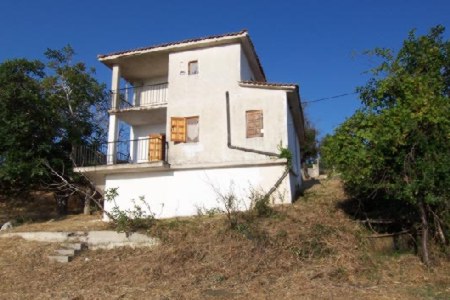 This is a two-storey house of 100 m2, with uninterrupted views of the Aegean Sea and surrounding mountains, at the edge of the village of Syki, in South Pelion. The house has a spacious living room/with fireplace, an open plan kitchen, a small bedroom and a bathroom and a large veranda with open sea views, on ground level. On the top floor has a spacious second bedroom with a balcony of uninterrupted sea views and a bathroom. The house requires a few light renovation works.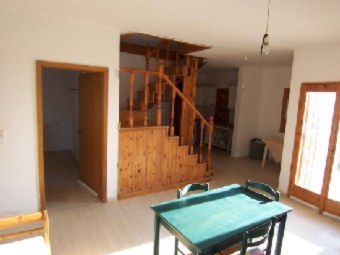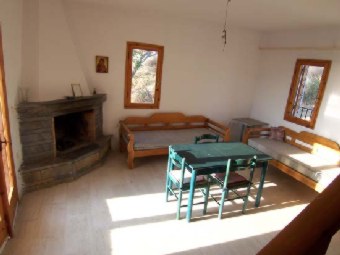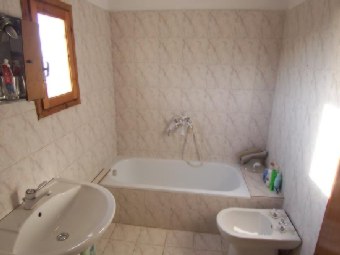 The house is located at the edge of the traditional village of Syki, only 5 min walk from the square. It has a large garden of 900 sq mts and car access.
Price : 100,000 Euros Code : PILION PP/H2441
---
Beautiful Semi Detached Houses For Sale on an Idylic Island In The Pagasitic Gulf : Island of Trikeri : Pilion

The Island is located inside a large sheltered Gulf which is a haven for many forms of wildlife and is perfect for sailing, fishing and snorkelling.

The Islands village of Agios Ioannis has a couple of tavernas, cafe, bar and a Mini Market with all that you need. It is a rustic and simple village in a pretty place where the locals are incredibly hospitable and welcome newcomers.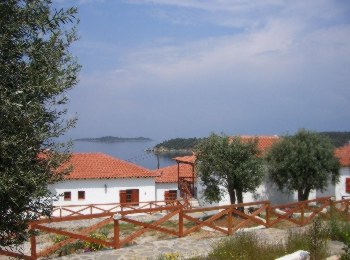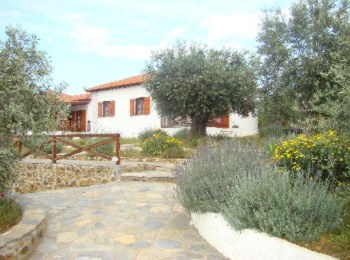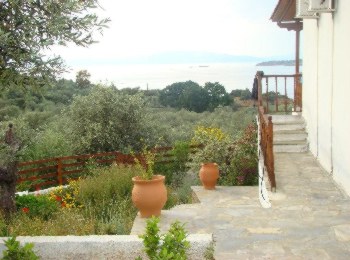 Each Villa has the following : 2 Bedrooms : Fireplace : Fully Fitted Kitchen With Tiled Worktops : Fully Tiled Bathrooms : Terrace With Excellent Sea Views : Storage Areas : Private Landscaped Gardens and access to a communal landscaped garden.
Around the Island are a plethora of sandy bays and coves dotted around the Island that provide good swimming, and all within walking distance.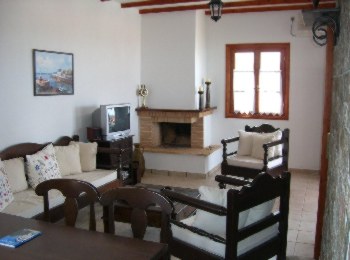 All the Villas are built in a 5200 square metre olive grove, only 100 metres from the beach of Saint Sophia.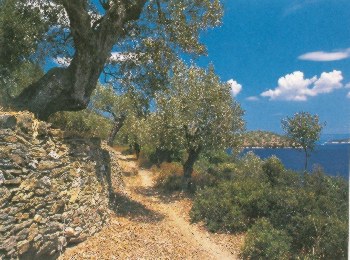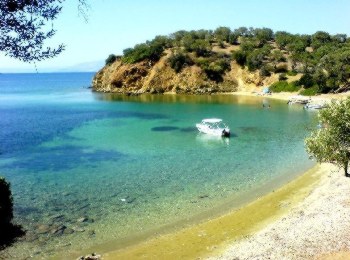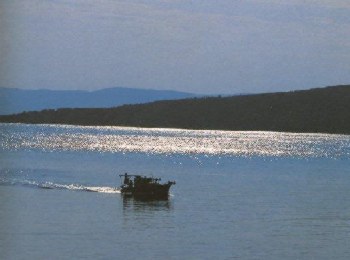 The Price Includes All The White Goods Including Dishwasher : Oven : Refrigerator and a Washing Machine
If You Would Like To Visit And View Or For Further Information Please E Mail Brian For PELION DK/TRIKERA
E Mail Brian.
A special offer is available for property "B2" at the price of 83,000 Euros.
Price For A 55 Square Metre House : 100,000 Euros Price For A 65 Square Metre House : 120,000 Euros Code : PELION DK/TRIKERA
---
A Plot For Sale Close To The Beach : Xinourissi : South Pelion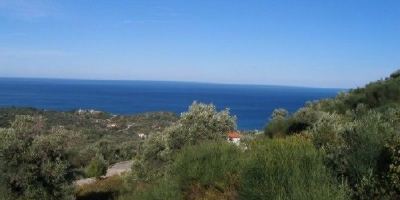 This Build-able plot of 2.500 m2 has uninterrupted Aegean views.
It is only 2,5 km from the traditional village of Xinovrissi, it has car access, is fenced, and has electricity and water supply.
The plot building allowance for this half of the original plot is 100 m2 and is co-owned with the owner of the house next to it. You wIll own the freehold.
Xinourissi is only minutes from a spectacular beach.
Price : 50,000 Euros Code : PILION PP/L1169
---
A Sunset Pool Villa Including An Independent Guest House : Afetes : Pilion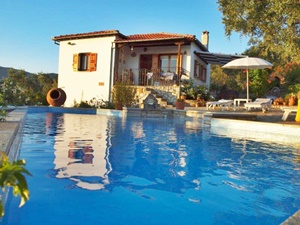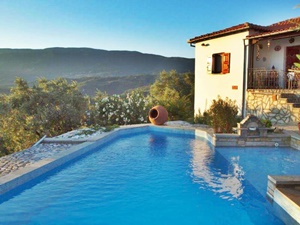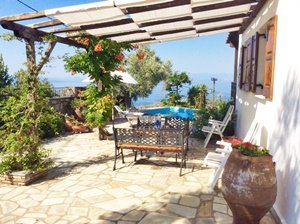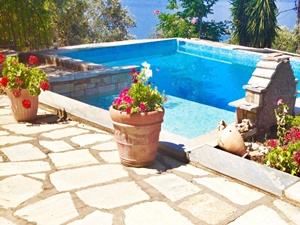 This is a swimming pool villa in beautiful Pelion in the village of Zervochia above the popular water resort village of Affisos.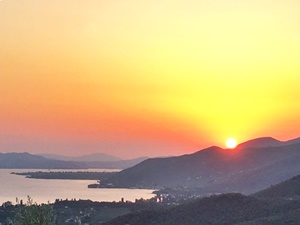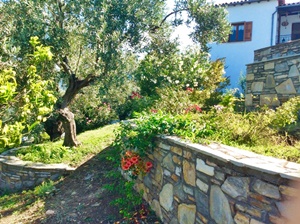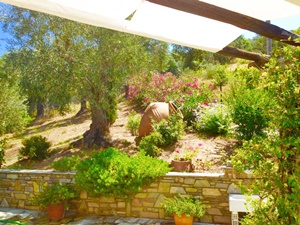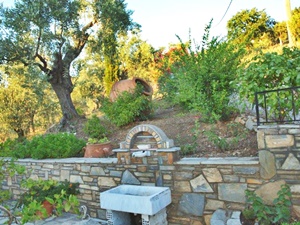 The villa has stunning Panoramic views leading to fantastic sunsets.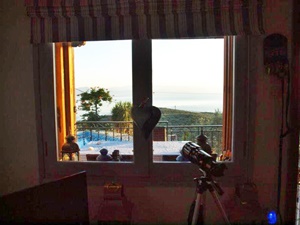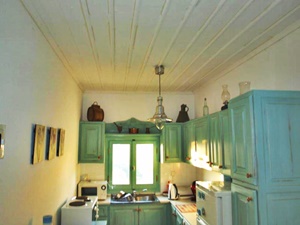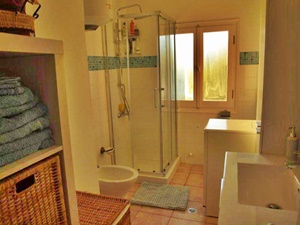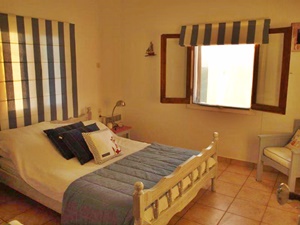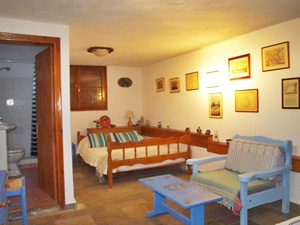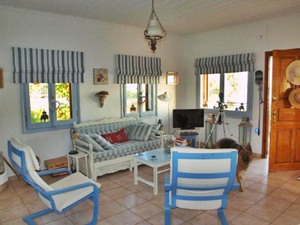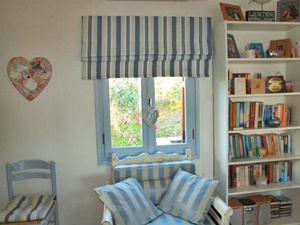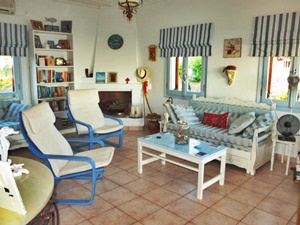 One minute you are in the middle of it all in Affisos with trendy catering/entertainment and water sport centers and the next minute (actually 10 minutes drive) you are in your private, romantic quaint villa watching the sunset in the reflection of your villa in the pool. The villa is in two levels with an independent own entrance studio apartment. There are 2 bedrooms, 2 bathrooms, kitchen, living room, panoramic views, fire place, air-conditioning, swimming pool in 4,000 m2 of olive grove. 80m2 living space and 34.5 m2 legal swimming pool under the tax threshold. Includes an independent guest house.

Price : 250,000 Euros Code : PILION PP/H6571 NEW
---
Modern New Houses For Sale Only 150 Metres From The Popular Beach Of Kala Nera : Pelion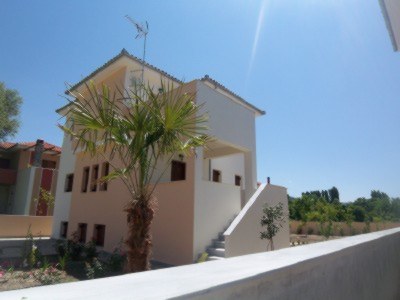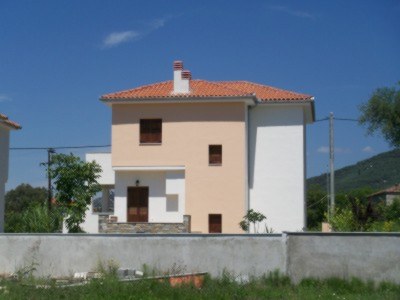 These modern new houses with a special Pelion appeal and stylish exterior and interior charm are conveniently located in a green and quiet area only 150 meters from the popular beach of Kala Nera. They are two story high consisting of two bedrooms, bathrooms and kitchen with a large semi basement. Each house has its own independent private entrance with a private garden of 1000 m2.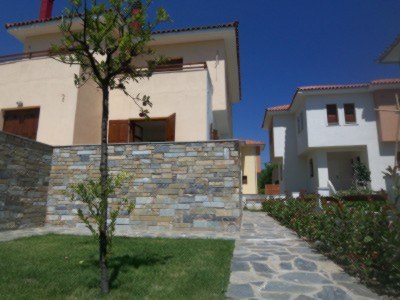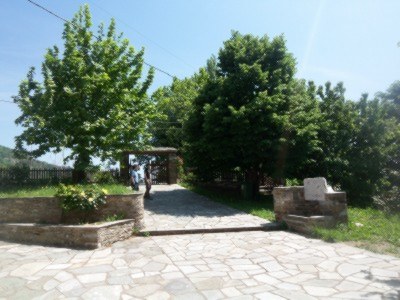 The houses are built by an owner architect and they are all anti-seismic. House sizes: House 1 and 2: 100m2 (50 on each level)+ 50m2 semi basement on 250m2 of walled private garden At 260,000-280,000 land. The price difference is due to position of the two houses. House 3_ Semi detached with private garden and entrance of 60 m2 (30m2 each floor) plus 30 meters semi basement, offered at 120,000 Euros.
Price : 120,000 to 280,000 Euros See Details Above. Code : PILION PP/H2438
---
A Pelion Coastal View Villa For Sale : Agios Dimitrios : Pilion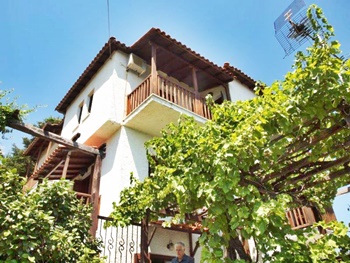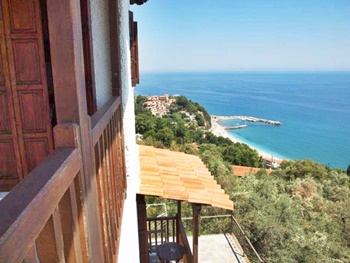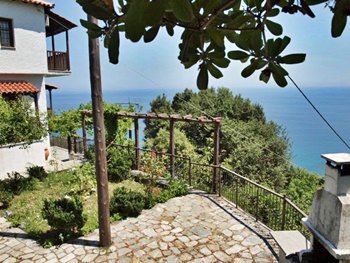 This property overlooks the costal line of Pelion on the Aegean and is situated above the popular sea resort village of Agios Ioannies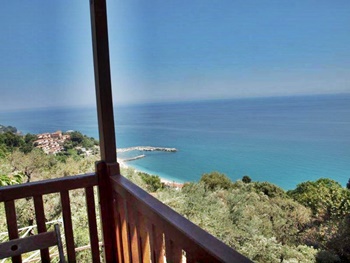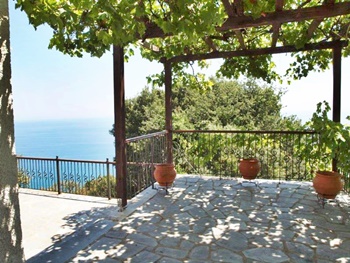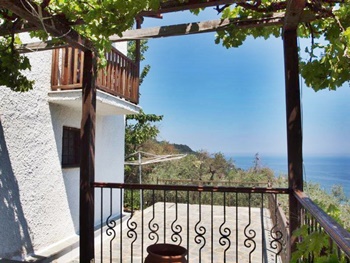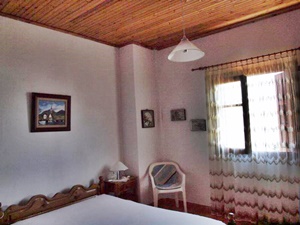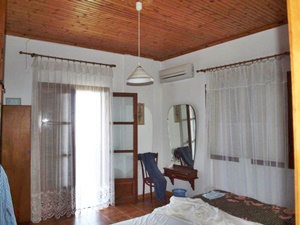 Minutes to the sea on 3 levels , 3 bedrooms, 2 bath, spacious semi basement to create more rooms with views, total of 2,000 m2 with 210 m2 living space.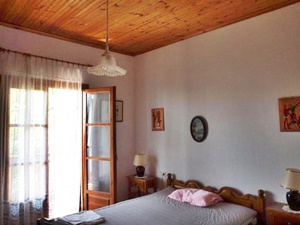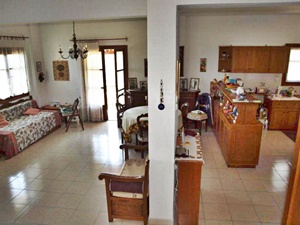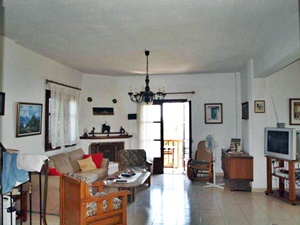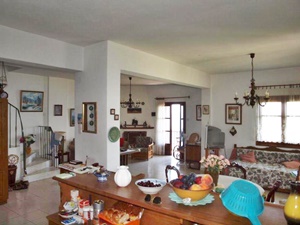 This property overlooks the costal line of Pelion on the Aegean and is situated above the popular sea resort village of Agios Ioannies with only minutes to the sea. It is easily car accessed and has its own parking space the rooms are spacious and the ground floor with its large entrance hall and open plan kitchen and living room is very impressive. The bedrooms are on the second floor and a very large basement with sea view and facilities is ideal for storage or expansion.
Price : 275,000 Euros Offers ! Code : PILION PP/H6567
NEW
---
Aegean Sea View Mansion House : Mouresi : Eastern Pilion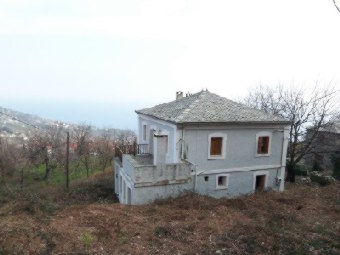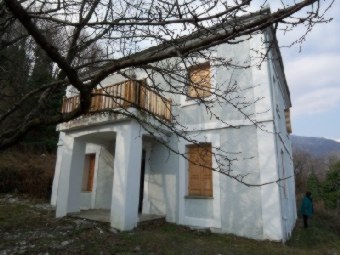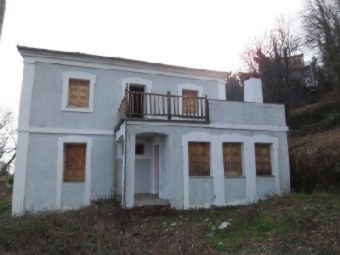 3 bedrooms, 3 bathrooms, 3 fire places, stone roof, newly built in the lovely green village of Mouresi in Eastern Pelion, only a few kilometers from some of Pelion's and Greece's best beaches. The mansion house is built on 658 m2 of land and is 193 m2 in area.
Price : 350,000 Euros Code : PILION PP/H2410
---
A Sweet Villa By The Bridge : Lefokastro : Pilion South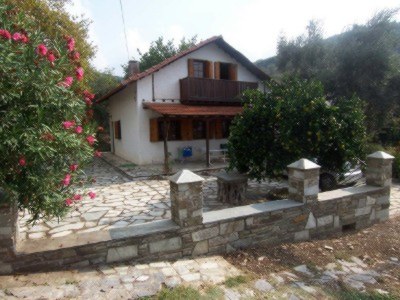 This is a unique 2 storey villa of 127 m2, only 3 minutes walk from the popular beach of Lefokastro village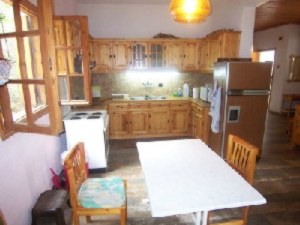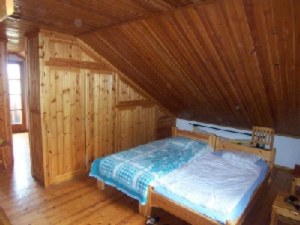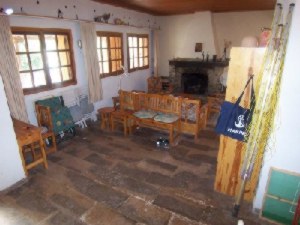 The villa is located on 351 m2 land that is paved with Pelion stone slates and surrounded by olive groves and orange trees : The adjacent creek and the old stone bridge add to the charm of the easily car accessed villa : The property has 3 bedrooms and a balcony upstairs, a large living room with fireplace, an open kitchen and bathroom downstairs. It is for sale fully furnished .
Price : 190,000 Euros Code : PELION PP/H2403
---
A Modern Ground Floor Flat Close To The Beach : Platanidia : Pilion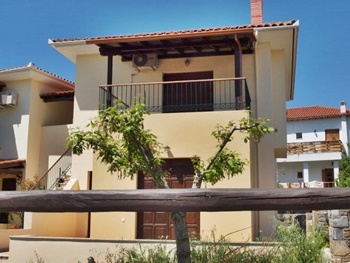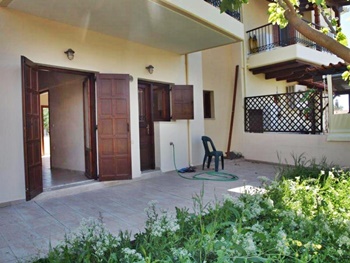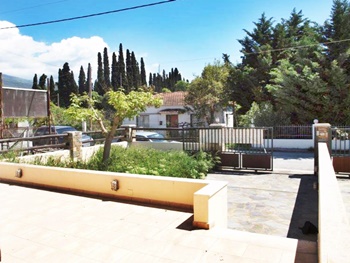 Platanidia is a small waterfront resort with long sands and gravel beaches.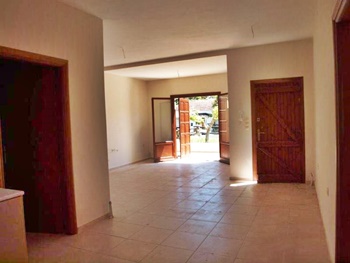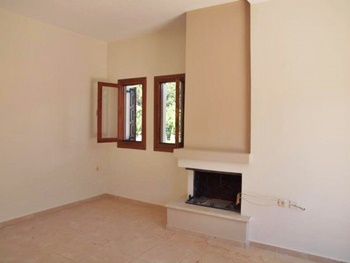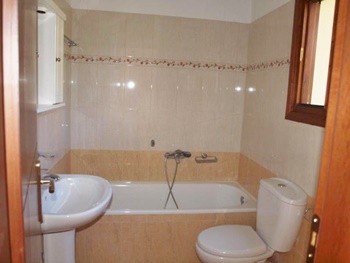 The flat is in a quiet village near the main road leading to Volos and Argalasti.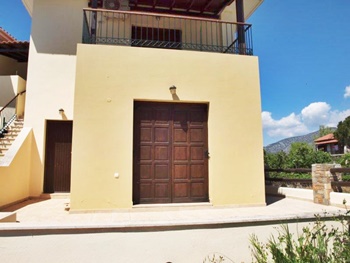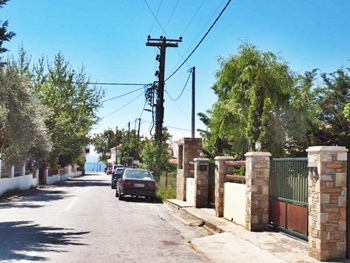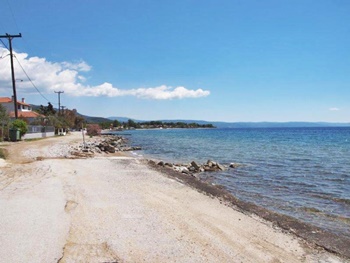 The flat is a brand new clean and practical flat with plenty of outdoor space. One bedroom is large with roomy closets and the second bedroom cozy and small. There is no sea view but the house is only 100 meters from the beach in a quiet neighborhood. There are two bedrooms in this brand new flat, an open plan kitchen, a fire place, plumbing for central heating, 68m2 living space, a large terrace and two gardens with garage. It is only 100 meters to water front catering facilities and beaches. The flat and the gardens are independent and have their own entrance.
Price : 118,000 Euros Code : PILION PP/H2644 NEW
---
A Stone Finished Village House : Agios Georgios Nilias : Pelion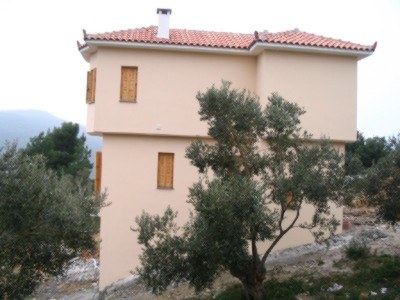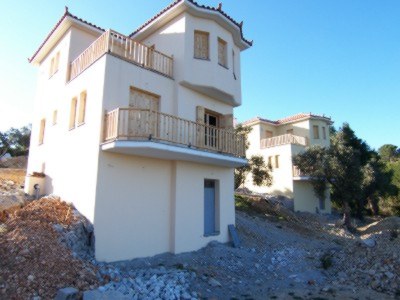 Beautifully stone finished house in the heart of Pelion mountain in the traditional village of Agios Yorgious. The house with good views of the gulf of Pelion enjoys wonderful sunsets through the year and is situated inside the village Within walking distance to the centre of the community. The property is Car accessible almost a rarity for Pelion village houses and has its own parking. However, since the road does not continue any further after the property it guarantees the peace and quiet expected from a traditional mountain village.
The small house is only completed as a foundation and a traditional stone roof but no work has been done in the interior leaving the new owner to indulge in their imagination. There are two floors to the house each at approximately 35 meters providing a space of approximately 70 m2 sufficient to build two small bedrooms, bath, living area and kitchen. The house has the potential to build further living space if required. In addition to the parking there is also a small garden in the 280m2 plot on which the house is built.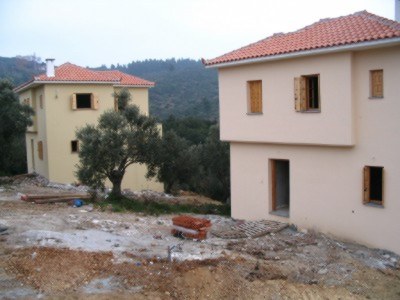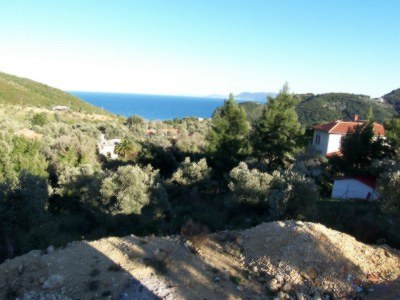 The area enjoys wonderful panoramic views and is ideal for mountain tracking and nature exploring.
Price : 148,000 Euros Code : PILION PP/H2428
---
A Traditional Stone Built Villa : Promiri : Pelion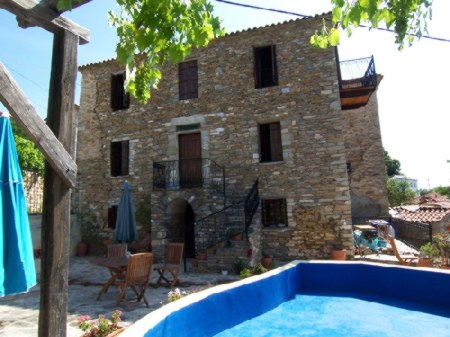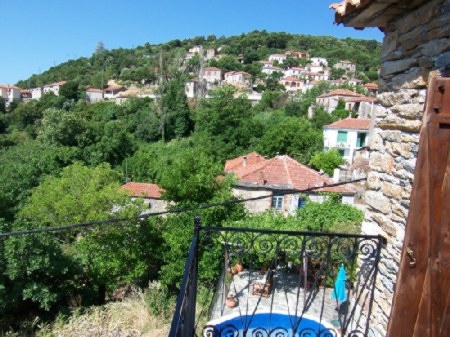 This traditional three storey stone house is located on the edge of Promiri, in South Pelion, overlooking forest and mountains. The property was built in 1887 and fully renovated in 2004, maintaining the traditional style while offering modern facilities. The total size of all three floors is 142 square mts. There is the open plan kitchen, a dining area and the bathroom on the ground floor. The middle level is a beautifully decorated room with a fireplace, used as a bedroom. The top floor is again an open space with tasteful traditional touches and Beautiful views of the village and mountains. This traditional stone built property is For sale fully furnished. The traditional villa has a small swimming pool on the spacious courtyard. This charming property is car accessed.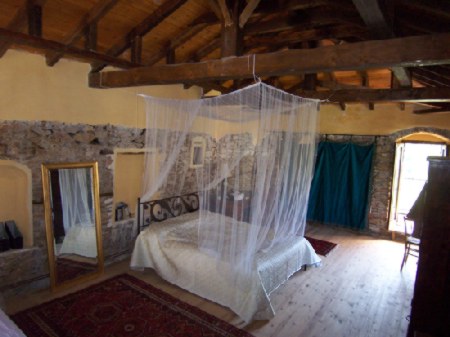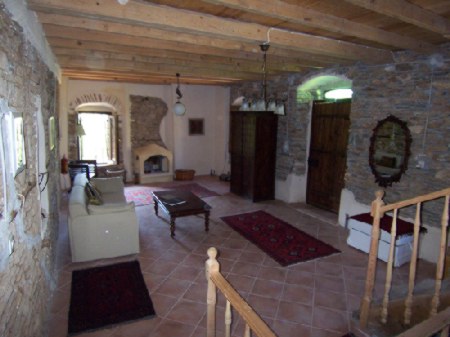 Promiri village is only a 10 min drive to the nearest beach of Platanias
Price : 170,000 Euros REDUCED Code : PILION PP/H2437

---
An Exclusive Modern Mansion Near The Beach : Promiri : Pelion
This unique 2-storey villa of 181m2, is only 100m from the beach and is located in Horto, one of the charming seafront villages of South Pelion.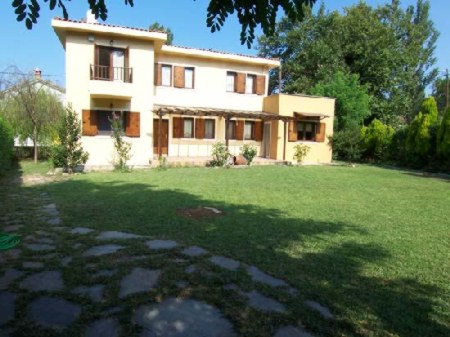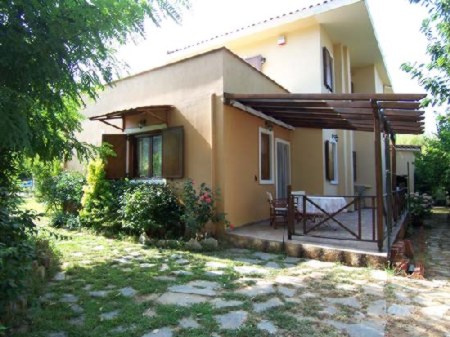 The villa is situated on a lush garden of 730m2. It has car access and a parking area for 3 cars. This spacious villa has an open, L-shaped living room with fire place, dinning area and kitchen. There is also an en suite guest room on the ground floor. On the top floor are 3 bedrooms. The master bedroom has a large veranda with mountain view and a WC. One of the other two bedrooms has a balcony. There is also a common bathroom for this level.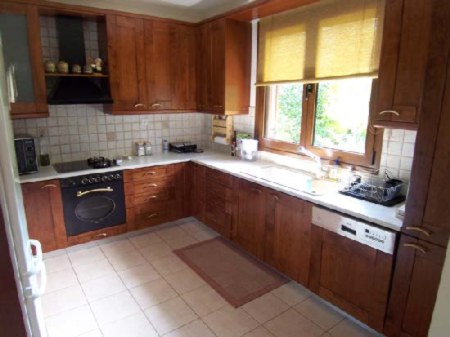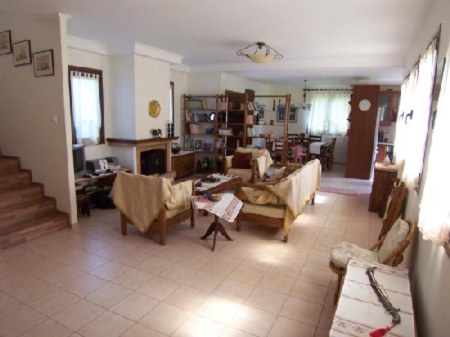 Warm water is provided by a solar boiler and the villa is heated by built-in electro radiators. The villa is built with exceptional standards and has double insulation on both the walls and th there is a well for watering

Price : 600,000 Euros Code : PILION PP/H2442
---
A Complete Holiday Complex For Sale Near to the Blue Flag Beach Resort of Alikes : Alikes : Pelion, Greece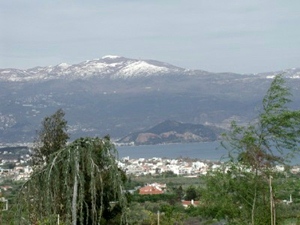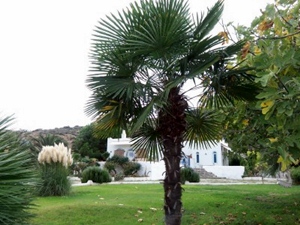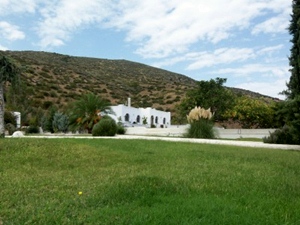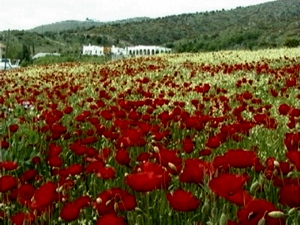 This holiday complex is situated near the Blue flag beach resort near to the port city of Volos. These are a total of 4 units in two villas and a guest house on a mature garden with all facilities. There is a potential of building a 5th unit. Garden facilities include Jacuzzi, carpeted basketball and game court, vineyard, fruit garden, sauna and a total of 500 m2 balconies with breathtaking views. The villas are on a estate of 7000m2 with magnificent views of Mount Pelion , the port city of Volos and the Mediterranean.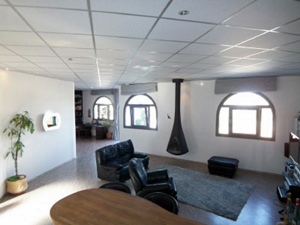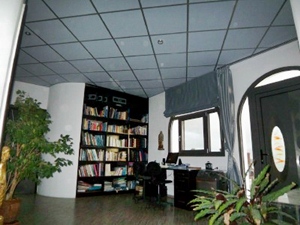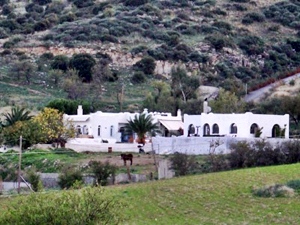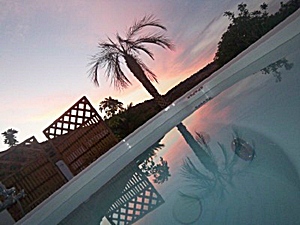 They are only 25 Kilometers from the international airport of central Greece and consist of a total of 9 bedrooms 8 bathrooms, living rooms, 3 kitchens, cinema room, fire places, game rooms, libraries, etc and have ideal holiday rental possibilities through the year. Other facilities in the area include winter ski centre on Mount Pelion, numerous archaeological sites, sea water sports, open horse riding fields, hiking and tennis courts.
Price : 685,000 Euros Code : PILION PP/H2475
---
A Cluster Of Properties For Sale In The Centre Of The Village : Argalasti : Pelion, Greece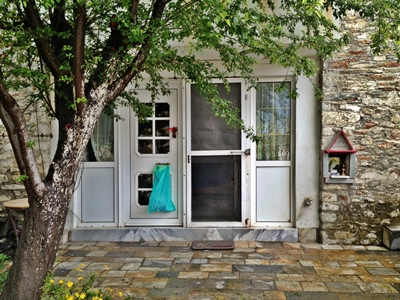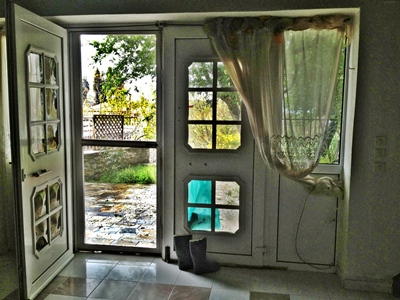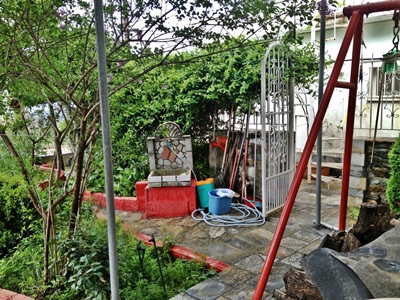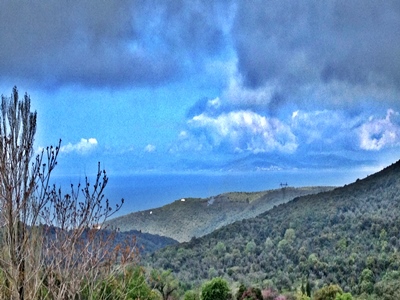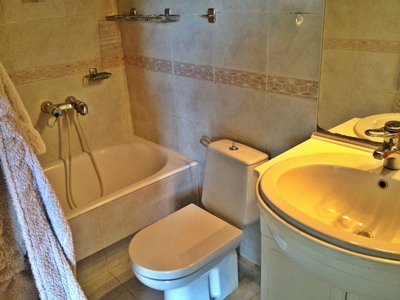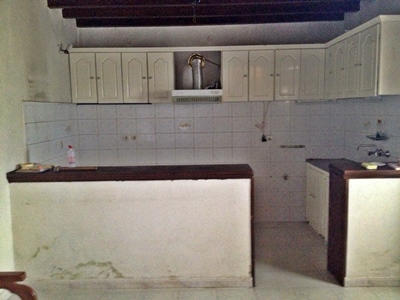 The properties are a five minute walk from the town square of Argalasti with all the usual shops, supermarkets, bakeries, cafeterias and tavernas. There is a roadway leading to them from either side and various parking places close by. 3 of the buildings are ready for moving in to and these have all sorts of possibilities ranging from private homes to renting out or making a few changes to create holiday homes/pension etc. All properties have electric, water supply and a septic tank.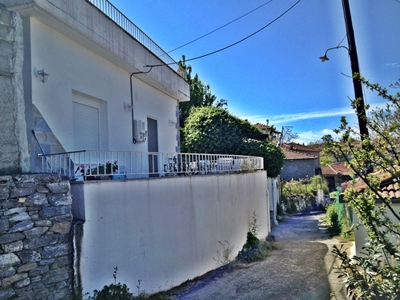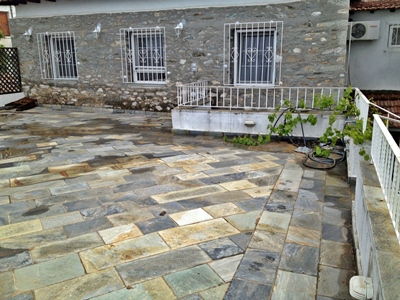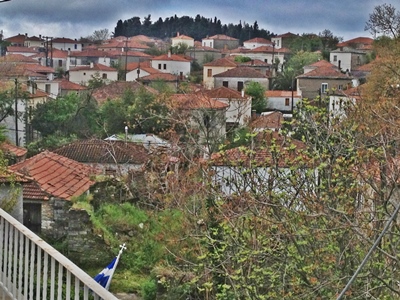 The properties consist of 4 buildings. Facing the houses, the one to the right is an old 1960's stone built house with two rooms either side of a hallway. It is uninhabitable at the moment, i.e. in need of complete renovation. The house itself is approximately 50m2 and total land, including the house, is approximately 150m2. A gated entrance to the front garden, leads to the front door. There is electricity and water supply and a septic tank. This house is fully furnished with all kitchen equipment, washing machine and freezer.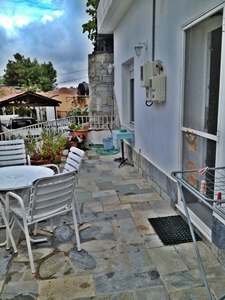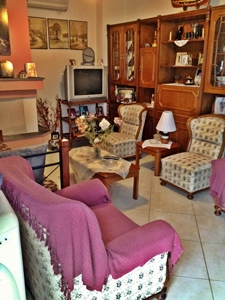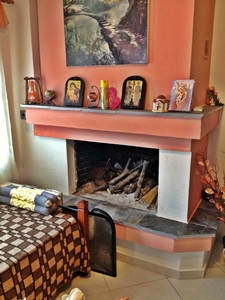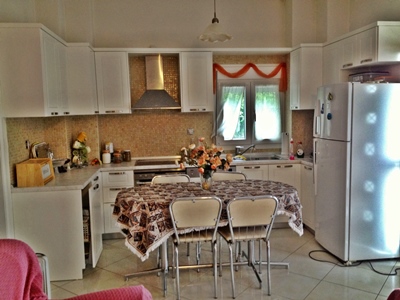 The second property to the left of the old house is a pair of stone built houses built in 1960's, then in 1990 and 2000 they were reinforced by an extra 20cm inside walls and 20cm outside walls with iron rods and concrete, providing a 90cm thickness of walls. Around 50-60m2 each with a sea view to the front and a view to Agia Paraskevi to the left, the houses connect by a hallway upstairs. Stone steps lead up to the garden to the house on the right hand side, with a pretty garden and patio area, walkway around the garden with trees, shrubs and flowers and a pretty water feature with a mains tap. There is a large brick built barbecue and plenty of room for seating etc.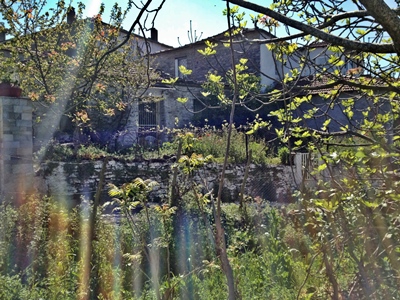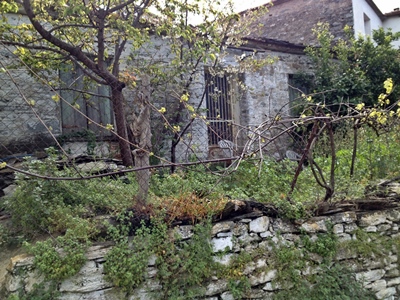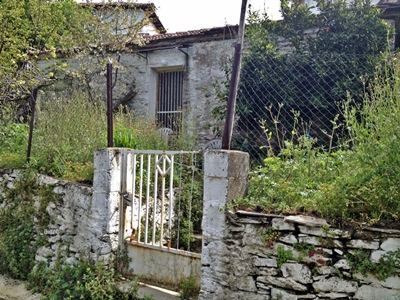 The entire plot with all four properties is approximately 150m2 and the owner wants to sell the whole lot for 525,000 Euros with the possibilities ranging from private homes to renting out or making a few changes to create a small holiday homes complex or pension etc.
Price : 525,000 Euros Code : PILION JD/010
---
A Beach Party Club House : Lehonia Kato : Pelion : Greece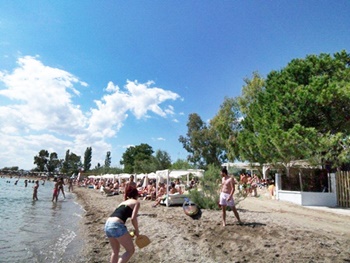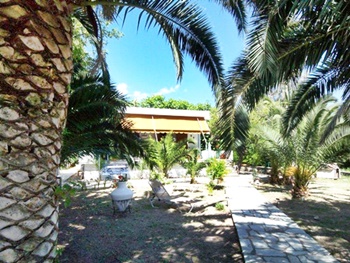 An Ideal beach front, beach garden property for rental accommodation, beach restaurant, cafe, bar or water sports club.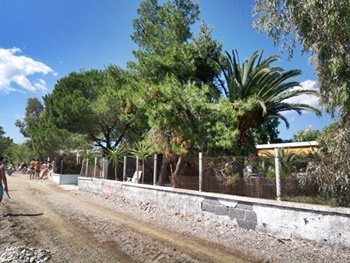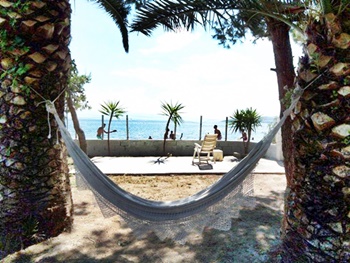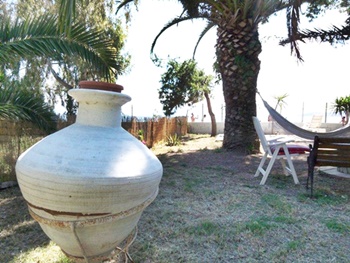 This property has 2 bedrooms, one bath, living, dinning and kitchen, balcony, 500 m2 of palm garden, sea front, beach front, Building 71.5 m2, maybe one of the last beach front villas for sale.
10 meters of sandy beach is all that separates this villa from the sea. This is a very rare opportunity to own perhaps one of the last available beach front properties in Pelion. The villa was built in 1978. It has a beautiful palm and fruit trees garden. It is car accessed and sits right in front of the Pagasitikos Gulf of Pelion.
The garden is magical and the charming old palm trees give you an aristocratic feel. Relaxing in the hammock under your palm trees looking at the sea you will keep checking to see how much rum you have added to your Pinacolada!
Price : 245,000 Euros Code : PILION PP/H2523
---
The Traditional Guest House Of Argalasti : Argalasti : Pelion : Greece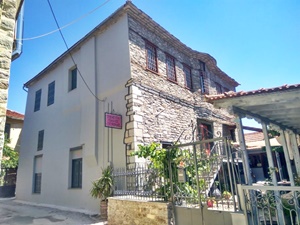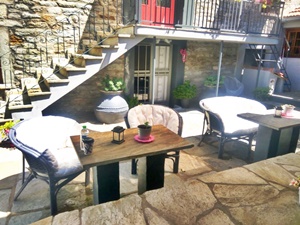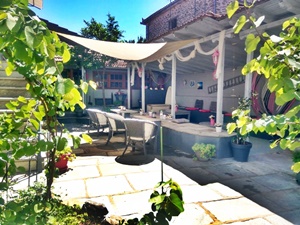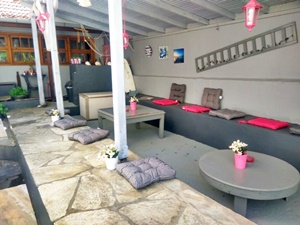 A Traditional stone mansion with ten bedrooms, two wc, two bathrooms, kitchen, living room, dining room, storage, spacious courtyard and central heating.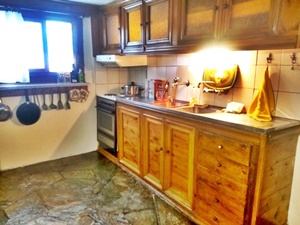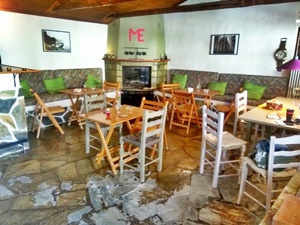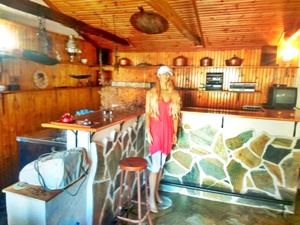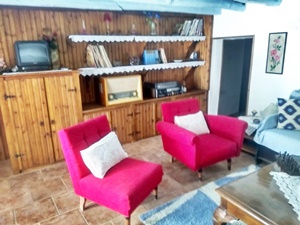 This traditional guest house is located near the square of Argalasti village.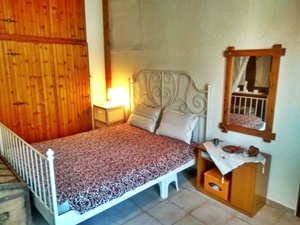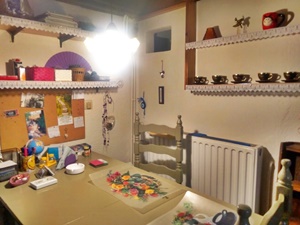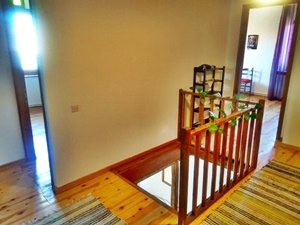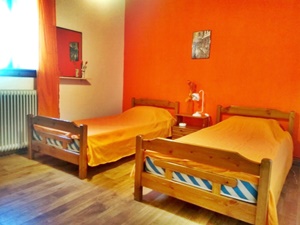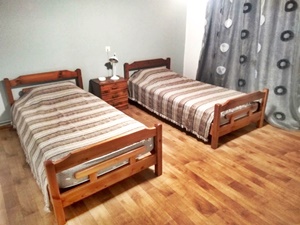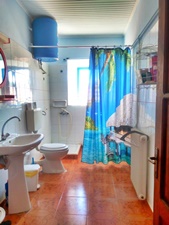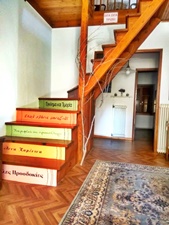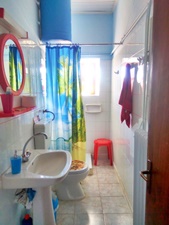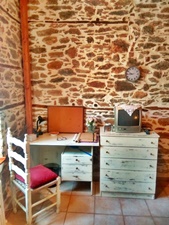 This stone mansion is on three levels with total number of ten bedrooms. The ground floor has one bedroom, one spacious living room, a kitchen/dining area, a bar/café with fireplace, two wc, one large storage room. The middle floor has four double rooms and one bathroom and the top floor has six double rooms and one bathroom. This traditional stone guest house has recently been renovated and is for sale fully furnished. The spacious, stone-built courtyard adds to the charm of this exceptional mansion.
Price : 270,000 Euros Code : PILION PP/H2647
---