---
South East Peleponnese Page 2
Kilada : Lakkes : Porto Heli : Kilada Hills : Kranidi : Ermioni

Aegean Airlines have 3 daily each way flights From London Heathrow to Athens, and now fly from Manchester


Easy Jet Fly Gatwick to Athens.

To View. Scroll Down to the Bottom of Each Page. You May Also Click at the Bottom for Pages 3 and 4.

---
Kilada is close to Kranidi on the Eastern side of the Argolidos Gulf in the East Peloponnese.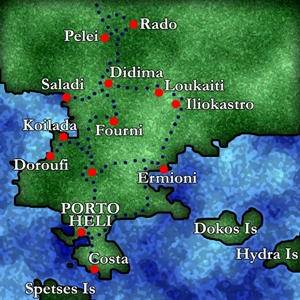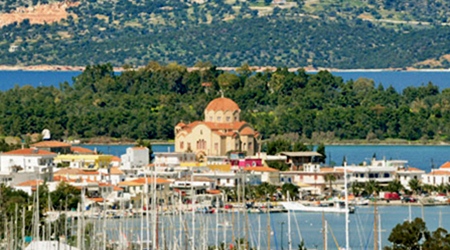 It is very easy to get to from Athens as the Flying Dolphin Hydrofoils from Piraeus go into both Porto Heli opposite to Spetses and into Ermioni.
Map courtesy of www.portoheli.net
It takes just over two hours, you then take a taxi from the dock to Kilada which takes about ten to fifteen minutes. It's very easy.
Or it takes just over two hours, by taxi or Hire Car from Athens International Airport to Kilada. Hire Cars are available by clicking the Economy Hire Car logo on my front page, It's very easy. The area is central for all the Ancient monuments of the Peloponnesus, and visits by sea to Poros, Hydra, Spetses and Monomvasia
We have new houses and resale houses, apartments and plots for individual houses or plots for development purposes
The region has kept its native ness and has become the destination of people seeking holiday houses internationally. At once it became the destination of international investors though, which is attested to the new AMANZOE hotel (which became Hotel Of The Year 2013 and would be worthy to receive an architecture award concerning it's embedment into the landscape), belonging to the AMAN group, as well as NIKKI BEACH, which will be opened in 2019, the new Jack Nicklaus Design golf course by Dolphin Capital Investors (construction works will start soon) and also the new marina in Ermioni and Kilada. The residences of international VIPs like the royal couple of the Netherlands, Maxima and Willem Alexander, Sean Connery, Swarowski and many more emphasize this trend. The ex King of Greece has moved to Porto Heli from London.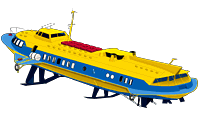 Getting to Kilada from Athens is easy as the Flying Dolphin Hydrofoils call in to Poros. Hydra. Ermioni. Spetses, and Porto Heli. U.K. EasyJet Airlines fly to Athens twice a day from London Gatwick and have on line booking. Aegean Airlines have three flights a day from London Heathrow. To view property around Kilada we can meet you at the dockside and take you to a Hotel or Apartment just ask Brian for details. An Air conditioned taxi can meet you in Athens airport & take you to Porto Heli for € 200, or you can book a Hire Car from Economy Car Rental at the airport . Just Click the Logo On my Front Page to book on line.
---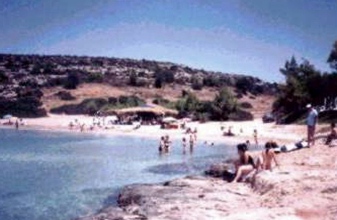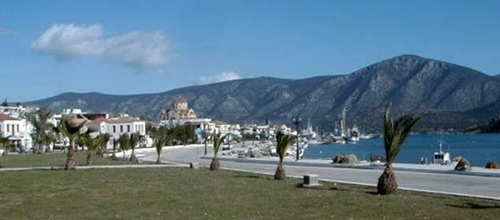 Kilada Water Front : Lepitsa Beach & Cafe : Kilada Village And Harbour.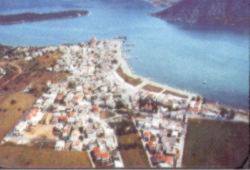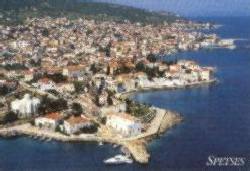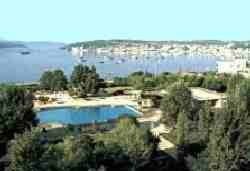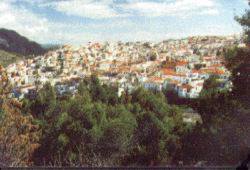 Kilada : Kranidi : Porto Heli : Ermioni : Spetses
---
A Beautiful Private Villa Set In Its Own Estate Of 20 Stremma ( 5 Acres ) : Lakkes : Next To Kilada Hills : Argolida
Top Location between Amanresorts and Summer residence of the Dutch Royal Family
For Sale at a give away price of only 350,000 Euros : Price now slashed from 1,000,000 only four years ago.
For sale at a price greatly reduced from its real value, reason for this reluctant sale, Old Age.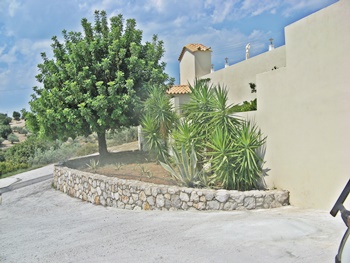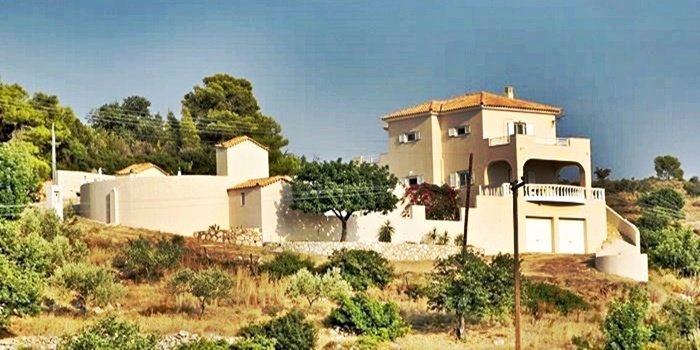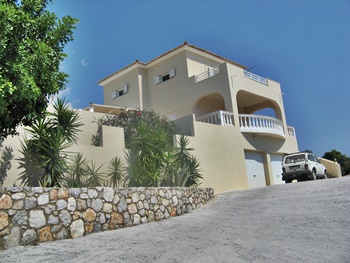 This beautiful three bedroom Villa has been built in to the hillside to take in to account the plots fantastic vista. Built to Greek earthquake standards it is built on rock and with three levels. It is at Lakkes behind Dourufi, close to Kilada. It is located close to the new Kilada Hills development and the new Jack Nicklause golf course and the views look over Cape Thini and the Argolidic gulf, across to Leonidas and Astros and up the Gulf to Nafplion.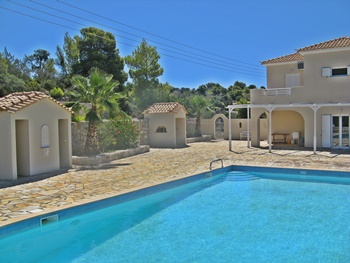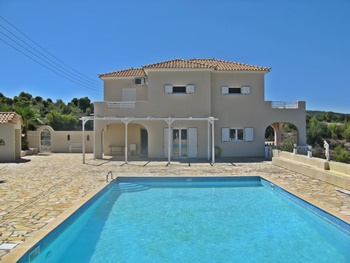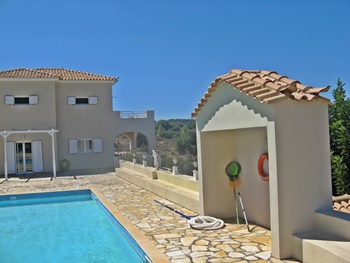 The first level is a four or five car garage which can also be used as boat storage. In the back of the garage is a small workshop with bench and tools and a 500 litre fresh water reserve tank with pump plus a water heater for the downstairs hot water system. The central heating boiler will also be situated here. On this level also but on the other side under the steps is a fully functioning office with Internet and telephone connections, which can also be used as a gymnasium and for extra storage.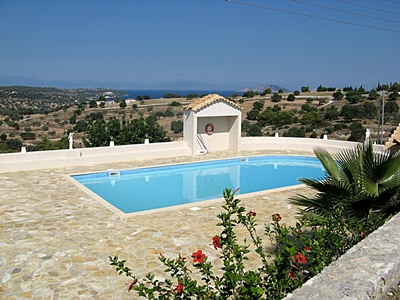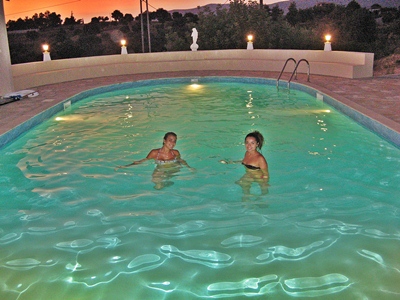 The wide sweeping steps lead up to the next level which has the swimming pool set in to the large terrace overlooking the view to the Argolida gulf. Steps from this level lead up to the top terrace, and down to the swimming pool filter equipment room and a garden with grape vines, orange and lemon trees. Around this level are the swimming pool changing room, the BBQ and an outside shower.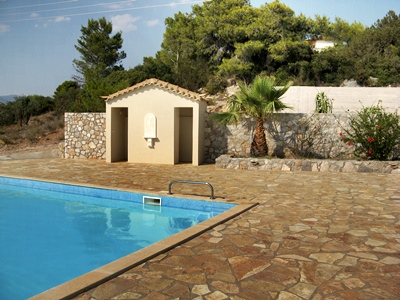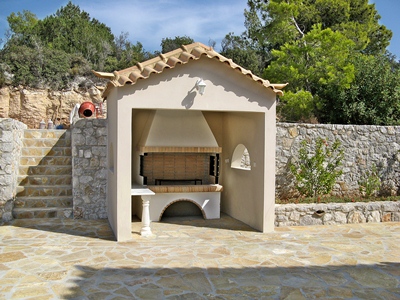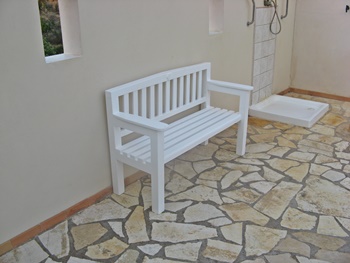 The terrace is laid with Albanian stone throughout and can also be approached from the North via a road through double gates to the side of the building.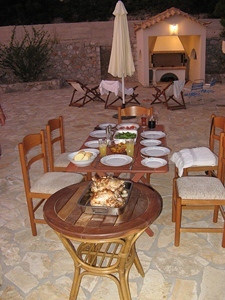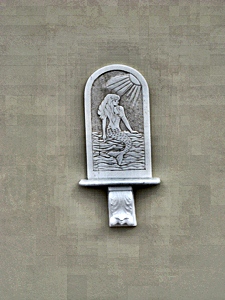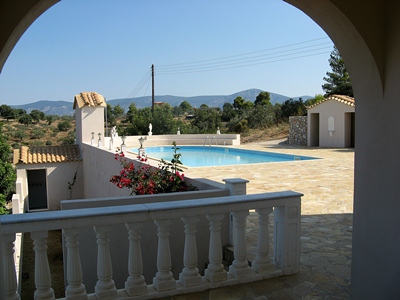 A logia on six pillars has been built over the entrance to the veranda from the lounge to give more shade at that end of the terrace in summer.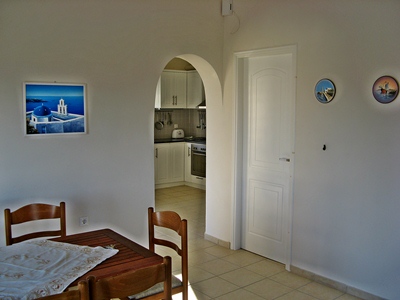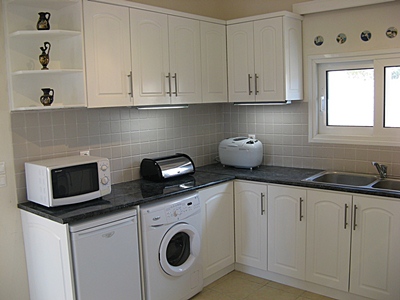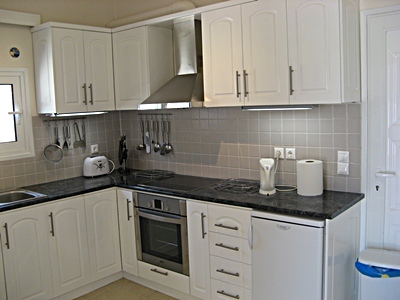 The modern fully functioning kitchen has a door leading out onto the terrace and a door that will lead out down some steps to two more en suite bedrooms built in an annexe. To one side is a walk in larder with shelving.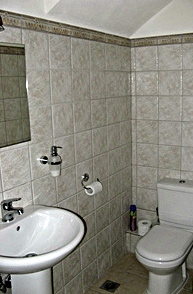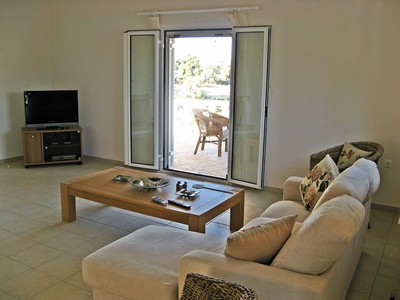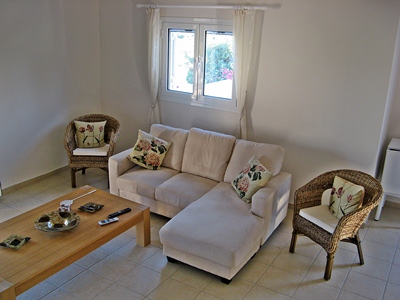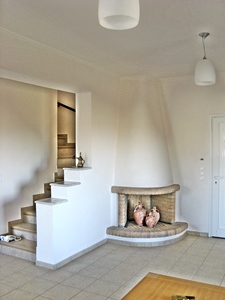 Coming in from the front door the large lounge has double doors leading out to the front and main terraces. There is a downstairs toilet and a fireplace with stairs leading up to the next level. On that level are situated 3 double bedrooms with the master bedroom with a large bath room en -suite and a shower room for the other two bedrooms. In the corridor here is another boiler installed in a large airing cupboard which gives greater capacity for all upstairs hot water systems. The main bedroom has double doors opening out to the upstairs terrace and the superb view, and both the other bedrooms lead out to the villas rear terrace.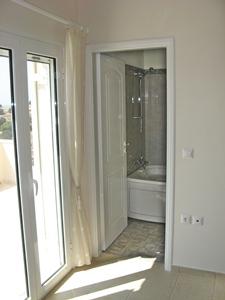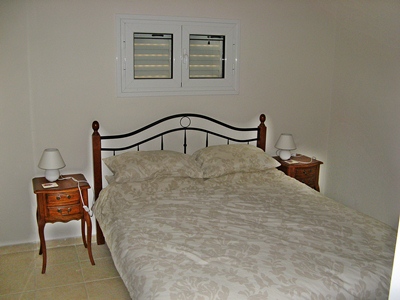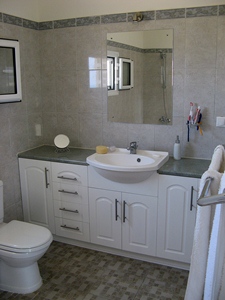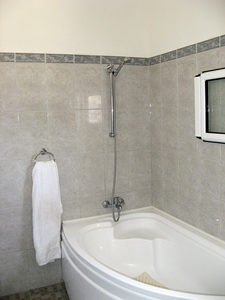 All bedrooms have complete built in cupboards with drawers and hanging wardrobes. All bathrooms are fully tiled. The villa has tiled floors throughout.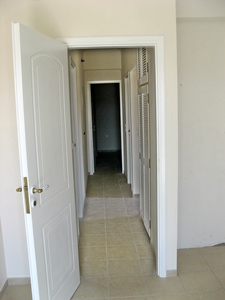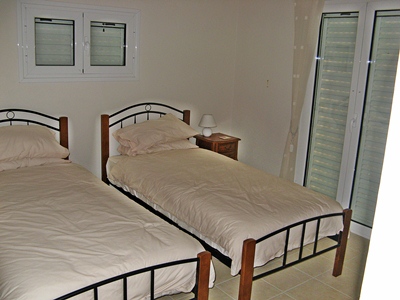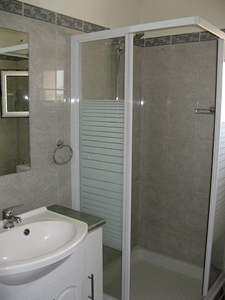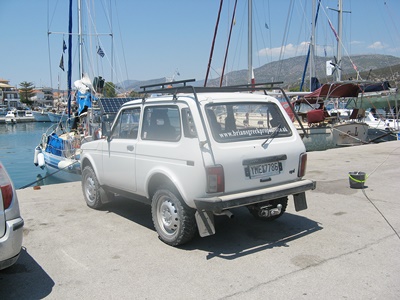 Price : 350,000 Euros. It is possible to build a 2 bedroom en suite annex to give a total 5 bedrooms. Price includes 5 Acres of land including a building plot, furniture and fittings and including a restored 4 X 4 Lada Niva, Taxed & insured.
Code : KILADA HILLS BG/010 House Must Be Sold : So Sensible Offers Are Invited
---
A 3 Bedroom House With Sea View : Ermioni : Peloponnesus
This house of 240 square metres is in a nice plot of 2,000 square metres and was built in 1977.
The plot is laid to garden with a number of olive trees.
The house has 3 bedrooms : 2 Bathrooms : 1 kitchen and a living room with fireplace.
The house has ample parking
The house is in Ermioni, which is a Flying Dolphin Port direct from Athens and is 2.5 Hours from Athens by road. Ermioni has many shops and banks and food stores as well as good moorings for the many yachts that frequent the port. Also Thursday is market day which is very popular.
Price : 125,000 Euros Code : ERMIONI KG/002 NEW
---
A 2 Bedroom House Overlooking The Sea : Ermioni : Peloponnesus
This house sits in a Plot of 1005,40 sq. metres and is only 250 metres from the beach
It has 2 bedrooms, a living room, dining room, bathroom and a nicely fitted kitchen and is in good condition.
The house has underground and outside storage, and a 51 sq metre veranda overlooking the sea.
There is Air Conditioning in the living room and one of the two bedrooms.
This house sits in a Plot of 1005,40 sq.metres and is only 250 metres from the beach, and was built in 2004 The house is 79.28 sq metres in area with the attic being 11.47 It has a fireplace and BBQ space with dining room. There is a garden and open parking.
The house is in Ermioni, which is a Flying Dolphin Port direct from Athens and is 2.5 Hours from Athens by road. Ermioni has many shops and banks and food stores as well as good moorings for the many yachts that frequent the port. Also Thursday is market day which is very popular.
Price : 195,000 Euros Or Near Offer Code : ERMIONI KG/003 NEW
---
A Traditional House With Sea View : Ermioni :
Peleponnese
This is a 2 bedroom traditional house only 800 Metres from the sea
The house is in a Plot of 1.000 sq.m. and is 75 square metres in size with the ability for an extension of up to 70 square metres.
The house is in good condition and was constructed in 1985
The house has two bedrooms one bathroom, a living room and a dining room, and a fully fitted kitchen.
The lovely Garden has 12 olive trees and there is a store house and covered parking. The house has been built outside the city plan with a lovely view to the sea.
The house is in Ermioni, which is a Flying Dolphin Port direct from Athens and is 2.5 Hours from Athens by road. Ermioni has many shops and banks and food stores as well as good moorings for the many yachts that frequent the port. Also Thursday is market day which is very popular.
Good Price : 130,000 Euros . Code : ERMIONI KG/004 NEW
---
A Two Storey Two Apartment House For Sale : Galazia : Porto Heli : Argolida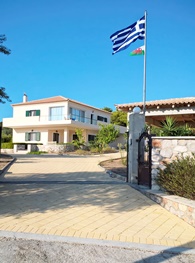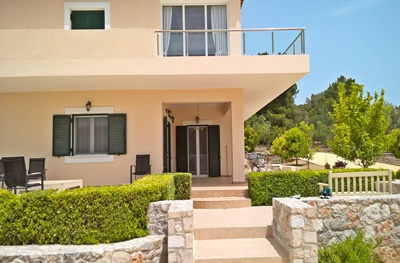 This new property is set in approx 7 stremma of land with many trees and a view of the sea about one kilometre away, with various beaches within close vicinity. From the front gate the paved drive to front side and rear of the property enhances the grounds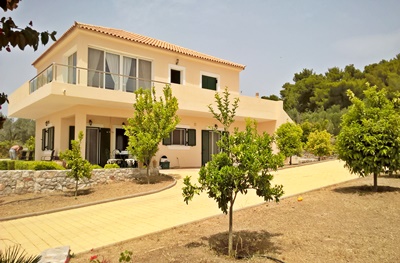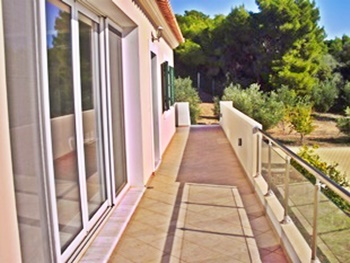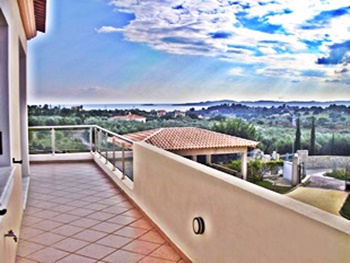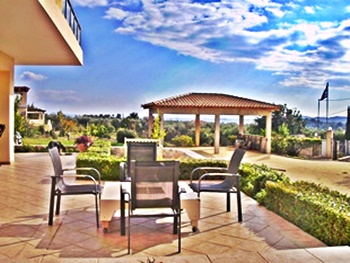 Both dwellings have the same area of approx 100 sq meters, with tiled pathways all round the building. Each has 2 bedrooms, the master bedrooms having en - suite a family bathrooms, spacious kitchen dining and lounge area.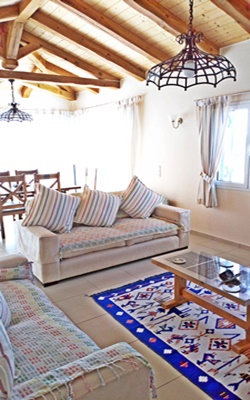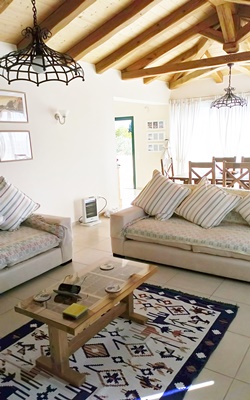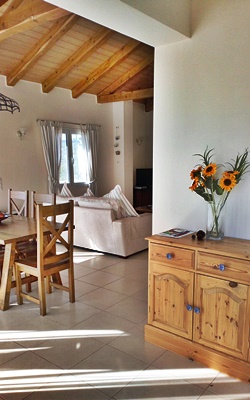 The workmanship is of the highest standard with a traditional cut roof to the first floor salon. It has its own water supply, the garden features stone retaining walls with numerous olive trees, orange, lemon fig and pomegranate trees.
A supermarket, shops and the local hospital are only a short distance away, and the location is central to Porto Heli, Kranidi and Ermioni with easy access to and from Athens airport via sailings / or road. The Islands of Spetses and Hydra and Poros are nearby.
Price : 450,000 Euros. Code : PORTO HELI AE/010
---
A Luxury Property With Two Villas In A Large Plot : Porto Heli : Argolid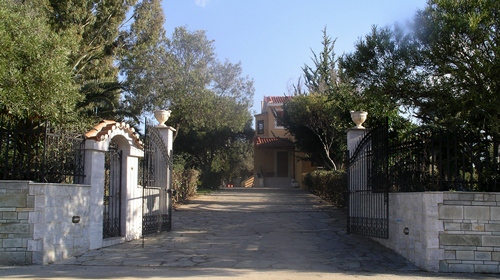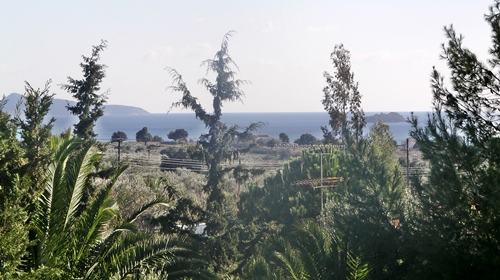 Villa Asvos is situated approximately 2 kilometres inland from Porto Heli in open countryside, on a small quiet lane. Porto Heli is in the south eastern Peloponnese about 180 kilometres from Athens, reached either by car via Corinth or by high speed hydrofoil ferry. Porto Heli is an old traditional fishing harbour which has undergone considerable modernisation over recent years. It has bars, restaurants, all kinds of shops; all both traditional and modern. The ancient theatre of Epidavrus is about one hour's drive away as are the resorts of Tolon and Corinth.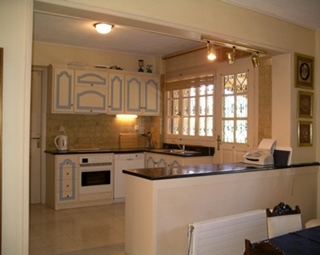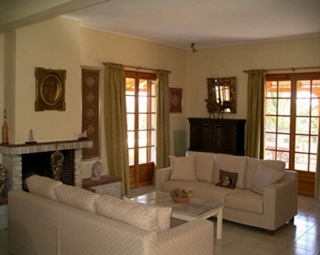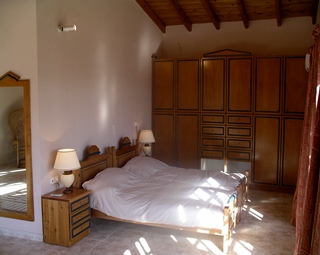 There are two buildings set in about one hectare of landscaped, palmed gardens and orchard, the whole of the property is surrounded by a wall and iron fencing. The wall onto the road is clad in marble. The entrance to the gardens is via electrically operated iron gates leading onto a paved drive which leads up to the first of the buildings, the main villa. This was built in 1989 of traditional rendered and painted walls with a clay pan tiled roof The gated entrance steps lead up to the main entrance door which in turn lead into the entry hallway. This opens onto the main living room and staircase to the upper floor and the basement. The main living room has an open fireplace and French doors leading onto the walled covered terrace which is on two sides of the house. The open plan kitchen has a full range of fittings and appliances. From the hallway and from the kitchen is another small hall way leading to a shower room and two bedrooms. Down the stairs leads to the basement consisting of two rooms, one open for storage and the other containing water pumping system and the electrical control boxes. Up the circular staircase leads to the landing from which access is to the main bedroom which also has an open fireplace, another bedroom and a bathroom. Both bedrooms have balconies, which have far reaching sea views.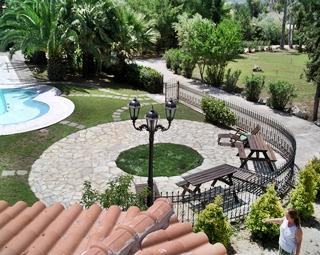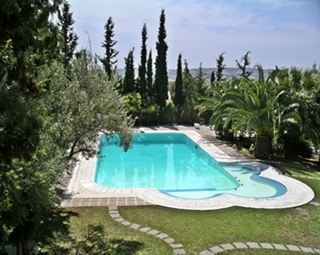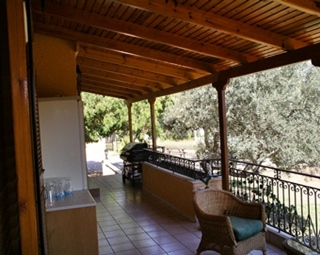 The Pool building is across an open area suitable for car parking for several cars and is of similar construction as the main villa. The building consists of two bedrooms on the ground floor, both with en-suite bathrooms; a laundry room and further kitchenette area and a separate WC External stairs lead up the upper floor which consists of one large bedroom with en-suite bathroom and a balcony on two sides. This room also has far reaching sea views and overlooks the swimming pool. To the left of the drive is an orchard area with olive trees. Surrounding the house on the east side is the main garden area consisting of lawned spaces with decorative palm trees and other planting. The whole garden is served by an electric watering system. The 17 metre by 8 metre x 4 metres deep swimming pool is fenced with wrought iron fencing and has terraces on all sides, with a barbecue area and bar. The pool filtration and pumping equipment is housed underground at the deep end of the pool. The garden contains the villa's private well which supplies all water requirements.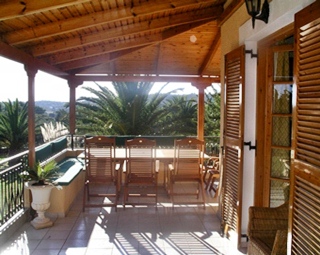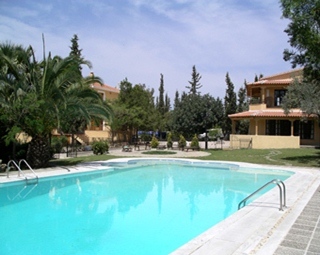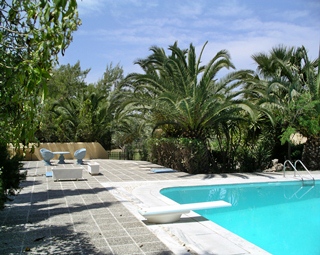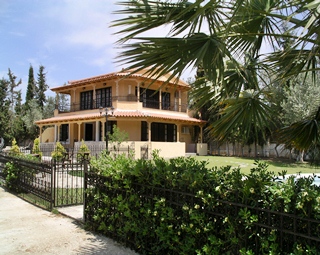 There is a small amount of work to be done to bring this property up to scratch due to an amount of depreciation over the last few years due to lack of use. In view of this the owners are drastically lowering the price to a bargain 300,000 Euros.
Price : 575,000 Euros Code: PORTO HELI MP/PP/010.
---
A Newly Built House With Wonderful Views Down To Kilada Bay and The Argolic Gulf : Kilada : Peleponnese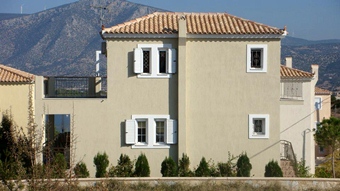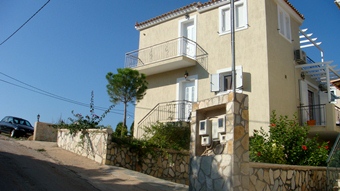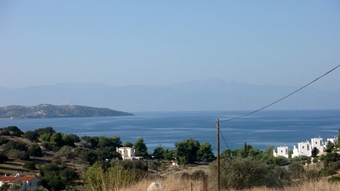 This very nice property is only 5 years old, and is in an excellent location near to Lepitsa Beach at the village of Kilada. It is also only a short walk to the village beach which is opposite the private Island of Koroni. It comes with two bedrooms, two bathrooms, and a kitchen area with built in cupboards, cooker, refrigerator, etc, and three lovely outside terrace.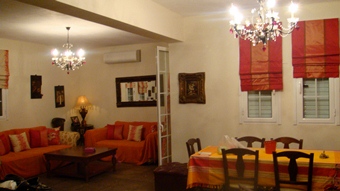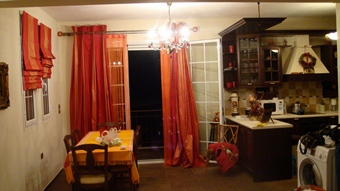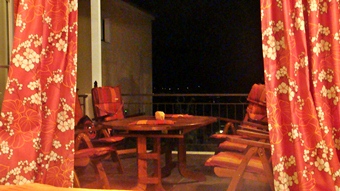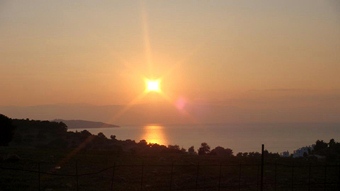 The town plot size is 280 square metres and the house size is 120 square metres, with 90 square metres on the ground floor as it is a 3 storey house. All services are connected and there is a watering system for the 4 gardens with about 30 trees. The complete house is fully air conditioned.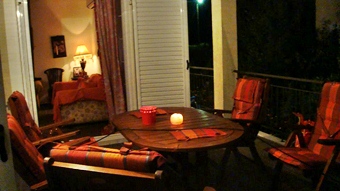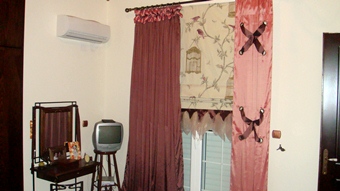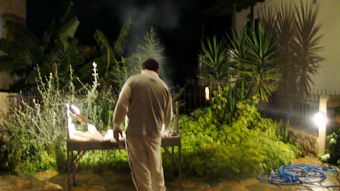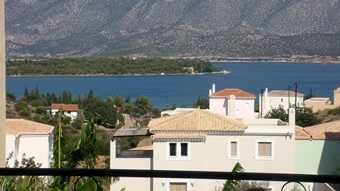 The house is to be sold with all furnishings white goods and luxury items
Price : 350,000 Euros REDUCED : KEY IN THE DOOR PRICE. Code : KILADA EG / 010

---
A Luxury Villa In The Wonderful Lakkes Foothills : Peleponnese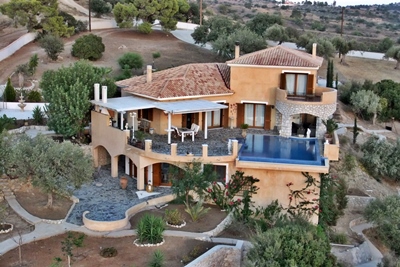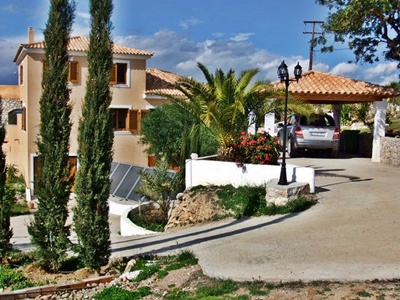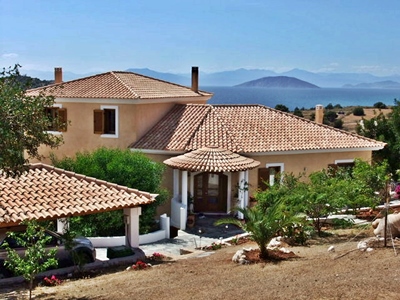 The Villa is in a top location between the Amanresorts and Summer residence of the Dutch royal family, and near to the new Golf Course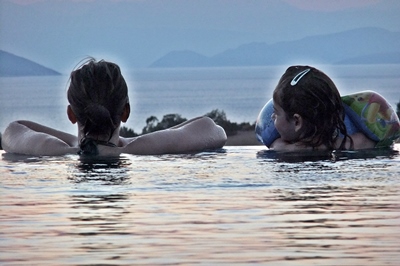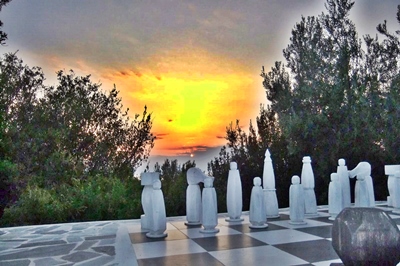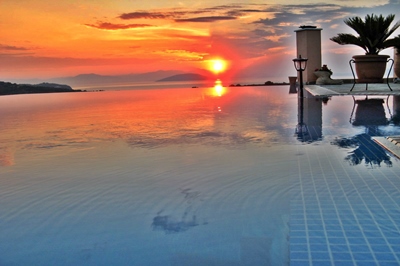 This three floored villa has breathtaking views up to big distances and is situated in a quiet location only 900 metres from the sea with legendary sunsets over the Island of Psilli in the Argolic Gulf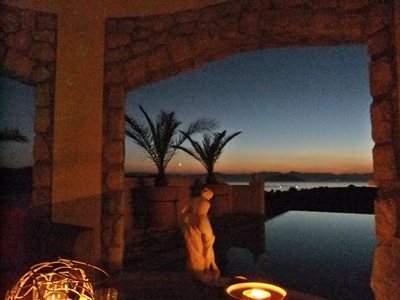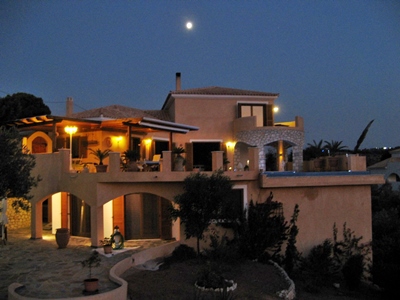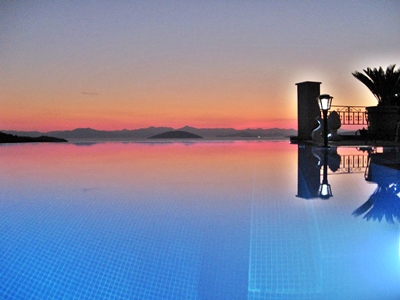 It has three terraces of over 300 square metres with an outdoor chess place with BBQ and a fabulous infinity pool set on living space level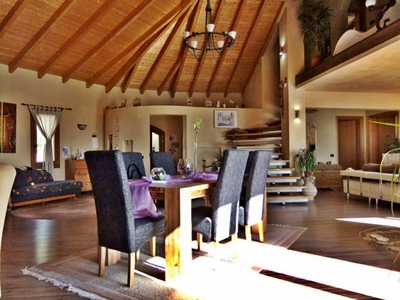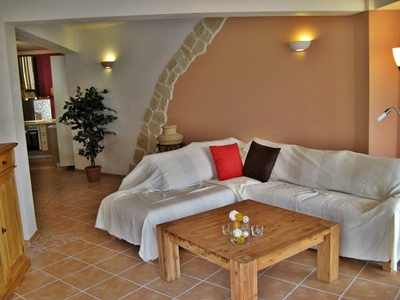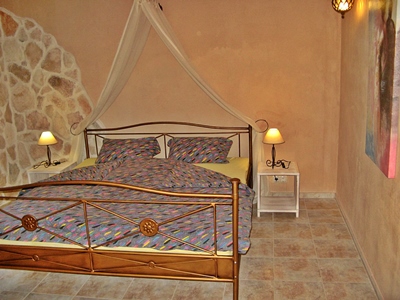 The villa has 5 bedrooms, 3 bathrooms, 2 living rooms, 2 kitchens, a guest W.C. An under floor heating system, under floor cooling meander, and a fitness room.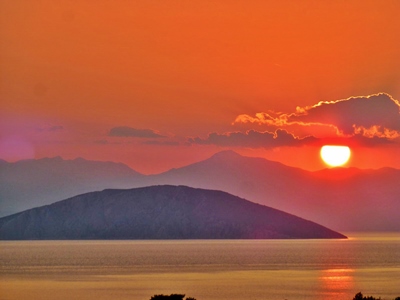 The building took place between 2007 to 2010 : The Plot area is 9022 square metres. The living space is 359 square metres and there is additional space of 100 square metres. The villa is to be sold fully furnished.
Price : 890,000 Euros Code : LAKKES NC/010
---
A Beautiful Building Plot Looking Towards The Sea : Ermioni
One or Two or Three New Houses Can Be Built On This Plot
This 9 Stremma plot (9,000 sq mts ) is a beautifully situated plot with Superb sea views towards Darteza Bay and beach, and across the sea to the island of Hydra. Ermioni is a Flying Dolphin arrival port from Piraeus. The journey from Piraeus takes 1 & 3/4 hrs. The plots are situated off a good asphalt road to Ermioni which is only 2 klms away and has Taverna's, Banks, Shops and a famous Thursday morning market. The plot is gently sloping and covered in olive trees. It is centrally located for visits to many other places and beaches in the Argolid.
One fantastic property can be built here or two to three houses, and can be designed, so that as you open the French windows to the terrace you get the advantage of the wonderful sea view.
Very Easy To Get To All Year Round From Athens.
Price : The Complete 9 Stremma Plot is for sale @ 195,000 Euros or Near Offer. Code : ERMIONI PLOTS SC/016
---
Three Beautiful Sea Side Plots For Sale : Lakkes & Vranitsa : Argolidos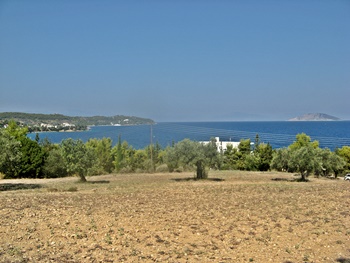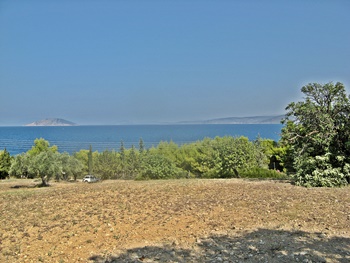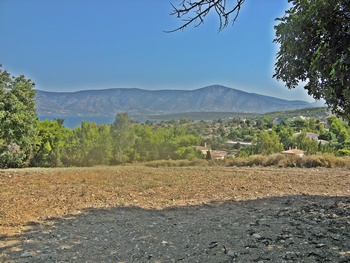 These three beautiful plots are situated with fantastic views in this desirable rich area of Greece. They have easy access near the sea, and are 4,000 Square Metres each plot, with building allowances of up to 200 square metres, and are within 350 metres of at least three sandy beaches, with more secluded beaches around the whole piece of coastline. They overlook Cape Thini to the North West and towards the entrance to Kilada bay to the North East and up the Argolidic gulf towards Nafplion. Would be ideal for a luxury complex or for individual properties.
Price : 440,000 Euros each Plot or 1,300,000 for all three plots. Code : DOURUFI DK/TP/010
---
A Beautiful Plot Overlooking All The Argolik Gulf & Kilada Bay.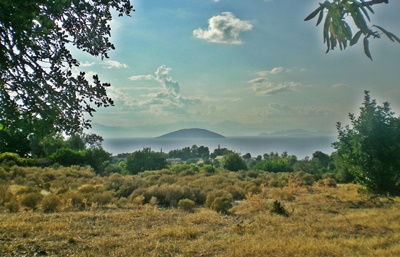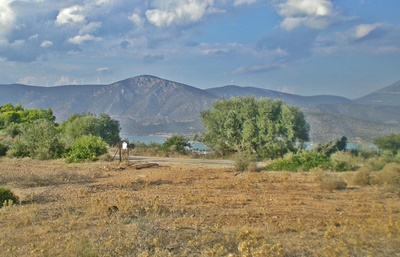 For sale a 19 stremma ( 19,000 Square Metres ) plot that can be cut into 4 pieces, each plot being 4500 sq mts. Each plot is fronted by an Asphalt Road and is wonderfully situated only 2,000 metres from the beach and it is only 6 klms to Kranidi.
Price for all 19 stremma is 550,000 Euros : Price for Each Plot is 140,000 Euros . Code : LAKKES DK/095 NEW
---
A 3 Bedroom Villa Only 200 Metres From Ermioni Town Centre : Ermioni : Argolida
This three bedroom villa is located about 200 metres from Ermioni on a quiet road from Ermioni to Kranidi.
A superb entrance gate set in the walled garden leads to a stone laid drive to the house.
It has beautiful garden with ten olive trees that give oil every year and many beautiful flowers, and a garden watering system.
There is full air conditioning in all the rooms and central heating with radiators, it has good insulation making it cool in the summer and hot in the winter. To be sold unfurnished
Price : 260,000 Euros OR NEAR OFFER Code : ERMIONI VK1/DK/010
---
A 7 Bedroom Villa Overlooking Ermioni : Ermioni : Argolida
This seven bedroom villa is located with breathtaking views to the port town of Ermioni famous for its sailing fraternity and a call in port for the Flying Dolphin.
It is a three floored property of 350 square metres with 7 bedrooms, 5 bathrooms, and two kitchens
The land of 11,500 square metres is fenced and comes with an outside BBQ an outside toilet and a residential garage with space for two cars and two store rooms.
The ground floor can be used as a guest house as it is fully self contained with two bedrooms, a kitchen, a bathroom, and a living room with fireplace.
The first floor has a kitchen, a living room with fireplace, two bedrooms and two bathrooms. The second floor has two bedrooms, plus a master bedroom. There is the possibility of building another house of 200 square metres. The grounds have their own private chapel.
Price : 820,000 Euros OR NEAR OFFER Code : ERMIONI VK2/010
---