---
Back To

Home Page

Contact
E Mail Brian
THIS IS ONLY A SELECTION OF SEASIDE PROPERTIES AND PLOTS THROUGHOUT GREECE
Please search the Web site buttons on the front page for any properties in the area of your choice.

Scroll Down To Find Sea Side Property.

---
2 Detached Bungalows Next To The Sandy Beach For Sale With Motor Yacht And Trailer : Gialtra : Milos : N Evia
These two lovely beach side properties are only 1 hour from central Athens and are to be sold including a motor yacht and trailer.
These two detached Houses are 70 sq.m. and 50 sq.m. and built in a plot of 3,000 square metres. The location of the houses are next to the sandy beach and the front house of 70 sq.m. was built in 1985 and is in a very good condition with one bedroom, w.c., kitchen and settee room plus a fire place.
The second house of 50 square metres was built in 1990 with one bedroom, w.c, small kitchenette and a small storage room at the back of around 14 sq.m.
More storage is located at the back of the garden for tools and water tanks. 2 wells in the plot are more than enough for watering the whole property and house use.
In the garden there is a barbeque, lots of fruit trees and olives, there are palm trees, roses and other flowers. The main entrance of the house is by the road of the village and the other exit is by the beach. All the furniture fixtures and fittings and white goods are included in the price, plus the owner's yacht with its trailer too. The yacht was constructed in 1990, is in an excellent condition as the owner has really few sailing hours in the sea. American Combalt with an 250 hp engine and 7m length.
Price : 570,000 Euros

OFFERS

Code : EVIA ZK / HS1535

---
Now Building A New House By The Beach : Gialtra : Edipsos : Evia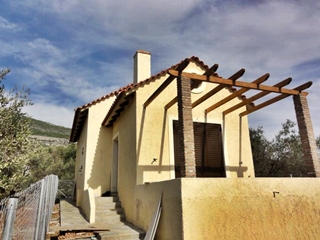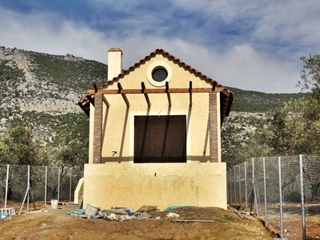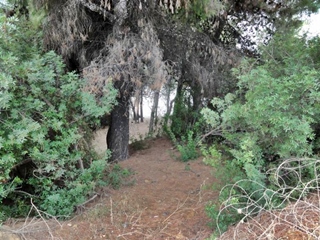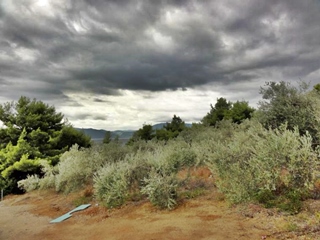 A new house under construction. It is a detached House of 60 sq.m. in a plot of 300 sq.m. close to the beach about 100 m. Walk to the beach through a path inside pine trees next to the house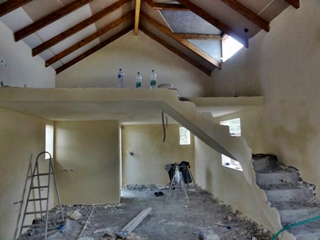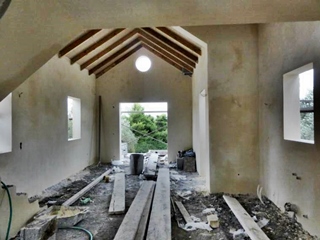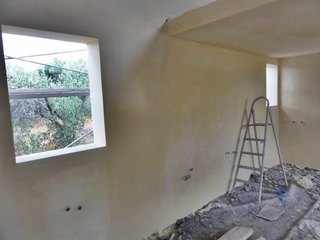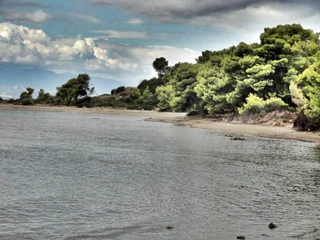 The house consists of 48 sq.m. ground floor with one bedroom, kitchen, settee room ( Lounge), bath room, fireplace and another 12 sq.m in the attic with the second bedroom and w.c. There is also storage of 6 sq.m. Electricity and water facilities will be connected. You can walk to the beach through a path inside pine trees next to the house and just before the bay.
The nearest villages are Gialtra and Ag. Georgios Lichada. Very close to the Club Med. One of the best in Mediterranean Sea.
Price : 120,000 Euros. Finished Price : Your Choice of Tiles Etc. Code : EVIA ZK / HS1555
---
A 4 Bedroom Detached House By The Sea For Sale : Easy Access From Athens : Agios Nikolaos : Evia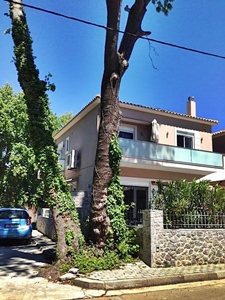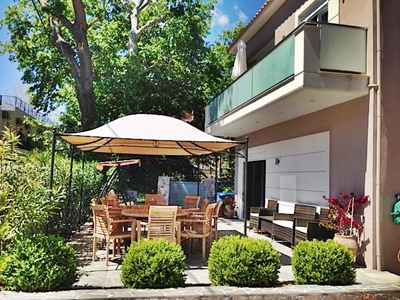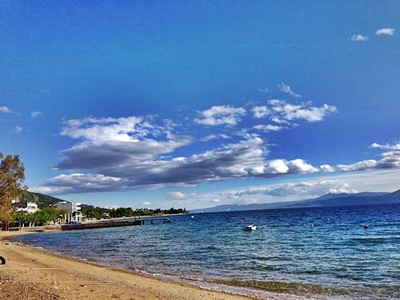 Extremely High quality 4 bedrooms Villa situated just moments from the local sandy beach. Built in a plot of 152sq.m this Property spans 130sq.m. of floor area over two floors.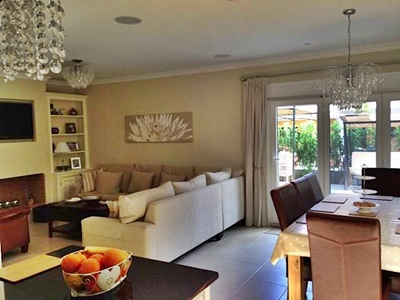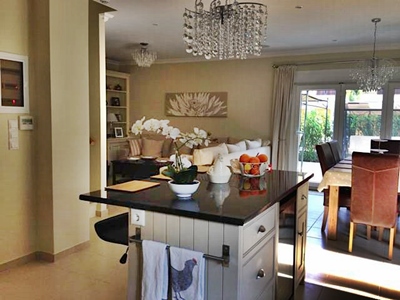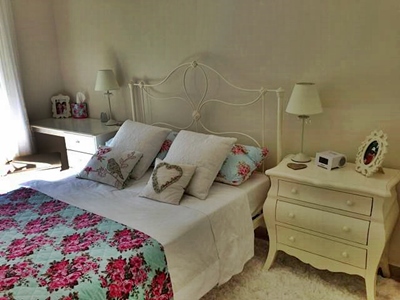 The location of the villa is exquisite. The beach is on your doorstep and some of the best local fish restaurants in the area. 5 minutes from Edipsos Spa famous for its Thermal spa waters.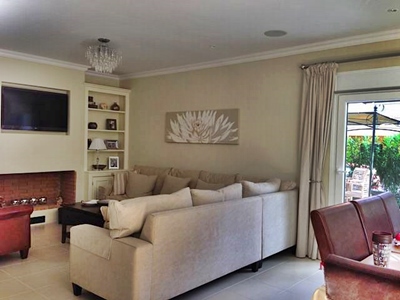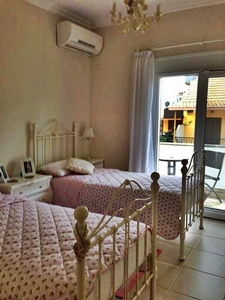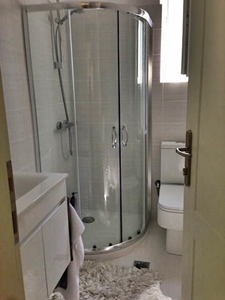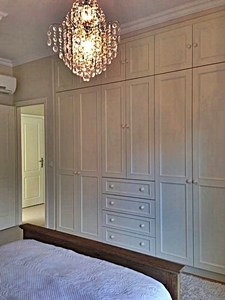 The ground floor consists of a large open plan living room with a feature fireplace and superb kitchen, featuring granite worktops and deluxe appliances. There is also an ample dining area to sit a large family. On the ground floor there is a guest bedroom with built in wardrobe space, a separate toilet and shower room.
The Top floor consists of three bedrooms all featuring quality built in wardrobes. The Master Bedroom features an en suite. There is also a family bathroom with a separate bath and shower cubicle and a utility room for laundry and storage. Views to the sea on the side and towards the hills at the front of the Property from the lovely balconies on the Top floor.
The building was built in 2008 with a structure of reinforced concrete and conventional Materials of good quality. Fixtures and fittings are of High quality. Windows and doors are High quality upvc with double glazing and Electric shutters, making the House airy and sunny. There is Air conditioning in all the bedrooms and living areas which also serves as an efficient heating system if required
Price : 390,000 Euros Code : EVIA ZK/HS1572

---
A Detached House 50 Metres From The Beach : Easy Access From Athens : Agios Nikolaos : Edipsos : Evia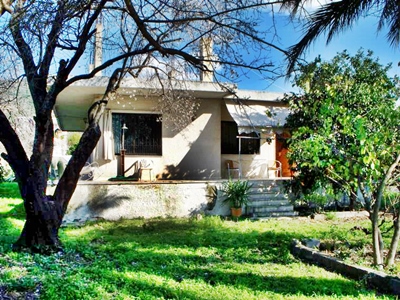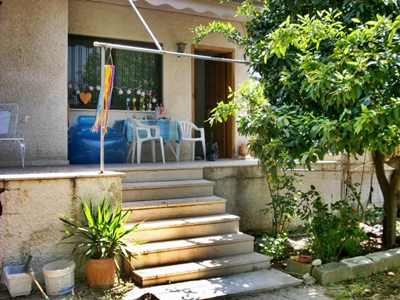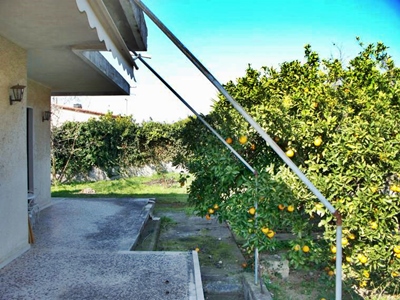 This house is a detached House of 100 sq.m. in a plot of 1.500 sq.m. in the area of Ag. Nikolaos in Edipsos City. It is 2 Separate Apartments that can be joined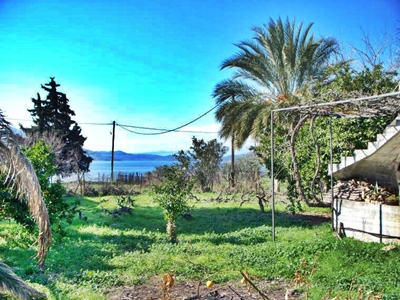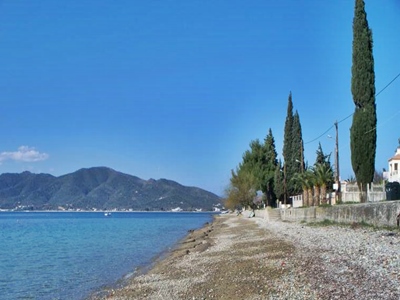 The distance from the beach is 50 m. and the house consists of a ground floor house of 2 kitchen, 2 bathrooms, 2 bedrooms and 2 sitting areas. The House was built in 1985 and needs some renovation. A little TLC could result in a magnificent property by the sea. The garden wants tending too, but could result in a great lead down to the sea side. The current situation is 2 separate apartments of 50 sq.m. each and they can be easily converted to a single residence with some wall changes.

Very close to the centre of the city even walking.

Price : 175,000 Euros Code : EVIA ZK/HS1571

---
A Detached House 20 Metres From The Beach : Easy Access From Athens : Gilatra : Milos : N.Evia
This is a detached house of 55 sq.m

with an additional 20 square metre veranda all around. It was built in 2004 and is in a very good condition, located next to the beach
The property consists of 1 bedroom, but with a mezzanine that can be used as a second bedroom and a toilet, a kitchen, and a settee room and fire place.
There is air conditioning in all the rooms, a barbeque, and water well, and it is in a plot of 1000 sq.m. The distance to the beach is only 20 m. There is plenty of parking space.
Very close to Gialtra baths and Spa, nice sandy beaches in the area and very close to either Edipsos city and/or Ag. Georgios Lichados village for supplies.
Price : 195,000 Euros OR OFFERS Code : EVIA ZK/HS1554

Gialtra Baths
Gialtra

Beach
---
A Fabulous Sea Front Plot On A Sandy Beach : Location on Application Only : Southern Crete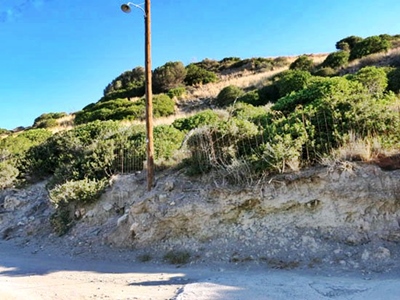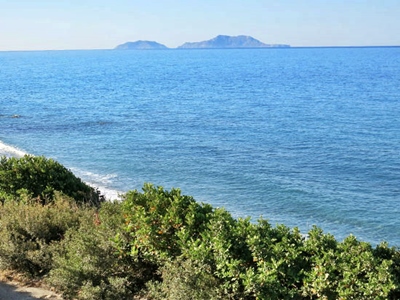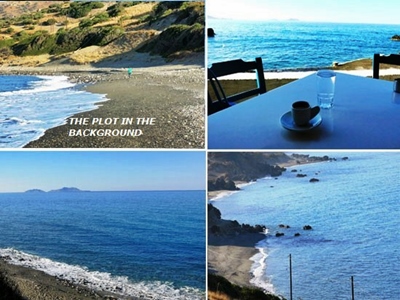 This is a fabulous beach plot where one walks off the land into the sea and where the swimming is absolutely wonderful. The water is crystal clear and the swimming is safe. It is a small cove within a bigger bay. This plot is surrounded by the beauty of the unspoilt countryside of south Crete. Watch the sunsets and the moon rise out of the sea with the Paximathia islands as a backdrop. With very few lights in the area it is a star gazer's wonderland.
There are only 3 plots which are directly alongside the beach in this cove and this is the last one, and has just come onto the market.
To complete this dream position, there is an excellent taverna within easy walking distance, and a Village for basic supplies only 4 klms away
With a total area of 4996 sq metres the plot has building rights of 220 mē for a private villa, with an option to be used as a rental villa . All documentation is in order for immediate sale.
Price : 185,000 Euros Code : CRETE LB/PAF250

---
A Fabulous Sea Side Plot : A Stunning Parcel of Eight Stremma : Metamorphosis : Vathi : S W Methana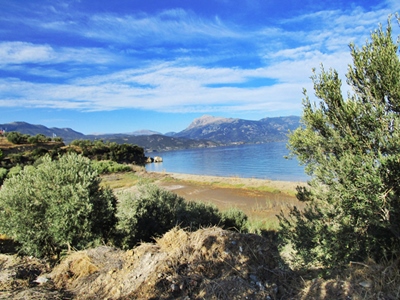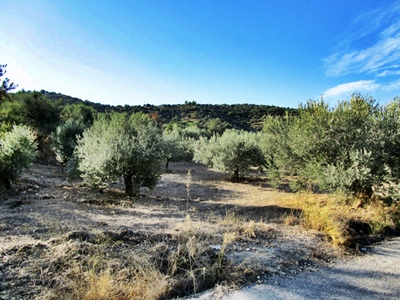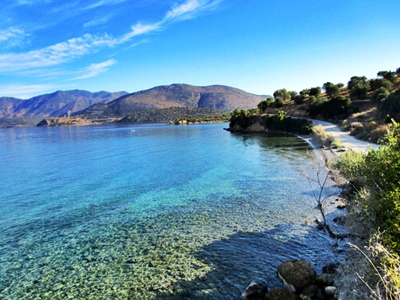 The land has olive trees and runs down straight to the sea where the safe waters are crystal clear. The mountain and sea views are absolutely breathtaking.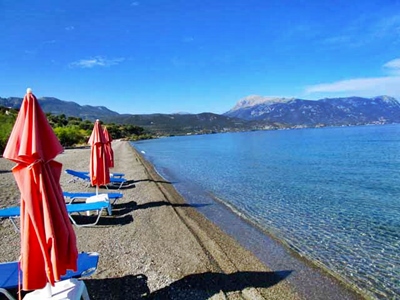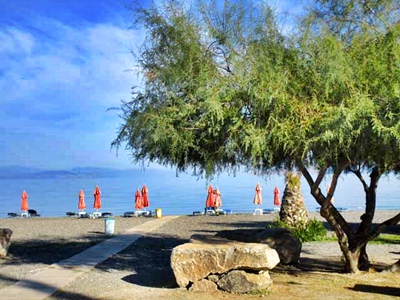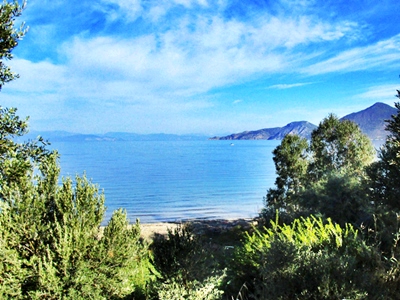 The sea in this area is a favourite place for the local fishermen and their catch may be tasted at the local taverns in the fishing village of Vathi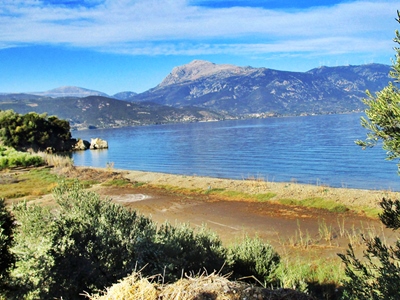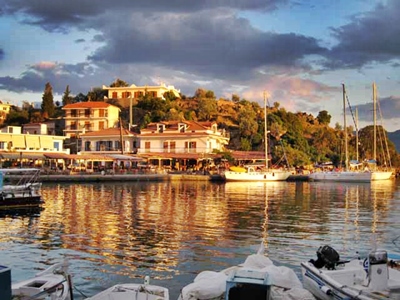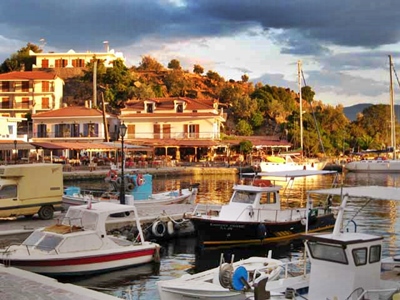 The land is easy to get to from Athens and is in easy access to the peninsular of Methana and the spa town, the town of Galatas and across the narrow straights to the beautiful Island of Poros, Mycenae, Epidauras, Nafplion, Nemea and the wine roads for wine tasting experiences. The parcel is in an area known as "Hidden Greece"
All paperwork is in order from the Forestry Commission and the Aegealos ( Sea Authorities ) : Electricity is only 100 metre's away and water is nearby. Building allowance would need to be advised.
An excellent team of architects/designers/engineers and builders is available to build a villa/house to your specific requests
Price : 420,000 Euros Code : POROS PLOT/KRISMETA

---
Definitely The Last Sea Side Plot Left Between Cape Thini and Dourufi
12 Stremmata of land next to the sea can have two separate entrances one of which can be ten metres from a nearby beach.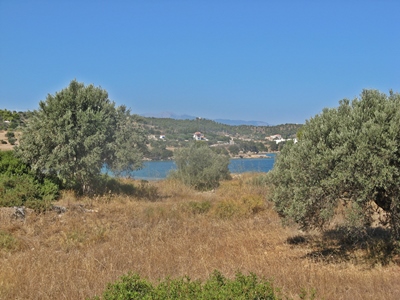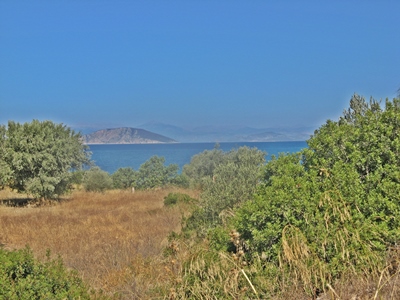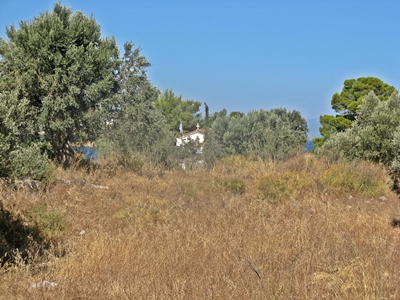 T
his plot consists of three 4 Stremma plots, making a total of 12 stremma to be sold altogether to make one big plot. Located next to the sea it is the last big plot left between Dourifi and Cape Thini with the sea only a few metres away from the bottom edge of the plot. Across the road is the sea side Church of St Spiridon. The plots contains many Olive trees, and lies alongside LAKKES DK/088 above. It has a buildable allowance of 600 Square metres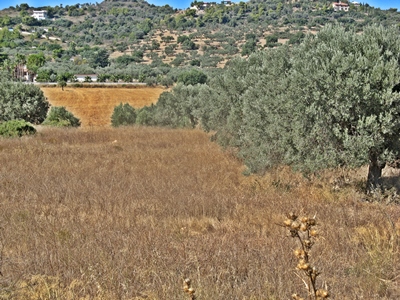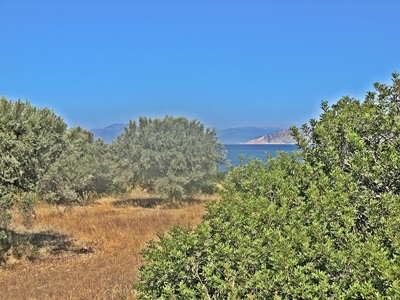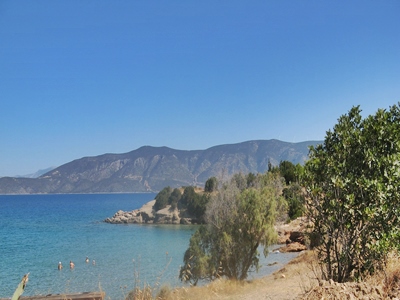 Entrance to the plot can be up a quiet side road, the plot is gently sloping form top to bottom and all photographs showing the lovely sea views were taken at ground level, so a house built on this plot would have magnificent views not only from ground floor level but from its first floor terraces

.
Lakkes is a very desirable area, being populated by many ship owners and oil men.
Price : For the three plots in separate contracts making 12 stremma of land : 550,000 Euros An Unusual Opportunity To Snap Up This Plot Very Cheaply Code : LAKKES DK/92
---
A Beautiful Four Bedroom Sea Side Villa For Sale : Aghios Andreas : Malina : Pelion

Star Property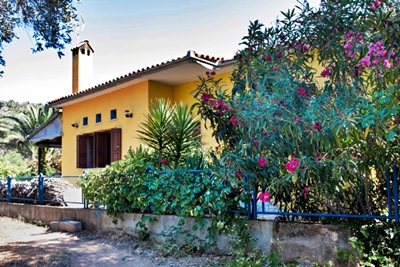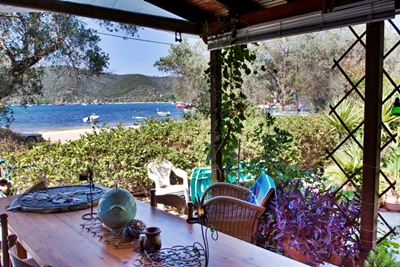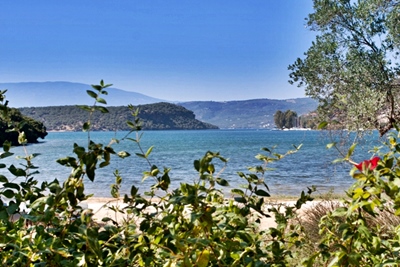 This is an idyllic seafront villa, 30 meters from the sea, located in the tranquil hamlet of Aghios Andreas, 3km from Milina, in South Pelion.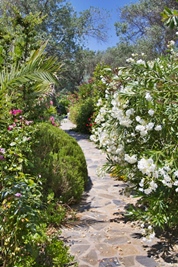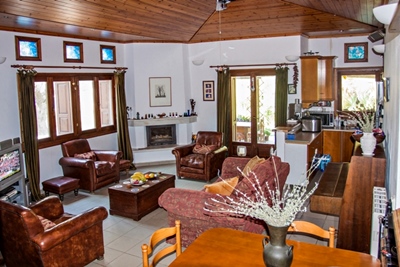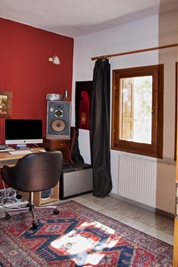 The 4-bedroom modern villa includes double glazed, solid wood windows, shutters and doors, central heating, wood burning insert fire, ceiling fans, air-conditioning, satellite dish, TV aerial, mature gardens. Additionally there are two basement storage areas, a large wooden shed, a shaded car port, diesel boiler for central heating, electric hot water tank.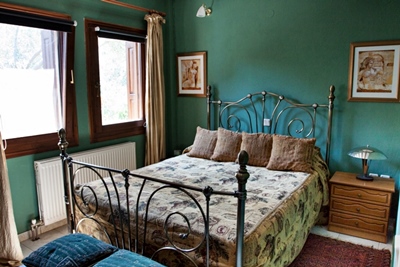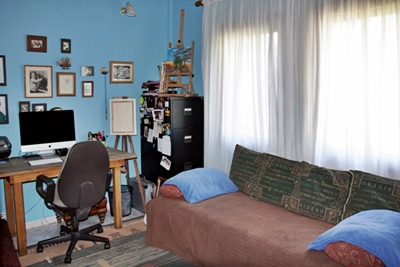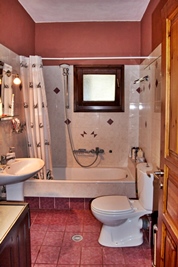 The spacious seafront villa includes an open plan living room with fireplace, kitchen and dining areas, four bedrooms, a bathroom, the veranda and terrace. Solid wood vaulted ceiling, tiled floor, marble fireplace with modern, glass front wood burning insert (flush fitted), powerful enough to heat the whole house. central heating radiators.

There is no through traffic and so, ideal for families with children. Boat owners can have their boat anchored in front of the house, in one of the calmest and safest spots of the Pagasitic gulf.

Price : 300,000 Euros Reduced to 230,000 Euros Code : PILION H2542
---
A Luxury Villa With Stunning Sea Views : Agios Nikolaos : Istron : Lasithi : Crete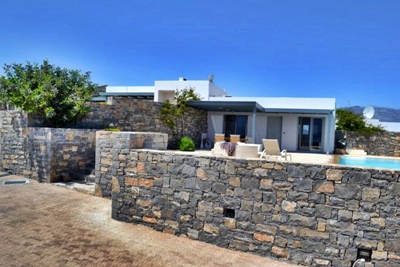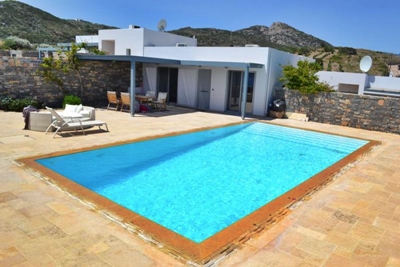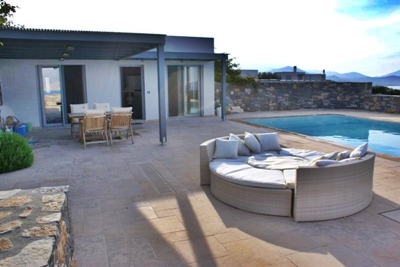 This state of the art 2 bedroom villa is built on a private plot of about 600 sq. meters and is part of a unique villa complex in the area of the popular resort of Istron, located at the coast of the picturesque Mirabello Bay, Crete.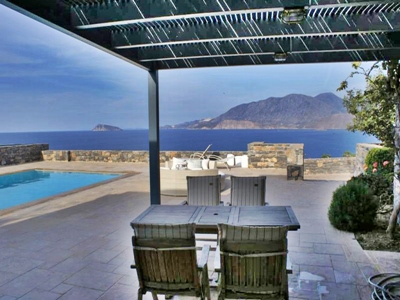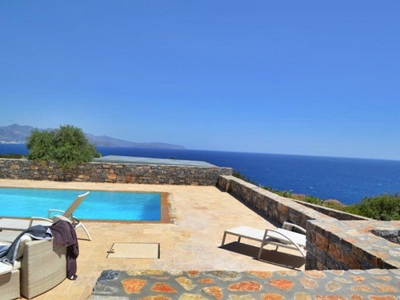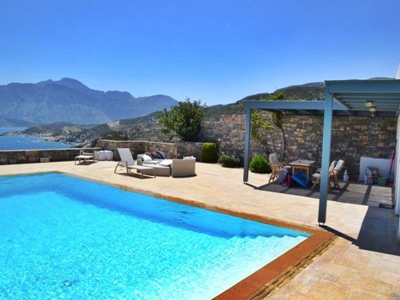 The villa occupies 123sqm of indoor space featuring 2 en-suite double bedrooms on the ground floor and a fully equipped kitchen and a large living room/dining room with fireplace on the first floor.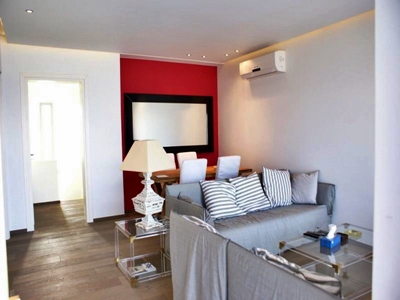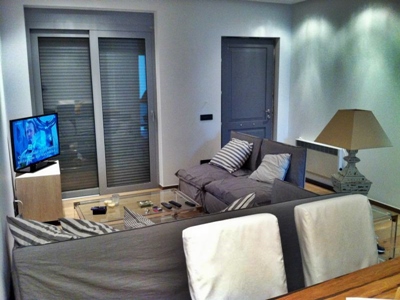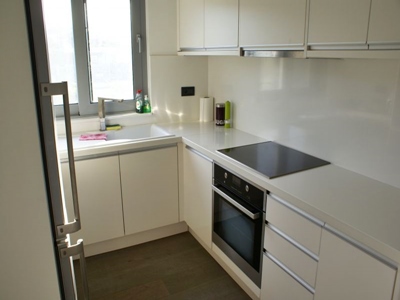 Outside, this villa has a large swimming pool, beautifully designed garden areas, bbq area, outdoor parking, as well as storage spaces. The property enjoys fantastic unhindered sea views.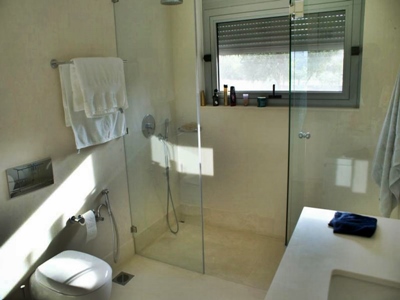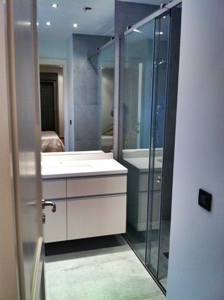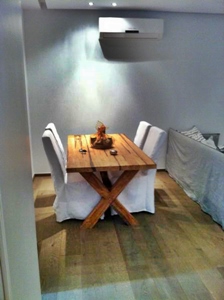 Istron peninsula is a site location that naturally expands into the sea by a narrow strip of land. The peninsula is in the form of an amphitheatre-shaped cove with sheltered beach and spectacular rock cliffs that predominate throughout the site.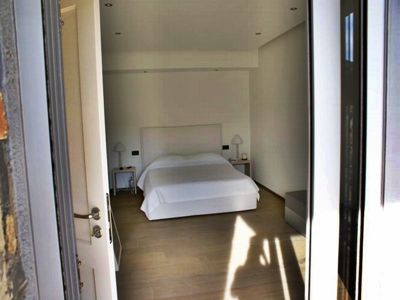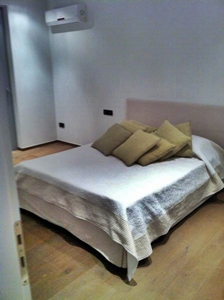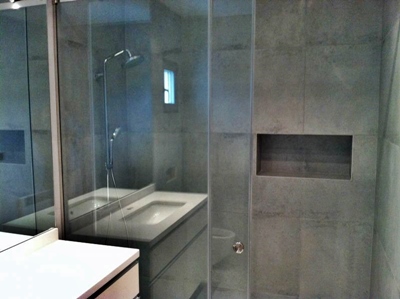 The architectural design aims to respect the areas topography, particularly the peninsulas natural beauty. The site design has been guided by land form and modern Cretan building styles whilst prime quality materials are used throughout.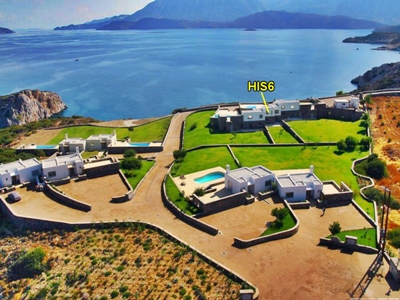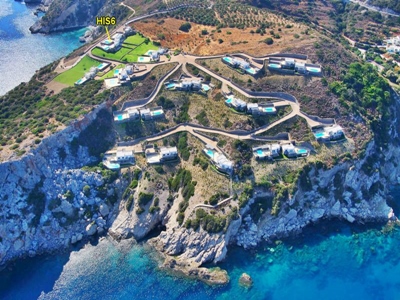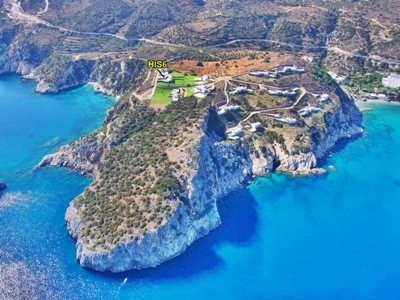 There is strict security measures on the peninsula with patrolling security guards and gate control 24 hours a day. There are several beautiful beaches in the area of Istron / Kalo Chorio and in close proximity to this fine property. Agios Nikolaos, the capital of the prefecture of Lasithi is a 10 minutes drive away. Agios Nikolaos is the capital of the county Lasithi and is located at the Mirabello Bay, north-east Crete, only 45 mins away from the international airport of Heraklion. Geographically the town is well protected from strong winds allowing sea sports and swimming nearly all year round. Although Agios Nikolaos has a population of less than 20,000 it has a several banks, supermarkets, shops of every kind, doctors, a modern hospital of high standard, public swimming pool and tennis courts, yacht marina, harbour, cinema, theatre, gyms, a 9-hole golf course, schools ranging from nurseries to level-6 high school and generally all the amenities you would expect to find in a modern European town. The microclimate is one of the best in Greece and the moderate temperatures rarely exceed 30c in summer or fall below 15c in wintertime. This wonderful dry climate together with the natural beauty of the area has attracted most of the high class hotels of Greece to operate here.
Price : 625,000 Euros Code : CRETE B&S/HIS6

---
A Sea Side House With Sea Views : Epidavros : Saronic Gulf
This lovely plot by the sea is 400 square metres and its villa is 83 square metres with 2 bedrooms and 2 bathrooms.
It comes with beautiful tranquil, well stocked and landscaped gardens.
There is a private side path to the sea shore only 50 metres away, and there are 2 beautiful beaches by the house.
The main house has 2 bedrooms and 2 bathrooms, a kitchen and a comfortable lounge.
The house is in a respectful residential area where artists, actors, and architects live. During the summer time the two ancient theatres are very active.
Price : 183,600 Euros Or Near Offer Code : EPIDAVROS CA/010
---
A House In Front Of The Beach With Undisturbed Sea Views : Agios Andreas : Astros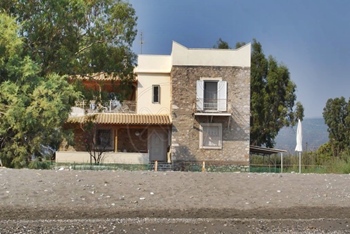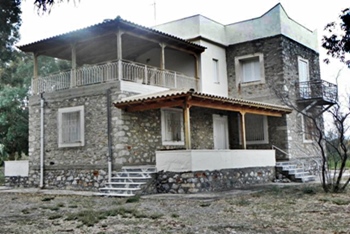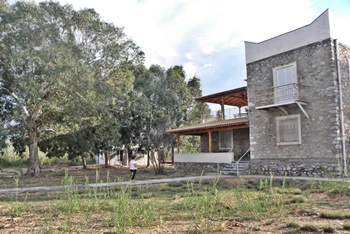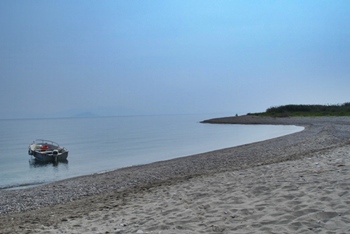 A house with direct beach access, a very unique property on a large plot of 5700 square metres.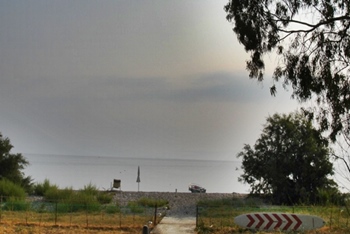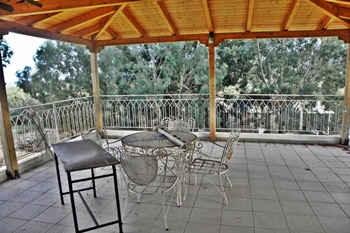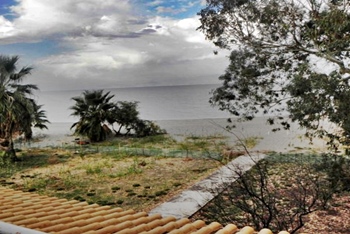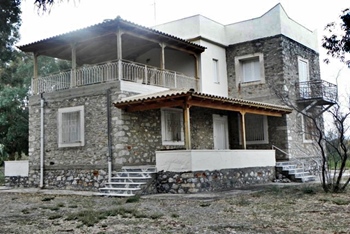 Built in 1968 it has closed parking and is built on two floors. The ground floor is 104 square metres and has 1 bedroom, a living room with fireplace, and the kitchen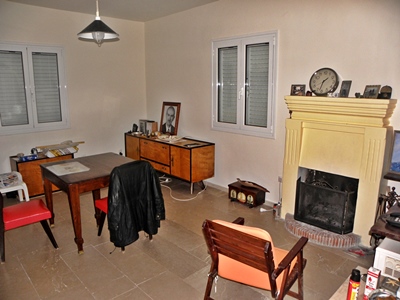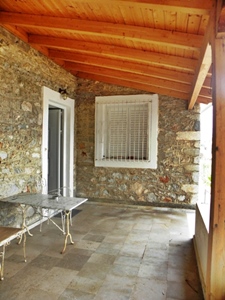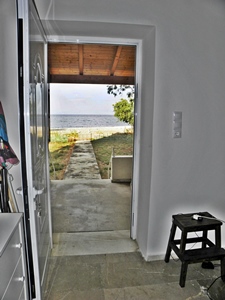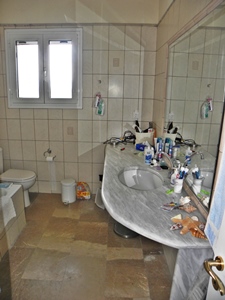 The first floor is 73 square metres with 2 bedrooms and bathroom and a beautiful first floor terrace.
In front of the beach with undisturbed sea views
Price : 400,000 Euros Code : LEONIDION GN/030
---
Xalikouna Corfu Waterside, With Private Beach And Beaches On The Ground Below : Xalikouna : South Corfu
A spectacular property composed of a villa with 5 bedrooms and two independent and self contained apartments with a total surface of 300m2 offering 100m2 of terraces with fantastic sea views, set on verdant lush grounds of 4.000m2 and unimpeded views on the Ionian sea. Ideal as a beautiful permanent residence, a large vacation home for family and friends.
A large property of 300 square metres in a plot of 4,000 square metres, nearest beaches are just below the property by steps to the beaches, Xalikouna & Prasoudi.
The location is at Xalikouna Corfu waterside, within private beach and beaches on the ground below. Tranquillity and natural beauty, privacy : Only 1km from village centre and 3 km. from tourist area of famous holidays resort Messongi, and only 25km from Corfu town.
Price : 400,000 Euros Offers will be considered. Code : CORFU TM / 260
---
An Ideal 100 m2 Family Home Near Coastal Village of Agiokambos : Evia
Next to sea and Set in 1300 m2 of land
There are 2 bedrooms : 1 bathroom : A Kitchen : Front yard parking for at least 2 cars : Access for boat and a Store of 30m2
Price : 255,000 Euros Code : EVIA DA/103
---
A Sea Side Apartment : Halkidiki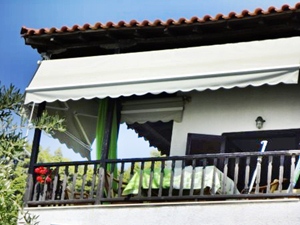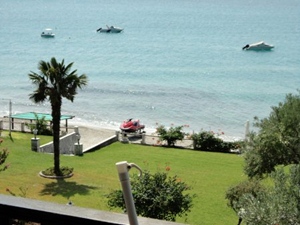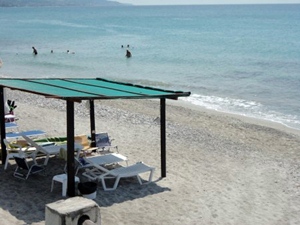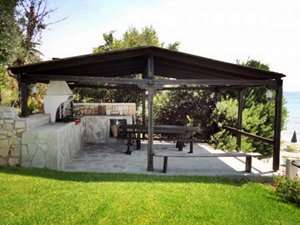 This second floor apartment sits in its own grounds beside the sea, only 10 metres from the sea side.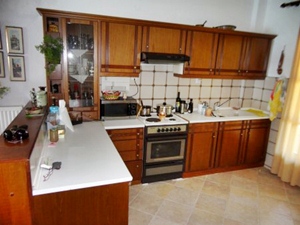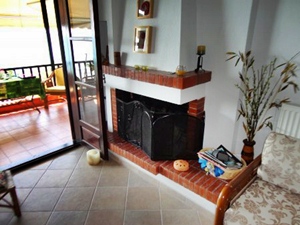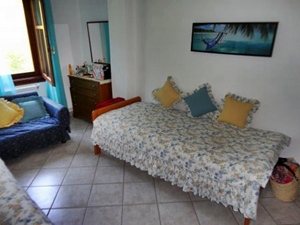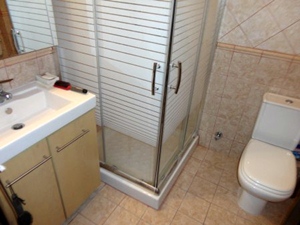 This second floor apartment is in a charming location directly on the sandy beach. It has a large living room-kitchen with fireplace, two spacious bedrooms and bathroom. Located in a complex with large communal garden and parking area. It also has heating, solar and the price includes furniture and electric appliances. The views at the sea and the pine forest are magnificent!
To be sold with all the furniture and electrical appliances, practically key in the door.
Price : 155,000 Euros Code : HALKIDIKI LE/261
---
A Fantastic Seaside Villa With Pool & Private Beach : Felos : Andros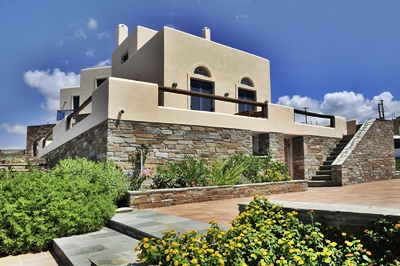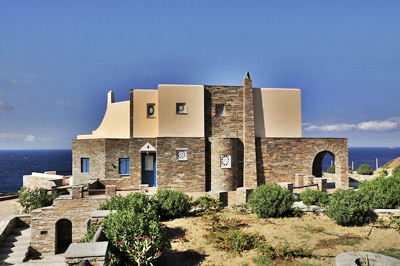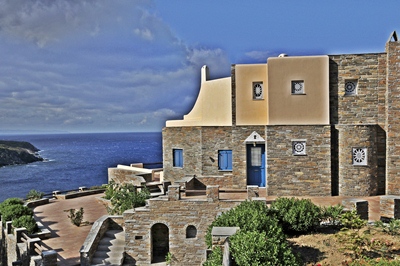 Located at Felos in Andros this house was built in 2005 and is in perfect condition.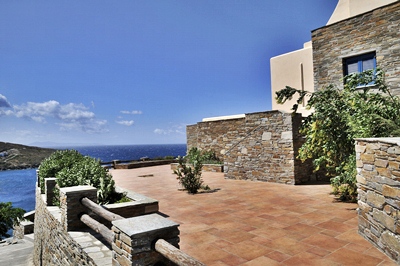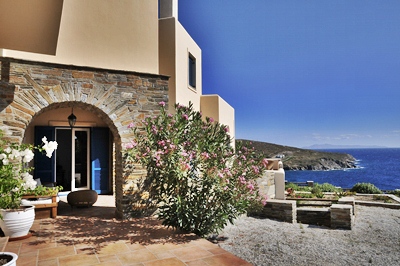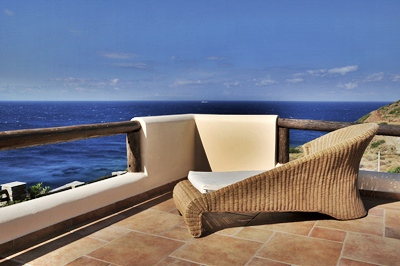 It has uninhibited sea views and is 370 square metres in area with 5 bedrooms, 4 bathrooms a kitchen, and 5 toilets.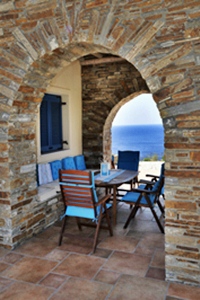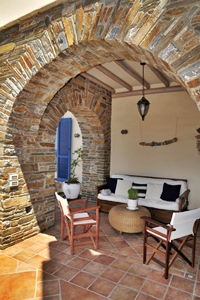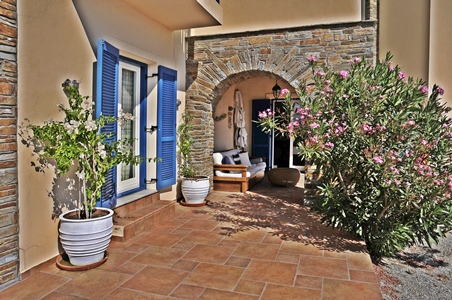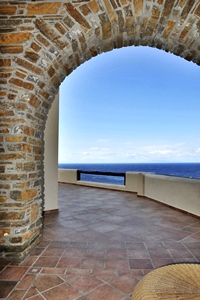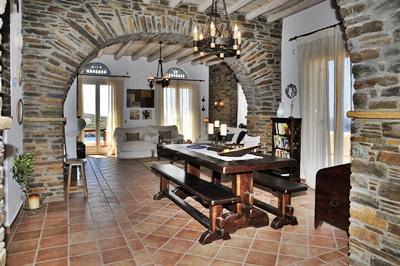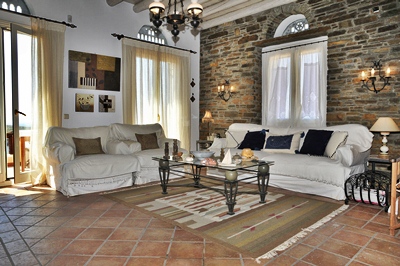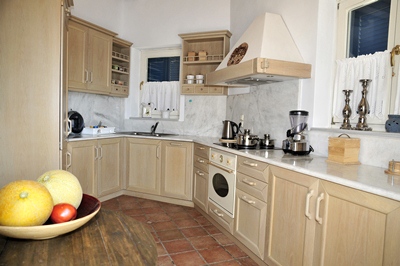 The Villa sleeps 8 people plus 2 in the basement for staff purposes. It has a big lounge, eating area and kitchen on the ground floor. There are two fire places. The ceilings are all covered by painted wood. There is a pool area with sitting, bar and eating facilities underneath a wooden pergola. The Villa is completely furnished and it is equipped with central heating and ceiling fans.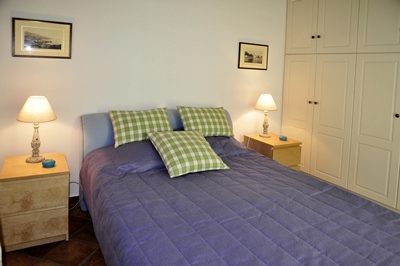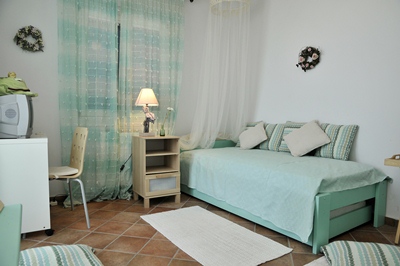 The infinity swimming pool is 12 m x 5.50 m in area and overlooks the sea and is maintained on a regular basis.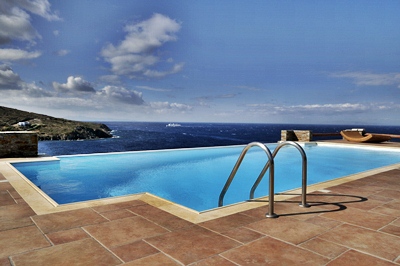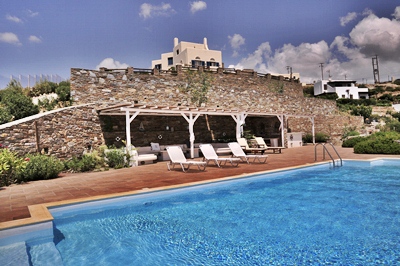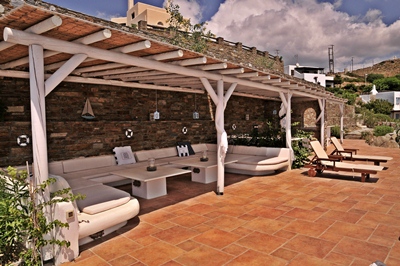 Number of floors : Ground floor, first floor and basement. Three bedrooms and two bathrooms on the first floor. One bedroom and one bathroom on the ground floor. One bedroom in the basement. The villa is to be sold fully furnished.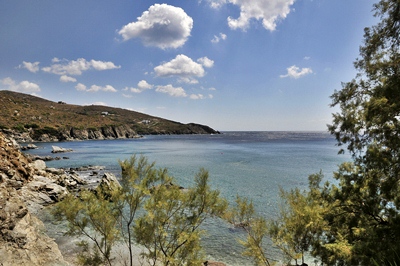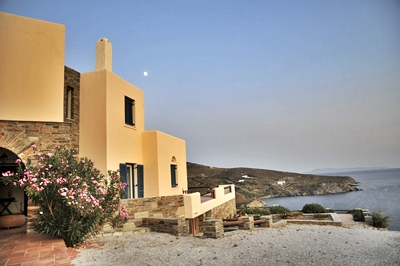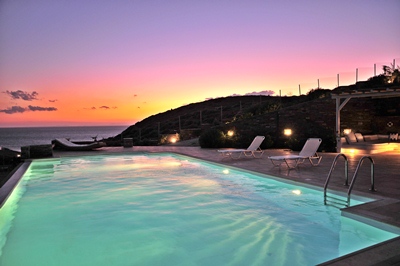 Andros Island belongs to the Cycladic Archipelago and can be reached by boat from Rafina port (40 km from Athens) in 2 hours. The Villa is situated only a 15 minutes drive from the port. Andros has a lot to offer in terms of culture, life, beaches, villages, nature and walking paths.
Price : 1,000,000 Euros Or Near Offer Code : ANDROS JIK/010
---
A House On The Beautiful Svala Beach : Kokkari : Agios Konstantinos : Samos
A plot area of 4206.54 square meters including a two floors house of 210 square meters in the valley of Vourliotes. The property is located on the beautiful Svala Beach between Kokkari and Agios Konstantinos. The house is divided in two independent apartments. The 120 square meters ground floor apartment features a spacious open plan area for the kitchen, dining room and sitting room. The living room has a big fire place and two doors leading to the north and south veranda. In addition there are three bedrooms and two bathrooms. An exterior staircase leads to the 90 square meters first floor apartment which is currently under construction. The apartment features a spacious open plan area for the kitchen, dining room and sitting room. The living room has a big balcony door leading to a balcony offering a panoramic view of the valley, the beach and the Aegean Sea. In addition there are two bedrooms and one bathroom. The house has central heating and connections to all services. On the fertile grounds of the property there are all sorts of fruit trees and a vineyard.
Price : 230,000 Euros Code : SAMOS SM/336
---
A Fabulous Waterside Villa : Trikeri : Pelion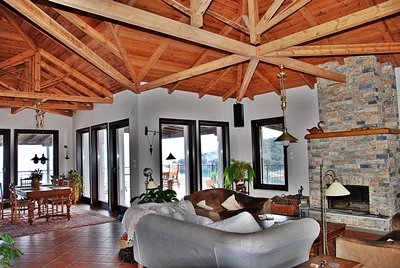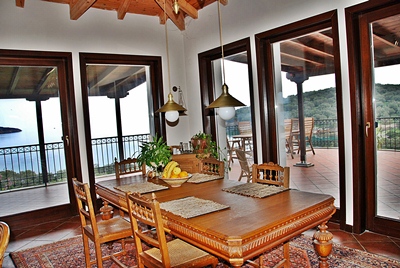 This is the most beautiful villa in the Pelion, situated on a peninsular, 30 metres from the sea on one side and 60 metres from the sea on the other side with a private sand beach.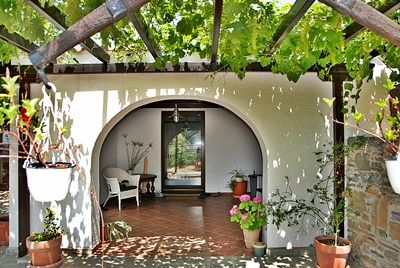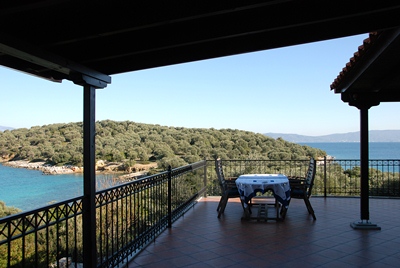 Prospective owners have the possibility to anchor their yacht in front of their home.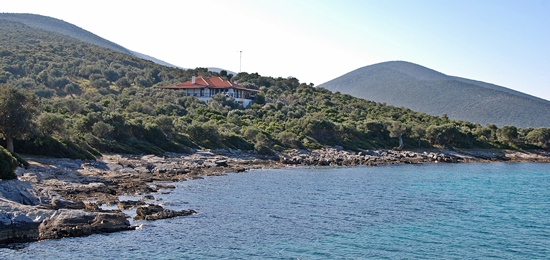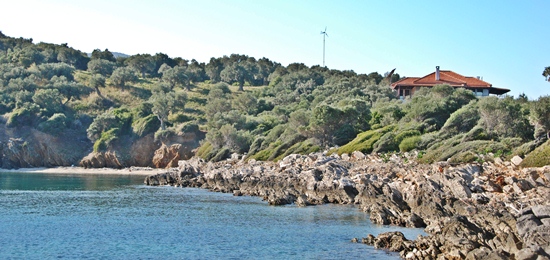 All rooms in the house have a sea view with the exception of one bathroom and the pantry. The entire house has radiant floor heating, triple glazed hardwood windows and doors. There is 10 cm of insulation on the outside of the house and roof, so the house is very warm in winter and cool in summer. The kitchen has granite worktops and top quality appliances including an indoor grill. The master bedroom comes complete with jacuzzi ( sea view) and marble counters.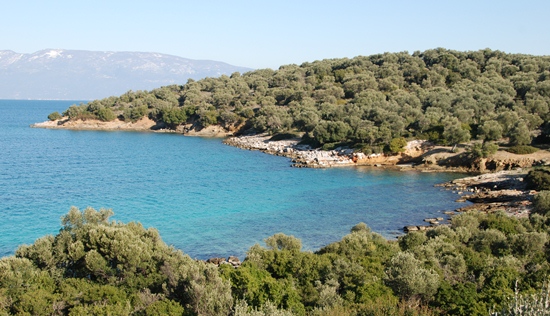 The villa was built in 2007 and has three bedrooms, 2 bathrooms one with Jacuzzi and walk in shower and one with walk in shower. The gardens all have an irrigation system and contain many olive trees ,orange, lemon, grapefruit, peach, lime apricot and nectarine. The plot size is 19,500 square metres of which 7,500 is olive grove.
Price : 980,000 Euros Code : PELION DKBB/010
---
A Beach Side House For Sale : Posseidi : Halkidiki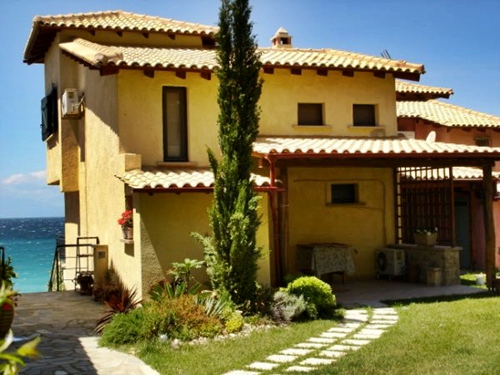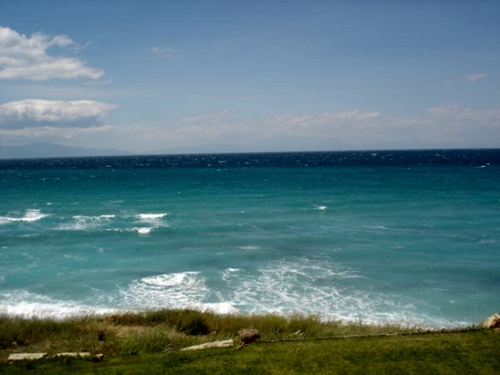 Directly in front of the beach, this three bedroom house has amazing views from all points of the property.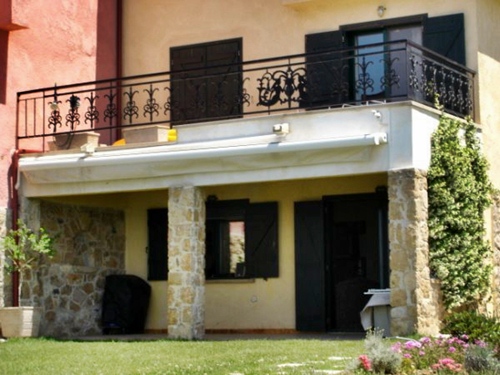 This property is a generous 120 square metres and built on three levels and has three bedrooms, a living room/kitchen a bathroom and two W.C,s. as well as a store room.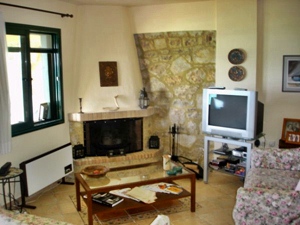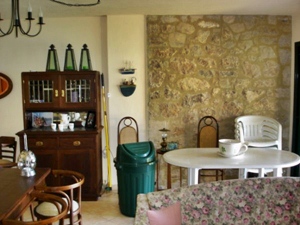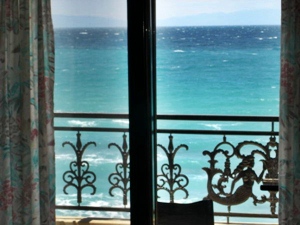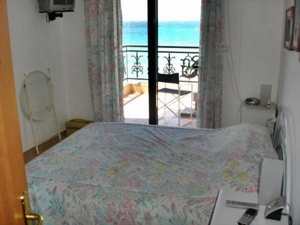 The price includes all the furniture and electrical appliances in perfect condition.
Price : 480,000 Euros Code : HALKIDIKI LE/065
---
A Villa For Sale Located Directly On The Beach : Skioni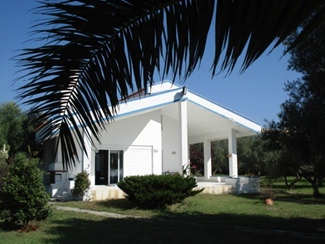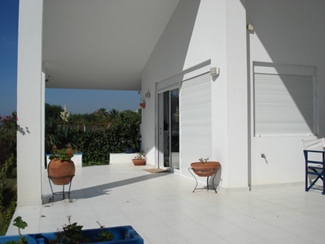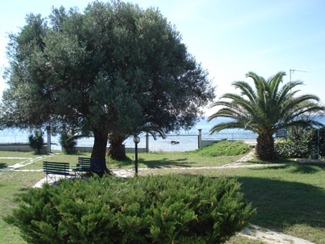 An absolutely wonderful shoreline property, located towards the Western end of the Kassandra peninsula. It is comprised of 3 bedrooms, 2 bathrooms, a living area, and a reading room. This is a real family home right on a beautiful shoreline, with a very large well kept garden, which includes an olive grove and a small Cycladic style church.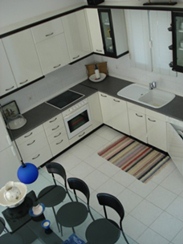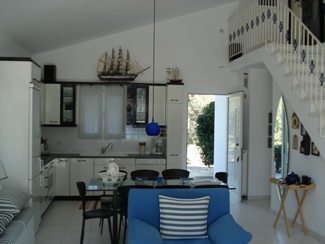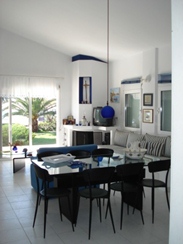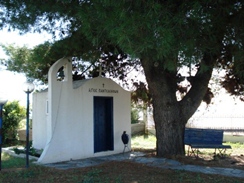 Additionally, an extra 125 sq.m. may be legally constructed within the land plot
Price : 1,600,000 Euros Code : HALKIDIKI CGNP/98
---
A Two Years Old Three Storey Maisonette : Limenas : Thassos
A wonderful maisonette in Limenas which is a 5 minute walk from the new harbor and ten minutes from the center of the town. It is situated in a privileged place 50 meters from the sea and is built behind an archaeological site. It has a fantastic mountain and sea view. The maisonette has three floors and has three bedrooms. It is fully furnished with exceptionally beautiful things as it was made for permanent residence but it is for sale because of a family emergency.
There are two bedrooms on the ground floor with a shower with glass doors and a toilette. There is a kitchen with all that is needed, a dining area and living room, with modern furniture of high quality, fire place and TV set and DVD player. From the living room there is an entrance to the balcony and patio with a built in barbeque. The master bedroom on the second floor (with bath and wardrobes) leads to a balcony with majestic view of the sea, the important ruins of proto Christian Churches (one of a kind) and the town of Limenas.
The whole maisonette is 94 sq. met and is ready to use. : It has oil central heating radiators : On the lower Ground Floor is Bedroom 1 with wardrobes, king size bed which includes bedding and quilt : In Bedroom 2 : bed settee with separate storage room and full bathroom with shower and glass doors : The Entry Level to the Kitchen with clothes washer, fridge, freezer, dining table and chairs : The living room has an open log marble fireplace a Sony flat screen TV, a glass cabinet, 3 solid oak side tables, solid oak cabinet with storage such as DVDs, CDs, and other electronics. There are sliding glass patio doors that lead out to veranda and BBQ area. On the upper Floor bedroom there is a king size bed, fitted solid wood wardrobes, high standard chest of drawers and side cabinet. There is a large balcony overlooking the archaeological site and olive grove, with an amazing sea-view, a full bathroom with shower, the Front balcony of the villa has a mountain view. Items included: balcony furniture, microwave, toaster, kettle pots, pan, and all kitchen utensils. All windows and doors are fitted with fly screens.
The Villa is a short 5 minute walk to the ferries and a 10 minute walk to the centre of Limenas
Houses Like This Do Not Come Up Very Often : A Unique Opportunity To Purchase A Freehold Fully Furnished Property By The Sea At A Very Good Price.
Price : 195,000 Euro's. Code : THASSOS NM / 010
---
A New House One Minute Walk To The Beach : West Of Chania : Crete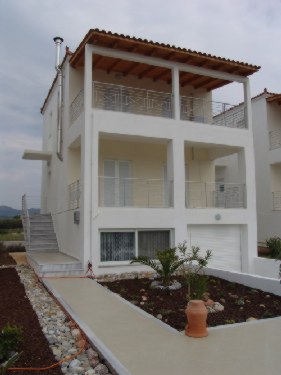 This is a newly built two storey house one minutes walk from the beach. The ground floor includes an open kitchen, a living dining area, and a bathroom. The first floor includes three bedrooms. Both floors have spacious terraces. The basement has been finished off, part of it as a garage, and the remaining area can be used for a living area as there are windows providing natural light. The house is equipped with under floor heating.
The house size is 100 square metres in total, with a basement of 70 square metres.
Price : 180,000 Euros Code : CRETEEU AG-KAS2
---
New Maisonettes On The Beach : Mourtias Beach : Pelion
Only 2 Maisonettes Left For Sale
Five independent and newly built maisonettes of 80 m2 each in an idyllic location, right above the impressive beach of Mourtias in south Pelion. Each house stands on 700 m2 of land and consists of living room with kitchen, 2-3 bedrooms and a bathroom.
Price : 180,000 Euros Code : PILION H2338
---
A Detached Sea Side House For Sale : Pallini : Halkidiki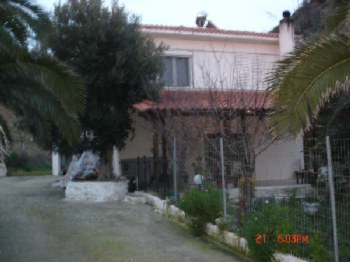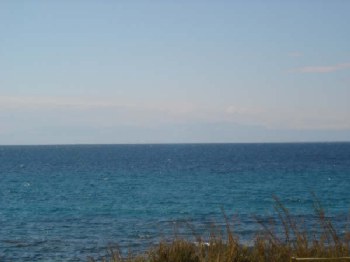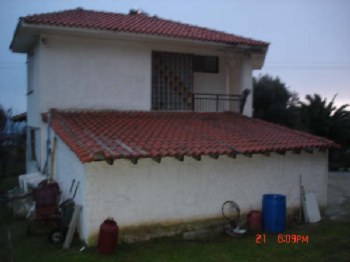 This sea side house sits in its own grounds beside the sea, only 10 metres from the beach.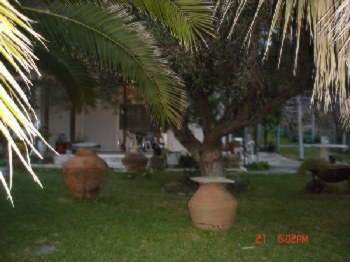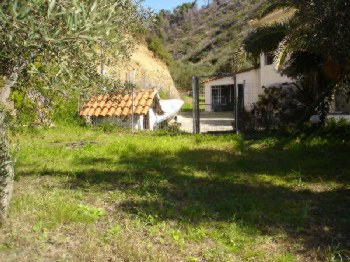 It is built in a big garden plot with trees and flowers.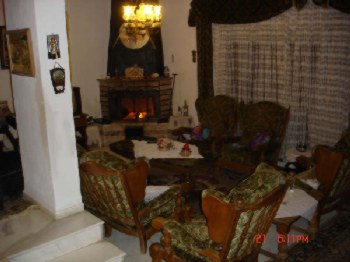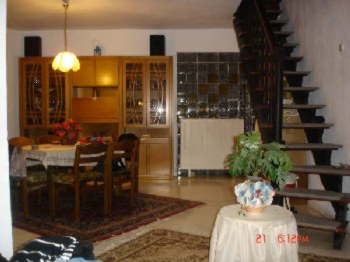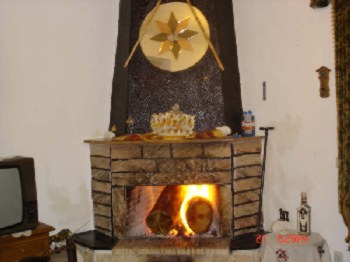 To be sold with all furniture and electrical appliances
Price : 350,000 Euros Code : HALKIDIKI LE/032
---
A Large 3 Bedroom House With Amazing Sea Views & Walk To A Sandy Beach : Istron : Crete
With Swimming Pool and Central Heating
This beautiful villa looks over one of the amazing bays of Istron. The golden sanded beach is just 100metres away. The village of Istron has tavernas, bars and small shops. The cosmopolitan, tourist resort of Aghios Nikolaos with all its amenities is only a 10 minute drive.
Built on a piece of land approx. 290m2, this is one of a complex of 3 villas. The 223m2 house comprises a ground floor, first floor and basement plus, 26m2 of semi-outdoor spaces, 51m2 of terraces, a garage and the large garden.
The ground floor : 69m2 with a large living space with a fireplace; kitchen; guest bathroom (with toilet and sink); staircase to the first floor; staircase to the basement; semi-outdoor space (20m2) by the main entrance; rear courtyard (9.5m2); large terrace (22m2) leading to the gardens.
The first floor : 70m2 comprising one master bedroom, en-suite with a full sized bath and access to a large terrace of 20m2 : a second bedroom and a second bathroom with shower.
The basement : 92m2 comprises a boiler room; store rooms; garage; utility area; a bathroom with shower; a small semi-outdoor space (7m2) : A play-room; another room which, as an option and at extra cost can be converted to a bedroom.
The basement has an independent entrance , therefore can also be used as a self-contained guest apartment of 60m2.
A Unique Waterside Property : Not To Be Missed : Only 100 Mts To The Beach
Price : 460,000 Euros Code : CRETE B&S/HKH2
---
BACK TO

FRONT PAGE