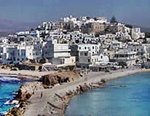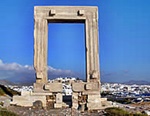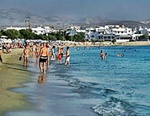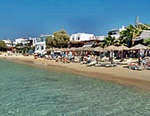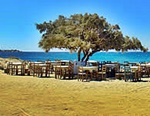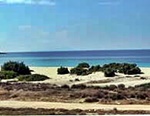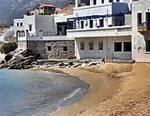 ---
Property For Sale In The Cyclades Islands.
Islands of : Andros : Naxos
Andros
Here

Scroll Down To See More Property.

---
Naxos : Cyclades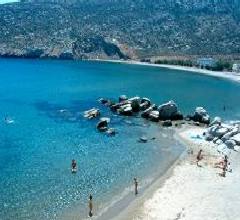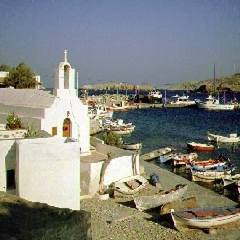 Naxos is a popular Island with beautiful beaches. Here we have a new partner and builder that can design houses for you and find a plot for you to build on. Either New Property or Resale is available.
If you want a house to be built according to your own requirements then he will do his best to make sure you get what you want.
If you do not see anything to suit you, we will ask our agent for you.

---
For Sale : Luxury House and Apartment : Agidia of Naxos
A Luxury house is for sale of 110 square metres plus an apartment of 60 square metres. The apartment is to be sold fully furnished and has 1 bedroom, 1 bathroom and a living room / kitchen.
The house is in maisonette style and has the following layout : The first level is a very nice kitchen and a large living room with fireplace and a W.C. An internal stair case leads to the marble floor where there are two large bedrooms and a large bathroom with Jacuzzi.
The House Has Central Heating : Solar Panels : Air Conditioning : A Great BBQ And Fantastic Unobstructed Views
Price : 395,000 Euros Code : NAXOS JK/013
---
A Two Floor Maisonette For Sale : Chora Of Naxos : Naxos
A two floor house is on sale at Chora of Naxos it is 105 sq. m. in area, and on the ground floor there is a kitchen, a living room, a dining room, a WC and a storeroom under the stairs which go up to the first floor. The first floor has two bedrooms, one bathroom and two balconies.
The house also has two yards, one at the front of the house and the other at the back of the building where there is the boiler room.
Price : 210,000 Euros Code : NAXOS JK/014
---
A New 2 Storey 4 Bedroom House : Glinado : Naxos
A Two-storeys building with a wonderful view is for sale in the region of Glinado. The surface area of the building is 134 sq. m This two-storeys building of 134 sq.m is constituted from a ground floor 67 sq. m. and a top floor 67 sq.m . It includes four bedrooms , two bathrooms , two kitchens-living rooms , a store room and a boiler room. Air conditioning and central heating are available as well. Its view is wonderful!!!
Price : 230,000 Euros Code : NAXOS JK/015
---
For Sale Villa Agia Paraskevi : Plaka : Orkos : Naxos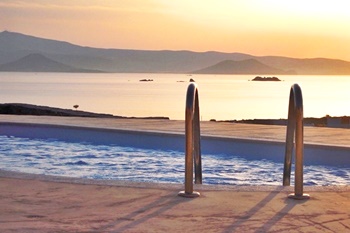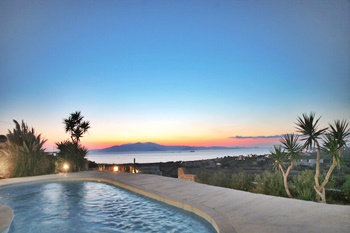 The villa is nicely situated at the end of Plaka beach, on the beautiful hill of Agia Paraskevi, 700m distance from the beach front. The line distance from the sea is 400m.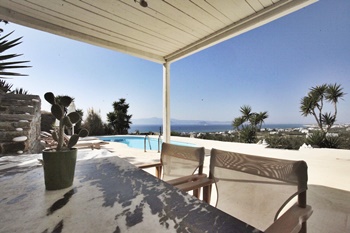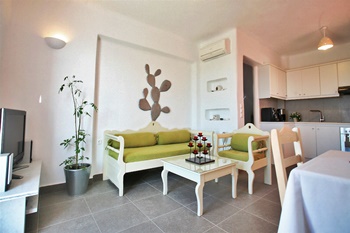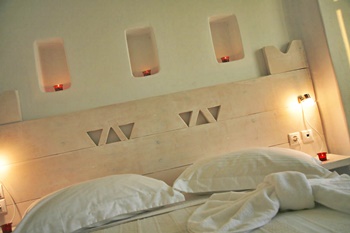 The villa is a two floored building, fully furnished with two bedrooms, one living room with kitchen and one living room in the basement which can be used either as a second living room or even as an extra bedroom.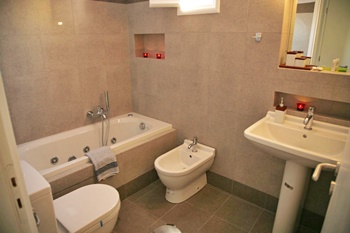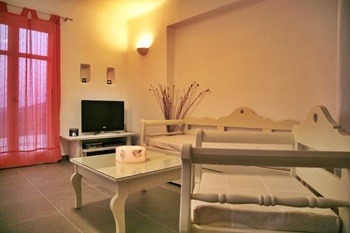 The upper bedroom has its own private bathroom with Jacuzzi-bathtub and the ground floor bedroom has private shower-Jacuzzi. Both bedrooms have double beds with fine quality mattresses, sat-TV, hair dryer, air conditioner and a veranda with a lovely view of Plaka beach.
The living room is air-conditioned with a large flat sat-TV screen, DVD player. The kitchen is fully equipped with all cooking and dining facilities. (oven, fridge, microwave, dish washer, espresso and filter coffee machine, toasters, e.t.c). Washing machine is also available in the house.
Villa outdoor: The private out door area (sea view) is about 700m2 large and has a 32m2 private swimming pool, out door furniture (deck chairs, umbrellas, dinning table, chairs etc.) and a pergola.
Plaka is the longest beach of Cyclades (7km long) with fine sand and deep blue waters. 800m away is Orkos beach with its lovely bays and 1,5 km away the popular beach of Mikri Vigla. The distance from Naxos town (Hora) is 8,2km.
Price : 380,000 Euros Code : NAXOS JK/AGPAR201 A Very nice property at a very good price.
---
For Sale A 2 Bedroom Apartment : Naxos Town : Naxos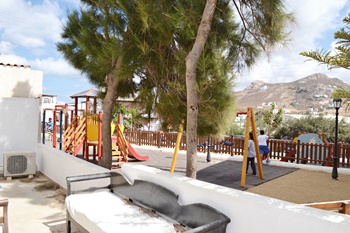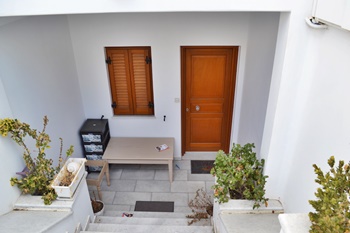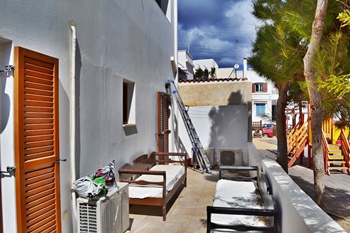 For sale, an apartment of 75 square meters with two bedrooms, a beautiful living room kitchen and a beautiful bathroom.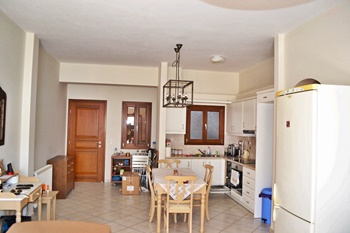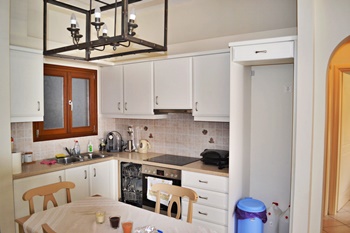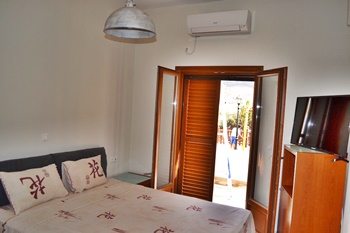 With a small courtyard facing the entrance and a large veranda at the back, this apartment is very bright. Also this apartment has its own private heating and air conditioning. Close to all amenities this apartment is ideal for life all the year on the island of Naxos.
Price : 160,000 Euros Code : NAXOS JK/CHOR221
---
For Sale A Charming Little House : Kourounochori : Naxos
For Sale, in the heart of the village of Kourounochori next to a Venetian tower
For Sale, in the heart of the village of Kourounochori next to the Venetian tower a charming little house of 40 Sq.m with a large roof garden cover by a pergola. This house has one bedroom, a bathroom and a living room with kitchen.
Price : 35,000 Euros Very good price Code : NAXOS JK/KOU121
---