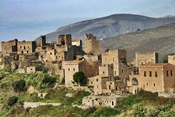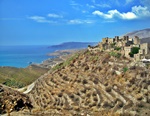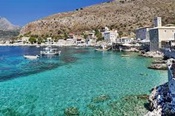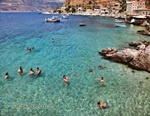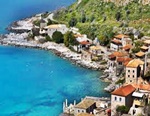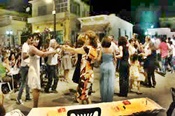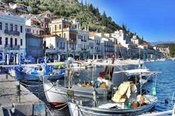 ---
Greek Mainland : South East Peleponnese
South East Of Kalamata : South Mani : Aeropolis : Gytheio : Laconia
Back To Page 1
Here

Scroll down to see more property.

---
Laconia : Peloponnesus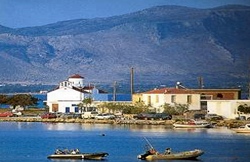 Laconia : Deserted beaches, crystal clear sea, snow capped mountains and a wonderful climate with 300 days of sunshine a year make Laconia a perfect choice for a lifestyle change. Becoming increasingly renowned for its wine production, the area also produces the finest of olive oils. There are classical and Byzantine monuments to visit and numerous sign posted walks allow you to discover this lovely region by foot. The farthest finger of the Peloponnese. The Laconic gulf on the west, the Mirtoo sea on the east. Along both coasts and at some distance from the sea there are scattered villages. One beach after another and then another even larger. Everything baked by the sun and basted by the sea. On the southern coast of the peninsula, looking onto the Mirtoo sea, stands the former Byzantine-Venetian fortress-state of Monemvassia, on its rocky promontory. From afar it looks as if it could be an island. In Greek Monemvassia means one entrance: the long causeway joining it to the mainland was and is the only access to the rock. Time stopped here in the Middle Ages. Castles and ramparts, old mansions, little houses, narrow lanes paved with stone slabs, churches with crumbling facades, old low archways, semi-destroyed stairways. Every little detail calls up memories of Byzantium and the Venetians.
---
A Stone Built Villa For Sale : Gytheio : Laconia : Peloponnese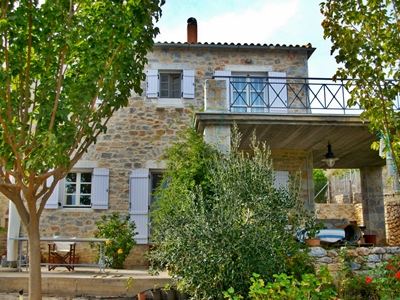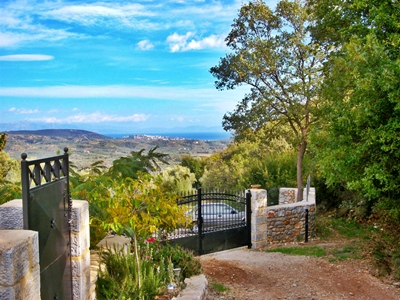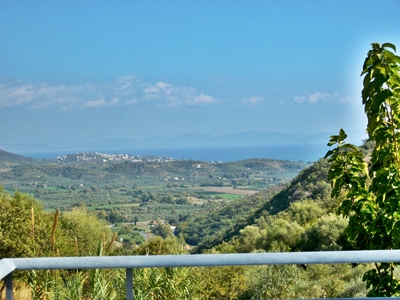 The house has a fabulous view of the Lakonikos Kolpos ( Laconian Gulf ) towards the sun rise in the East and is located between Gytheio (A lively Harbour Town) and Areopoli, Lakonias Peloponnese only a short distance from the sea.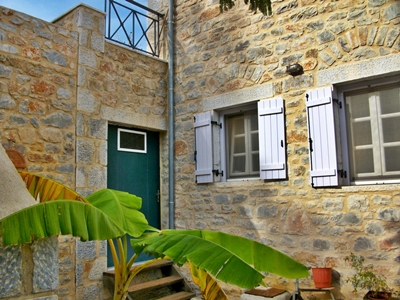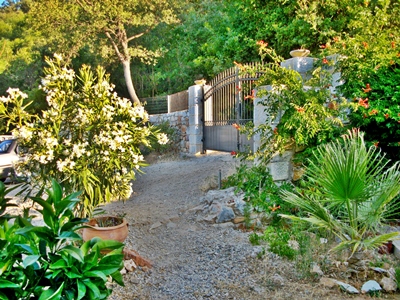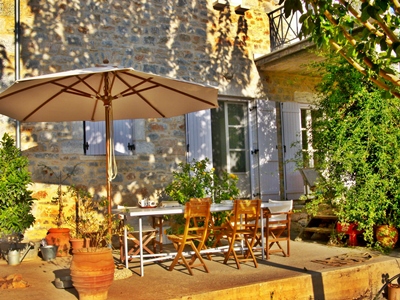 The location is also green in winter and has a very good climate and dry air for most of the year. There are several quiet sandy beaches and bays within a 10 minute drive.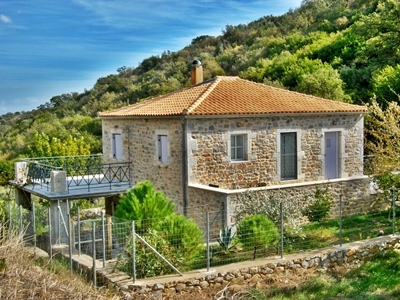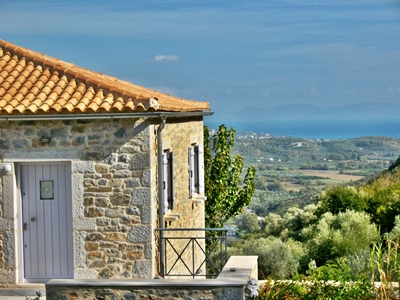 The house is comfortable all season and beautifully designed in co-operation with an experienced architect, and has a magnificent sea view towards sunrise which offers peace and privacy without isolation being only 500 metres outside a small village. A cool refuge in summer and easy to warm in winter. It is only 40 klms south of Sparta within easy reach from Athens or Kalamata airport.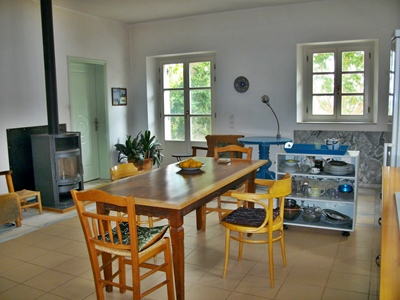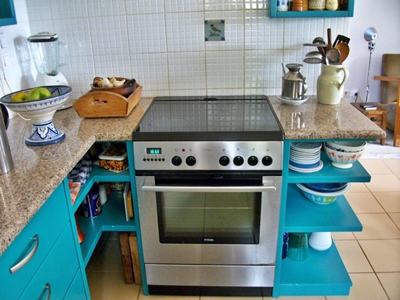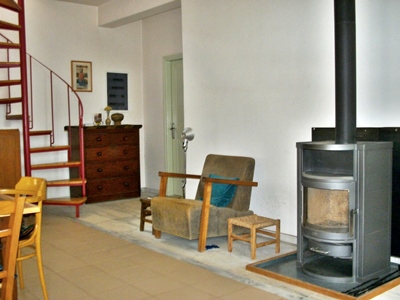 The house has four bedrooms and two bathrooms and a large kitchen-living room, and double glazed windows with mosquito and fly screens. The house has TV satellite receiver/TV antenna, and all rooms have built in satellite cable, and internet and telephone sockets. Everything is in excellent condition.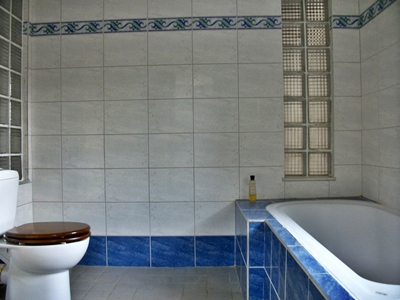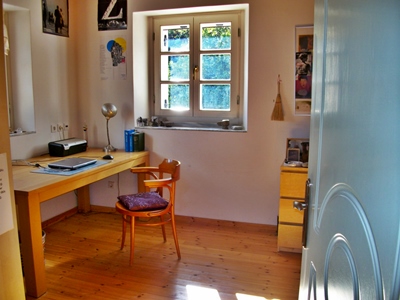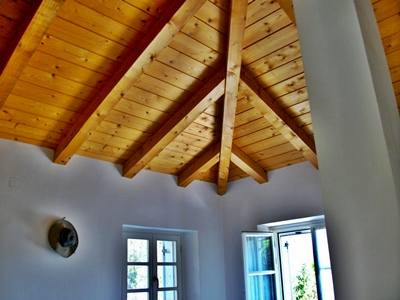 The house measures 144 sq mts and stands on a 1200 sq mt fenced plot, and is planted with orange, mandarin, lemon, olive, fig, pine trees. Palms Aloe Vera, yucca, Grape, Banana, oleander, lavender and several kinds of roses,
Price :

Price Slashed For a Quick Sale 195,000 Euros

Code : GYTHEIO P&EA/010

Fabulous Bargain For Someone. So Much For So Little
---
A Renovated Stone House : Pirgos Dirou : Areopoli
The house is situated in a beautiful small traditional village in the Inner Mani. It has been very well renovated in keeping with the Mani Style.
The house, located in the village of Pirgos Dirou, was built in the late 1800's and has been lovingly restored over the past 7 years. It is in a traditional settlement and surrounded by other stone towers and houses. There are many olive trees, Frankish figs and fruit trees in the area. The main house consists of 2 bedrooms (one of which is a gallery bedroom), one bathroom and an open plan kitchen and lounge area. The lounge sofa can be used as an additional double bed if necessary. Beneath the main house, the traditional "kamara", which has its own entrance, has been converted into a spacious double bedroom en suite. It is particularly atmospheric and also the coolest area of the house because of its traditional construction, usually maintaining a temperature 5 degrees cooler than the main house. The outside area includes a large patio with sea views and a splash pool. You can enjoy fantastic sunsets all through summer. There is a small garden with lemon and orange trees – the fruit of which is edible and you are welcome to eat. The house is approximately 5 minutes from the sea by car, with two beaches in the immediate vicinity. It is also only a few minutes from the famous Diros caves which are well worth a visit. The village itself has a few tavernas and souvenir shops are within a few minutes walk. There is also a supermarket open all year round with an excellent bakery, a greengrocer, fantastic patisserie and even a traditional bee keeper.
Price : 165,000 Euros Code : AREOPOLI RJ /013
---
A Building Plot In Asteri, Evrotas Municipality : Vlahioti : Laconia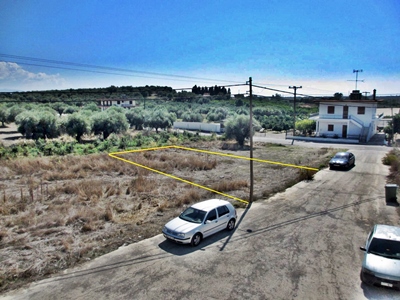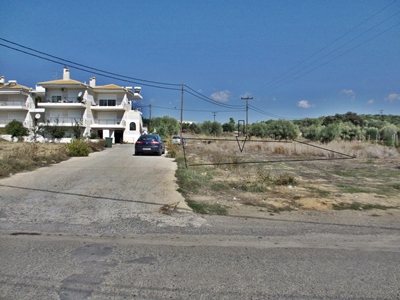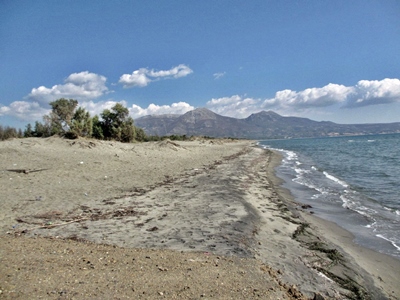 500 Square Metres Within the village building zone with all services nearby. It is 45 klms away from Sparta and 25 kms away from Gythion.
Asteri is a little village of about 300 inhabitants, very close to SKALA and VLAHIOTI towns. Its distance from the sea is less than 2.5 km, where there is a nice sandy beach. In summer there is a beach-bar in operation. The area near the seaside is a protected NATURA area. The plot is almost flat and faces a short public dead end road, perpendicular to the main road connecting Asteri to Glykovrisi village. The total building area that can be erected on the plot is 300 sq mts and it can be extended to one or two levels.
There are not many facilities like shops, restaurants etc. in the village, as its distance from VLAHIOTI is very short (about 3 km) and you can find almost everything there. VLAHIOTI is not a village but a small town with a lot of shops, banks, a health center and even an open theater of 1200 seats!
Price : 35,000 Euros Code : ASTERI PLOT GP/010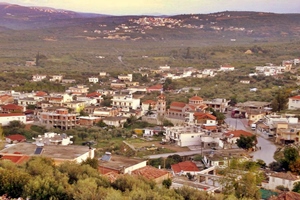 Vlahioti Town
---