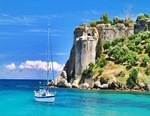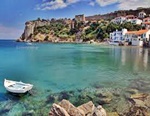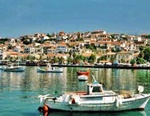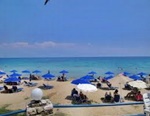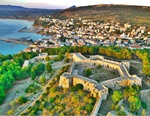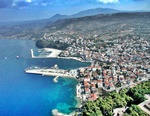 ---
South West Of Kalamata : Petalidi : Kalamaki : Chrani & Koroni
Page 1
Here

To View. Scroll down to the bottom of each page.

---
A Five Bedroom Villa For Sale : Mikri Mantinia Village : East Coast Kalamata : Peleponnese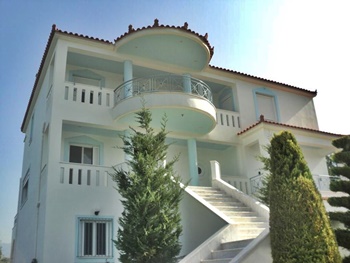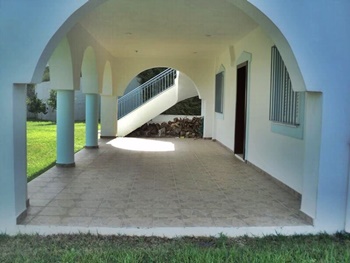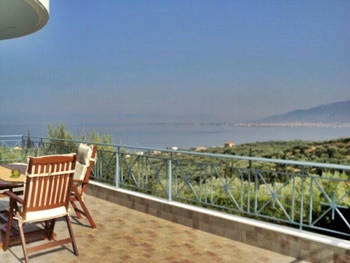 It is a short distance (approx. 500 meters) from the beaches where you could enjoy your swimming in a crystal clear waters of the Messinian bay.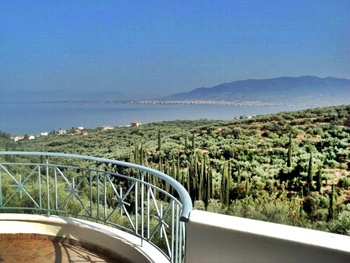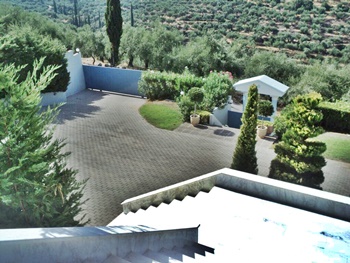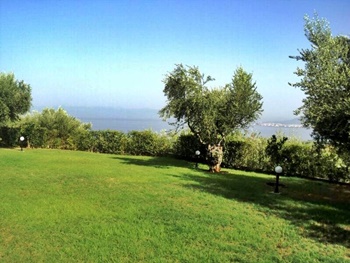 The Villa has spectacular view of the Messinian Bay and the surrounding mountains it gives unique opportunity to enjoy the beauty of a rare combination of mountain and sea.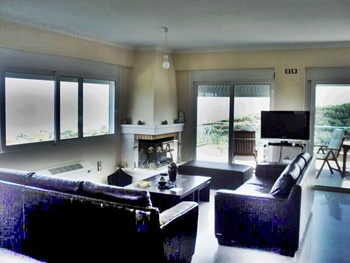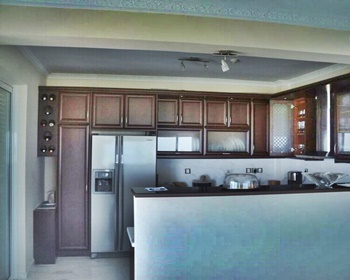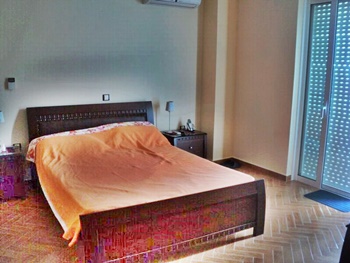 The villa's location is just 5 km far from the center of Kalamata city.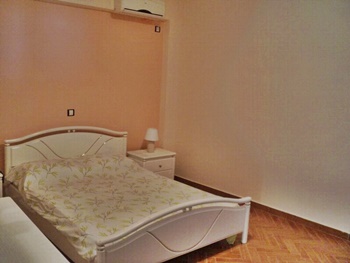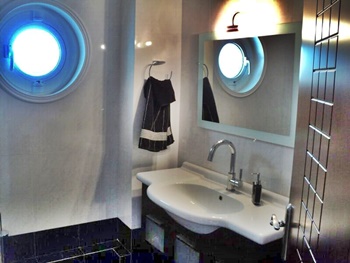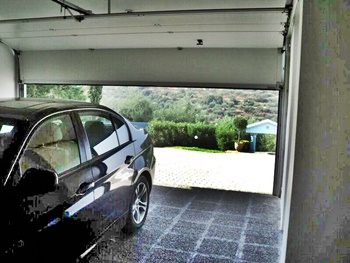 The plot where the house is built is of approximately 2,000 sqm. The Villa is 300 sqm. The Villa is built in three levels : ground floor, first and second floor. There are 5 bedrooms in total, 4 bathrooms, a modern design kitchen, a dining room and a large living room with a fireplace. In addition, a huge room situated on the ground is ideal for gathering all family and guests or organizing a cinema room , or may be playroom for your kids. Among the many facilities offered are central heating, air-conditioning and electric gates at the entrance to the villa. Outside space which is approximately 900 meters is designed of lawn and Leyland cypress, also olive trees as well as orange and lemon trees. In addition, there is a garage and a driveway with a parking space.
Price : 650,000 Euros Code : MESSINIA DSMP / 1001-394

---
A Detached House For Sale With Great Views : Ano Doloi : Messenia : Peleponnese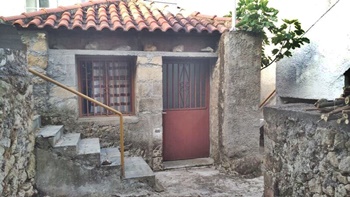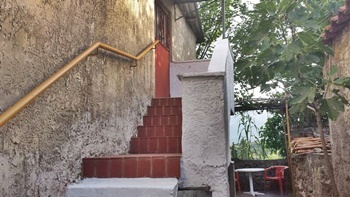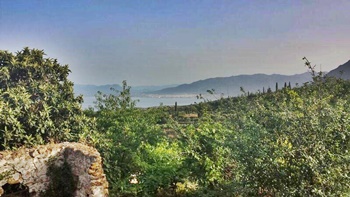 This old house is for sale in the village of Ano Doloi : Messenia, it is 119 square metres in area.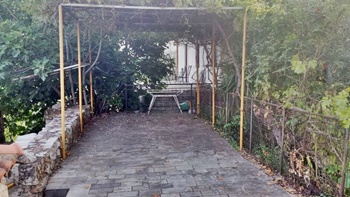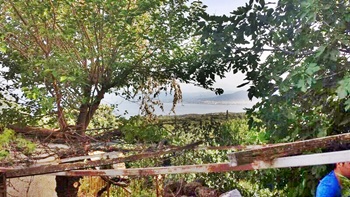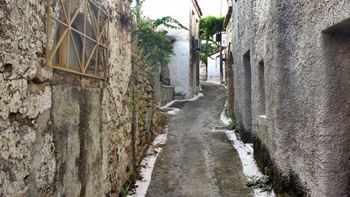 It is divided into ground floor and upper floor and has a partial sea view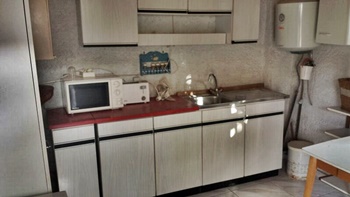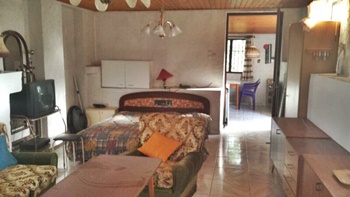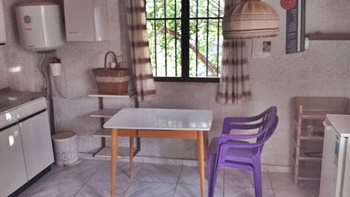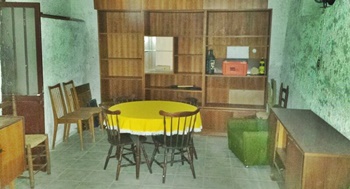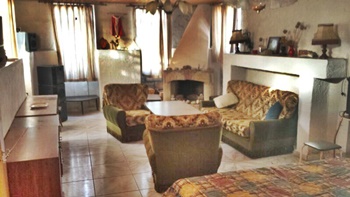 Ano Doloi is a picturesque village in Mani and has the advantage to monitor the sea without being seen. The village has several churches such as St. Paraskevi - monastic double dome and beautiful murals done by Panagiotis Benizelou of 1698 and many others. It also has significant agricultural land and preserved in the tower of Sarava, sample of local classic architecture. The village is 24km from Kalamata.
Price : 45,000 Euros Excellent Price Code : MESSINIA DSMP / 1001-400
---
An Apartment In The Gargaliani area of Romanos : Messinia : Peleponese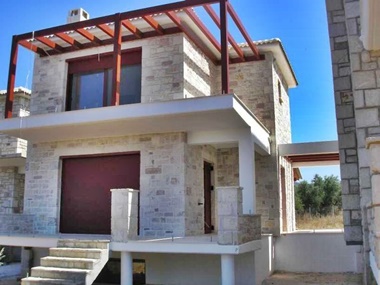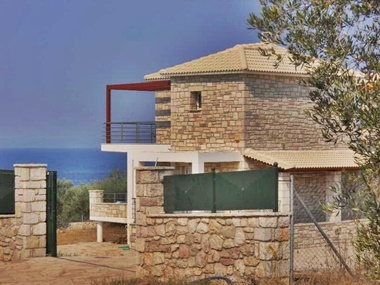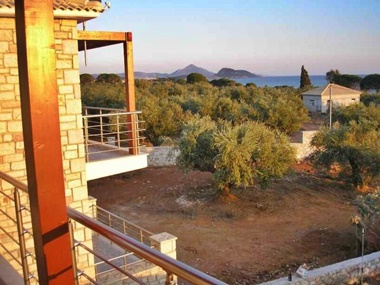 This apartment is 94 m², first floor, 2 bedrooms / 2 bathrooms, semi-open, stone, waterfront, on a plot of 4,500 sq.m.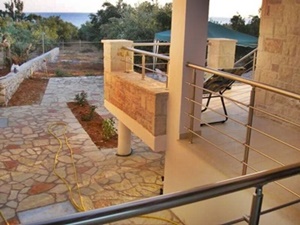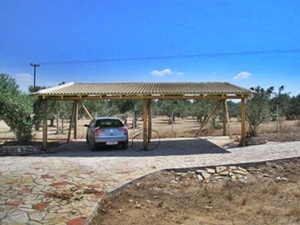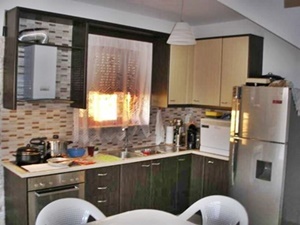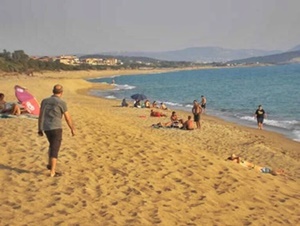 It has a fireplace, awnings, and overlooks the sea, there is open parking, storage and a garden. This luxurious stone house with 900 sq.m. private garden, and 1,300 sq.m. shared includes biological purification mantra stone, semi, large terraces, a very quiet place with panoramic views of the Ionian Sea, near the sea. It is located 70 m. from the beautiful beach and 700 m. From the Costa Navarino.
Price : 180,000 Euros Code : MESSINIA DSMP/1001-408

---
4 Off Plan Detached Houses
For Sale : Xrisi Amos Gargalionoi : Costa Navarino
Almost Finished They are only 70 Metres From An Outstanding Beach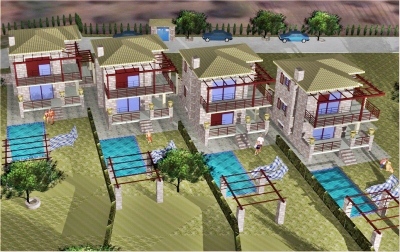 In Messinia-Gargalianous-Xrisi Amos just 500m from the hotel resort Costa Navarino. For sale 4 luxury stoned detached houses of 93sqm with 900sqm garden and 1500sqm shared space. They come with 2 bedrooms. They have organic cleaning, stoned fence and enclosure with trees. They also have parking, a fire place, solar panel, stores, and big verandas, in a quiet place with a great view at the Ionian sea, just 70m from an outstanding beach. A pool is included.
Price : 170,000 Euros Code : XRISI AMOS DS/1001-243
---
A 3 Bedroom Detached House For Sale : Ichalia : Messinia : South West Peleponnese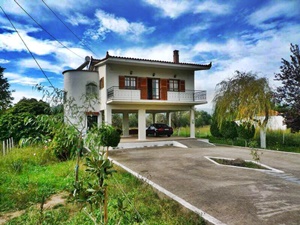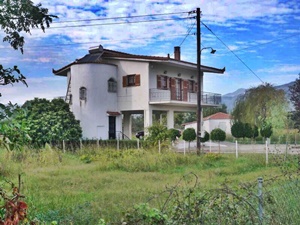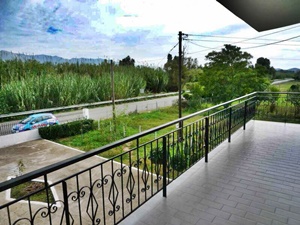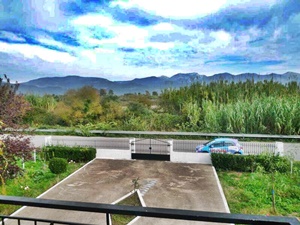 This 3 bedroom detached house was built in 1992 and is 82 square metres in size, on a plot of 4,000 square metres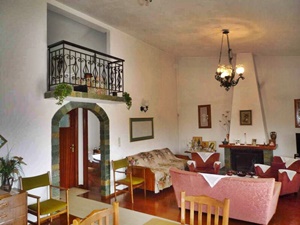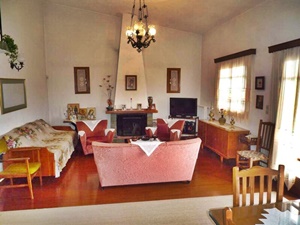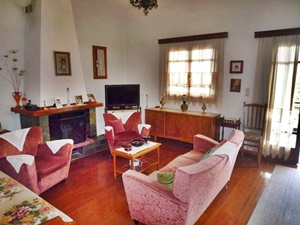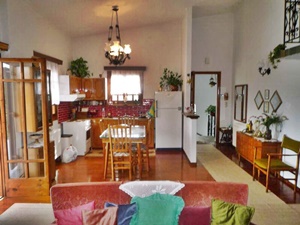 The house has a bathroom and W.C. and an attic, and comes with a fireplace and is to be sold furnished.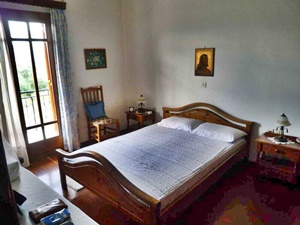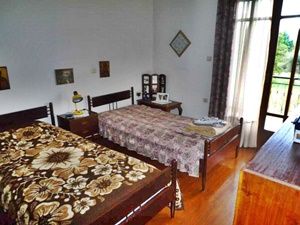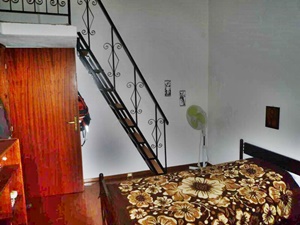 The house has an internal staircase and a large garden, it adjoin a proper asphalt road and can be a round the year home or holiday home there is ample storage, solar water heating, a house alarm, and comes with nice views. The plot is a fenced plot.
Price : 100,000 Euros Code : MESSINIA DSMP 1005-151

---
A Fabulous Sea Side Plot For Sale : Koroni : Messinias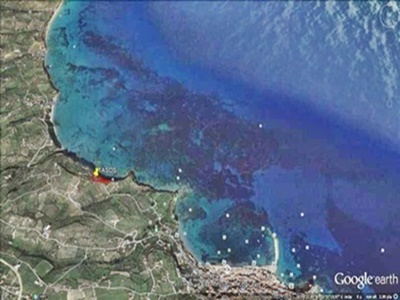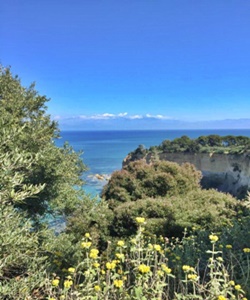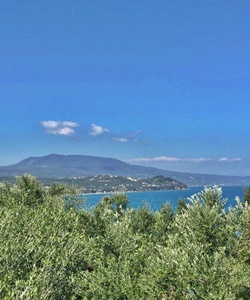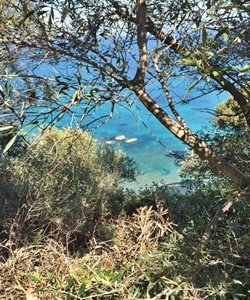 This beautiful plot is 4200 square metres in area with fantastic sea views and a building allowance of 200 square metres.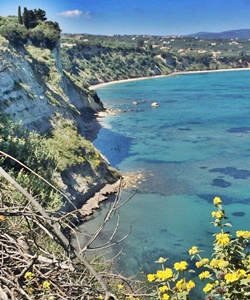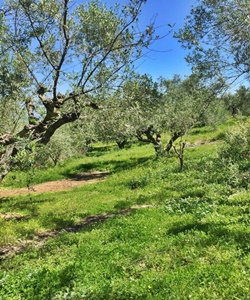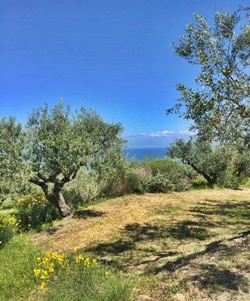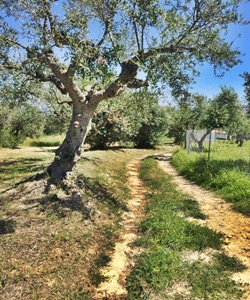 There are 80 olive trees on the plot with water telephone and electricity near the plot. It is only 1.5 klms from Koroni and the beach is 1 klm away.
Price : 110,000 Euros Code : MESSINIA DSMP / 1001- 812 SOLD
---
A Farm Plot For Sale With Endless Possibilities Because Of its Location. : Vasilitsi : South West Peloponnese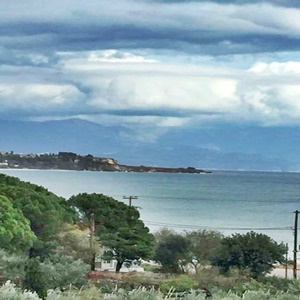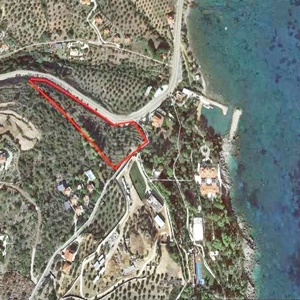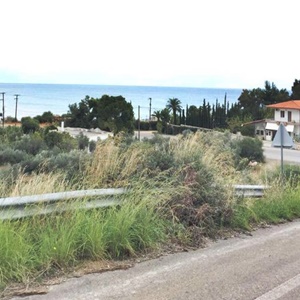 For sale a farm, attached to the street. The plot is 4000sqm within town limits, outside the city plan build able. There is a 200sq.m building capability. The existing farm bordering 10.078tm buildable which offer the possibility of construction of buildings of 300sqm. Notes that can be sold and singularly and in total with 4 acres at a price above 30,000 euros per hectare. The farm is only 100 meters from the beach, which offers a fantastic view, and Close to a pharmacy, clinic and other public services. Marked its distance from Koroni to 5mm and from the state airport, the hospital and the town of Kalamata is 50mm.
Koroni is a coastal town of Messinia, famous for its Venetian castle which towers over the city. Vasilitsi is semi-mountainous village with traditional stone houses in the heart of the village, or at Faneromeni settlements of St. George and Livadakia, extends to the sea and is located southwest, in the prefecture of Messinia, in the end leads to Akritas Cape.
Endless Possibilities With This Plot
Price : 12O,000 Euros Code : MESSINIA / R1
---
A Building Plot With Olive Trees And Vineyard : Koroni : Messinias : Peloponnese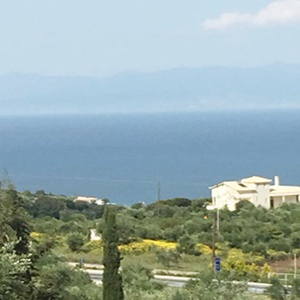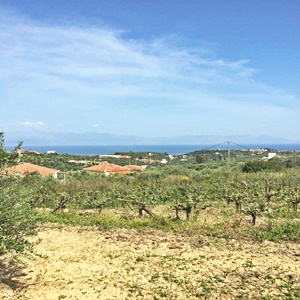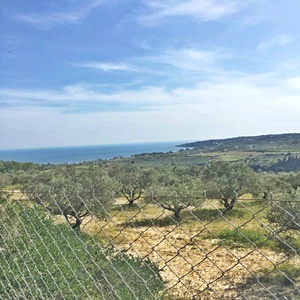 For sale : 4,050 sqm plot, outside the city plan in Koroni Messinias in which there is a small house six sqm. The plot offers the possibility of up to 200 sqm building construction. Moreover, in the land there are 60 olive trees and a small vineyard, and there is electricity, water and telephone . The plot has spectacular views across Koroni, and around it, as it is located at the highest point of the area. The distance from the center of Koroni is 2 km from the city of Kalamata, and the airport and hospital 50 km.
Price : 18O,000 Euros Code : MESSINIA DSMP / 1001-49
---
A 2 Storey Villa With Stunning Mountain And Sea Views : Koroni : Koroni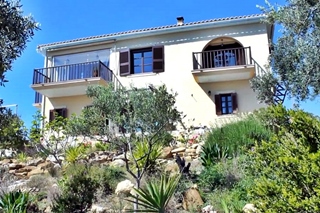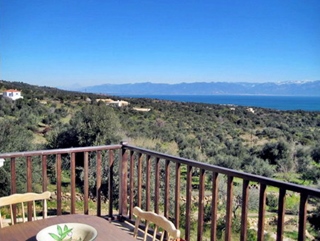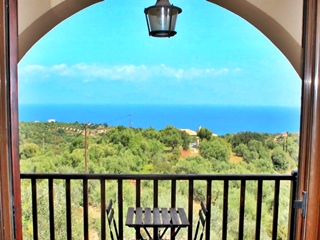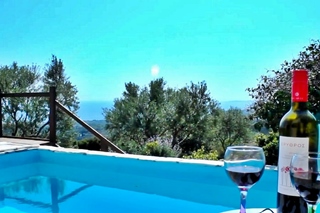 This property of 188 m² is on a plot of 1252 m², has 2 floors, a swimming pool & stunning views over the whole Gulf of Messinia from Kalamata, past the snow capped Mt Taygetos to Koroni.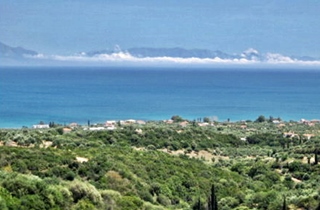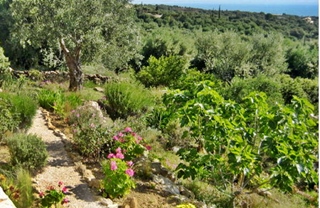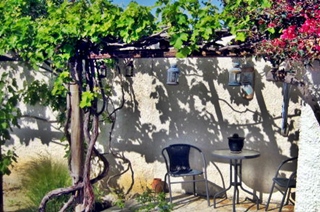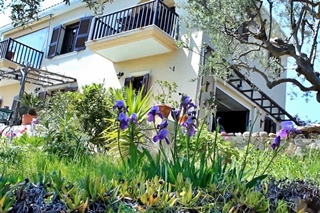 Upstairs is open plan with a large lounge, dining room & an arched fully fitted kitchen with 1½ bowl granite sink & worktops & wooden handmade units, and there is a traditional wood-burner & the whole property is centrally heated & air-conditioned.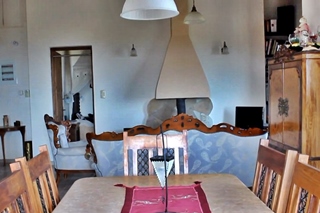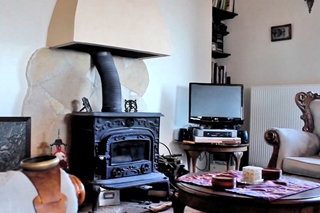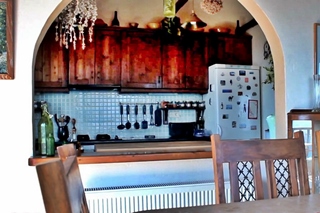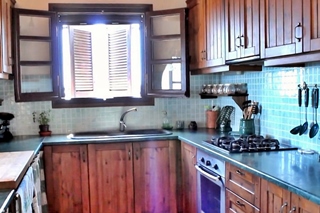 Outside there are large terraces, a sheltered, sunny, south facing swimming pool & seating/dining area with canopy & a large built in BBQ. There is a 21000 ltr underground water tank although the property now has water, 3 phase mains electricity & telephone/broadband internet supplied.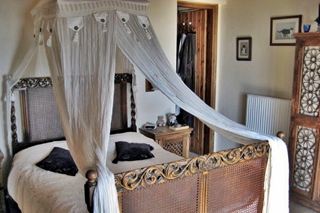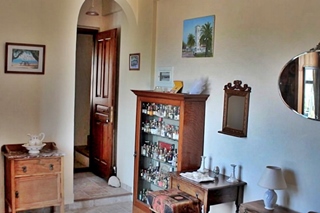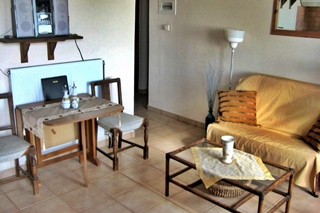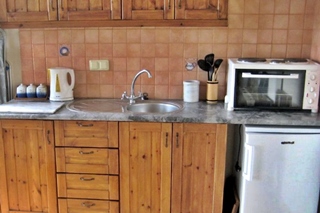 There is, off this a cloakroom/guest toilet & also the master en-suite bedroom with built in wardrobe & its' own balcony overlooking the gulf. The en-suite comprises a large bath, built in separate shower, toilet & basin. The roof upstairs is Cypress beam with traditional corner beams & cross trusses. There is a central ceiling fan with lights. Over the cloakroom & en-suite is a spacious loft with interior lights. There are 2 further balconies with superb views, the larger with extendable awning & tents allowing conversion in winter to a 'conservatory' type room, the other balcony is south facing & sheltered. Full length patio style doors lead out onto all balconies. Down the stairs from the lounge there is an en-suite guest room with built in wardrobe & patio doors leading out onto the pool terrace.
On the ground floor is the totally self contained apartment, comprising lounge/diner & kitchen, 1 bedroom & shower room. The apartment has its' own separate hot water system & its' own central heating controls. There is also a large garage/workshop & utility containing washing machine, sink & further fridge & freezer. Also, a boiler room, a pool room/store & a large car parking area.
The terraced, mature gardens have several fruit trees, 22 olive trees, a large vegetable growing area & 2 separate vine pergolas, 1 with a lit & sheltered seating area beneath. There are winding gravel paths linking the various terraces & areas. The property was built in 2005, has solar water heating & is double glazed with fly screens throughout. Although inside the village limits its' nearest neighbour is 200m. It has excellent rental potential as a whole or for the apartment only. There is in addition a 4x4, sailing dinghy, furniture & appliances for inclusion in the sale by negotiation.
Price : 297,500 Euros Code : KORONI DD / 141 SOLD
---
A 4 Bedroom House In A Good Situation : Xarakopio - Mousouli : Koroni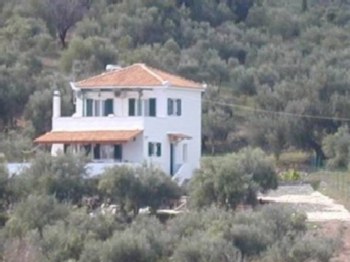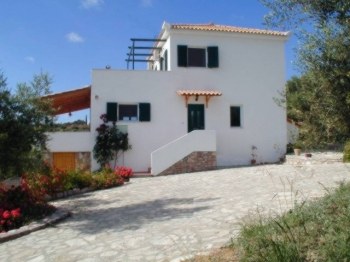 The house is situated in the rural village of Mousouli, a 2 min drive from Xarakopio where there are bakers/butchers, small supermarkets, coffee shops and a Sunday market. The beautiful town of Koroni is less than 10 min away as are a number of good beaches. Kalamata airport and town are approx.45 mins drive with international flights all year.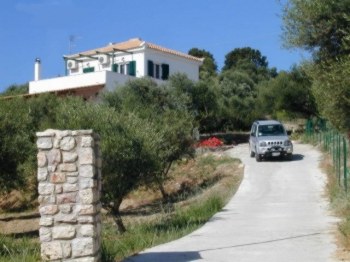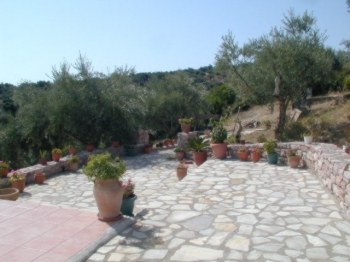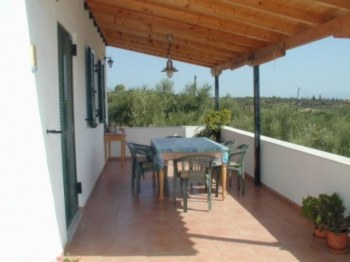 The house stands on 2600 m2 of land with 40 producing olive trees (average 150L of oil per year). Mature gardens surrounded by stone wailing and hard standing. There is room on the terrace for a swimming pool. Built 2002 to the latest standards. Concrete frame. Double brick walls with insulation.
Architect drawing and technical specifications available for inspection on viewing of property. Kitchen / Living - 26.4m2 , fitted kitchen area with integrated oven and ceramic hob, cooker hood, fridge freezer, dishwasher, wood-burning stove, TV/telephone point, two French doors leading to 1st floor.
Hall -with stairs leading to 1st floor, storage & shelving. Utility -3.25m2 Toilet, wash hand basin with washing machine. Bedroom 1- 14.2m2- fitted wardrobes, air condition unit, French door leading to side veranda. With En Suite Bathroom 5.15m2 -shower stall, toilet and wash hand basin, oil filled electric radiator. First Floor : Bedroom 2- 11.5m2 fitted wardrobes, air conditioning unit, exposed wooden beams, French door leading to 25.5m2 veranda with views of countryside, Taigetos mountains and sea. Bedroom 3- as bedroom 2 with TV/telephone points, fitted cupboards. Bathroom 2- 25.5m2 shower stall, wash-hand basin, toilet, oil filled electric radiator. Small Landing can accommodate guest fringe. External Apothiki/Storage - There is a concrete road, extensive stone work and hard-standing, small store with 1,000 Litre water tank with automatic pump.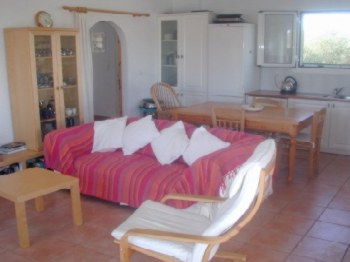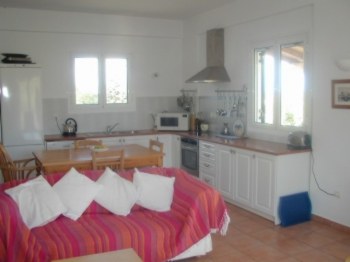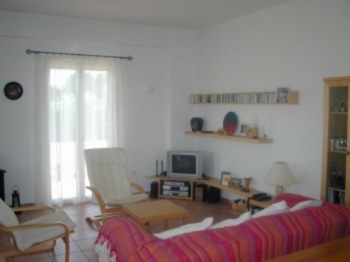 The price is to include : washing machine, dish washer, fridge-freezer, wood burning stove, telephone line and satellite connection
Price : 325,000 Euros Code : KORONI MOUSOULI DS/SS325
---
A Complex Of 3 Apartments For Letting : Arxontiko-Avias : Kalamata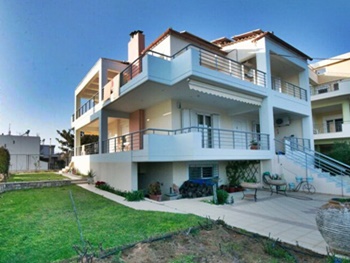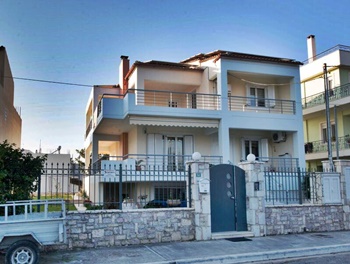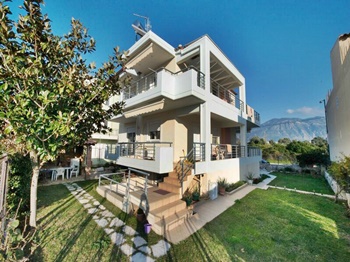 IN THIS BEAUTIFUL VILLA IS INSERTED A SYSTEM WITH SOLAR PANELS GIVING 5,000 € FREE INCOME AND ELECTRICITY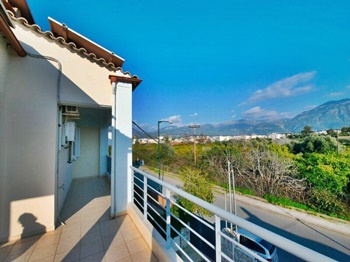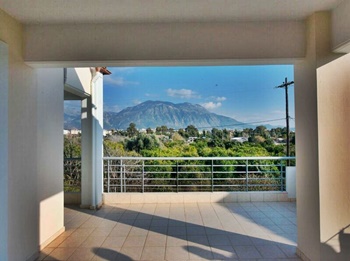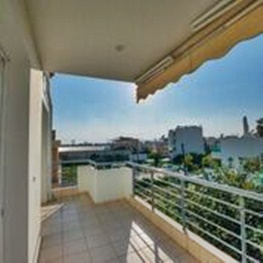 The main house consists of 4 bedrooms, 2 WCs and 1 bathroom.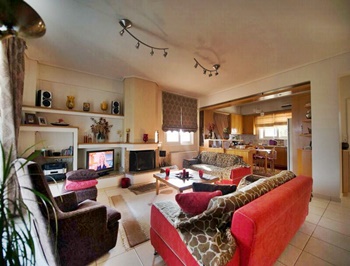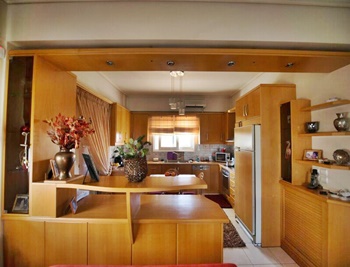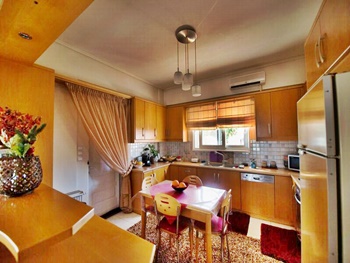 The house ground floor also consists of a garage : storage room : 1 bedroom : 1 bathroom and a living room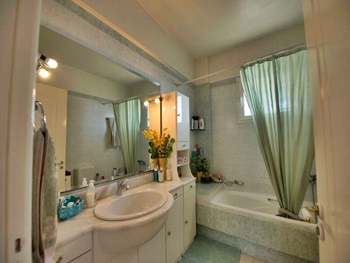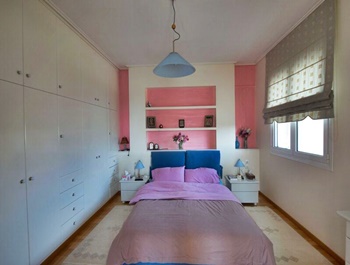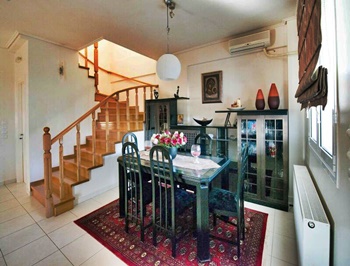 The whole house exudes quality in its build, fittings and outlook
Price : 480,000 Euros Code : MESSINIA DSMP / 1001-1767

---
A Stone House For Sale : Nioxori-Mani : Mani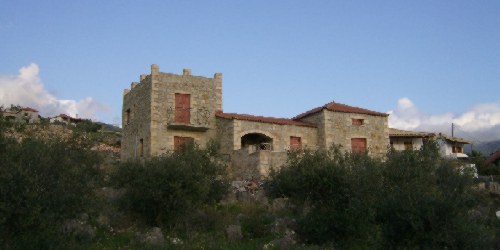 Situated in the Mani this large stone house has two maisonettes and a 700 square metre plot for sale.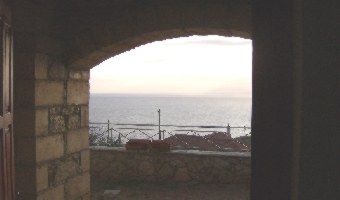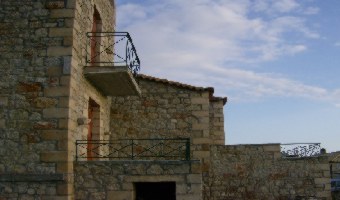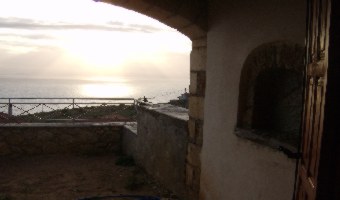 The house is 1.5 klms from Stoupa on the Mani side of the Gulf and only 1.5 klms from the beach. The view is fantastic.
Price : 360,000 Euros For Both Maisonettes and The Plot. Code : KORONI DS/ST7-37
---
A 2 Floor House For Sale : Riglia : Agios Nikolaos : Mani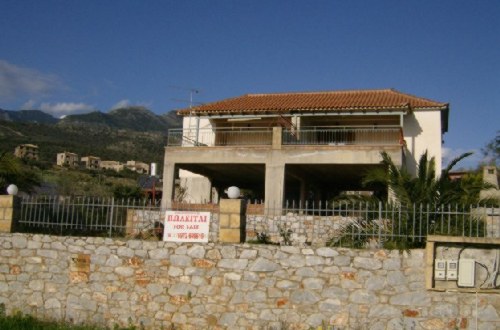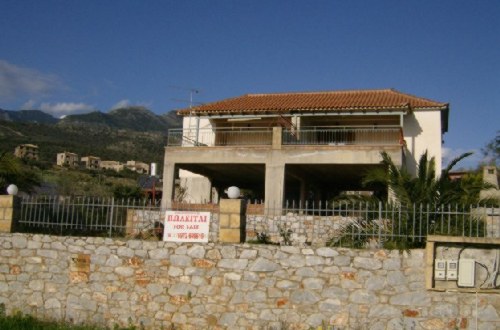 Situated in the Mani this 2 floor house is completed on the top floor with 60 sq mts of space with 2 ready studios and big verandas, It has Fantastic Mountain and Sea Views.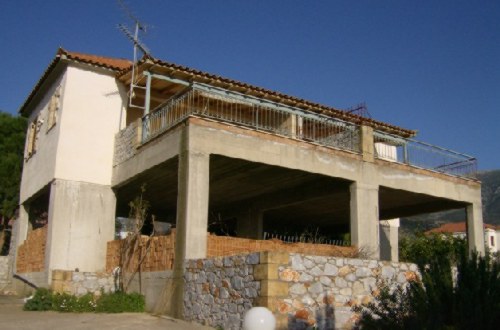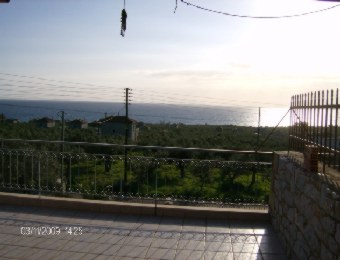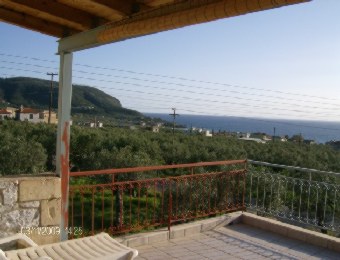 The house stands on a plot of 630 sq mts with stone walls all around. The distance from the village of Agios Nikolaos and the beautiful beach is only 400 metres.
Price : 250,000 Euros Code : KORONI DS/ST 7-35
---