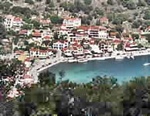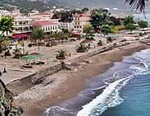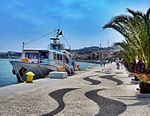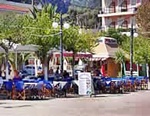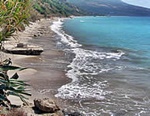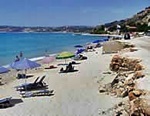 ---
Property For Sale In The Ionian Islands.
Kefalonia & Lefkas
Kefalonia Page 2
Here : : : Lefkas
Here

Tui has daily flights From U.K. Airports to Kefalonia

Scroll Down To See More Property.

---
Kefalonia Page 1 : Ionian Islands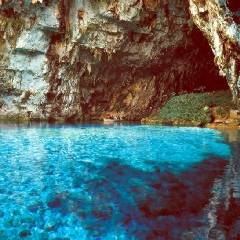 We are working with Licensed Estate Agents and Private Vendors in the Island to supply plots and new and re sale villas and houses.
We can discuss all your needs and build the house of your dreams here on Kephalonia
We now have good contacts on Kefalonia for older houses as well as new. A visit is essential to meet our web partners and check the property lists. We also have many private sales.
Below are only a selection of plots houses and villas. A visit is a must to see the whole range of properties. You will be met by a qualified agent, or the owner or caretaker in the case of private property. Architects and builders can be recommended for a successful and stress free project.
---
A 2 Bedroom Villa In Skala Next To Skala Beach : Skala : Kefalonia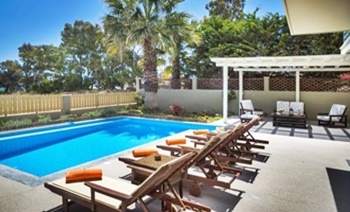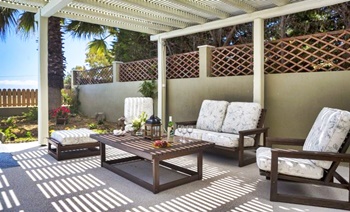 This beautiful villa in Skala Kefalonia is just 60m from the famous Skala Beach and 300m from the center of Skala village. Ideal for those who want amenities close by, but also value privacy, peace of mind, relaxation and luxury.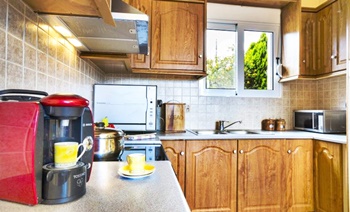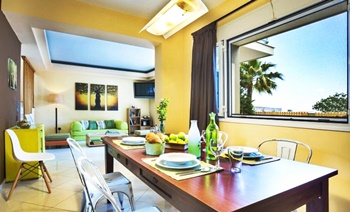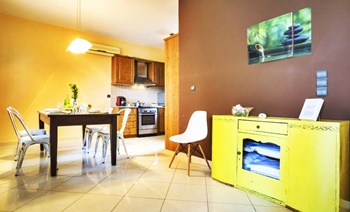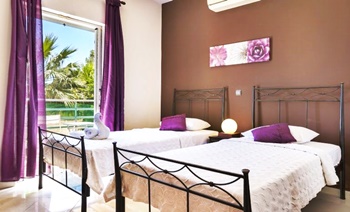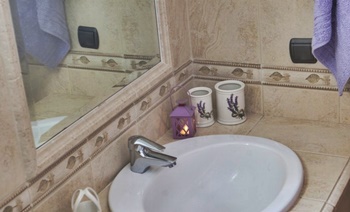 Situated in a prime location – Skala Kefalonia Resort, Skala is the famous tourist resort on Kefalonia island. Thousands of tourists from all over the world choose Skala year after year for their holidays. This is not without reason. Skala is renowned for its exquisite, sandy, long beach (Skala beach). On the ground floor there is an open-plan living area, a well-appointed kitchen, a dining area and a lounge. Also, on this floor there is a separate shower room with toilet. Large glass doors lead out from the living area onto the terrace, BBQ area and private pool

On the 1st floor there are the two bedrooms. One double with en suite shower room and one twin with en suite bathroom with a shower. The beautiful, fully landscaped garden offers a private freshwater swimming pool with sun-beds.

This villa also poses as a unique investment opportunity Petersons group offers a guaranteed rental contract for this villa if the owner desires a good rental income when not using it.

Price : 320,000 Euros Code : KEFALONIA ST/1538

---

A 3 Bedroom House For Sale : Trogiannata : Kefalonia

This three bedroom house is located only 10 minutes by car from Argostoli the capital city of Kefalonia.

It is a 140 square meters house plus a 600 square meter private back garden with fantastic rural views from the terrace.

The house has 3 floors and is a historic village house with 3 double bedrooms, and on each floor there are 2 bathrooms with a wc/ shower.

The house has autonomous central heating, and there is Air conditioning in every room plus a living room Wooden corner fireplace. The house was built to guaranteed Greek building regulations throughout for earthquakes level 8,5 plus Richter scale. There is a front garden entrance for the house and easy parking, being only 10 minutes by car from Argostoli the capital of the city.

Price : 180,000 Euros Or Near Offer Code : KEFALONIA YG/010

---

An Old Single Floor House With An Incredible View Of The Harbour Of Poros : Kefalonia

Poros is a small scenic village , situated in the Southern east part of Kefalonia. The harbour is home to the local fishing boats which supply the area with fresh fish. The distance from the harbour is only 200m & 12km from the famous tourist destination of Kefalonia.

It would be ideal home or a tourist residence under restoration.

Price : 100,000 Euros Code : KEFALONIA ST/930

---

A Complex Of Three Luxury Houses By The Sea : Platies : Kefalonia

All The Villas Have A Breathtaking View Of The Ionian Sea And Are In A small Gated Comple
The Villas all have different design and decoration styles and the first two are 100 square metres with a private pool.
The ground floor of these two includes the living room, a fireplace, a traditionally decorated kitchen, a dining room and a W.C.
On the first floor there are two bedrooms with separate balconies and one bathroom with a bathtub and Hydro massage. Moreover one of the bedrooms has an internal bathroom which includes a shower and a hydro massage too.
The third Villa is 200 square metres. The ground floor includes two bedrooms, the living room, a fireplace, a traditionally decorated kitchen, a dining room and a bathroom. The basement includes two bedrooms, one playroom and one bathroom
All the villas are fully equipped and created using top quality materials and furnishings.
The villas are very well situated being only a 20 minute drive from both the International Airport and the Ports of Argostoli and Poros and 30 minutes from the port of Sami. They are 3 minutes from the petrol station and a mini market and 10 minutes from restaurants and supermarket. All the Villas have an EOT Licence for letting.
For contact with the owners please E Mail Brian.
E Mail Brian.
Price : 650,000 Euros or near offer for each villa.
Code : KEFALONIA KX/010

---
A 3 Bedroom Villa With 4 Apartments Very Close To The Beach : Ratzakli : Kefalonia
This house is located in one of the most traditional and beautiful villages of Kefalonia, in Ratzakli, Very close to Kaminia beach and Skala village.
The ground floor comprises of 4 independent studios which can easily be used as guest houses or for any other commercial use.
The property, which spreads over in two floors, measures a total of 293 sq.m and it is set on a plot of 1.448,91 sq.m The main house, which is located in the first floor, comprises of three spacious and bright bedrooms, an independent kitchen, two bathrooms and a spacious living room which leads to the covered verandas. The property offers panoramic views to the emerald waters of the Ionian Sea and Kaminia beach. The grounds are beautifully landscaped with many trees, plants and flowers which create relaxing spots where you can enjoy the nature and the view.
PRICE : 238,000 Euros. Code : KEFALONIA ST/468
---
There are many very beautiful plots for sale in Kefalonia : Seaside plots : Rural Plots : Village Plots : If you are looking for a plot then a visit is essential where you will find exactly what you are looking for. Ask me by E Mail.
---
Are You Looking For A Builder : Planning Permission : Etc

English Builder Providing Full Service On Kefalonia

Hi Brian, I am, as you explained a builder living here in Kefalonia I can help to get plans and building licenses, electric and water connections, paying of IKA, supervise work from the foundations right through to handing over the key (sending regular reports and photographs as work is completed), swimming pools, stone or block walling, landscaping and paving of exterior areas, BBQ's and pergolas. As I work along side my workforce and keep a "hands-on approach" with no office or staff to pay I can keep build costs to a minimum around 1100 euros a square meter with mid range tiles, bathroom fittings, air-conditioning and kitchen with appliances working on around 10 to 12 month build plans from receiving the license,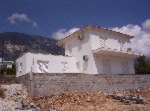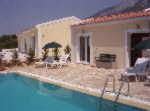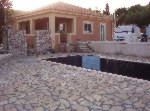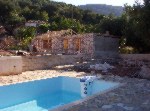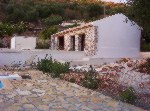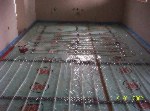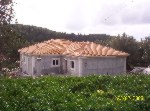 For Further Details Please E Mail Brian.
E Mail Brian.
---
A Two Floored House With Garden : Spartia : Kefalonia
The house is built in reinforced concrete and has two floors , a small patio and small garden. The plot faces the main road to Spartia Beach and its only 150m from main square of the village.
Spartia village is located 12 km southeast of Argostoli, the capital of Kefalonia.
Spartia is a traditional fishing village with abundant natural beauty that attracts many visitors. The beach of Spartia lies next to its fishing jetty enclosed by a steep limestone cliff known as Hatzoklis. The cliff gives respite to the beach from the afternoon sun as well as the strong winds. If you like to stroll around the beach you will find interesting rocky enclaves and pools in the outcrops nearby. Water is crystal blue and warm. At Spartia's beach duo you're set up for the day, but there are lots of other nearby beaches to enjoy too. A 15-minute drive takes you to Avithos – a long sandy Blue Flag beach that comes with shallow water, sun beds and umbrellas. You'll also get a couple of tavernas and view across to a little white church on Dias Island. Or there's Lourdas Beach, 20 minutes' away – another Blue Flag winner with water sports and views across to Zante.

Restaurants near Spartia include Eleonas Taverna ( Greek ), Taverna Cavo Liakas ( Greek ), The olive Grove ( Greek ),Taverna Elionas ( Greek ), and Avios Preview Taverna ( Greek ).

Price : 75.000 Euros Code : KEFALONIA ST/872
---
A House And Plot For Sale With Many Trees : Dorizata : Pessada : Kefalonia
Dorizata is a small village in Leivathos Area near to Pessada Village.The distance from airport is 7km , and from Argostoli – capital town of Kefalonia island- is 8km. The plot faces the main road Argostoli-Pessada. The land is flat and has many trees. There are three buildings in the plot, one house -with two individual floors- one storage – and one small cottage.
The plot is inside the limits of Dorizata village and can be split in two individual plots, about 1000m2 each. The half plot without the house can be build 400m2 and the price is 80.000 euros. The Other half plot with the buildings is 1000m2 and the price is 120.000 euros. Code : KEFALONIA ST / 850
---
House For Sale Near Castle Of Kefalonia : Peratata : Kefalonia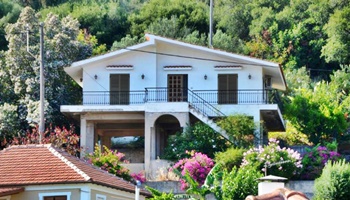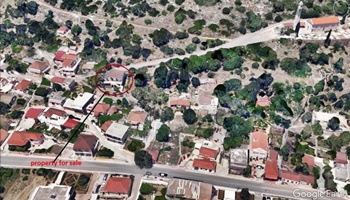 Independent house with garden in a plot of 357.23 sqm. Made by the present owner for main house. Area of House 73sq.m. on the first floor plus' ability to build 73 sqm even the raised ground floor of a building permit. Excellent condition. Sunny, very bright. Large balconies. Garden with trees modulating levels. Construction according to the best earthquake standards, as the main residence of the owner, with care and diligence. Built on a rock.Due to family problems the house has hardly inhabited. Distances: Agostoli Town 6 kms. Nearest Beach 4 kms.Airport 8Klms It features a living room and kitchen, two bedrooms, bathroom, and storage.
Air conditioners in all rooms. No more heating. Italian tiles, large windows with aluminium frames. Impressive panoramic view, different from each side of the house to Mount Enos and the valley, and the castle.
Price : 160,000 Euros Code : KEFALONIA ST / 819
---
A Plot Of Land For Sale With Fantastic View : Karavados : Kefalonia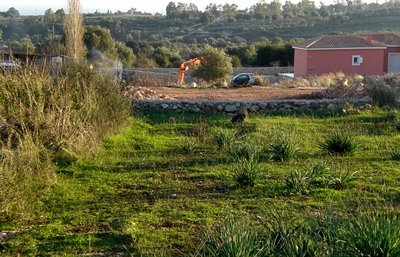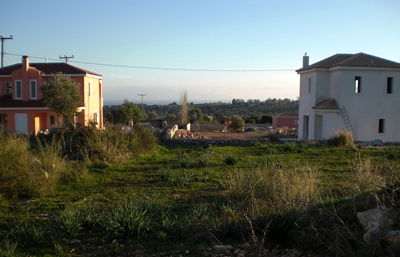 This building plot of land measuring 437.28m2 is located in the beautiful village of Karavados. The plot is in the village limits thus good to build up to 200m2 with basement if required and electricity and water services are there. The location is 10minutes away from Argostoli and a breath from Agios Thomas beach, while the view to the Ionian Sea and the island of Zakynthos is fantastic.
Price : 36,500 Euros OFFERS INVITED Code : KEFALONIA PLOT KR/010
---
A Plot Of Land For Sale : Poros : Kefalonia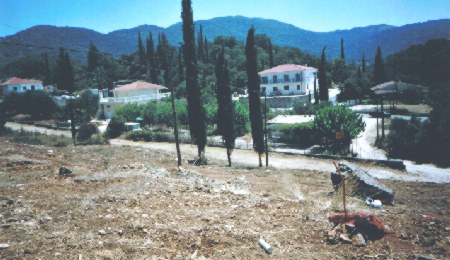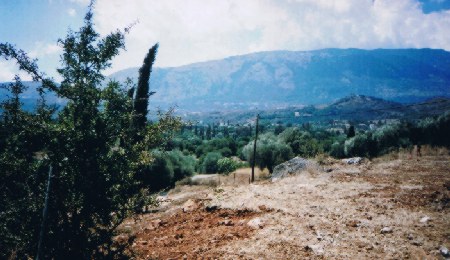 A plot of land in the tourist attraction town of Poros only 15 minutes walking time, to the beach and sea. The plot is inside the village boundary and is 1269 square metres in size, and the building allowance is up to 400 square metres. The land has water and electricity supply and comes with a beautiful view of Mount Enos. Very close to all amenities, minimarket near by and shops etc, in Poros.
Price : 110,000 Euros Code : KEFALONIA PLOT AT/010
---
Back To

Home Page Forward To

Kefalonia Page 2 Forward To

Lefkas
E Mail Brian