---
Land & Villas For Sale Saronic Gulf : Hydra Island : For Spetses Click

Here

Scroll Down To See More Property.

---
The island of Hydra is truly unique, and is one of the Saronic Islands of Greece, located in the Aegean Sea between the Saronic Gulf and the Argolic Gulf. It is separated from the Peloponnesus by a narrow strip of water. Strict architectural controls and the absence of any kind of motorised transport give the island its unique charm. Prices are not cheap compared to other parts of Greece, but with steady growth and no signs of a slowdown, a home on Hydra is a good investment too!
With no airport you arrive by ferry or Flying Dolphin from Piraeus.
It is a lovely Island and as well as having lovely scenery and good beaches there are many good tavernas. I have a new English Speaking Agent here.
---
A
Panoramic Apartment For Sale
On The Island of Hydra : Hydra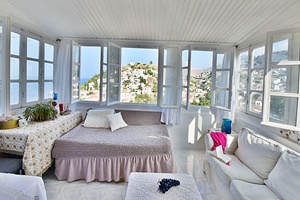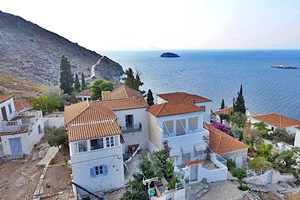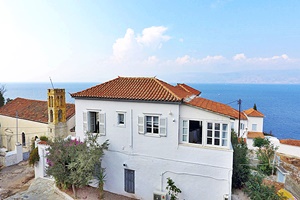 This is a first floor apartment superbly situated on top of the hill and only a short walk from Kamini port with stunning views.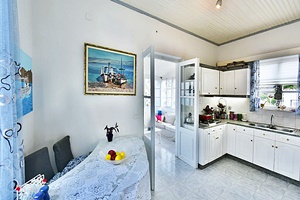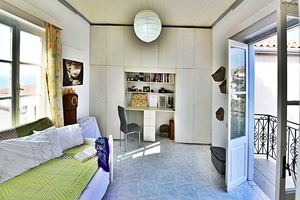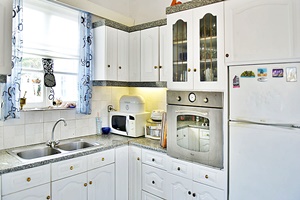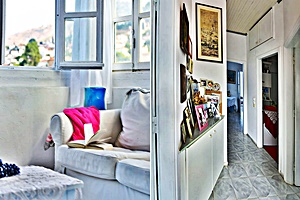 Upon entering from the rear of the building you have one long corridor. Immediately to the left is one bedroom with its own private wooden balcony. To the right is another double bedroom and next to it is the bathroom, all modernly fitted with necessities. Further along is a spacious kitchen/dining area and through another door is a room fitted with glass windows all around giving 180° panoramic views across Kamini, the sea and much further. There is also a small area of approx. 20mē towards the rear of the property on the ground floor, ideal for a garden. The apartment is well lit throughout and ready to move into. A wonderful opportunity as a small holiday home and ideal as a rental property.
PRICE : 290,000 Euros Code : HYDRA RH - 7194 NEW
---
A Two Storey Renovated House : Kala Pigadia : Hydra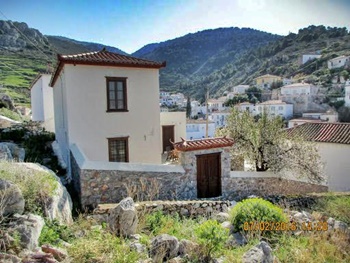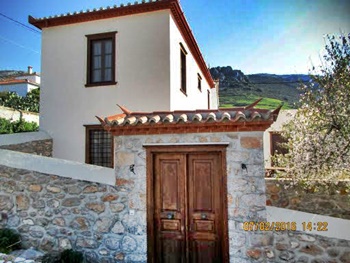 This is a two storey house in the Kala Pigadia region of Hydra Town, recently renovated (2006).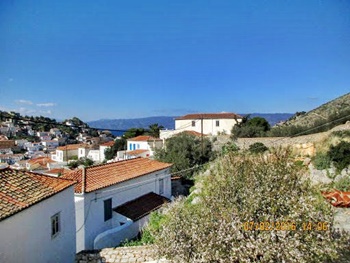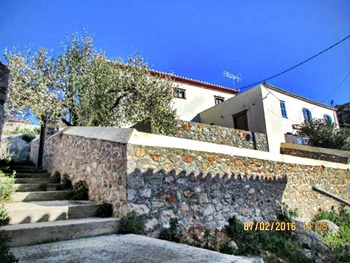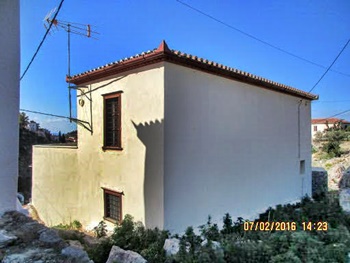 The house is 95 m2 in area and on a plot of 178 m2, with two bedrooms, two bathrooms,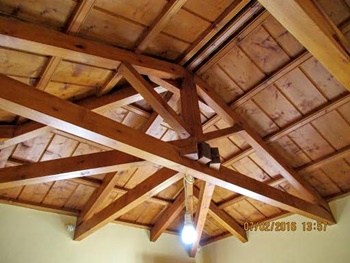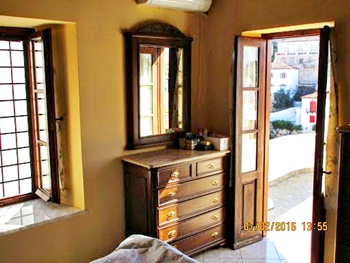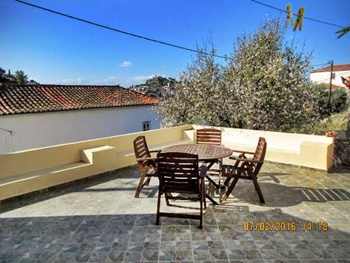 There is a large living / dining room and a lovely terrace with a good sized garden.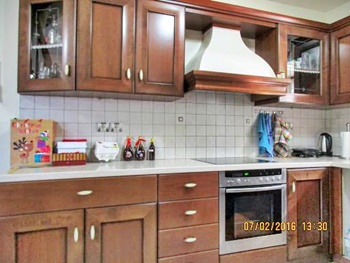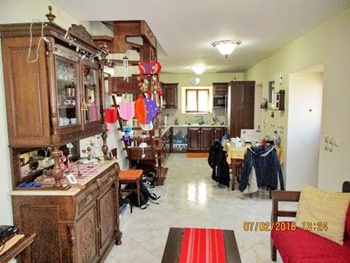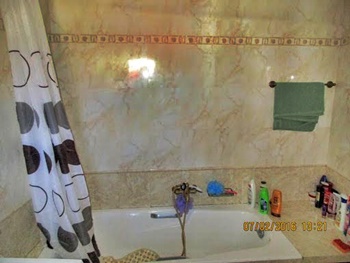 All windows are double glazed, and the house has air-conditioning units in all the bedrooms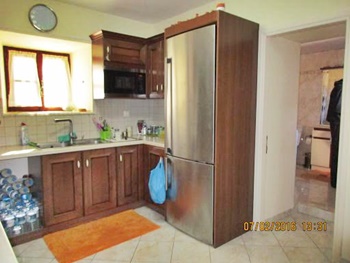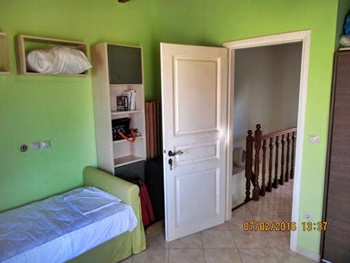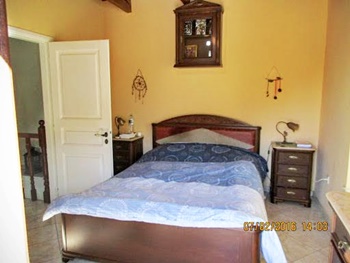 The property is being sold fully furnished with built in appliances in the kitchen. The house is a low maintenance, easy to manage property that would be ideal as a lock up and go holiday home, or for year round living.
PRICE : 380,000 Euros Code : HYDRA HHAC/319
---
A Fabulous 2 Houses With 7 Bedrooms : Villa Omorfia

& Guest House : High Hydra Town.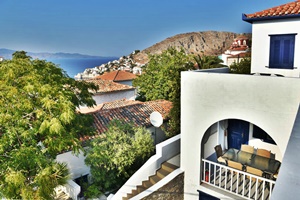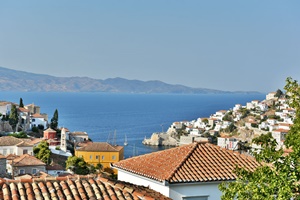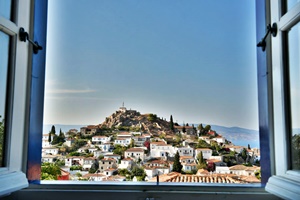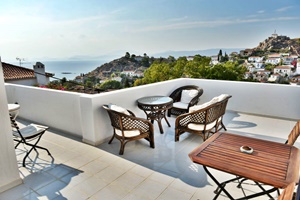 Two substantial houses, one recently remodelled, with great views, just up from Four Corners. Total rooms: 7 Bedrooms, 6 Bathrooms, 2 Kitchens, 2 Living Rooms, Storage rooms and Utility Rooms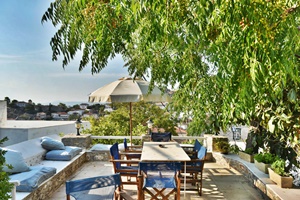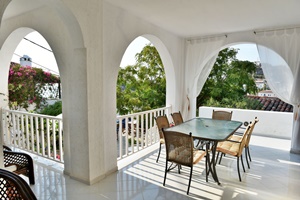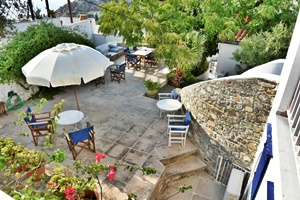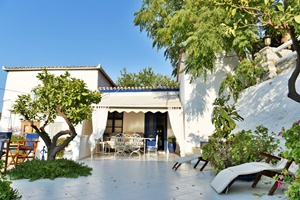 This prominent property consists of two separate buildings, both of which are substantial houses. Situated on the upper slopes overlooking Hydra Town, with views to Kamini, the island of Dokos and across the to Peloponnese.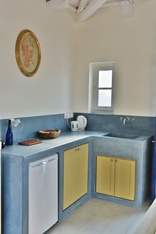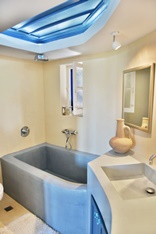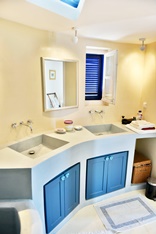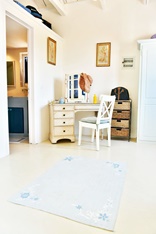 The main house is built on the foundations of a grand mansion and has been sympathetically redesigned and renovated by local architects and builders in 2016.
Main House: 4 Bedrooms, 3 Bathrooms, Kitchen/Dining Room, Living Room, Utility Room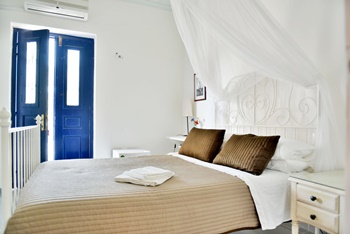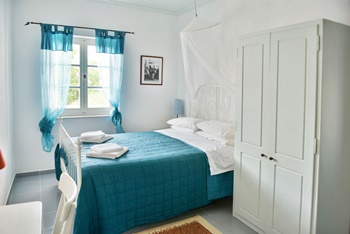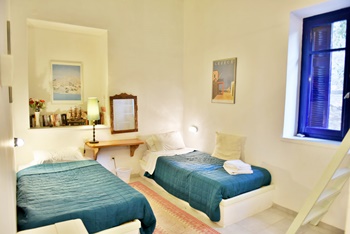 The smaller house, currently used as a guest house, is situated on the lower terrace. The smaller house would make an ideal holiday rental which can generate 2,000 euros a week during the season. Both have their own separate street access as well as direct access via the garden. The guest house is more than 200 years old and was completely renovated in 2009/2010 : Guest House, 3 Bedrooms, 3 Bathrooms, Open plan living/dining/kitchen, utility room.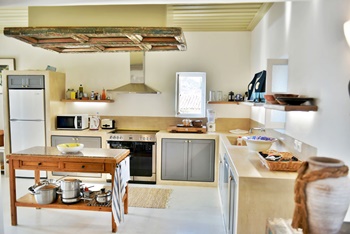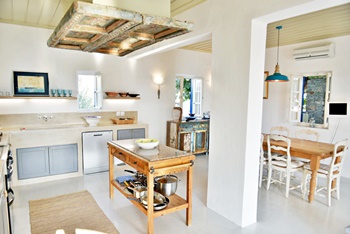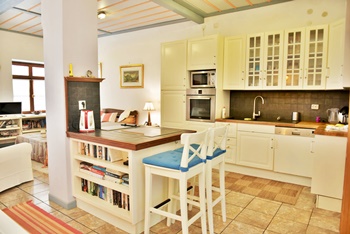 First Level: Large open plan kitchen/dining, hand built kitchen by local artisans with latest kitchen appliances including new kitchen range with 3 ovens, grill and 5 hobs; overhead hood with electric fan, built in dishwasher, fridge/freezer. Two guest bedrooms with wardrobes and sharing en-suite bathroom with large shower. All opening up to terrace with outdoor dining area and seating area overlooking garden and with sea & Hydra Town views. Upper Level: Large living room with fireplace with seating surround, built in bar/kitchenette with sink and fridge. French doors to rear balcony with mountain views. Amazing views to front over Hydra Town to the sea and Peloponnesus. Master Bedroom with dressing room and large bathroom en-suite with bath & overhead rain shower, double sinks. All opening up to balcony with views.

Garden Level: Third guest bedroom with en-suite bathroom, or maids room. To side of property: Storage room, Laundry room with washing machine, dyer and ironing facilities. All rooms have individually controlled reverse cycle air conditioning. Internet access Wi-Fi is available throughout the entire property.
To side of property: Storage room, Laundry room with washing machine, dyer and ironing facilities. Gardens/terraces servicing Main House with planted shrubs and trees, room for large Jacuzzi or swim pool (subject to planning permissions).

First Level: Open plan living, dining, kitchen area with doors to front terrace and to rear balcony and small courtyard. Fully fitted kitchen with all modern appliances, including built in oven, microwave, 4 hobs, open grill, fridge/freezer. Two guest bedrooms both with en-suite bathrooms and mezzanine traditional sleeping area. Opens onto front terrace with outdoor seating and dining area, sea and town views. Outside rear: Utility room with washing machine. Mains electricity, water and drainage.

Lower Level: Master bedroom opens to small courtyard to front with direct access from upper level terrace. Bathroom with bath tub and two sinks. Ante room which can accommodate another 2 beds if required. Storage area.

The property is being sold including all furniture and furnishings, except for some specific items that are personal to the owners. The owners also purchased a large Jacuzzi/swim pool which is included in the sale and currently stored to the rear of the property but has not yet been connected. Relevant permissions will be required to have it properly installed.
PRICE : 1,350,000 Euros Offers Invited Code : HYDRA HHAC/292
---
A Renovation Property : Kala Pigadia : Hydra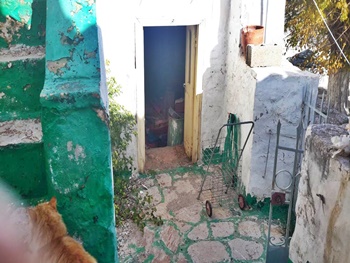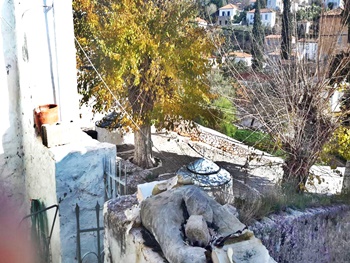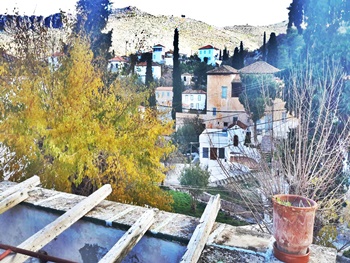 This is a traditional Hydriot house, just a few metres from the wells that are a well known landmark, and one of the few sources of water on Hydra.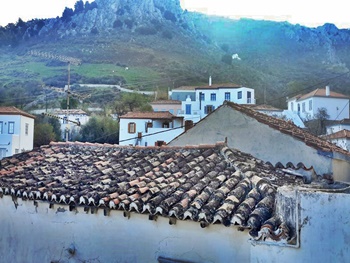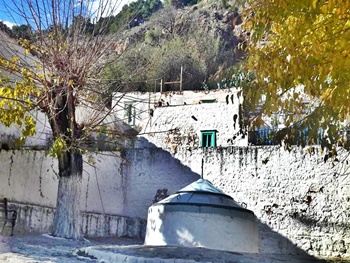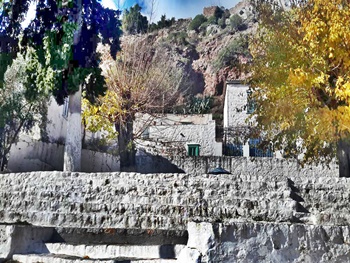 The house is set on a large plot (approx. 600m2) that backs onto the mountain, and is in need of renovation, and could be made into a beautiful house. The ground floor consists of one room, and the first floor is partially demolished, with the roof and back wall missing. The kitchen is off to one side and there is a bathroom outside the house, as well as an apothiki (store room). In front of the house is a veranda that looks out over the wells. The house occupies 80m2, and will make a very attractive holiday home, and there is the potential to make a really attractive garden, with so much space available.

Although Kala Pigadia is a quite high above the port, the position is accessed by a wide road (no steps, just an uphill slope) and this means that a truck can be used to deliver building materials and to take away rubble, which will make the building work much easier (and cheaper!).
PRICE : 230,000 Euros Offers Invited Code : HYDRA HHAC/307
---
The Actors House : Four Corners : Hydra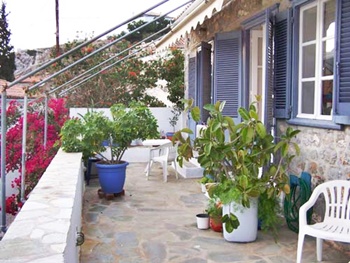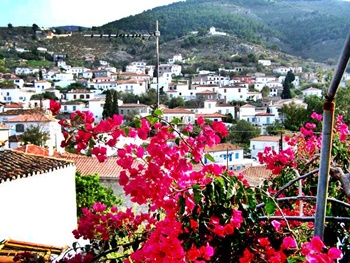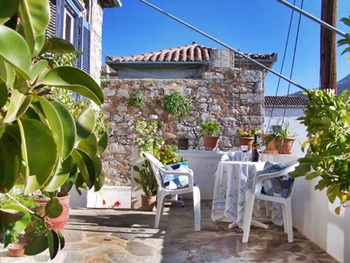 This is a good sized house near to Four Corners on Hydra in excellent condition - move in tomorrow.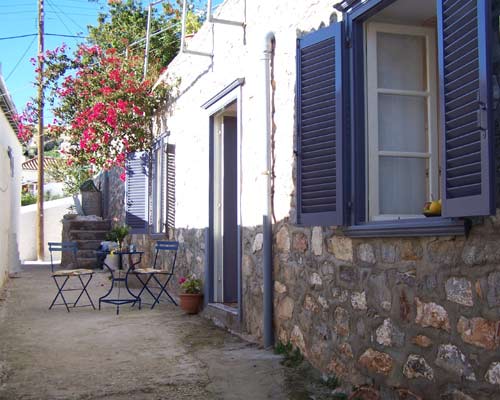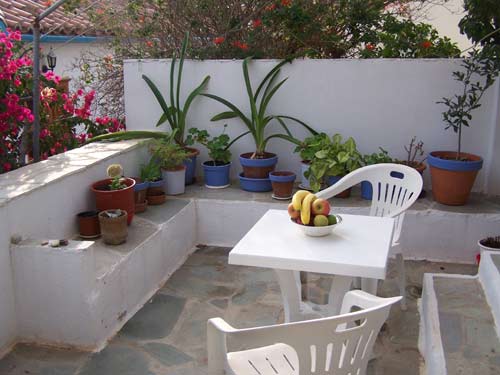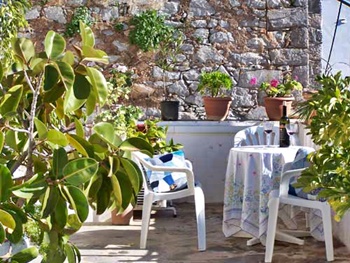 This house has an unusual layout for Hydra in that the living space is all on one floor and there are no internal stairs. Living room, kitchen, three bedrooms and bathroom are all on one level.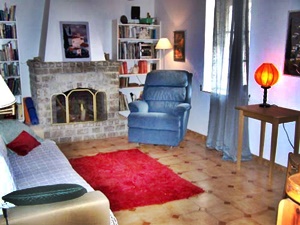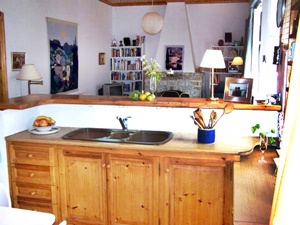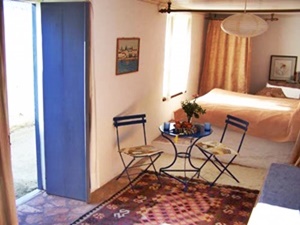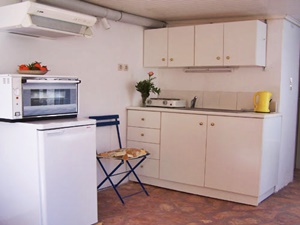 The main house is accessed via a large terrace with views across the valley to the interior of the island. There is plenty of space here to sit or dine out and enjoy the view, and large awnings provide complete shade from the sun.There is a large living room / kitchen, with breakfast bar dividing the two, and room for a small dining table. The living room has an impressive stone fireplace.One bedroom to the front of the house (being used as an office by the current owner) and two to the rear, all of a good size and all with plenty of built in storage.The bathroom is very large by island standards with a full length bath and plenty of room for a washing machine.At the back of the house patio doors lead from both bedrooms to a very pleasant garden on two levels. The lower level is paved and includes a sitting area under a vine covered pergola. Steps lead to the upper level which is planted with fruit trees and flowering shrubs. In the garden is a useful store-room which also gives access to a lane at the rear of the property. A sterna (fresh water reservoir) has been dug out of the floor of the store room, and this is fed by rain water running off the roof of the house. This water is fine for cooking and washing, and is a real advantage on Hydra where water is scarce.

Immediately below the main house, and included in the sale price, is a self contained studio apartment of about 25m2. This apartment has a sleeping area up a couple of steps, a kitchenette and a bathroom with shower. There are entrances from the street and from the interior of the property, giving complete autonomy.

The house is very close to the Four Corners mini market.
PRICE : 380,000 Euros Offers Invited Code : HYDRA HHAC/293
---
A Stunning Property Built In 1620 : High Hydra Town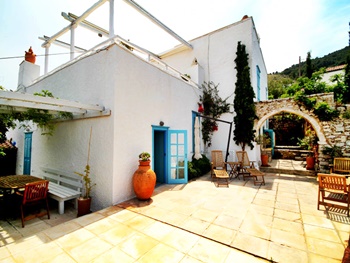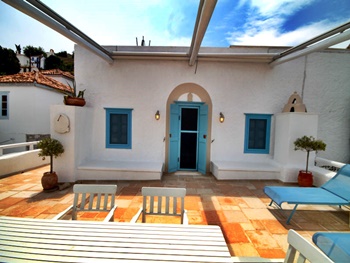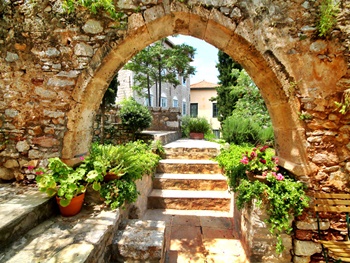 This is a stunning property in a commanding position in Hydra town, originally built in 1620 by Italian craftsmen, with the first floor rebuilt in 1842.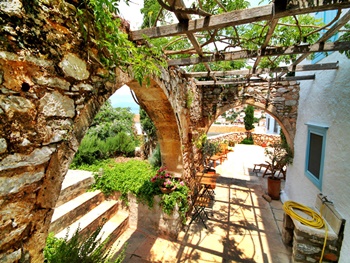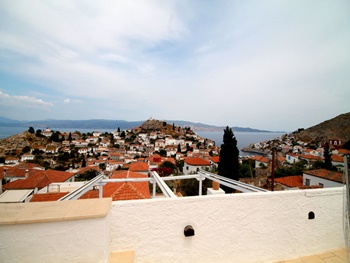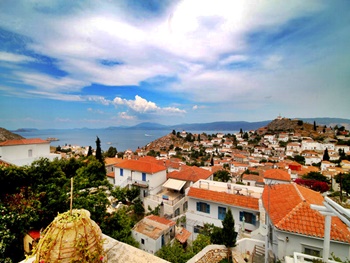 The property is comprised of two houses, one occupying the ground floor, and the other on the first floor, each with its own independent entrance, and has been recently renovated to a high standard throughout.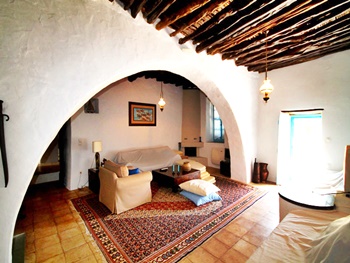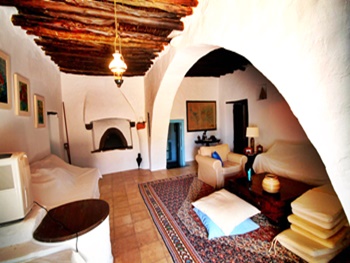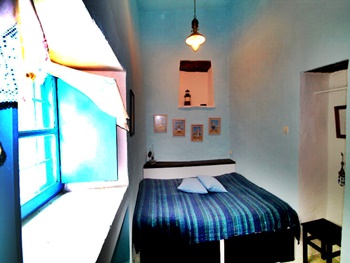 On a plot of 350 m2, the lower floor is 185 m2, and consists of two bedrooms, two bathrooms, kitchen, dining room, and a very large living room with a massive stone arch and fireplace, traditional bread oven. Outside is a large terrace with wonderful sea views.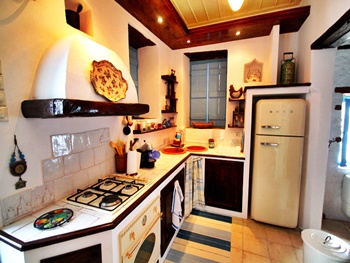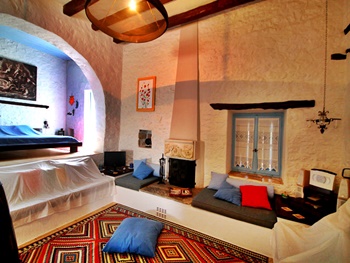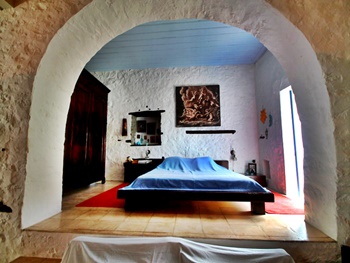 Upstairs the property occupies 105 m2, and is one very large open plan space with a high ceiling, traditional sleeping alcove, an open fireplace and a well appointed kitchen and dining area. There is a terrace of 80 m2, also With fantastic sea views, and external stairs that lead up to the flat roof.

The property is very well maintained and is offered for sale fully furnished, with antiques from Hydra and Italy.
PRICE : 800,000 Euros Offers Invited Code : HYDRA HHAC/234
---
Hydra Town Renovation Project : Hydra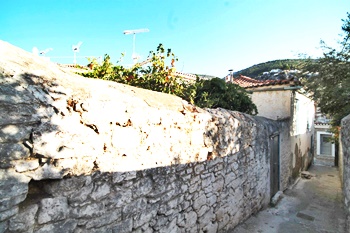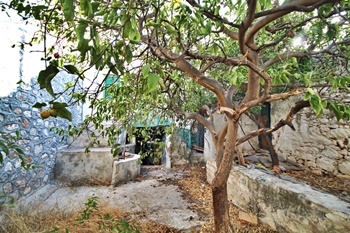 This is a very interesting project representing a great opportunity for you to put your stamp on a traditional island house, whilst at the same time adding value...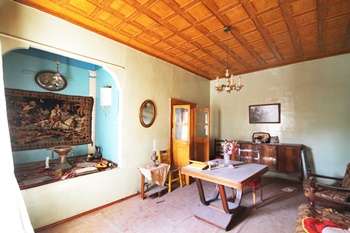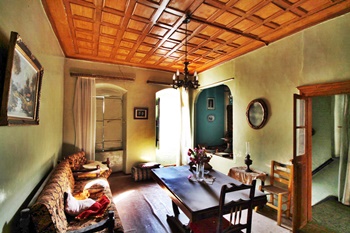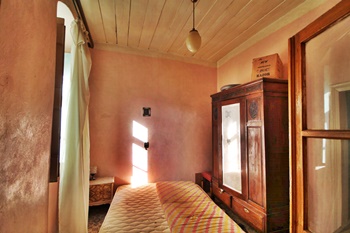 On two levels, the house is literally one minute from the port of Hydra, with absolutely no steps.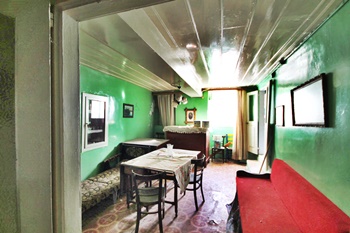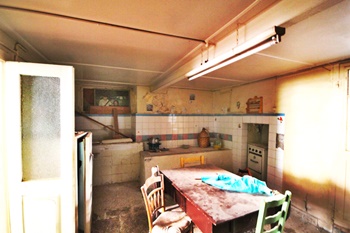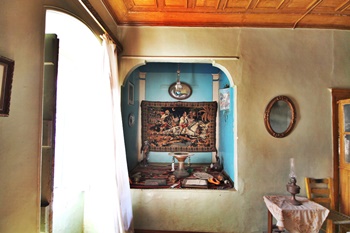 The main entrance from the street opens into a small hall area, with steps up to the first floor, or down to the ground floor. On the ground floor is a good sized dinging / reception room, with the kitchen behind, and access to a private walled garden behind. On the first floor is a large sitting room with a traditional decorative ceiling, and an interesting seating alcove in one corner. Two bedrooms are to the rear of the house, one of which has access to a small balcony and the garden. The only bathroom is outside, as was traditional with houses of this type. The garden is of a reasonable size, especially for a house so close to the port, and has a large lemon tree in the middle. There is access from the street straight into the garden, and it is walled all around and very private.

This would make an excellent holiday home, or a full time home, and would have excellent rental potential, being so close to the port.

Highly recommended!
PRICE : 300,000 Euros Offers Invited Code : HYDRA HHAC/318
---
Villa Neffelli : Kiaffa : Hydra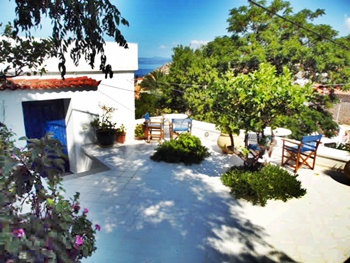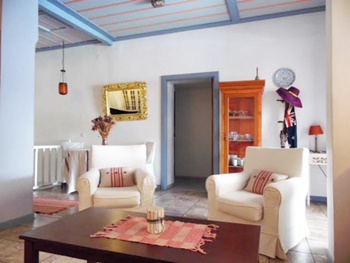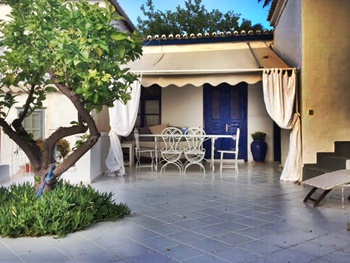 A wonderful Hydriot villa built of stone in the traditional manner with modern interiors, offering views over Hydra town, Kamini and the sea.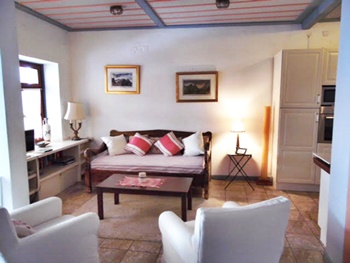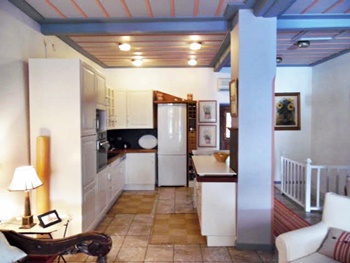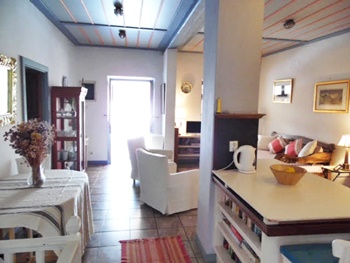 The property is located in the middle of the route to the top of Hydra Town in an area known as Kiaffa.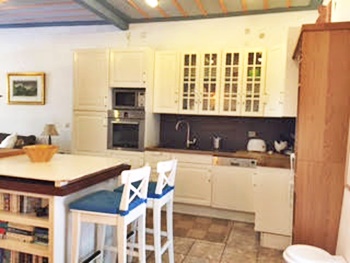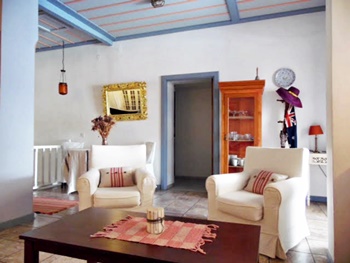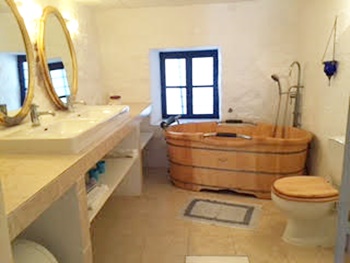 The property is built around a lovely front terrace with a variety of plants and lemon trees which complete the Mediterranean appeal. This area is very protected and used virtually all year round as an outside dining area, as well as for sun bathing and taking in the panoramic views.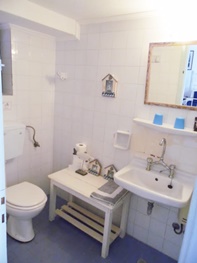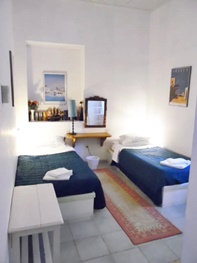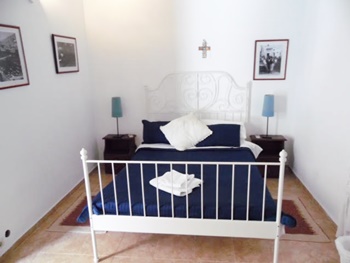 Villa Nefeli can comfortably sleep 6 to 10 persons. The villa is over 200 years old and has been recently renovated and is very well maintained. A comfortable open plan living area welcomes you to the property, with a modern kitchen with built-in appliances and dining area. Two very nicely decorated rooms with double beds and en suite bathrooms are also on this level, both with traditional island mezzanine platform offering an extra sleeping area. Steps lead down to the lower level, which is comprised of a very private suite carved out of the rock, and a well laid out study / office area / additional sleeping area. There is a large bathroom on this level too with unique bath and two hand basins. Within a few steps is the well regarded 'four corners' mini supermarket and the recently renamed Leonard Cohen Street after the world famous musician who lived nearby. Hydra port and the beaches at Kamini are within walking distance.

Villa Nefeli is offered fully furnished ready for new owners to move straight in.
PRICE : 450,000 Euros Offers Invited Code : HYDRA HHAC/315
---
An Attractive Village Style House : Kiafa : Hydra Town.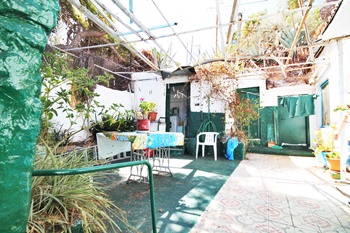 Kiafa is the oldest part of the town, and it is quieter than the port area, but with more steps to get up!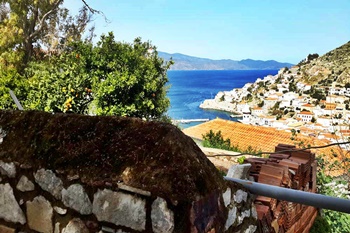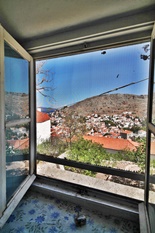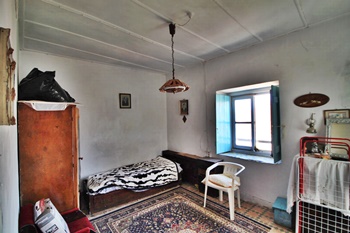 The house is habitable by village standards, and the current owner lives there, and has done for many years, but it's likely the new owner will want to modernise.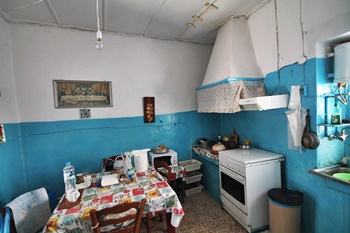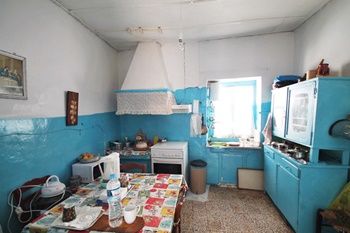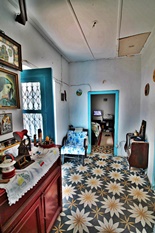 The house consists of three rooms, each accessed from the entrance hall. To the left is a good sized room that would probably be used as a sitting room, and could even be divided to make two smaller rooms, and perhaps a second bedroom. Straight ahead is the kitchen, and to the right is the bedroom. There are also two store rooms and a bathroom, off the courtyard and not connected to the main house (ie. at present you have to go out into the courtyard to get to the bathroom). The house is 85m2 (including the bathroom and store rooms), and the the total plot occupies 129m2. This house has lots of character, and does require some work, but it retains some great features such as the really lovely floor tiles.
The courtyard is a real bonus and we feel this property will make an excellent low maintenance holiday home.
PRICE : 170,000 Euros Offers Invited Code : HYDRA HHAC/300
---
E MAIL
BRIAN