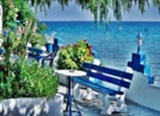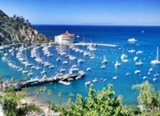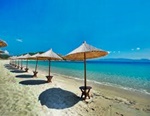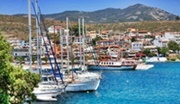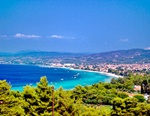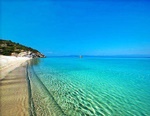 ---
Greek Mainland : Thessaloniki and Northern Greece
Property For Sale In Alexandroupolis : Thessaloniki : Halkidiki : Page 1
Page 2
Here : Island of Thasos
Here
For Rental Property In Halkidiki Click Here


Scroll Down To The Bottom To See All The Property.

---
Northern Greece.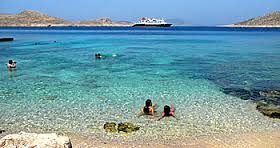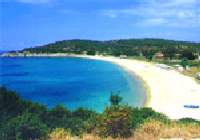 Brian's Web site is now working with a number of English speaking Web partners with lots of lovely properties to show you in Northern Greece
This is only a few examples of the property and if you cant find what you want please ask.
This part of Greece has fine beaches, museums and archaeological sites. There are plentiful Taverna's and lovely Greek Villages, in this unspoilt part of Greece.
The best way to get to Halkidiki is by scheduled flights to Thessaloniki Airport. B.A. & Olympic Airways fly to Thessaloniki 5 - 7 days a week , all year round. There are plenty of Hire car companies and there is also a Meet And Greet service available.


Easy Jet now have daily flights From London Gatwick to Thessaloniki for details click the EasyJet Logo.
---
A Seven Bedroom Property With Penthouse : Alexandroupolis
This property is 4032 square metres and it contains a penthouse with an area of 327 square metres.
It incorporates 1 apartment with 4 bedrooms, lounge, kitchen, bathroom, and 2 bathrooms.
There is a large living room with fireplace. Kitchen, bathroom. staircase to the second floor, garage, automated entry gateway and CCTV covering the whole property.
There are wonderful views of the sea and the Islands of Thasos and Samothrace. It is only 100 metres to the beach. and is located in area with a ban on future construction. It is bordered by the coastal road Alexandroupolis to Makri. There is a private helipad close to the property.
Price : 670,000 Euros Code : ALEXANDROUPOLIS AG/MK/100

---
A Luxurious Property Next To The Sea : Alexandroupolis
The complex consists of two apartments, each with 100 sq.m. area and two penthouses, each with 200 sq.m. The built area of the house is 600 sq mts. The property is to be sold fully furnished, with CCTV, a fire alarm system, and intercom.The whole is sitting in a 10,000 Sq Mt plot.
There are a total of 8 Bedrooms ( 4x4) 8 bathrooms and 8 toilets built on three floors.
The property has huge verandas which provide magnificent views of the sea, the island of Samothrace, the neighbouring olive groves and Southern Rhodopes.
The property has a fully finished swimming pool of 96 sq mts, with adjacent infrastructure. The property offers a unique view of the sea, has its own beach, which currently has sand - every year late autumn sea kidnaps the sand and in the spring it back.
Half of the property is grassed and has beautifully landscaped gardens with flowers and shrubs, fence to neighbours for planting with beautiful shrubs.
The rear of the property has an olive grove. From one of the sides there is a built built barbecue. The luxury villa can be used year-round, there is a fireplace for heating.
Next to villa there is a luxury restaurant on the beach with spectacular views.
Locations to: beach and marina Makri - 6 km. ; Highway "Egnatia" checkpoint Kipi - Thessaloniki - 4 km. ; Center Alexandroupolis - 8 km; University Hospital - 1 km. ; Port - cargo, passenger, yacht - Alexandroupolis - 8 km .; Coach station - 6 km. ; Train Station - 7 km. ; Airport - 12 km. Border with Turkey - Kipi border crossing - Yipsi -45 km. island of Samothrace - 2.5 hours by ferry. Near the property there is a private helipad that can be used.
Price : 2,000,000 Euros Or Offer Code : ALEXANDROUPOLIS AG/MK/220

---
Two Villas For Sale With Pool : Apalos : Alexandroupolis
This fabulous property has two 2 bedrooms and 2 bathrooms in two villas with a joint swimming pool designed by an Italian modern design studio.
The villas sit in a grassed area with tiled paths and bordered by 80 olive trees, the whole being in 8000 square metres of land.

There are two entrances to the plot for pedestrians and cars and the approach is built of asphalt, and it built within the Alexandropoulos district planning.

The view is amazing. From the South you see the Aegean Sea, Turkey, the Island of Samothrace and from the North the southern slopes of the Rodope Mountains from East and West you can see the town of Alexandroupolis. It is located 1.4 kms from the highway Egnatia to Kipi at Apalos and is only 4.5 klms from the city of Alexandroupolis.

Price : 800,000 Euros Offers Invited Code :

ALEXANDROUPOLIS AG/MK/110

---
A Fabulous 4 Bedroom Villa For Sale : Alexandroupolis
This is a 360 square metre villa with 4 bedrooms set in a large plot of 9750 square metres.
Everything is of the highest quality and is to be sold fully furnished
The villa comes with sea and mountain views and is only six years old.
The villa has CCTV, an automatic entry door, intercom system, large living room with a children's play area on the ground floor, an inner balcony ( Atrium) overlooking the living room, a built in fireplace. Its own ironing room and board storage, huge balconies and luxury furnishing. Outside the grass has automatic watering and automatic hydrophone for industrial water, a 4 car garage with automatic door. Heating is by an oil furnace and pellet boiler with tanks and storage.

5750 square metres of the terrain property are free of use and can be used for a new owner for everything like for example planting about 200 olive trees or other.

Price : 800,000 Euros Code :

ALEXANDROUPOLIS AG/MK/120

---
A Four Bedroom Modern Detached House : Alexandroupolis
A Luxury property next to the beach with fabulous views situated at Alexandroupolis named "Sea & Silence"
The house is large with a huge porch, being 205 square metres and in a plot of 4750 square metres.
The main apartment of this house is 130 square metres and comprises a large lounge, kitchen, two bedrooms two bathrooms with W.C. a floor maisonette with sitting room - living room, cabinet and bathroom.
On the ground floor the area is 75 square metres with living room, kitchen, two bedrooms, a bathroom, a 90 square metres storage room - 2 boilers for heating - oil fired and wood, which can be adapted to work with pellets.
There is a BBQ, security bars on doors and windows, an alarm system, CCTV, a 42 BTU Air conditioner, an automatic irrigation system with its own water source for irrigation water. The roof has a photovoltaic plant with a contract of 25 years producing an income of 5,000 Euros per year. There are two garages, a porch of 5metres X 20 metres = 100 sq mts, and the first floor is entered from the door across the road and the beach.
Price : 900,000 Euros Offers Invited Code : ALEXANDROUPOLIS AG/MK/210

---
New Good Priced Apartments By The Sea Ready in June 2016 : Halkidiki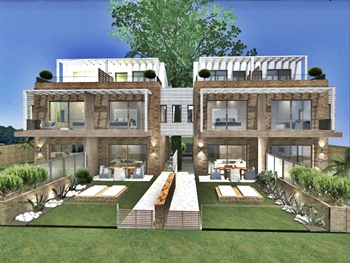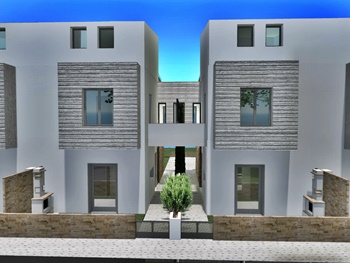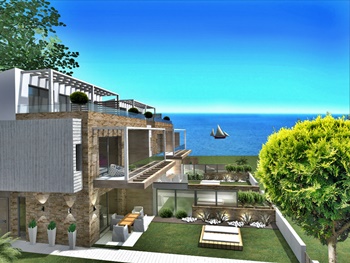 These new apartments are only 150 metres from the beach and will be ready for viewing in early June 2016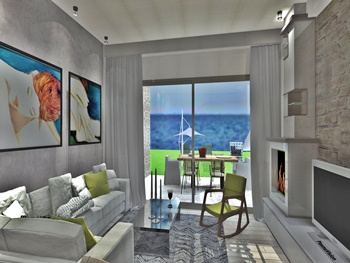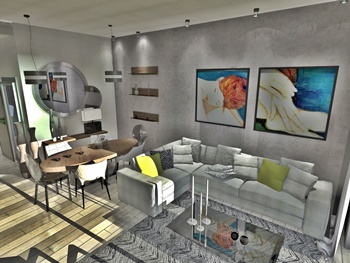 Extremely well constructed there are available apartments 40 and 45 square metres with prices 85,000 and 90,000 Euros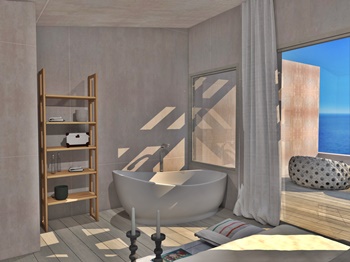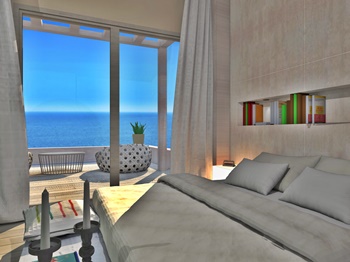 On the first floor there are available apartments with two bedrooms ( the second bedroom is in the top floor ) 60 and 65 square metres and available for 115,000 Euros and 125,000Euros
Prices : From 85,000 Euros to 125,000 Code : HALKIDIKI LE/800

---
An Apartment Only 50 Metres To the Sea With Lovely Sea Views. Close To The Town Centre : Kassandra : Halkidiki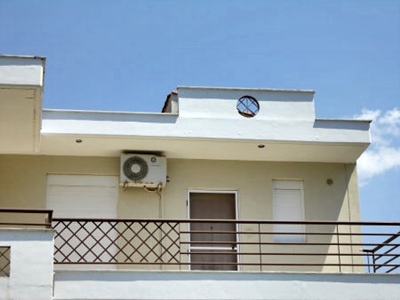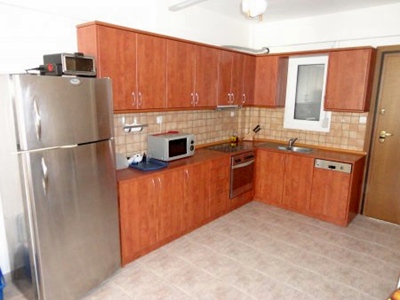 Spacious second floor apartment in excellent location, close to the town centre and just 50 meters from the sandy beach.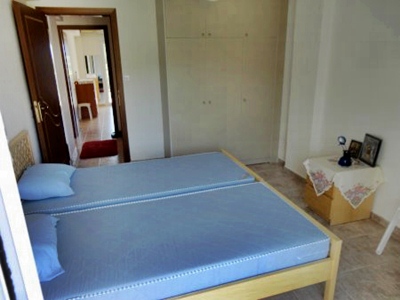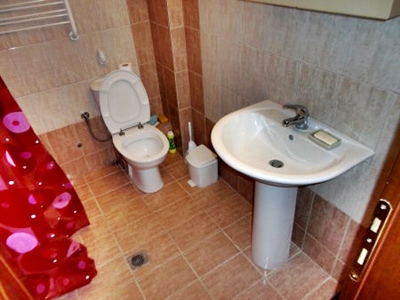 It has large living room-kitchen with fireplace, two spacious bedrooms and bathroom. Exterior has large balconies overlooking the sea and the pine forest. It also has a large indoor parking and the price includes furniture and electric appliances in excellent condition.
New Price : 140,000 Euros Key In The Door REDUCED Code : HALKIDIKI LE/259

---
A Two Storey Furnished Luxury House : Leptokarya : Thessaloniki
Leptokarya is located in Pieria, 1 hour away from Thessaloniki's airport. The area makes a great combination of the sea and the mountain since it has beautiful beaches and the mountain Olympos can offer a different kind of beauty with its history and trails.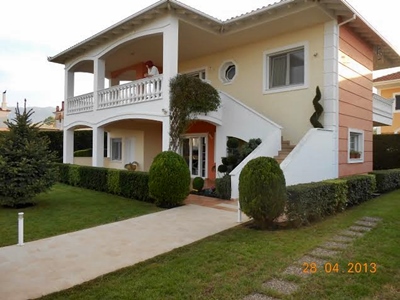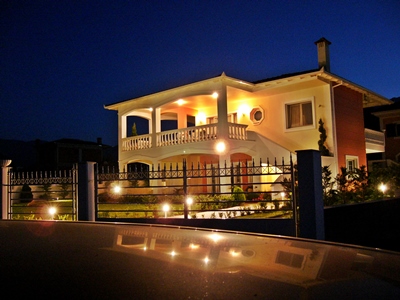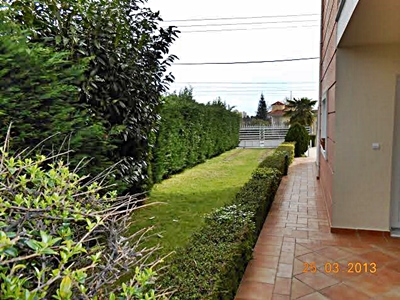 Two storey furnished luxury house in Leptokarya. Completed in 2007 and consists of 2 self floors, one ground floor guest room and storage. The interiors are about 180 sq.m. and terraces 75 mē on a plot of 650 square meters.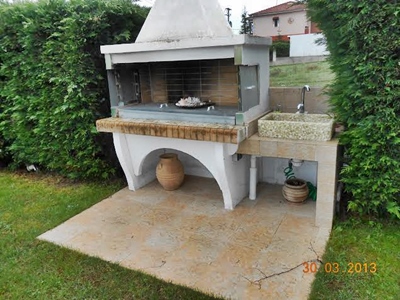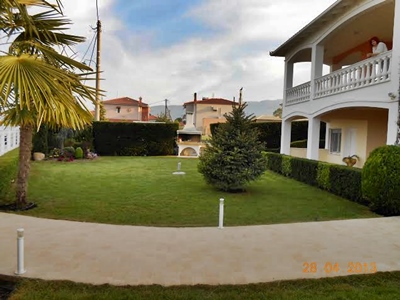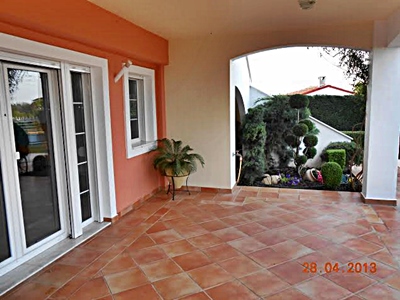 The back of the house has incredible views of Mount Olympus and the sea front which is not more than 500 meters away.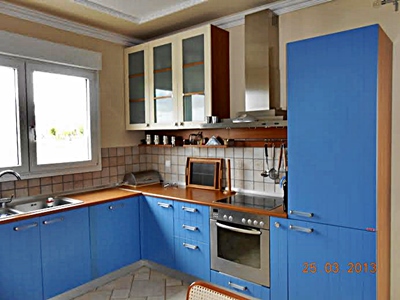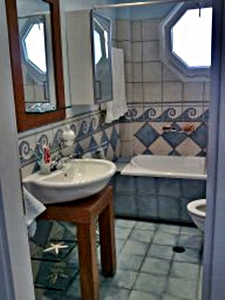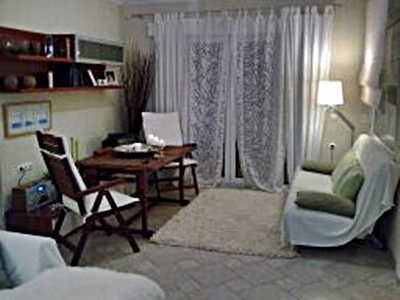 The house is made of luxurious materials, by the owner and not by a contractor in hillside location in relation to the rest of Leptokarya.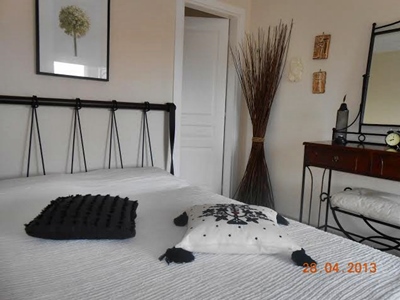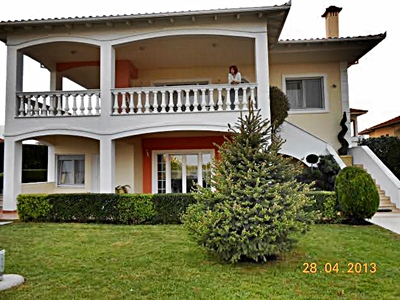 The house comes with 5 bedrooms : 2 kitchens : 2 big living rooms and : 3 bathrooms. It has fireplaces with vents in all rooms and heating installation. The frames are of Kunstoff, after special (custom) orders-structures which offer a superior view from any point inside the house, Doors Mirabilia : Italian sockets : Legrand Kitchen : Meson's German Colours inside out : Benjamin Moore American plasterboard ceiling in the lounge : Luxury Italian tiles inside the house : Terraces and courtyard : 2 parking spaces in the yard with automatic door (remote).
Price : 470,000 Euros Or Offer Code : THESSALONIKI / OS/112

---
A Bungalow Being Surrounded By Developed Properties And Ripe For Development : Pereira : Thessaloniki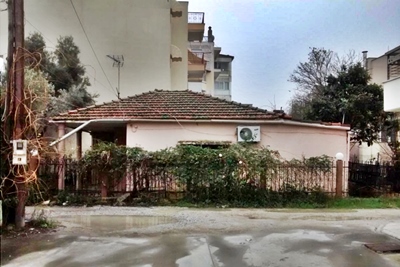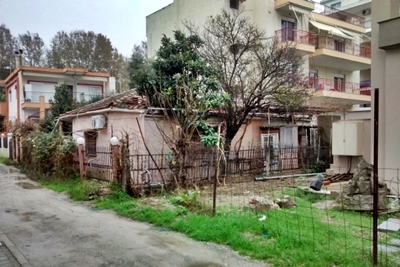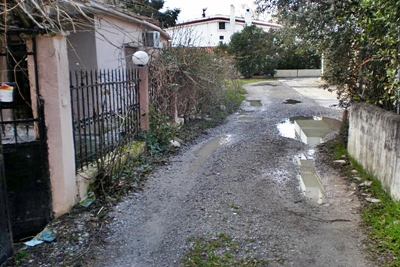 This bungalow is situated in an area of Perata which is predominantly being developed. All the surrounding properties have been developed into 3 storey apartment blocks.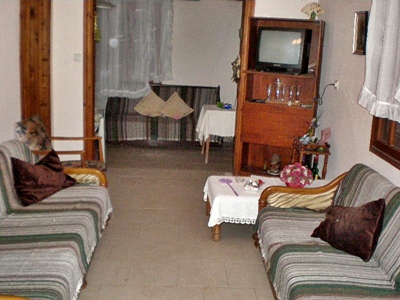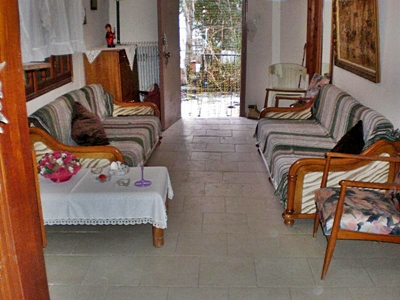 A survey has been carried out on the property and permission would be allowed on this plot, making this an ideal investment into developing the area. Peraira is a suberb of Thessaloniki and is about 300 yards from the sea.
Price : 110,000 Euros SLASHED TO SELL AGAIN AT Only 65,000 Euros Code : THESSALONIKI DC/010
---
Two Fabulous Sea Front Apartments For Sale : Kalamaria : Thessaloniki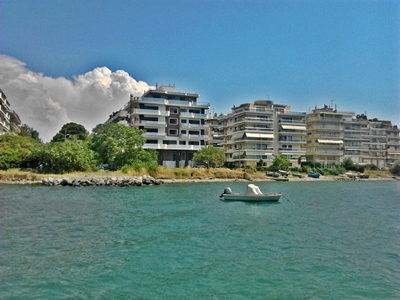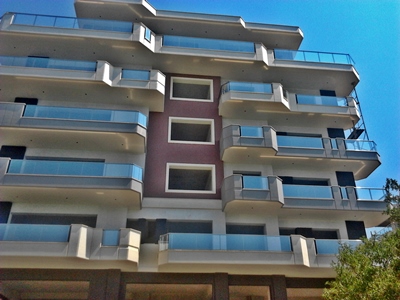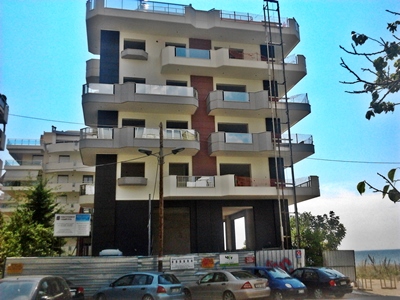 Only the 5th and 2nd floor apartments are still for sale. See details below : They are not subject to VAT but normal transfer taxes will apply. They are only 15 meters from the sea and 500 metres from the centre of Kalamaria.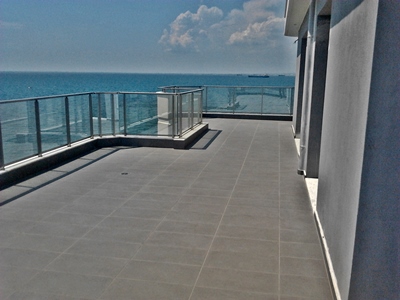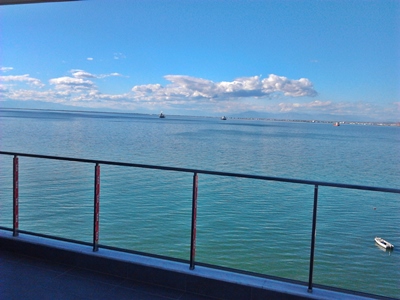 Detached 2nd floor apartment 15 meters from the sea, in Karampournaki Thessaloniki. 206.99 sq mts in area. Features: 2 living rooms-dining room-kitchen, 3 bedrooms (one huge master) - 3 bathrooms- 2 storage rooms in-house 2 open parking - 2 storage rooms in the basement of the building. Price : 1,000,000 Euros
Detached 5th floor waterfront penthouse 116.02 sq mts in area , 15 meters from the sea, in Karampournaki Thessaloniki. Features: living room, kitchen, 3 bedrooms - bathroom -W.C., 1 storage room in-house, 1 open parking lot, 1 storage room in the basement of the building.
Price : 700,000 Euros

Code : THESSALONIKI AO/010
---
A New 2 Floor Maisonette In A Large Garden Plot : Halkidiki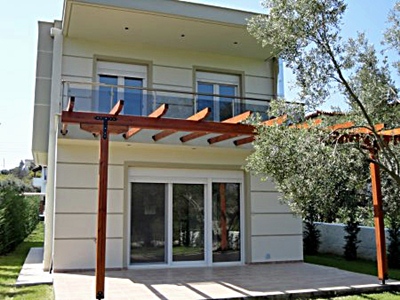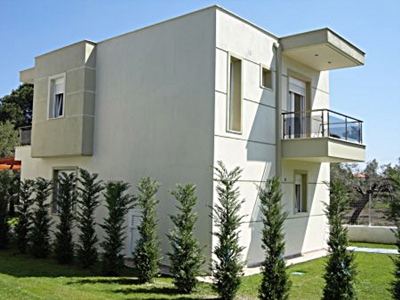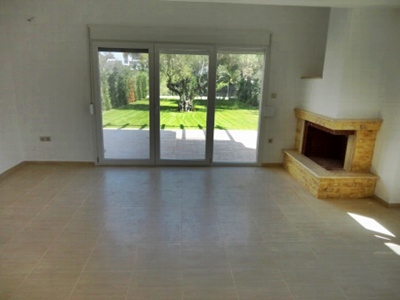 Two floors independent maisonette in very good location in Halkidiki, near the sea and near the town. The ground floor has a large living room-kitchen with fireplace and wc. Upstairs are 3 bedrooms and bathroom. Outside has a large private garden and parking area for 2 cars. The build quality is very good and the rooms spacious.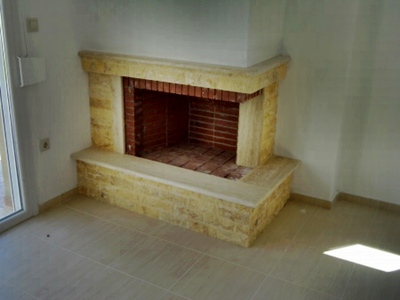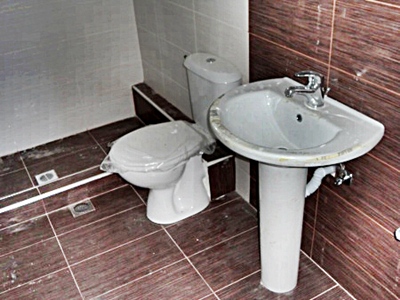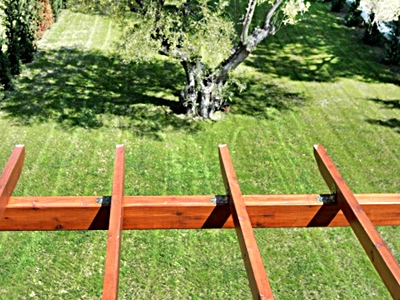 A New Maisonette For Sale In A Superb Location : Year of construction : 2012 : Building area : 110 : Land area : 650 : 3 Bedrooms : Distance from the sea : 200 metres : Distance from the town : 600 metres : Location : Kassandra : View : Olive groves.
Price : 230,000 Euros

Code : HALKIDIKI LE/471
---
A Front Of Beach House On The Athos Peninsular : Ierissos : Halkidiki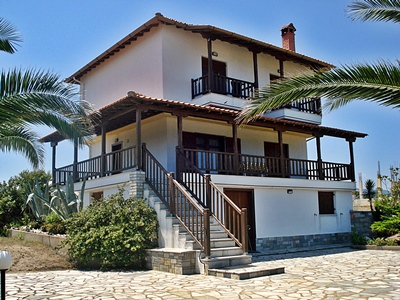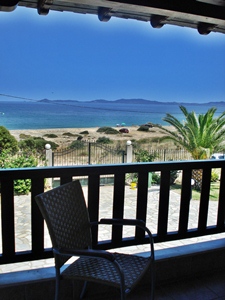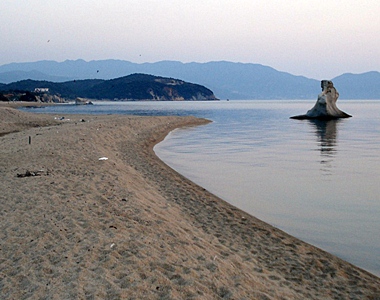 A beachfront house only 50 metres from the sea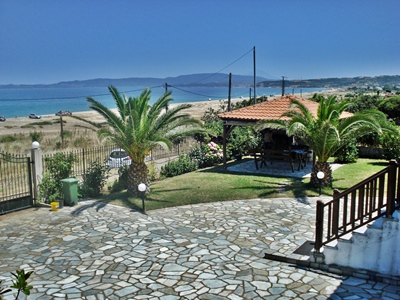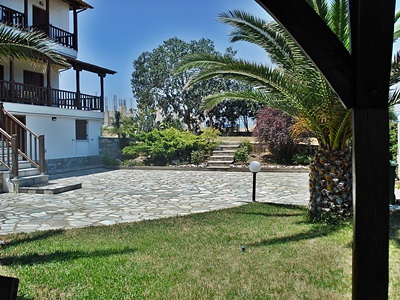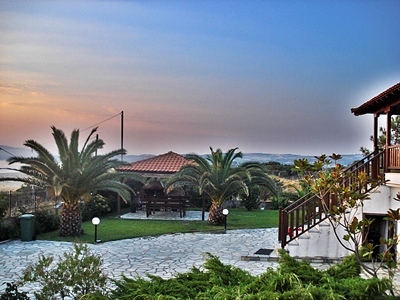 This is a three floored property with an area of 240 square metres in a plot of 4200 square metres with lovely gardens and a vineyard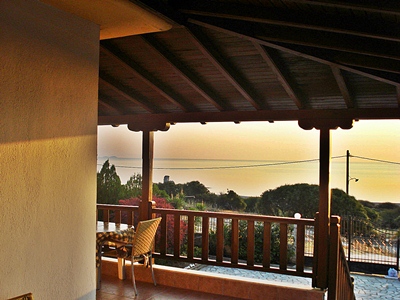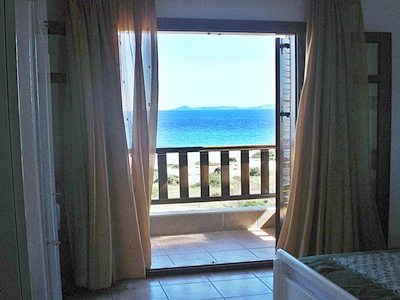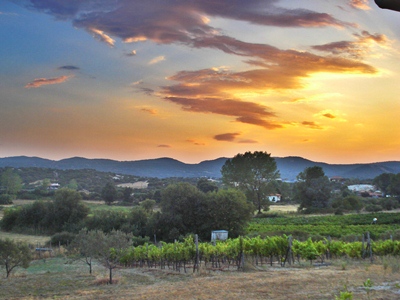 The ground floor has a separate entrance door from the other floors and includes a kitchen, a living room, two bedrooms and a bathroom. The first floor is connected with the second floor with internal stairs and includes the living room, a fireplace, a kitchen with a dining room and a WC. The second floor includes three bedrooms and a bathroom.

There is a paved yard with a gazebo including a wooden table with seats and a BBQ. The beautiful garden includes palm trees and a wide variety of big trees, plants and flowers. At the back of the plot is a vineyard. There is a breathtaking view of the sea from every aspect of the house.

Price : 1,000,000 Euros : Indicative Price. Offers Invited. Code : HALKIDIKI KX/010

---
A Detached Stone Built House : Nea Skioni : Kassandra : Halkidiki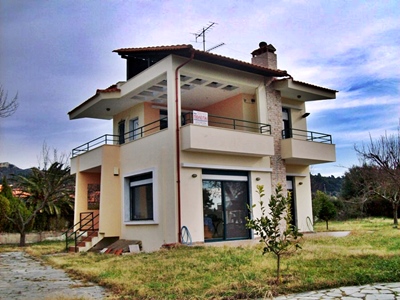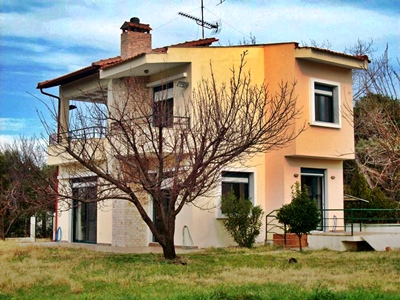 The property is located in a stunning area and offered fully furnished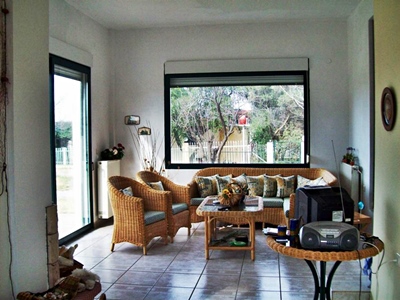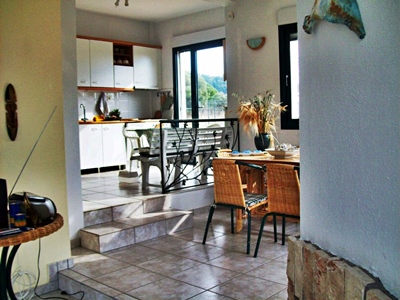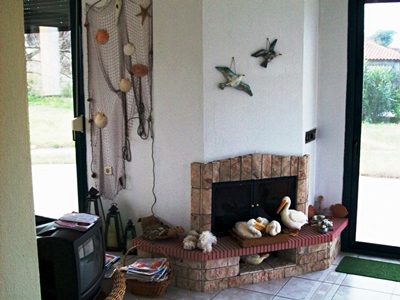 The property is a two storey detached house in a plot of 1.150 square metres, with the basement converted into a flat.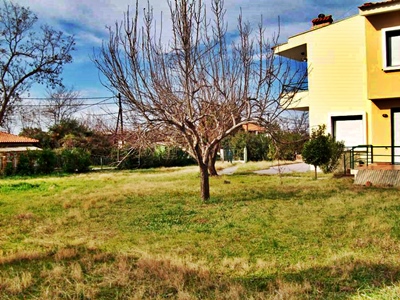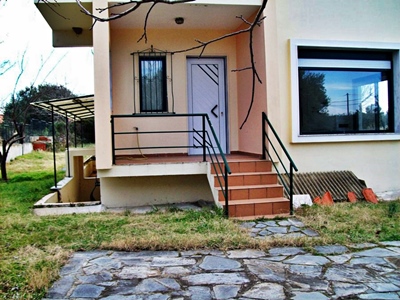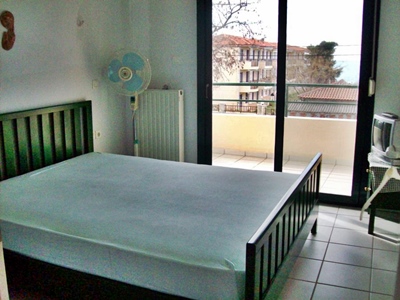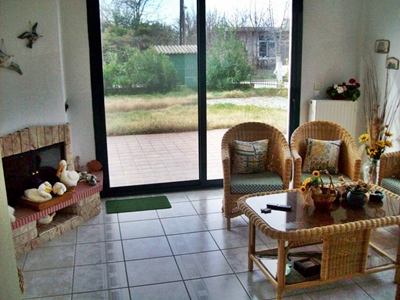 The property comprises four bedrooms, a living room with a fireplace, a kitchen, two bathrooms, a WC, wide verandas, storage and central heating.
Price : 255,000 Euros Code : HALKIDIKI XP/6
---
A 3 Bedroom Maisonette With Sea Views At A Special Price : Halkidiki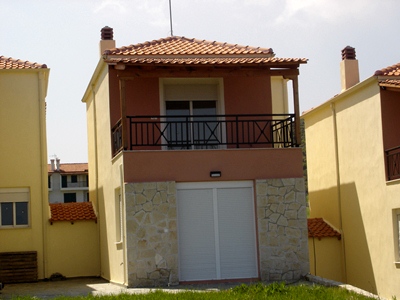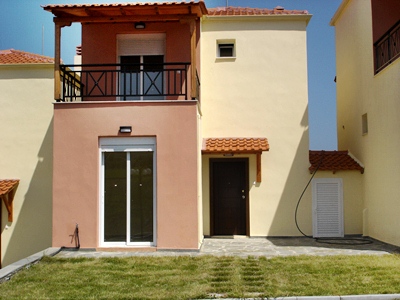 120 metres of living area in this very well built two floor maisonette near the sea. There is a bedroom on the ground floor , a big living room/kitchen with a downstairs W.C. a store room and a store room outside of the house. Outside is a big private garden plot. On the first floor are two further bedrooms and a big bathroom.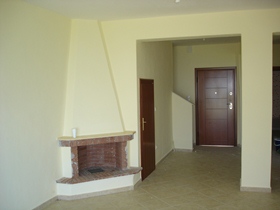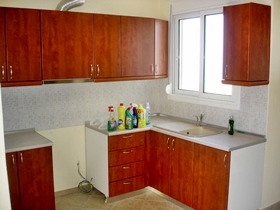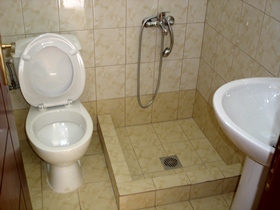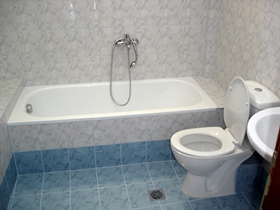 Outside are two balconies with lovely sea views and the back balcony has mountain views. There is parking for two cars. This is a great value house going at a special price.
Price : Only 125,000 Euros Code : HALKIDIKI LE/070

---
Apartment For Sale Only About 50 Metres From The Sea : Pallini : Halkidiki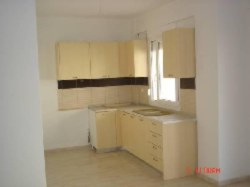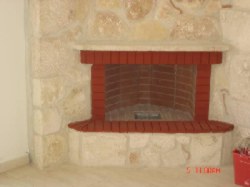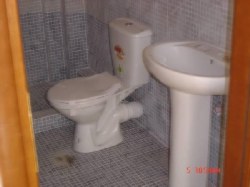 This is a first floor apartment of 2 rooms constructed in 2008 The total area is 65 square metres.
Price : 70,000 Euros Code : HALKIDIKI LE/026

---
An Apartment For Sale With Fantastic Sea Views : Kassandra : Halkidiki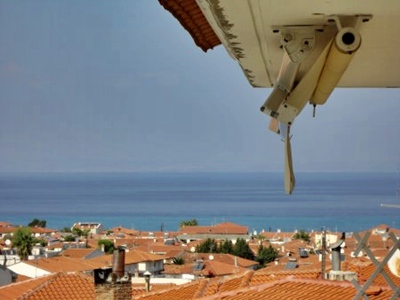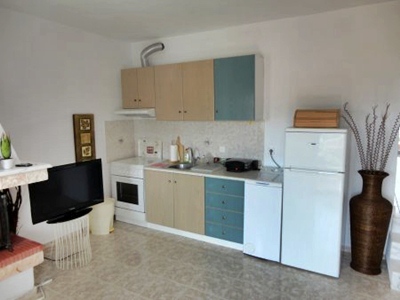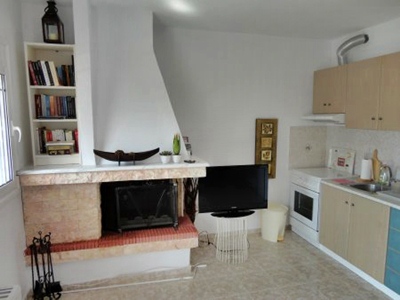 This is a second floor apartment in a very good location, not far from the town centre

.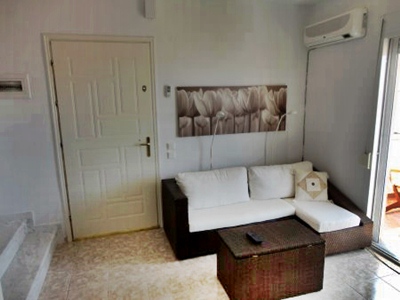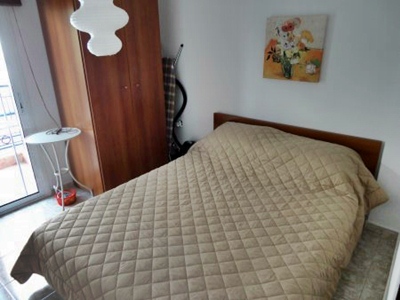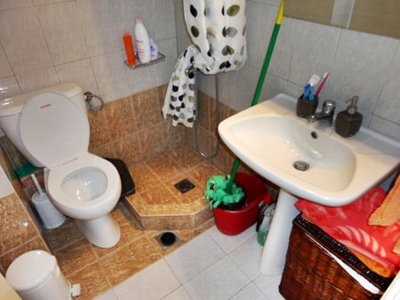 This apartment has two bedrooms, and a living room-kitchen with fireplace and bathroom. Outside it has a large balcony with stunning sea views. The sale price includes all furniture and appliances in excellent condition. It also has air conditioning.
Very Good Price : 65,000 Euros Code : HALKIDIKI LE/200

---
A Traditional Detached House : North Halkidiki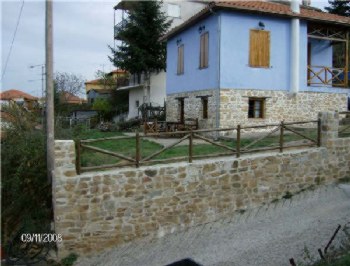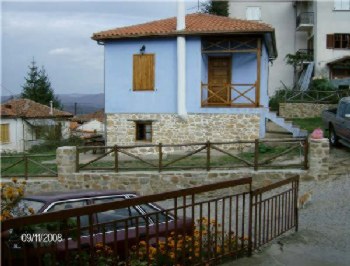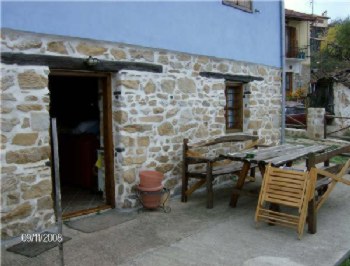 This 100 square metre stand alone house is in a garden plot of 300 square metres and the price includes all the furniture.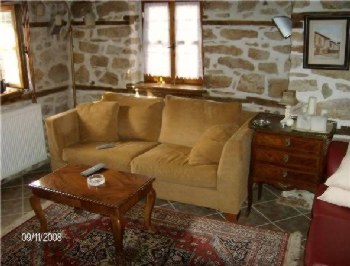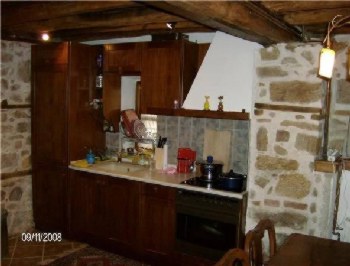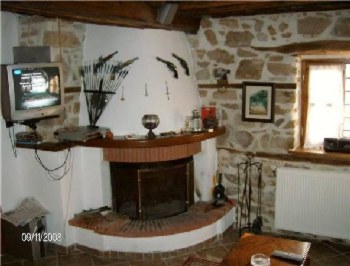 Price : 180,000 Euros Code : HALKIDIKI LE/033
---
Two Groups Of 5 Maisonettes Right In Front Of The Beach. : Nea Moudania : Halkidiki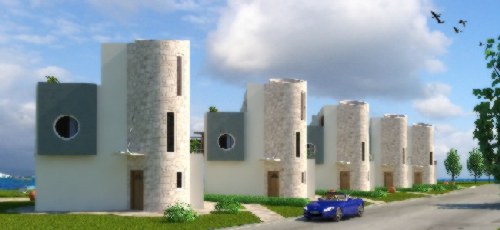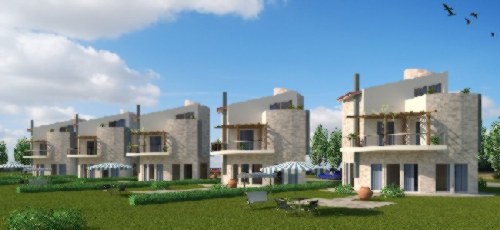 Now Complete And Ready For Sale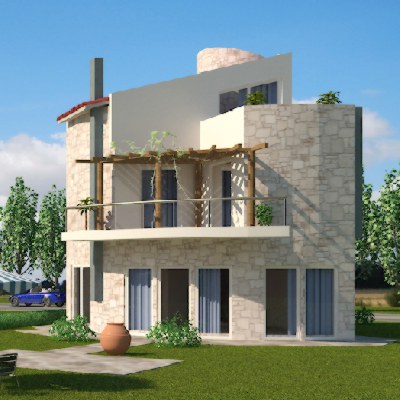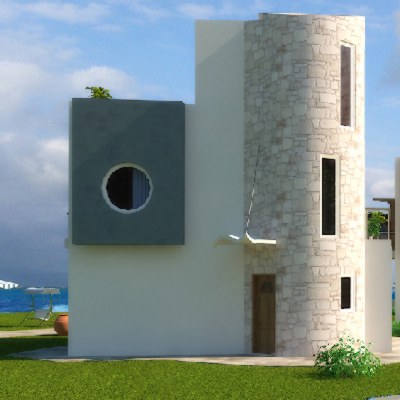 The ground floor includes a living room with fireplace, open kitchen, access to the garden through a large veranda and WC with shower : On the 1st floor 2 bedrooms with balcony are being built as well as a bathroom with a corner bath tub and sanitary ware of excellent quality : On the 2nd floor there is going to be a beautiful attic with a vast veranda : All houses will be equipped with ground floor heating : The houses will be built on a plot of 600sqm and we will create a beautiful garden with barbeque and a spacious parking place : We also take special orders such as swimming pool or anything else the customer wishes that can be adjusted to the surroundings and to your needs : We use only material of excellent quality : All the houses are equipped with ground floor heating system : Each house is built with a special art of stone that you can only find here in Greece, specially ordered and delivered from a traditional village called Athitos and specially constructed with a unique pattern : We included the stones with the pattern even in the inside of the houses up till the first floor : The stones and the pattern are of course handmade : The open fireplace is made by marble : We take special orders for that as well : We use only excellent quality of sanitary ware and always co operate with our costumers in order to cover their wishes and desires.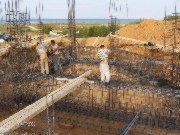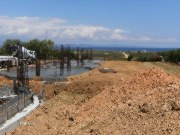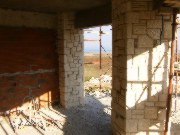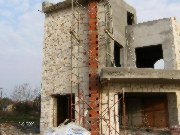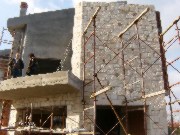 These specific maisonettes are being constructed at a distance of 200 m from the beach of Nea Potidaia / Agios Mamas, in Toronaios Gulf, offering an infinite, exquisite view to the sea. It is in the program to make a Golf course right in front in the next 2 to 3 years.

And All Near To The Beautiful Sandy Beach....and the fantastic view!!

Price : 285,000 Euros

Code : HALKIDIKI EKAH/05
---
A Beach Side House For Sale : Posseidi : Halkidiki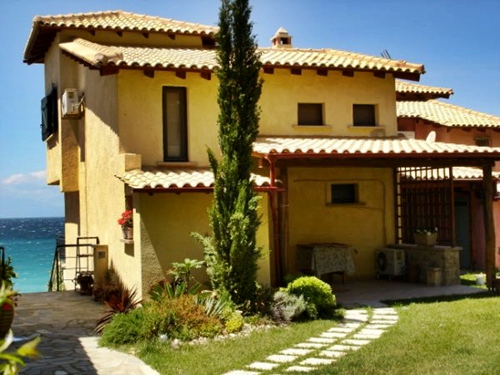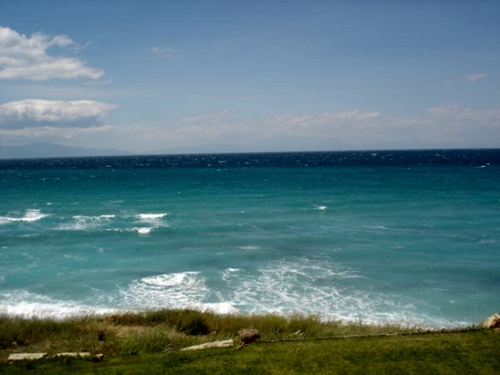 Directly in front of the beach, this three bedroom house has amazing views from all points of the property.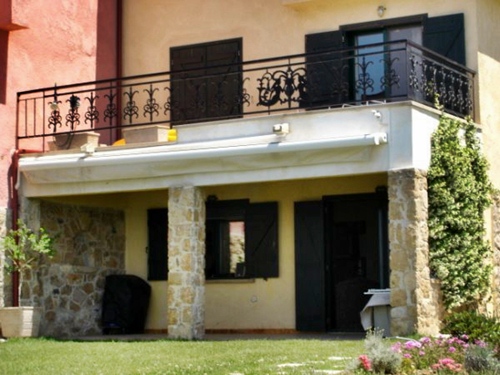 This property is a generous 120 square metres and built on three levels and has three bedrooms, a living room/kitchen a bathroom and two W.C,s. as well as a store room.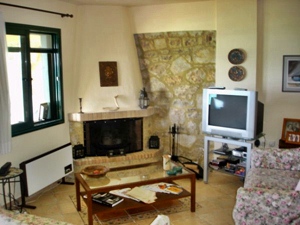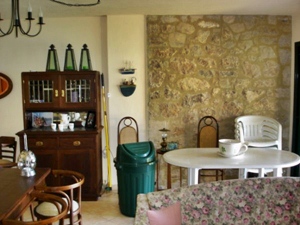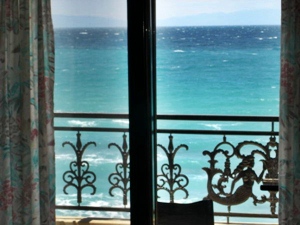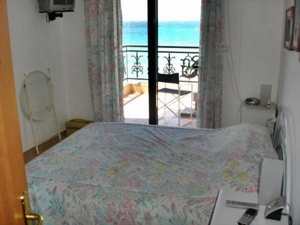 The price includes all the furniture and electrical appliances in perfect condition.

Price : 480,000 Euros Code : HALKIDIKI LE/065
---
Semi Detached Sea Side Residences Only 100 Metres From The Beach : Nikiti : Halkidiki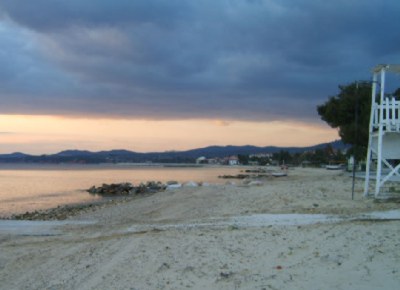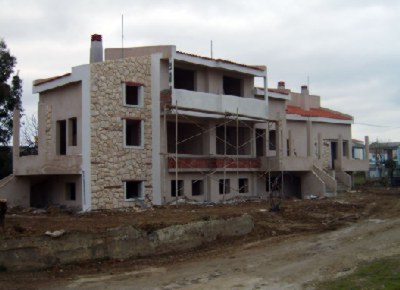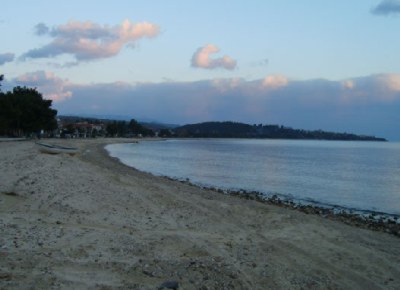 In the seaside village of Nikiti in Halkidiki (about 2500 inhabitants at wintertime-centre of the municipality of Sithonia) there are being constructed for sale, 6 summer/winter residences. The works will be completed during spring-early summer 2008. In the last 15 years, the village of Nikiti is chosen by many north europeans as a permanent place to live, because of the very mild winter and the fine sandy beach-a very "easy" place to spend the most of the year. Three buildings are being built and each one forms two residences in three levels. The first level is two rooms and WC, the second living room, kitchen and a protected inner balcony and the third a bedroom and bath. (approx.83 sqm). The exterior of the buildings is partially covered in stone.

They are very close to the center of the village where every kind of shops, super markets, cafes, tavernas, banks, medical center, etc. (no need to use a car-just a few minutes walk to everywhere). The distance to the beach is only about 100m. Pictures shown above.

Now Ready For Sale . Three Are Sold. Three Available.

Prices Are : Building A 139,000 Euros Each House.
Building A1 134,000 Euros Each House.
Building B ( Left Side ) 149,000, Euros . Building B ( Right Side ) 144,000, Euros Code : HALKIDIKI PK / 010
---
A Villa For Sale Located Directly On The Beach : Skioni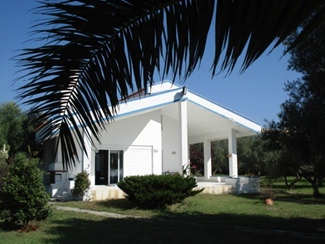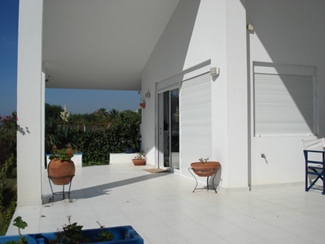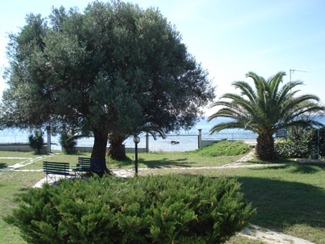 An absolutely wonderful shoreline property, located towards the Western end of the Kassandra peninsula. It is comprised of 3 bedrooms, 2 bathrooms, a living area, and a reading room. This is a real family home right on a beautiful shoreline, with a very large well kept garden, which includes an olive grove and a small Cycladic style church.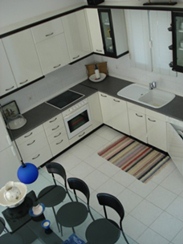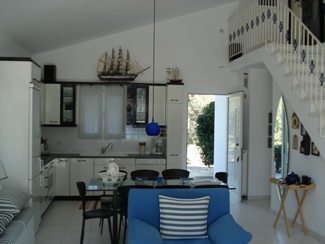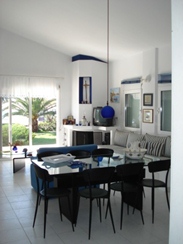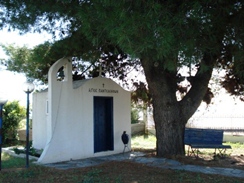 Additionally, an extra 125 sq.m. may be legally constructed within the land plot
Price : 1,600,000 Euros Code : HALKIDIKI CGNP/98
---
A New Detached House With A Large Private Garden and Balconies Overlooking The Sea and The Mountain : Halkidiki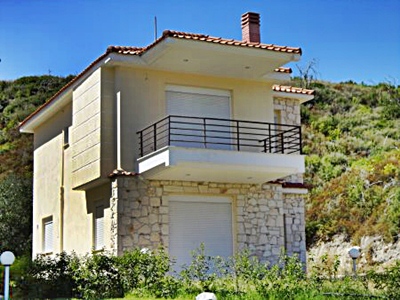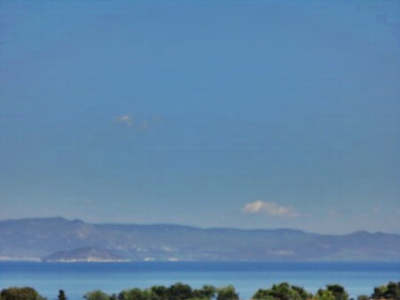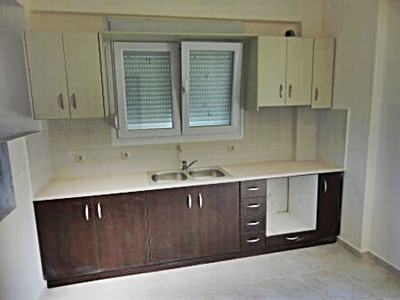 Located in a very good area, near the town centre and the sandy beach. It has a large living room-kitchen with fireplace, 4 bedrooms, W.C. bathroom and storage-boiler room. It also has parking area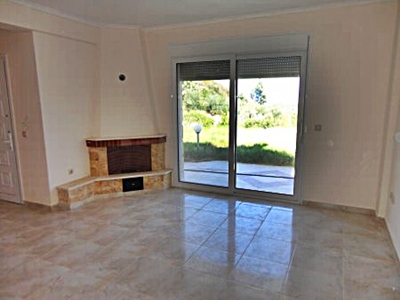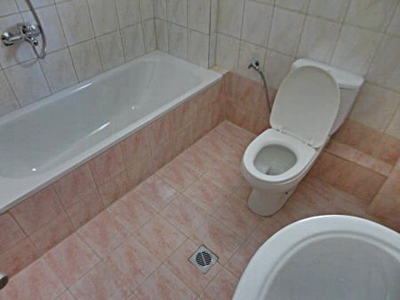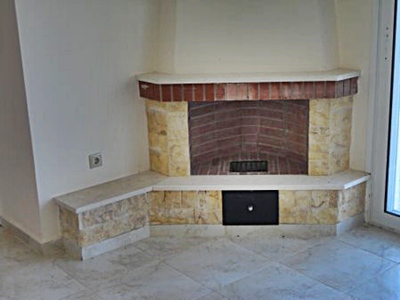 The quality of construction is very good and the rooms spacious : Type of property: Maisonette : Year of construction : 2010 Building area : 120 square metres : Bedrooms : 4 Distance from the sea : 500 m : Distance from the town : 350 m : Location : Kassandra : View : Sea and mountain
Price : 145,000 Euros

Code : HALKIDIKI LE/474
SOLD
---
Apartments For Sale : Pefkohori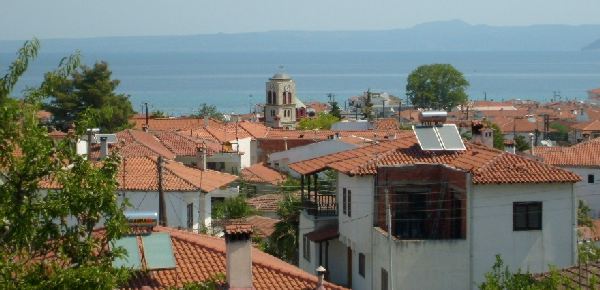 A Small Complex of Beach Homes built with very high quality standards, right on a sandy shoreline. : Kassandra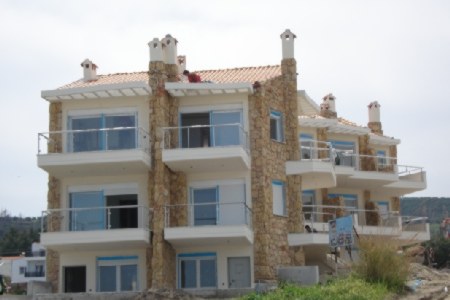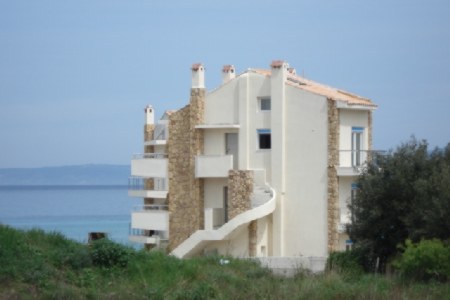 The particular sandy beach stretch is one of the best in the peninsula.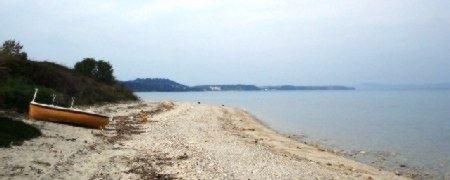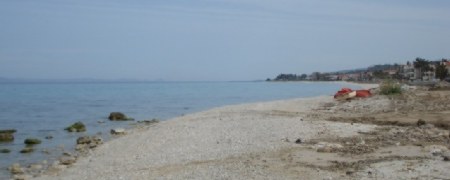 The particular apartment is a ground floor corner property, with a living room, a fireplace, kitchen area, a spacious bathroom, 2 bedrooms and a back garden. Within the same complex there are also 1 bedroom apartments available, both on the ground and the first floor, as well as a 96 square meter corner apartment , with 3 bedrooms (2 in the attic), separate kitchen, fireplace, 1 bathroom and 1wc, and marvellous views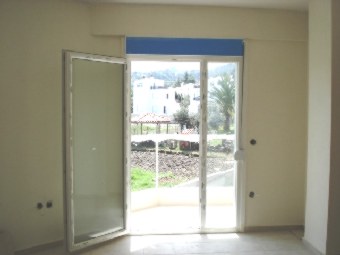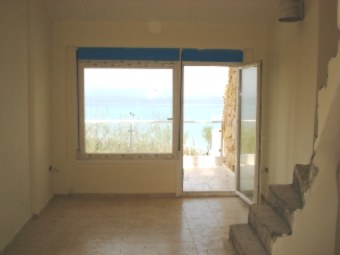 The sea view is excellent and so is the forest which is visible around the area. The nearby popular tourist village is very close, and it offers pretty much everything; restaurants, super markets, shops, bars and tavernas. These homes are ideal for people who do not wish to be far from a village resort but also appreciate their peace and quiet!

Price : 165,000 Euros Code : HALKIDIKI CGNP/133
---
Kriopigi Village Apartments : Halkidiki : Kassandra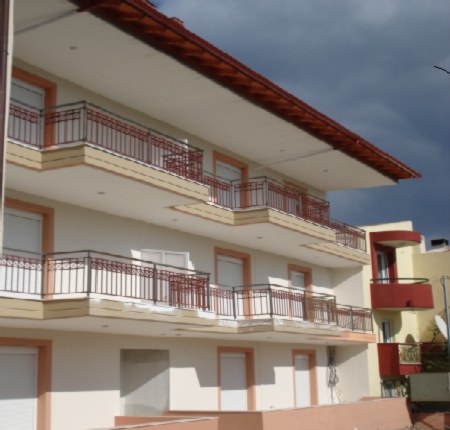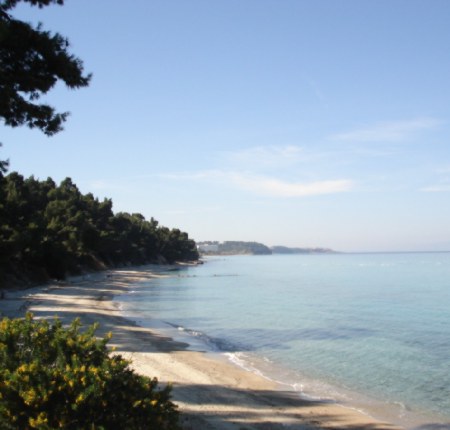 Beautiful Views Of The Sea The Village And The Woods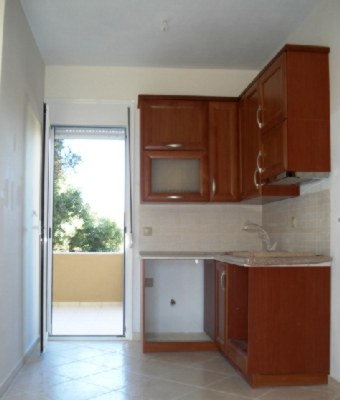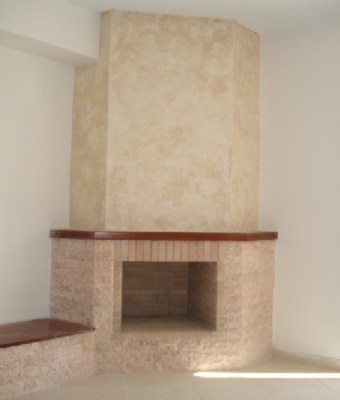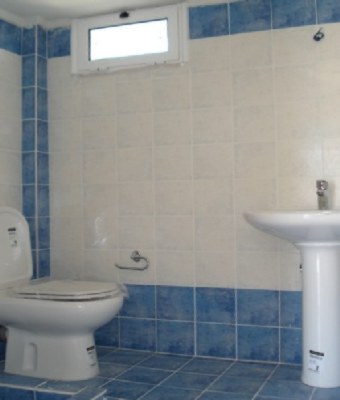 Kriopigi Village is one of the most popular holiday destinations in Halkidiki.
It is well known for its beautiful beaches and many entertainment options and is built on a slope with beautiful sea and forest views. The featured property is newly built and is comprised of ground, first and second floor apartments of 60 sq. meters each. All have large spacious balconies, fireplace and autonomous central heating systems. Price : 80,000 Euros Code : HALKIDIKI CGNP/104
---
BACK TO

HOME PAGE FORWARD TO

THASOS HALKIDIKI

PAGE 2.
E MAIL BRIAN