---
Western & Central Crete Properties For Sale : Chania & Rethymno & Hersonissos Page 4
Crete Page 1
Here Crete Page 2
Here Crete Page 3
Here

Jet2 Now Have flights to Crete From Many U.K. Airports. Check their Web Site

Scroll down to see more property

---
Virgin Coastal Land For Sale : Platanias : Crete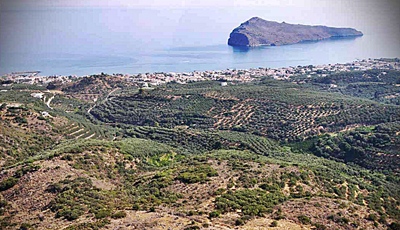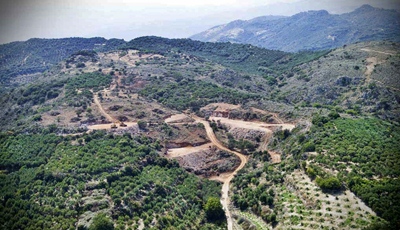 This 93K square meter (approximately 23 acres) plot has been subdivided into 11 subsections. 10 of the subsections are approximately 4-6.3K square meters (1-1.5 acres) with a minimum build density of 200-240 square meters (2.1-2.5K square feet) or approximately 16 to 31 homes per subsection depending on the configuration. The remaining subsection is approximately 45K square meters (11 acres) and is intended for a hotel or similar. All of the subsections have been cleared and have road accessibility. Amenities such as water, electricity and telephone lines are situated around the perimeter of the property. Over 24.1K of forestry land is situated on the south side of the property ensuring no future development to the south.
Priced at : 1.6 Mill Euros Code : CRETE BS/ND/LAND
---
5 Traditionally Built Stone Houses : Village Of Neriana : Crete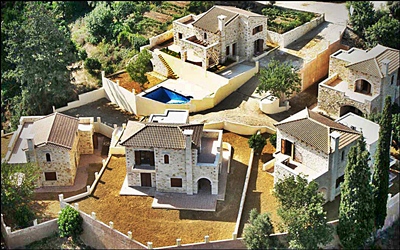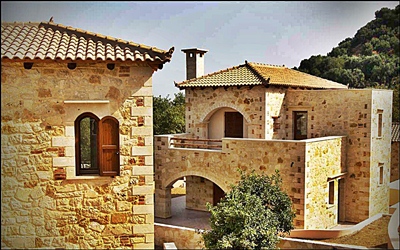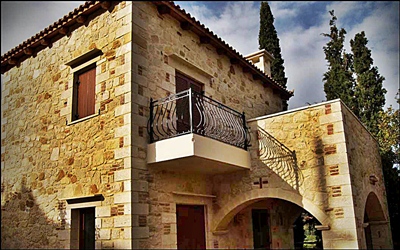 This is a development of five individual two-storey traditionally built stone homes nested in the village of Neriana, so named for the abundant streams and brooks that feed its lush orchards. The old methods of building with natural stone, refined arches and rich wood beams are inspired by the earthy textures and warm sunsets of this beautiful and tranquil setting. These are homes for the seasons. Enjoy the cool of a sweet mountain breeze on a balmy summer's eve, or nestle in the living room in front of your stone fireplace at the foothills of snowcapped peaks during the cozy winter. These homes may be sold as individual units or as a comprehensive five home investment for tourism.
Each home has its unique character and thus the layouts vary slightly. The typical home is two to three bedrooms with built-in-cupboards, two to three bathrooms including installed hydro-massage bathtubs in the main suite room with high end bathroom fixtures, cottage style kitchens with solid wooden doors, all white goods including, fridge, oven, extractor fan and dishwasher, solid wooden internal doors, living room with fireplace, high ceilings with wooden beams, spacious arched verandas and balconies, piping for Central Heating System, air conditioning, telephone and T.V., environmentally-friendly heat exchange system for hot water supply, double glazed wooden windows with traditional shutters and screens that carry a 10yr warranty, entertainment areas with brick barbeques, parking, and a land allocation for a garden of approx. 400-520 sq.m (4,305-5,597 sq.ft). Our homes come with our 2-year comprehensive guarantee. One of the homes features a swimming pool. Infinity pool option also available on request.
Prices Starting At : 200,000 Euros Code : CRETE BS/ND/TUSCAN
---
3 Traditionally Built Stone Houses : Sirili : Western Crete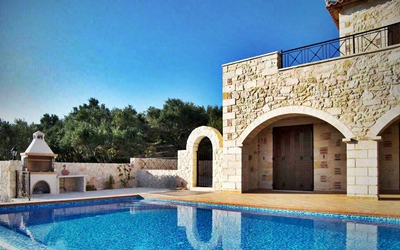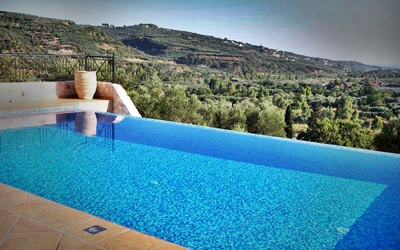 The village of Metochi near Sirili is situated 14km west of the city of Chania in Western Crete. Dating back to the 18th century, a Metochi described a cluster of homes with a large open area in the centre where residents would gather for social occasions. Orange plantations and olive trees fill the landscape of this area which marks the site for this development. The seaside town and pebble beach of Tavronitis is close by and has all the modern amenities a resident could need. Extra care has been taken in the finishing of the open plan kitchens, dining and living area to create a warm and welcoming environment for both the owner and their visitors. Open fireplaces add to the set the atmosphere for winter residents.
Special old stone-building and plastering techniques have been used to ensure the authenticity of construction and keep the styling true to the textures of the surroundings. Each home has an allocation of wooded land with many olive and almond trees which were carefully preserved during construction. The charming turnkey-key development is ready for move in. Each unit has commanding views of the mountains and sea in the distance. The homes have three bedrooms with fitted cupboards, tiled bathrooms with cottage style accessories and fittings, fully fitted kitchens with solid wood doors and all white goods (fridge, oven, extractor fan, and dishwasher), double glazed wooden windows with high quality traditional shutters that carry a 10yr warranty, an environmental water heat exchange system and piping for central heating systems, air conditioning, alarm and television, living area fireplaces, balconies and large verandas with brick barbeques, parking, and basements to accommodate extra storage. Infinity pool option also available on request.
Priced From : 265,000 Euros Code : CRETE BS/ND/GROVES
---
BACK TO

HOME PAGE. CRETE

PAGE 1. CRETE

PAGE 2. CRETE

PAGE 3.
E MAIL BRIAN.