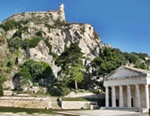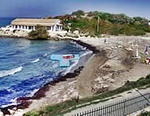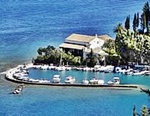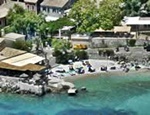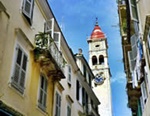 ---
Ionian Islands : Corfu
Commercial Property For Sale In Corfu : Page 3
Page 1
Page 2
For Holiday Properties In Corfu Click Here


Jet2 Now Have flights to Corfu From Many U.K. Airports. Check their Web Site

Easy Jet now has daily flights From London Gatwick to Corfu for details click the Easy Jet Logo on my front page.
---
Small Apartment Block For Sale : Ermones : Corfu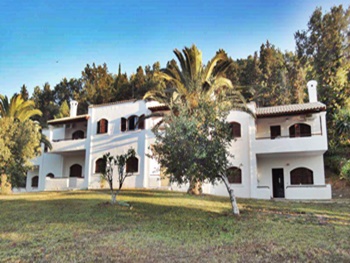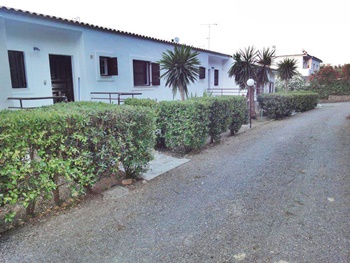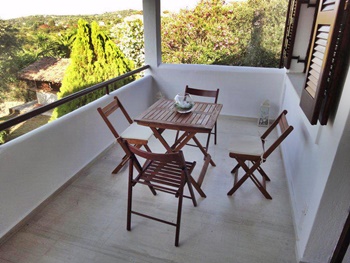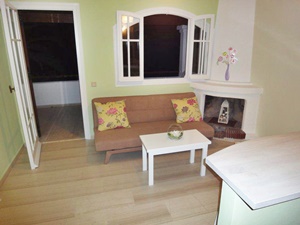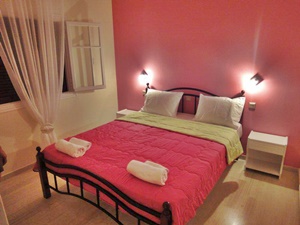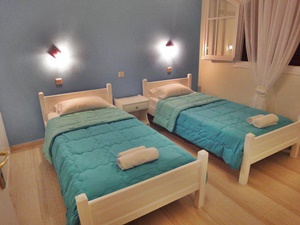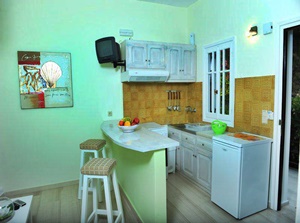 These apartments are located in the west part of Corfu island, 12km away from the center of Corfu Town and 1 km from the beach. Set in the beautiful Ermones village our lovely Golf Apartments are ideally situated. Close by is the famous Corfu Golf Club with its luxury club house and superb greens reputed to be amongst the finest and best kept in Europe, and then there are the nearby beaches of Glyfada, Ermones, Mirtiotisa. Alekos apartments consist of 8 two-room apartments of 50sqm each one. Each apartment has sitting room, 2 bedrooms, kitchen and bathroom and is equipped with air condition and TV. From the balcony you can have a superb view of the lush green Ropa Valley. Beautiful flowers and trees surround the villa where you can enjoy the Greek sun. Just a short ride away is Corfu Town steeped in history and with an abundance of good restaurants and night life. You will also find some excellent tavernas close by to the apartments, supermarkets, bus station, pharmacies and health center. The plot is 5500 sqm and it is possible to construct a tennis court, swimming pool. This is a small apartment block - licensed by E.O.T - on a 5600sqm land which can be used either for 8 permanent residences or as an apartment block business. On the land there are 2 drills with plenty of water, a well, as well as land for garden - tennis court - swimming pool.
Price : 500,000 Euros Code : CORFU AT/BUS/121
---
A Complete Residence With 10 Apartments And 5 Villas : Roda : North Corfu
Located in the North of the Island of Corfu at only 1km from the centre of Roda with private access to the beach.
Villas for sale from 2 to 4 rooms, all furnished and with a surface area of 57 sq mts to 160 sq mts.
The villas are in the heart of a 4 stars residence with swimming pool, tennis court and garden.
The villas offer Beautiful services : Security all year : Possibility of financing over 5 years : An excellent renting profitability more than 15%
If you would like to visit or require prices and more information please ........
E Mail Brian.
Price : From 285,000 Euros Code : CORFU PL/SEA/010
---
Fabulous Sea Side Plot For Sale : Astrakeri : Corfu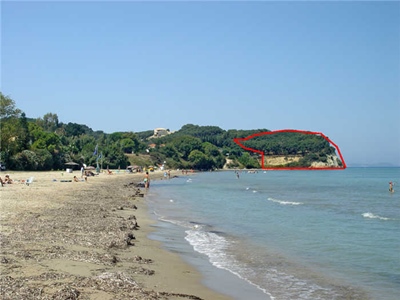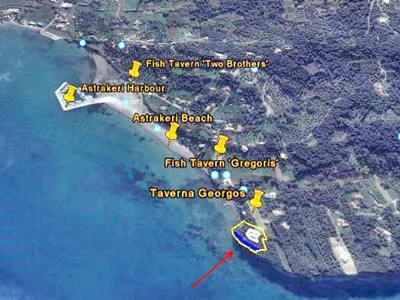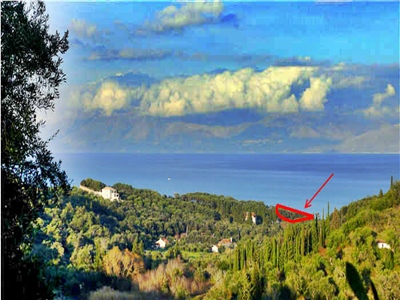 Situated on the North Coast of Corfu between the resorts of Roda and Sidari. The plot is 5,133 sqm in area of which 832 sqm are designated as seashore and can't be altered. The sandy Astrakeri beach is close by while the Astrakeri marina is a few hundred metres away.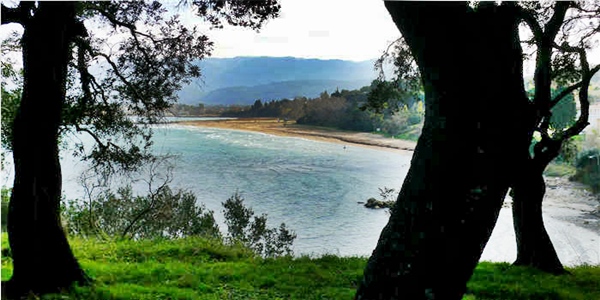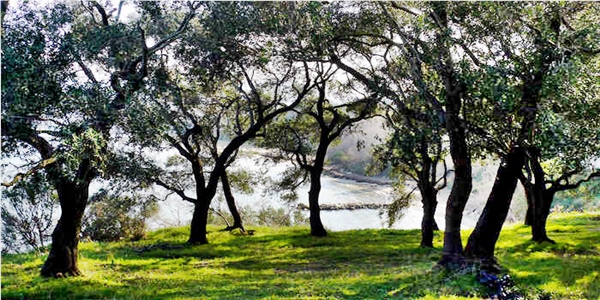 The plot is gently sloping down towards the East. It would be possible to build a villa up to 200 square mts in area plus a pool. Much of the plot is taken up with olive grove, there being some 65 trees in total.
This is rare opportunity to purchase a waterfront property at a competitive price.
Guidance from purchase to completion is available.
Price : 248,000 Euros Or Try An Offer Code : CORFU PLOT GDSW/279
---
Village Sea Side Plot With Fab Views For Sale : Afionas : N.W. Corfu
A plot of land for sale in the popular village of Afionas. The plot has fabulous sea views along the coast to Arillas and over the Diapontia Islands. Just a 250m walk to the centre of the village. It is possible to build a villa of up to 150 sqm in area. The plot is about 1,250 sqm (almost 1/3 acre) , some of which has been designated as forest land.
Afionas has several tavernas, most with stunning views. The nearby resorts of Agios Georgios and Arillas both have a good range of shops, tavernas, cafes and bars. Sidari, with its large supermarkets, is a 15 minute drive. Corfu Town and the airport are about an hours drive.
Price : 60,000 Euros Code : CORFU PLOT GDSW/400
---
A Restored 2 Bedroom Village House For Sale : Loutses : North Coast Corfu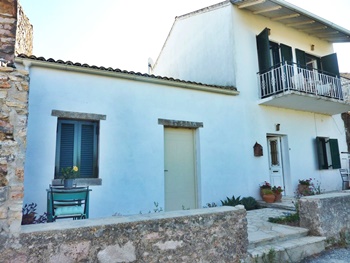 This delightful 100sqm house is in the quiet, hill village of Loutses, half way between Peritheia and Old Peritheia, about an 8 minute drive to the coast and Agios Spyridon beach and 10 minutes to Kassiopi.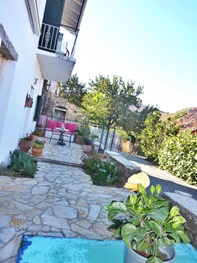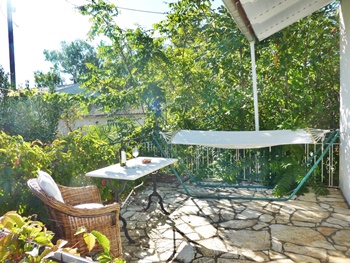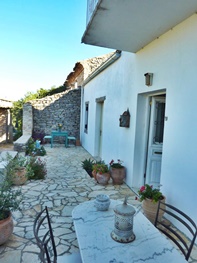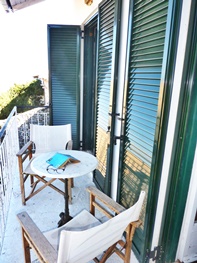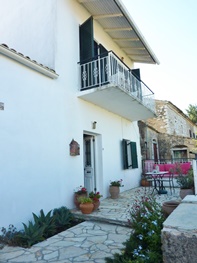 This House has been lovingly restored, maintaining most original features and incorporating a modern country style kitchen and separate large pantry/storage.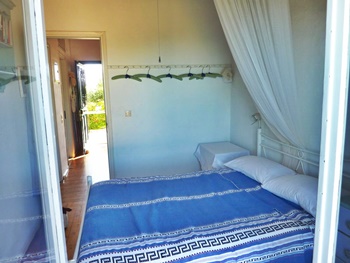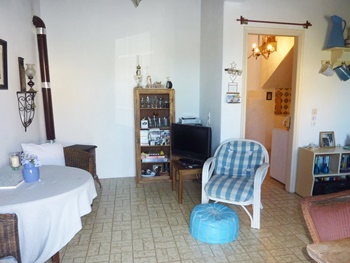 There is a water storage tank, at the back of the house, a wood burning stove, in the living room and ceiling fans in each bedroom.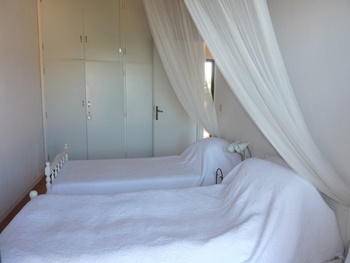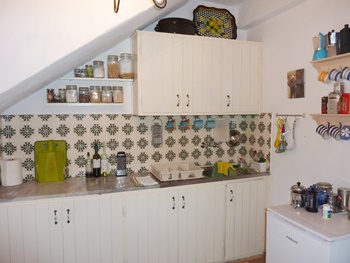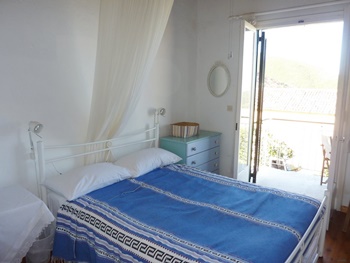 Comprising land of 130sqm approx. there are patios front and back with the possibility of creating a private parking space on the land. The single storey building next door has had a new roof but is currently used only for storage or, with a little imagination, it could be converted into a separate apartment.There is an old stone arch which could be knocked through to more than double the downstairs space. This property really has potential. It would make a great holiday rental investment or suitable for family and friend's holidays.
Price : 135,000 Euros Code : CORFU ALT/OLDWHTHSE NEW
---
5 Rental Apartments, Restaurant, Bar & Grill Room For Rent : Agios Stefanos Avliotes : Corfu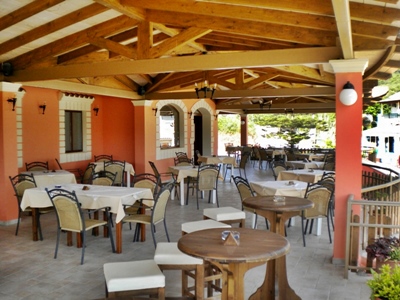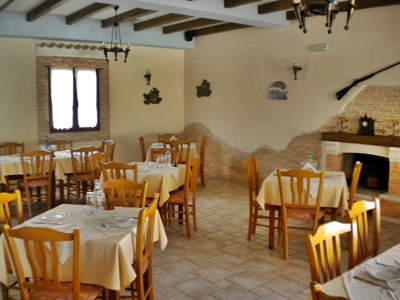 A restaurant, bar, and grill room with 5 x 2 bedroom studios for rental on the first floor and is available on an annual lease basis.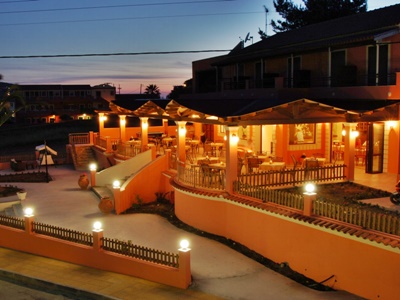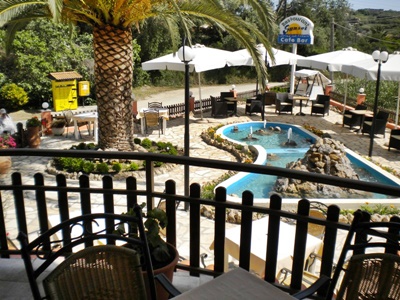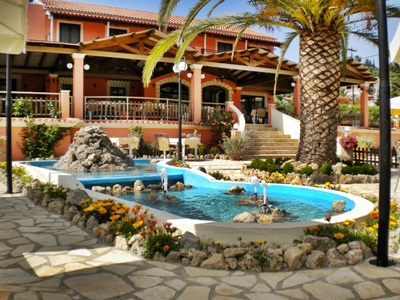 Situated only 2 minutes from the beach of Agios Stefano it is a three star restaurant in excellent condition. There are 150 seats inside plus another 50 seats outside. The restaurant was fully fitted out and refurbished in 2005.
Price : 22,000 Euros Per Annum. Code : CORFU BUS GDSW/341
---
A 5 Bedroom Villa With 8 Furnished Studios : Benitses : Corfu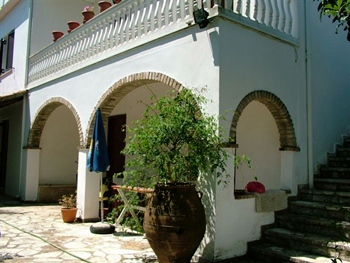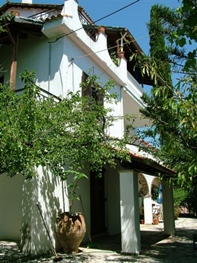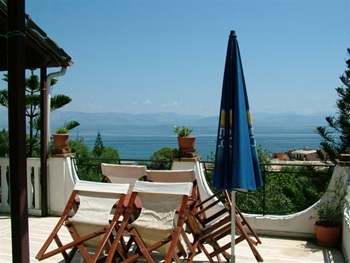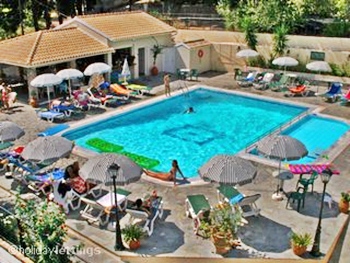 These apartments are superb letting apartments are in Benitses Corfu with a great view of the sea. If you intend to rent the studios (they comprise,16 min , 21 max beds) travel agencies offer contracts at Benitses of 1200 Euro per bed. Others Rent apartments in the area using the net.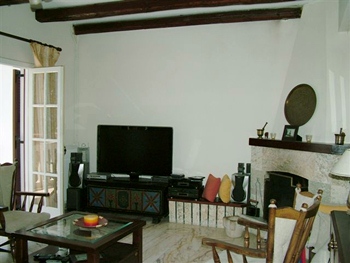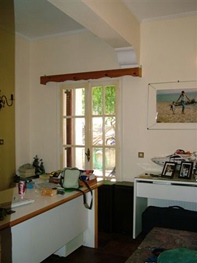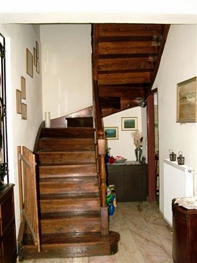 The Villa main apartment has 5 bedrooms, 4 bathrooms, a living room, and an office, with an owners garage.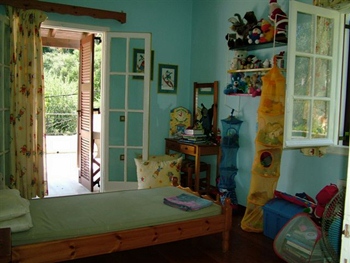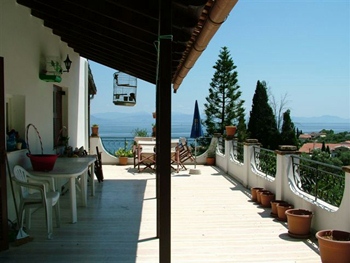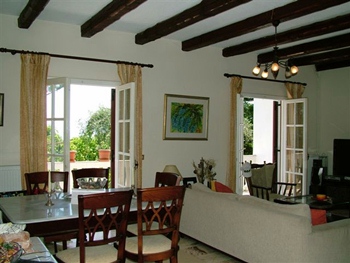 It also has a superb 200 sq metre veranda with 8 furnished studios, in a plot of 2700 sq metres of land with great views of the sea.
This house is in Benitses overlooking the village. It is within 5 minutes walking distance from the centre of the village and the new marina of Benitses. There is parking space for 50 cars, the parking space is so big that it is also used by the next door apartments, and in return the owner gives free access to all the guests to the pool next to the house. There is a licence for the apartments issued by the Greek ministry Of Tourism. It takes about 2 days to turn it to the new owner or a different name.
Price : REDUCED TO 800,000 Euros Code : CORFU AS/010

---
A House For Sale Living In With Renovation At Your Leisure

: Episkepsi : Corfu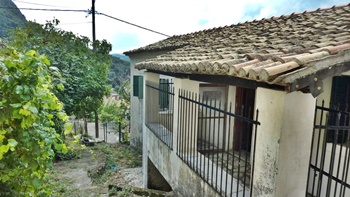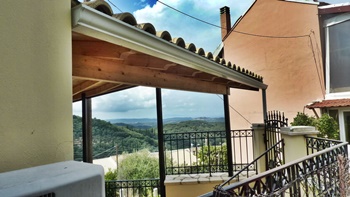 The land size is : 600sqm and the building size is approx 150sqm It is a stone construction built on two levels.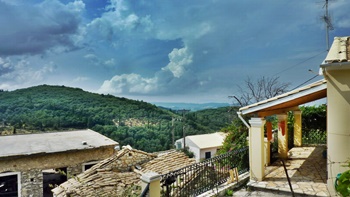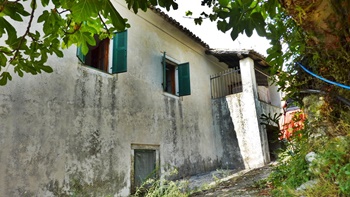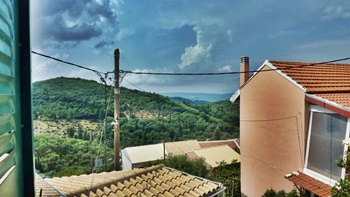 The Ground floor has an open area with area for kitchen and bathroom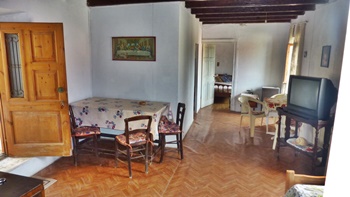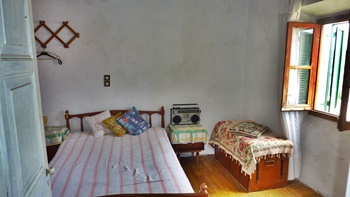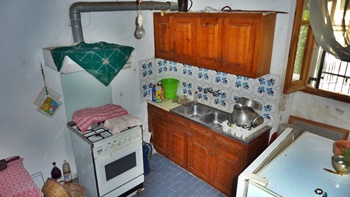 The second floor has two bedrooms, a bathroom, a kitchen, and a dining / living room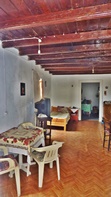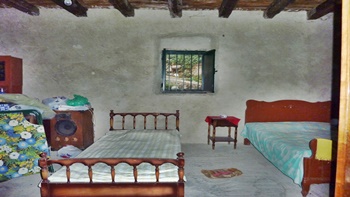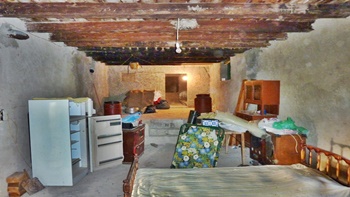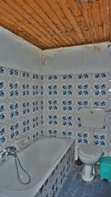 There is Accommodation Potential for 8- 10 persons and all services are connected The age of the house is over 50 years and the nearest beaches are Acharavi Roda and Almiros. Transport to Corfu town is nearby. The vehicle access is close by. There is a good sized garden.
With views to the sea and a good sized garden this house could be used as it is but would benefit from a complete renovation, for modern living. While it could do with modernising, the upper floor is currently a house with the potential to turn the downstairs into another house or the lower level of one big village home. There is a good sized garden of over 400sqm which is another build able plot.
Price : 65,000 Euros Code : CORFU ALT/TRIAHSE
---
BACK TO

HOME PAGE. CORFU

PAGE 2. CORFU

PAGE 1.
E MAIL BRIAN.