This Page is devoted to Olive Farms, Agricultural Farms, and Horticulture Farms
---

---
A House For Sale With Vineyard and Olive Grove : Samos Road To Psili Amos : Samos
A favourably located property situated on the main road, Samos town to Psili Ammos, five minutes drive from Samos Town and the beaches of South East Samos.
A ground floor recently renovated residence of 59.38 square meters is found on the plot featuring a sitting room with fire place, a kitchen, a bathroom and a large double bedroom.
The covered veranda of 27,44 square meters offers views of the adjacent mountains and the productive field of the property featuring a well.
The productive olive trees give 500kg pure olive oil per annum There is a vineyard giving 175 kg of wine and many fruit trees such as figs, apricots, pomegranates, almond etc. There is also a small storage space of 2,50 square meters area. The plot size is 4,865.85 square meters. The building allowance is not all used and it is allowed to build an extra 145 square meter residence if needed. All services are present.
Property Features : Fireplace : Water well : Veranda : Accessible by car : With Olive grove : Garden : Renovated : With Vineyard : Excellent location
Price : 65,000 Euros Code : SAMOS GMSP / 754
---
A Renovated Property With Beautiful Sea Views : Ktima Belisi Lafis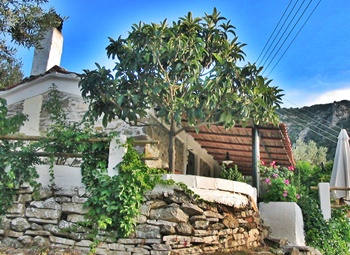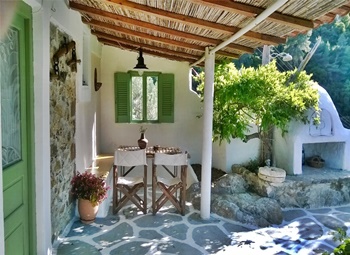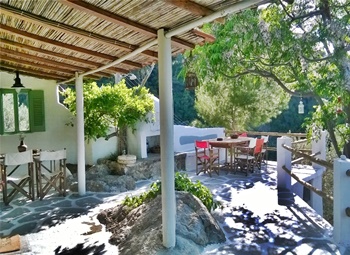 This is also a farm with 400 olive trees and about 150 fruit trees. Including Oranges Lemons and Mandarins.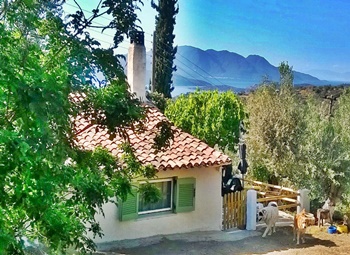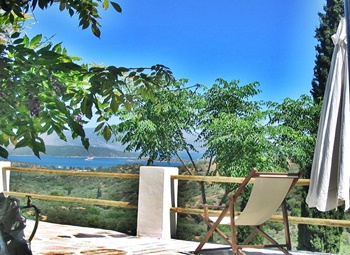 This property of 19211.00 square metres with a stone house of 42 square metres, which was renovated in 2010.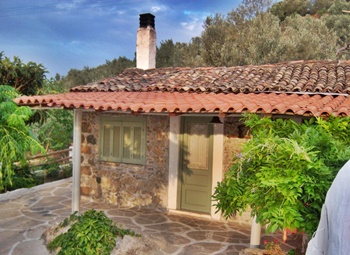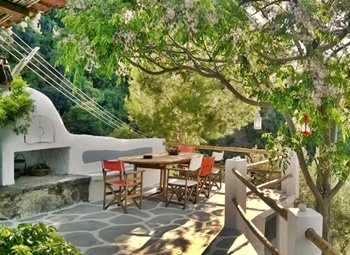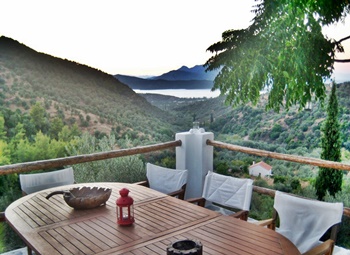 The property consists of one bedroom, a living room – dining room, 1 bathroom, a kitchen and a very beautiful sea view.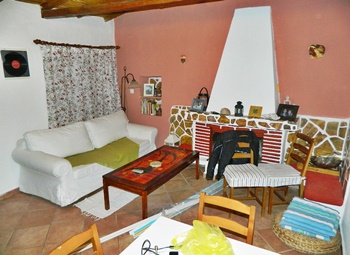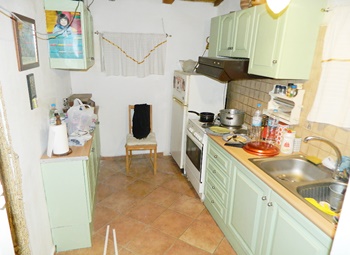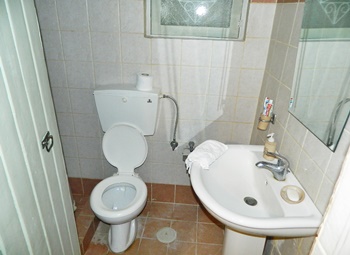 The property is very green and between two mountains giving the feeling of absolute calm.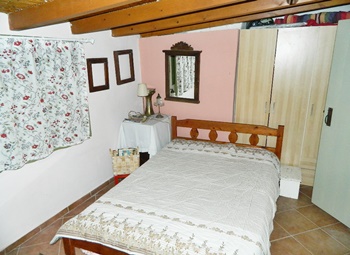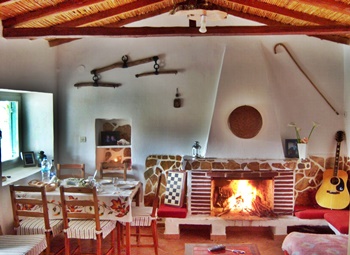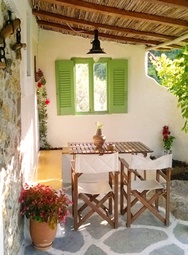 The new owner has the possibility if he wants to build two separate houses of 310 m2 and 285 m2 respectively. One of the important elements of the property is the private water with the autonomy of drinking water and the irrigation of the entire estate, which contains about 400 olive trees and about 150 fruit trees Including Orange, Lemon & Mandarin. The distance from Galata is 2,000 meters and from the sea 3,000 meters.
Price : 155,000 Euros Code : POROS KRIS / 560
---
A Lovely Bungalow With A Farm : Mitilinioi : Samos
This property is a farm of 1.080,52 square meters with a ground floor residence and a store room that has been built on it and is situated in the area of Mitilinioi, close to the village centre.
The residence has an area of 130 square meters and features one single bedroom, a double bedroom with en suit WC facilities, a spacious bathroom, a kitchen dining area and the living room
The living room has direct access to the covered veranda in the garden. A staircase leads to the attic that can be used as an extra bedroom. At the back of the house there is a barbeque area, a sitting area, the storeroom where the central heating equipment is kept and the productive garden. There is also the potential to buy an extra 1.650,75 square meters of productive field with a well directly opposite the house.
Property Features : Storage Area : Central heating : Veranda : Accessible by car : Excellent location : Barbecue Area
Price : 140,000 Euros Code : SAMOS GMSP/770
---
A Villa With Vineyard And Excellent Sea Views : West Of Chania : Galatas : Crete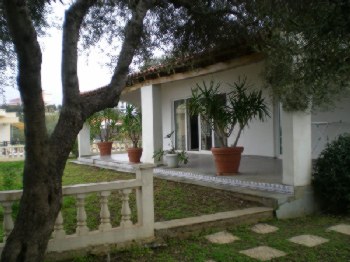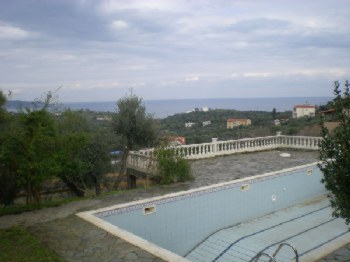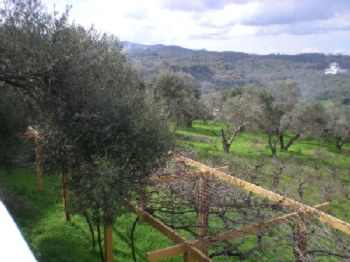 This villa with beautiful sea views has an excellent vineyard, in the village of Galatas approx. 7km from Chania and 1km from the beach.
The villa is 171 mē and includes a master bedroom with fitted wardrobes and an en-suite bathroom, a spacious guest bedroom, a guest bathroom, one WC, a kitchen, a large living room with fireplace leading to a spacious covered veranda with beautiful sea views, a laundry room, and a basement of 70 mē. The kitchen is fully fitted and includes all built in electrical appliances. Part of the kitchen has 120v sockets and needs re-wiring. The villa is for sale partly furnished and provides heating and a garage.
There is a lovely developed garden with amongst others 40 olive trees which could be expanded with more vines. There is a pool of 12,5 x 5,50m.The property is fenced in and has two entrances. : Gross area: 171 square metres of house : 2 Bedrooms : 2 Bathrooms : Plot/land: 5255 square meters.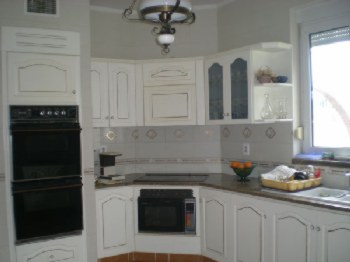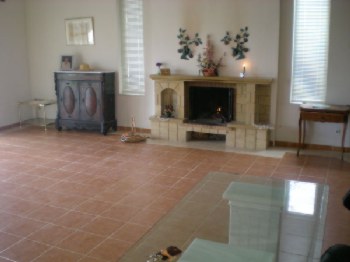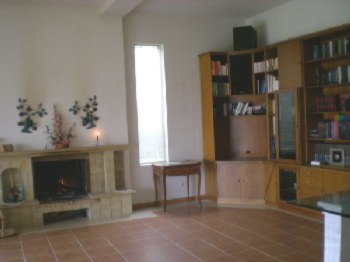 The total plot is 5255mē including the vineyard of 2252mē. The vineyard is 24 years old, with vines brought from France and USA. It produces a wine named CABERNET ROMAGNON. The grapes are 55% CABERNET, 25% MERLOT, 15% ZINFANDEL and 5% local ROMEIKO grapes. The production is approx. 2000 bottles per year.
Price : 450,000 Euros Code : CRETE EU AK228
---
A 5 Stremma Plot Only 1.5 Klms from Ermioni : Ermioni : Argolidos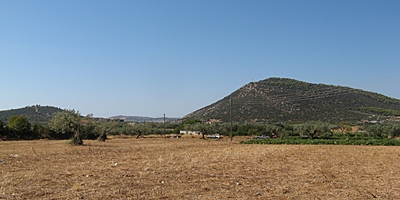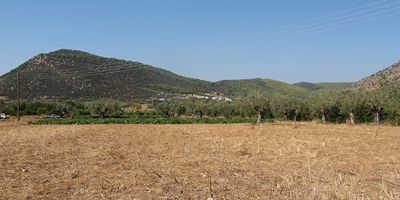 This beautiful plot is 5 stremma in size giving a building allowance of 220 square metres. The plot is only 1Klm from the Ermioni roundabout and all on tarmac roads, The plot is flat with good soil recently used for growing vegetables. There is a limited sea view at ground level but a good view at first floor level or roof terrace.
The plot contains some olive trees, but could be excellent as a fruit farm, and a small house, and electricity is right next to the plot.
Price : 65,000 Euros Code : ERMIONI DK/094

Another similar plot is available joined to the above plot, but must be sold by another contract. This one is 4 Stremma and is available at :-

Price : 55,000 Euros Code : ERMIONI DK/095
---
An Olive Farm For Sale : Near Ermioni : Argolidos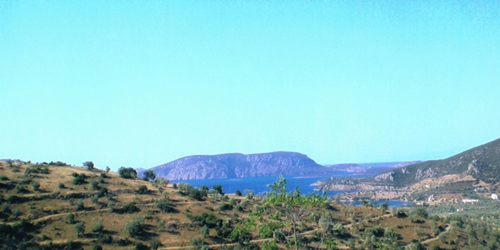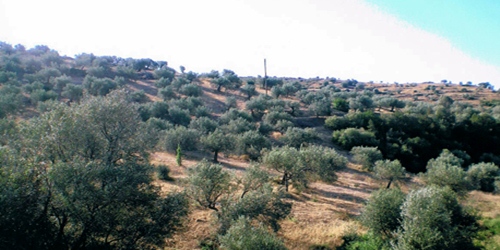 This farm is approximately 40,000 sq mts, and is in the region of Ermioni, and comes with good soil and 300 or more trees and an 80 ft well. There is electricity in the land so it is possible by application to the Electricity company to water every tree. The plot is 1500 metres from the sea with a very good view.
Price : 160,000 Euros Code : OLIVE FARM DK/33
---
An Olive Farm For Sale : Near to Ermioni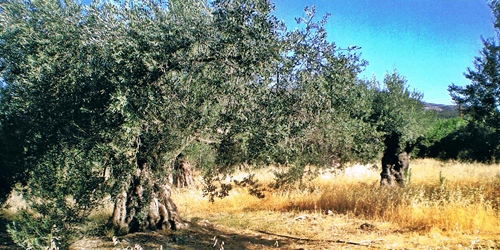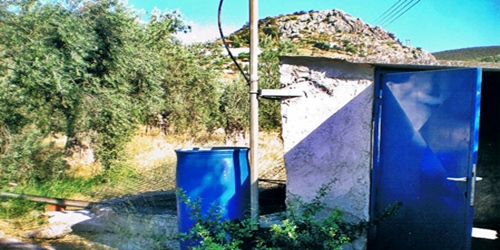 This is an olive farm with good soil and a 10 metre deep water supply with pump with a capacity of 20 cubic metres per hour which supplies all the trees. It is in an area of 22,000 square metres. There are well over 200 olive producing trees.
Price : 160,000 Euros Code : OLIVE FARM DK/18
---
A 1000 Tree Olive Farm For Sale : Near Fourni : Argolidos
This farm is 45,000 sq mts, and is just North of Kranidi, and comes with good soil and 1000 good quality olive trees. Each tree is piped for water and supplied from its own well on the farm.
Price : 250,000 Euros Code : OLIVE FARM DK/45
---
An Olive Farm For Sale : Karakasi : Argolidos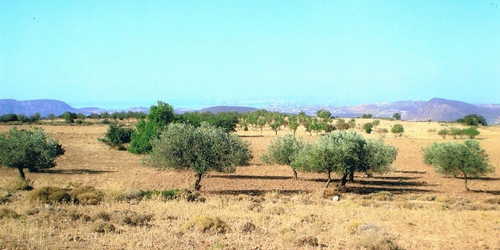 This farm is 45,000 sq mts, and is just North of Kranidi, and comes with good soil and 50 good quality olive trees. and room to plant many more.
Price : 160,000 Euros Code : OLIVE FARM DK/40
---
A Country House For Sale 450 Metres To The Beach : Samos
This country house of 88 sq meters is in surrounding land of approx. 6000 sq meters and is for sale on the island of Samos, It is located only 450 meters from the beach , on the south of the island, and is built in a protected area near the Temple of Hera in between the port of Pythagorio and the fishing village of Ireon.
The house comprises 2 bedrooms, lounge, kitchen, utility room, and is surrounded by agricultural land containing 36 Olive trees with space for planting and growing vegetables or more trees.
There is also a detached garage and small storeroom on the estate suitable for agricultural equipment and tools. Water supply is is from its own well and pumped to the house.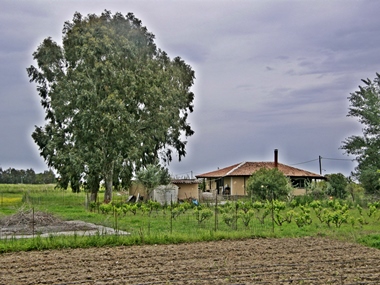 The property is suitable as a summer home or an all year round smallholding farm and is fenced all around. It has an entrance gateway from the road and concrete driveway. The house has mains electricity connected, its own water well with pumped water to the house, its own septic tank and a telephone line is connected. It is sold furnished and with all its appliances.
Price : 150,000 Euros ALL OFFERS CONSIDERED Code : SAMOS DW/010
---
A Farm House For Sale : Between Hora & Mytilene : Samos
Situated In 33 Stremma of Land With 300 Olive Trees a Vegetable Garden and Chicken Pens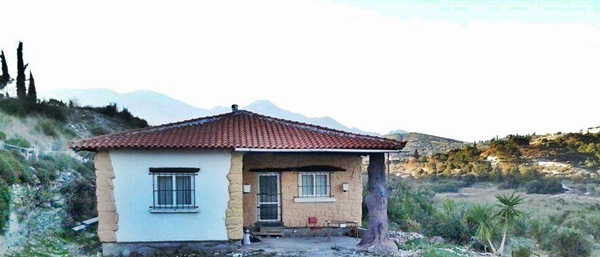 The house is set in the country side with beautiful views. 5 minutes between the towns of Hora and Mytilene, a very central location for heading to either side of the island.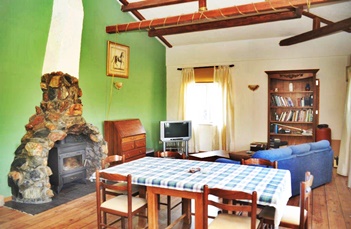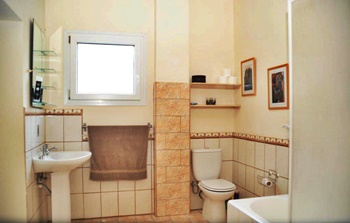 The house has been built by a skilled U.K. tradesman and is 123 square metres, consisting of a large open plan lounge and kitchen. A utility room. 2 large bedrooms. 2 bathrooms( One with bath and shower and one with shower). Fully double glazed UPV sliding white windows, central heating pipes fitted under the floor. Wood stove with connection for solar water heater. There is also roof space storage accessed by a loft ladder.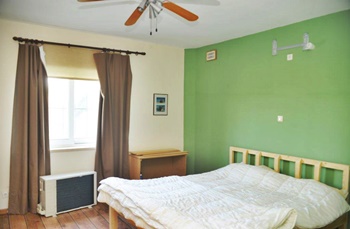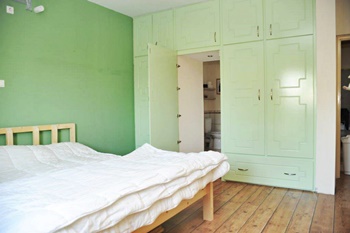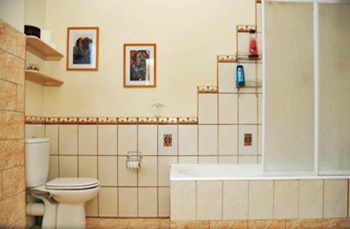 There were plans to have a pool and terrace down the length of the house, but this was never completed.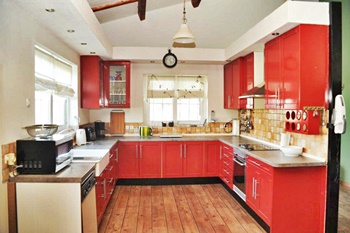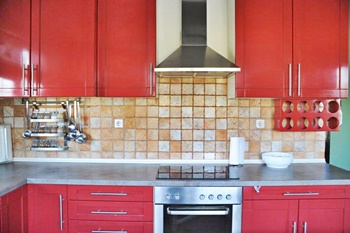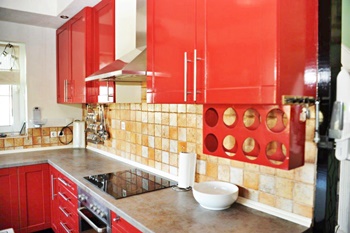 The house and agricultural land are totally fenced in around the 14 stremma. The property covers 33 stremma separated between agricultural and forestry giving scope for another building within the law. The agricultural land is maintained by a more than ample supply of free running water.
The house is being sold well under market value due to reasons of a personal nature.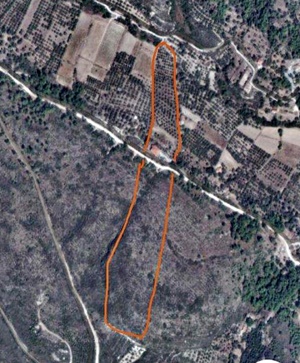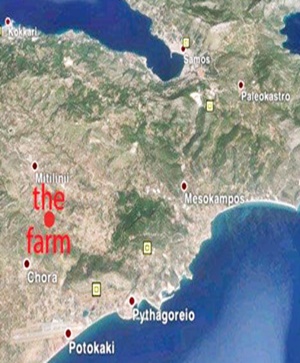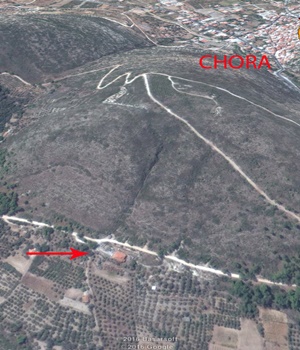 The exact location is 37°42'41.68"N, 26°54'44.86"E and is an excellent bargain at 175,000 Euros.
Behind the house there is a large container for storage, it holds a large collection of tools which will be removed at the time of sale ( Or may be sold to be agreed)
Price : 175,000 Euros Code : SAMOS BZ / 010 A Word Document With Full Details Is Available : Please E Mail Brian. &nbsp:
E Mail Brian.
---