This button is devoted to Bargain Properties where the owner has dropped the price drastically in order to find a buyer. I will give you direct contact with each of the owners.

For an introduction Please E Mail Brian in the first place and ask for BARGAIN PROPERTIES E Mail Brian :- brian@briansgreekproperty.co.uk
---
Visit & View
If you cannot find a property in the lists below, a good way to find your ideal property is to visit and meet my agents and go through their records of many properties to select property to view during your stay. They will be glad to help you find your ideal property. This can easily be arranged. All you need do is to tell me your Confirmed Arrival & Departure dates and your mobile phone number and I will send you a contact E Mail to meet one of my agents, copied to them. On Arrival you will be able to make contact and meet them. I will also send you a helpful Word Document to show you what happens on short visit viewing / buying trips. Just E Mail me if you would like to do that.
---
Plot For Sale Between Areopolis and Pirgos Dirou and Overlooking Diros

Size 55,000 Contains 250 Olive trees 500 metres from the sea, with a private access road. One can build 1200 m2 of housing or 5,000 m2 of Hotel. The land is registered with the National Cadastre.
Price : Code : MANI AK/010
---
A 90 Sq Mt Stone House With Wonderful Views : Dohli : Stavropigio : Kardymyli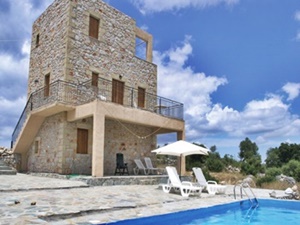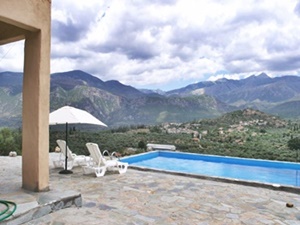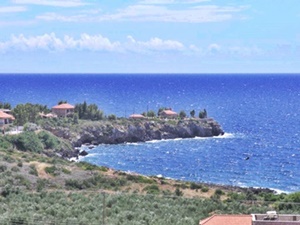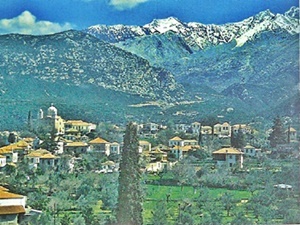 This 90 square metre Stone House is located in a quiet and secluded location within walking distance of the local village and only 5 to 10 minutes to other villages with their full range of amenities.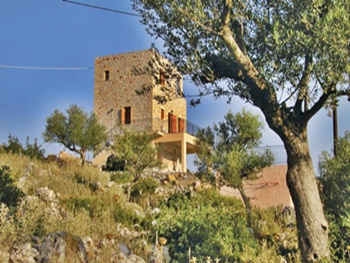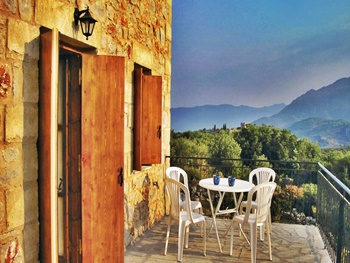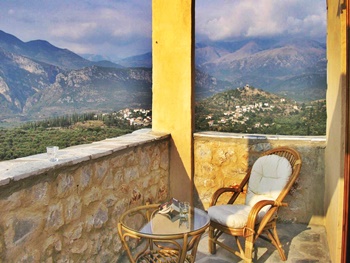 The house is in an elevated position overlooking the local villages with fantastic views of the sea and the bay of Kalamata and the Tayegtos mountains.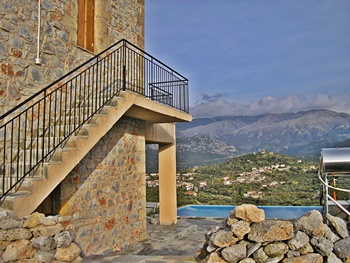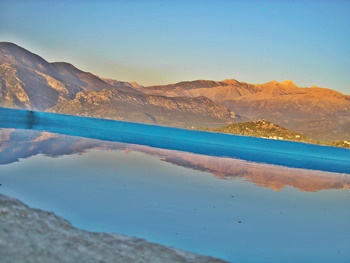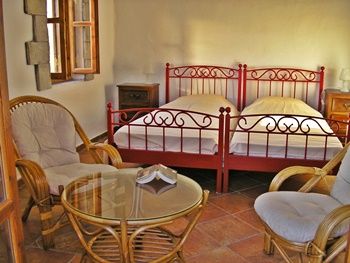 The house is built on 3 levels and on the lower level there are 2 double bedrooms with wardrobes, shower room with toilet and an area for storage and washing machine space.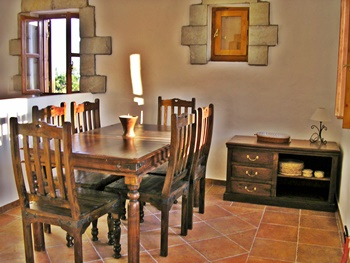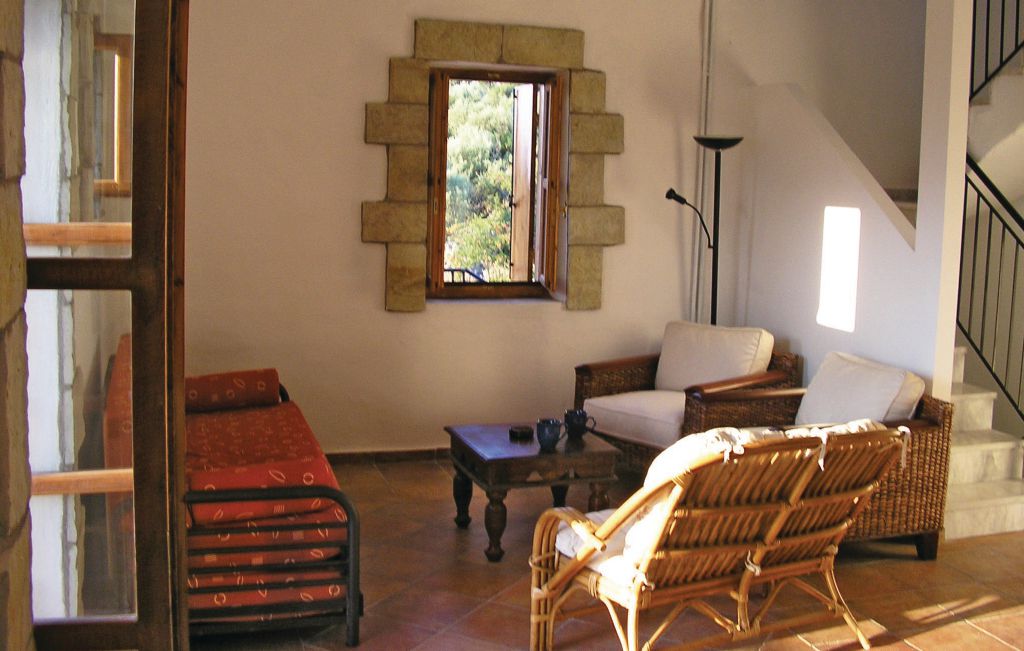 Marble steps take you to the the middle level with a kitchen with fitted units, a dining are and a lounge. The lounge is large enough for a sofa bed if required for a further 2 people. There is Air conditioning with either cold or hot air. There is a wood burning stove in the lounge area for the cooler months of the year. Double doors take you out onto the balcony overlooking the swimming pool which has been updated a year ago and the stunning views.
The upper level consists of a double bedroom with shower room and toilet. Double doors lead out to a large terrace with panoramic views of the whole area. The infinity swimming pool was completely refurbished in 2018.
The house is within an easy drive/walk to the local villages Dohli, Stavropigio or Kambos and the picturesque fishing villages and beaches of Kitries are only 10 minutes away with Kardamyli 15 minutes and the main town of Kalamata just 25 minutes away.
The house due to its special location has provided an income through rentals on average of over 70 days per year during the summer months.
Price : 195,000 Euros REDUCED to 128,000 Or Near Offer Code : KARDYMYLI IDD / 010
---
A Mani Plot In The Mountains With Stunning Views : Flomochori : Mani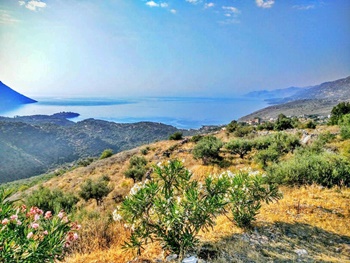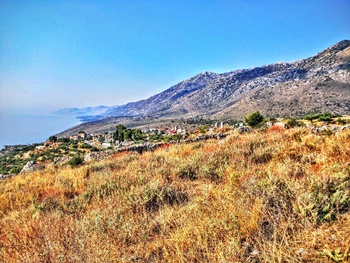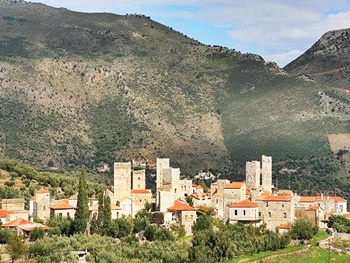 This beautiful plot faces the main road and electricity telephone and water are next door. It is 8.604 Square metres in size.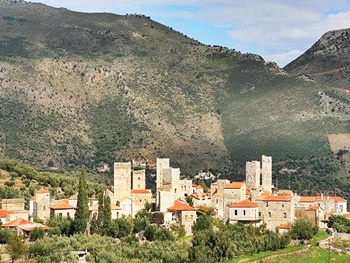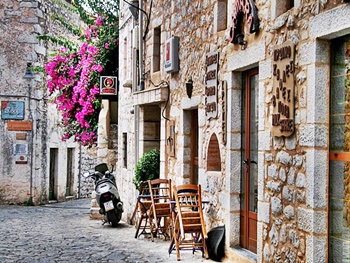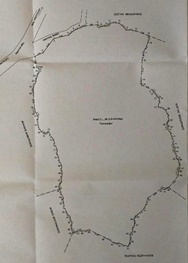 This plot is facing the main road just outside the traditional village of Flomochori and only 5 mins to the village of Kotrona and a 10 minute drive to the beautiful beach of Chalikia and a great base for excursions to the local beaches and traditional / historical villages and fortresses of the Mani as well as the Diros caves Monemvasia castle town and Mistras castle.
Price : 250,000 Euros OFFERS INVITED Code : MANIPLOT / TM010
---
A Two Bedroom House For Sale : Prosilio : Mani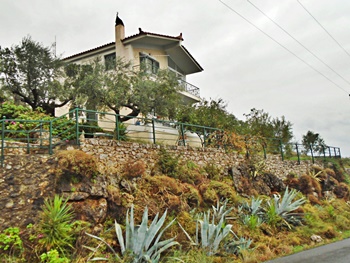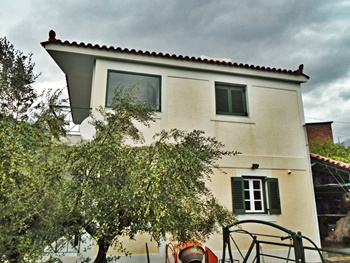 This detached house really does have the most stunning views of both sea and mountains because of it's location. The photographs taken on a rainy day are super so just imagine some with sunshine. Situated just outside the village of Prosilio it is raised from the road which keeps the noise level lower.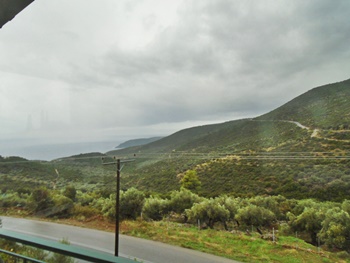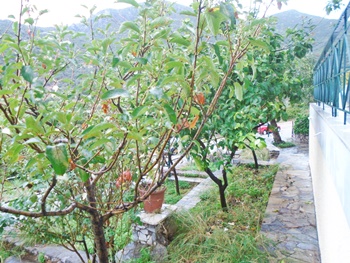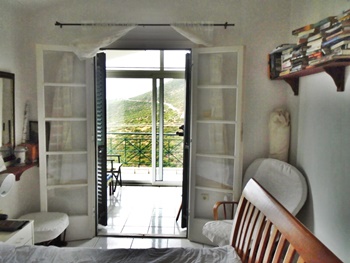 Steps lead to the house and ground floor where you enter the fitted kitchen, dining area and open plan lounge with a lovely fireplace. Directly outside is a covered terrace with a barbecue, just outside the kitchen, so very handy indeed.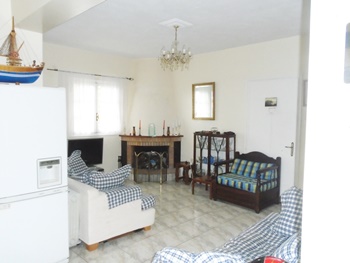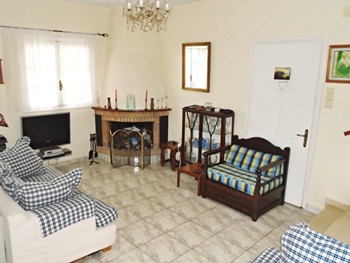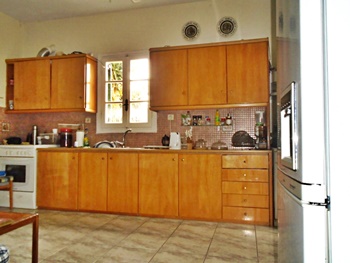 From the other side of the kitchen there is a covered balcony with large glass doors which acts as another room in the winter months so you can eat al-fresco and watch the views. This leads to a smaller open balcony. There is also a toilet on this floor.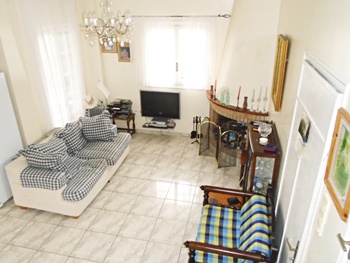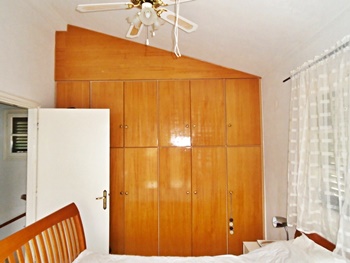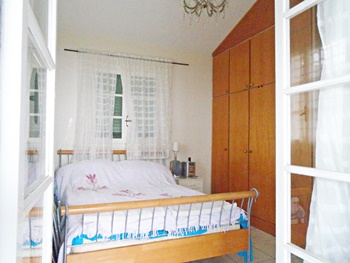 Stairs lead to the first floor where there are two double bedrooms, both with fitted wardrobes and a shared covered balcony, again with large glass doors. The shower room with toilet and wash hand basis is spacious.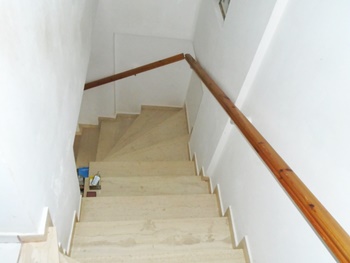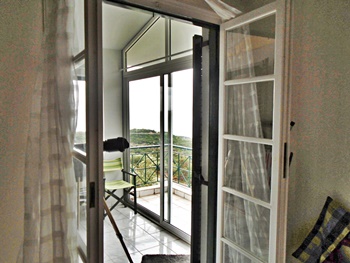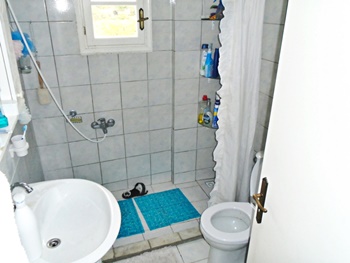 Built in 2000 this house has been very well looked after. The house is 90m2 but feels much larger and it sits in 1800m2 of land. The garden area has lots of different terraces to put tables and chairs according to the heat of the sun so you can eat outside at any time of day. There are over 20 olive trees all in good productive order. The house benefits from wooden shutters, solar for all your hot water and a spare water tank should it be needed. The pipes are also installed ready for central heating.
Features : Bedrooms 2 : House area: 90 sq m : Plot area: 1800 sq : Parking: On Street : Access: Asphalt Road. Mains services all Connected : Fireplace: Yes : Great Sea and Mountain Views : Proximity to Stoupa: 10 kms : Distance to nearest beach: 5 kms
This is a good property offered at very good price.
Price : 175,000 Euros Code : MANI VBDF/334
---
A 2 Bedroom Stone Built For Sale : Lefktro : Stoupa : Mani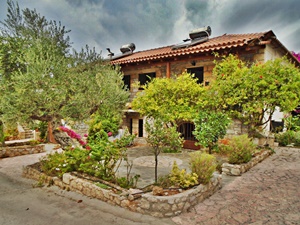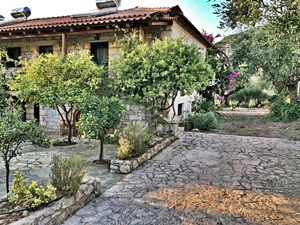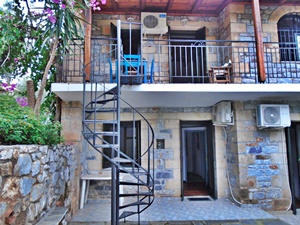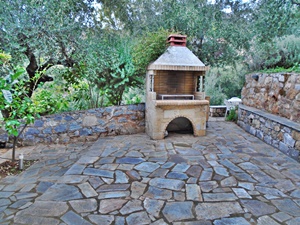 Situated in the area of Lefktro and only 750m from Stoupa sits the most charming and well cared for property. Built in 1992 it has been maintained to an excellent standard.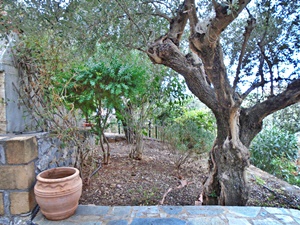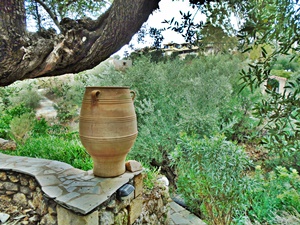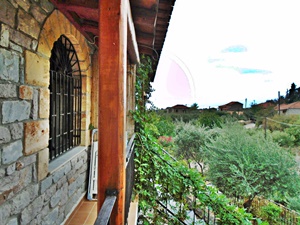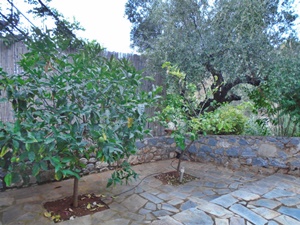 On entering into this delightful house, There is a verandah which looks straight down to the sea and it leads into a gorgeous open plan kitchen and lounge area. The kitchen is fully fitted with lots of cupboard space and it has a large breakfast bar with four stools.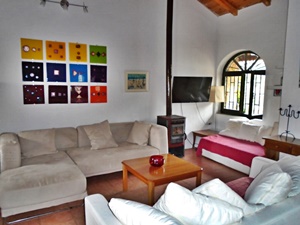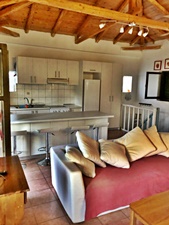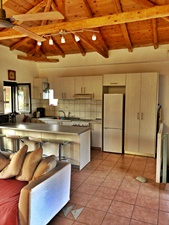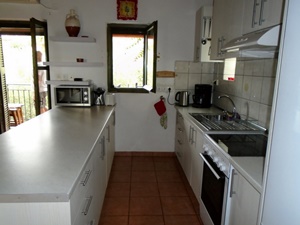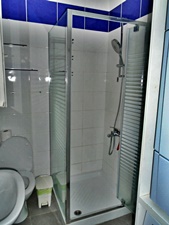 Down the wooden stairs there are two bedrooms. One is a large double bedroom with wardrobes and doors leading to the garden area. The other is smaller but can also be used as a double bedroom, again with doors leading to the garden.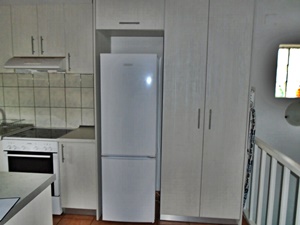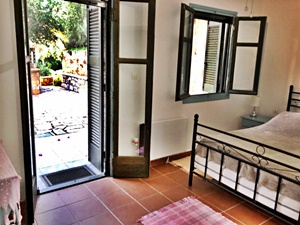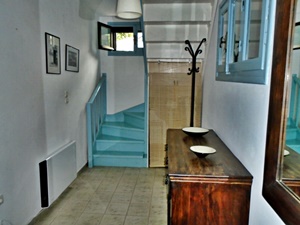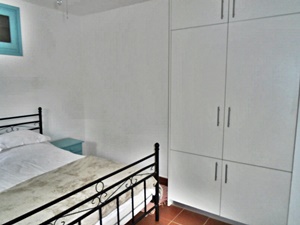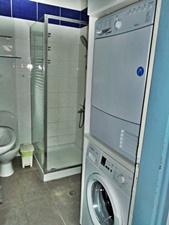 Down the wooden stairs there are two bedrooms. One is a large double bedroom with wardrobes and doors leading to the garden area. The other is smaller but can also be used as a double bedroom, again with doors leading to the garden. The bathroom has a lovely glass shower and it also houses the washing machine and tumble drier. There is air conditioning in both bedrooms and in the lounge area. Every room has a ceiling fan as well. There are electric heaters in the downstairs hall and main bedroom. The wooden shutters are in tip top condition and have mosquito nets. There is solar for all your hot water. There is also the benefit of super speed wi-fi. The garden area is well laid out with a barbecue and seating area on the first level. There is a shady area lower down for those hot summer days and four terraces in all. There are 6 olive trees which have been well looked after, as well as parking for 2 cars.

This great house is offered fully furnished and equipped and is ready to move into immediately. It can be lived in all year round.
House area 75 sq mts : Plot Area 350 sq mts : Access by Asphalt Road : Sea and Mountain views : Proximity to Stoupa only 750 mts : Nearest Beach 850 mts
Price : 168,000 Euros Code : MANI VBDF/331
---
A 3 Bedroom Stone Tower House : Doloi : Mani
This lovely stone tower house sits in an elevated position and has the most amazing views. From all areas you can see the sea and mountains. Is there better place to sit and enjoy that al-fresco meal with a glass of wine?
It is only a short drive to the local villages of Doli, Stavropigio and Kambos which has a full range of necessary amenities and the seaside of Kitries. This charming property is only a 25 minute drive from Kalamata and 15 minutes from the historic village of Kardamyli.
The house itself is set out over three levels. The ground floor offers two bedrooms and a shower room with toilet and it is where the washing machine is located.

Steps lead to the first floor with a fitted kitchen and an open plan dining and lounge area with a wood burner to keep the chill of in the winter months. The French windows take you onto the balcony where, as you can image, the views are fantastic. The second floor is where the master bedroom is with a shower room and toilet and again, doors leading to the balcony. Set in 4,500m2 of land the property is paved around the house and the swimming pool is a great attraction. This could be a lovely family home or an investment property for renting, It is offered at an Excellent price and the present owners are leaving the furniture so it is ready to go.
Features : 3 Bedrooms : House Area 89 sq mts : Plot area : 4500 sq mts : Cement Road Access : All Main Services Connected : Magnificent Views : Nearest Beach 2 kms
Price : 195,000 Euros Reduced To 129,000 Euros Code : MANI VBDF / 306
---
BACK TO

HOME PAGE FORWARD TO

PAGE 2.
E MAIL BRIAN.