This button is devoted to Bargain Properties where the owner has dropped the price drastically in order to find a buyer. I will give you direct contact with each of the owners.

For an introduction Please E Mail Brian in the first place and ask for BARGAIN PROPERTIES E Mail Brian :- brian@briansgreekproperty.co.uk
---
Visit & View
If you cannot find a property in the lists below, a good way to find your ideal property is to visit and meet my agents and go through their records of many properties to select property to view during your stay. They will be glad to help you find your ideal property. This can easily be arranged. All you need do is to tell me your Confirmed Arrival & Departure dates and your mobile phone number and I will send you a contact E Mail to meet one of my agents, copied to them. On Arrival you will be able to make contact and meet them. I will also send you a helpful Word Document to show you what happens on short visit viewing / buying trips. Just E Mail me if you would like to do that.
---
Beautifully Renovated Two Bedroom Stone House Near Gortyn
: Southern Crete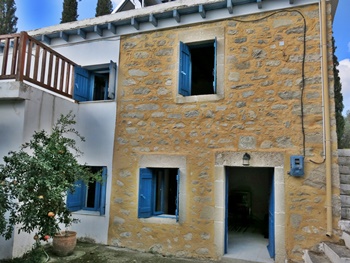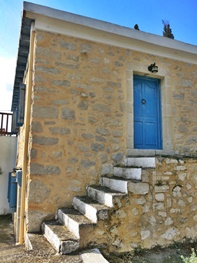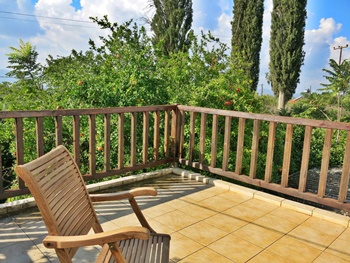 Only 30 Minutes To Matala Beach & Within Walking Distance of Village Taverna and Shop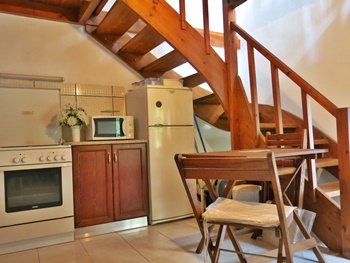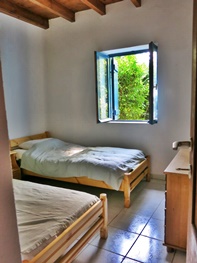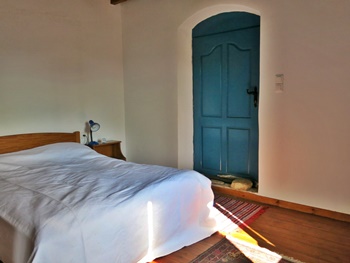 This is a traditional two bedroom stone village house built in 1900 and fully renovated in 2004. Covering two floors of living space approximately 380m2 situated along a quiet lane in a lovely small village.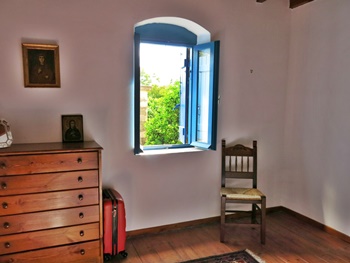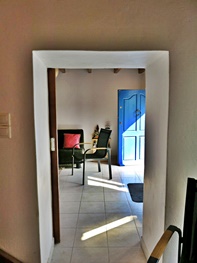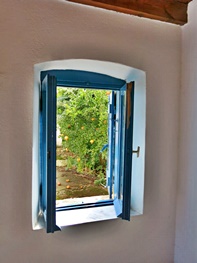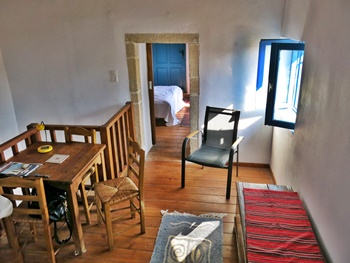 Ground floor : Sitting room : Kitchen with dining area : Tiled bathroom with shower and plumbing point available for a washing machine : One double bedroom with view of garden : Large front terrace with traditional oven : Private garden with stone house for further renovation.
First floor : One double bedroom with stone doorway and traditional wooden door that leads to an external stone staircase : Terrace providing good views over the garden : sitting room/study with wooden staircase.
Garden : The property has a lovely garden with mulberry, orange and pomegranate trees and there is a separate stone house ready for conversion to a guest annexe. : Situated along a quiet village lane there is room for parking at the property.
Terraces : The upper terrace has non slip tiling and allows for views of the village, the Asterousia mountains and the acropolis at Gortyna. There are also attractive views across the quiet village lane and over the private garden area. To the front of the property is a large outdoor space with and old bread oven. This could be a useful area for outdoor entertaining and has a pathway that leads to the rear garden and the stone house for renovation.
Stone house for renovation : To the rear side of the property is a small stone house that requires complete renovation. This could become a separate guest accommodation with three rooms. A quote for renovation is available on request. Additional features : the property comes furnished : phone, TV and satellite connection available in main living area : kitchen with fitted units : shower bathroom with point for washing machine : solar water heater new and replaced 2018
Ambelouzos is a pretty village on the edge of the archaeological site at Gortyna, the Roman capital of Crete. A new museum, a short drive away, will be completed shortly. In the village there is a traditional taverna and a small shop which opens in the evenings. The popular market town of Mires, with supermarkets and a health centre, is a short drive along the main road. Plans for the opening of the new highway will decrease the travel time to Heraklion and the airport, which at present is a 50 minute drive away. Some of the beautiful beaches in the area including Matala, Kalimaki and Kokkinos Pirgos are 30 minutes away. Zaros with a beautiful lake, tavernas and walks is 20 minutes away.
Price : 100,000 Euros Reduced To 85,000 Euros. Code : CRETE LB / SAMB283
---
---
This Is a Village House in Good Condition At The Very Low Price of 78,000 Euros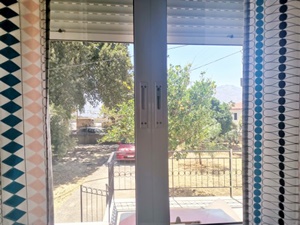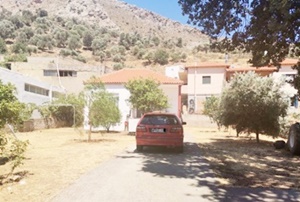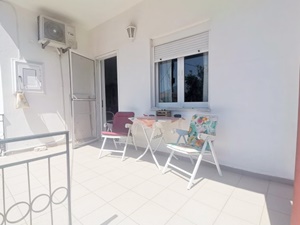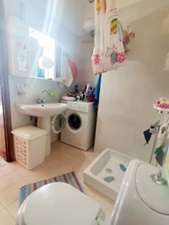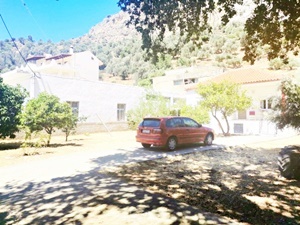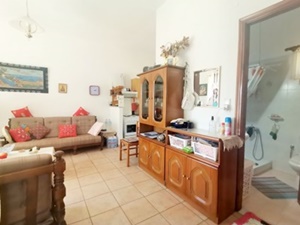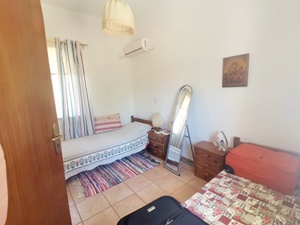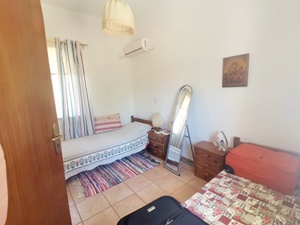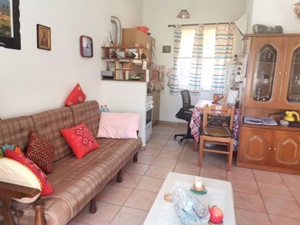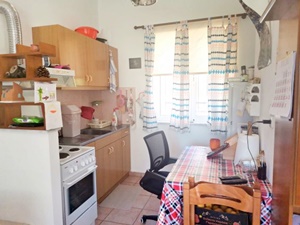 A lovely small one bedroom village house of 45m2 on a plot of 550m2 at the edge of the traditional village of Apodoulou 10klm away from Agia Galini. This property with a very good layout consists of an open plan living area with a large window with a garden view, a full equipped kitchen, a bathroom with a shower, a washing machine, a bedroom with two single beds and two large windows. A lovely veranda in front of the property perfect for outdoor sitting. A very large garden with lemon trees, grapefruit tree, tangerine trees and an olive tree. The advantage of this property is that you can claim more buildings rights as it is located in a traditional settlement. All doors and windows are aluminum, two air-condition units are included and there is a small outdoor storage room under the veranda.
The house is sold furnished and there is an opportunity to buy a car too.
Price : 78,000 Euros This price is negotiable CODE LB/VAPD306
---
A 90 Sq Mt Stone House With Wonderful Views : Dohli : Stavropigio : Kardymyli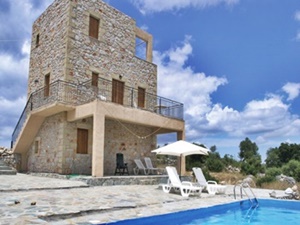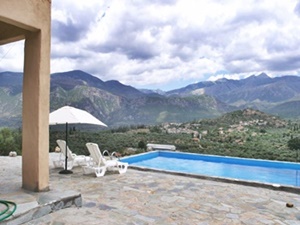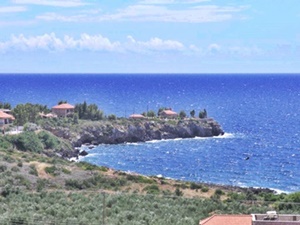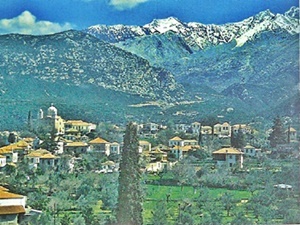 This 90 square metre Stone House is located in a quiet and secluded location within walking distance of the local village and only 5 to 10 minutes to other villages with their full range of amenities.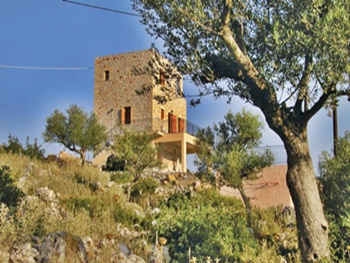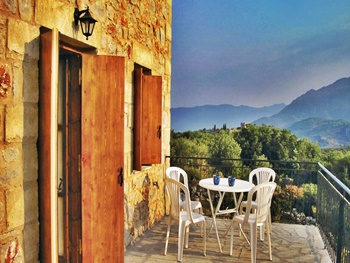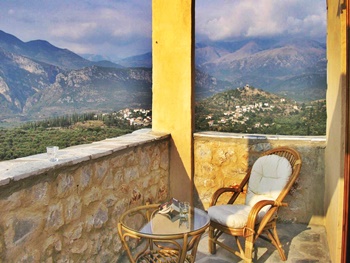 The house is in an elevated position overlooking the local villages with fantastic views of the sea and the bay of Kalamata and the Tayegtos mountains.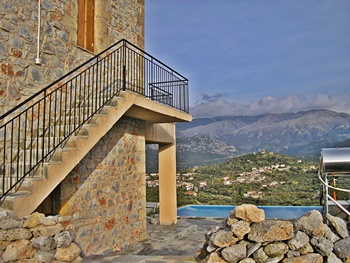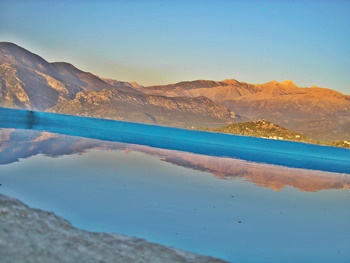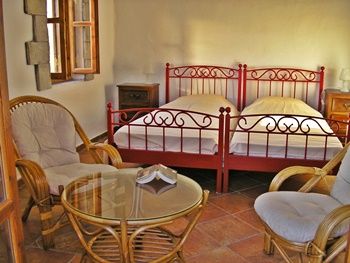 The house is built on 3 levels and on the lower level there are 2 double bedrooms with wardrobes, shower room with toilet and an area for storage and washing machine space.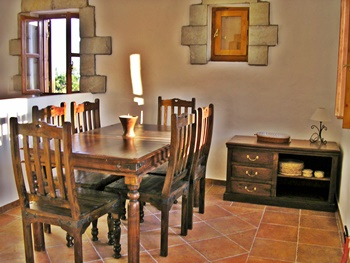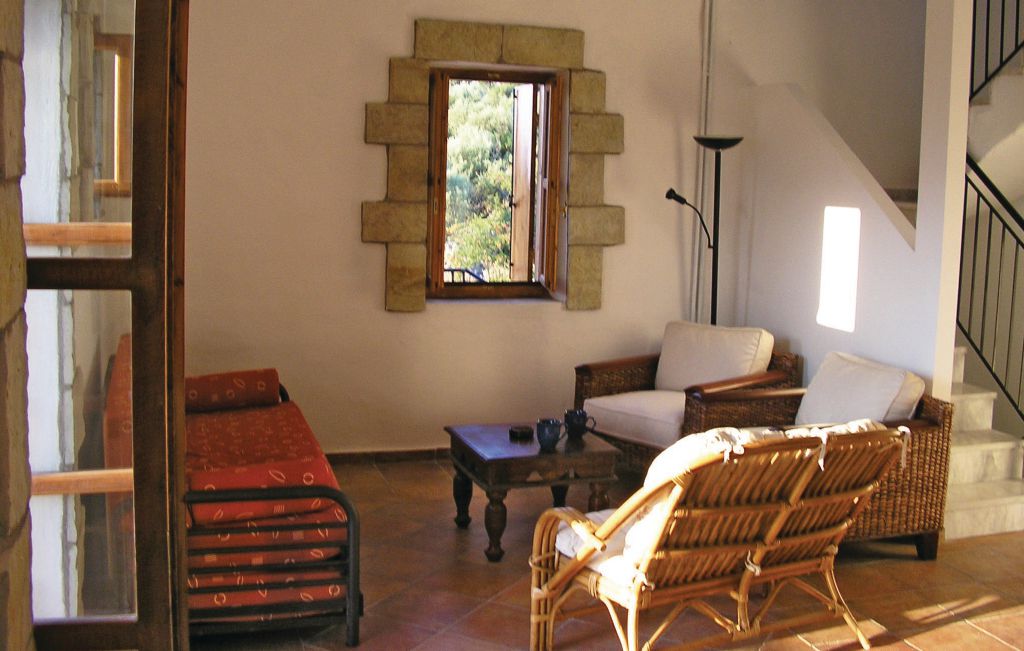 Marble steps take you to the the middle level with a kitchen with fitted units, a dining are and a lounge. The lounge is large enough for a sofa bed if required for a further 2 people. There is Air conditioning with either cold or hot air. There is a wood burning stove in the lounge area for the cooler months of the year. Double doors take you out onto the balcony overlooking the swimming pool which has been updated a year ago and the stunning views.
The upper level consists of a double bedroom with shower room and toilet. Double doors lead out to a large terrace with panoramic views of the whole area. The infinity swimming pool was completely refurbished in 2018.
The house is within an easy drive/walk to the local villages Dohli, Stavropigio or Kambos and the picturesque fishing villages and beaches of Kitries are only 10 minutes away with Kardamyli 15 minutes and the main town of Kalamata just 25 minutes away.
The house due to its special location has provided an income through rentals on average of over 70 days per year during the summer months.
Price : 195,000 Euros REDUCED to 128,000 Or Near Offer Code : KARDYMYLI IDD / 010
---
A Mani Plot In The Mountains With Stunning Views : Flomochori : Mani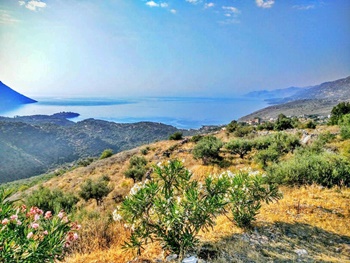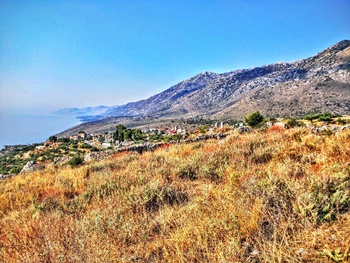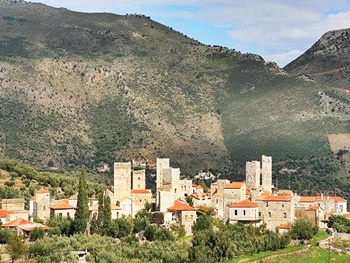 This beautiful plot faces the main road and electricity telephone and water are next door. It is 8.604 Square metres in size.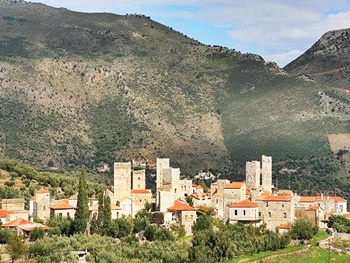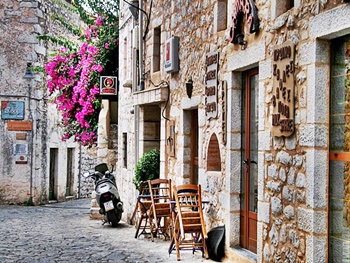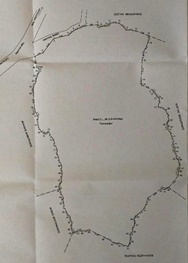 This plot is facing the main road just outside the traditional village of Flomochori and only 5 mins to the village of Kotrona and a 10 minute drive to the beautiful beach of Chalikia and a great base for excursions to the local beaches and traditional / historical villages and fortresses of the Mani as well as the Diros caves Monemvasia castle town and Mistras castle.
Price : 250,000 Euros OFFERS INVITED Code : MANIPLOT / TM010
---
A Two Bedroom House For Sale : Prosilio : Mani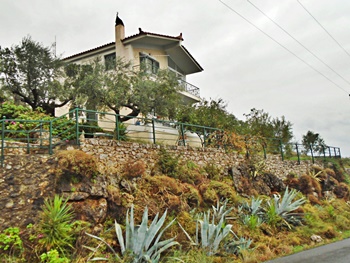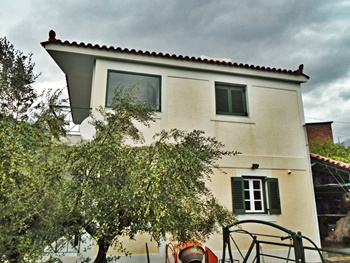 This detached house really does have the most stunning views of both sea and mountains because of it's location. The photographs taken on a rainy day are super so just imagine some with sunshine. Situated just outside the village of Prosilio it is raised from the road which keeps the noise level lower.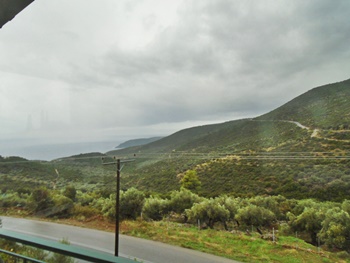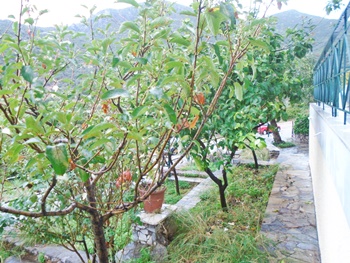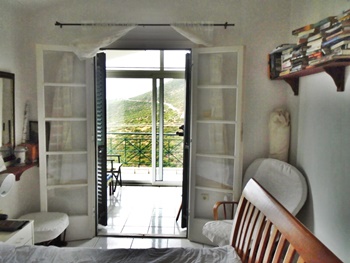 Steps lead to the house and ground floor where you enter the fitted kitchen, dining area and open plan lounge with a lovely fireplace. Directly outside is a covered terrace with a barbecue, just outside the kitchen, so very handy indeed.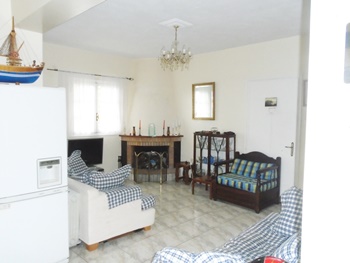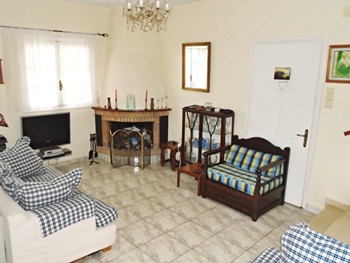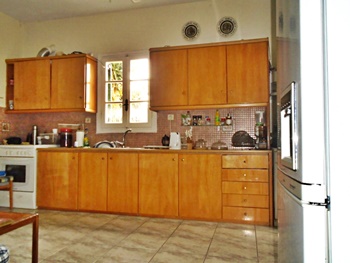 From the other side of the kitchen there is a covered balcony with large glass doors which acts as another room in the winter months so you can eat al-fresco and watch the views. This leads to a smaller open balcony. There is also a toilet on this floor.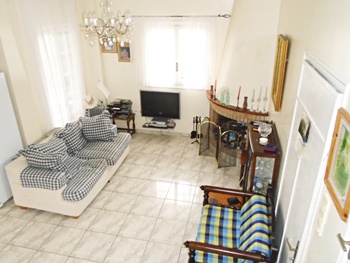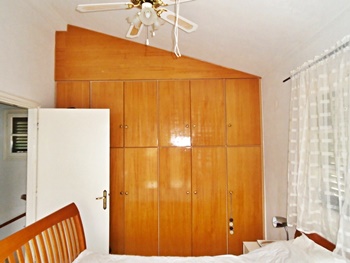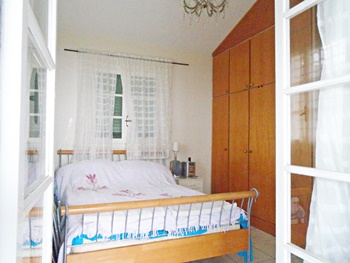 Stairs lead to the first floor where there are two double bedrooms, both with fitted wardrobes and a shared covered balcony, again with large glass doors. The shower room with toilet and wash hand basis is spacious.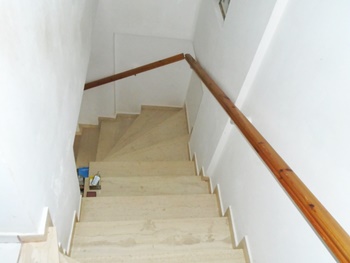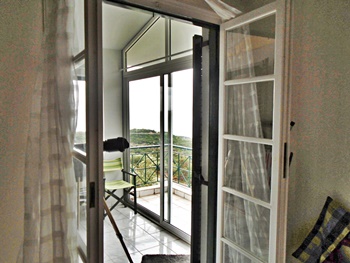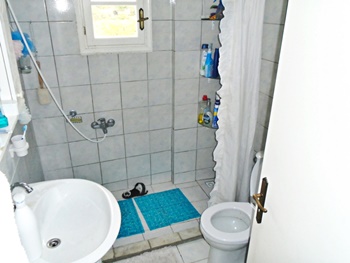 Built in 2000 this house has been very well looked after. The house is 90m2 but feels much larger and it sits in 1800m2 of land. The garden area has lots of different terraces to put tables and chairs according to the heat of the sun so you can eat outside at any time of day. There are over 20 olive trees all in good productive order. The house benefits from wooden shutters, solar for all your hot water and a spare water tank should it be needed. The pipes are also installed ready for central heating.
Features : Bedrooms 2 : House area: 90 sq m : Plot area: 1800 sq : Parking: On Street : Access: Asphalt Road. Mains services all Connected : Fireplace: Yes : Great Sea and Mountain Views : Proximity to Stoupa: 10 kms : Distance to nearest beach: 5 kms
This is a good property offered at very good price.
Price : 175,000 Euros Code : MANI VBDF/334
---
A 2 Bedroom Stone Built For Sale : Lefktro : Stoupa : Mani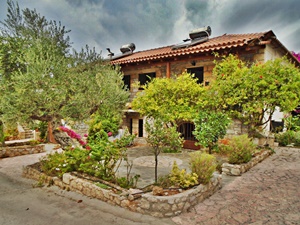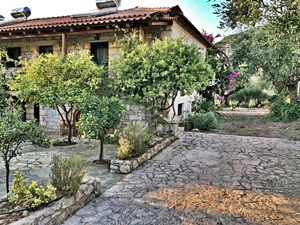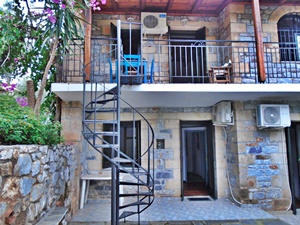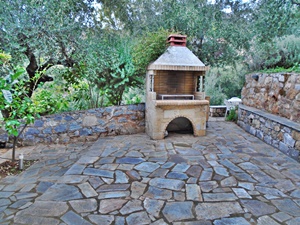 Situated in the area of Lefktro and only 750m from Stoupa sits the most charming and well cared for property. Built in 1992 it has been maintained to an excellent standard.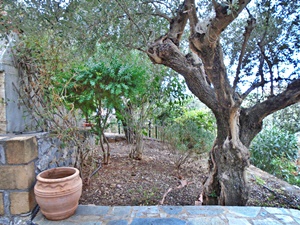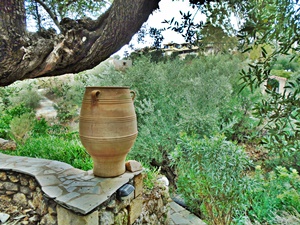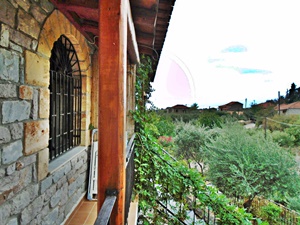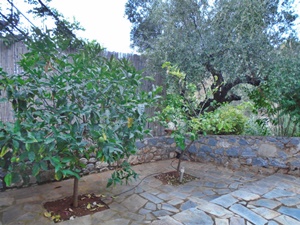 On entering into this delightful house, There is a verandah which looks straight down to the sea and it leads into a gorgeous open plan kitchen and lounge area. The kitchen is fully fitted with lots of cupboard space and it has a large breakfast bar with four stools.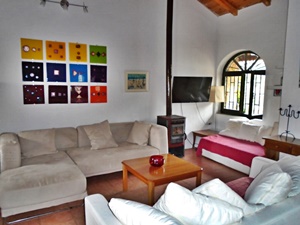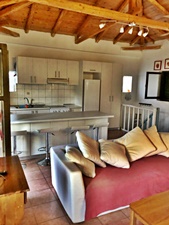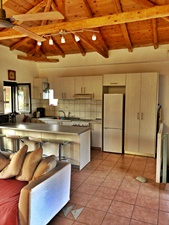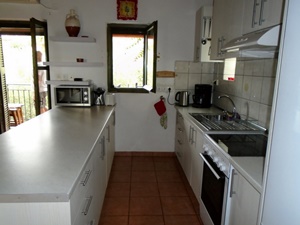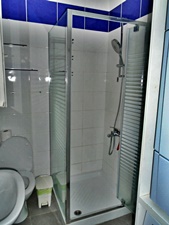 Down the wooden stairs there are two bedrooms. One is a large double bedroom with wardrobes and doors leading to the garden area. The other is smaller but can also be used as a double bedroom, again with doors leading to the garden.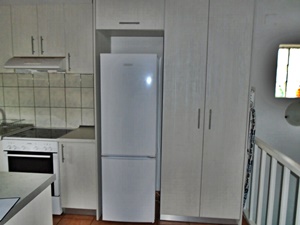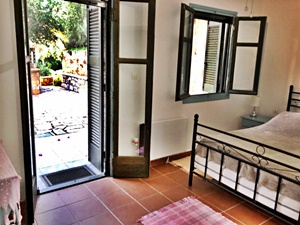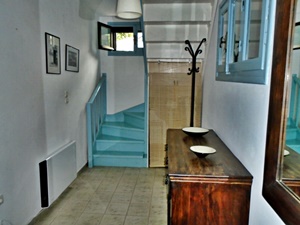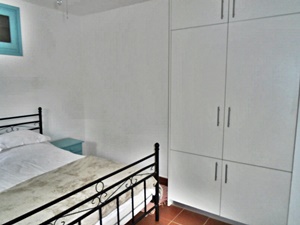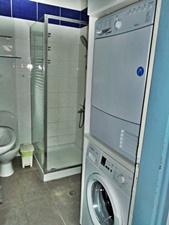 Down the wooden stairs there are two bedrooms. One is a large double bedroom with wardrobes and doors leading to the garden area. The other is smaller but can also be used as a double bedroom, again with doors leading to the garden. The bathroom has a lovely glass shower and it also houses the washing machine and tumble drier. There is air conditioning in both bedrooms and in the lounge area. Every room has a ceiling fan as well. There are electric heaters in the downstairs hall and main bedroom. The wooden shutters are in tip top condition and have mosquito nets. There is solar for all your hot water. There is also the benefit of super speed wi-fi. The garden area is well laid out with a barbecue and seating area on the first level. There is a shady area lower down for those hot summer days and four terraces in all. There are 6 olive trees which have been well looked after, as well as parking for 2 cars.

This great house is offered fully furnished and equipped and is ready to move into immediately. It can be lived in all year round.
House area 75 sq mts : Plot Area 350 sq mts : Access by Asphalt Road : Sea and Mountain views : Proximity to Stoupa only 750 mts : Nearest Beach 850 mts
Price : 168,000 Euros Code : MANI VBDF/331
---
A Beautifully Restored 3 Bedroom Village House With Garden For Sale : Mourne : Southern Crete
This is a restored stone house (250 years old) measuring 154m2 with a large walled and secluded courtyard of approximately 80m2 and upstairs terraces of over 30m2.
The house comes fully furnished and has retained many of the original features, including thick stone walls, some exposed stonework, a stone archway and vaulted ceilings finished with attractive wood and beams
Situated at the top edge of the popular village in Mourne this spacious and comfortable three bedroom detached stone property is just 3kms from Spili and 25-40 minutes drive from the many glorious beaches stretching along the south coast, from Agias Galini To Plakias and along the coast to Rodikano. The mountains of Kedros and Psiloritis and the beautiful Amari valley are also nearby.
A traditional stone archway leads into a beautiful courtyard, which is paved with the local dark green and grey flagstones and has two large walnut trees as a shady backdrop to this wonderful outdoor living area. This three bedroom property is in excellent condition and has been fully restored and well maintained with further improvements added in 2017, including a new roof, new guttering and pipe work for improved water management, a new 160 litre water tank and solar panel, and a new 1,000 litre oil tanks. The exterior of the house is also newly painted. The house has been arranged so that the second and third bedrooms (with their ensuite bathroom) can be let as a self-contained suite of rooms with independent access and enables the owners to offer B&B, if desired. Equally, with the relevant permits, the house could be offered in its entirety as a holiday rental or could be a wonderful year-round living home.
The indoor living space on the lower level comprises : large lounge (32m2) with fireplace and picture window, large new TV and hi-fi, separate large kitchen-dining area (30m2) a guest toilet, shower room and laundry area with washing machine, a bright sunny kitchen which comes fully fitted, including dishwasher, gas cooking hob, multi-function microwave oven and large fridge-freezer unit
On the upper level : there are 3 large spacious bedrooms with vaulted ceilings and plenty of wardrobe space, 2 of the 3 bedrooms have air-conditioning, a full bathroom/ensuite for master bedroom new ensuite bathroom installed between bedrooms 2 and 3, access to roof terrace, loft storage space
There are beautiful country and mountain views from the lounge, the bedrooms and the upstairs terrace. There is easy access to the internal courtyard and there is both an internal and external staircase to connect the two levels of the property. The house has full oil-fired central heating in addition to the open fire and currently has a telephone landline and good broadband service. The village of Mourne is small and popular with a varied International community. It hosts regular open air music festivals and has a pleasant social atmosphere. A Kafenion taverna and pop-up taverna in Mourne are within a very easy walking distance.
Price : 185,000 Euros Reduced To 165,000 Very Good Value Code : CRETE LB/SM176
---
For Sale A Newly Built Maisonette : Alepou : Corfu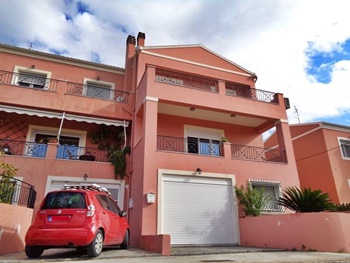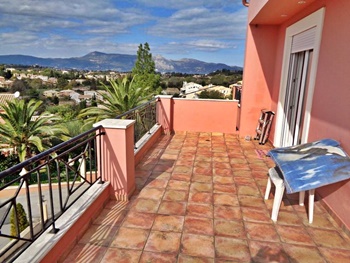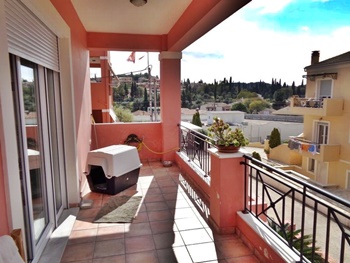 FOR SALE: Luxury, newly built (built in 2007) maisonette of 128sqm, located in Alepou, near the church of Panagia Odigitria.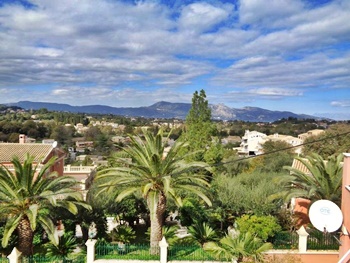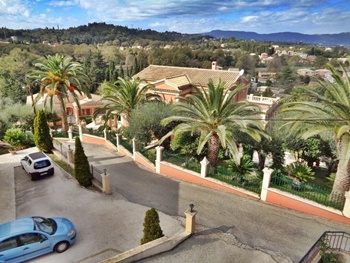 On the 1st floor there is a spacious living room with fireplace, large kitchen with many built-in cupboards and all electrical appliances (fridge, oven, and absorber) as well as a WC with shower. From the living room there is a large terrace overlooking the wider area.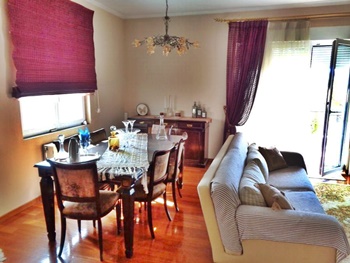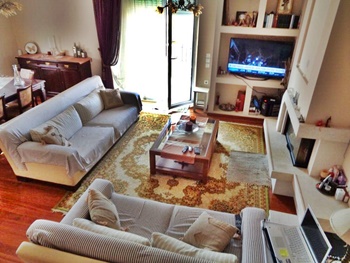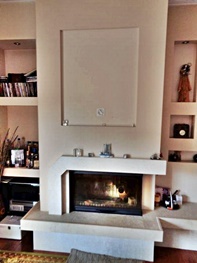 On the 2nd floor there are 3 bedrooms (1 master), each with its own balcony overlooking the wider area and the sea in Alykes.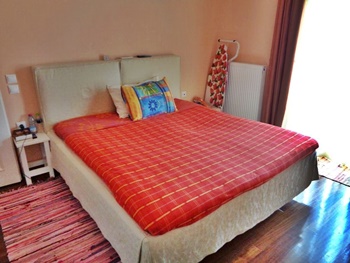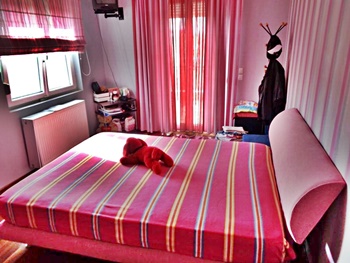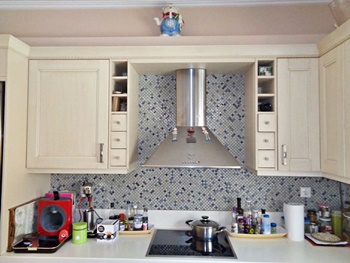 The house has autonomous heating with oil as well as 4 air conditioners in total (1 in the living room and 1 in each of the 3 bedrooms), aluminium windows with triple glazing & screens in the windows & balcony doors, alarm system and reverse osmosis system & water desalination .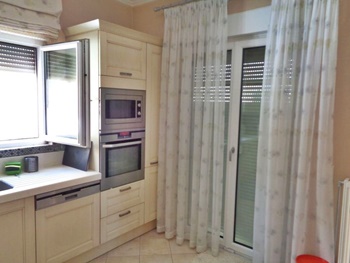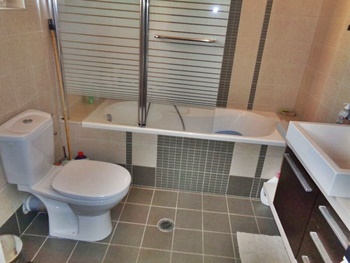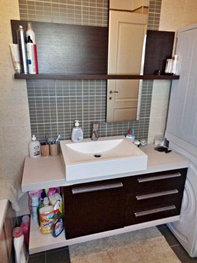 At the back of the house there is a private garden of 200sq.m as well as BBQ-barbecue and 1 parking space.
The property is just 100 meters from a supermarket & bus stop, 500 meters from a primary school (Kanalia area) and just 2.5 kilometers from the city center.
It is generally in perfect condition and provides all the modern comforts for a comfortable living.
Price : 340,000 Euros : Reduced 260,000 Euros Code CORFU CA/8371342
---
BACK TO

HOME PAGE FORWARD TO

PAGE 2.
E MAIL BRIAN.