---
Greek Mainland Properties For Sale
Athens : Glyfada : Galaxidi : Antikira : Viotas : Marathon : Voula : Metoxi : Drafi : Rafina : Artemida : Markopoulo : Katerini Leptokaria Pierias Theologos : Vouliagmeni : Amfissa and Property Lying North of The Gulf Of Corinth : Parnassos

Aegean Airlines have 3 daily each way flights From London Heathrow to Athens, and now fly from Manchester.


Easy Jet Fly Gatwick to Athens.

Scroll Down To See The Property.

---
A 5th Floor Studio Penthouse Located In Central Athens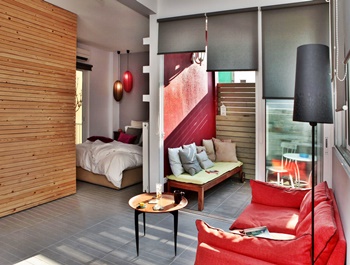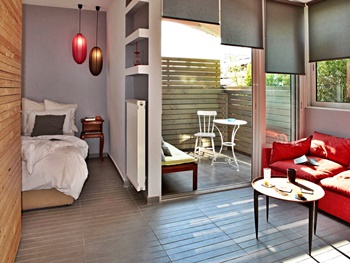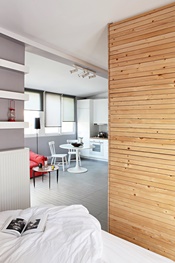 This is an extremely well appointed studio penthouse, in the 5th floor of a brand new renovation, located in central Athens with incredible feeling of light and space.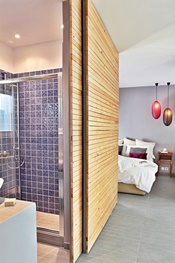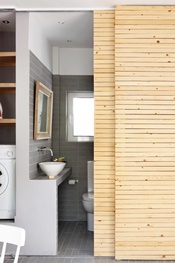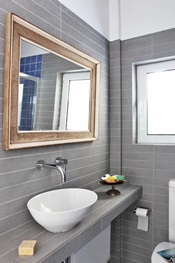 It is situated in a very quiet small building. Central Athens.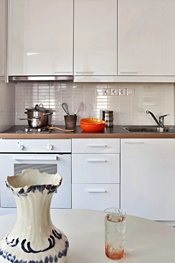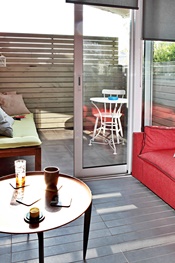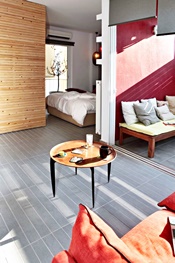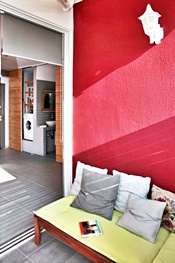 The apartment is fully equipped. with furniture, washing machine, ironing, air conditioning, TV, and has an open plan living room with sofa, occasional seating and access to private small terrace . There is a fully equipped brand new kitchen. Fully tiled, brand new bathroom with shower, toilet and vanity. Night electricity for economy, solar water heating. One large double bed, 100% cotton sheets and quality pillows and mattress. The studio has been photographed for ELLE Deco Magazine as one of the best studios in Athens. For sale with the whole equipment and furniture as shown in the pictures for 105.000€
Price : 105,000 Euros Code Number : ATHENS YN2/010
---
A Parnassus Mansion With 3 Independent Apartments : Parnassus : Central Greece Mainland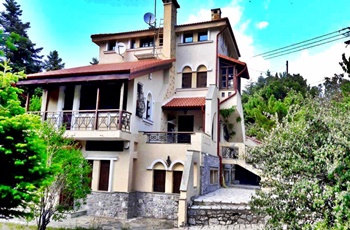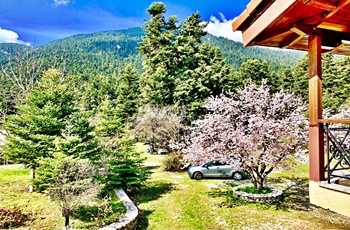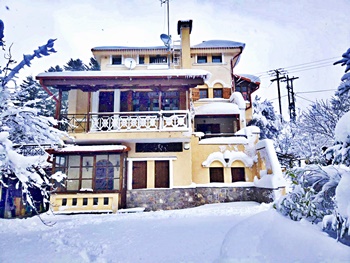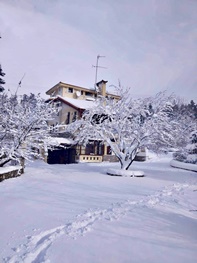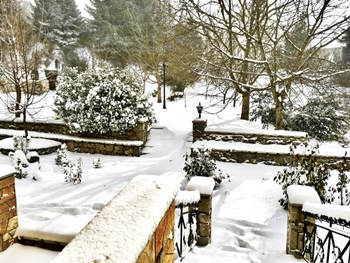 This beautiful property is located in Mount Parnassus 8 kms outside of Arachova on the road to the famous ski resorts with fabulous mountain views.
Mount Parnassus is a mountain of limestone in central Greece that towers above Delphi, north of the Gulf of Corinth, and offers scenic views of the surrounding olive groves and countryside.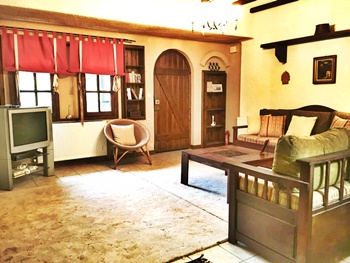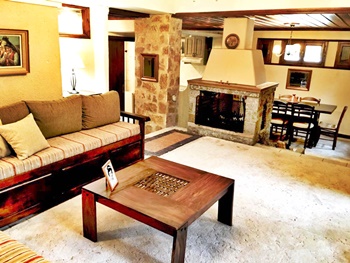 The mansion consists of 3 independent properties. The apartments are all fully equipped and have autonomous heating with LPG, hot water with boiler and fireplace.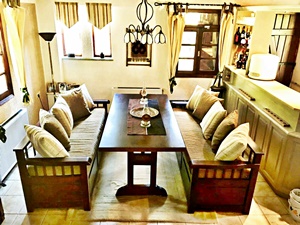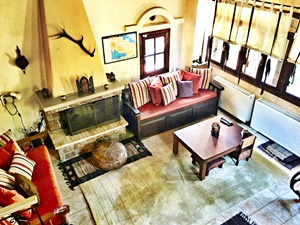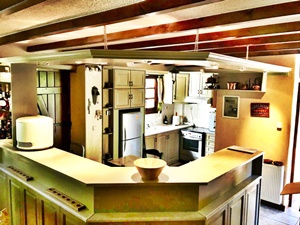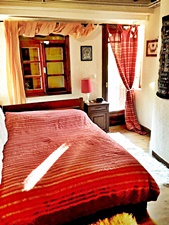 Wooden rustic designs decorate the interiors of the apartments in both ceilings and other places. The external and internal window / door frames are all wood.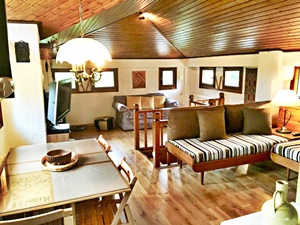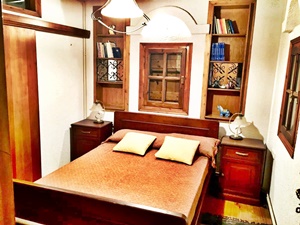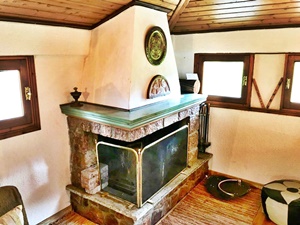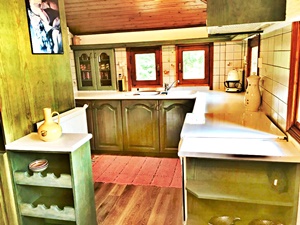 The plot is in an area of 1.23 acres and the house is 235 sq mts. Built in 1984 it is in good condition and regularly maintained . The plot is fenced and the entrance is stone built with double iron gates. Inside and outside of the plot there is rich vegetation with fir trees. The garden has almost 450 trees and plants of unique natural beauty. In the grounds are many charming natural stone built walls and paved terraces in covered areas as well as around the plot. The garden is illuminated and features an automatic watering system.
Price : 765,000 Euros Code Number : PARNASSOS GA/010
---
A Classical Preserved Town House : Amfissa : Central Greece Mainland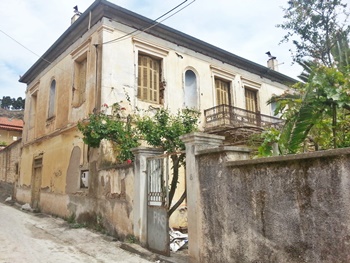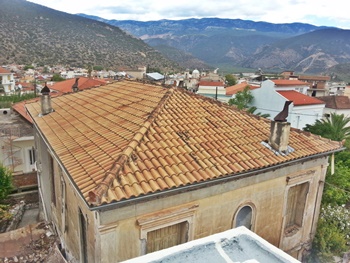 This is a two storey detached house that has been preserved but needs slightly more repairs. The upper floor and roof have been refurbished.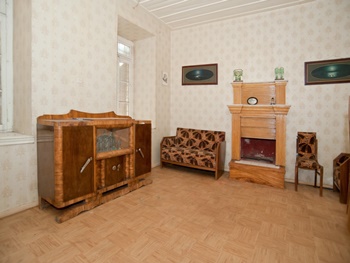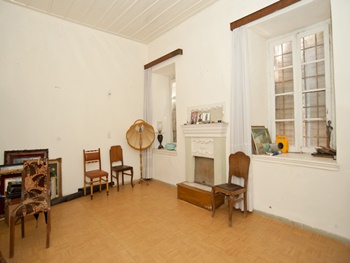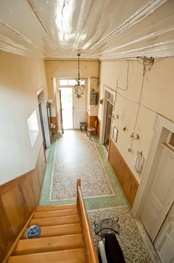 It has a stone paved courtyard and sits in a 400 square metre plot in Amfissia in Central Greece. The sea shore is within 13 klms and it is only 25 km to Delphi.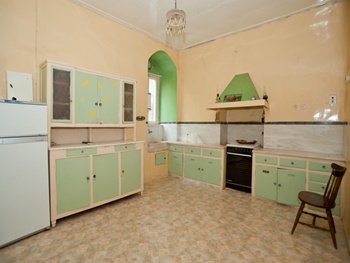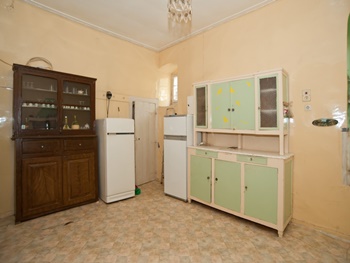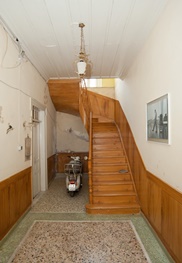 The ground floor has a wide entrance corridor leading to an Internal wooden staircase to the upper floor.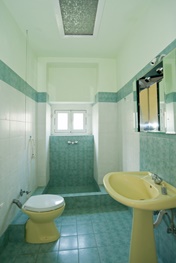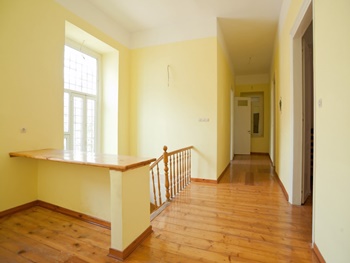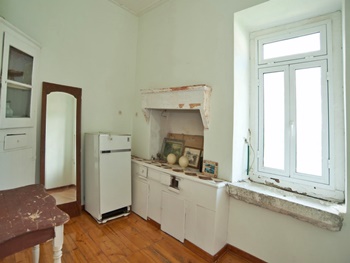 There are 2 big rooms either side ( kitchen and kitchen hall with a fireplace on one side and living room with fireplace and storage room on the other. On the first floor are Four big bedrooms, a small kitchen and a bathroom.
Amfissa is the capital of the Prefecture of Fokida is built in the place of the ancient and well fortified town inhabited by the Esperians or the Ozolian Locrians. It is built at the foothill of Elatos mountain under the historical and legendary great Castle of Salona (Orgia). During the 7th century B.C. Amfissa became a city-state, marked major progress in arts and trade and remained prosperous for at least three centuries.
Price : 220,000 Euros Or Near Offer Code Number : AMFISSA PM / 010
---
A Beautiful Plot Close To Athens : Thelogos Malesina : Mainland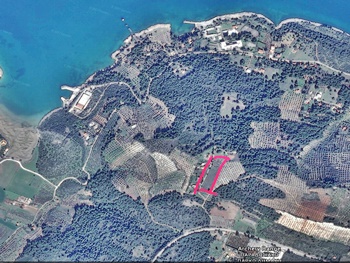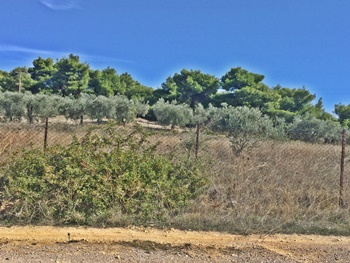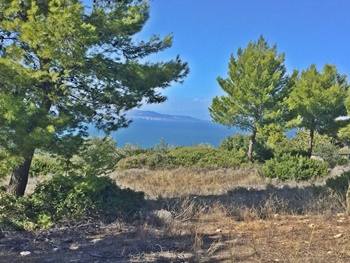 This plot is situated close to Athens, the Airport is only 1 1/4 hours drive and has panoramic views of the sea and distant islands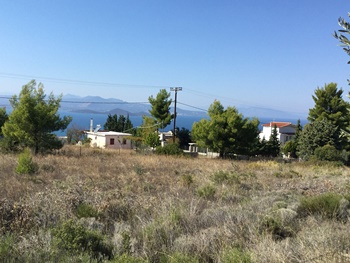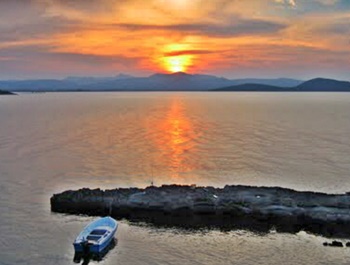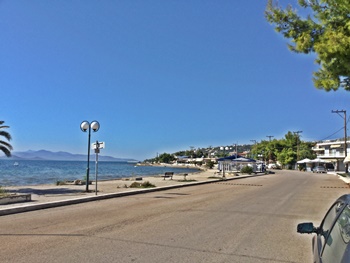 It is a unique building plot of 5,700 square metres, a regular shape on a sloping hill with panoramic views to the sea and distant islands. It offers privacy yet is only minutes from the beautiful harbour of Theologos with shops, tavernas and secluded beaches.
There is planning for a 360 square metre villa or 3 maisonettes, with clear titles and all utilities.
Price : 195,000 Euros Or Near Offer Code Number : ATHENS PLOT / THEO / TCHB
---
A Lovely 2 Bedroom Apartment In Athens For Sale : Central Athens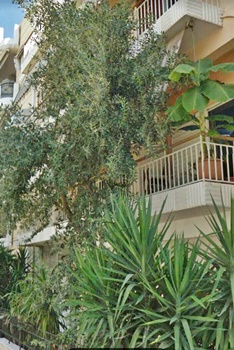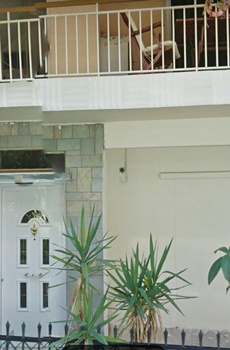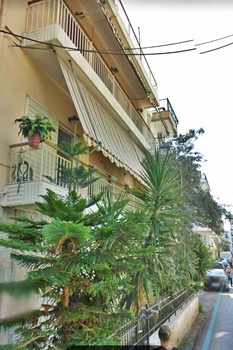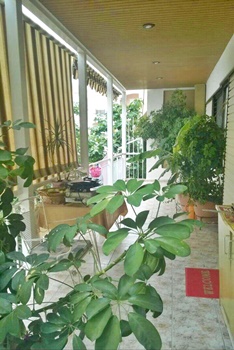 This is a first floor 2 bedroom apartment situated only 4 miles from central Athens 7 miles from the sea and 14 miles from the airport.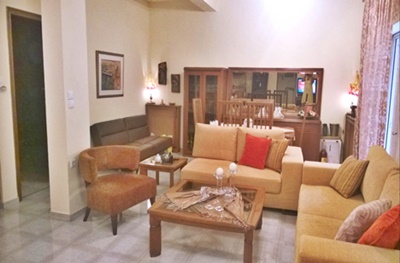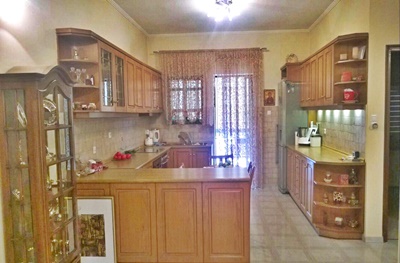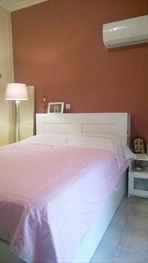 The apartment is 100 square metres and was totally refurbished in 2012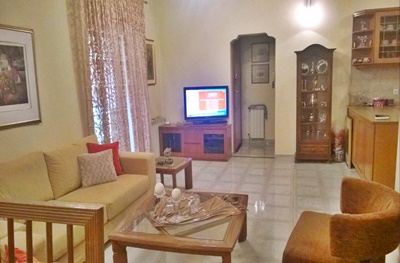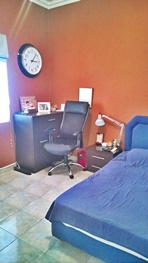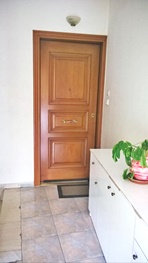 Local transportation is is only 50 metres distance and the local market is 0.8 miles. Spacious bright and modern with two big verandas on both side of the building. There is central heating and it is close to local restaurants and bars but also close to the biggest park in Athens ( Tristi Park ) It is in a quiet neighbourhood in a fantastic location. To be sold fully furnished.
Price : 150,000 Euros Code Number : ATHENS SK/010 NEW
---
A Superb Four Bedroom House With Pool And Garden For Sale : Ag Marina : Athens
The house is located in the urbanisation of Agia Marina, Koropi Next to the Mediterranean Sea : The beach is 10 minutes walk (3 minutes drive) from the house and has coffee shops, sailing school, restaurants in the vicinity : The centre of Athens can be reached by car, bus or tram approx. 45 minutes : A drive along the fantastic coastline of Greece to the Worl>nutes, or as long as you like. : By car to Athens International Airport is less than 20 minutes drive from the house.
The house was constructed in 2000 on a plot size of 910 square metres, comprising of three levels with the ground and lower level each of 140 sq metres. The top floor is 70 sq metres.
The middle level with main entrance door has a large lobby area with open plan lounge (30 sqm) with 4 metres high wood ceiling.
The kitchen (6 ring cooker + 2 ovens) and dinning area are on this level together with the Master bedroom which has an en suit plus walk in wardrobe. A guest washroom and large balcony with a view across the valley complete this level.
The lounge has a fire place fitted with a log effect gas fire, although this could be modified to a conventional wood burning fire.
There are wood stairs leading to the upper level with 3 double size bedrooms with built in wardrobes. There are mosquitoes screens in all windows, 1 family bathroom with bath tub and 1 WC are also on the top level. An internal wooden stair case leads down to lower level with 140 sq metres of multi-function area with direct access to the private garden.
The garden size is approx. 700 sq metres with mature trees, fruit trees, shrubs, herbs, and flowering plants. There is a good size wooden shed for all necessary garden tools. An aviary area designated for wild birds and a small pond. There is a swimming pool 7m x 5m x 1.2m depth with liner. Also next to the pool is a deck area with covered bar, WC and changing room. The side of the house has parking for 3 cars with covered car port manufactured in Japan. There is a House alarm system fitted, and the house is in a good and friendly neighbourhood.
Agia Marina is a small urbanisation which is very well placed for Athens International Airport and Athens centre, yet maintains a very laid-back atmosphere. The larger towns of Glyfada and Palieo Faliro are close at hand, however, within 5 minutes walk from the house there are 2 supermarkets, 2 bakeries, pharmacy, dry cleaner, DIY store, butcher, convenience stores, eateries (pizzas & souvalakis), coffee shops, gas station, veterinary practice, children doctor, dance studio and a Saturday market selling fresh fruit, vegetables, fish and household items on every Saturday.
Price : 590,000 Euros OR OFFERS CONSIDERED Code Number : ATHENS APC/010
---
A 6 Year Old : 4 Bedroom House On The Coast : Artemida : Attica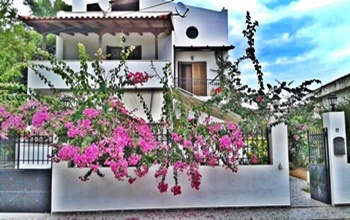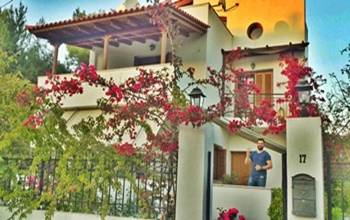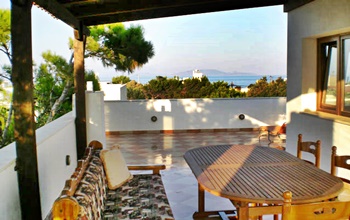 This Villa is located in a quiet area of Artemis (Artemida), close to a sandy beach.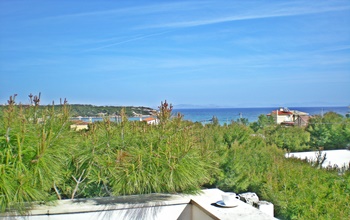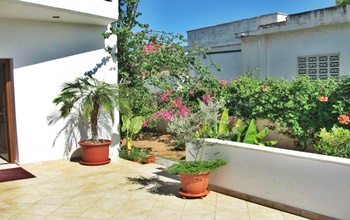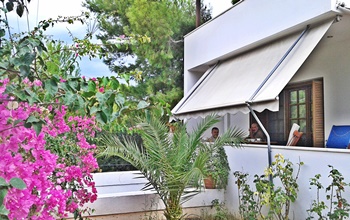 The villa is built on three floors. One underground one floor level, one upper level and an attic.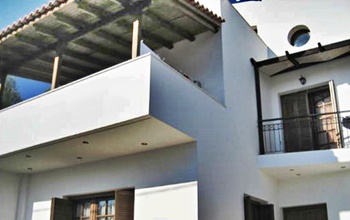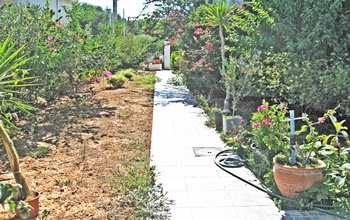 The villa has 3 bedrooms as well as a fourth in an attic room. The built area of the house is 270 square metres.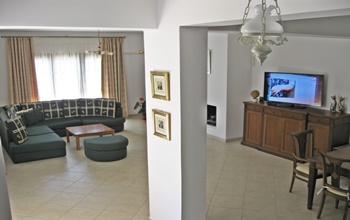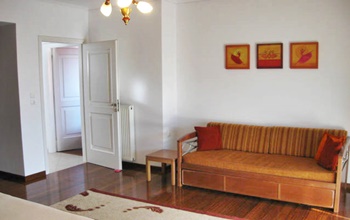 There is a fully fitted kitchen : 2 Toilets and a bathroom. Everything is of high quality.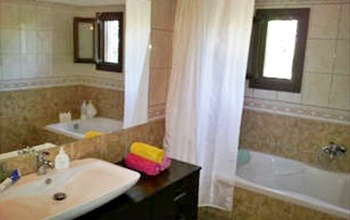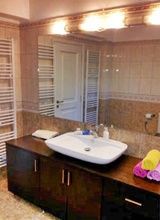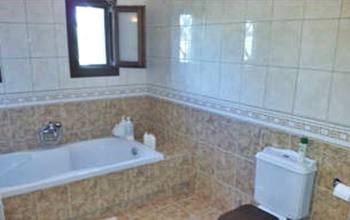 The well laid out garden has Lemon 7 Peach trees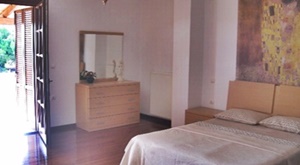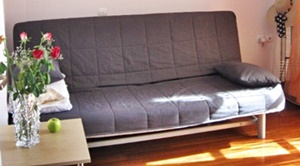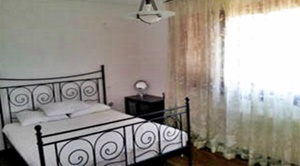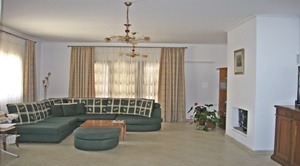 The House is ideally situated between Athens International Airport and Rafina port. A small neighbourhood beach is 2 minutes walking distance.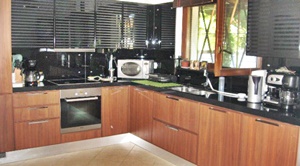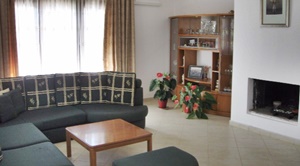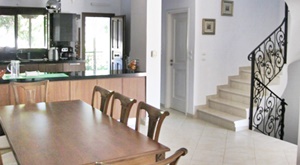 Artemida is located on the Aegean Sea coast, in the eastern part of the Attica peninsula. It lies 5 km south of Rafina, 9 km north of Porto Rafti and

25 km east of Athens city centre

and 20' drive to the Athens International Airport.

Artemida is the closest clean Sea/Beaches to Athens.

It's well known to Athenians. A 95% of visitors at summer time is Greeks and 5% tourists from the rest world. The town is also famous for: Fish Taverns, Grille house's, Café/Bars on the beach and for water sports activities like Windsurfing & Kitesurf. In Ag.Nikolaos area is the best know for water sports worldwide club "Nissakia". Many of famous surfers were tagged at that place. Ag. Nikolaos area is also well know in Attica like a nice neighbourhood, because of expensive land and house's. A former prime minister villa is located at this area. 7km from Artemida centre located the ancient " Temple of Artemis " and the museum which is next to the temple.

Price : 395,000 Euros Code Number : ARTEMIDA DE/010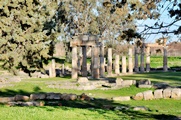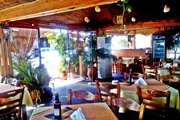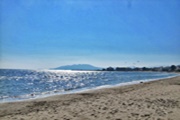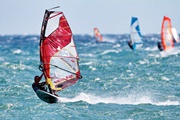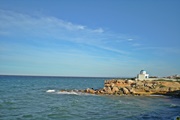 ---
A Beautiful Three Floor Maisonette For Sale In The Athenian Riviera : Vouliagmeni : Attica : Athens
This is a three floor maisonette of 200 square metres in Vouliagmeni South of Athens with views of the Mediterranean sea and pine forests.
The property comprises of an entrance hall, lounge and dining area, kitchen , three bedrooms three bathrooms, a guest WC, a store room and large verandas.
There are marble floors throughout and central heating, air conditioning and an alarm.
There is a garden with parking space for one vehicle.
Situated in a quiet area it is only three minutes by car or ten minutes walking time to the beach. It is only a twenty minute drive to Athens airport and forty minutes to the port of Piraeus. It is to be sold unfurnished but some items may be sold upon the request of the buyer. Altogether this is a quality property throughout.
Price : 1,200,000 Euros Code Number : ATHENS BAR/010 NEW PROPERTY
---
A Three Bedroom Apartment Southern Suburbs Of Athens : Glyfada
Located only 5 minutes from the nearest beach and close to all amenities.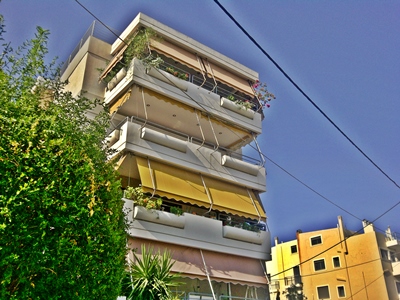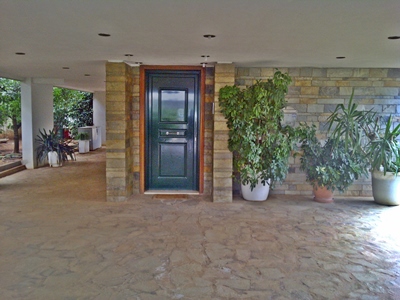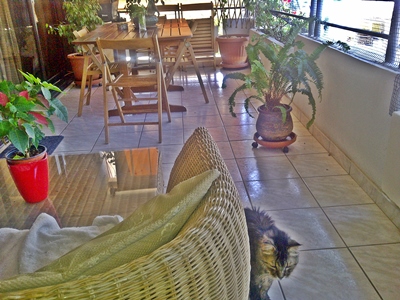 This is a fourth floor, three bedroom apartment with two doubles and one single bedrooms.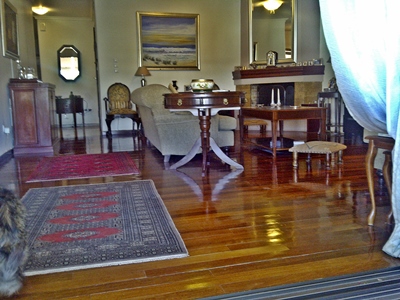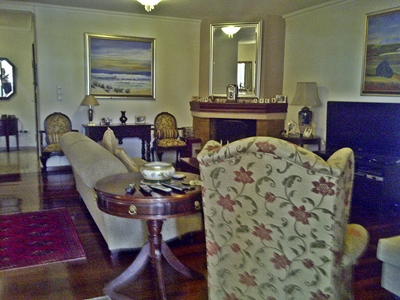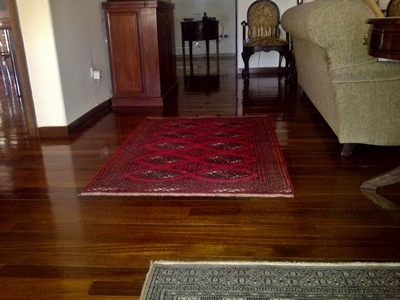 The apartment is a large 129 square metres in size and is in very good condition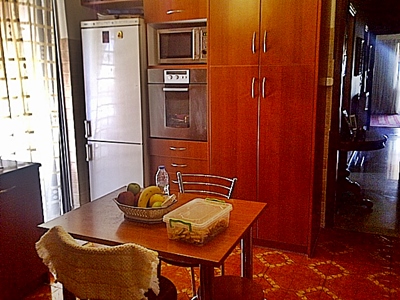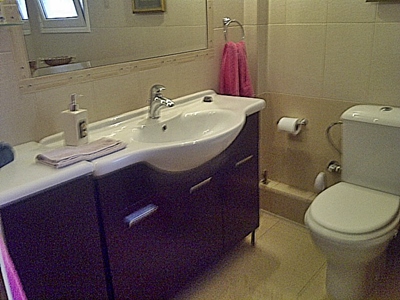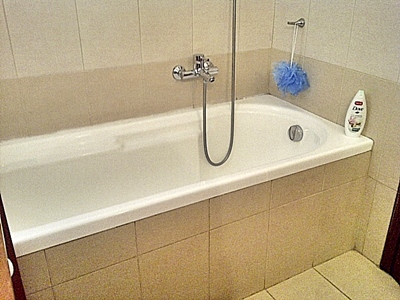 The accommodation comprises a large lounge and dining room combined, a fitted kitchen, 2 bathrooms, a storage room in the basement, solar electric water heating system, independently controlled heating system, large front and rear balconies, double glazed windows with sun blinds. Furniture is not included.
Price : 315,000 Euros Code Number : ATHENS GLYFADA / DM/010
---
Multilevel 3 Bedroom Apartment : Schinia : Marathon : Athens
Located a Half Hour Drive from Athens International Airport on the Marathon motorway. Only 40 Klms from Athens in the estate called "Themis" ( The Greek Judges and Attorneys Housing Estate ) next to one of the finest beaches in Greece stretching for many miles along the Pine tree forest. This is the location where in Antiquity the Marathon Battle took place. Within a 5 minute drive are local tavernas, a number of supermarkets, bars and nightclubs.
The flat offers panoramic views of the Aegean Sea the nearby Islands and the natural reserve pine forest. The Olympic canoe centre is in the vicinity.
This is a four room, three bedroom property of 102 square metres on three levels, with anti-seism city design.
Fire-Place : Light South Facing Rooms : Spacious Verandas : Double Glazed Windows with Shaded, Sun Protection Glass : Autonomous Heating : Electrical Shutters : Central and Satellite Antenna : Stone Fence With Aluminium Grill : Land Shaft Design : Built In Kitchen Cupboards and Wardrobes In The Bedrooms : Open Plan Kitchen Living Room Design : Digital Telephone Connection In Each Room.
The Apartment Is Turnkey Ready : Fully Furnished And Equipped.
Price : 199,000 Euros Reduced To 160,000 Euros Code Number : ATHENS AI/010
---
Exclusive Residential Property : Athens : Northern Suberbs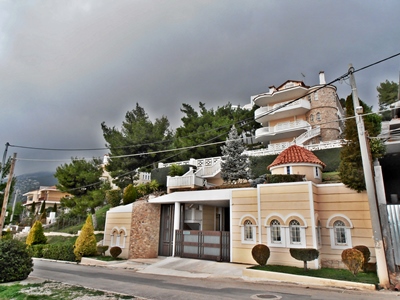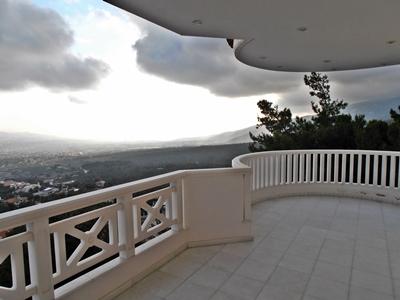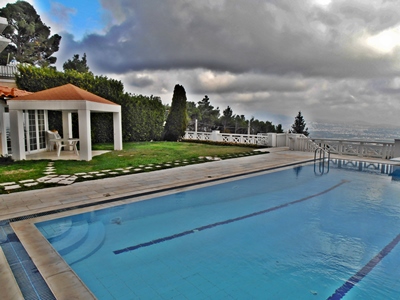 Located extremely close to Mont Parnes Casino with an adjoining land plot of 1,000 square metres.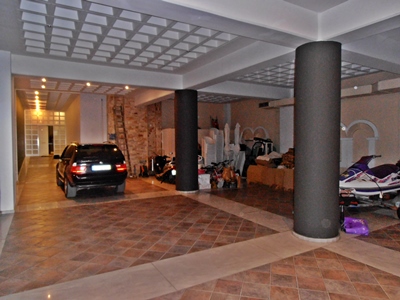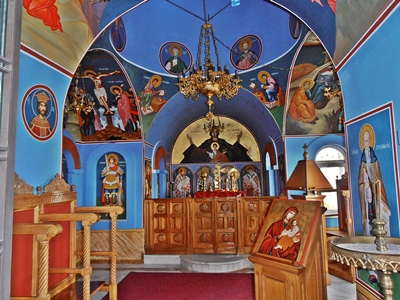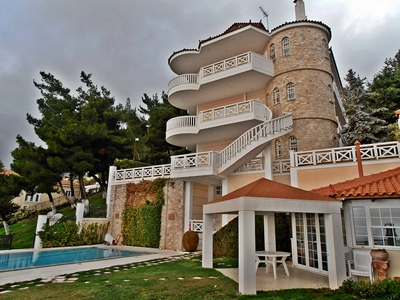 This is an exclusive residential property with a basement garage, its own Church, Housekeeping quarters, a ground floor, first, sec
ond and third floor, a loft conversion and fabulous views.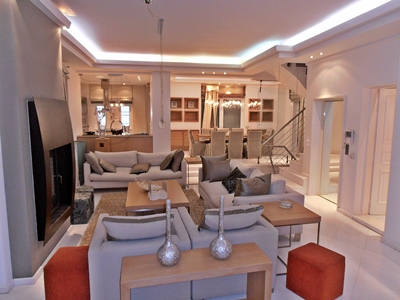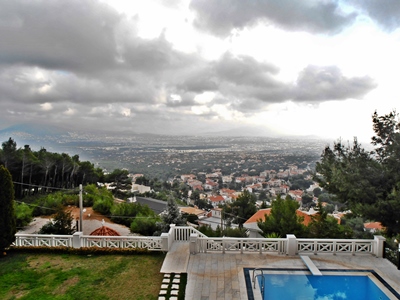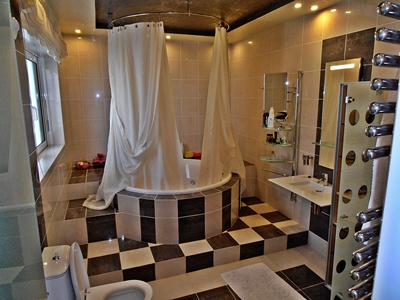 Plans
, permits are available from the agents to bona fide buyers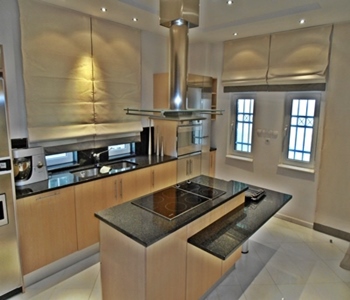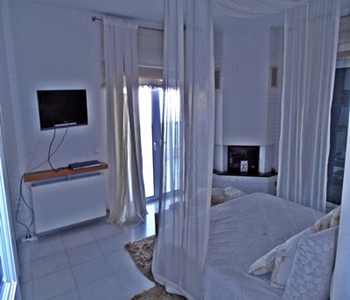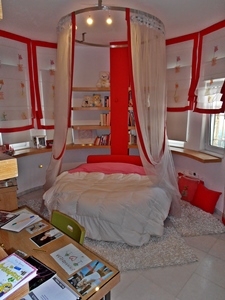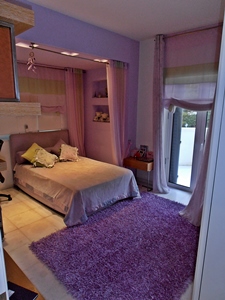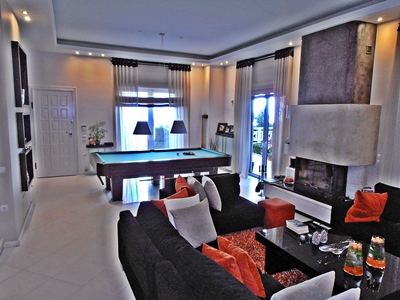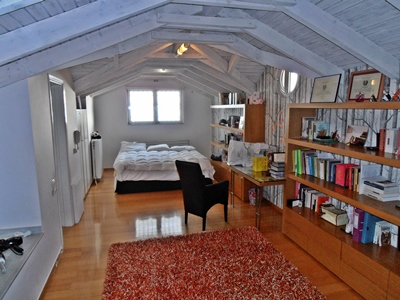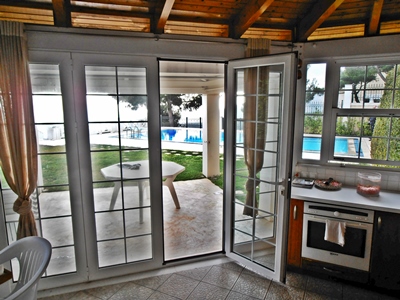 Year Of construction 2000 : the Adjoining land of 1,000 square metres can be purchased with an independant asking price of 900,000 Euros. If purchased with the property the price will be 500,000 Euros and added to the asking price.
Asking Price : 3.5 million Euros excluding fixtures and fittings which are negotiable to keep everything as it is. Room for negotiation to serious buyers.
Code Number : ATHENS SM/NOR/SUB

---
Two Newly Constructed Luxurious Villas : Thrakomakedones : Athens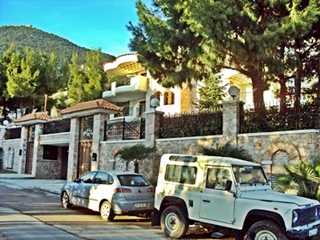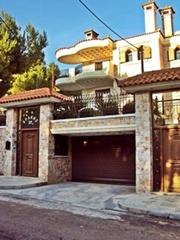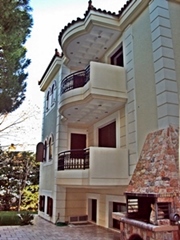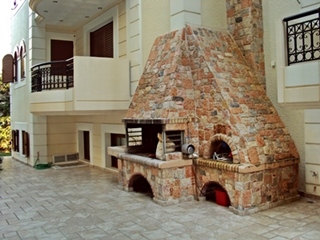 Two newly constructed luxurious villas with ground, 1st and 2nd floors, 1,200m² total area (or 600m² each villa)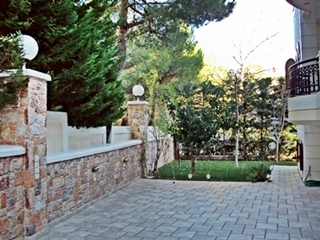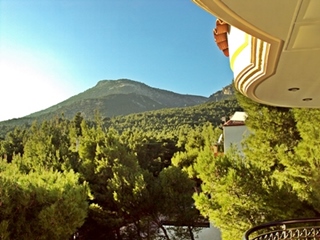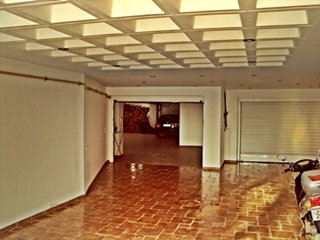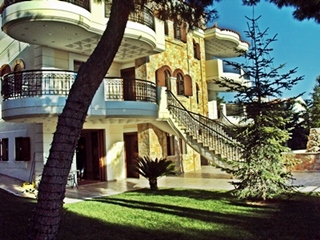 They consist of 2 internal staircases, 2 lifts (each with load capacity for 8 persons), wooden floors with under floor heating, state of the art security alarms and have camera and satellite ready connections.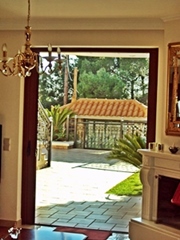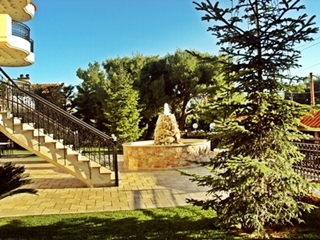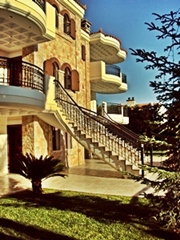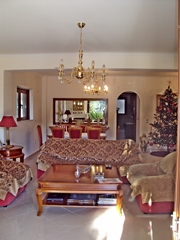 The exterior walls are constructed from real stone of the highest quality, handmade and crafted single-handedly by expert stone masons. A huge garden featuring trees, water fountain, stone oven and barbeque surrounds this exclusive complex.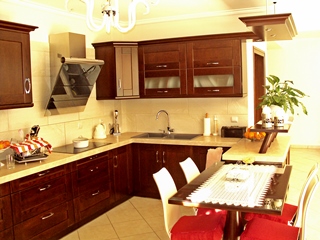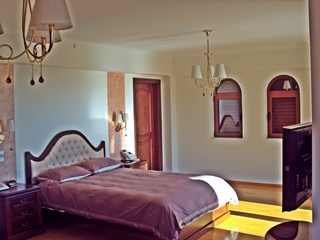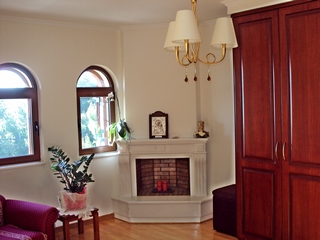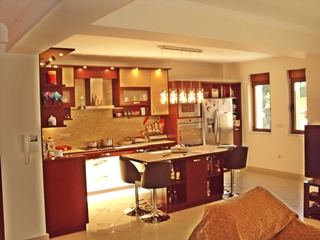 Both villas feature a total of 10 large bedrooms, 6 bathrooms (2 of which contain an en suite with Jacuzzis), 2 WCs, 4 large kitchen areas, 4 large living areas with fireplaces (one used as cinema with fibre optic lighting featured in the ceiling), 4 large dining areas, 2 libraries and 2 basements (400 m² in total) for storage and enclosed parking spaces.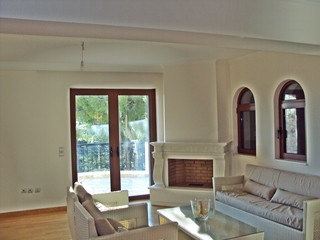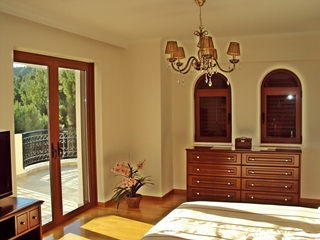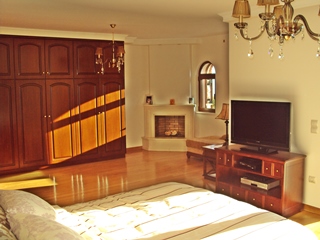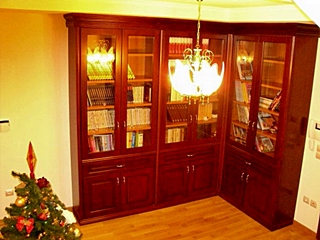 The development is situated in the exclusive northern suburb of Thrakomakedones, at the foot of Parnitha mountain and forest and within close proximity of Mont Parnes Casino. The property features spectacular views overlooking the whole of Athens.
Original Price 8 Mill Euros now slashed to an incredible 4 Mill Euros For A Quick Sale. The owner must be desperate he now wants 2 Mill for a quick sale.
Code Number : ATHENS SM/THRAK

---
An Excellent House With A Picturesque Garden 5 Minutes To The Sea By Car : Katerini Leptokaria Pierias
Just off the Main Athens to Thessaloniki route, at the seaside town of Leptokaria

Lies on the coast of the Aegean Sea, under the Mount Olympus. It is located near ancient Livithra, allegedly the home of Orpheus.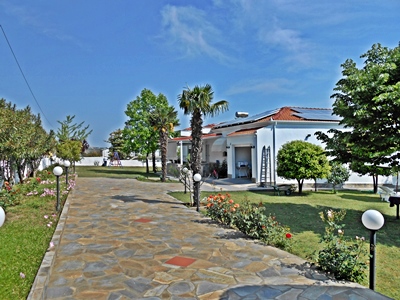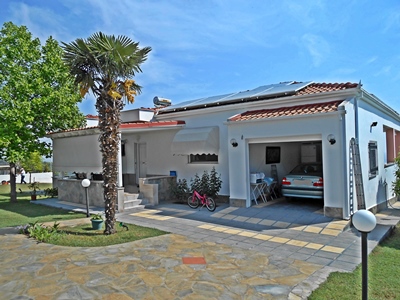 This single storey villa has a built area of 140 square metres : With 1 Kitchen : 3 Bedrooms : Bathrooms and toilets : It is in a plot size of 4000 sq mts.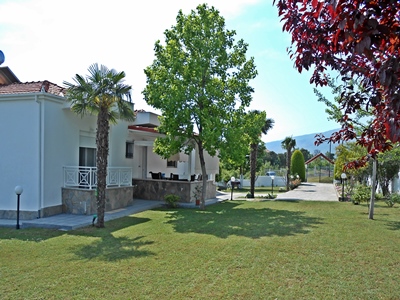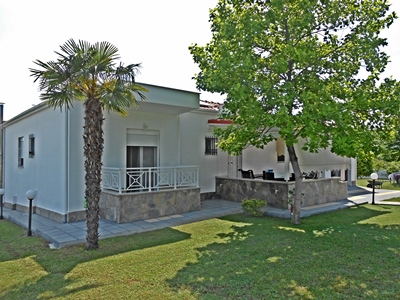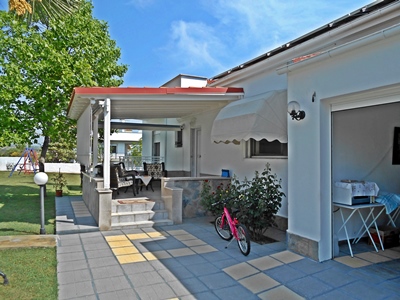 Comes fully furnished and with garage, wood burning fireplace with photovoltaic panels on the roof producing 100 kw ( Approx 6,000 euros - 7,000 euros) per year with a contract for 25 years. It is only 5 minutes to the sea side by car and lies 400 klms from Athens and 95 klms from Thessaloniki.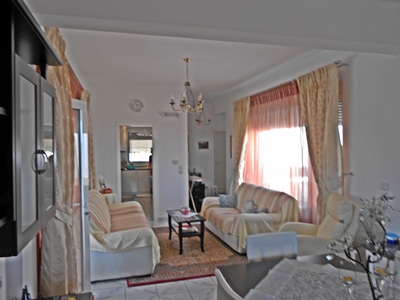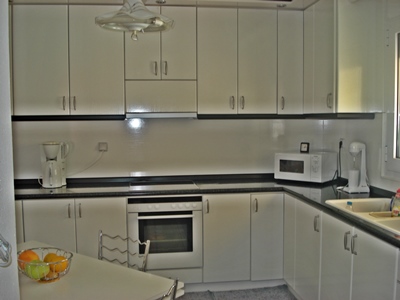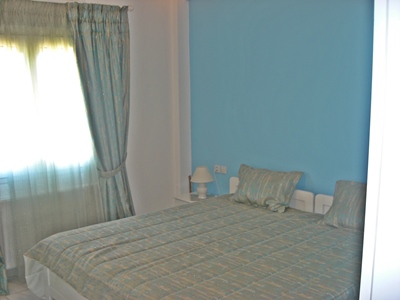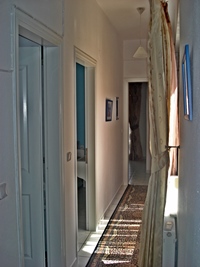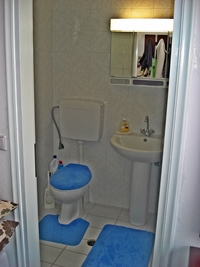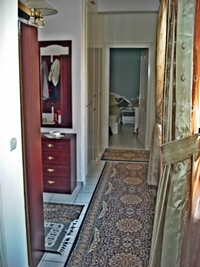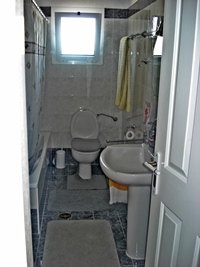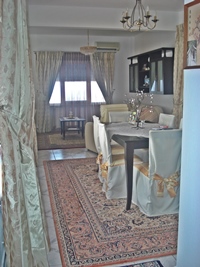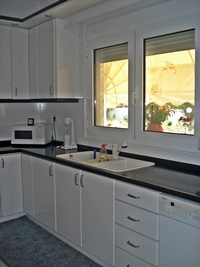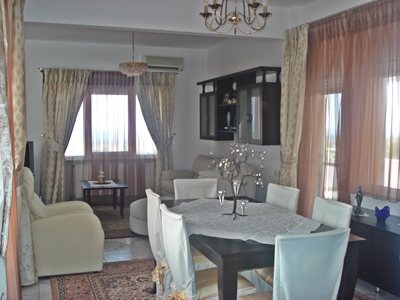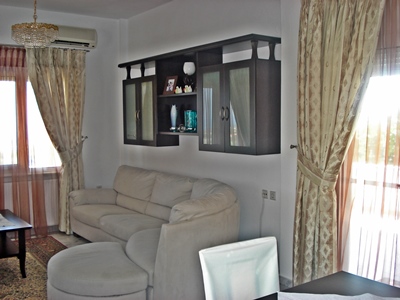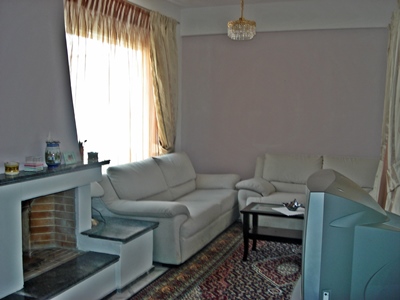 The very picturesque garden has trees and shrubs, and the house has 2 air conditioning units, a satellite system, and has plenty of storage space. Year of build 1995.

Price : 500,000 Euros

OR NEAR OFFER

Code Number : LEFTOKARIA PP/GK/010

---
A Luxury 5 Bedroom House 35 Minutes To City Centre : Pallini : Drafi
Overlooking the sea of Rafina and Marathon. 15 minutes to the airport.
Magnificent excellent quality geothermal detached house in minimal style, lovely sitting room with wood floors, fireplace, dining room - with view of garden, pool and countryside,
This new built luxury villa was built in 2009 with a built area 320 square metres : With 2 Kitchens : 5 Bedrooms : 4 Bathrooms : 4 Floors : Electrical Appliances : Gardens with Trees and Shrubs and terrific sea views.
The fabulous kitchen (is every woman's dream) has lots of cupboards and dining area -also access to patio, garden and pool, a study, 4 bedrooms - all very good size.
,
There is a lift from the garage, staff facilities, a utility room and storage areas, locked parking for 2 cars. There is also a built in bar-b-que. There is a beautifully landscaped garden with special lighting at night, and a large heated swimming pool with changing rooms and extra bathroom/shower for the pool., a large warehouse, cooling systems, geothermal heating, alarm system, biological treatment and 2 parking spaces in the basement. All in all a very special property with a special bargain price.

Price : 1,450,000 Euros Code Number : ATHENS VS/010

---
A Luxury Four Bedroom Apartment Close To Athens : Voula
With Fantastic Panoramic Sea, Mountain & Town views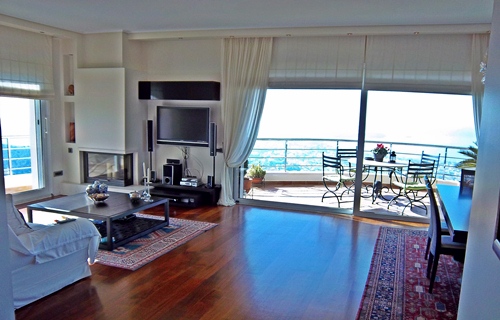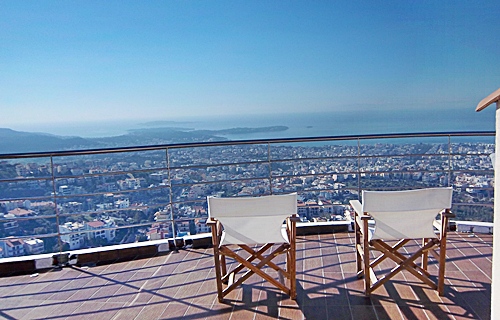 This is a new built luxury apartment of 192 square metres with four bedrooms, the master bedroom being en - suite and split in two levels ( 3rd and 4th floor )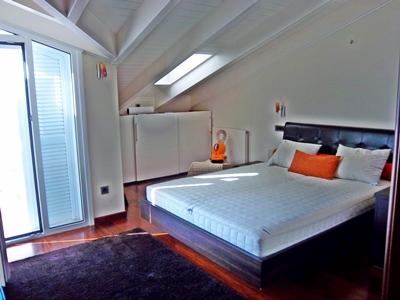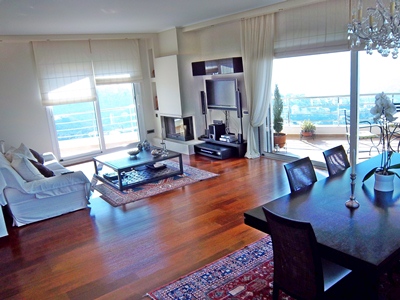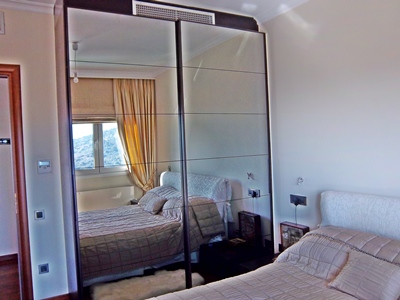 There is parking in the basement, and the apartment is fully air conditioned and with central heating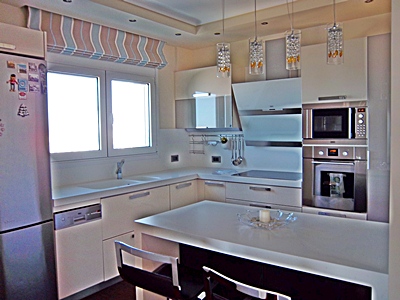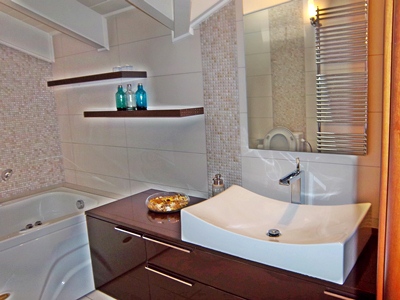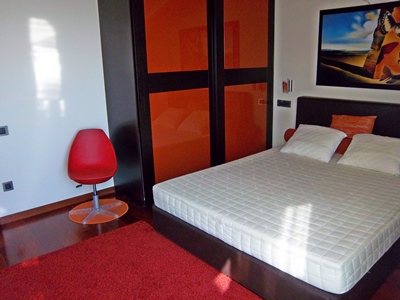 There are 2 bathrooms, a fully equipped kitchen and toilet. To be sold unfurnished.
Price : 850,000 Euros Code Number : ATHENS DM/010 SOLD
---
An Apartment In Rafina 100 metres Away From The Beach : Athens : Rafina
This two bedroom two bathroom apartment is on the first floor of a block with a shared swimming pool and a very nice sea view.
It is 90 square metres in area with a fireplace, a balcony and a parking space below. Rafina is one of the best and more up and coming suburbs of Athens. It is only 15 minutes away from the Airport Eleutherios Venizelos and 25 minutes away from central Athens. The apartment has a very nice sea view and is 100 metres away from the beach, 500 metres away from the Port Of Rafina with ferries for Mykonos, Tinos, Andros, Paros, Etc.
Price : 235,000 Euros Code Number : ATHENS GM/010
---
A House For Sale Only 500 Metres From The Sea : Markopoulo : Athens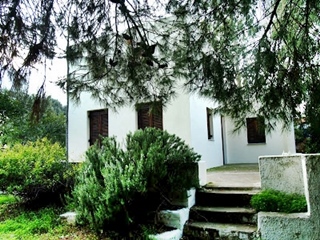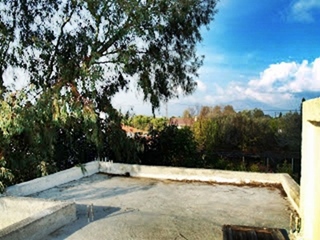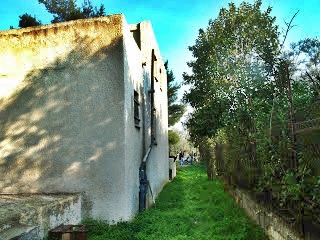 This house for sale is only 45 klms from the centre of Athens and 500 metres from the sea, and is situated at Markopoulo Oropos.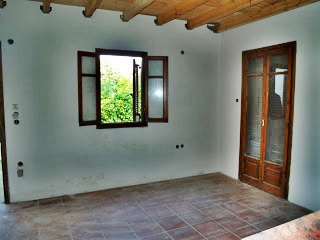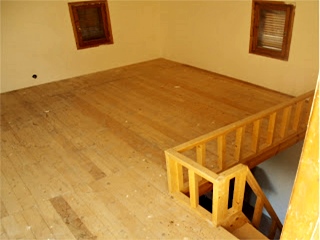 Built in a 418 sq mt plot the house has a total area of 76 sq mts and is based on traditional Cycladic architecture. It has a big garden with 3 large trees and shrubs. It is on 2 levels and with an open plan lounge-kitchen : 1 bedroom with an open space in the loft which can be used as a spare room, a second living room or a master bedroom, with independent access to a 12 sqmt terrace with a sea view.
Price : 135,000 Euros Code Number : ATHENS ASV010/010
---
Exclusive Luxury Villa For Sale : Ano Voula : Athens : Greece
Very exclusive southern Athens suburb with incredible sea views, and is within close proximity to the beach, the airport, central Athens etc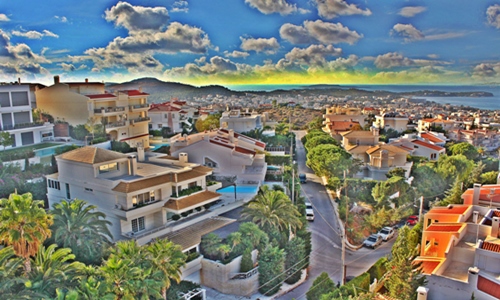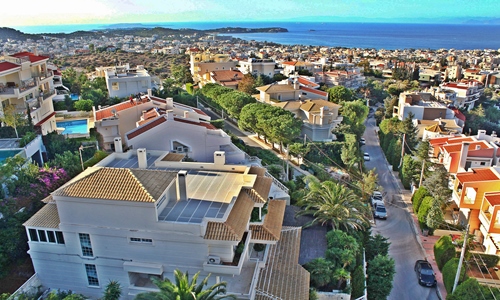 Situated in the highly desirable southern suburbs of Athens, within close proximity to the sea front and set on an autonomous land plot of approximately 1,000 square metres.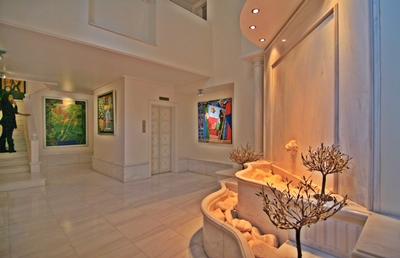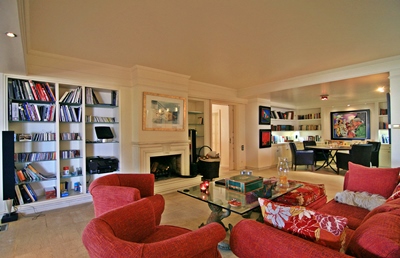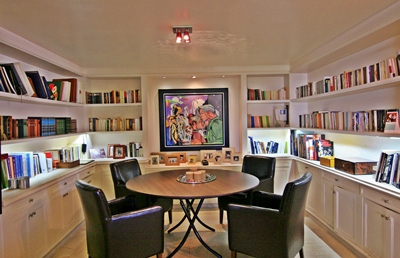 This beautifully constructed and maintained property totals 850 square metres and comprises contemporary living space set out over four floors.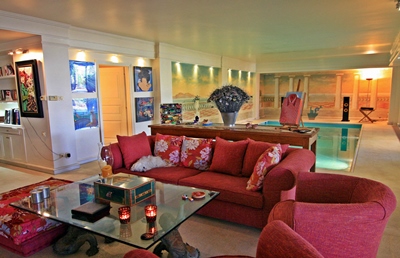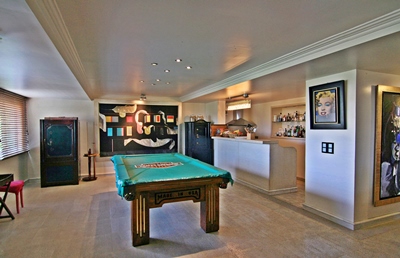 The ground level entrance has the reception and garage, and the first floor Living room / lounge, indoor heated swimming pool, sauna,kitchen, games room with pool table, WC, laundry room and outdoor dining area.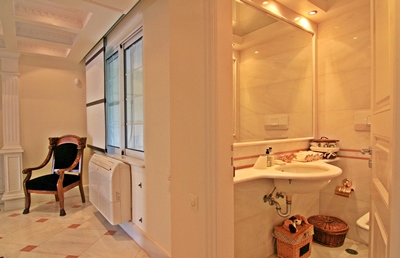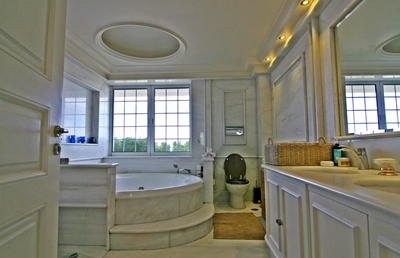 The second floor has a living room, formal dining area, kitchen, study, WC, outdoor lounge & dining area, outdoor swimming pool and selfcontained housekeeping living quarters.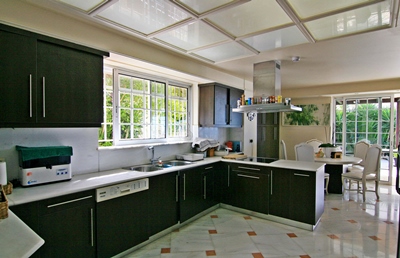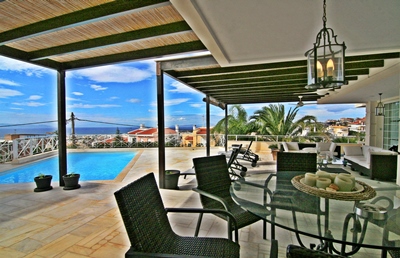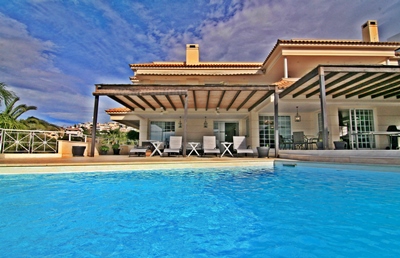 On the third floor is the master bedroom with en suite bathroom, three additional bedrooms and two bathrooms : On the fourth floor is a study and roof terrace with spectacular sea view.
Sale price includes most fixtures and fittings, including electrical appliances.
Massive garage of approximately 200 sqm and can comfortably accommodate 5 vehicles. The entire property is in pristine condition and the owners have a maintenance programme for its upkeep, which includes a backup power generator. They also have a live in housekeeper who keeps everything clean and tidy.
From an investment perspective, the three main floors have been constructed in such a manner, that it would be possible for them to be converted into three autonomous apartments.
For 3.5 million euros, the owner is willing to leave the majority of fixtures and fittings as is. They are open to negotiate slightly on the asking price but would not be prepared to leave all of their furniture etc.
Price : 3,500,000 Euros Code Number : ATHENS KC/ANO VOULA
---
A Stunning Villa On The Golden Coast Near Athens : Glyfada
This beautiful 3 storey villa is in the centre of Glyfada and was built in 1991 and has a swimming pool and tastefully landscaped gardens. It is 367 square metres in size and has 5 bedrooms. The master bedroom has an en-suite sauna and a Jacuzzi : There are also 3 bathrooms : Two W.C. rooms and two kitchens.
There is a beautiful lounge and dining room with a fireplace, a cloakroom and a room for the home help, and a basement and parking for 5 cars, and extras include double glazing, air conditioning, central heating. A burglar alarm and CCTV.
There is a beautiful large swimming pool with a BBQ, which is set in beautiful landscaped gardens with trees and shrubs.
Price : 2,700,000 Euros Or Near Offer Code Number : ATHENS KRIS/106
---
Luxury Villa For Sale Only 45 Minutes From Athens : Metoxi
With Panoramic Sea, Mountain & Town views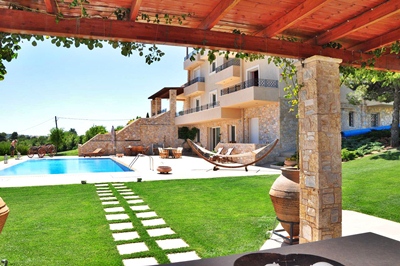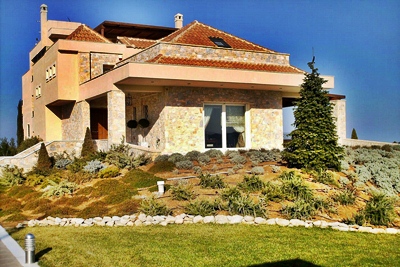 This luxury property has 6 bedrooms which includes one master bedroom and has been designed to take full advantage of the beautiful 5,483 Square Meter plot.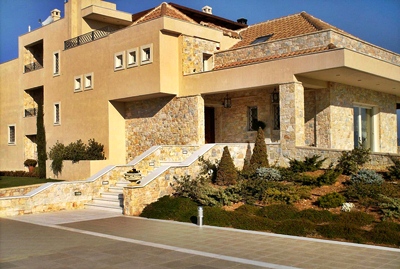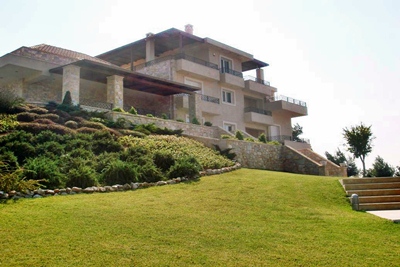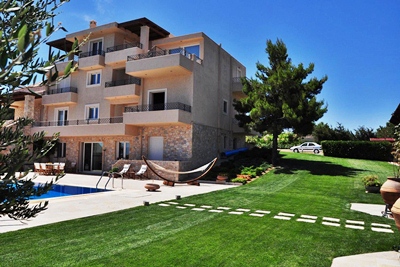 Built in 2007 on two floors it has a built area of 722 square metres, and comes with a fantastic barbecue built with bar and sink for serving direct to your guests. It also has a guest house and its own church.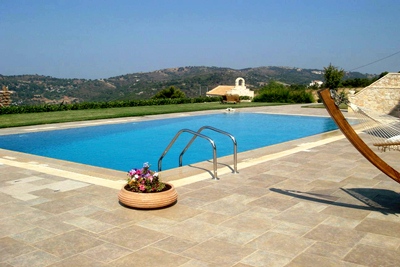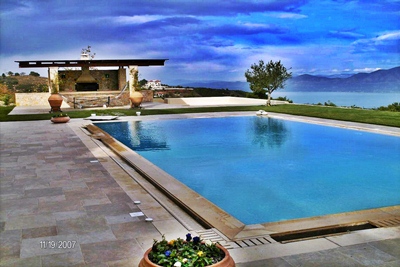 There is a beautiful large swimming pool overlooking the sea, which is set in beautiful landscaped gardens with trees and shrubs.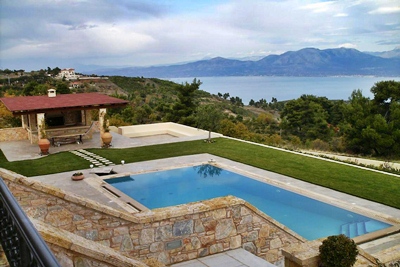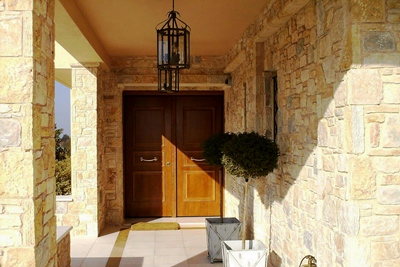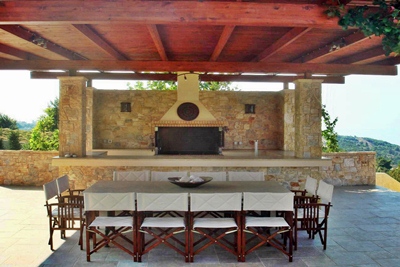 Apart from its 6 bedrooms it has 3 kitchens, 4 bathrooms and 2 W.C. s. All services are connected. This is a truly remarkable property.

Price : 1,950,000 Euros Or Near Offer Code Number : ATHENS METOXI MK/NK/011
---
Luxury Villa For Sale : Athens Rivera : Lagonissi : Athens
On Three Floors With Its Own Elevator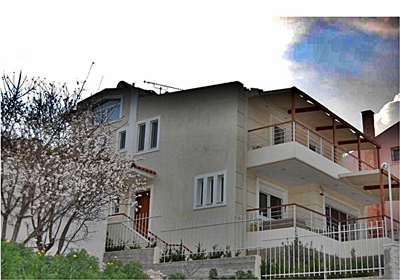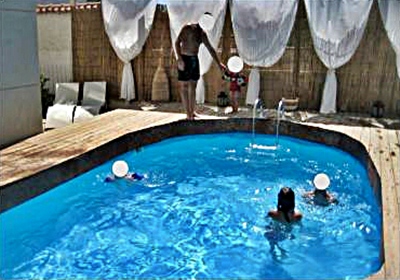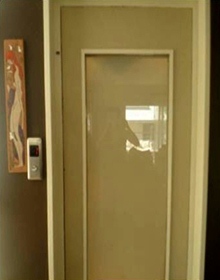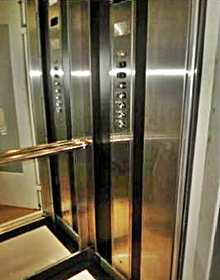 This luxury property has 6 bedrooms : 2 kitchens : 4 bathrooms : and is built on 4 levels of 323 square metres.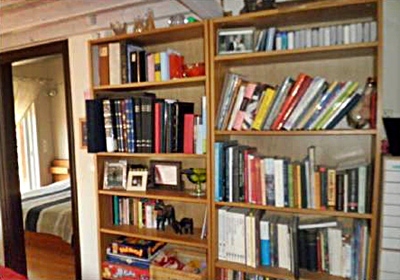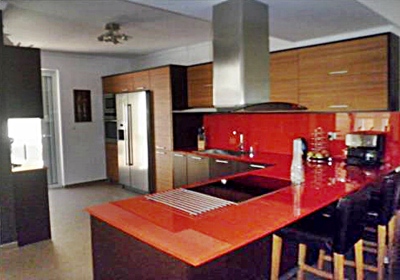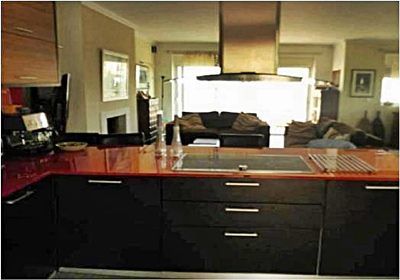 There are three balconies with a mountain view and a very nice swimming pool. the house is not very old having been built in 2008.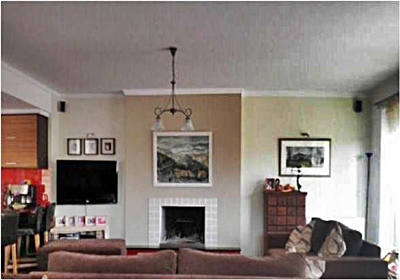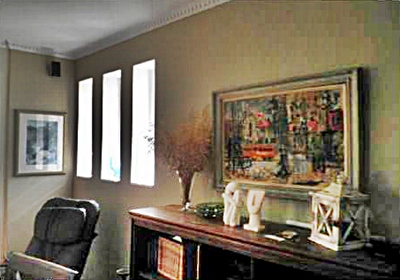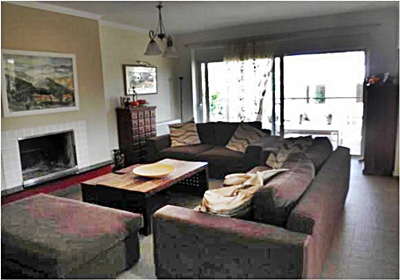 The highest quality products were used in its construction, and it has modern assets, such as a central vacuum system, a hydraulic heating system, its own elevator, Inox staircase with Syrian marble, granite plates, Inox fridge, garden with trees and shrubs etc.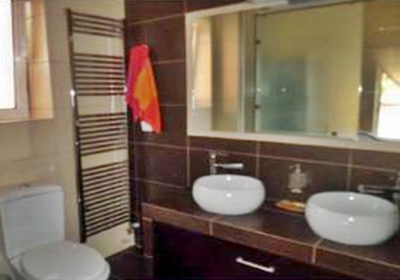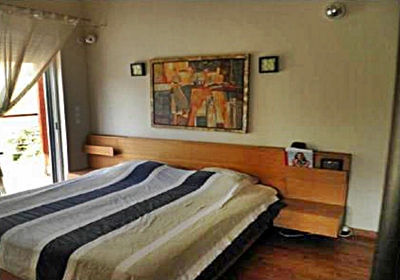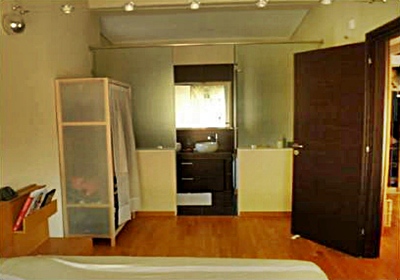 The garage has a ramp and room for two cars. The ground level and garage are not shown in the photos above. To be sold with all furniture.

Price : 495,000 Euros Or Near Offer Code Number : ATHENS CP/010
---
Apartments For Sale In Academia Platanos : Athens
With breathtaking views of the whole of Athens - Acropolis - Lycabitus - Filopappou - St Georges Square & Cathedral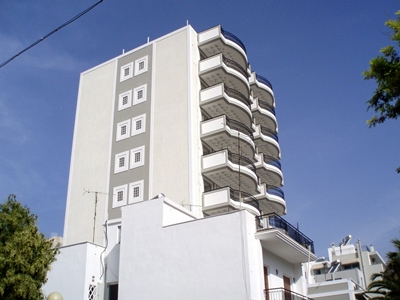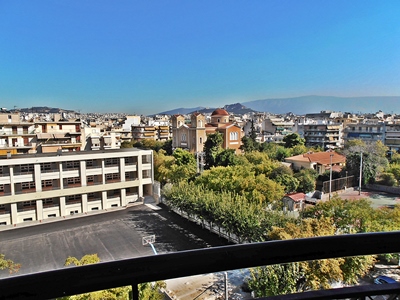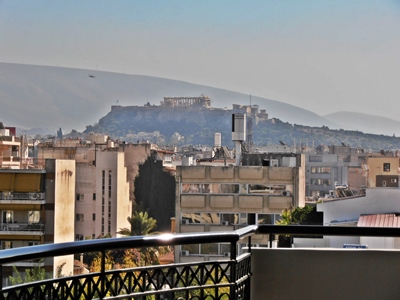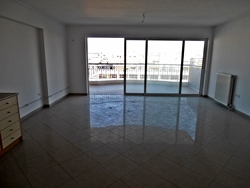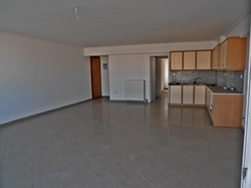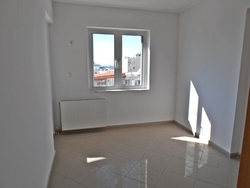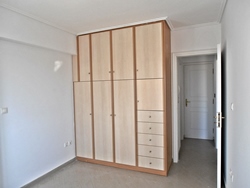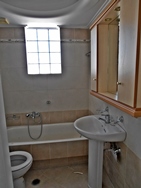 New 8 storey luxurious apartment building with two apartments on each floor, parking at ground floor and basement level, storage space and communal use roof terrace. Only 5 minutes drive to Thisseio Train Station & Metaxourgeio Metro Station. It is also 5 minutes drive to the National Road ( Ethniki Odos )
The Apartments of 104 square metres, come with 3 bedrooms, living room, open plan kitchen with oak fittings, fitted bathroom, W.C. and large front and rear balconies.
The Apartments of 80 square metres, come with 2 bedrooms, living room, open plan kitchen with oak fittings, fitted bathroom, and large front and rear balconies.
Although conveniently located in the centre of Athens, the building is situated in a very quiet area looking at St George's Square and Cathedral.
Prices : 80 sq mt Apartments from 190,000 Euros.
Prices : 104 sq mt Apartments from 240,000 Euros : No Deposit Required. Loans accepted from all banks. No VAT on any of the above apartments.
Code Number : ATHENS SM/PLAT/010
---
New 3 Storey Apartment Building : Kifisia : Athens
Situated In Kifisia One Of The Most Beautiful and Green Areas Of Athens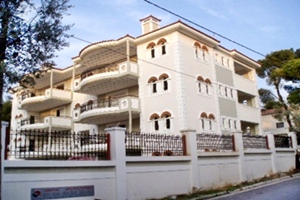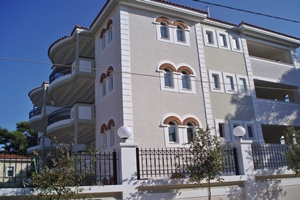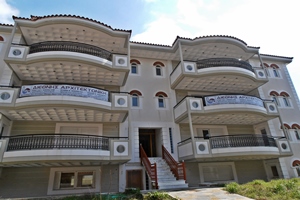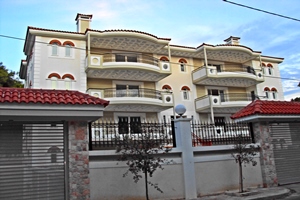 New 3 storey luxurious apartment building with basement storage and enclosed parking spaces, a communal garden and roof terrace, and with plans in place for a swimming pool.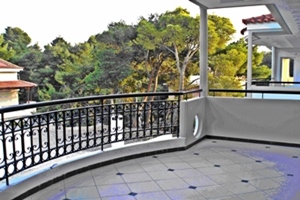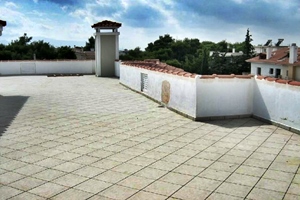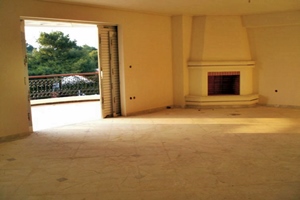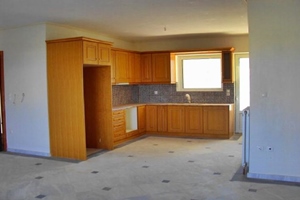 It is only 6 minutes drive to the National Road ( Ethniki Odos ) : Kifisia is one of the city's wealthy elite neighbourhoods and the apartments reflect the prestige of the area, combining modern with traditional Greek island architecture.
2 Luxurious Apartments on each floor of 125 square metres each, the apartments consist of three bedrooms with oak floors and fixed cupboards, fireplace, living room, open plan kitchen, with oak fittings and Italian marble floors, fitted bathroom with jacuzzi, and W.C. very large front and rear balconies, play room, garden and a space provided for a future swimming pool.

Price : 125 sq mt Apartments start at 600,000 Euros : No Deposit Required. Loans accepted from all banks. VAT will not be required on the above apartments.
Code Number : ATHENS SM/KIFI/011
---
New 4 Storey Luxurious Apartment Building : Petroupoli : Athens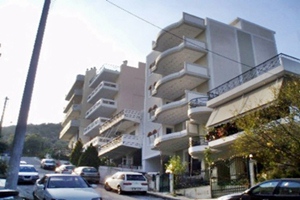 New 4 storey luxurious apartment building with parking spaces on the ground floor level, basement storage and communal roof terrace.
It is only an 8 minutes drive from the Petroupoleos Avenue, linking to areas such as Ilion, Peristeri, and Aigaleo.
In addition the Agios Antonios Metro Station is within close proximity.
1 Luxurious Apartment on each floor of 80 square metres each, the apartments consist of two bedrooms with fixed cupboards, living room, open plan kitchen set with oak fittings, fitted bathroom and large front and rear balconies

Price : 80 sq mt Apartments start at 210,000 Euros.

No Deposit Required : Loans accepted from all banks : VAT ( 19%) be required to pay the tax office on the above apartments.
Code Number : ATHENS SM/PETROUPOLI/012
---
Two Apartments For Sale In Ano Glyfada : Athens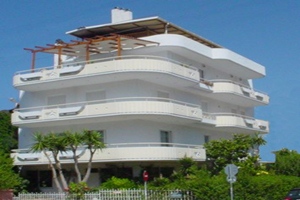 The available apartments for sale are located on the 1st and 2nd floor of a three story apartment building with garden. Each one is 155 square meters, and has three bedrooms - a master bedroom for a double bed and two normal ones. The kitchen is open and connected with the large living room - a stand separates the two. The living room is spacious and luxurious - it is sunny and has a fireplace made of marble. For your personal care there are two bathrooms (one W/C) with three sinks in total, tub, shower and bowl. Each of the apartments has one parking space for one car. There is autonomous heating, closed circuit TV for entrance monitoring, hydraulic elevator for 6 persons. The building has double isolation walls, double glazing windows and is sound and heat proof. The apartments are surrounded by a large balcony which has a view to the sea and the mountain. There is access to the garden which has a lemon tree, roses, grass and high bushes protecting it from the outside.
The area is strictly residential, and used to be a former American base resident neighbourhood, when the American base was near by. It is very quiet and secure. All facilities, apart of night life which is strictly forbidden, is within walking distance, 5-10 minutes walking tops. : Metropolitan Park : In less than 1,000 meters away is constructing the Athens Metropolitan park, where the Old Athens Airport and the American base used to be. It is positioned in a huge land area and it is going to be the largest park in Europe. : Metro : By the end of 2008, the Athens Metro will expand its service near the Park, connecting directly to the centre of Athens and the Airport. Highway Junction : in about 500 meters away, the area will be connected with the Attica road junction that will be connected directly to the Airport and as well as Egnatia Superhighway ending up in Northern Greece. : Supermarkets : there are three local supermarkets carrying popular brands, and there is also a large one with specialties in one and a half mile away (6 minutes with the car). : Bakery / Coffee shops : There are three very good bakeries very close, with excellent pies, croissants and dairies. If you love good coffee, there is a boutique cafe with a great barista just 2 minutes away, and you will find the local Starbucks just opposite. : Restaurants : the area is known for its taverns, which are a little bit far to walk. You will mainly find pizzas, souvlaki houses and oriental taverns, however all of these do deliveries with no extra charge.
Price First Floor : REDUCED TO 330,000 Euros
Price Second Floor : REDUCED TO 350,000 Euros Code : ATHENS GLYFADA SH/010
---
Nine Independent Semi Detached Maisonettes For Sale : Shinias Beach : Marathon : Athens : Greece.
With A Unique View And In A Quiet Natural Environment : Brief And Easy Access To Athens And Several Cities Around.
The complex lies in an overlooking location in Shinias of Marathon, and are suitable either as country residence for all year around, weekends and vacations or as your main residence, in case of small families or couples. They are very strongly made and of high quality construction
Very close to Athens there is easy road access, 30 km distance from Attiki Odos Motorway (surrounding Athens), through Marathon Avenue (About 30 minutes).
Every maisonette consists of 3 levels of about 32 m2 each (something less than 100 m2 in total) with 2 internal stairs and: - In the higher level, bedroom with fitted wardrobes, bathroom and balcony. - In the middle level, main entrance, living room-dining area with fireplace, kitchen with modern fitted units (without appliances), WC-shower and balcony. - In the low level, 2nd independent entrance, living or guest room, 2 storing spaces and WC-shower. Each one of the 3 levels can be locked independently and can function as a separate guest accommodation space. Finish: Aluminium doors/windows, double glazed big balcony doors with electric roulades, security shuttered double glazed windows, security glazed balcony bars, A/C, telephone, earth & satellite TV and security system installation in all rooms, plus installation for central heating (not boiler and radiators). There are splendid views from all balconies. The complex has a swimming pool for common use and open – air terraces with flower beds around, natural stone paved, with comfortable access to all levels, by both, stairs and slopes.
The location of the complex is overlooking the area around, is close to the sea, and with a beautiful rocky beach on one side (1 Km) and the famous Shinias sandy beach on the other (2 Km). There is a small super-market within walking distance, and further – on, a lot of taverns, summer bars and sea sport facilities.
The countryside is similar to the Greek Cycladic islands and the magnificent view extends from the isle of Evia up to the rest of the S.E. coasts of Attica, covering the unique Shinias pine forest on the beach and the Shinias peninsula, (both of them are characterised as protected bio-locations).
The idea is to live in a healthy, quiet and natural environment, meeting the today's necessities, at a short distance from Athens with easy access to the airport and to many other places and destinations.
To Visit And View : E Mail Brian. E Mail Brian.
Prices From : 130,000 Euros To 160,000 Euros Code : ATHENS MARATHON PP/010

---
Athens Apartment For Sale : Dionysos : Athens : Greece.
One storey apartment for sale (137m2) in a peaceful northern suburb of Athens, Greece. The property is located in Dionysos, one of the high class suburbs of Athens, and is surrounded by beautiful green landscape.
The building consists of 2 maisonettes and a one storey apartment (137m2) in the middle. It was built in 2007, with high construction standards, and has a kitchen, a living/dining room, 3 bedrooms (1 large and 2 smaller), a bathroom, a WC, a balcony and a storage room in the basement of the building.
The owner can access the basement through an internal lift. There is also a common use garden for all occupants. There is American oak timber floor in the whole apartment, and due to the good construction standards, the apartment is warm in the winter and cool in the summer. There is a central heating unit for the winter that works with petrol. Solar panels will be installed in the near future, so hot water will be provided by the panels (instead of electricity) for most of the year. There is also a fire place in the living room. The apartment has great view to the opposite hill consists of expensive villas and high trees. For the owner of the apartment there is a parking space provided for a small car in the open garage, and plenty of parking space in the street. The apartment can be viewed at any time with an appointment.
To Visit And View : E Mail Brian.
E Mail Brian.
Price : 365,000 Euros Code : ATHENS JK/010
---
2 Luxury Apartments And Guest House For Sale : Voula : Athens : Greece.
The apartment is situated quite central from the Main Square -Voula, and about 55 Metres From The Beach
The apartment is situated on the first floor with a lift and has 3 bedrooms, a spacious living & dining room, ( very big ) a kitchen and a good sized reception hall, plus another hall. There is a bathroom with toilet and another toilet.
To Visit And View : E Mail Brian.
E Mail Brian.
Price : 1,350,000 Euros For Each Apartment Or 2,650,000 For Both Apartments. Code : ATHENS VOULA MK/NK/010
---
A New Villa For Sale With Fabulous Sea Views : Vravrona : Athens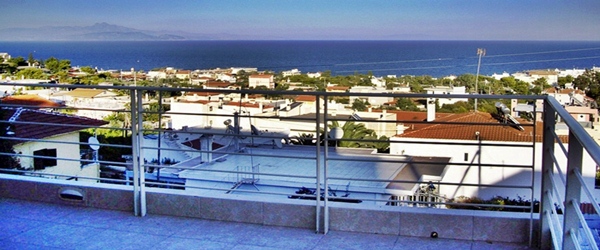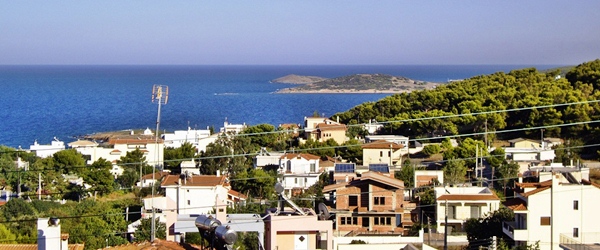 With Beautiful Views Down To The Town Of Vravrona and In A Plot Of 395 Square Metres. 160 Sq metres of Building, Ground Floor 80 sq mts : First Floor 80 sq mts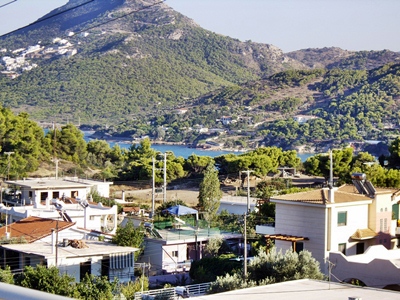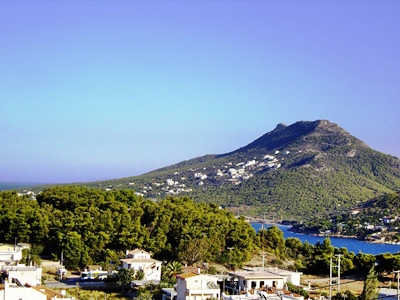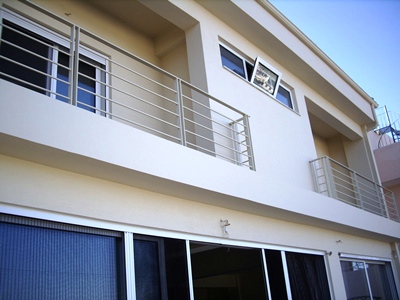 The location is excellent being so close to Athens. The house has a master bedroom en - suite with Jacuzzi and a walk in clothes closet. There are two bedrooms above with fantastic views and a children's bedroom. Everything is of excellent quality and the house is on mains water and electricity and sewage, with a boiler for full central heating, solar energy, and solar power burner. There is room for a garden as the house has a full wall built all round the house.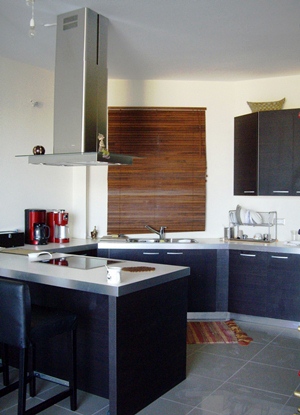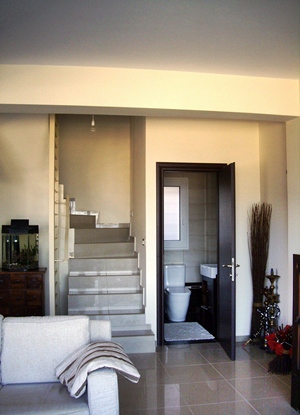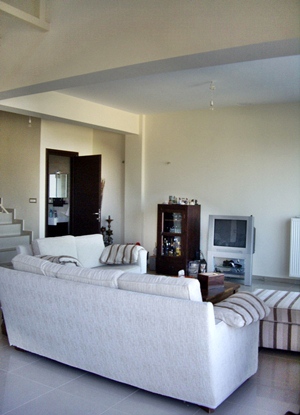 There is an alarm network and security cameras, and satellite installation. It is to be sold with the white goods. There is a basement and two levels of underground playground.
Price : 480,000 Euros Code : ATHENS VRAVRONA NKMK/014
---
A Modern & Sophisticated House For Sale : Filappapou : Athens
Complete with indoor / outdoor swimming pool
With built in sauna : BBQ and party roof deck to view Filappapou monument
The built area of the property is 420 square metres with large closets & laundry room and is built on three floors.
The property has 3 bedrooms : 2 bathrooms : 2 Toilets and comes with large office space and a 2 car garage with security system. To be sold unfurnished.
Price : 1.200,000 Euros Or offers invited Code : ATHENS KB / 010
---
Galaxidi : Gulf Of Corinth
Galaxidi is a village located 200 km West of Athens ( About a two and a half hour drive from Athens Airport ) on the Gulf of Corinth. Although Galaxidi is not a tourist destination, it is still one of the most picturesque / traditional villages in Greece.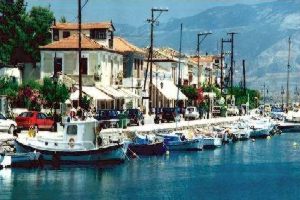 Thanks to its location on the seaside at the foot of Mount Parnassos, it is a great resort place throughout the year, 50 Mins drive from the best skiing area in Greece and 35 mins from the village of Arahova

---
4 Finished Houses For Sale Only 150 Metres From The Beach : Galaxidi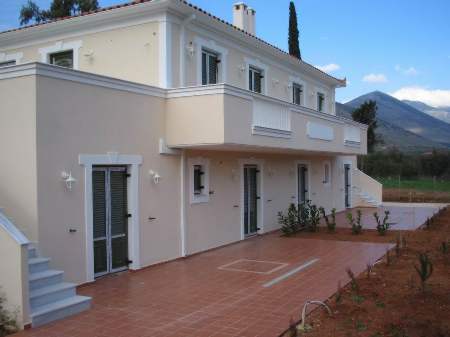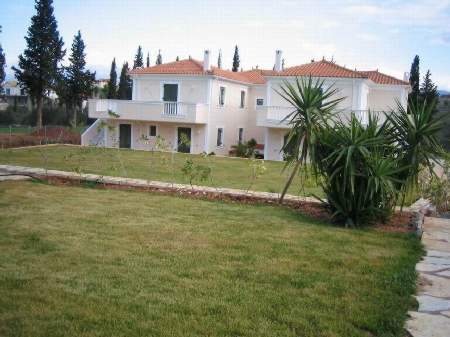 The Houses Are Located Only 400 Metres From The Village Central Square : Bakery : Grocery : Etc.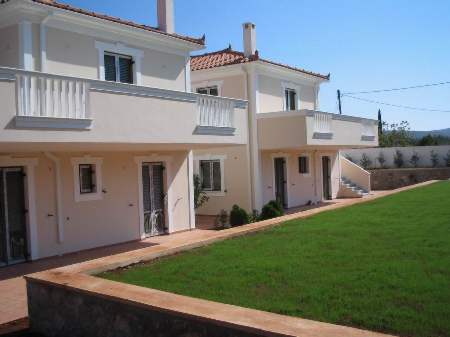 There are four houses offered ( 2 houses of 120 sq metres and 2 houses of 110 square metres ). All houses have a living room, kitchen area, 3 bedrooms and 3 WC's.
Good Quality Houses In A Great Situation At A Very Fair Price.
Price : 110 Square Metre House 205,000 Euros
120 Square Metre House 225,000 Euros Code : GALAXIDI CZ / 011
---
Building Land Of 14,000 Square Metres : Galaxidi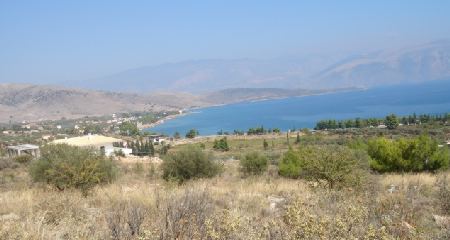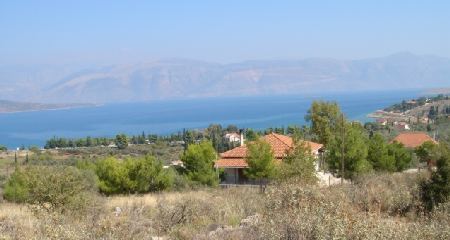 A beautiful piece of building land with great sea views that can be divided into 3 plots.
The plot of land is is 14,000 square metres and has been divided into three plots of 4,000 square metres each, leaving 2,000 square metres for access to each plot.
Location 500 metres from the sea and 1.5kms from the centre of Galaxidi
May be sold as one development plot or as three separate plots.
Price For All 14,000 sq mts : 850,000 Euros
Price For Each Plot : 250,000 Euros Code : GALAXIDI KT / 010
---
A 2 Year Old House For Sale In A Large Plot : Antikira : Viotas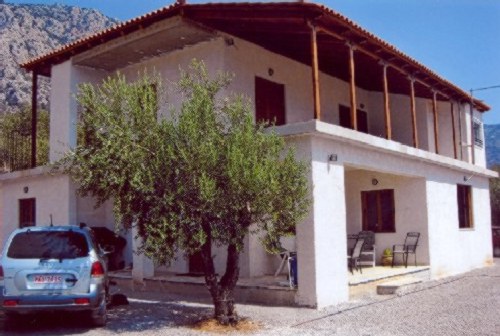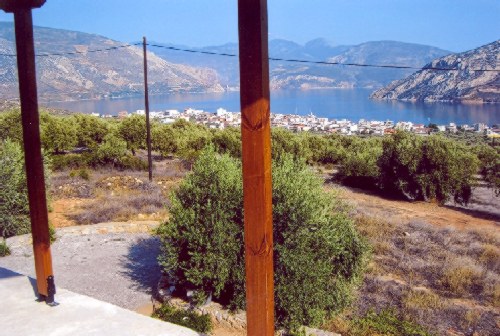 With Beautiful Views Down To The Town Of Antikira And In A Plot Of 7,300 Square Metres.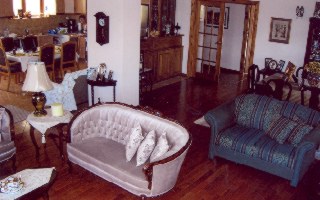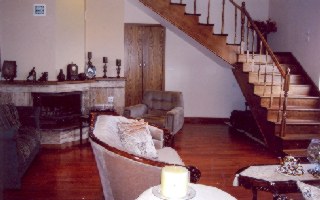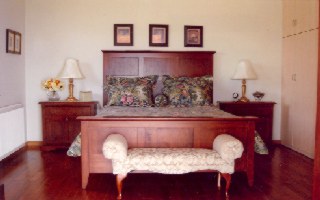 The location is excellent for Mount Parnassos, Delphi and Central Greece and only a couple of hours from Athens or the New Rion bridge. The built area of the house is 185 square metres and the house has four bedrooms and 2 bathrooms. Everything is of excellent quality and the house is on mains water and electricity and sewage, with full central heating. The grounds contain 3 block built storage buildings, also a permanent outside BBQ and oven. The extensive gardens have many trees and shrubs. It is being sold unfurnished.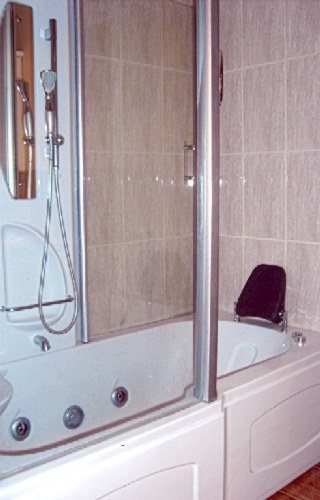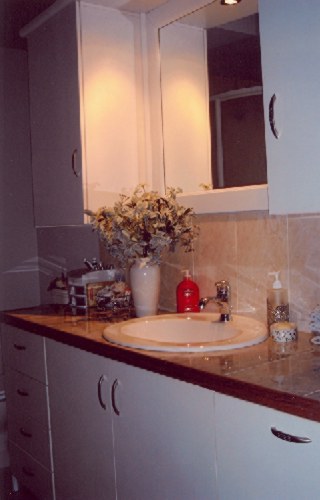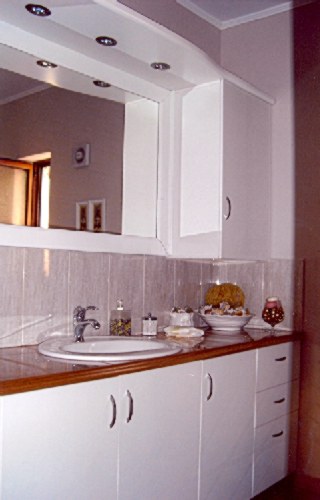 Superb Sea And Mountain Views
Price REDUCED TO : 295,000 Euros Code : ANTIKIRA VIOTAS GK/010
---
A Plot For Sale In Amazing Area : Theologos : Fthiotida Area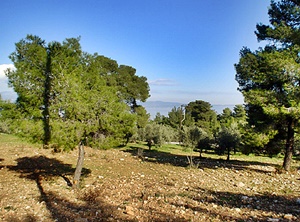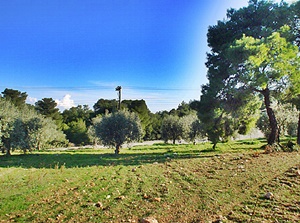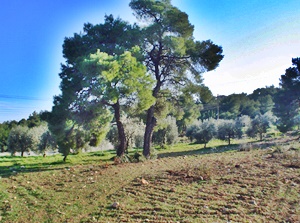 This is an easy build plot as the land is flat and with many trees. It has an allowable building area of 40" with a height to 8 metres.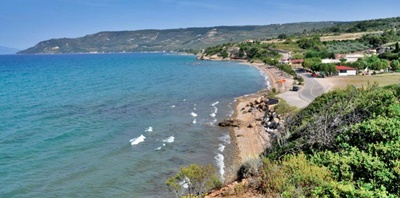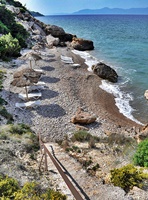 This plot of land is 1041 square metres and lies only ten minutes from Theologos in the area of Fthiotida. It has mountain town and sea views and is only 600 metres to the beach. The whole area is amazing with artists and famous persons living there and it is full of greenery and there is a wonderful beach nearby.
Price : 170,000 Euros Or Offer Code : THEOLOGOS IL / 010
---